Jump to Recipe
This post was created in partnership with Vermont Creamery. All opinions are my own—including my love affair with their luscious mascarpone.
Every morning this weekend, I woke to the joyful sounds of my tiny friend Izzy, my friends Elliot and Marco's ten month old son. As I scurried around their Chicago apartment yesterday in prep to get to O'Hare airport, Izzy joyfully scarfed down pureed blackberries and banana, occasionally reaching for shards of winter light entering the dining room windows, for new objects that entered his baby scientist frame of vision. I was worried about catching the right train, being crushed by another weekly onslaught of bad news, missing my flight, finding a husband. Izzy was worried about…nothing. Except where his next bite would come from. He just learned to walk (precocious one!) and the world is opening up for him, anew, each moment.
So as I stopped to kiss his worryless brow goodbye, I also willed myself to draw some of that present moment wonder from him, friendly adult succubus style. Remember the joy of this infant, of seeing snow for the first time in many years, of spending a weekend with friends who you love, of sharing food from the Kale & Caramel cookbook with new readers. Remember the sweetness and anticipation of reconnecting with family I haven't seen in more than a decade this week in Indiana. Remember.
And also: this pumpkin mousse. There is joy here, too.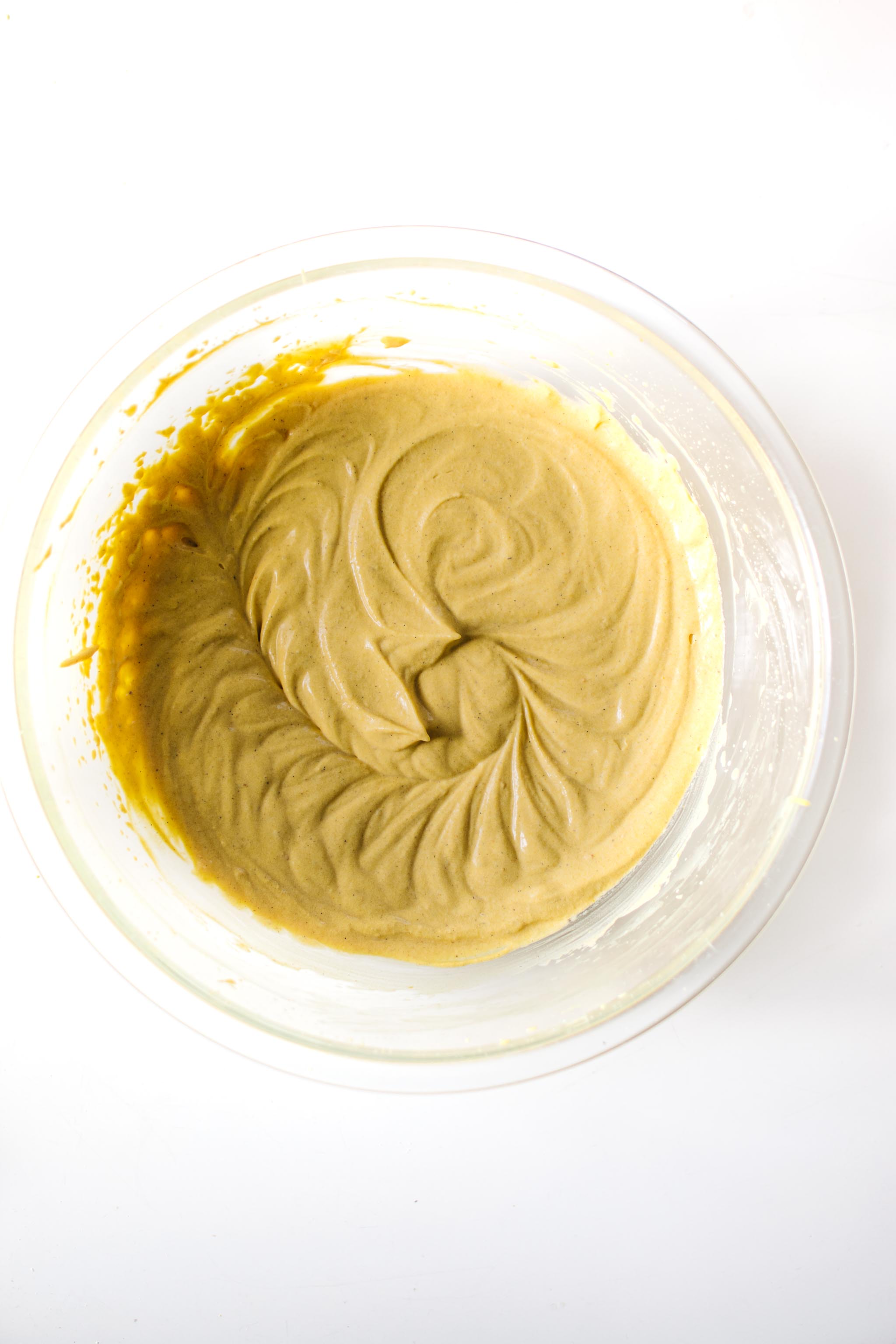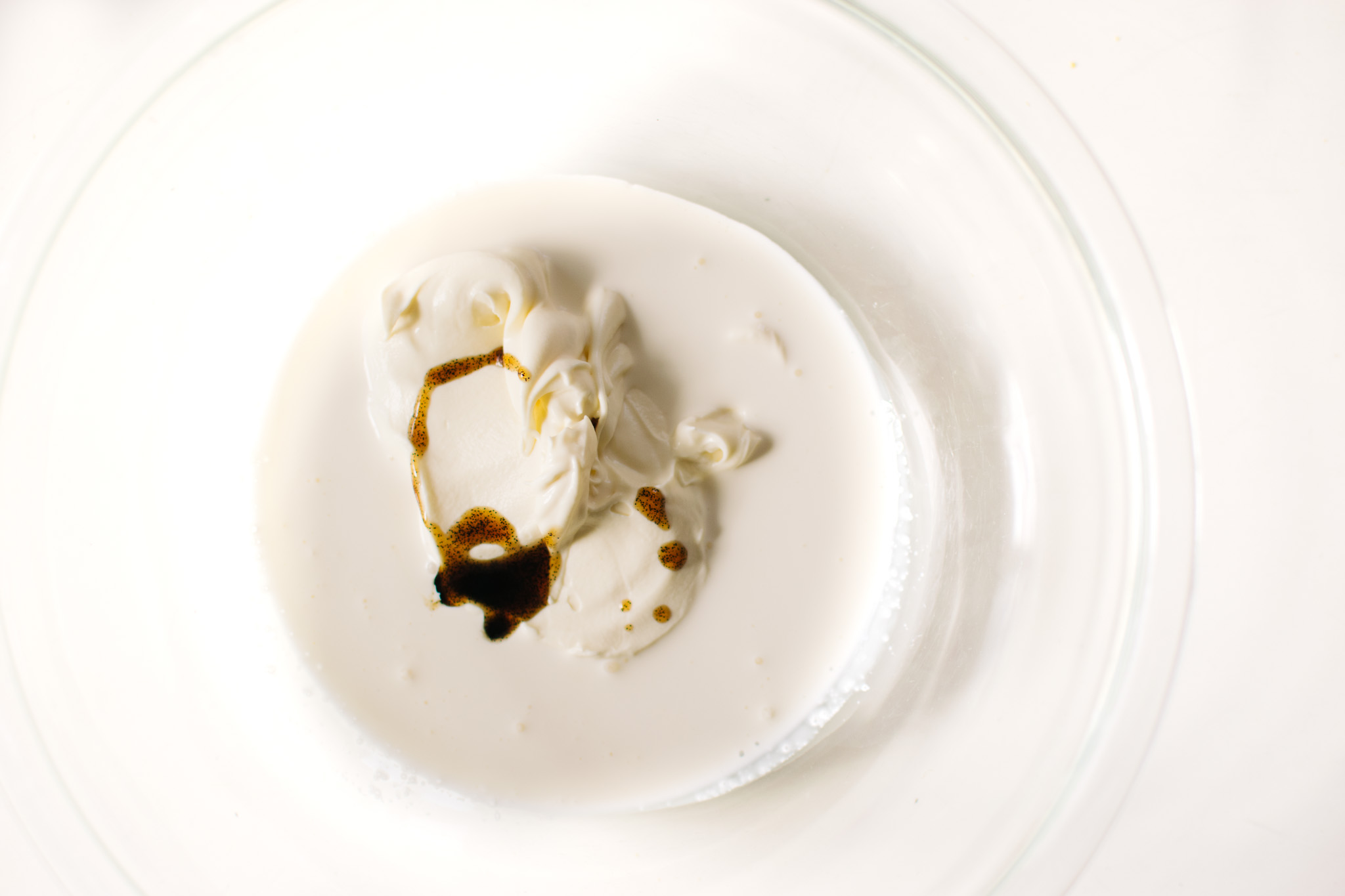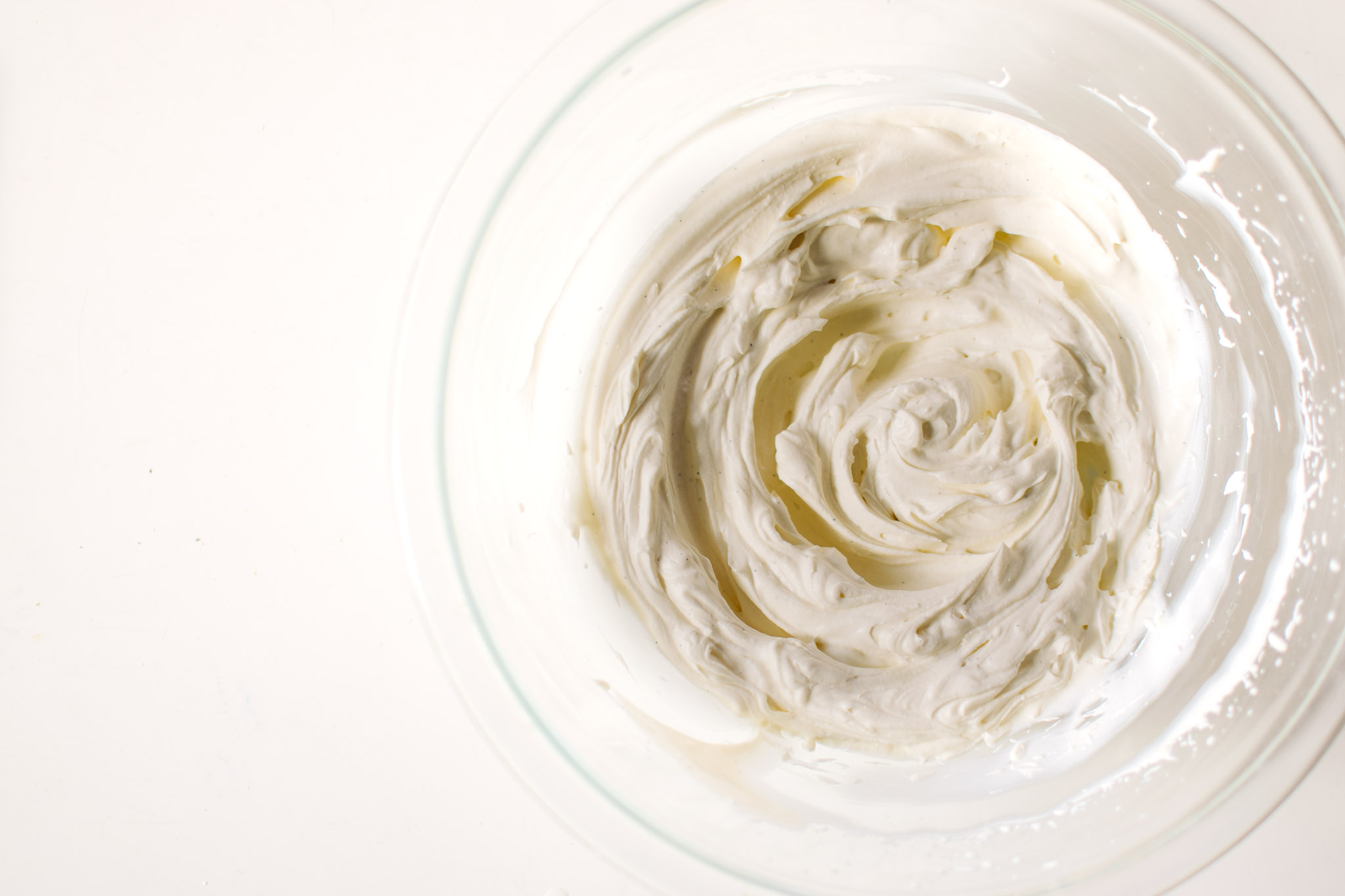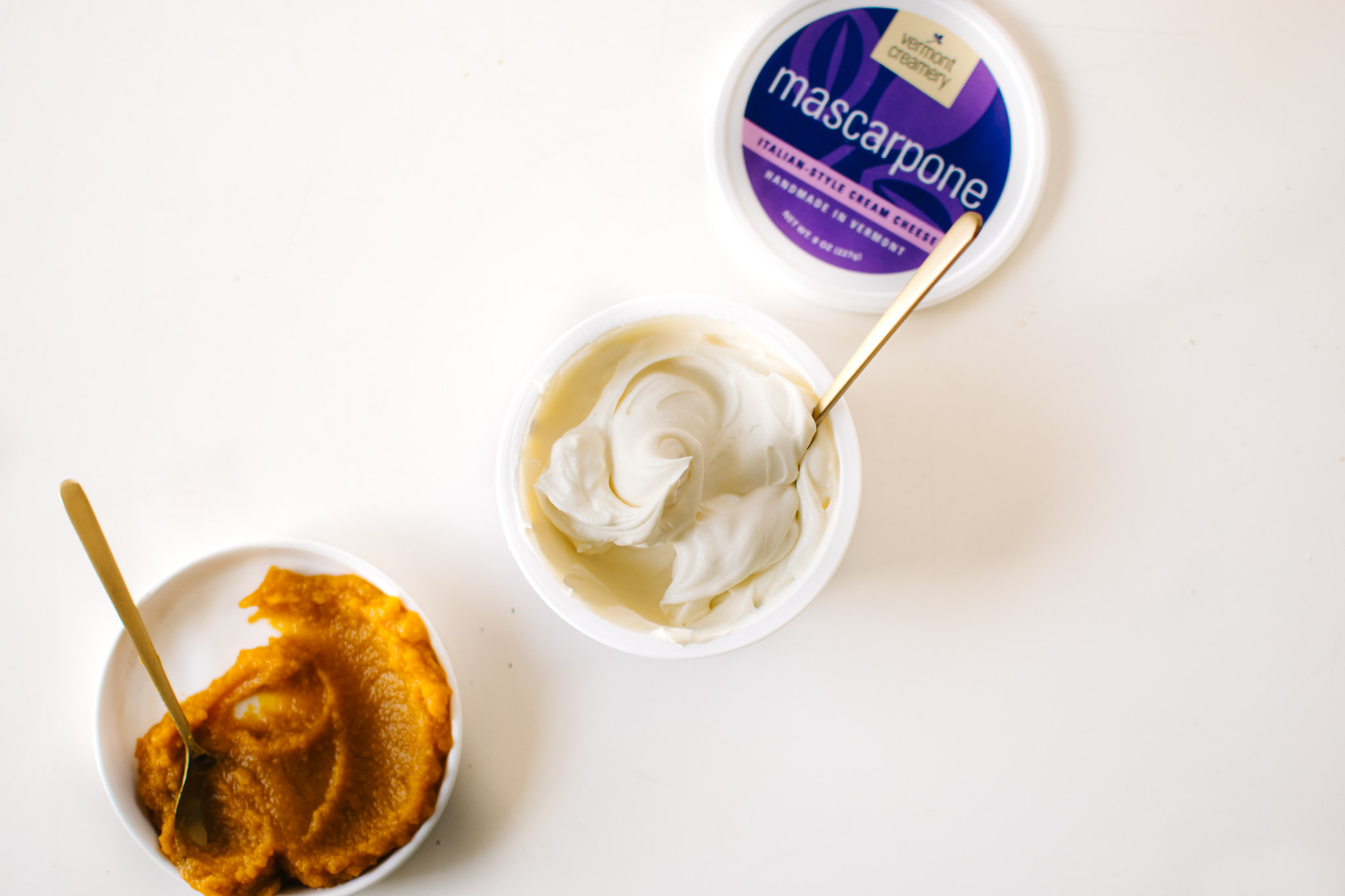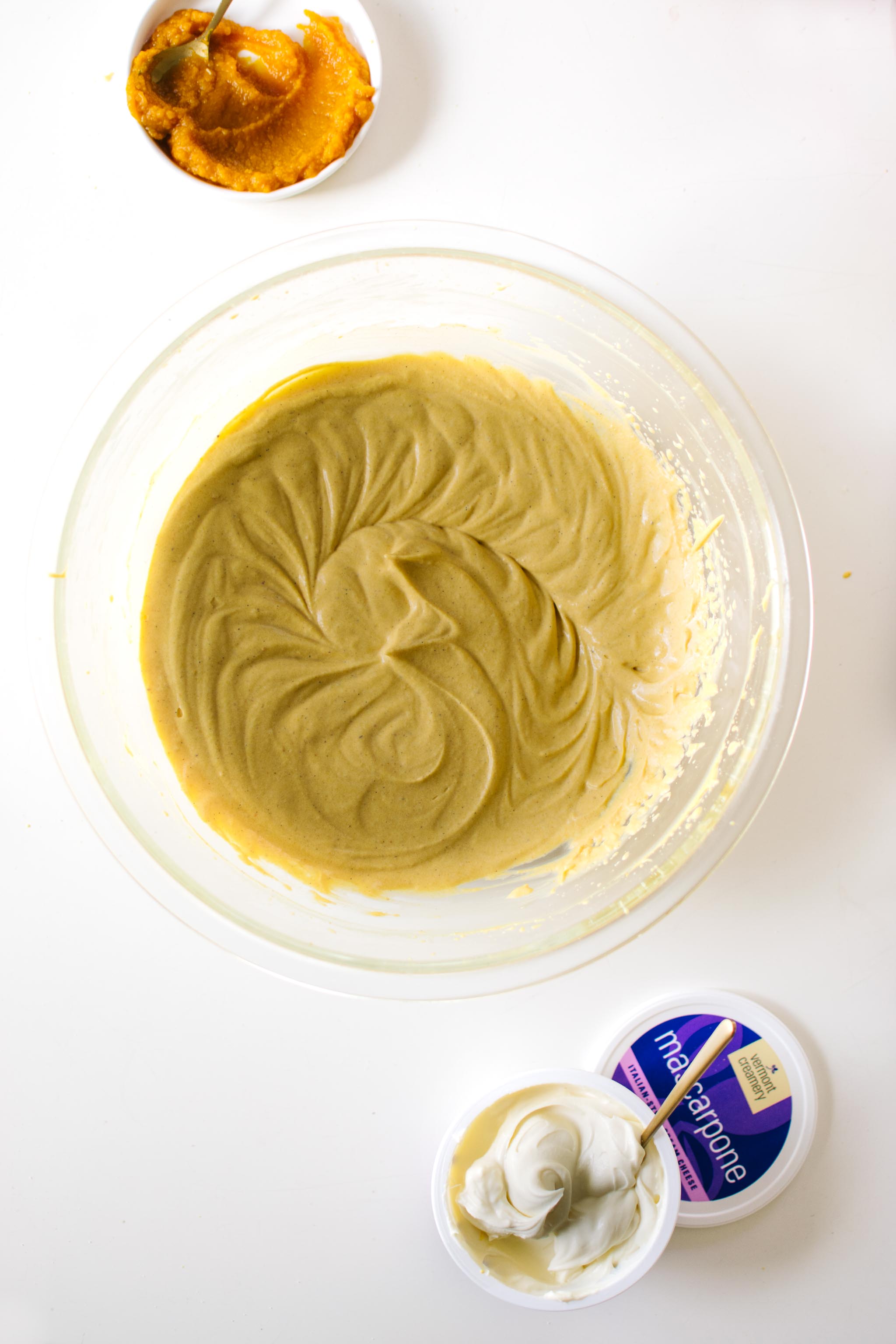 Vermont Creamery sent some holiday reinforcements to play with, and I immediately started dreaming up ways to use their mascarpone. If you haven't used it before, mascarpone is a mild, incredibly rich and creamy Italian cream cheese—though less tangy than the cream cheese to which you're accustomed. It's what forms the creamy base of tiramisu, and while I was tempted to do a pumpkin tiramisu, I wanted something even easier for Thanksgiving dessert.
As I considered flavor combinations, I realized I wanted gingersnaps for both flavor and texture. And a layer of un-pumpkin-ed mascarpone whipped cream. And some kind of sauce. As I riffed on sauces in my mind, I remembered the coconut sugar caramel from my book, which is the easiest caramel you'll ever make. Coconut sugar turns into caramel way faster than cane sugar, and has an innately rich, nearly burnt caramel flavor. That depth pairs perfectly with the lightness of the pumpkin mousse. All together, this is pure Thanksgiving dessert heaven.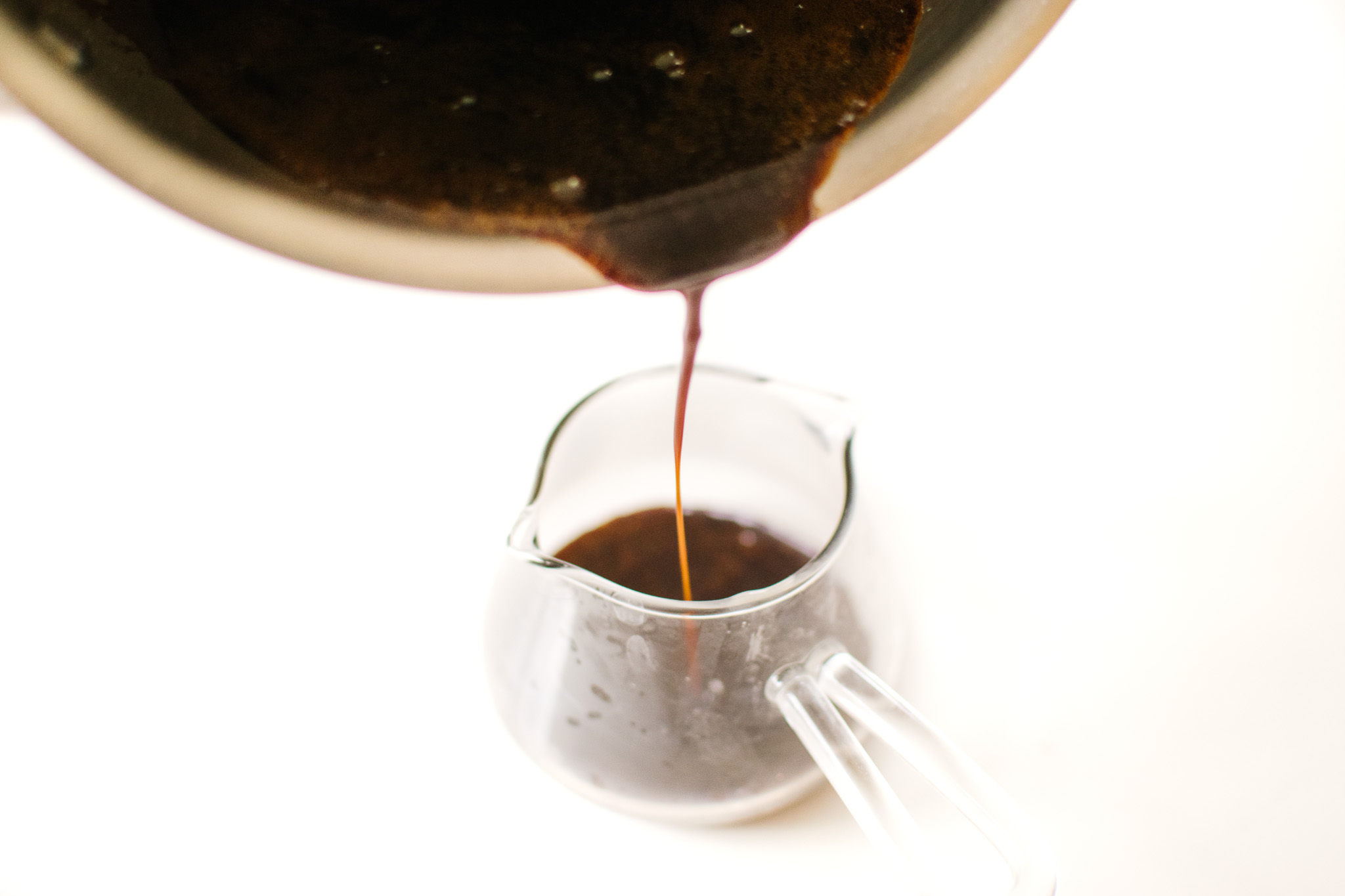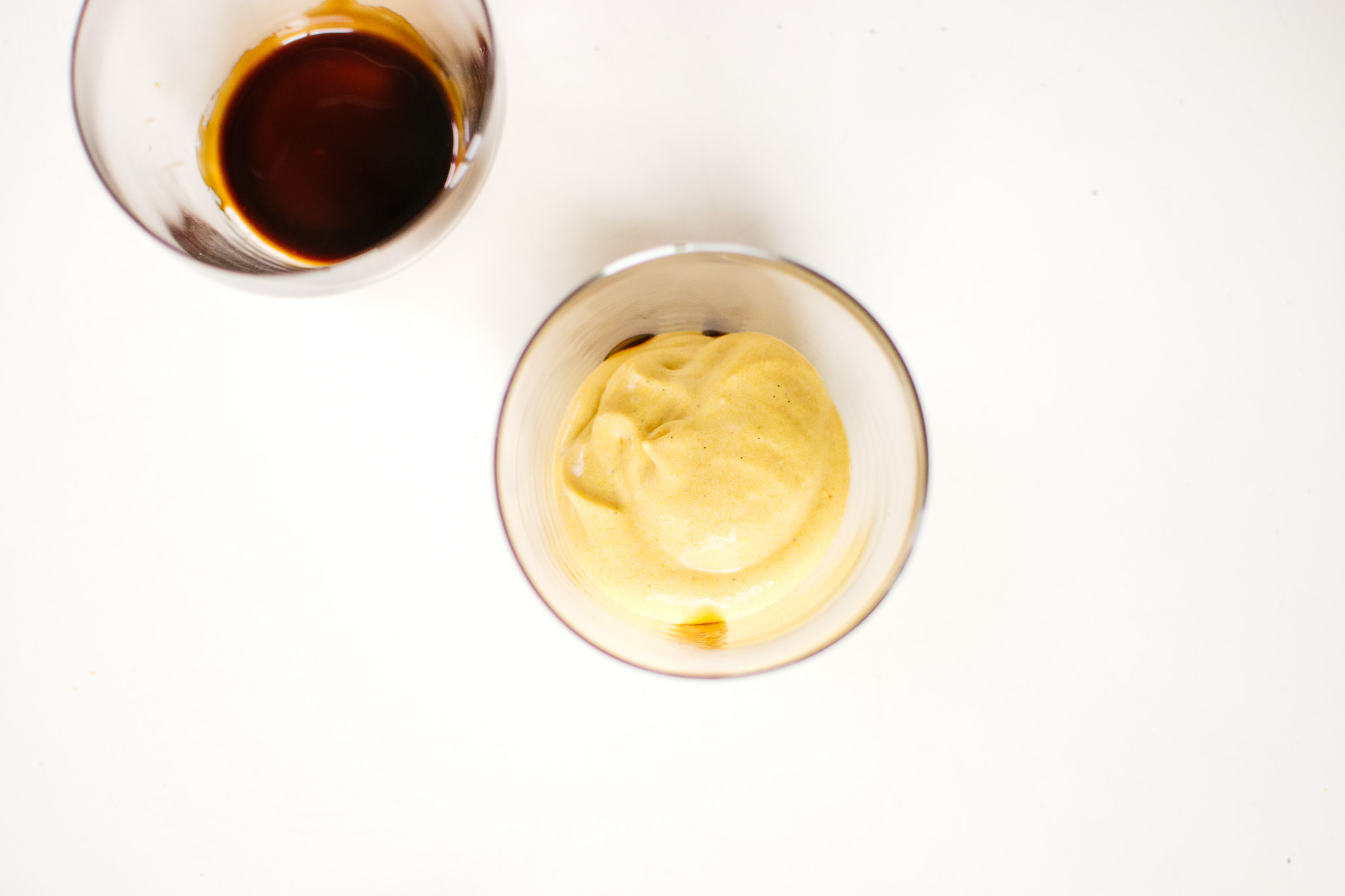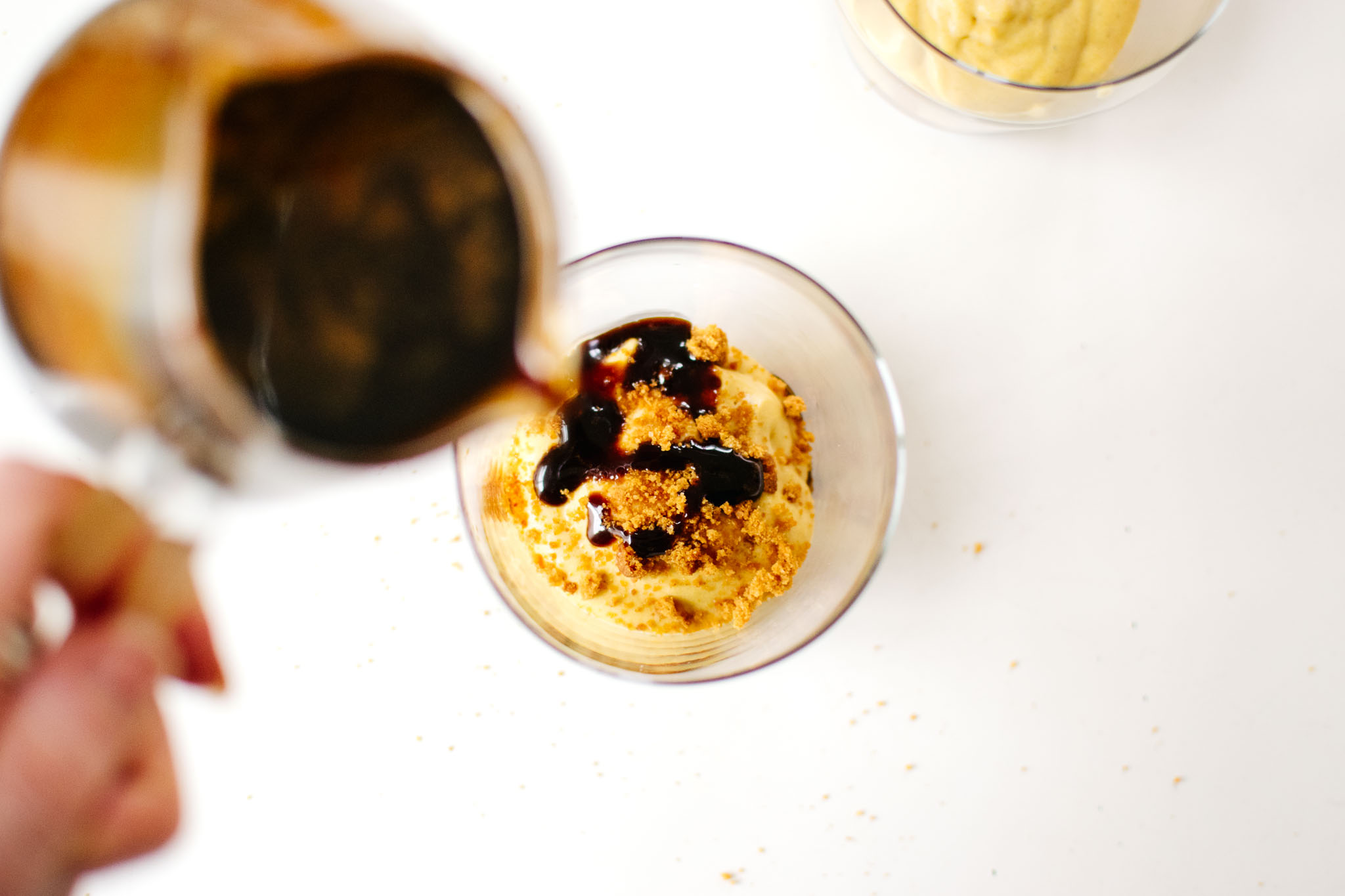 Did I mention it's also incredibly easy? And gluten-free, if you so desire. And mellow on the sugar (coconut sugar is actually paleo-friendly, and the only other sweetener we use here is maple, aside from what's in the gingersnaps). There's no baking involved, and the whole thing comes together in about 25 minutes. You can make it ahead of time if you like, or whip it up last minute for your Thanksgiving dinner or Friendsgiving potluck. I can't wait to make it on Maui next week. My yearly pilgrimage home for Thanksgiving can't come soon enough.
But before Maui, there is more midwest to be had. I'm staying with my maternal cousin Anne and her boyfriend Chris all week in Indianapolis, for two book events and a wedding! (Which, I dare say, is a far better combo than four weddings and a funeral, but I digress. Though I do hope Hugh Grant is at this wedding. Beth, can we invite Hugh Grant?)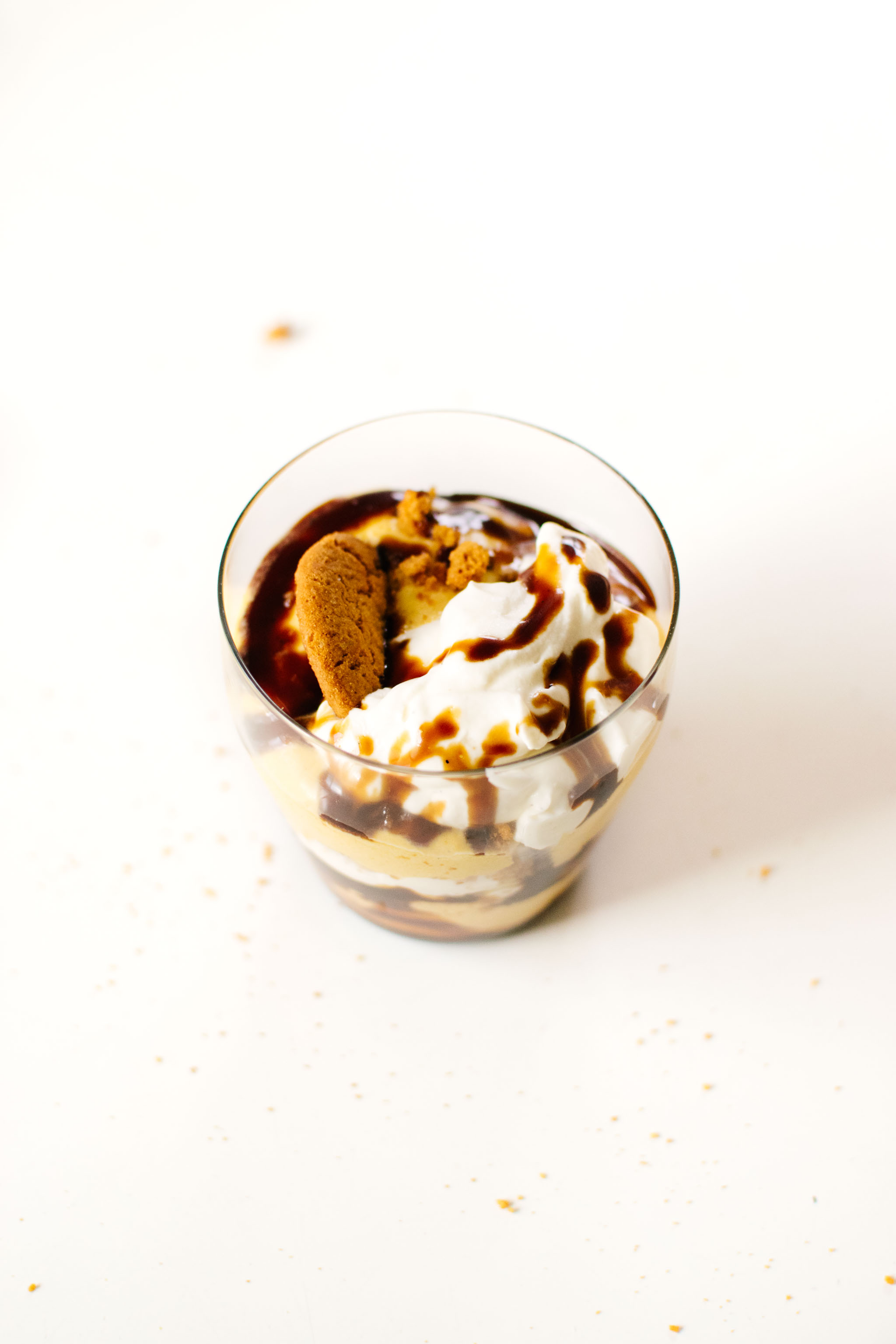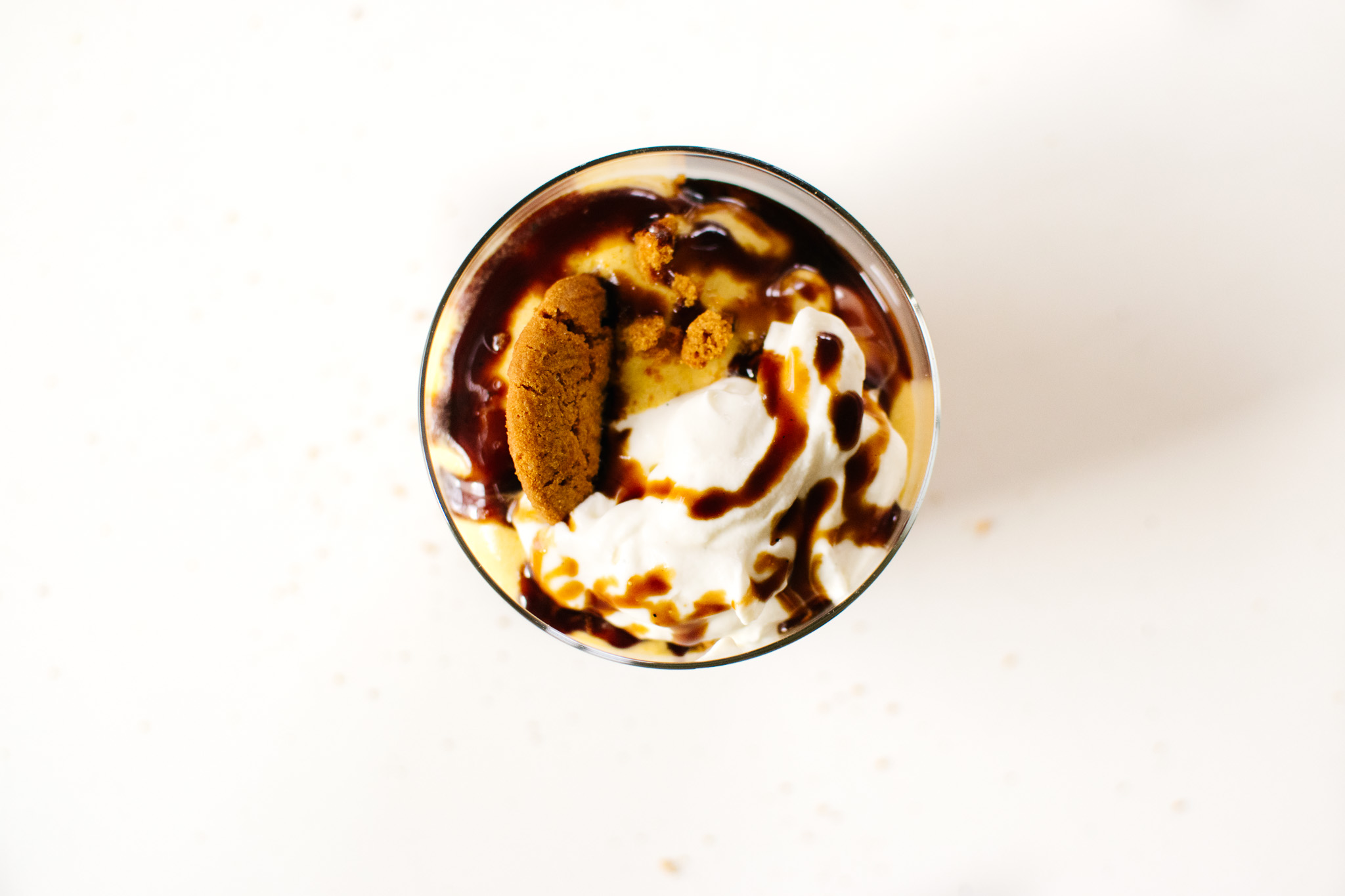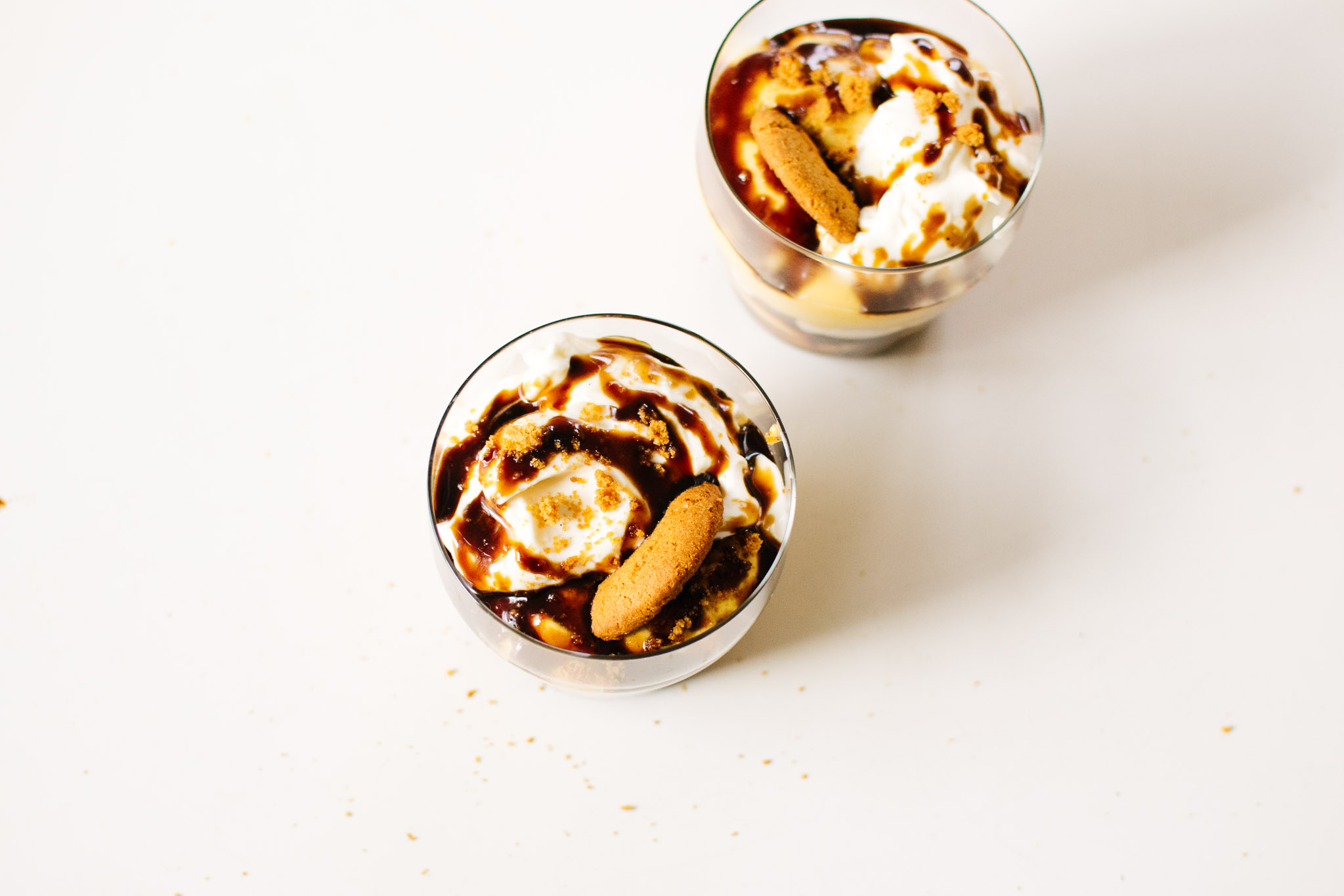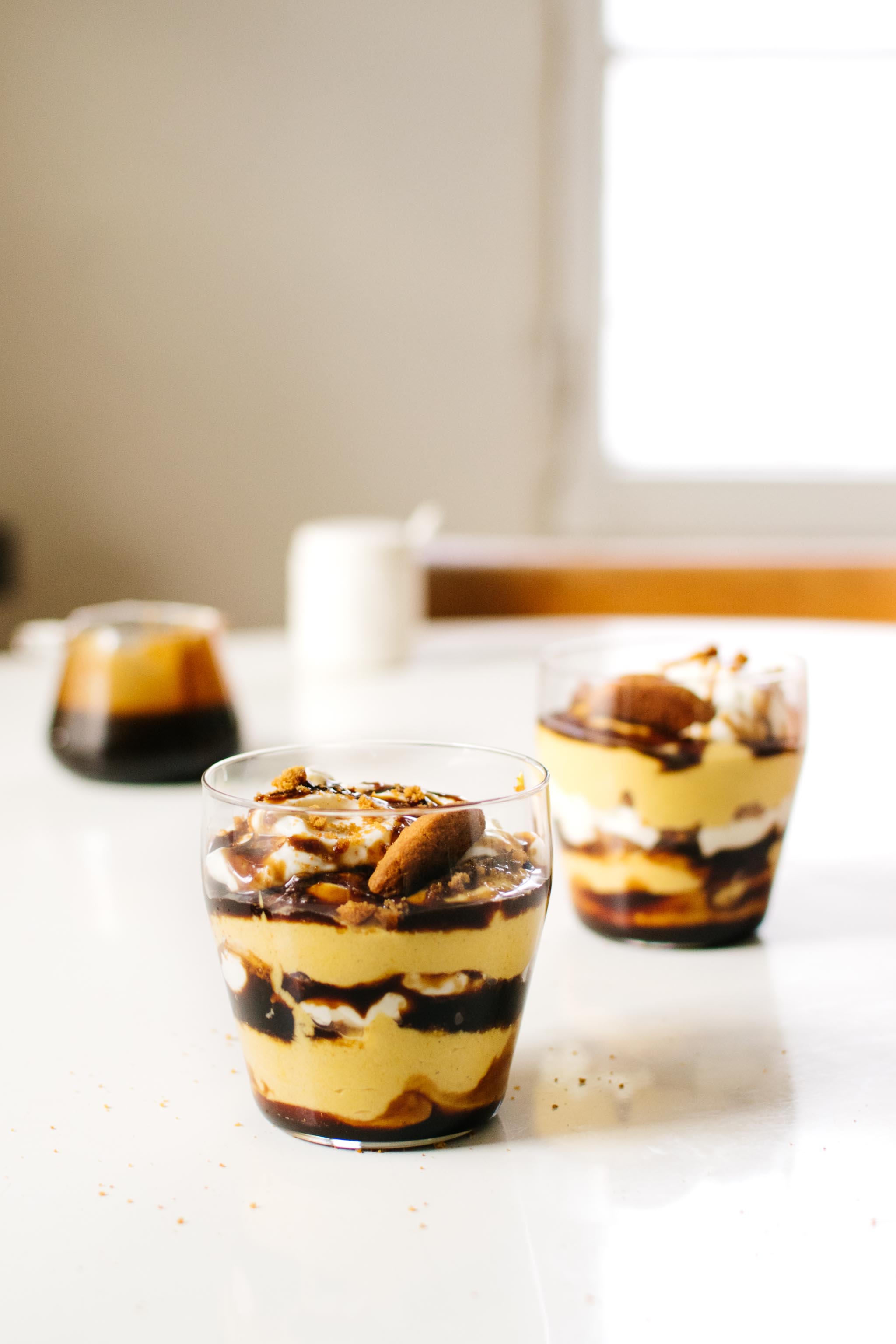 I haven't seen much of my maternal family since the year before my mother died, at her mother's funeral. It's been over ten years, and I feel some mixture of deep desire and anticipation and Freudian excitement-fear for that always uncanny experience of genetic resonance. It's strange to have a DNA-driven reminder of a part of myself that's now absent, as my mother has been for the past nine years. And, though a bit of me is nervous—scared to be assessed as family does, scared to feel how much I miss my mom and the way we would navigate family together—most of me is just, purely excited.
As I stumbled my way through redefining family and home for myself in the wake of my mother's death, I ultimately arrived at the decision to gravitate towards comfort and joy. To be able to return to my mother's Hoosier roots in Indiana and reconnect with family as I celebrate a milestone (book baby!) in my own life feels just right. Like what she would want. I expect my heart might swell a bit extra this week as I feel her absence and remember the time we used to spend here in Indiana. But I hope the swelling is assuaged by the richness of connection that follows.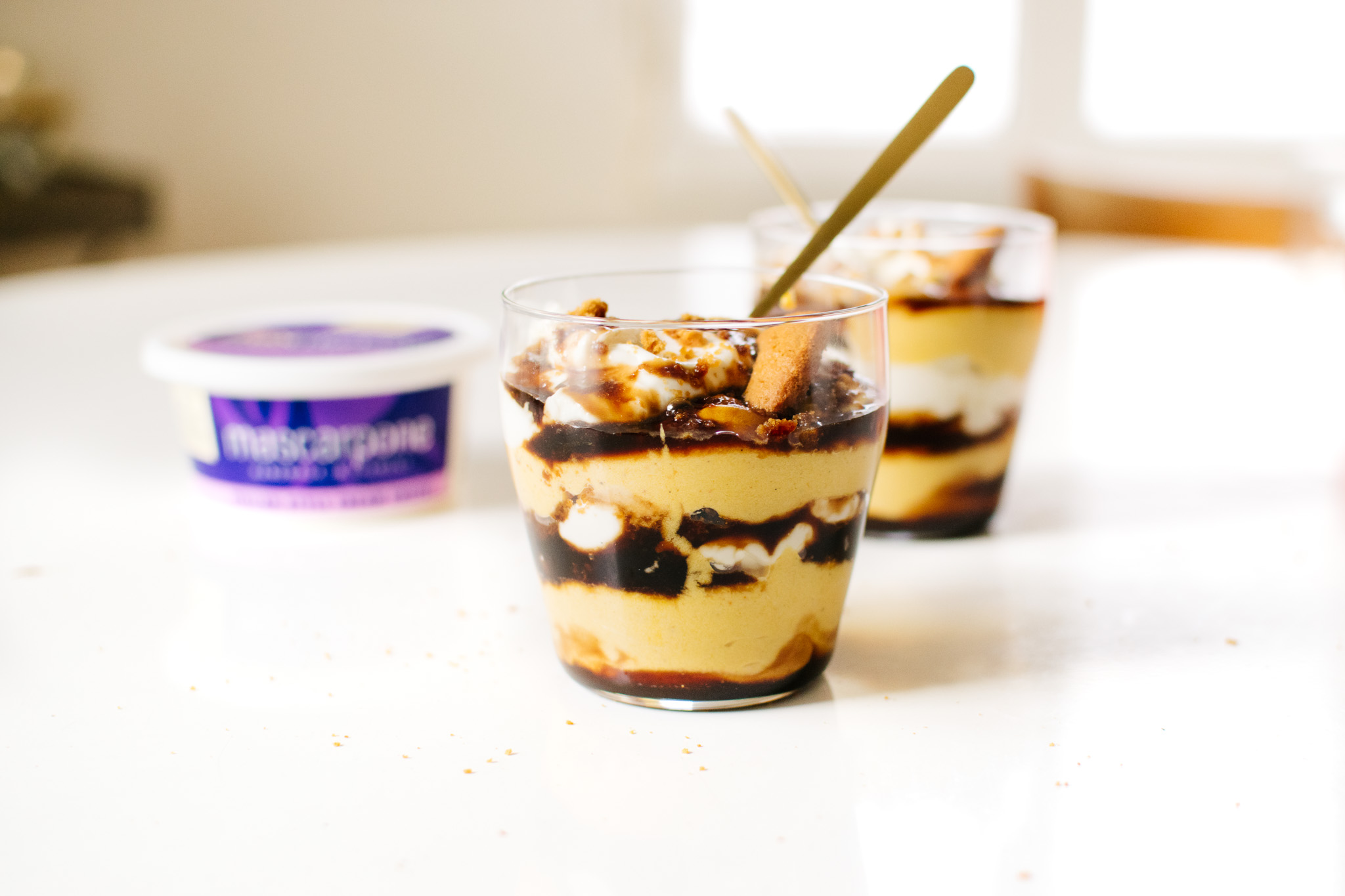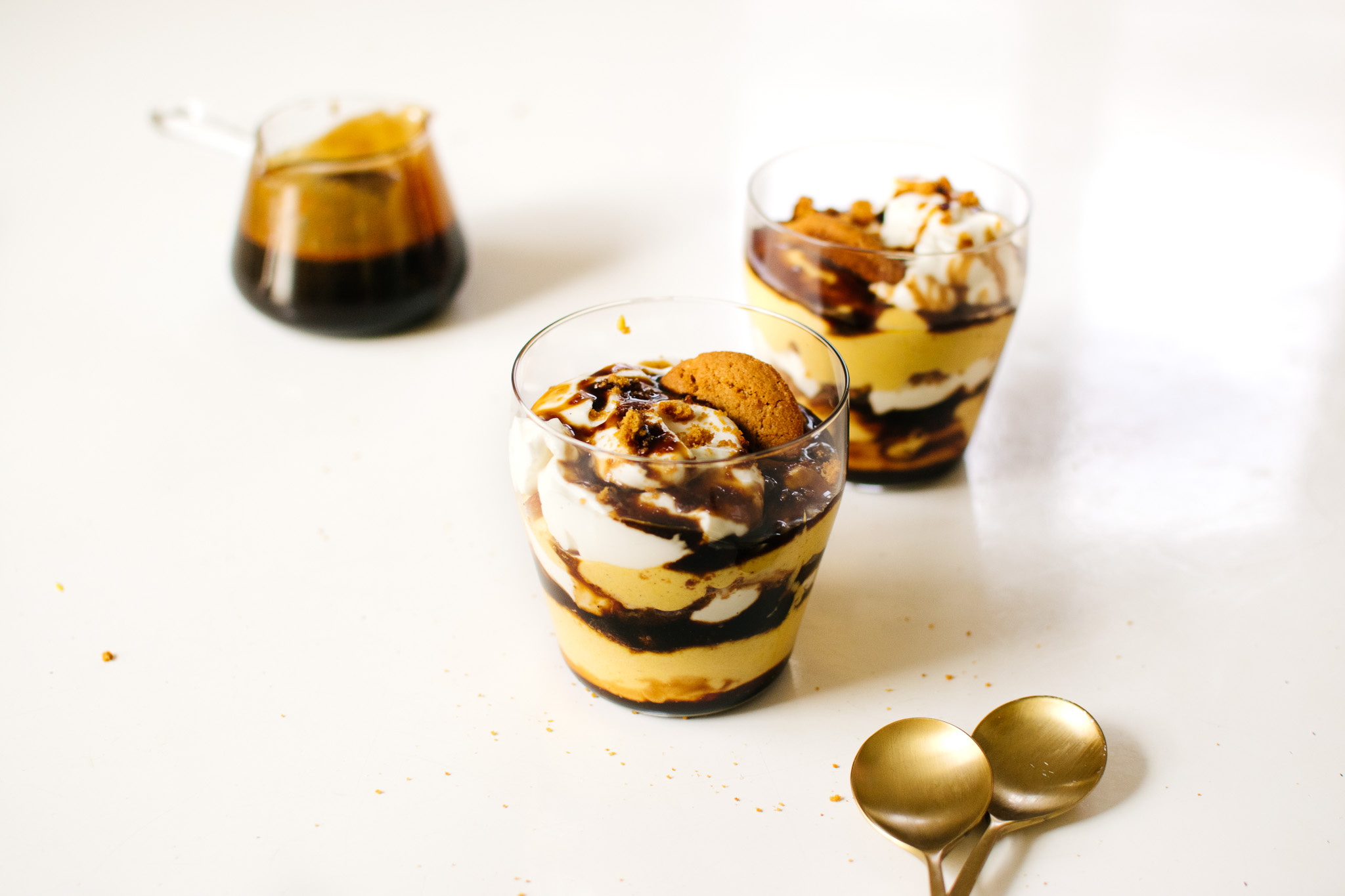 I suppose opening my heart wider will inevitably result in some growing pains. Fortunately I have time, and breath, and gingersnap-laced mascarpone pumpkin mousse on my side.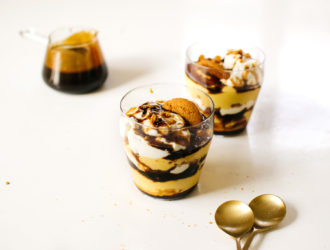 PUMPKIN MOUSSE WITH GINGER CARAMEL.
Light and warmly spiced pumpkin mousse with mascarpone and vanilla bean, layered with gingersnap crumbles, mascarpone whipped scream, and rich ginger caramel.
Ingredients
PUMPKIN MOUSSE
1

cup

pureed pumpkin, unsweetened

8

ounces

mascarpone

1/2

cup

pure maple syrup

1

teaspoon

vanilla bean paste

1/2

teaspoon

cinnamon

1/4

teaspoon

nutmeg

pinch

sea salt

1

cup

heavy whipping cream

16-20

gingersnaps (gluten-free, if desired)
MASCARPONE WHIPPED CREAM
3/4

cup

heavy whipping cream

3/4

cup

mascarpone

1/2

teaspoon

vanilla bean paste
GINGER CARAMEL
3/4

cup

coconut sugar

2

tablespoons

water

1/4

cup

heavy whipping cream

1/2

teaspoon

ground ginger

1/8

teaspoon

fleur de sel or sea salt
Instructions
PUMPKIN MOUSSE
In a large mixing bowl, use an electric mixer (or stand mixer) to blend the pumpkin, mascarpone, maple syrup, vanilla, spices, and salt. Mix until completely smooth.

Add in the heavy cream, increase speed to high, and whip until medium-soft peaks form, 5-7 minutes depending on the type of mixer you use. Once desired consistency is reached, cover and chill in refrigerator until ready to serve.
MASCARPONE WHIPPED CREAM
In a large mixing bowl, whip the mascarpone, heavy cream, and vanilla until medium peaks form. Cover and refrigerate until ready to serve.
GINGER CARAMEL
In a medium saucepan over medium heat, stir the coconut sugar and water until the sugar dissolves completely.

Raise the heat to medium-high and bring to a boil, swirling occasionally. Cook for 2-3 minutes total, until the mixture is dark amber in color.

Remove from the heat and add the heavy cream, ginger, and salt, whisking until combined.
ASSEMBLE THE PARFAITS
In each glass or serving vessel, pour a base of caramel, then add a dollop of pumpkin mousse. Top with some crumbled gingersnaps, a drizzle of caramel, and add a dollop of mascarpone whipped cream. Continue to layer like this until the glass is filled to your liking. Finish with gingersnap crumbles, caramel, and a whole or half gingersnap on top for good measure.