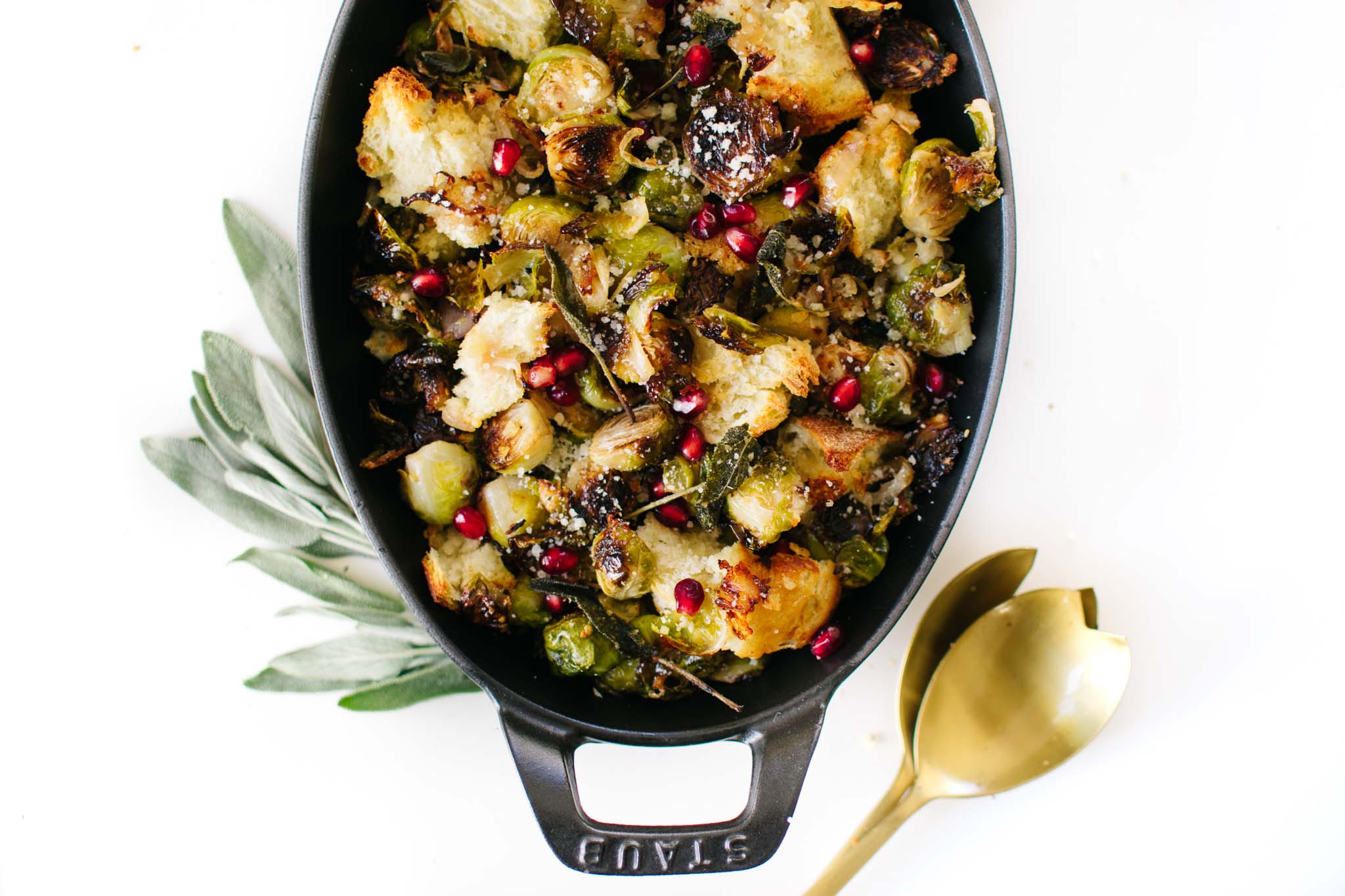 Jump to Recipe
This post was created in partnership with La Brea Bakery and Cherry Bombe. All opinions are my own, including my ardent love for La Brea Bakery bread and the Bombe Squad!
Many years ago, I was given a sourdough starter and a hand-hewn bread board for kneading wildcrafted dough. The starter was a gift from my family doctor on Maui, at a time when my mother was very sick. I thought, in that moment, that I might be the kind of person who found comfort in baking loaves of hearty sourdough bread. It was a potent starter, a mix of wheat and rye, filled with the promise of wholeness. I'm ashamed to say this is not the beginning of a rhapsodic period of bread-making in my life. Alas, the truth is that, within a few weeks, I found the starter mold-ridden, shoved to the back of my fridge. I was too embarrassed to admit the fault of my ways to my sourdough benefactor, and—more realistically—convinced that this starter-feeding life was not the life for me.
Which is why I was deeply moved when I learned about the sourdough starter that La Brea Bakery has used since 1989. No shame-filled starter failures, here. Just pure bread of legend. An unbroken thread of yeasty wholesomeness that now lives the chic life of a tricenarian.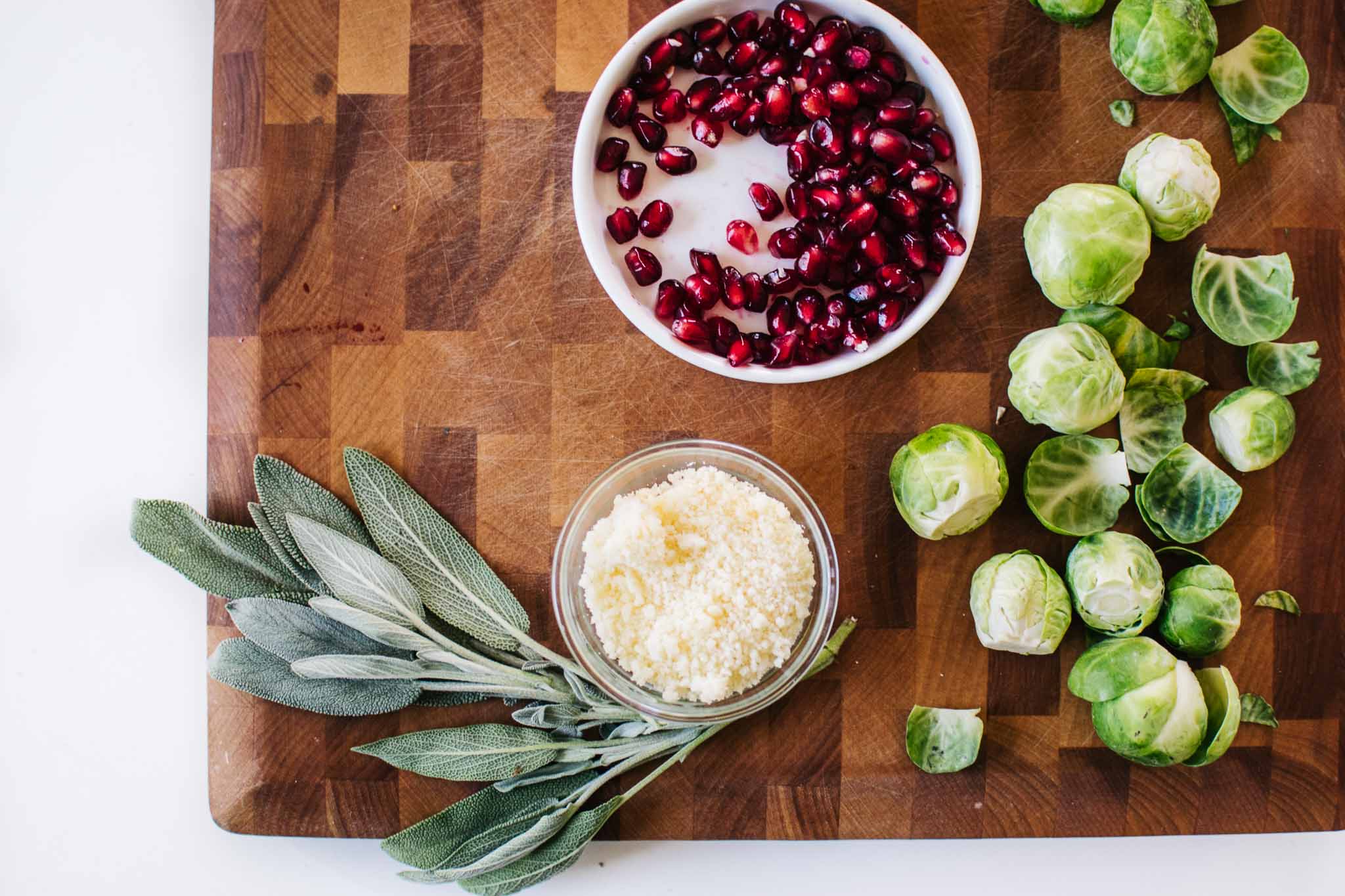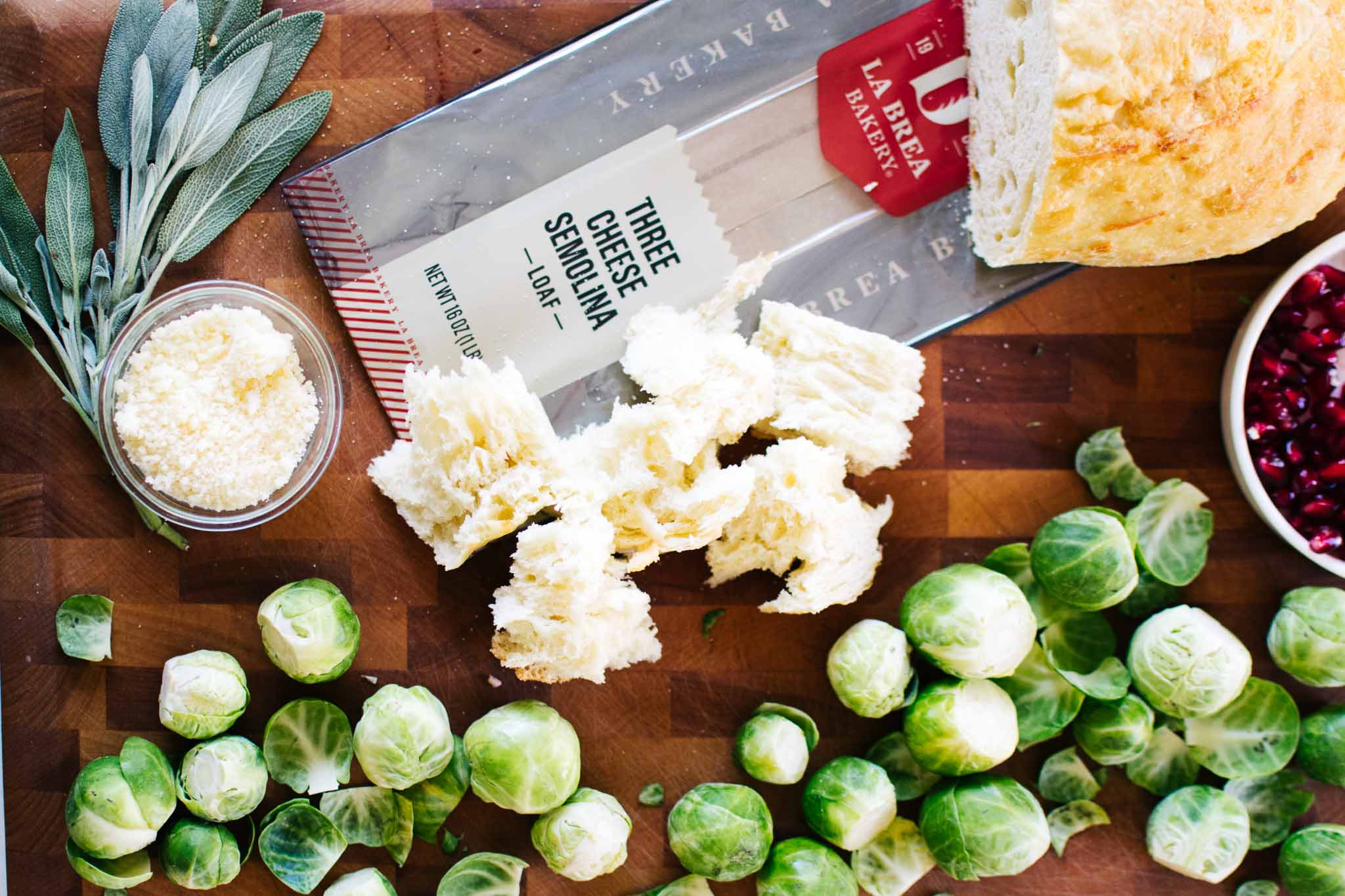 I first learned about La Brea Bakery's nearly three decades-old starter at the inaugural west coast Cherry Bombe Jubilee, a gathering of 525 women obsessed with food and how it creates change in their communities. As I sat considering my own starter failures and the delicious results of La Brea Bakery's enduring roots, I listened to speakers wrestle with what it means to be a woman in the food world now, as opposed to thirty years ago, or even five.
Like a good legacy sourdough starter, each woman acknowledged where they'd come from, and the need to regularly feed their desire for new growth with questions. If we want our food, our dinner tables, and our kitchens to reflect true equality, we must seek the answers to pertinent questions: Who decides what we eat? Whose voices are heard most frequently in restaurant kitchens and in the media? And what role does socioeconomic and racial privilege play in determining these answers?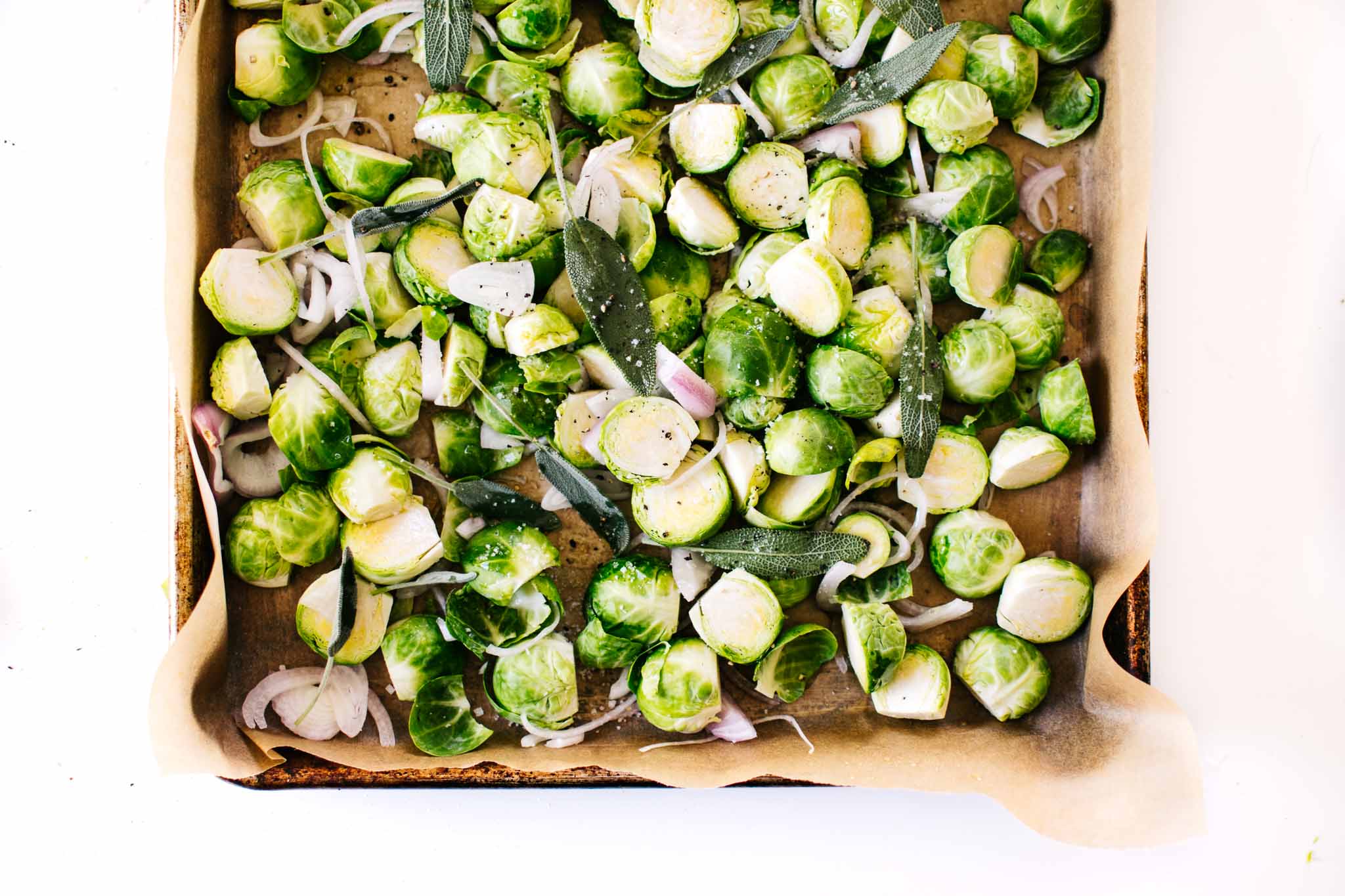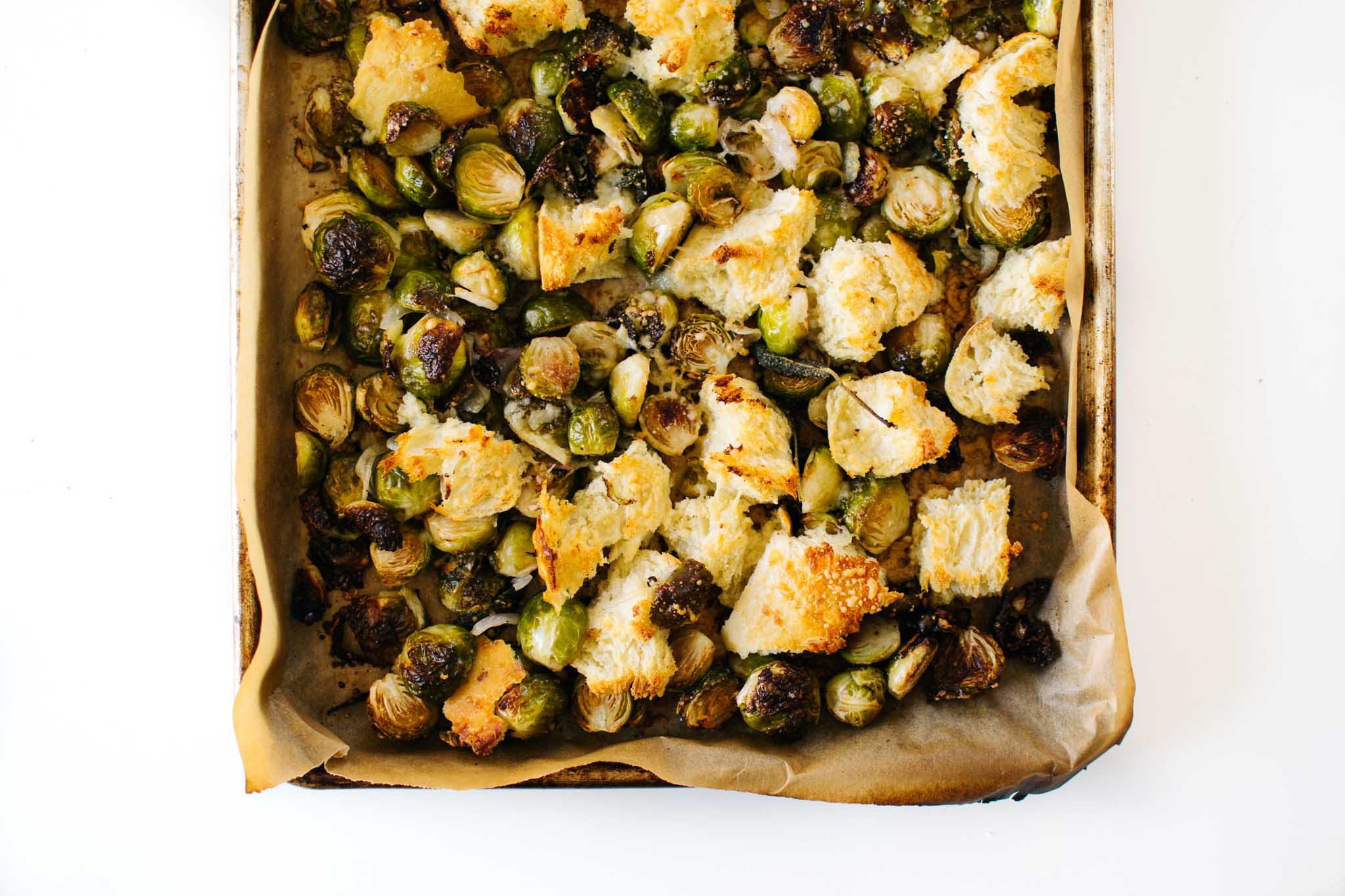 Editor-in-Chief of Eater Amanda Kludt gave a talk on the "State of the State", detailing where women in food stand in relationship to their male counterparts over the past four years. The timeline was set with its starting point as the 2013 "The Gods of Food" issue of TIME magazine, which failed to include any female chefs in their list. But instead of focusing on this injustice, Kludt looked ahead to what we can do now to change the industry climate, to feed our proverbial starter.
By 2021, Kludt asked that we:
eliminate best female awards categories and lists;
push writers and publications to include women and people of color in everyday reporting;
broaden the idea of what we celebrate and fixate on;
push awards committees to put women in every category;
push event organizers to include women, and refuse to participate in events unless women and people of color are represented;
celebrate when people do it right.
The point here that excites me most is Kludt's call to broaden the idea of what we celebrate, or, in the terms of feeding our starter, we must diversify the types of food we give our culture (pun intended). Instead of uplifting voices that sound the same and focus on the same tired tropes, we have the opportunity to share stories from people whose perspectives are rarely heard.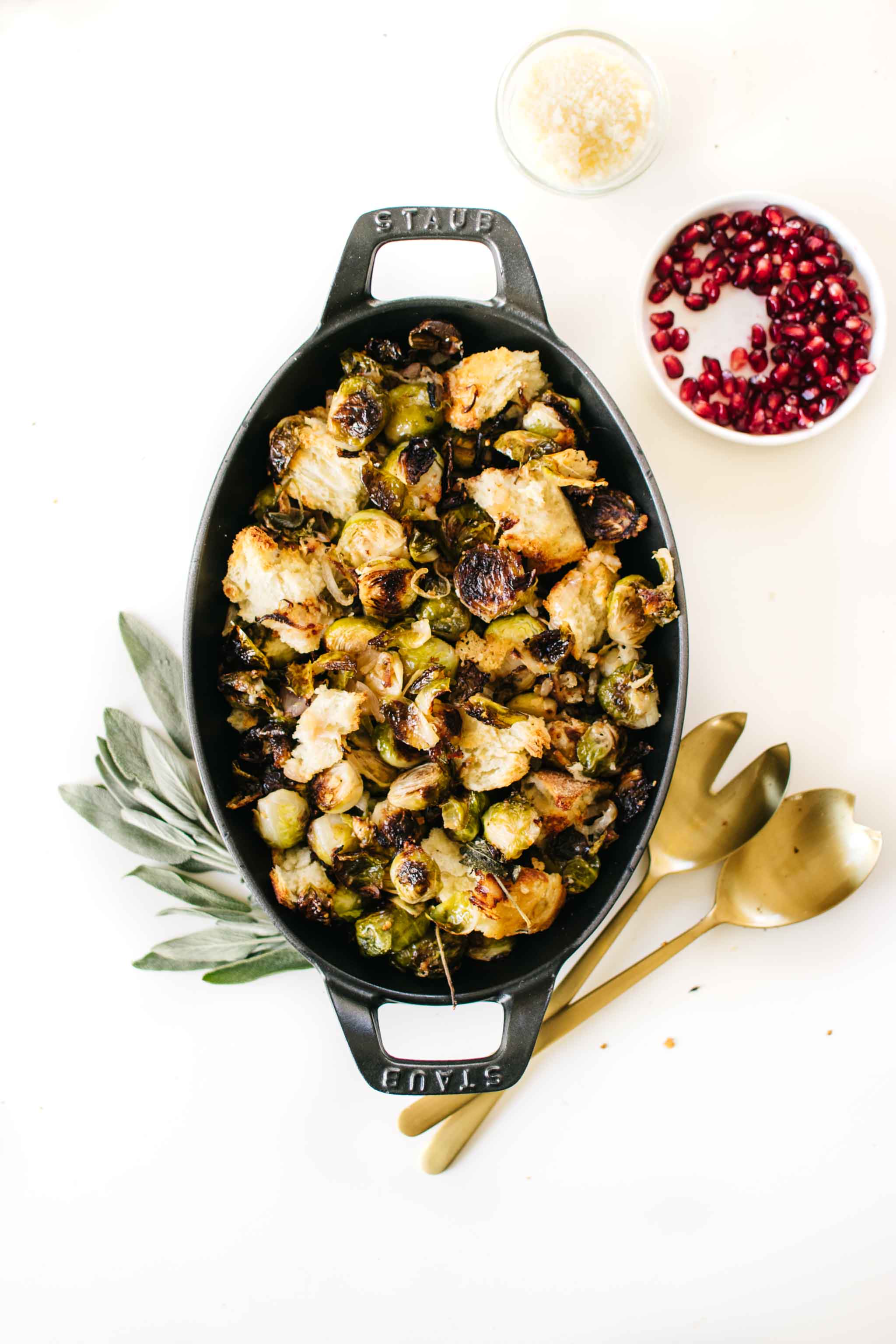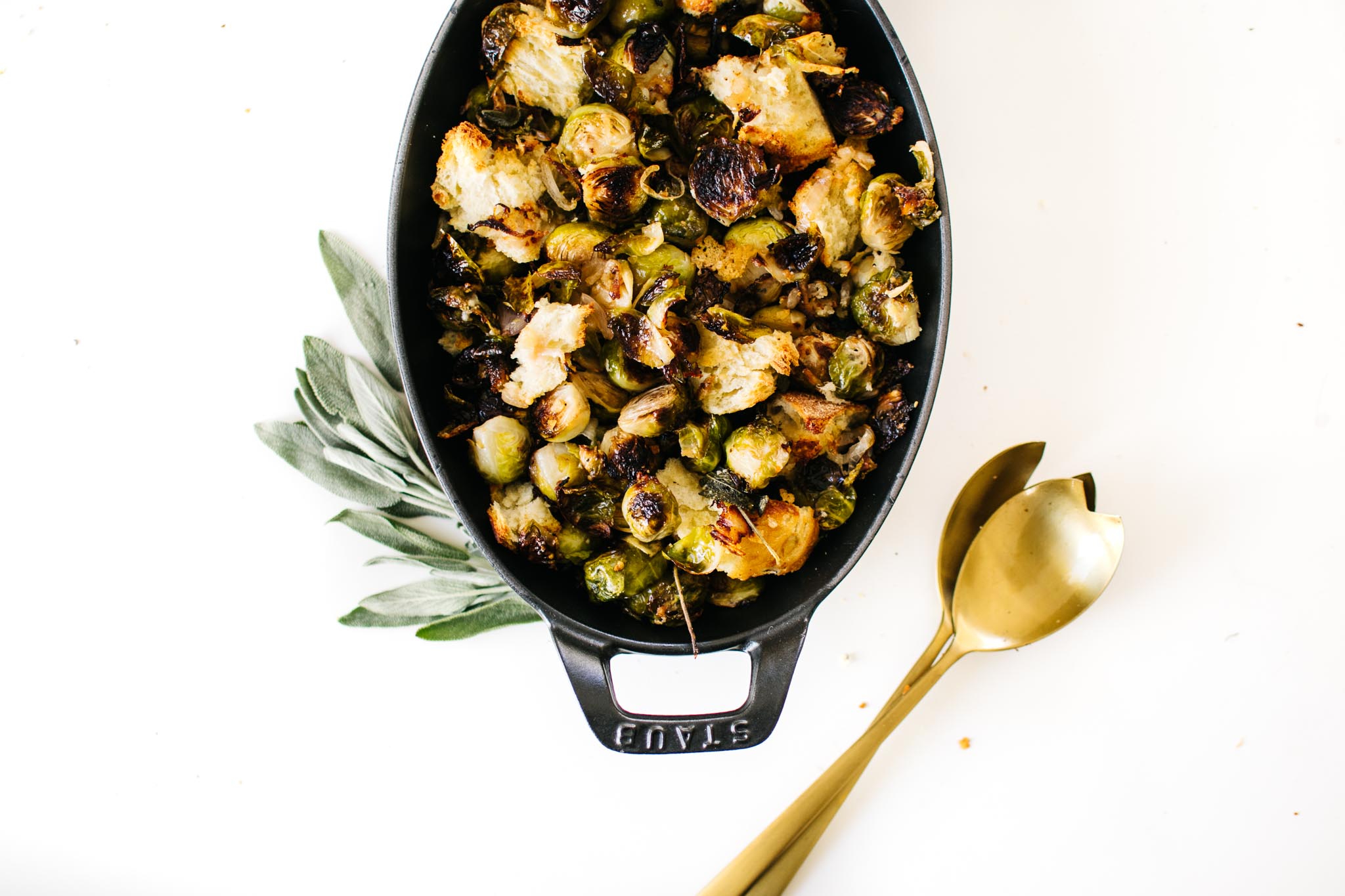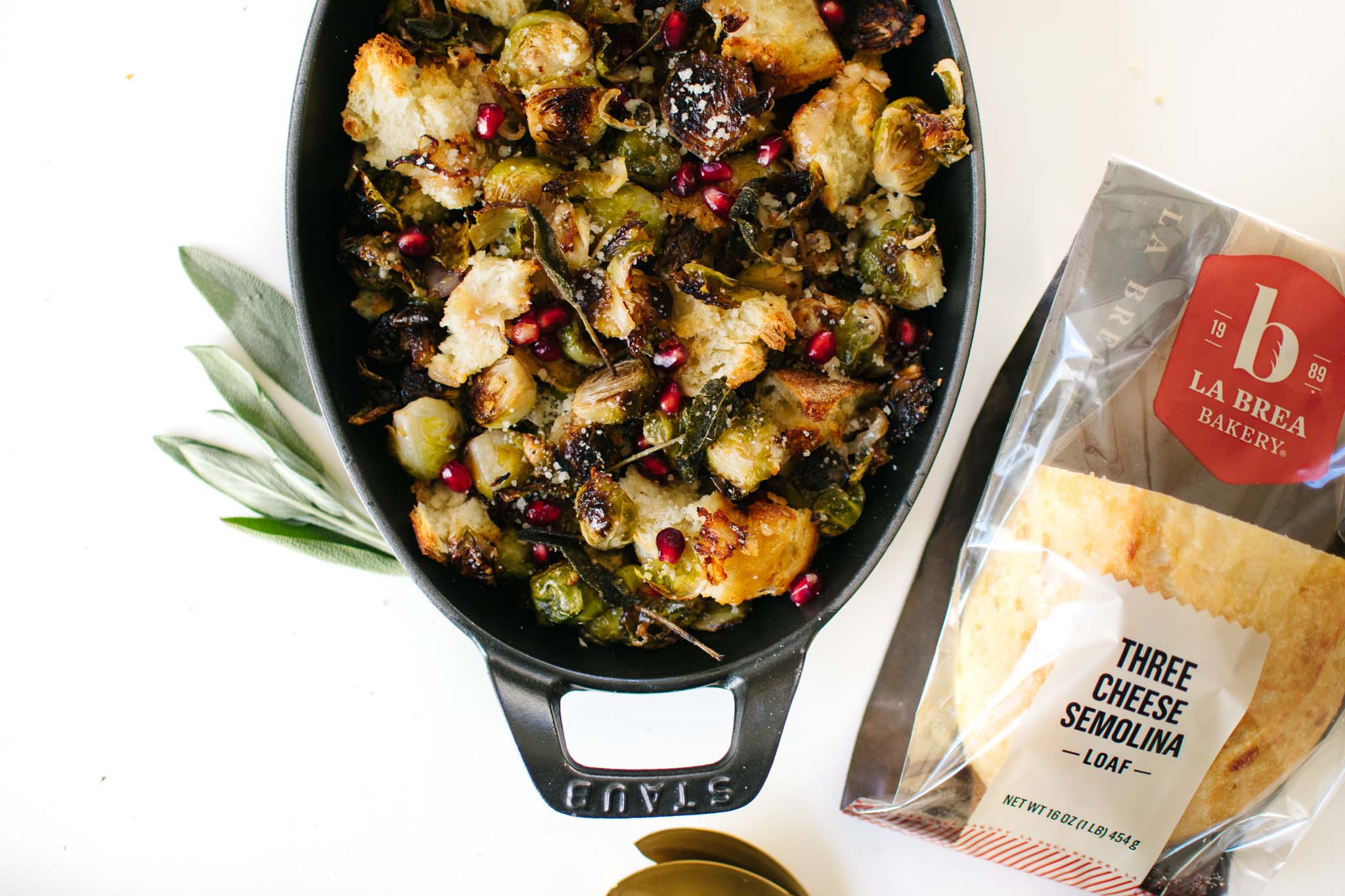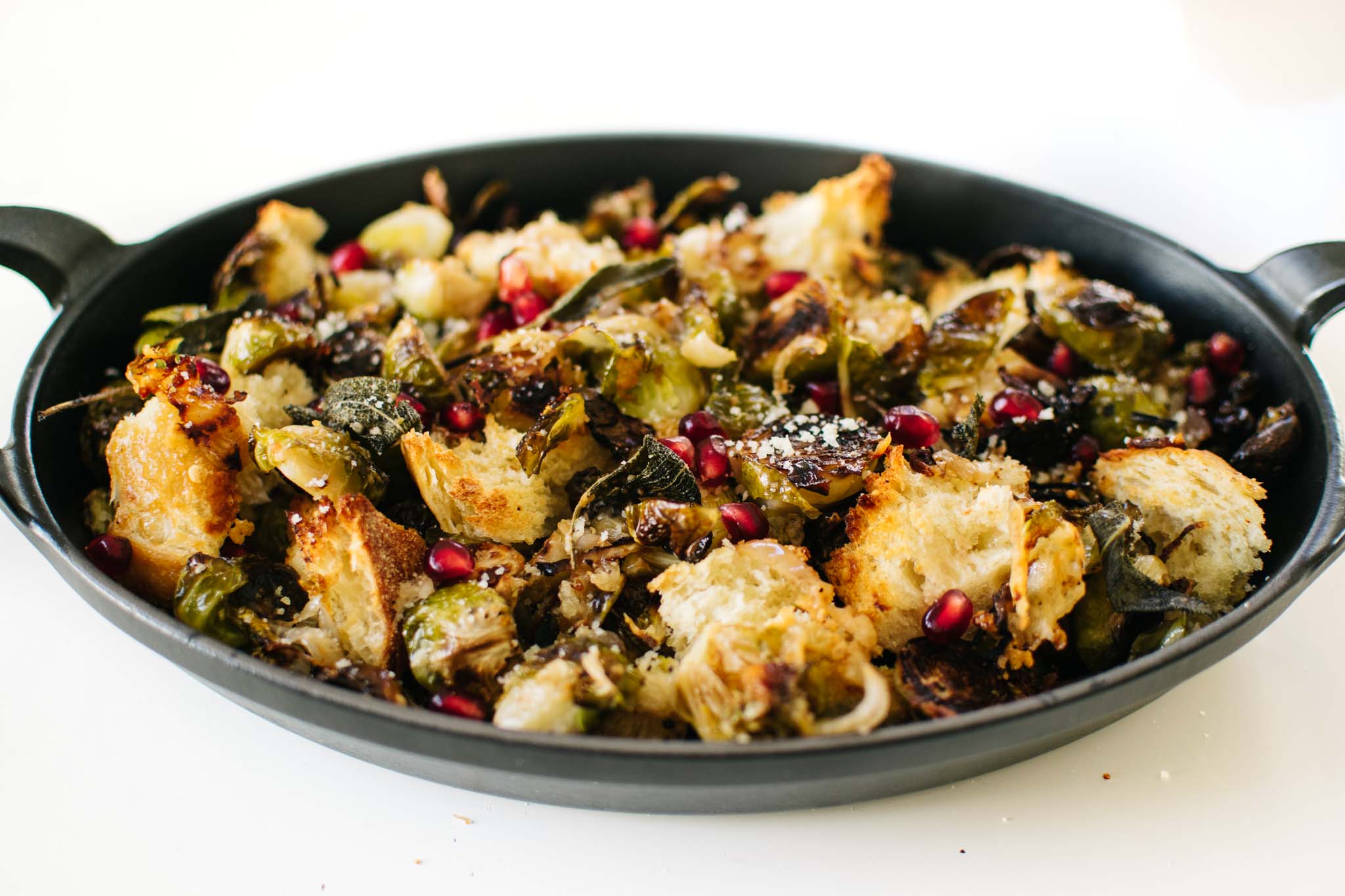 This form of listening is vital not just in the broader food and media world, but around our own dinner tables, especially as we move into the holidays. These sage roasted brussels sprouts with giant, cheesy semolina breadcrumbs are a perfect starting point for new conversations.
As those of you who own the Kale & Caramel cookbook know, sage has been used for centuries to bring focus, clarity, and purity to mind—and its herbaceous flavor pairs exquisitely with tender, slightly vinegary roasted brussels and salty cheese. La Brea Bakery's Three Cheese Semolina Loaf is the perfect addition, providing a yeasty cushion for brussels sprouts adventures.
Let these brussels sprouts prep your holiday table for a sweet cacophony of new voices. Let's listen better and more deeply. Let's ask questions to make sure the quiet ones are heard. Let's try new things. Let's keep feeding that starter.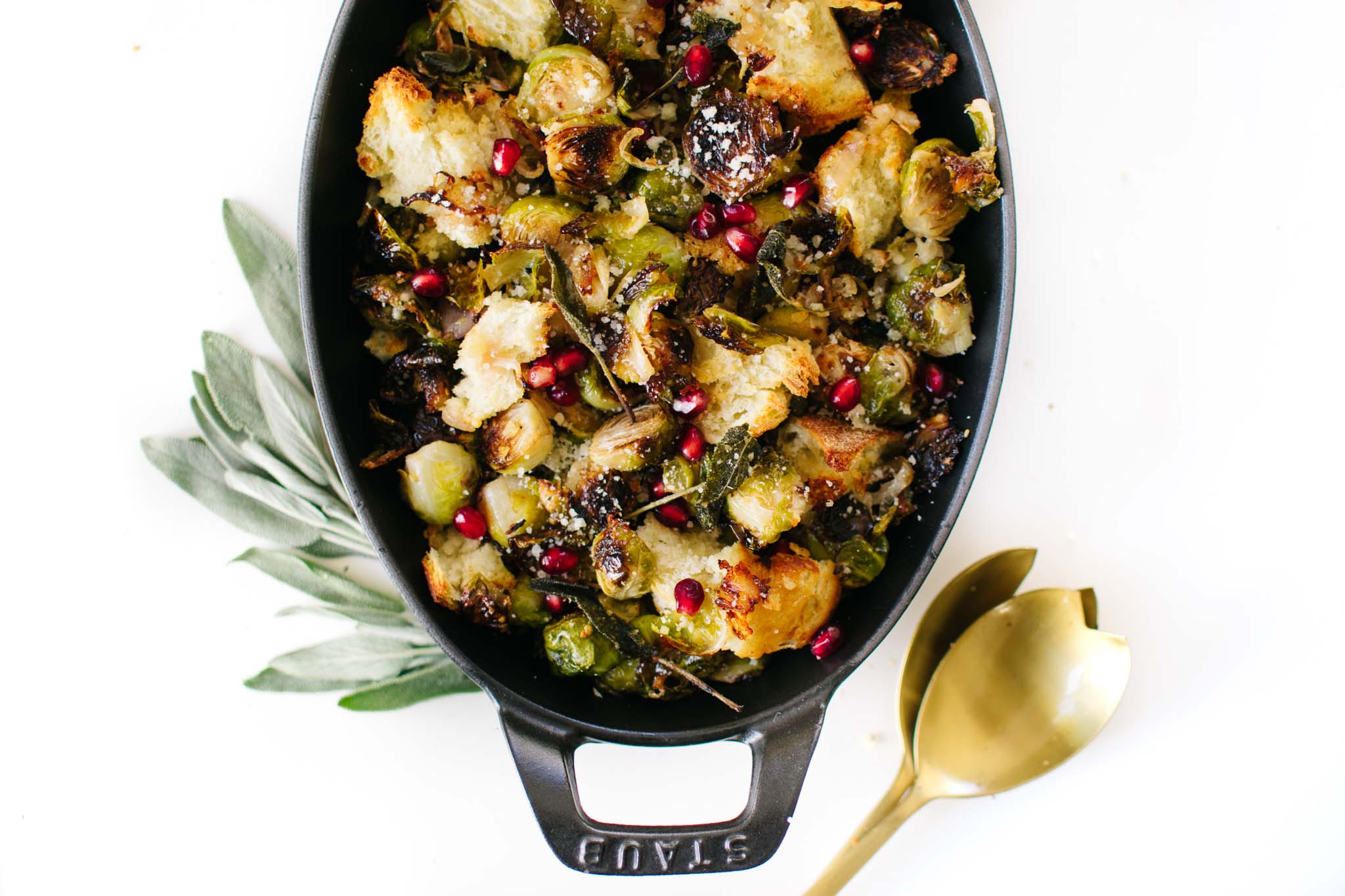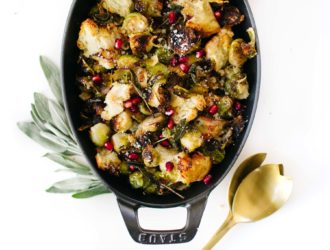 SAGE ROASTED BRUSSELS SPROUTS WITH CHEESY BREAD CHUNKS
The perfect holiday table brussels sprouts: Crispy, tender, roasted, cheesy, herby, and tossed with chunks of roasted bread and pomegranate.
Ingredients
3

pounds

brussels sprouts, trimmed and halved (about 7-8 cups of brussels sprouts halves)

1

cup

thinly sliced shallots (about one medium-large shallot)

15-20

fresh sage leaves

4

tablespoons

olive oil

3/4

cup

grated parmesan cheese, divided

1

teaspoon

kosher or medium coarse sea salt

freshly cracked pepper

to taste

3

tablespoons

red wine vinegar

1/4

cup

pomegranate seeds
Instructions
Preheat oven to 425ºF. Line a large baking sheet with parchment paper.

Place brussels sprouts halves, shallots, and sage in a single layer on the parchment-lined baking sheet. Drizzle with olive oil, then sprinkle with 1/4 cup parmesan, salt, and pepper. Toss to coat evenly.

Bake for 20 minutes, then add the bread chunks, toss, sprinkle with another 1/4 cup parmesan, and continue to bake another 10 minutes.

Remove from the oven when edges are crispy and browning, sprinkle with red wine vinegar, toss, and sprinkle with remaining parmesan cheese and pomegranate seeds. Serve immediately.