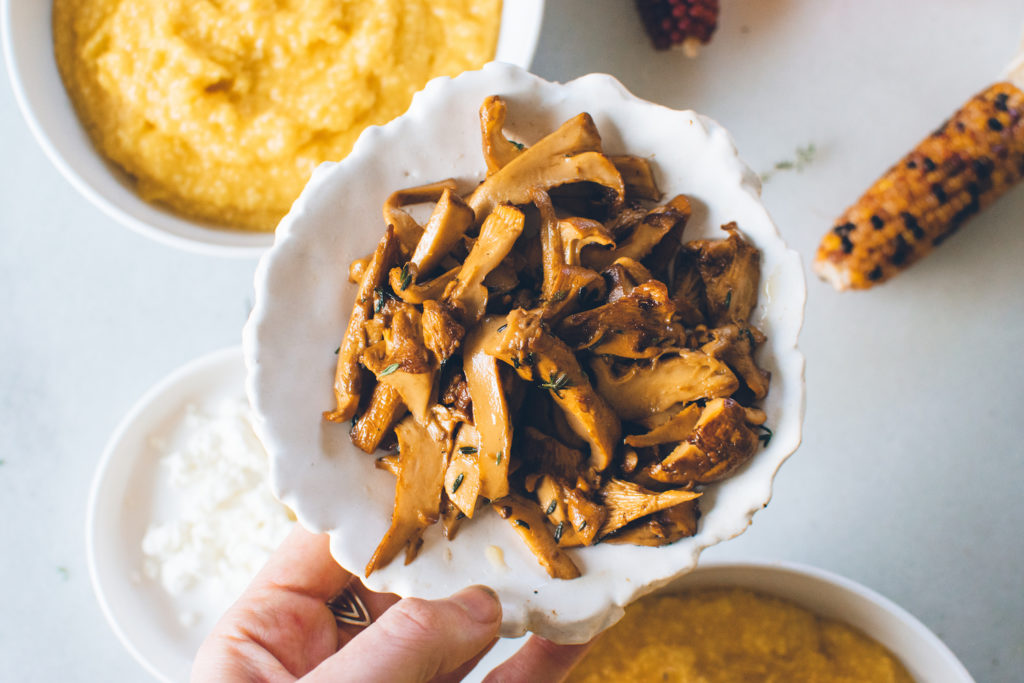 Jump to Recipe
Have you ever wished, in these dulcet weeks of fall, that there might be one place you could go to find every pumpkin thing you ever wanted? If so, then today I am your wish granting genie, because that place in the virtual food heavens has arrived: The #virtualpumpkinparty hosted by Cake Over Steak. Everywhere on social media, from Instagram to Twitter and beyond, you will find pumpkin in every creamy, delectable, sweet, savory, crunchy, wild, and totally tame form imaginable.
Today, collectively, food bloggers everywhere are crying one primal pumpkin scream. And it sounds like YUM.In my kitchen, it also sounds like pumpkin goat cheese polenta swirled with heaps of parmesan and brown butter, a touch of brown sugar, and topped thyme infused chanterelle mushrooms with kale. If this dish doesn't fulfill all your savory fall fantasies, I have nothing left for you. Jk. I'll still love you. But you might want to check your autumn-ometer, because this polenta is off the fall hizzy.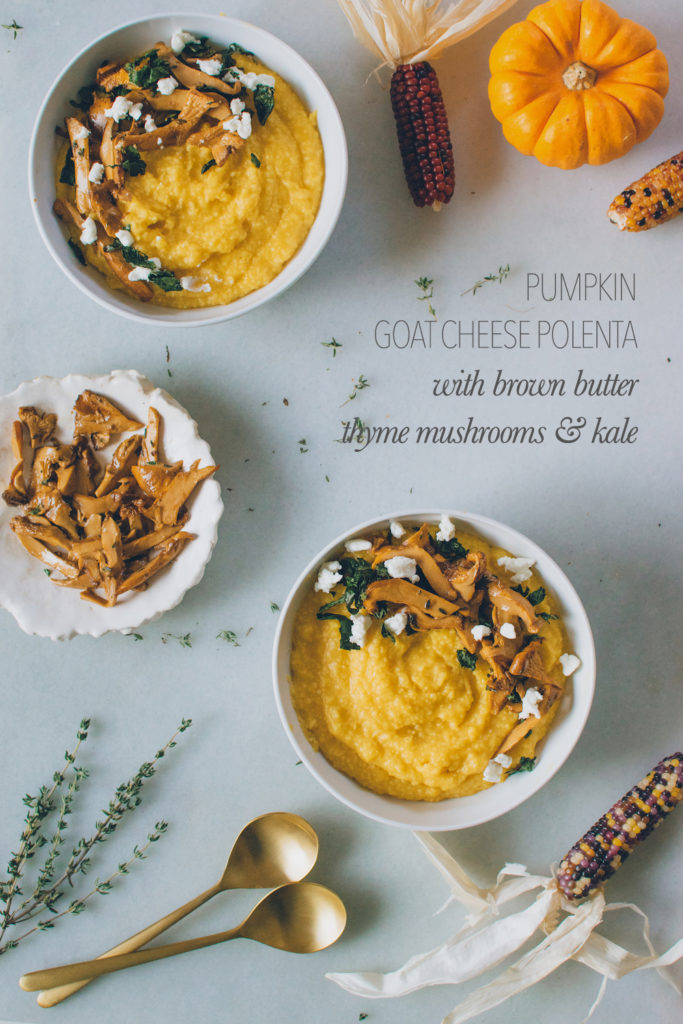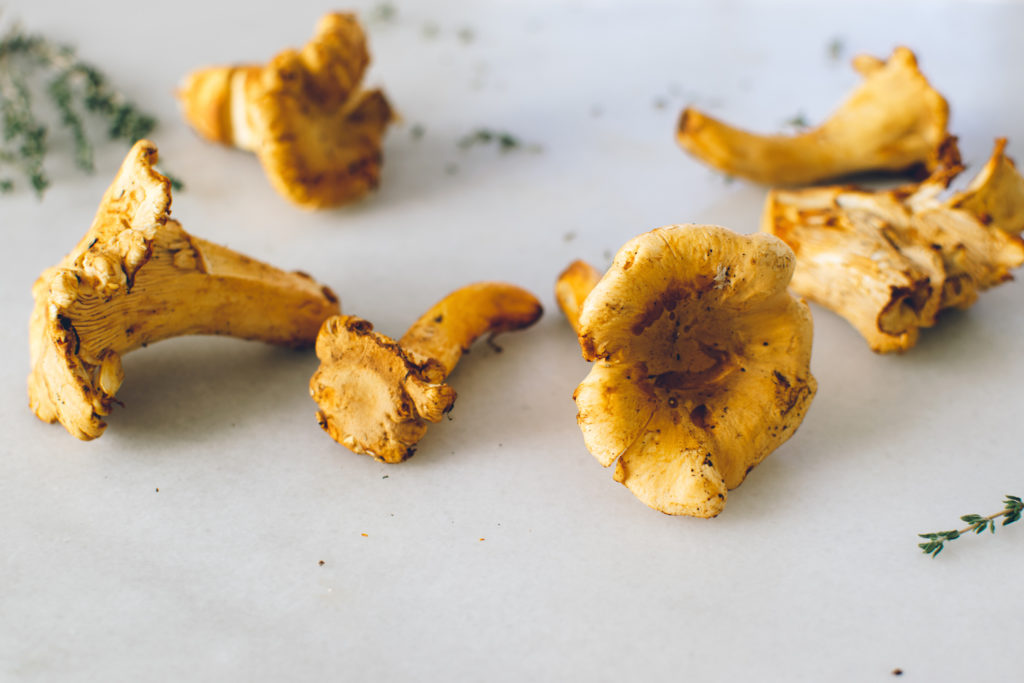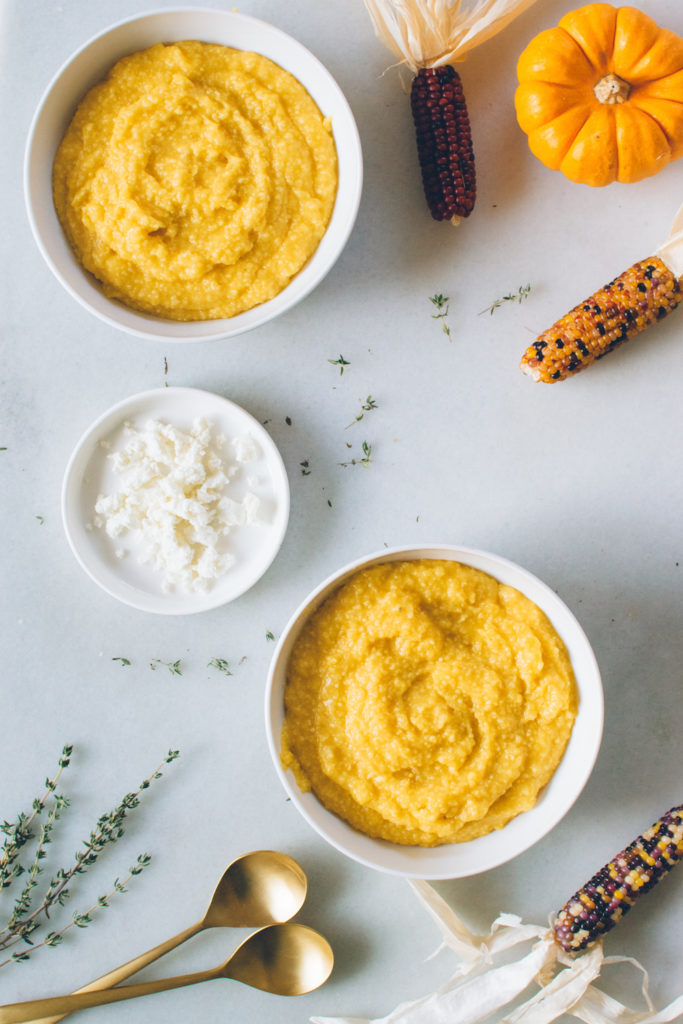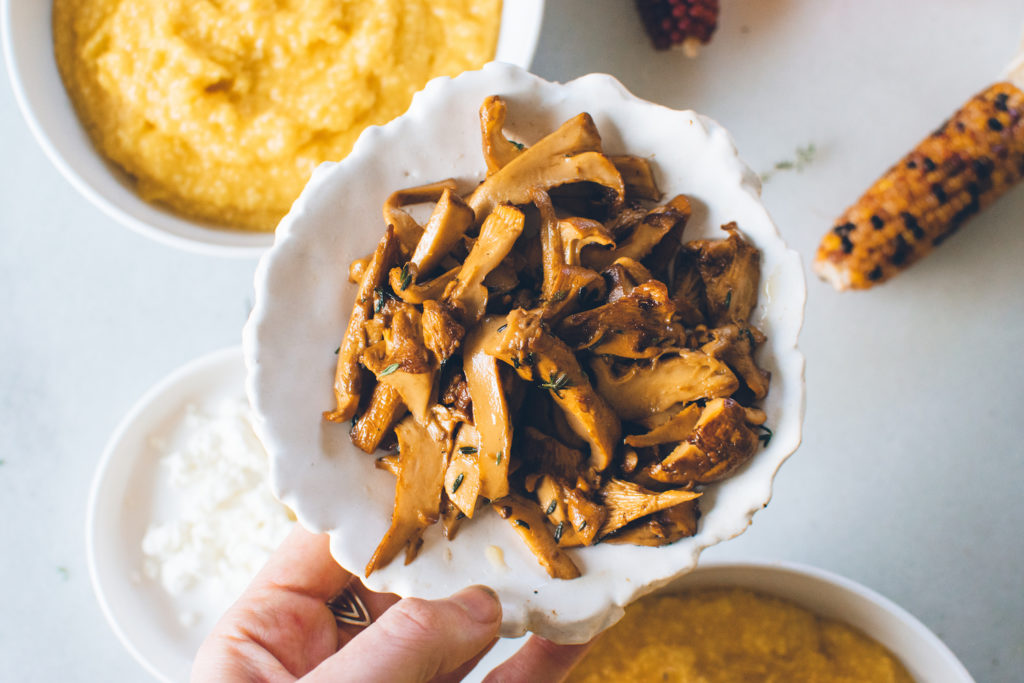 I turned to my trusty Cook's Illustrated The Science of Good Cooking for some tips and tricks on polenta, and they proffered a genius solution to the typical, clumpy woes of polenta: Baking soda. A pinch of baking soda added to the cornmeal's boiling water breaks down the grain's pectin, allowing water to penetrate its core more easily. Cooking polenta over low heat with the lid on—pinch of baking soda and salt already added to the water—allows it to get creamy-licious without constant whisking or vigilance. I also added ¼ cup heavy cream to the water for an extra touch of luscious.
Brown butter, fresh thyme, wild mushrooms, and kale all make appearances to round out the flavor palate. This is one exquisitely balanced bowl, hitting all the salty, sweet, umami, and tangy flavor profiles. I'd eat it for every single meal, and still want more.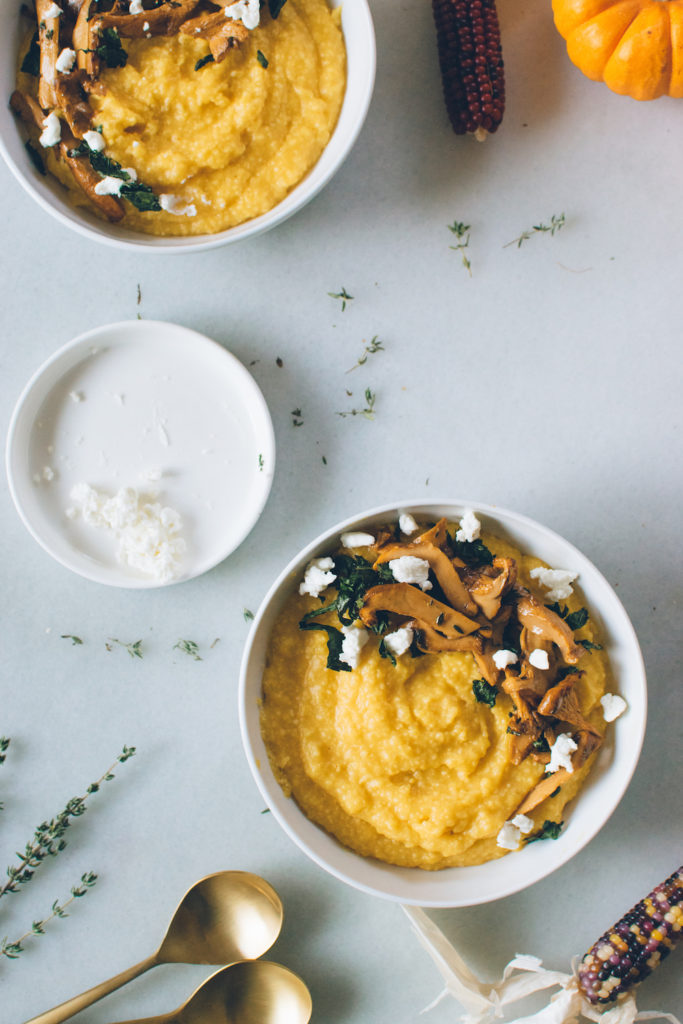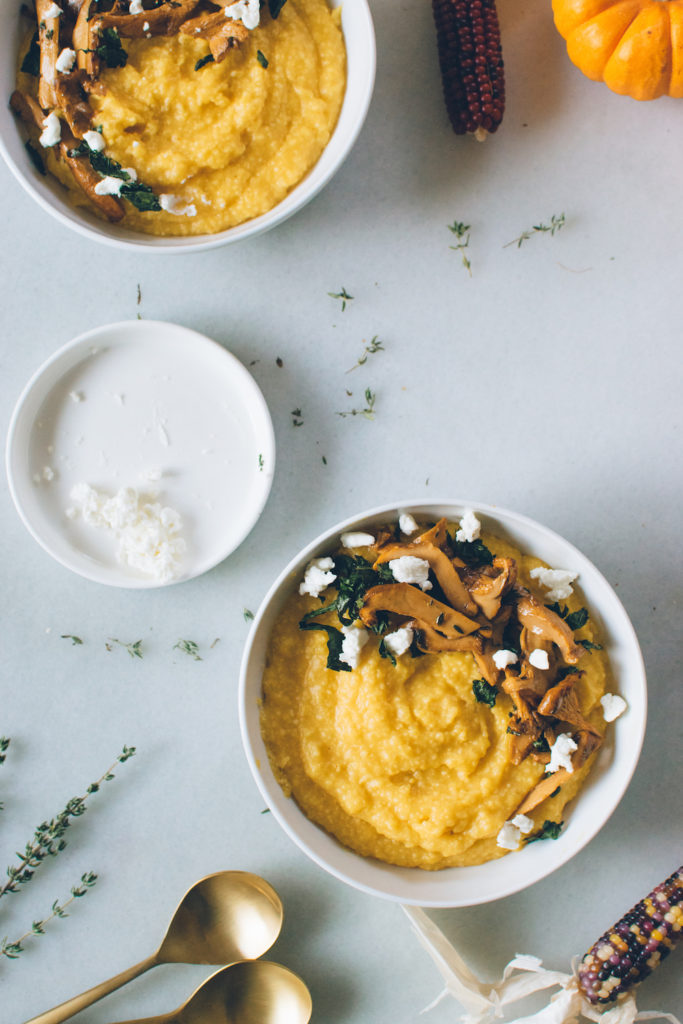 The #virtualpumpkinparty doesn't stop here, though. Start your meal off with Lentil Stuffed Acorn Squash with Crispy King Oyster Bacon. Then follow your polenta up with this gorgeous Pumpkin Spice Japanese Cheesecake with Quick Caramel, Black Sesame Pumpkin Mochi Cake, or Pumpkin Pie Milkshakes! And for tomorrow morning: Pumpkin Scones with Cinnamon Butter Swirl. Check out the full list of almost 70 pumpkin recipes here.
PUMPKIN GOAT CHEESE POLENTA WITH BROWN BUTTER THYME MUSHROOMS & KALE.
Ingredients
pumpkin goat cheese polenta
7 ¼

cups

water

¼

cup

heavy cream

1 ½

teaspoons

sea salt

pinch baking soda

1 ½

cups

coarse corn meal

polenta

1

tablespoon

browned salted butter

taken from recipe that follows

16

ounces

pumpkin puree

2

tablespoons

brown sugar

2

ounces

goat cheese + 1 ounce extra for garnish

1 ½

ounces

hard parmesan

grated (~ 1 cup grated)
brown butter thyme chanterelle mushrooms & kale
1 ½

tablespoons

salted butter

½

pound

chanterelle

oyster, or other wild mushrooms

15-20

leaves

dino kale

destemmed, washed, and chopped into ¼" strips

leaves

from 6 3-4 inch sprigs fresh thyme + extra for garnish

flaky sea salt

to taste
Instructions
Place water and heavy cream in a large pot and bring to a boil. Add sea salt and baking soda and stir to dissolve. Add corn meal in a constant stream, and bring to a boil, stirring constantly. Turn heat to lowest setting and put lid on. Let cook another 25 minutes.

Meantime, brown your butter in a large frying pan (I used a cast iron, which allows me to use less butter for the mushrooms and the kale). Over medium-high heat, melt butter, swirling occasionally, until it begins to sizzle and pop. Watch the butter now, swirling the pan as butter solids at the bottom of the pan begin to brown. When your butter is a deep amber and has a rich, nutty smell, remove from heat. Pour off 1 tablespoon of brown butter to use in polenta, reserving in a small bowl.

Clean your mushrooms and slice them in half, then in ¼" thick vertical slices. Set aside with your kale.

In the brown butter pan, add fresh thyme leaves and sauté over medium heat about a minute, until they release their scent. Add sliced chanterelle mushrooms, a pinch of flaky sea salt, and stir to coat completely with butter and thyme. After a minute, cover with a lid and let cook 3-5 minutes to allow the mushrooms to soften and release their shroomy juices. Then uncover and stir, sautéing to allow most of the liquid to dissolve. When mushrooms have turned a golden brown, transfer them to a bowl, cover with foil, and set aside.

Now add kale to the same pan, sautéing with another pinch of flaky sea salt. Stir continually as you sauté, adding a tiny bit more butter if need be (if you're not using a cast iron pan, it may be necessary). Once kale is tender, cook just a few minutes more, until the the leaves begin to crisp a bit. Remove from heat, cover with foil, and set aside.

Once polenta has cooked another 25 minutes, stir in 1 tablespoon of browned butter (leave the rest in its pan for chanterelles and kale). Add pumpkin puree, brown sugar, goat cheese, and grated parmesan. Stir to incorporate.

Serve immediately, topping pumpkin polenta with layers of kale, mushrooms, and crumbled goat cheese. Top with a few fresh thyme leaves, if you like.