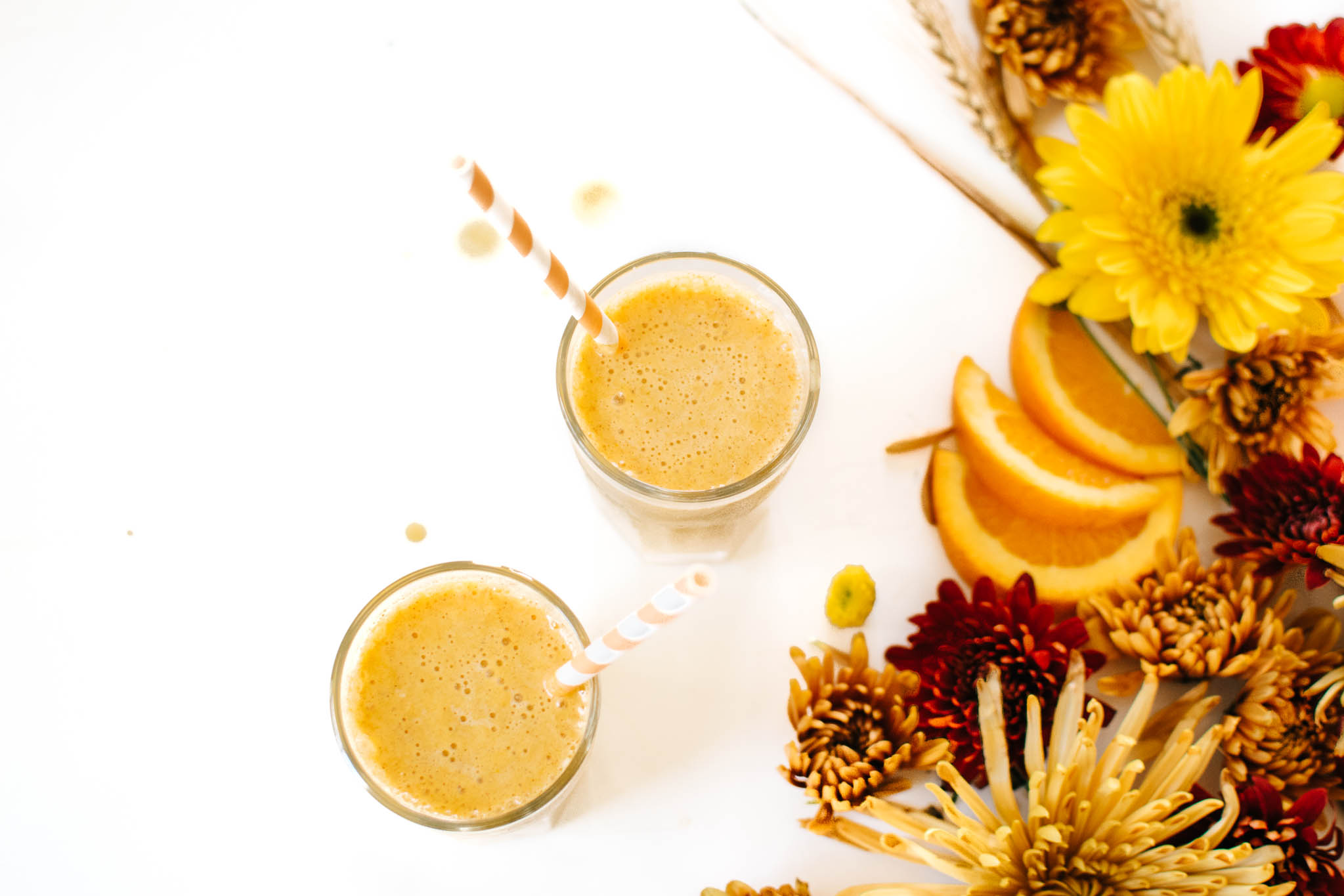 Jump to Recipe
This post was created in partnership with Trop50 juice beverage. All opinions are my own, including my excitement for this delicious, reduced sugar orange juice.
I get sentimental when I fly. It's a well-documented, universal phenomenon (there's a whole episode of This American Life about it), but it always feels deeply personal, a reminder of my humanity, the fallibility of my emotion, the depth of my longing to feel more, higher, stronger. Even at 35,000 feet, I want to prove that I am real, distinctive. Usually, I end up crying, and writing, and crying more. I remember all the non-places I've done this before: over the Grand Canyon, over the Pacific Ocean, over Greenland, over thousands of unnamed mountains that stand unmoved beneath the tiny shadow of the plane. In the air I am nowhere with the potential to be anywhere. And so, I feel.
The drama is rarely so buoyant back on solid ground. My mind shifts to quotidian concerns: How will I get from Newark to Brooklyn Heights? Will my Lyft smell terrible? Will I be this dehydrated forever? And, of course, I start dreaming about my next meal. When I'm traveling as much as I am this fall, I need food that's smart, powerful, fulfilling. Enter this orange pumpkin spice smoothie, fortified with delicious Trop50, an answer to my desire for a fresh squeezed juice with half the sugar.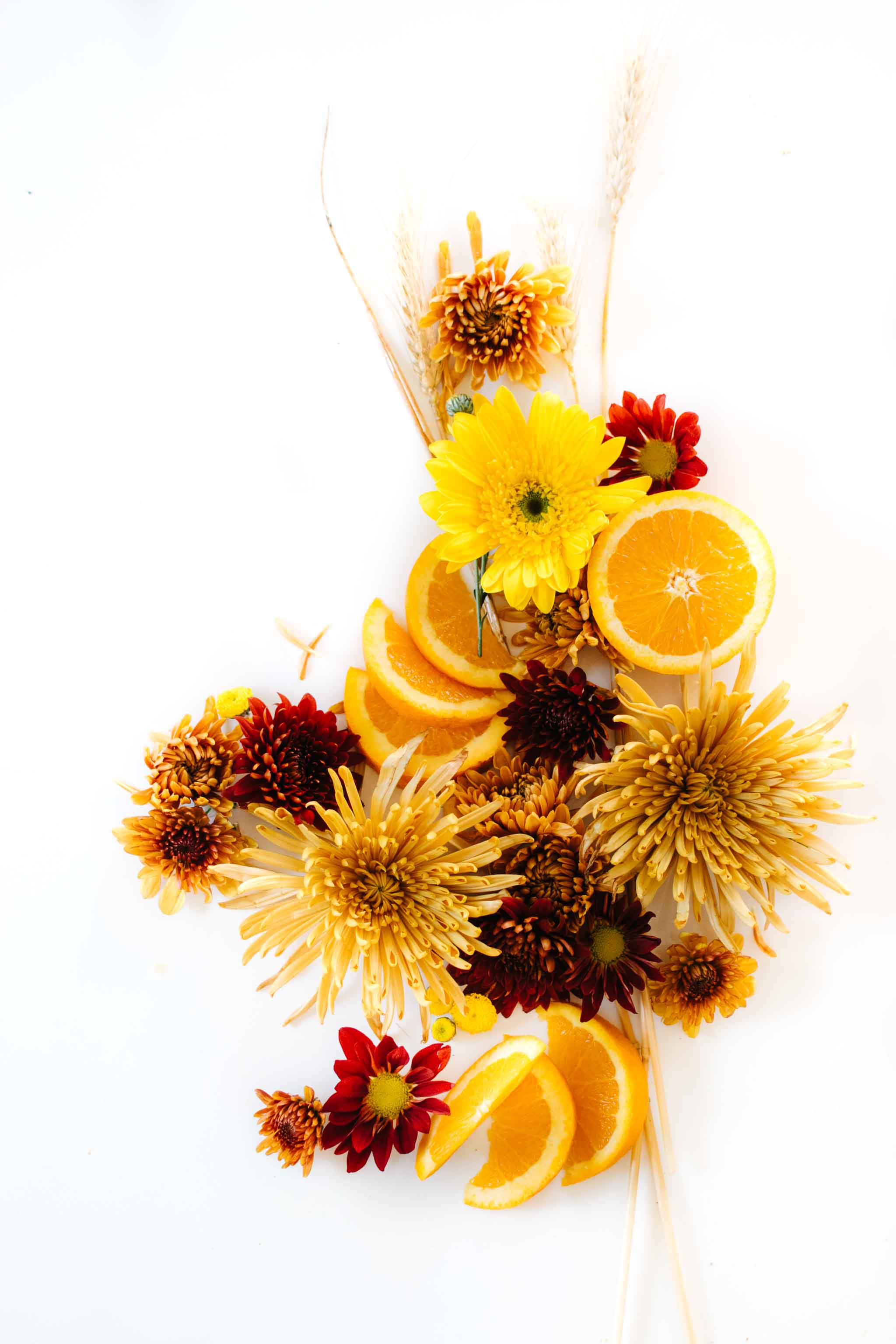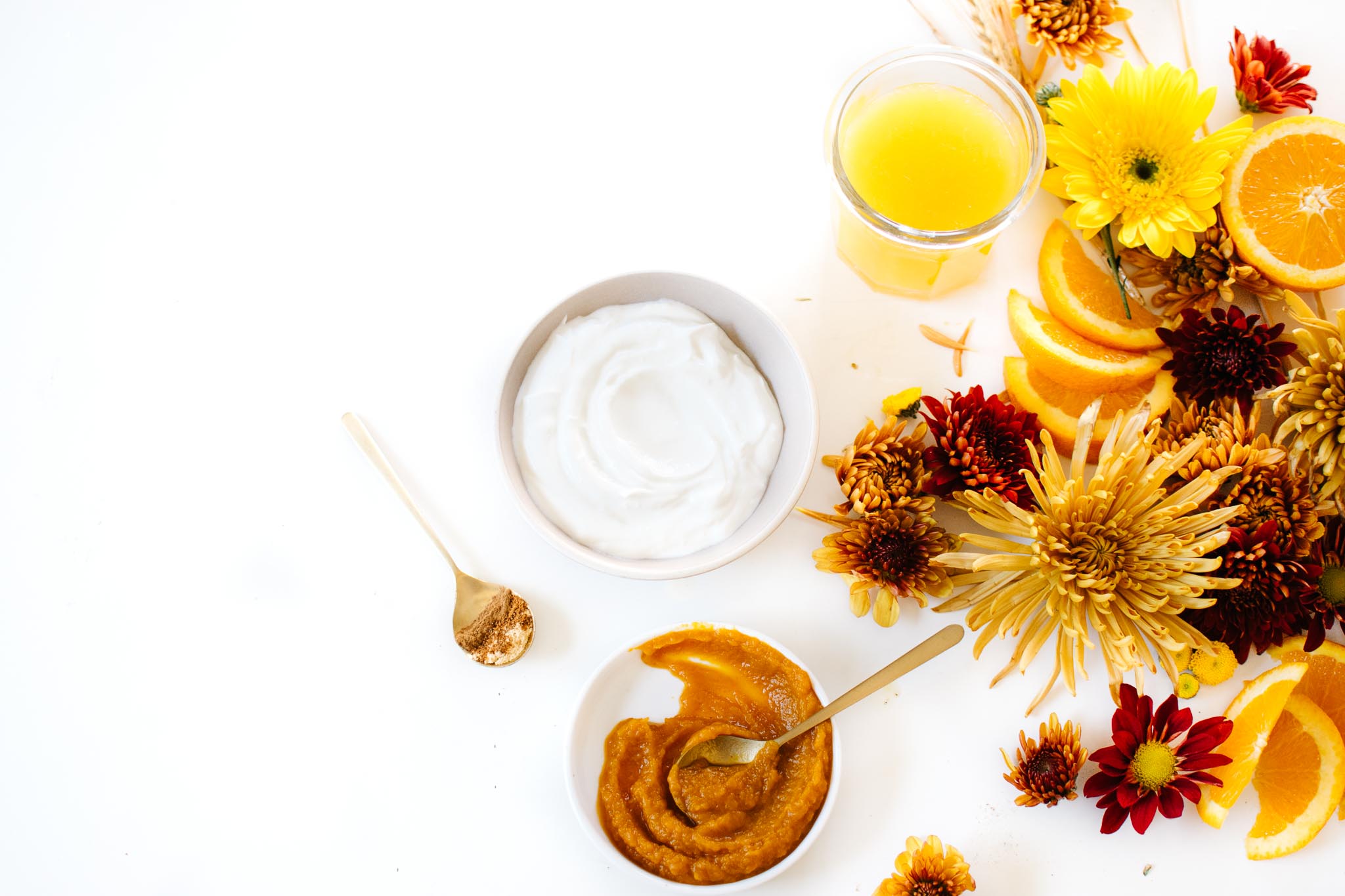 Last week, and then again this week, I flew across the country. My first stop was New York, where I spent five days in the flow of Kale & Caramel cookbook press. I woke up every morning with so many places to be it was hard to keep track, and I got to meet so many kind folks who've been internet buds for years. The team at mindbodygreen was incredibly welcoming, the book party at Seed + Mill in Chelsea Market was a glorious reminder of what a sweet New York family I have intact, and the editors of Real Simple were pure sweetness. I got to see the new FeedFeed space in Bushwick (zomg it's amazing!) and jet over to Roberta's for my very first of their legendary pizza pies. (For the record: It was every bit as amazing as I hoped it would be.)
I spent all day Thursday with the editorial team of Better Homes & Garden at their Stylemakers event, and was floored by their generosity and openness. Plus, I got to make a fig and pistachio cake with Joy the Baker and traipse around town with my beautiful friend Renee from Will Frolic For Food. On Friday, I finally met the glorious Stephanie Butnick, deputy editor of Tablet Magazine, and the rest of the Unorthodox podcast team. We talked about growing up in a hippie Jewish family on Maui, and about challah, naturally. By the time the weekend rolled around, I was filled with so much joy I don't know that I would've cried even at 35,000 feet.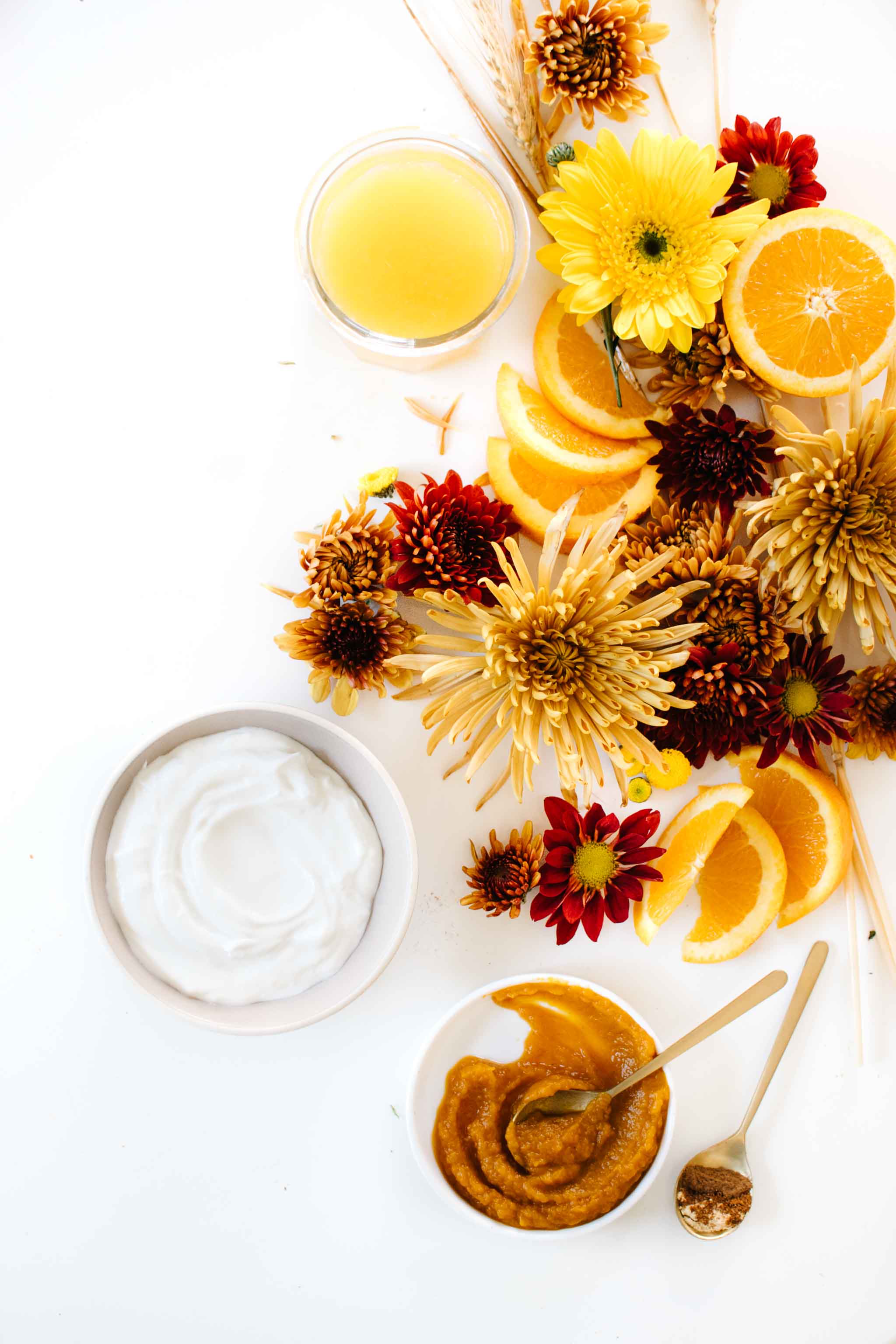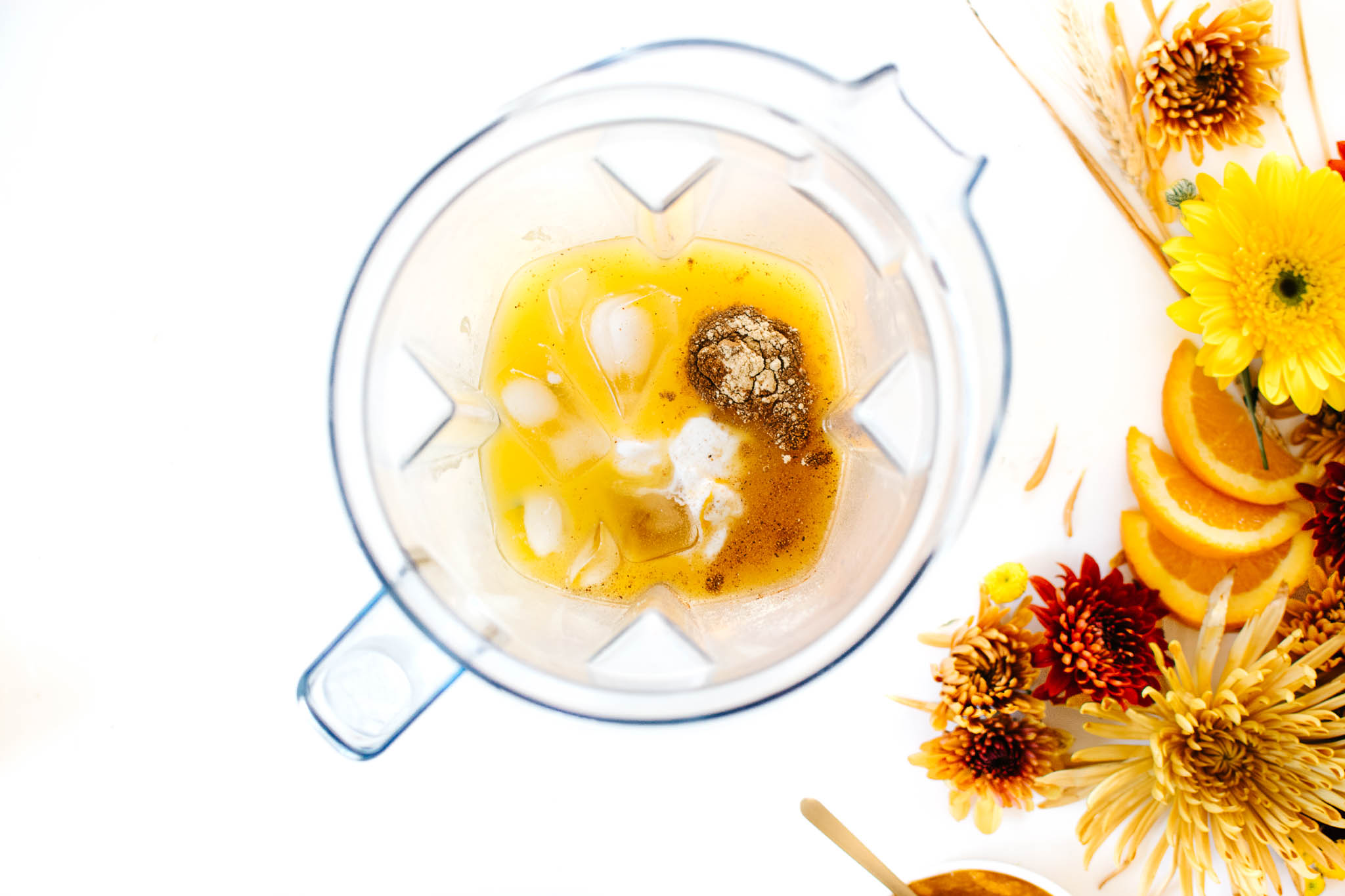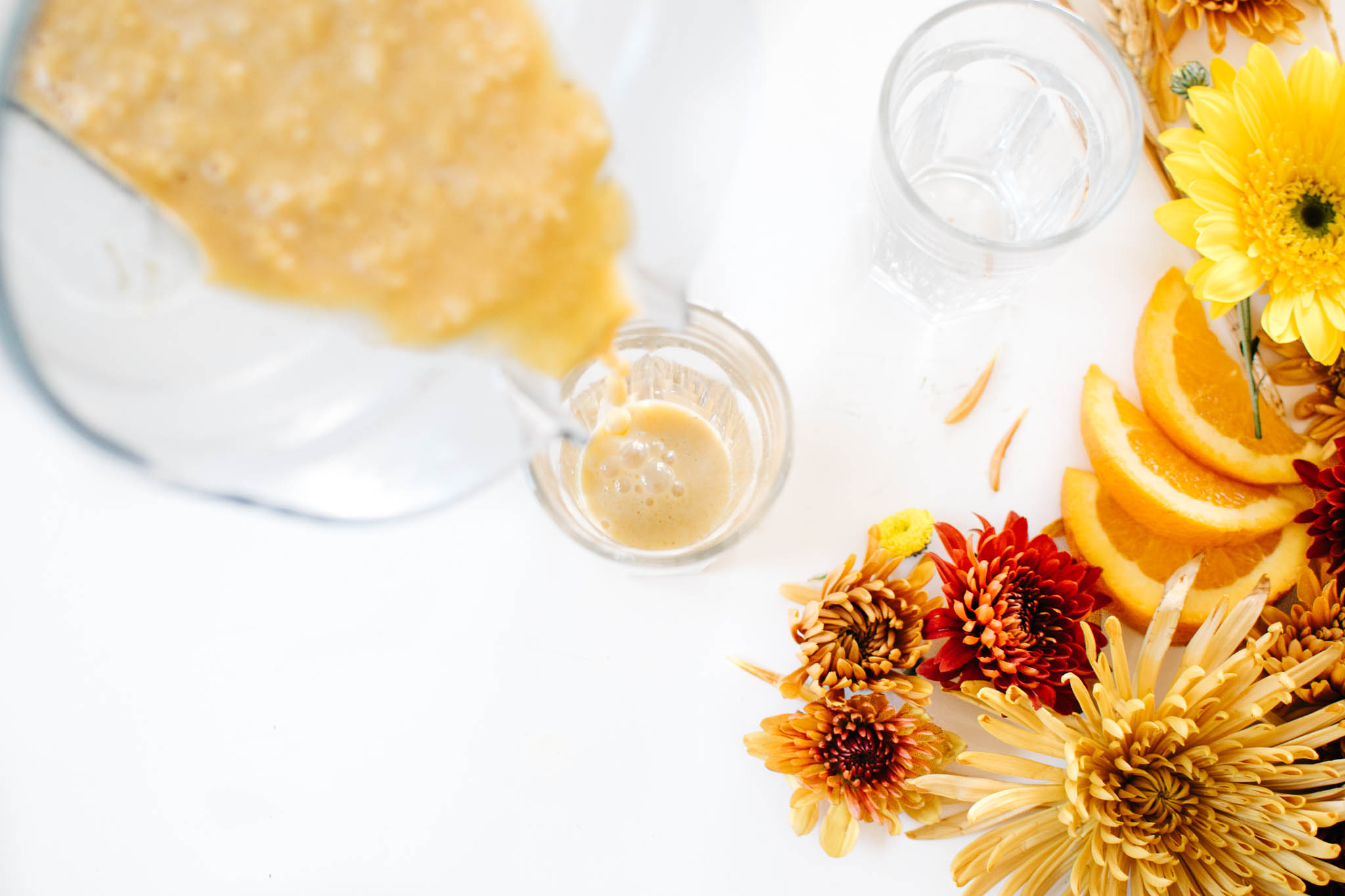 Every morning in New York, I found myself eagerly traipsing out to get a smoothie, eager to start the day right. But every time I'd end up disappointed by how sweet it was. Even when I asked them to leave out the coconut nectar, the banana base skyrocketed its sweetness into levels I knew wouldn't make me feel great an hour or two later. As soon as I came home to LA, I reached for the bottle of Trop50 for a smoothie base with 50% less sugar and a ton of vitamin C and potassium.
Despite this past weekend's heat wave, I'm starting to crave autumn flavors, and this smoothie delivers them in spades: pumpkin, cinnamon, ginger, nutmeg, and rich orange. Blended with plain Greek yogurt, it's a genius dose of protein without the cloying intensity of full force fructose. And did I mention that the warming spices of cinnamon, ginger, and nutmeg are excellent for circulation and for reducing inflammation?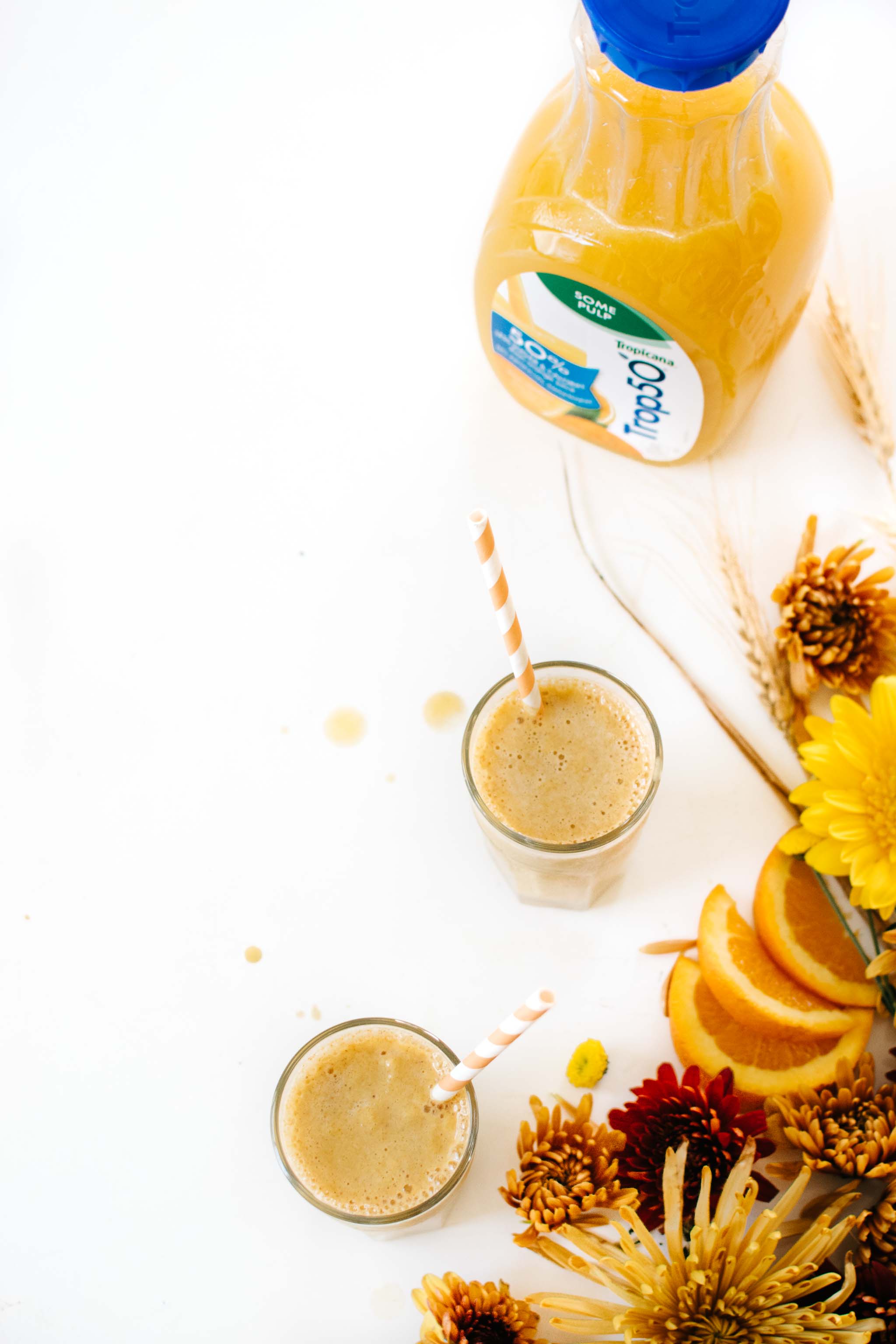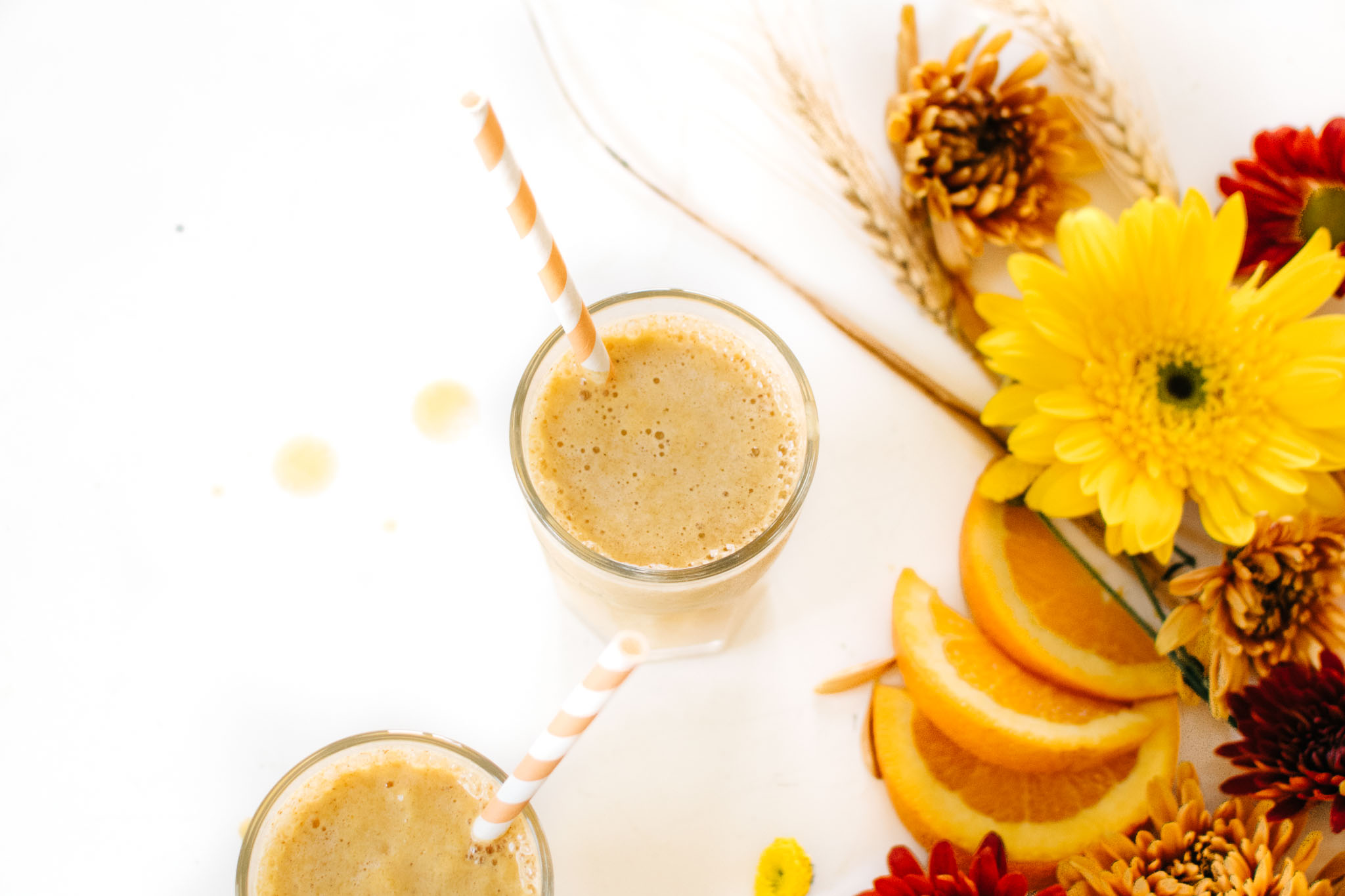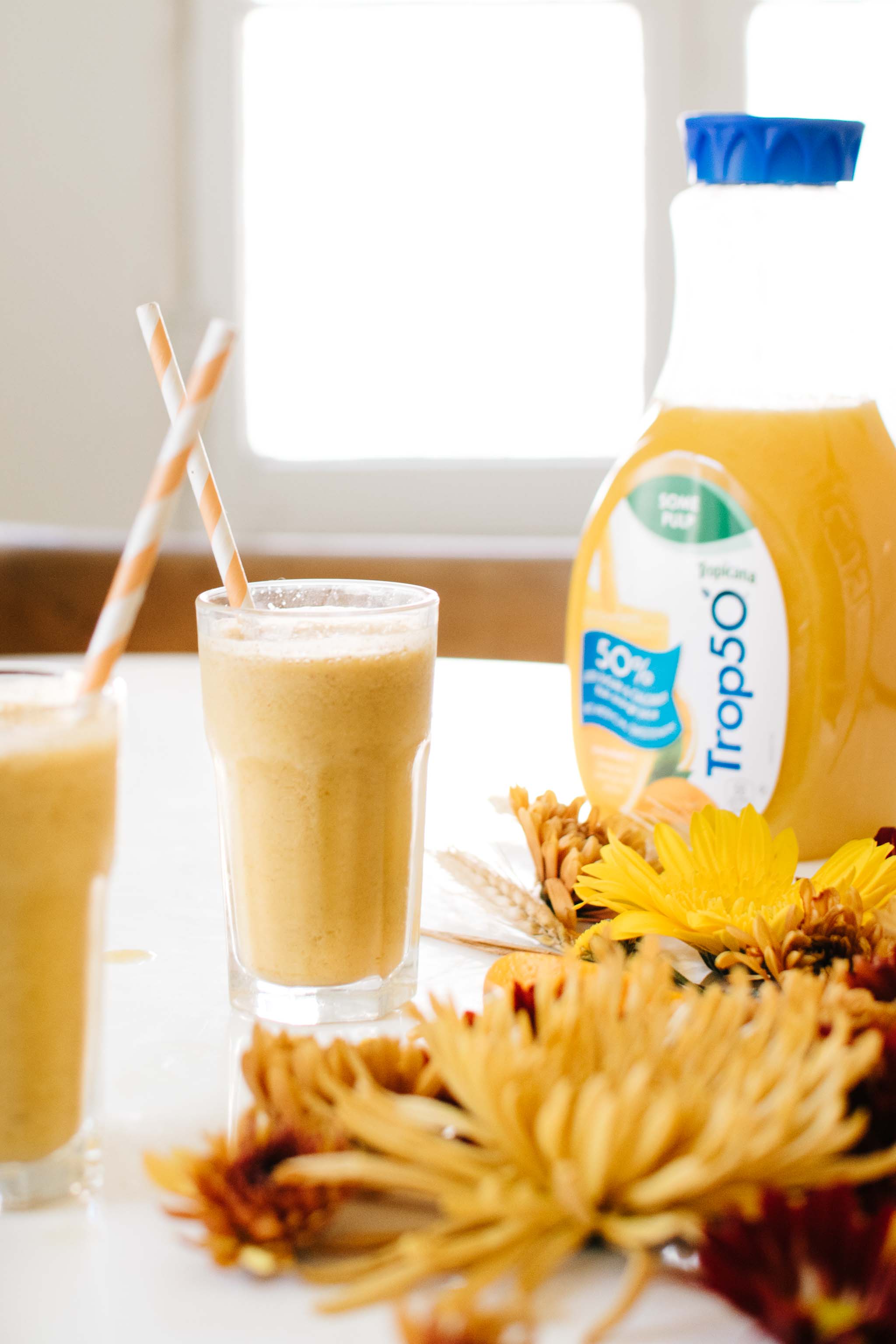 Feel free to customize this smoothie as you like: Add in a protein powder, some vanilla, additional spices, or a nice handful of greens. You can rest easy using a base of Trop50, knowing that you're already cutting your morning sugar dose in half. For me, that means sustained energy for longer, with greater focus and a steadier sense of fullness.
I'll have highlights from the second week of my trip up soon. I fell in love with Vermont and can't wait to share its beauty with you. Until then, enjoy the fall smoothie vibes.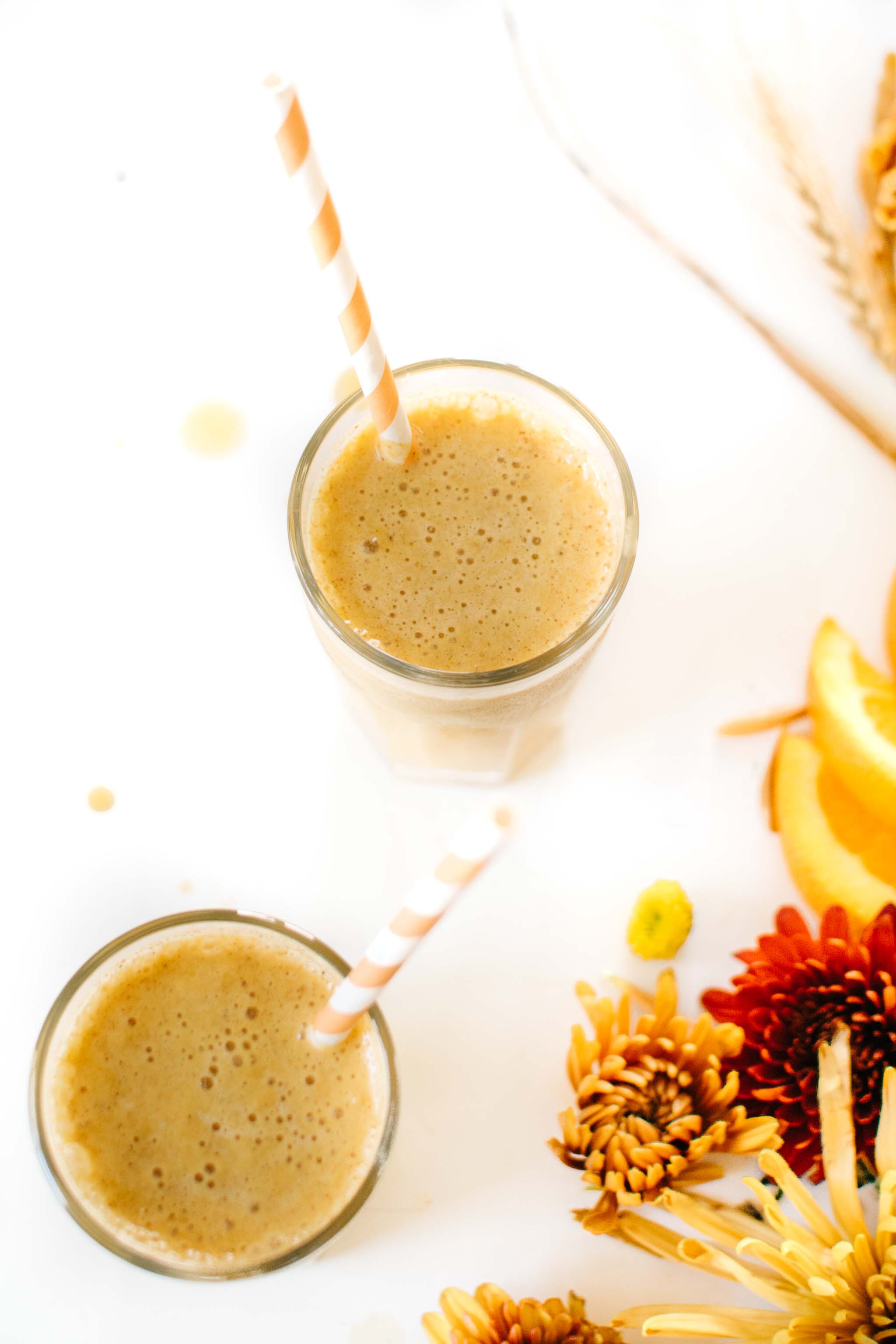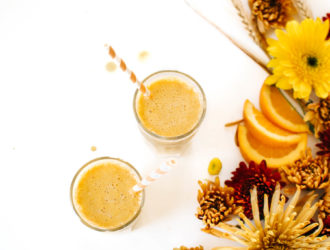 Orange Pumpkin Spice Smoothie
A tangy and bright autumn-spiced smoothie with orange juice, pumpkin puree, and Greek yogurt.
Ingredients
1

cup

Trop50

1/4

cup

unsweetened pumpkin puree

1/4

cup

Greek yogurt

3/4

teaspoon

pumpkin pie spice (or 1/2 teaspoon ground cinnamon, 1/4 teaspoon ground ginger, and 1/8 teaspoon ground nutmeg)

6-8

ice cubes
Instructions
Place all ingredients in a high speed blender