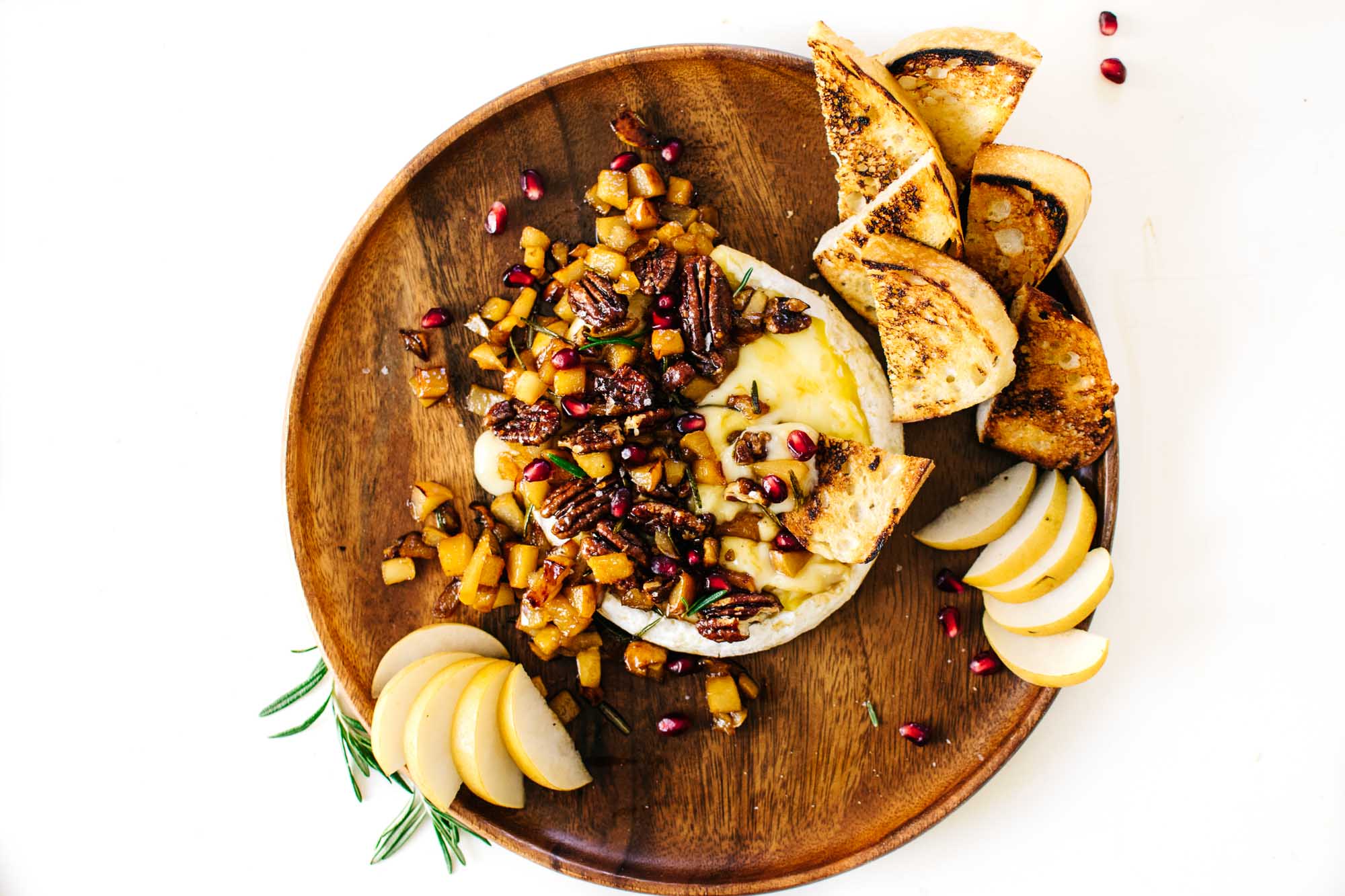 Jump to Recipe
This post was created in partnership with La Brea Bakery and Cherry Bombe. All opinions are my own, including my ardent love for La Brea Bakery bread and the Bombe Squad!
I am home from Maui, and so ready for December: I've re-upped my sweatshirts and sweatpants, filled my fridge with bread and cheese, and made it my goal to light a candle a day. So far, so good. There's a full update from Maui coming soon (don't worry, I'd never leave you in Hawaii withdrawal), but before that, we've got one last post in the Cherry Bombe Jubilee series, in partnership with my favorite bread-makers, La Brea Bakery.
If you missed the two previous posts, which deliver carb-laden deliciousness in tandem with woman-powered insights into the culinary industry, start here and here. Today, I'm breaking down chef-visionary Alice Waters' keynote speech, alongside the most heavenly holiday appetizer: maple-rosemary pears and pecans atop gooey baked brie, served with La Brea Bakery's Rosemary Olive Oil Loaf. (Which, by the by, I've fallen for completely: a tender crumb filled with herbaceous rosemary, suffused with delicate olive oil notes? Pure heaven.)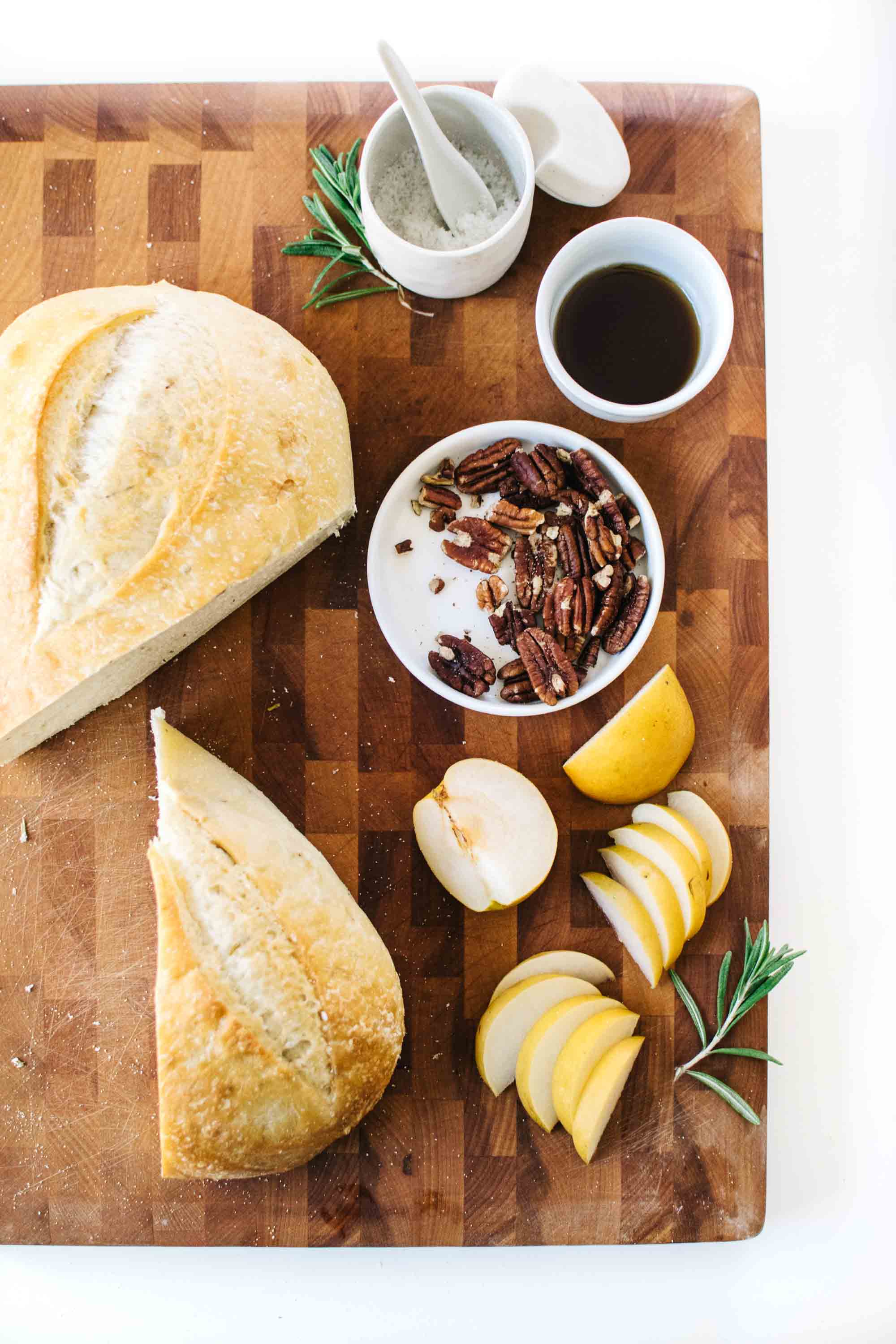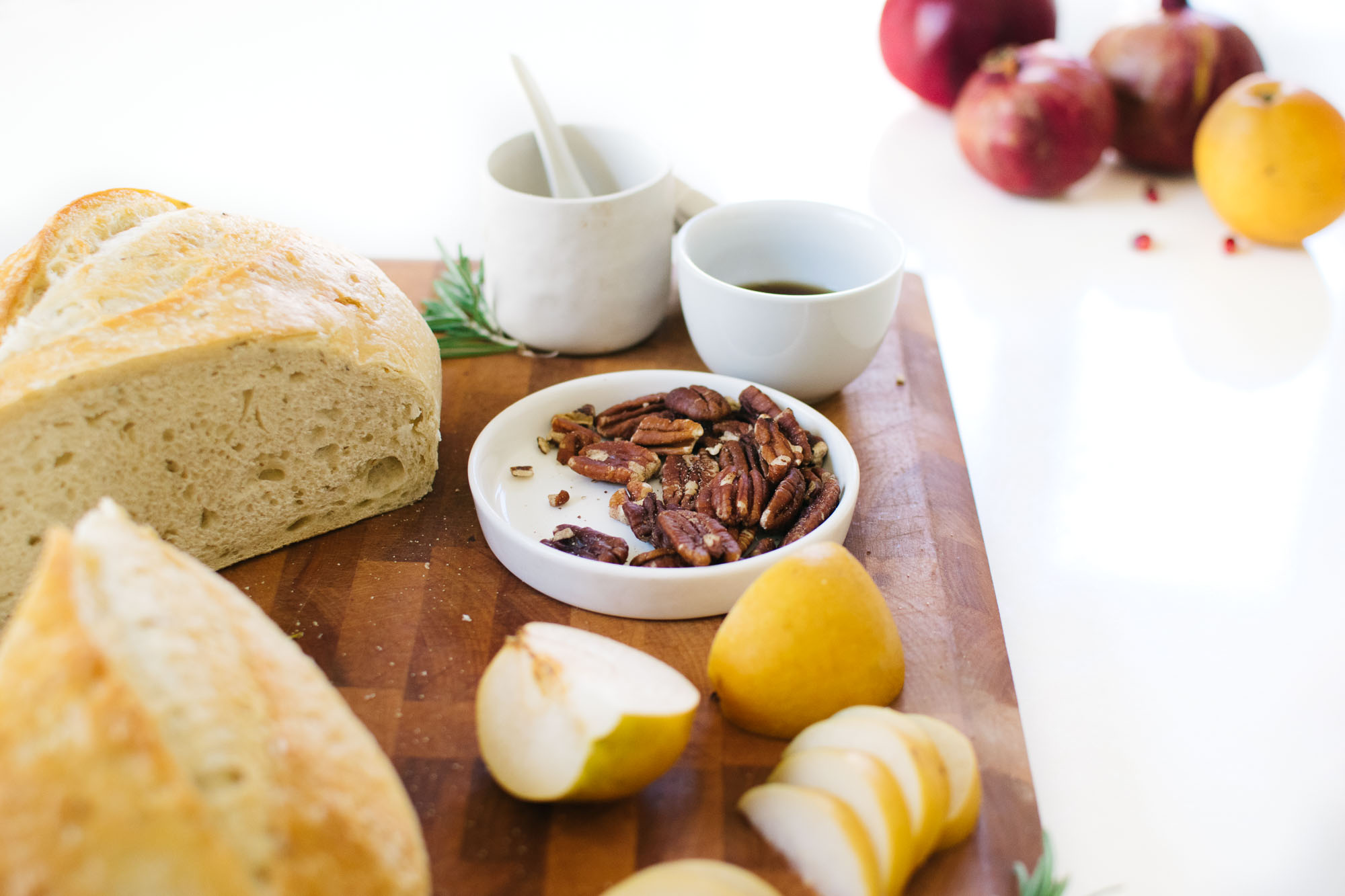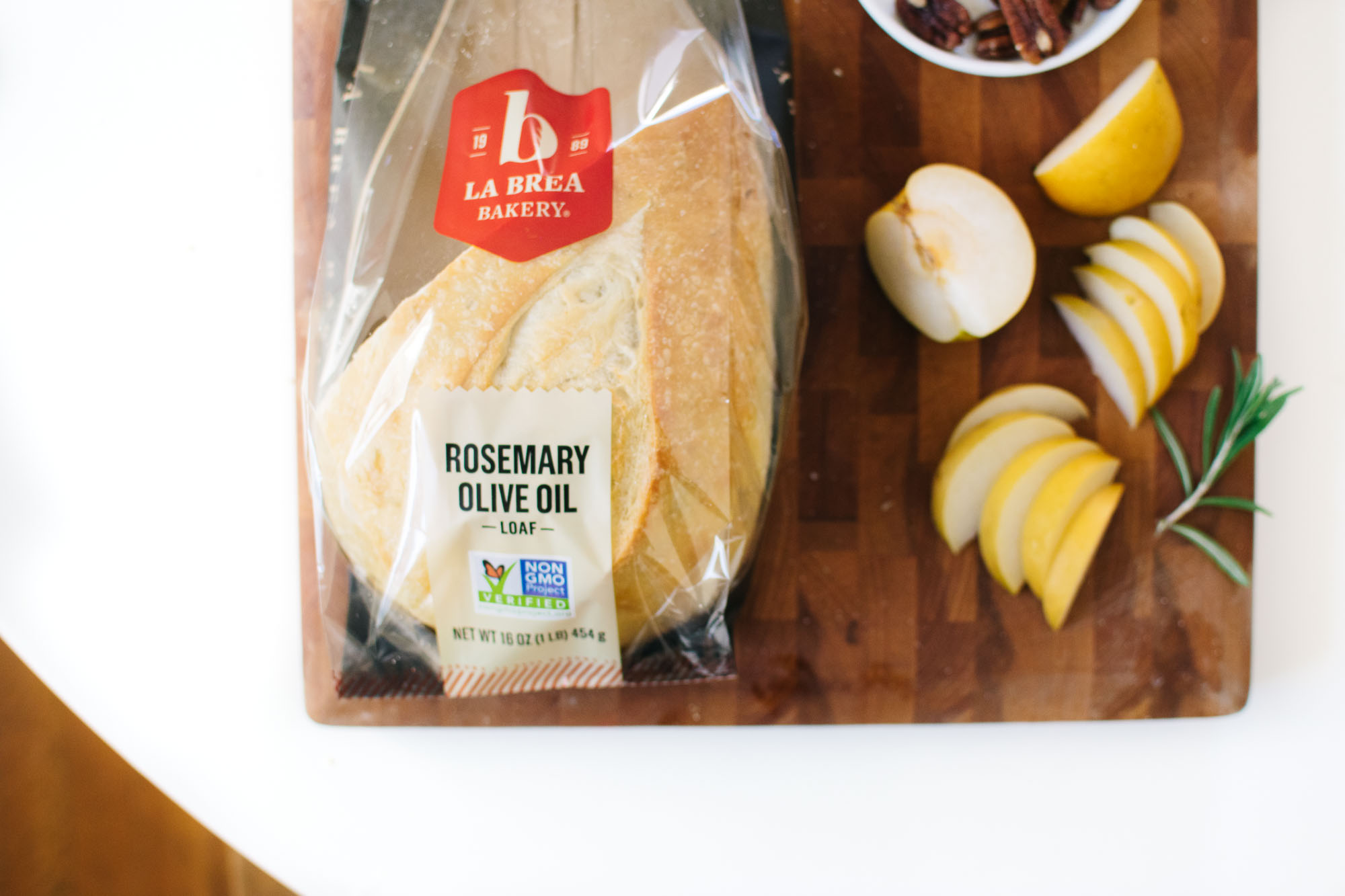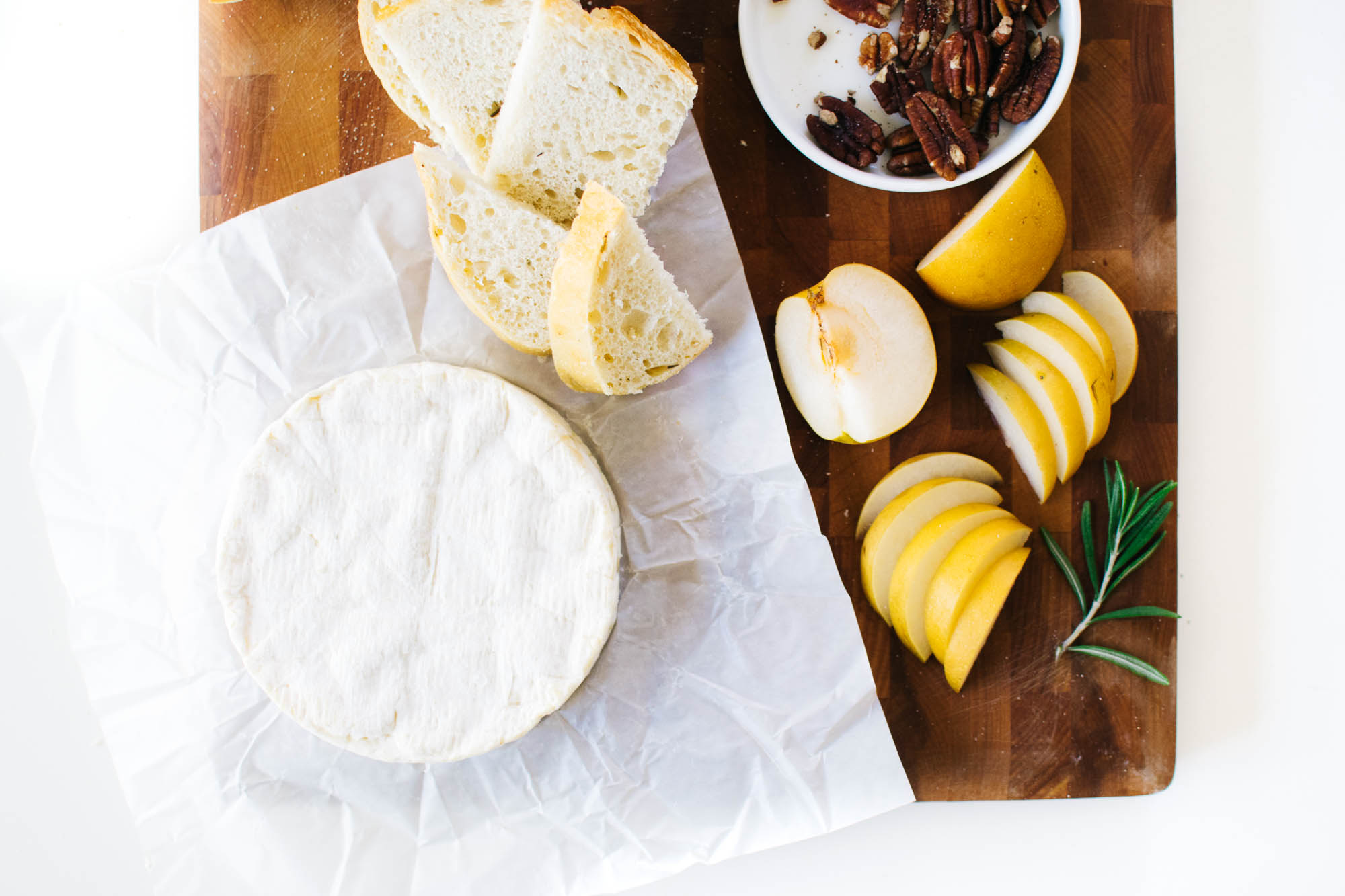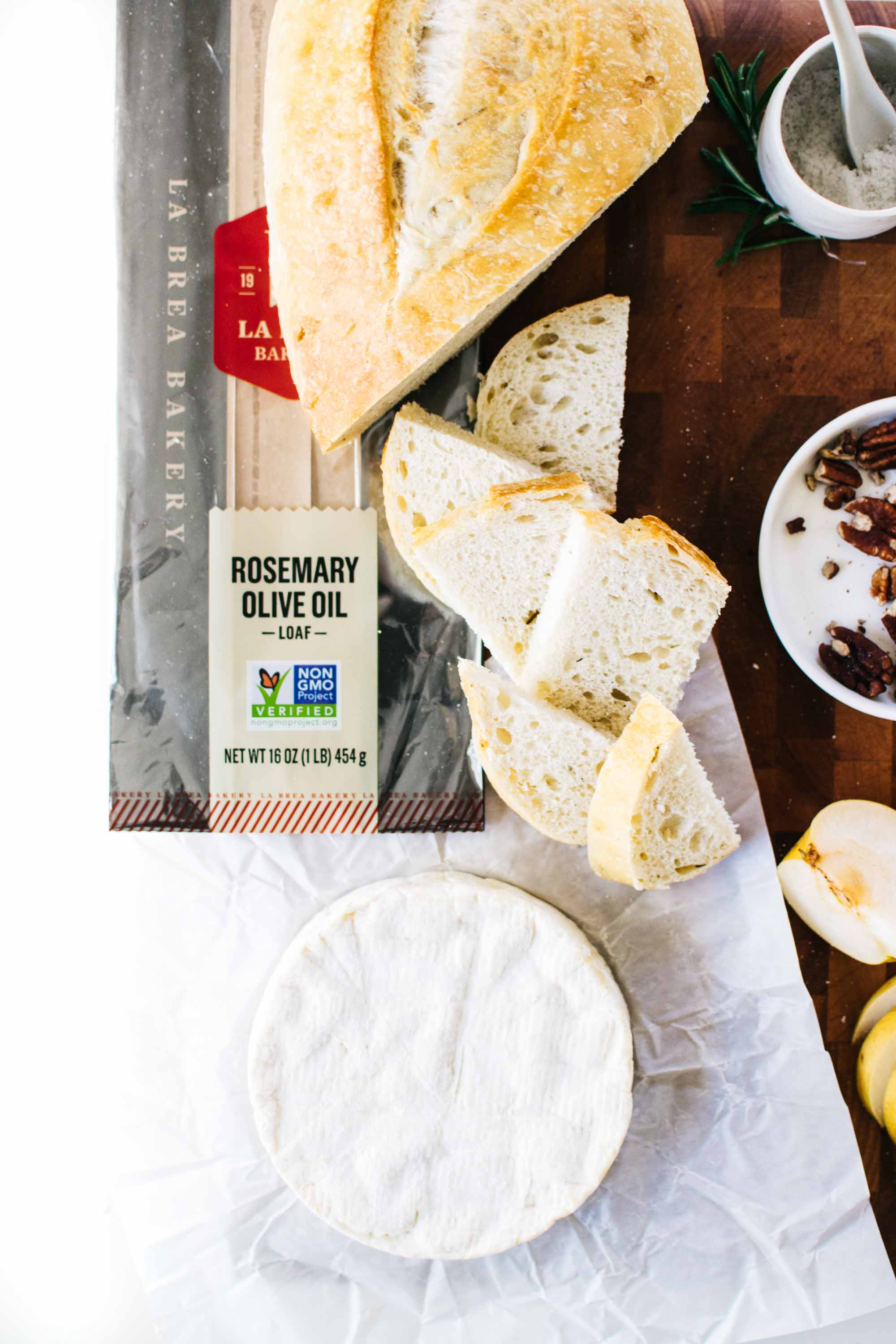 The inaugural west coast Cherry Bombe Jubilee took place this October in San Francisco, and brought together five hundred twenty five women eager to commune in their mutual love of food. Panels addressed issues ranging from assimilation and appropriation, to the power of olfactory influence, to comfort food and belonging, to the industry's dearth of female representation. I was thrilled to have the Kale & Caramel cookbook on the Jubilee shelves.
Cherry Bombe founders Kerry Diamond and Claudia Wu curated an exceptional group of presenters, most of whom call the Bay Area home. Culinary giants like Dominique Crenn and Emily Luchetti rubbed elbows with new media stars Amanda Kludt and Danielle Walker. I spent the first half of the day taming surges of inspiration and excitement, and the second half attempting to corral the resulting ideas into some semblance of organization in my mind. By the time Alice Waters came on-stage for the keynote, I was giddy.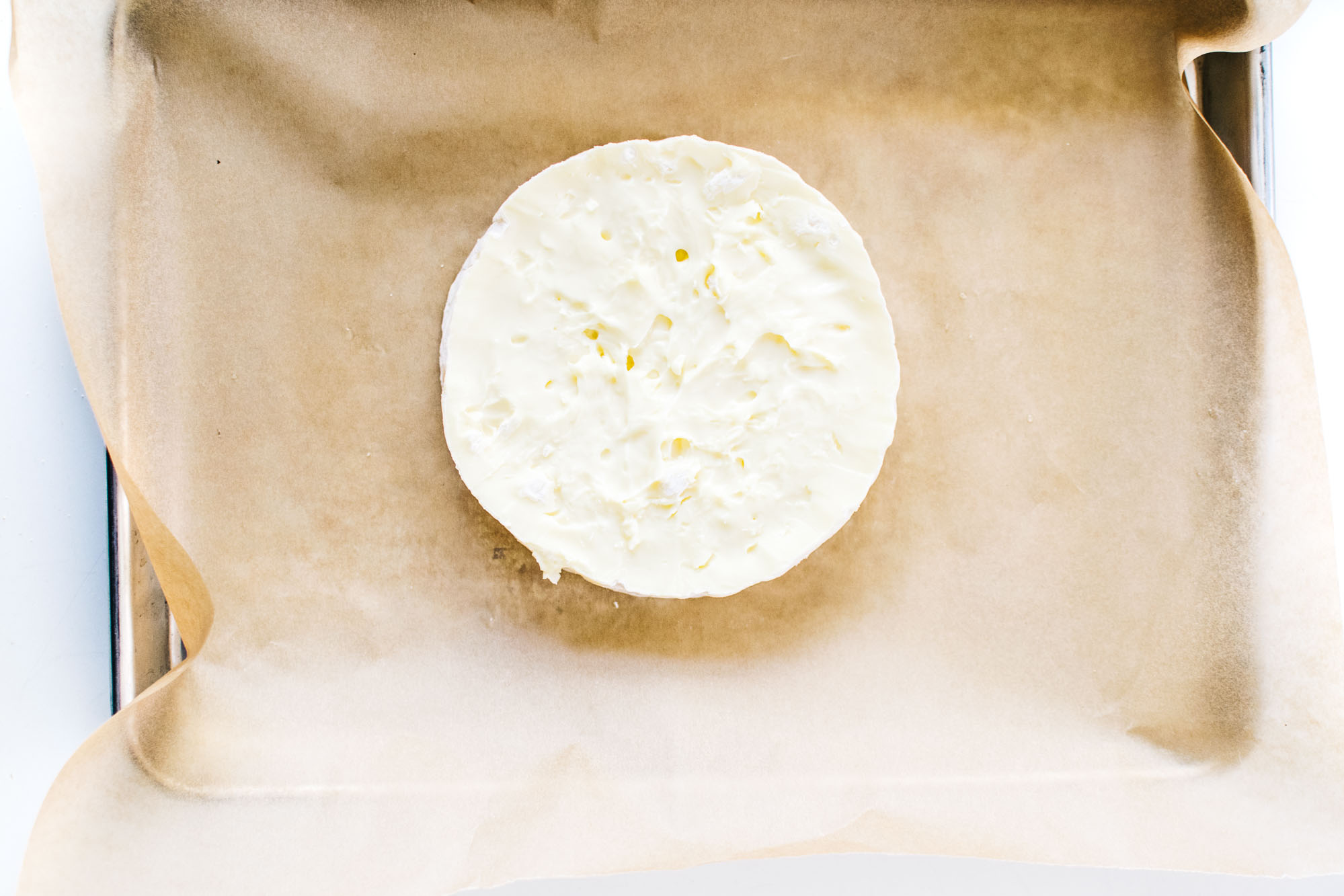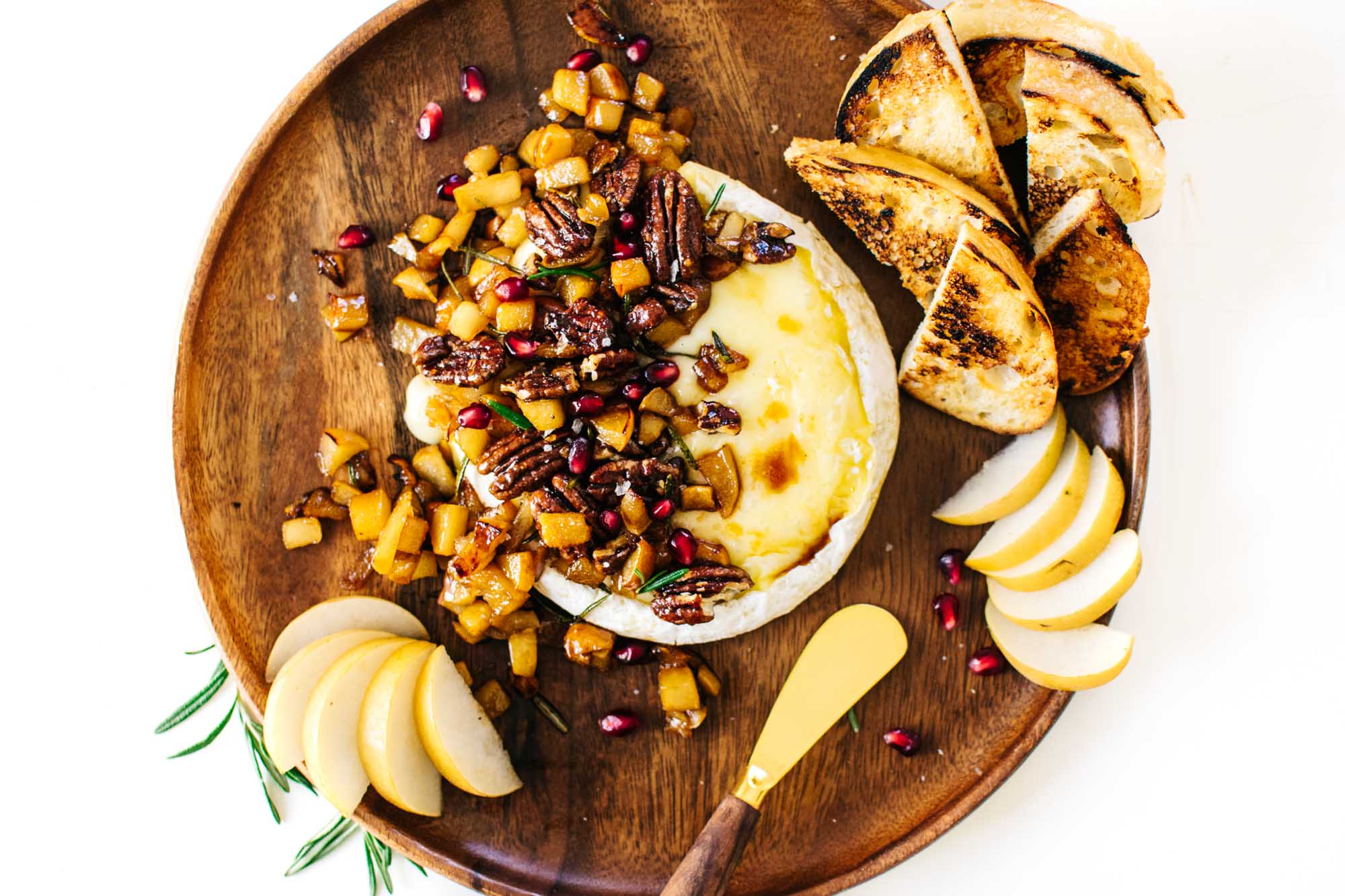 Waters first came into my life in college. I was lucky enough to go to school with her daughter, which meant that Alice would, of course, be changing a few things about the cafeteria system at Yale. The transformation was slow and steady, but by the time we graduated, almost every cafeteria served organic or sustainably grown fruits and veggies, nut butters, granolas, and dairy. Her (invisible yet profound) presence in my life thereby changed the way I learned to feed myself and cook for the first time outside my own home.
This year, my first time hearing her speak in person, she remembered the political activism in Berkeley in the 60s, and how those roots created a strong foundation for a counter-culture movement in food. While simple, sustainably sourced, organic, and slow food may seem the norm to some of us today, it most certainly was not the food on which our parents or grandparents were raised. The idea of letting ingredients speak for themselves, of having a restaurant whose star was the freshness of its ingredients rather than its celebrity chef, of creating an art of truly nourishing food—all of this was new.
Waters' restaurant Chez Panisse is now in its forty-sixth year of operation, and she has gone on to found the non-profit project Edible Schoolyard and author fifteen books. Even if you don't know her name, she has likely influenced the way you fed yourself today.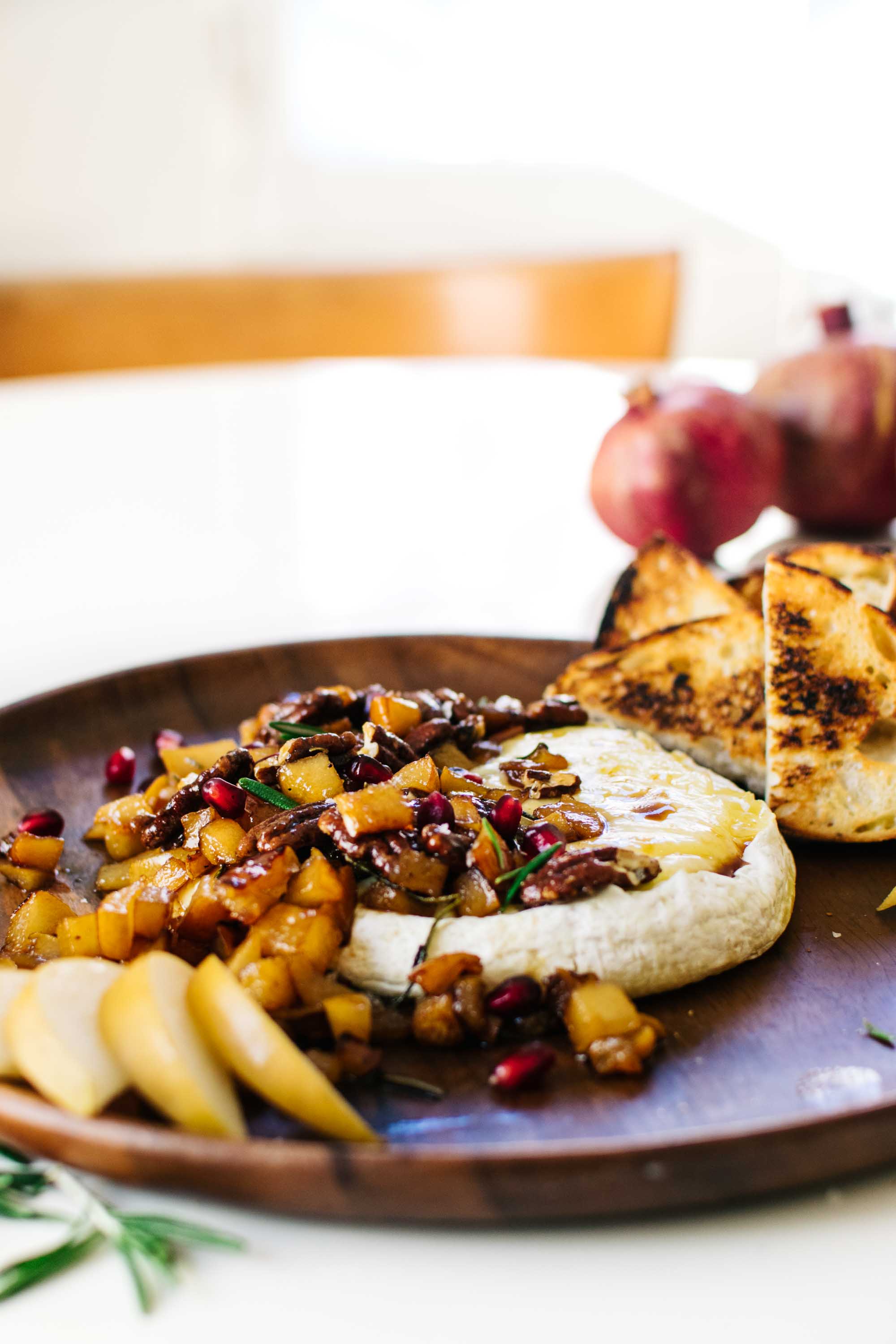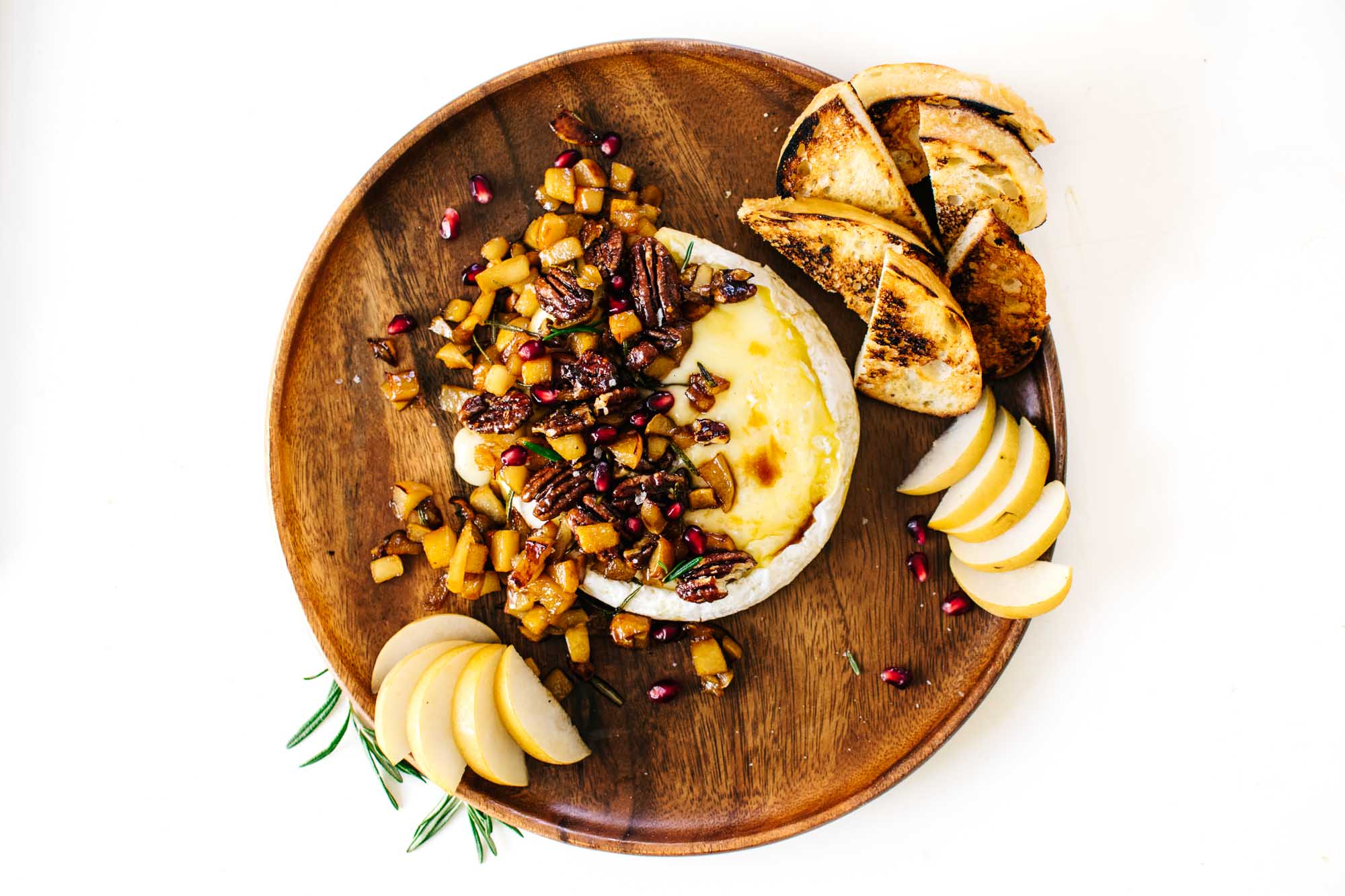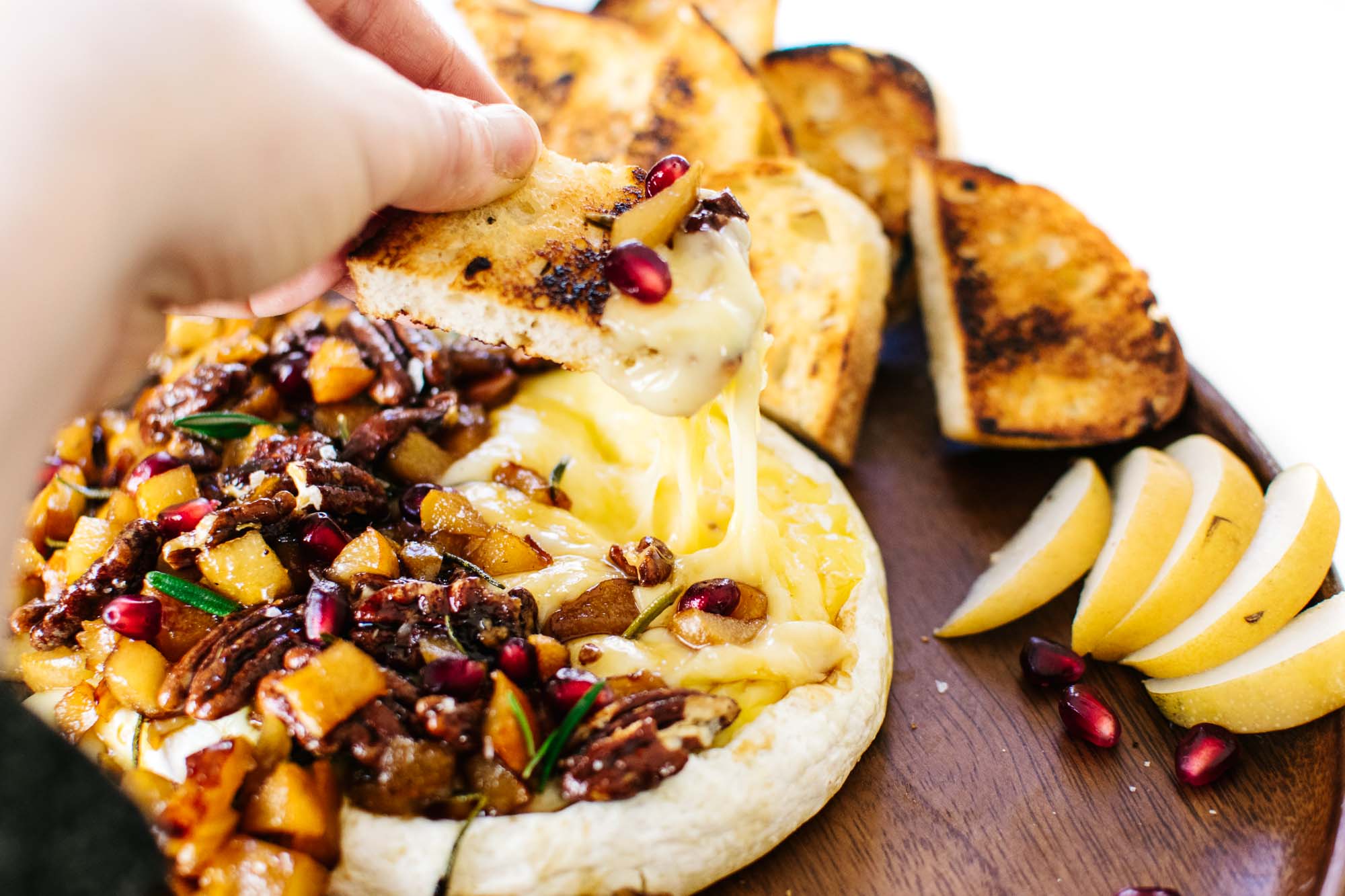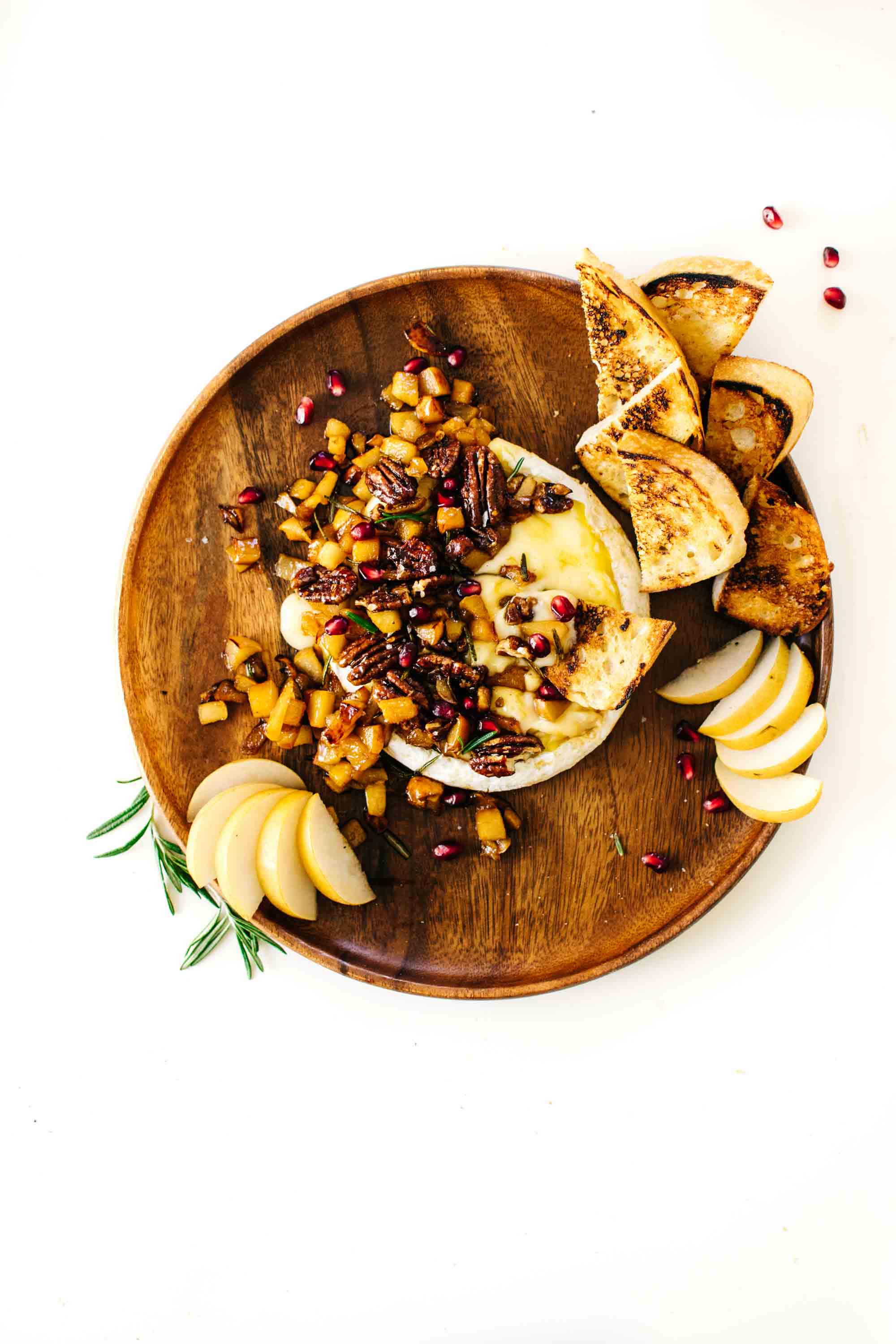 While Waters herself is a deep inspiration to my own cooking and kitchen—I am a tried and true adherent of the slow food movement—her insistence on the importance of gathering to create change was rousing. Waters spoke about the efficacy of fundraising and protesting in the 1980s during the AIDS epidemic, remembering how leaders in her industry came together to host a massive fundraiser at the Fort Mason Pier in San Francisco. Her message: If we can gather as effectively to create change now as we once did to end the AIDS epidemic, we have hope to transform our future.
It was an honor to sit in that group of women, in the city where so much of the food we revere today had its start. In listening, I hope not just to instigate change in myself, but to stir a gathering in my own community, akin to the one Waters encouraged.
I know of no better way to start than with a platter of melting brie and toasted La Brea Bakery bread, topped with the delicious, aromatic flavors of fall.
I'd love to hear your first memories of Alice Waters, and how you imagine gathering to create change in your own community. Let me know in comments below.
MAPLE-ROSEMARY PEAR & PECAN BAKED BRIE.
Gooey, delicious baked brie is topped with maple-rosemary pears, pecans, and pomegranate, and served with olive-oil toasted rosemary olive oil bread.
Ingredients
1 1/2

cups

coarsely chopped Asian or Bosc pear

1

tablespoon

fresh rosemary leaves, picked from the stem

3

tablespoons

pure maple syrup

olive oil, to drizzle

few

pinches

flaky sea salt

1

12 ounce

round of brie, chilled

1/2

cup

raw, unsalted pecan halves and pieces

fresh pomegranate seeds
Instructions
Preheat oven to 350ºF and line a small baking sheet with a piece of parchment paper.

Sauté chopped pears in a medium frying pan with 1/2 tablespoon of rosemary leaves, 2 tablespoons of maple syrup, a drizzle of olive oil, and a pinch of flaky sea salt. Stir over medium heat to coat ingredients, then sauté for 8-10 minutes, until fragrant. Increase heat to high and sauté another 2 minutes to gently caramelize the pears. Transfer pears to a serving dish, do not wash the pan as you'll use it for the pecans.

With a very sharp, thin knife, slice the top layer of rind off the round of brie. Place the brie on the baking sheet and bake for 10-12 minutes, until cheese is melted. If it leaks, don't worry! It's still salvageable. Chill for 5 minutes in fridge before serving.

While the brie bakes, add the pecans into the previous frying pan and top with the remaining 1 tablespoon maple syrup, 1/2 teaspoon rosemary leaves, and another pinch of sea salt. Stir to coat, and toast the pecans over medium heat for 3-5 minutes, until fragrant and beginning to brown. Remove from heat.

Brush slices of Rosemary Olive Oil Loaf with olive oil, and toast in another frying pan over medium flame. Let each side get golden brown, then flip and repeat until all slices are perfectly toasty.

Once brie has been baked and briefly chilled, use a large spatula to transfer it to your desired serving platter. Top with the maple-rosemary pears and pecans, and finish with pomegranate seeds and a sprinkle of flaky sea salt. Serve with olive oil toasted slices of Rosemary Olive Oil Loaf.