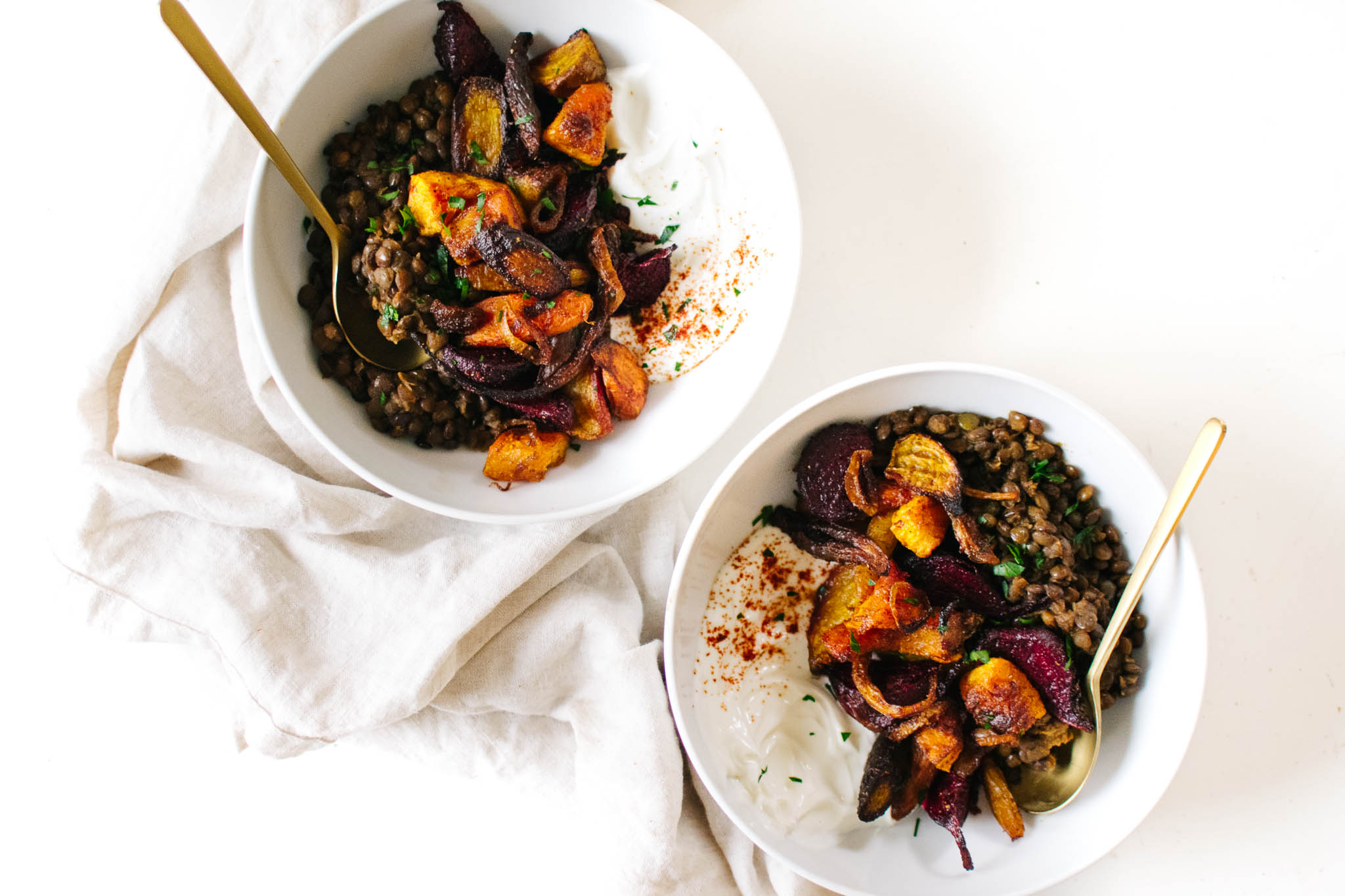 Jump to Recipe
The skies in LA have been steel gray for two days, a fitting welcome to these days of celebrating the spirits, our ancestors, those ghosts who haunt us—if only in memory. I'm relishing every bit of cool weather, the (finally!) fall temperatures a reprieve from LA's blazing sun. It feels right to have Halloween and Dia de Los Muertos shrouded in a bruise-colored sky. I prefer my spookiness to be environmentally appropriate. I like to eat my cozy harissa lentils and roasted veggies in cool, cozy climes. Praise autumn.
This time last week I was up in Santa Barbara, prepping for a #kaleandcaramelcookbook event at Chaucer's Books. Bookstores are hot collateral these days, not entities to be taken for granted. The *singular* bookstore on Maui announced it was closing a couple weeks ago, and though there seems to be hope of it keeping its doors open, the thought of an entire island without a bookstore—now that's truly spooky. Let's agree to support our small book businesses, shall we?
Chaucer's was delightful, and I got to meet some sweethearts in the Santa Barbara food community. And, importantly, I spent time with my Aunt Cathy.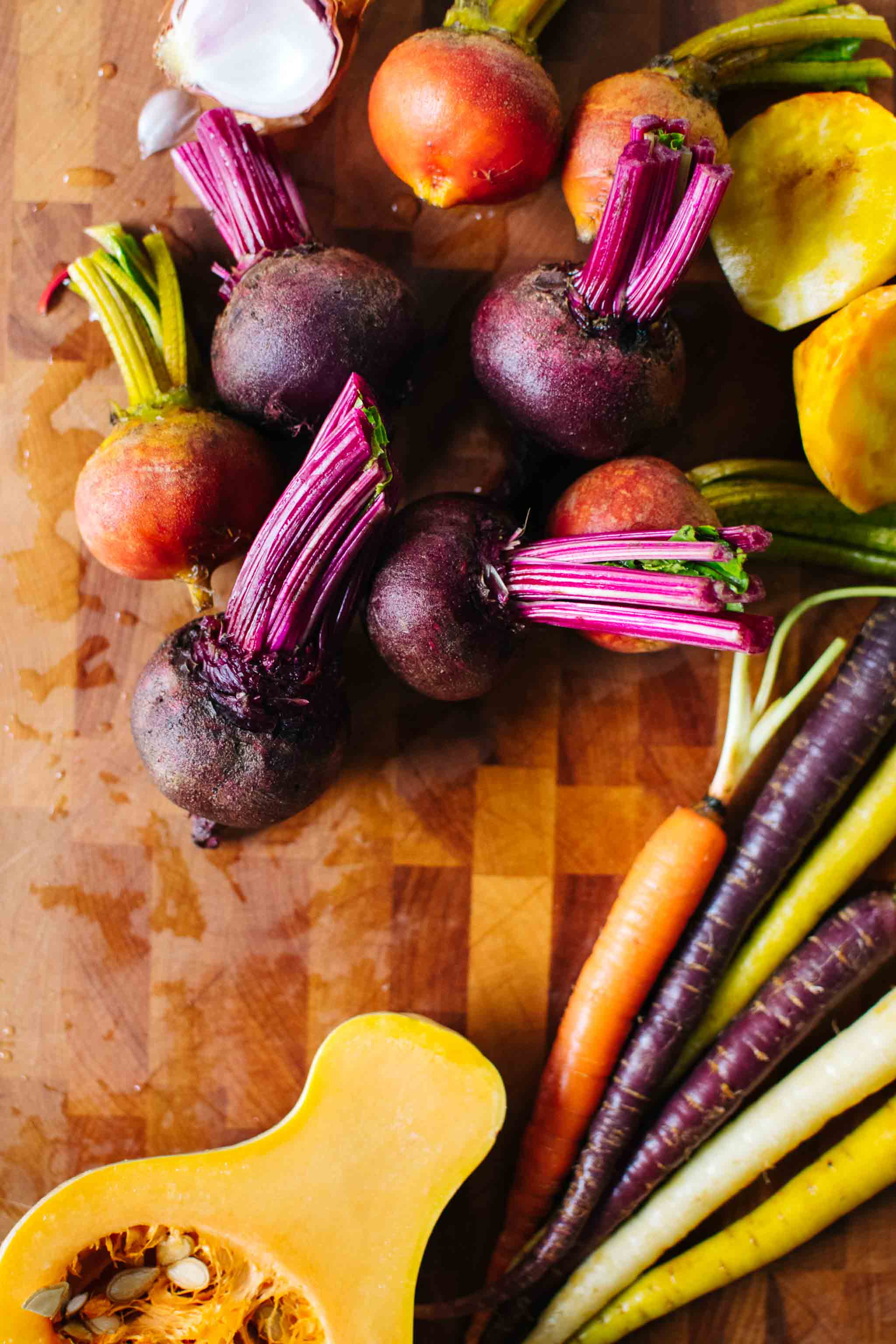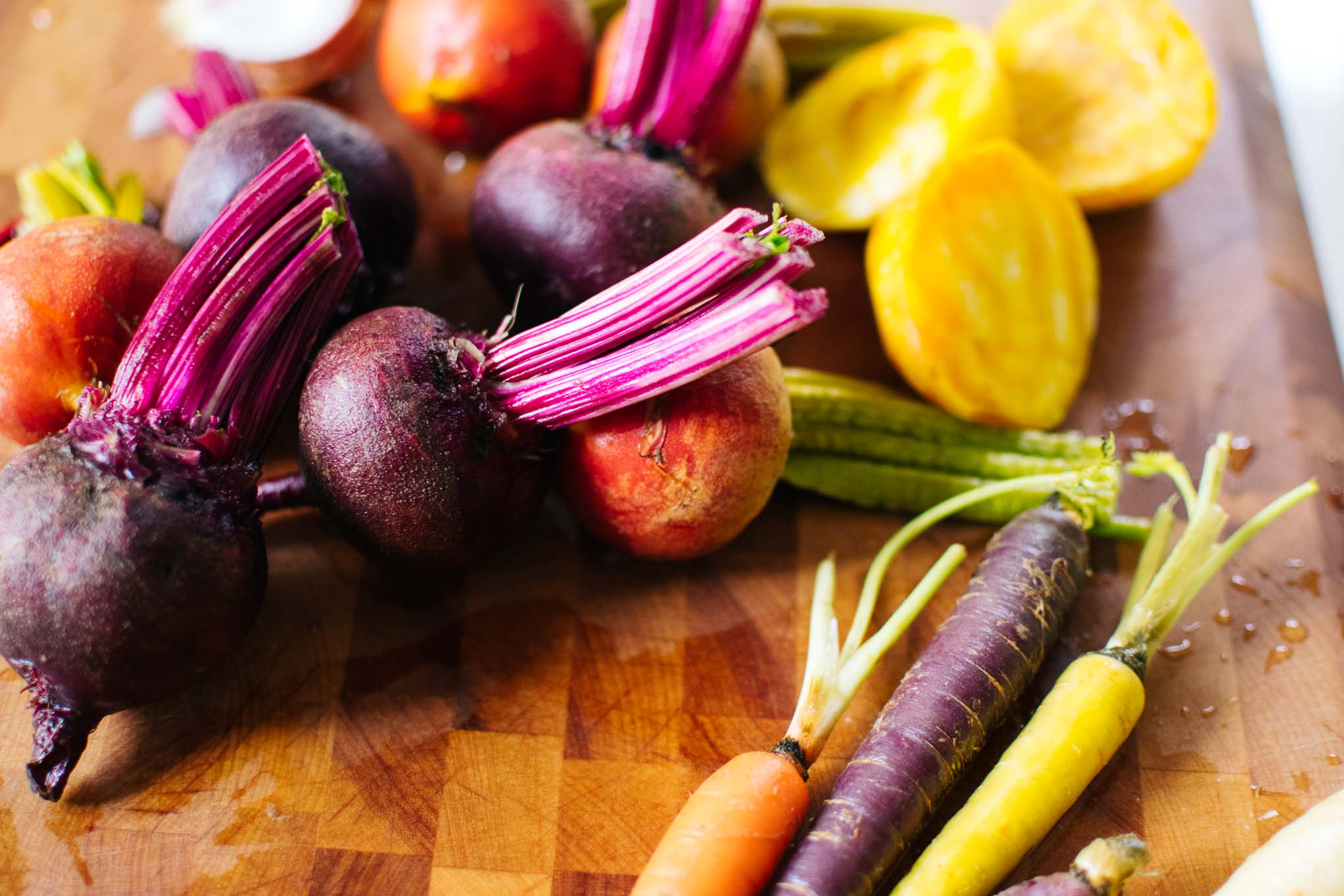 Cathy is one of my mom's older sisters, and though she doesn't live too far from LA, we don't often have the luxury of spending whole days together. We passed the afternoon making persimmon goat cheese bites and roasted lemon mint pesto tartines for the hungry masses at Chaucer's. She pulled up a wide-screen view of the design comps my German publisher sent (have I mentioned that Kale & Caramel will be published in Germany this winter?!). We talked about the people we love who've left us. And the people who are still here.
It felt good to be in the kitchen together. The truth is, I rarely get to cook with blood family, with women I'm related to. When my mother was alive, we spent a huge portion of our time together in the kitchen. We learned from each other, but mostly she taught me everything she knew. What olive oil does. What vinegar's job is. Why nutritional yeast is delicious. How to make guacamole. How to bake an apple crisp. The magic of lentil loaf (I have yet to make it since she died).
With Cathy, things moved simply. We passed baking sheets, parchment, and lemons back and forth. She found the right knife for me. We deliberated over whether or not we needed to wash the herbs. Both of us decided they were clean enough, and it felt like the DNA talking. I do that; I look for evidence of genetic bonds in strange, quotidian places. It makes me feel I belong.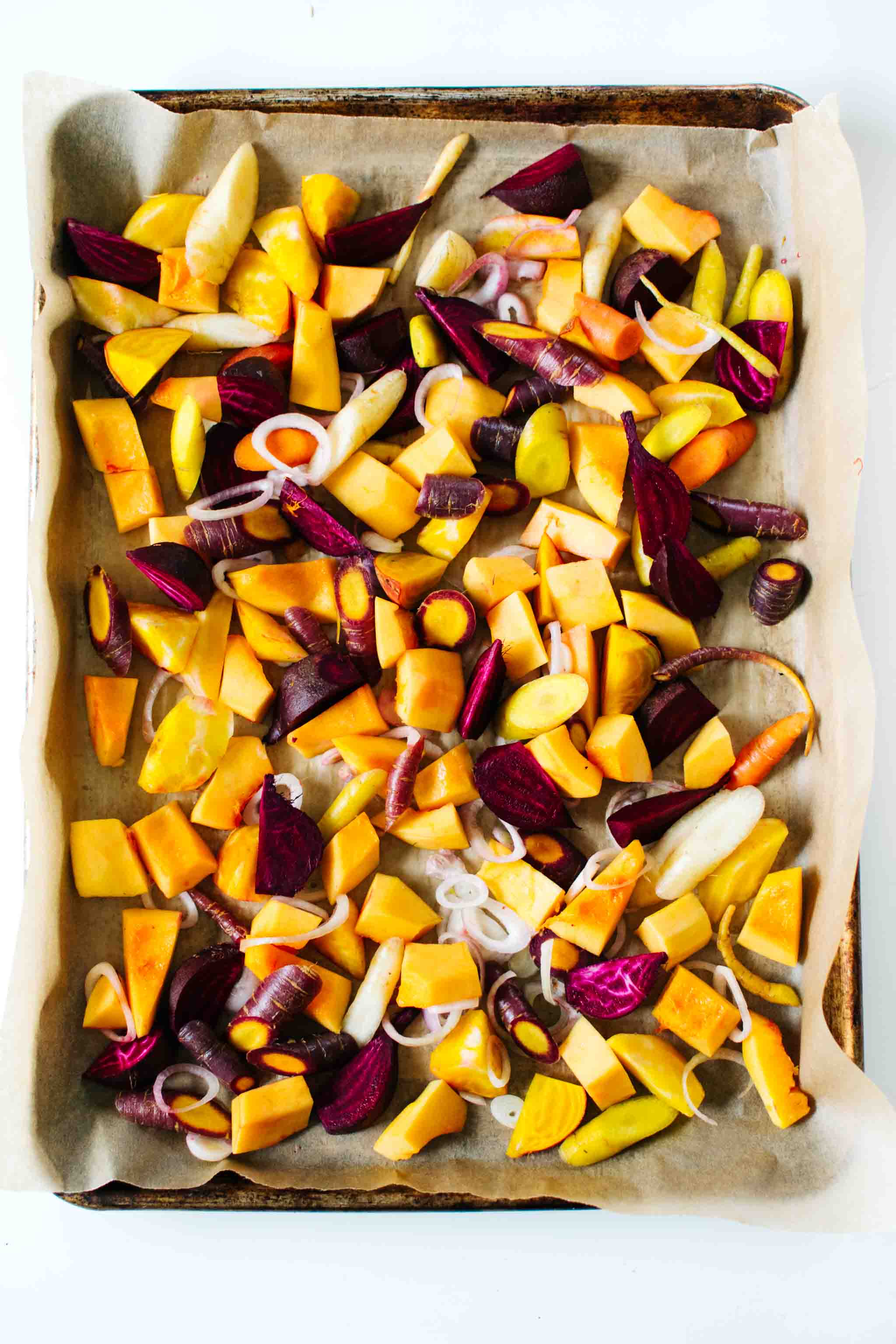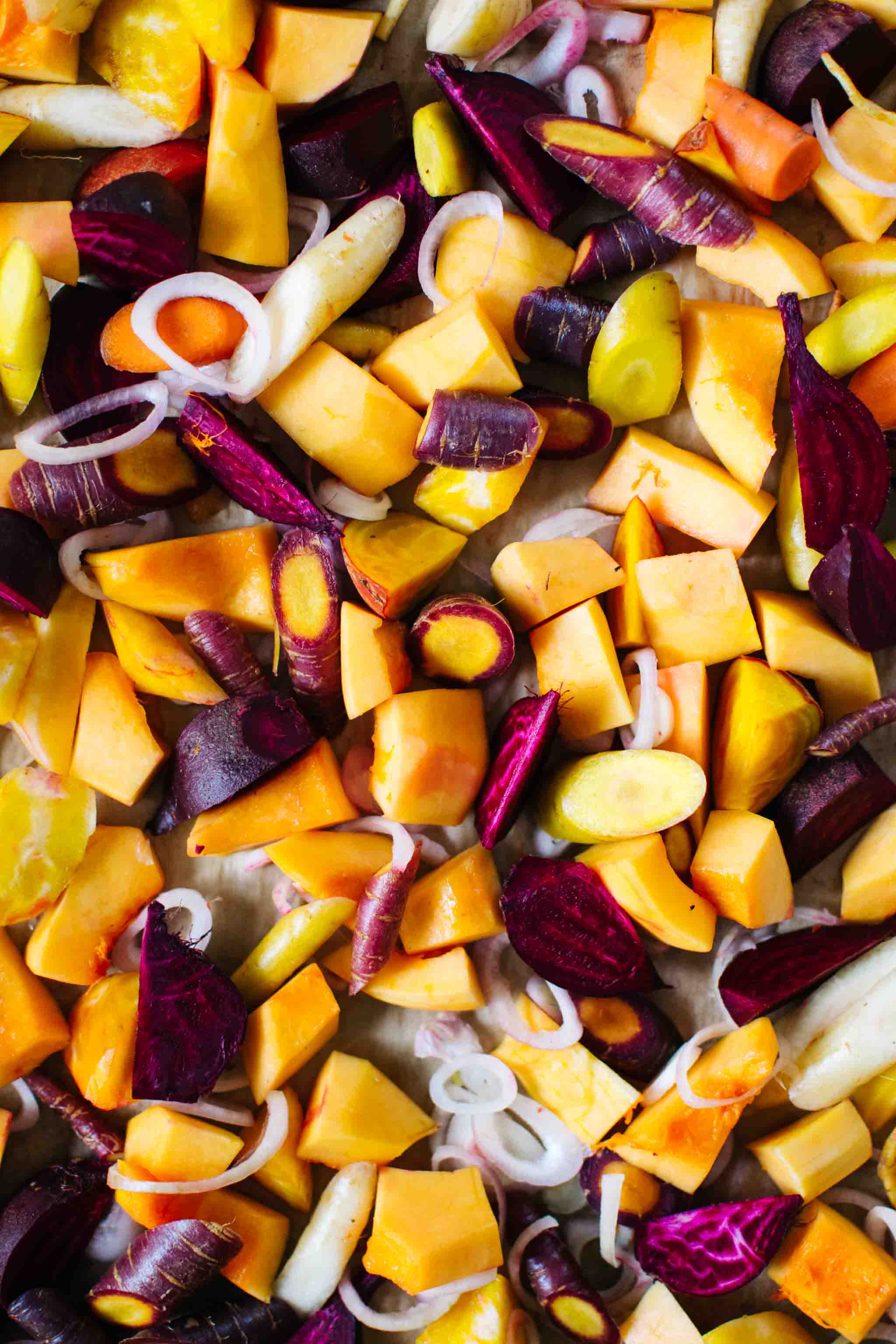 With our trays of treats from the book, we set up shop at Chaucer's and received a couple dozen old and new friends. I read from the book, some people cried (this is usual; they're tears of resonance and relief), and we had a generally grand time of it. It's been such an honor to meet readers, fellow food creatives, and other writers on book tour this year. I feel lucky to meet each and every one. Just a few more stops on the book tour (a Q&A in LA this Thursday November 2, Chicago on November 12, and Indianapolis November 14 and 16!), but I'm so excited for them.
And then I came home and started making these lentils. On repeat. Zinging with harissa paste (a blend of roasted peppers and spices, like coriander, sumac, cumin, and garlic—I love this one by local LA company Entube). Paired with warmly-spiced roasted veggies. And finished with thick, cooling Greek yogurt. It's my dream meal. It makes a perfect bowl. And if you want, you can add in some grains, greens, avocado, nuts and seeds, or fermented veggies.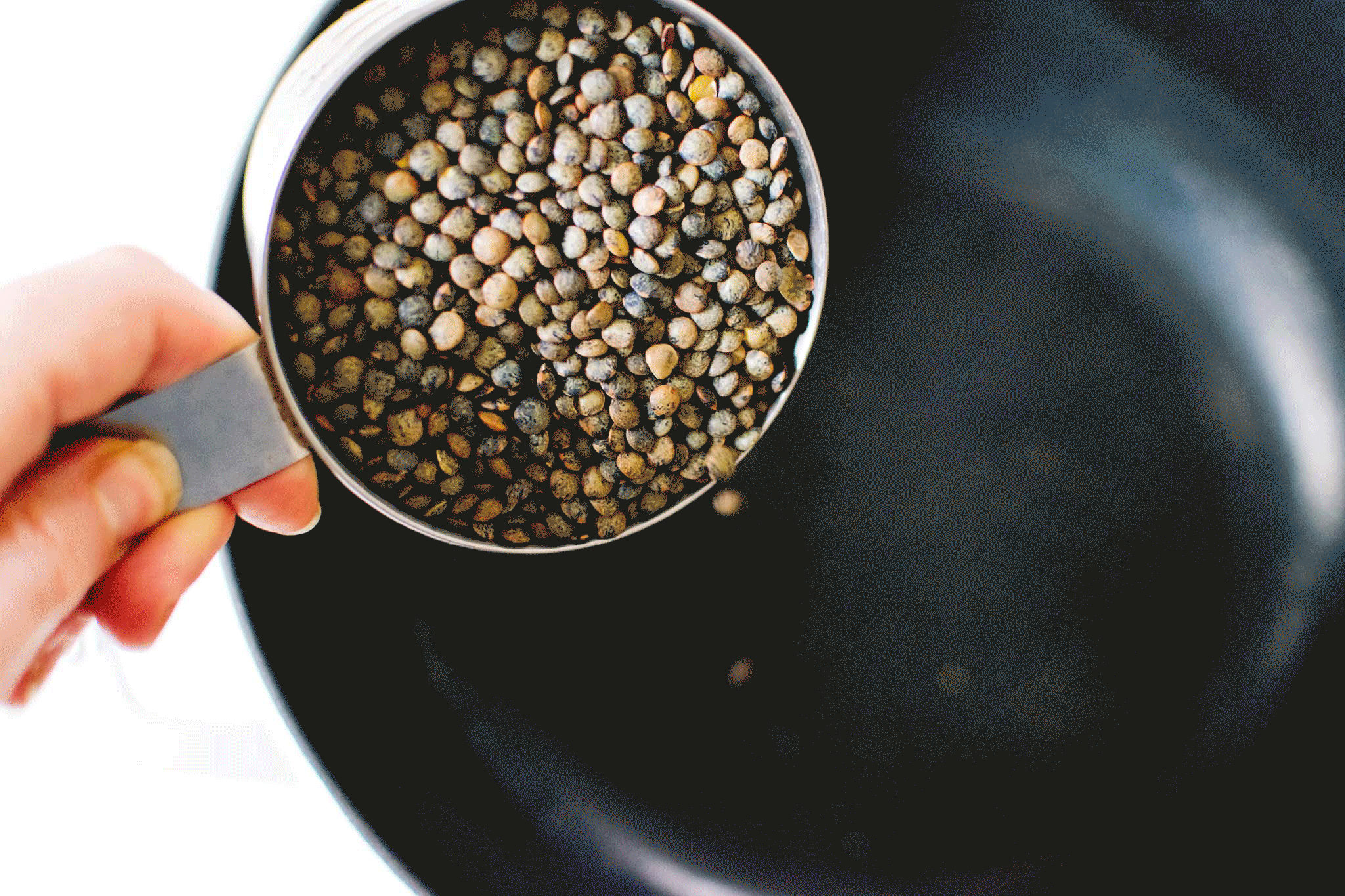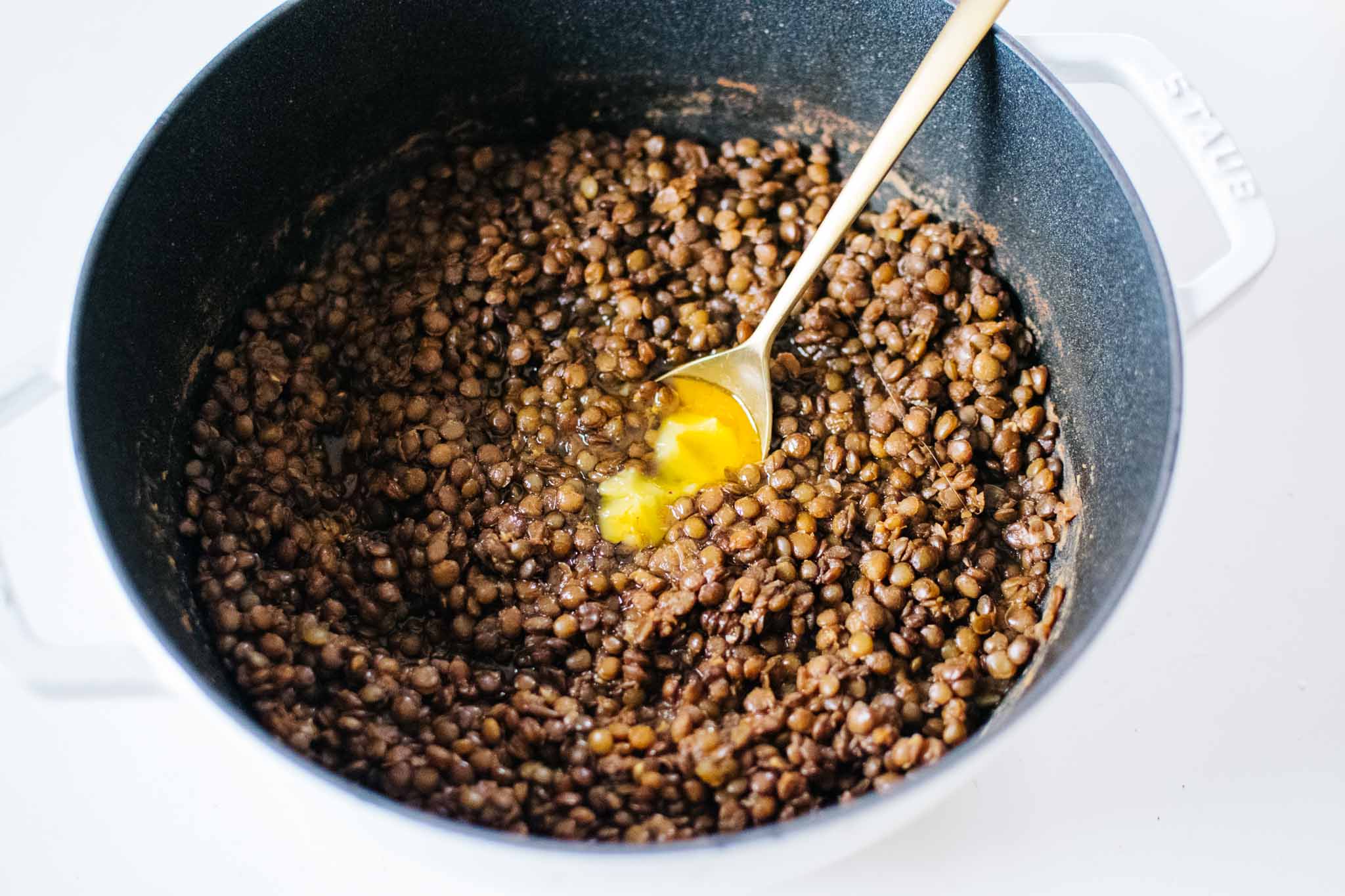 This is the meal I'll be eating all fall, and probably all winter, too. Speaking of inherited proclivities, I'm relatively certain my love of lentils is matrilineal. My mom obsessed over lentils the same way I do now (see: aforementioned lentil loaf, which was actually quite good, if memory serves). I'm proud of my lentil obsession, and happy when I find a new flavor profile with which to show them off. The rich, earthy harissa is lovely here, paired with a bit of garlic and some ground ginger.
The roasted veggies (a blend of carrots, beets, winter squash, and shallots) get a tonally similar spice treatment: cinnamon, cumin, cardamom, smoked paprika, and a touch of allspice. Together, they form a blanket of flavor I'd like to throw over just about anything.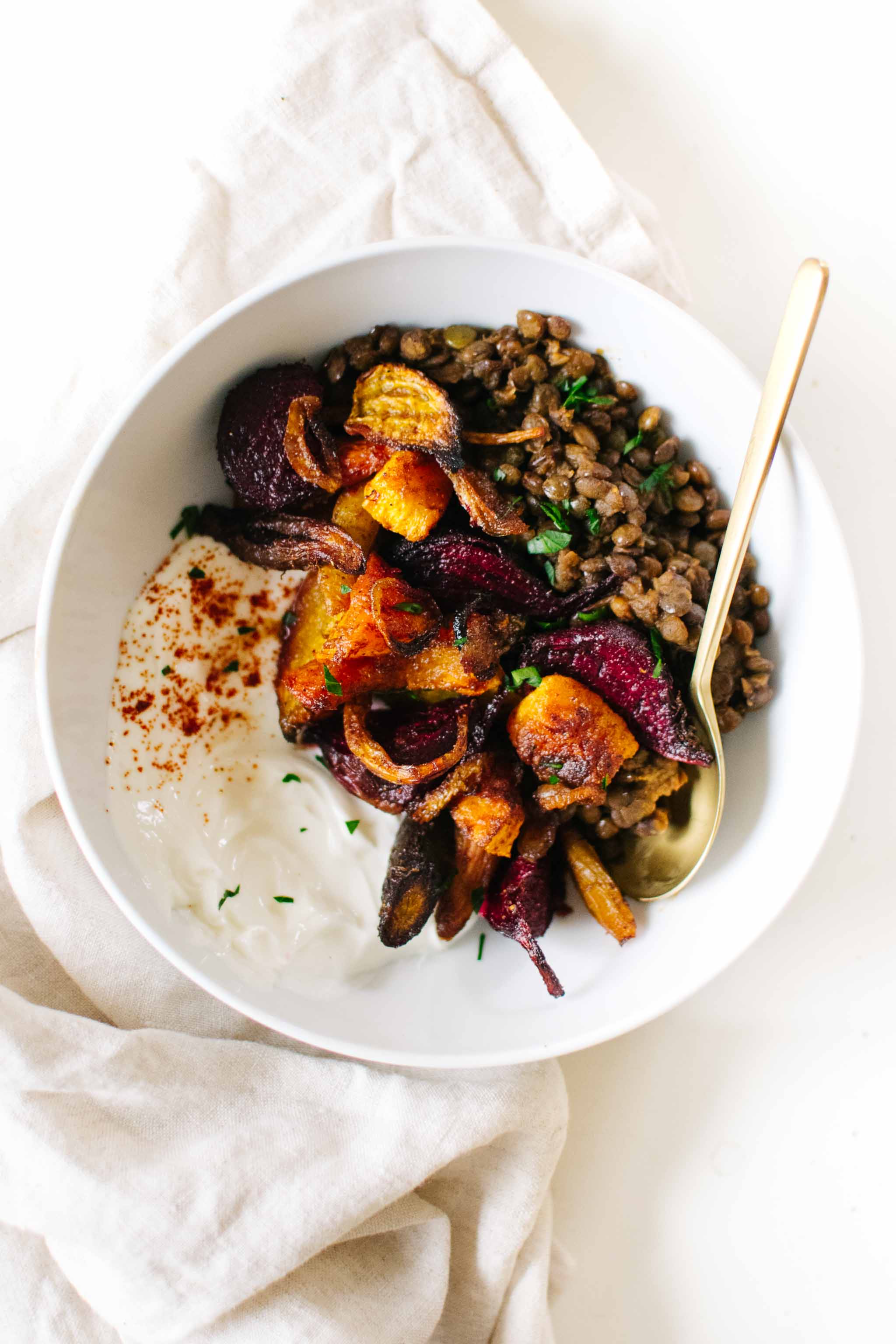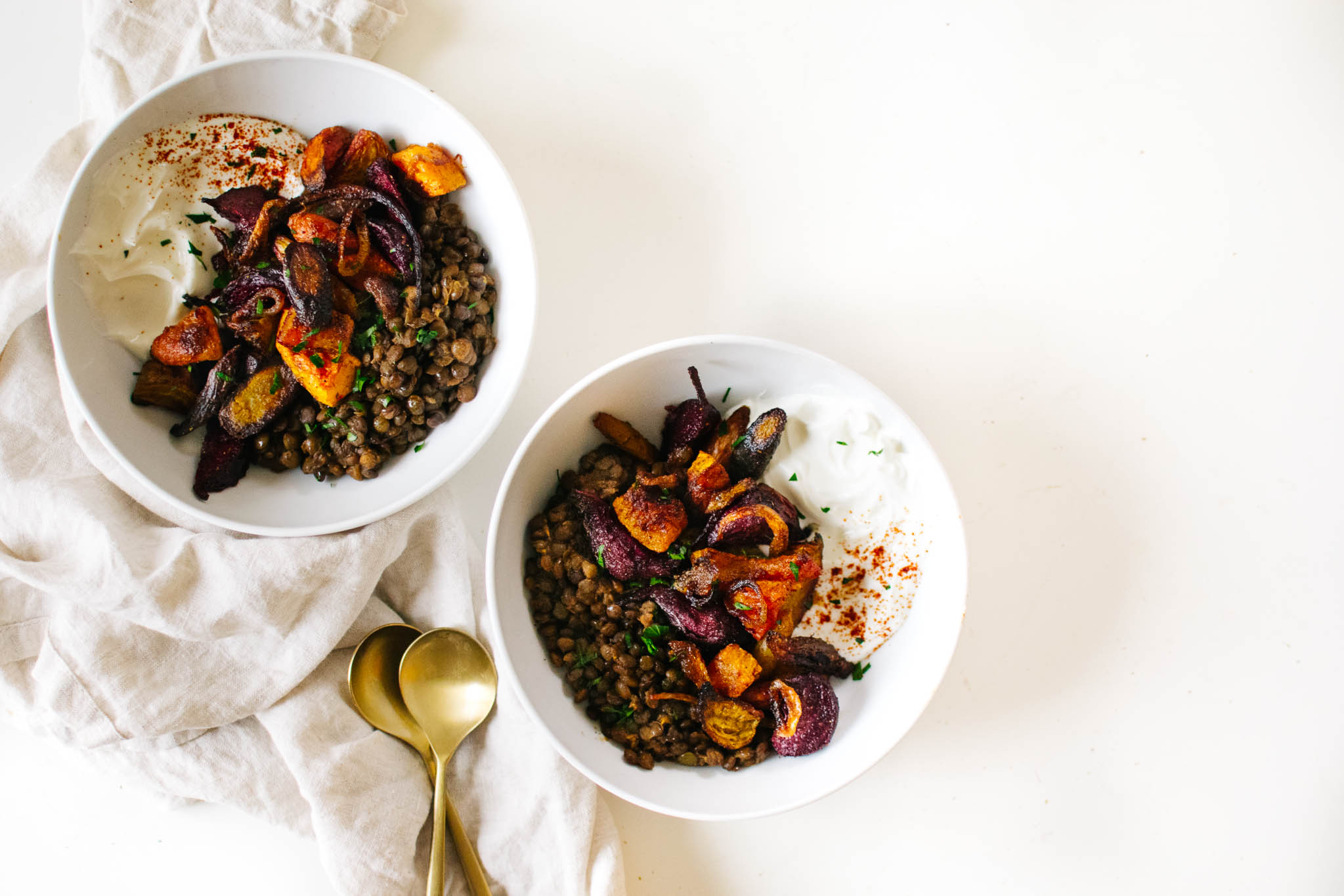 Let this meal be your blanket through the colder months ahead. It's as easy as can be, and stores beautifully in the fridge for leftovers throughout the week.
And if you're in LA, Chicago, or Indianapolis, come see me!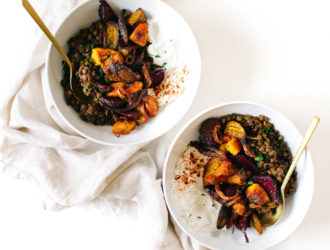 HARISSA LENTILS WITH ROASTED VEGGIES & YOGURT.
Harissa-spiced lentils and warmly seasoned roasted root veggies, shallots, and winter squash pair perfectly with cooling Greek yogurt.
Total Time
1
hour
5
minutes
Ingredients
HARISSA LENTILS
1 1/2

cups

dry French green lentils

4

cups

water

1 1/2

tablespoons

harissa paste

2

cloves

garlic, minced

1/2

teaspoon

sea salt

1/2

teaspoon

ground ginger

1

tablespoon

ghee, butter, or olive oil
ROASTED VEGGIES
1

small

butternut squash, trimmed, peeled, and seeded, cut into 1.5" cubes

6

small-medium

beets, washed, trimmed, and cut into sixths

1

bunch

rainbow carrots, washed, timmed, and cut into 1.5" chunks

1

shallot, thinly sliced

3

tablespoons

avocado oil or olive oil

1

teaspoon

kosher salt

1

teaspoon

ground coriander

1/2

teaspoon

ground cumin

1/2

teaspoon

ground cinnamon

1/4

teaspoon

smoked paprika

few dashes

ground allspice
FINISHING TOUCHES
1

cup

plain Greek yogurt

minced

flatleaf parsley
Instructions
HARISSA LENTILS
Place lentils, water, harissa, garlic, salt, and ground ginger in a medium saucepan, cover, and bring to a boil over medium-high heat.

Reduce heat to low, and simmer, covered, for 35-45 minutes until lentils are tender and most of the water has evaporated.

Stir in a tablespoon of ghee, adjust the salt, and let sit until ready to serve.
ROASTED VEGGIES
Preheat the oven o 425º F and line a large baking sheet with parchment paper.

Mix all the cut veggies on the parchment paper, and drizzle with oil. Toss to coat. Sprinkle with salt and spices. Toss again to mix the spices evenly on the veggies.

Roast for 50-60 minutes, stirring halfway through, until the edges of the veggies begin to crisp and caramelize.

Serve with lentils and a good shmear of Greek yogurt. Sprinkle with fresh parsley.