Jump to Recipe
Hello from Palm Springs! I came out early this year, on account of the wondrous occasion of overlapping judeochristian holidays and the not so wondrous occasion of a breakup. As many of you remember, the Palm Springs New Years holiday has been a regular celebration since 2011, and it's become one of my favorite traditions in its richness of community, friendship, and, yes, complete and total relaxation. Also of note: My friend Micah cooks incredible meals for us the whole time we're out there, which is nothing short of a revelatory relief for someone (ahem, me) who spends all day every day in the kitchen.
So I came out to the desert early this year, in anticipation of quiet and restoration and latkes. Liba and Micah had christened the house in advance of my arrival, filling it with the scent of tarragon and chanterelle risotto and the tropical bird-like squawks of their perennially sunny-dispositioned ten month-old baby girl. I brought cookies and peppermint bark and butternut squash (for latkes, duh) and a battalion of superfoods and a Vitamix. All would be well.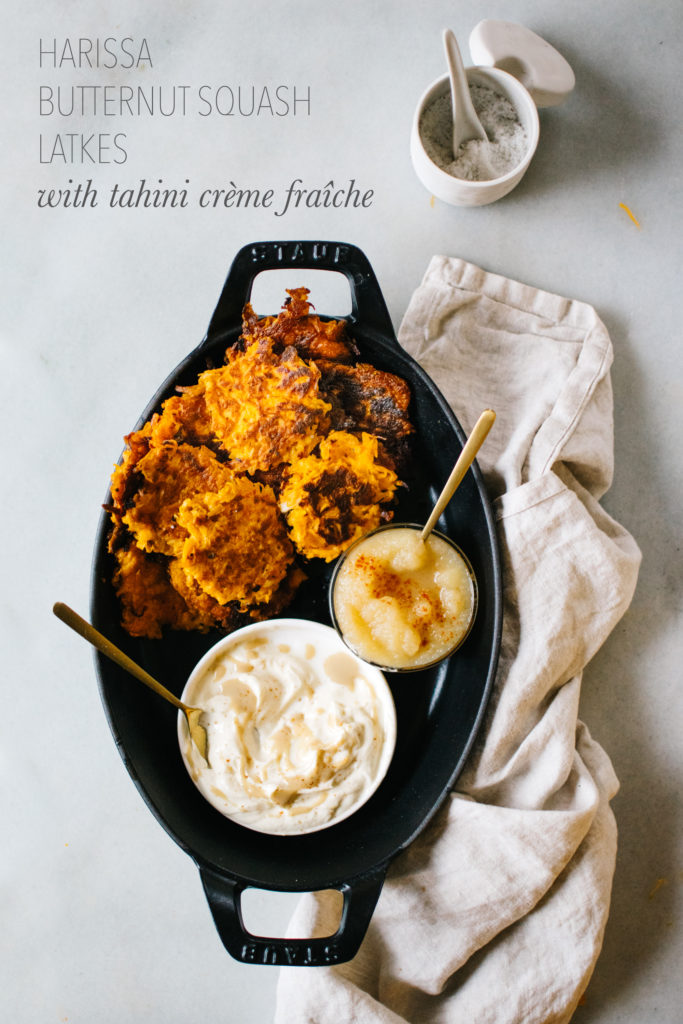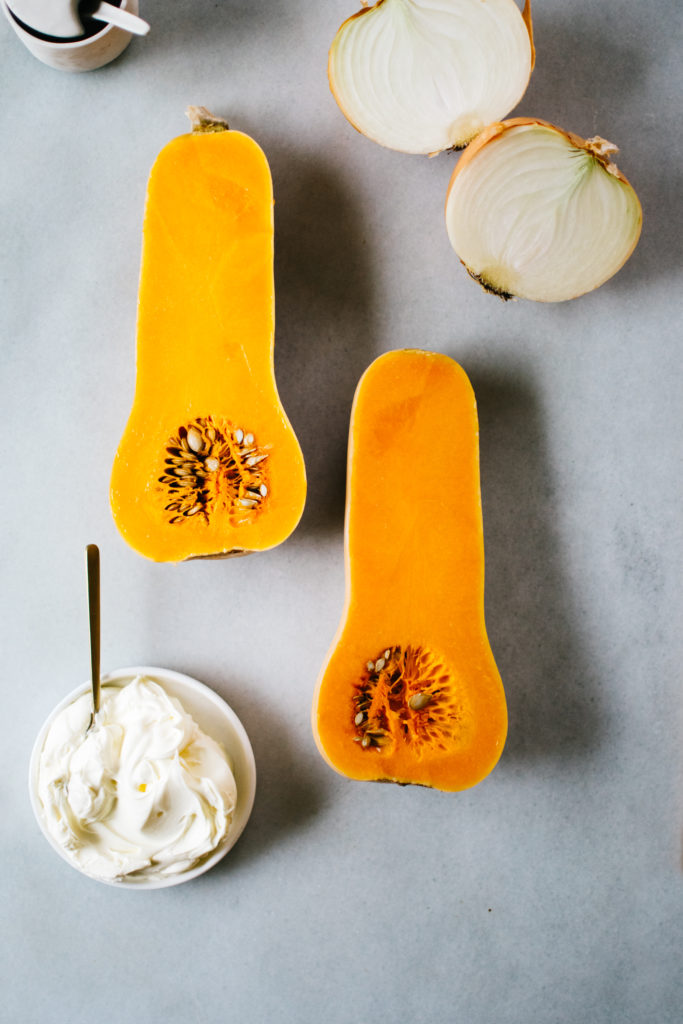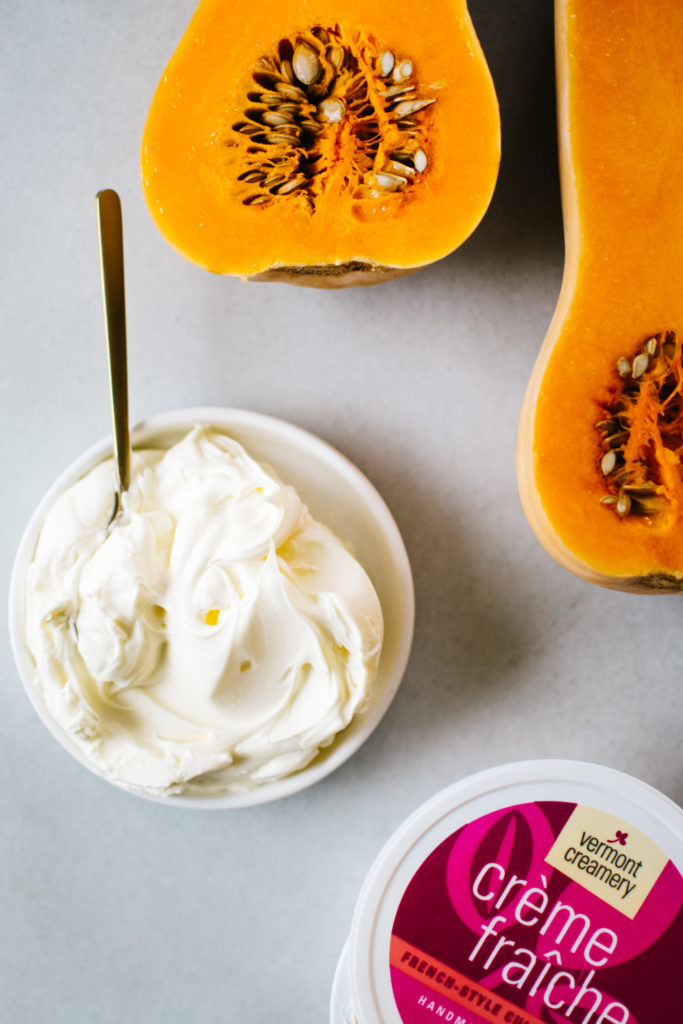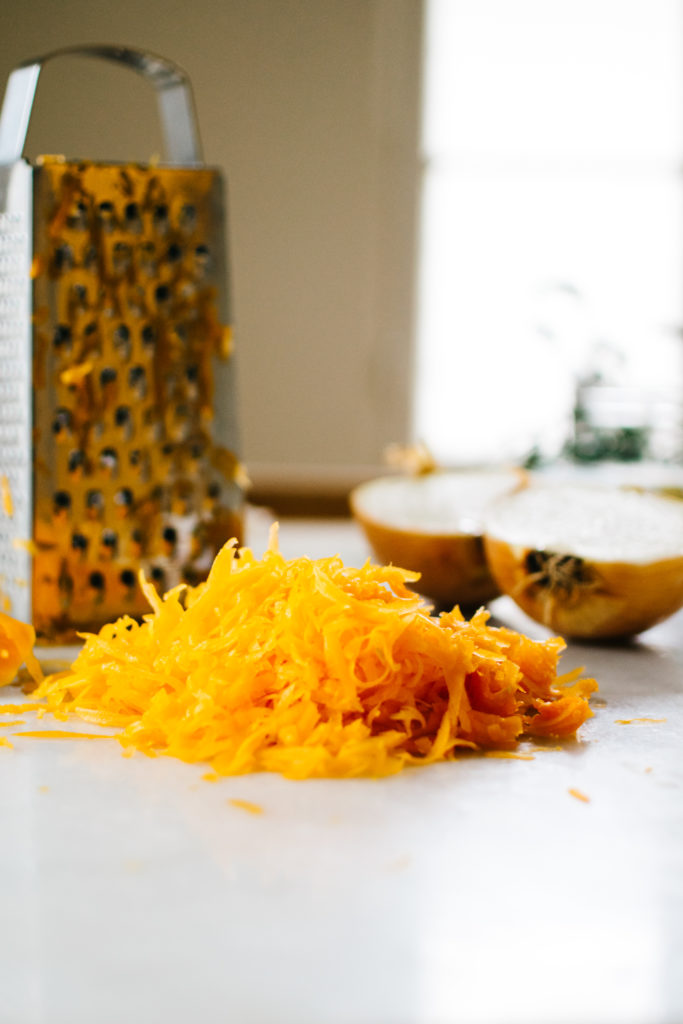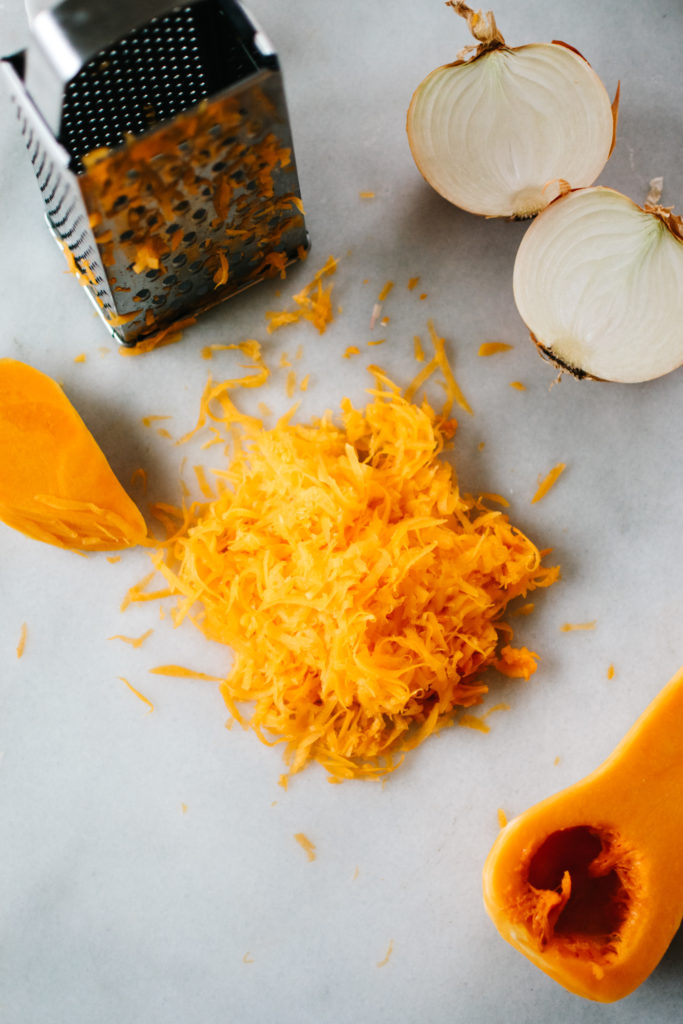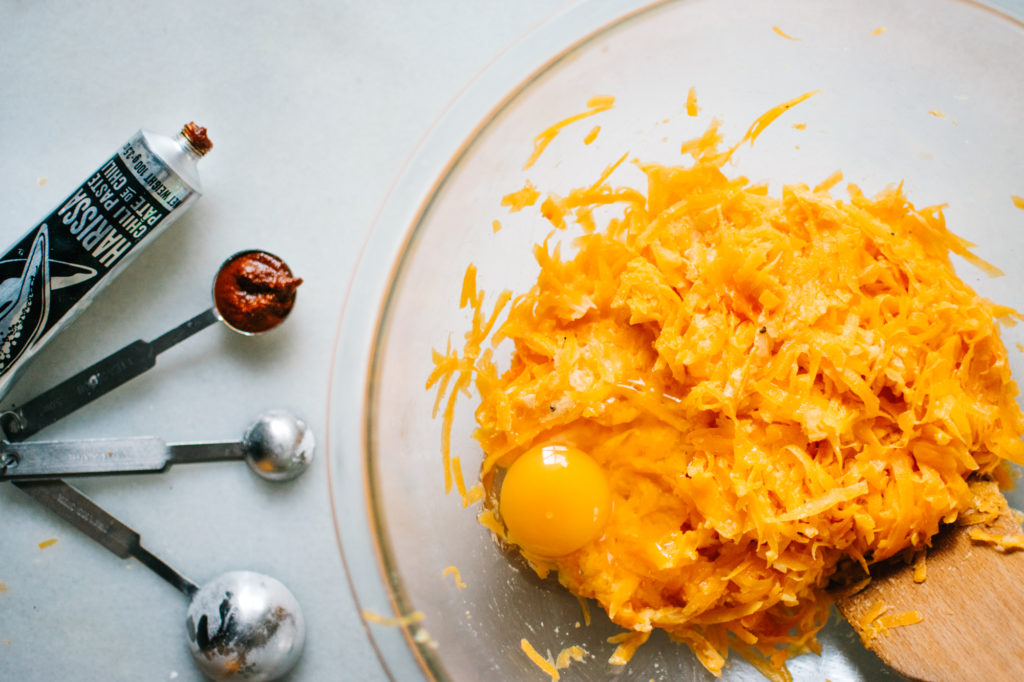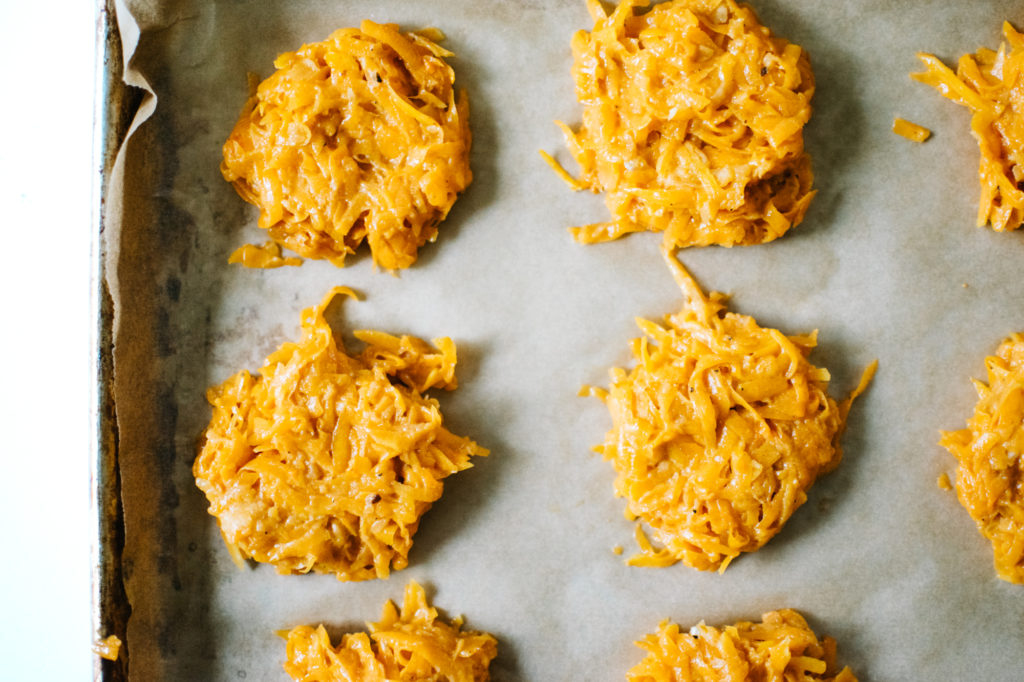 My goals for the week are as follows:
1. Make as many latkes as humanly possible. Eat them with as much Vermont Creamery crème fraîche as humanly possible.
2. Swim every day in the glorious heated saltwater pool currently just steps from my bedroom.
3. Light the Hanukkah candles each night. Despite my vehement non-religiousness, this may be the holiday ritual I miss the most. Liba and Micah, children of rabbis that they both are, generously indulge my paucity of religious knowledge and voraciousness of desire. We only ever recited the first prayer in my home, and incanting it by heart still elicits a hush of post-sunset candlelight and ritual.
4. Cuddle the babe as much as humanly possible. Because duh.
5. Reclaim this place as my own, distinct from its entanglement with the aforementioned breakup.
6. Hopefully make a babka. I never have. I really want to. I should probably put some crème fraîche in it.
7. Read read read. I have two books with me (What Is Not Yours Is Not Yours by Helen Oyeyemi and What Belongs to You by Garth Greenwell) and would love nothing more than to finish them both. (Coda to this goal: Write write write. Write sentences that are honest more than they are kind. It's easy to write what one ought to instead of what one must. I want to write what I must, no more, and no less.)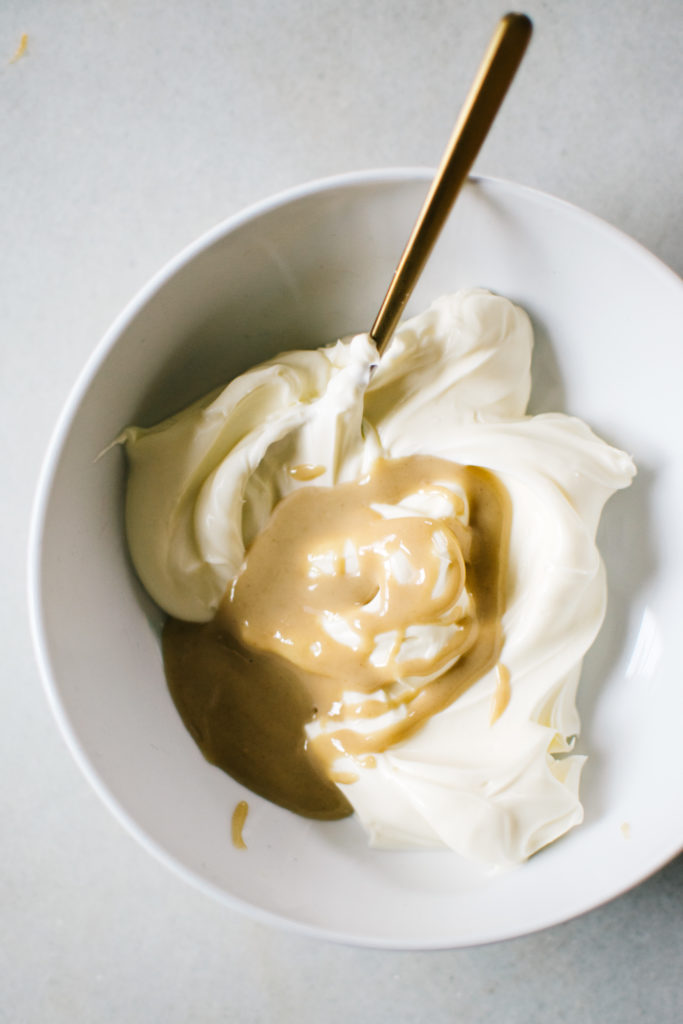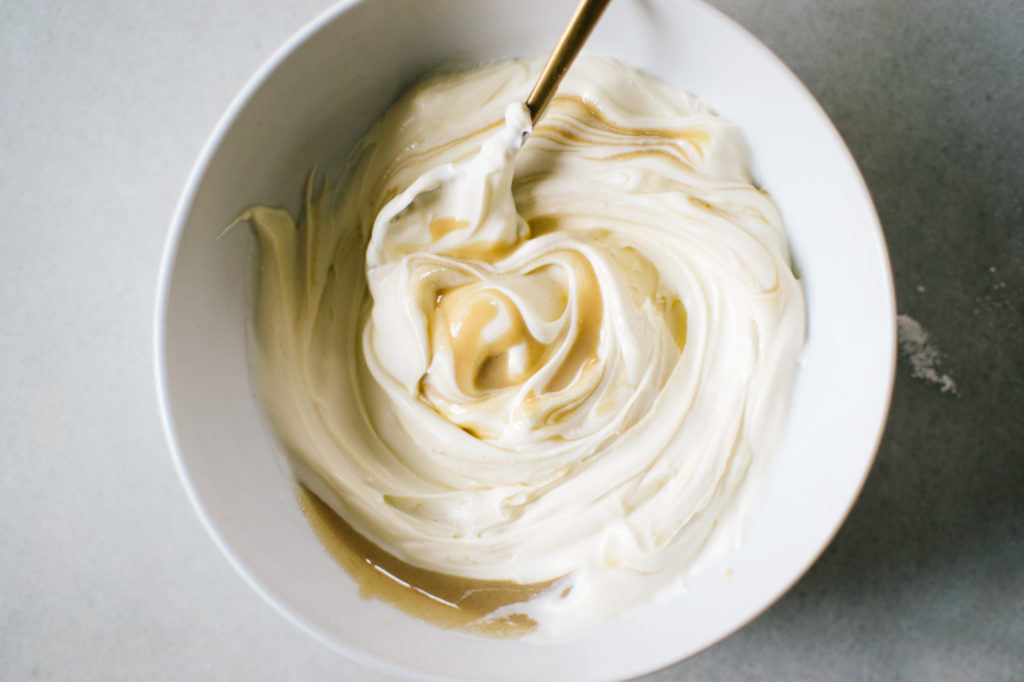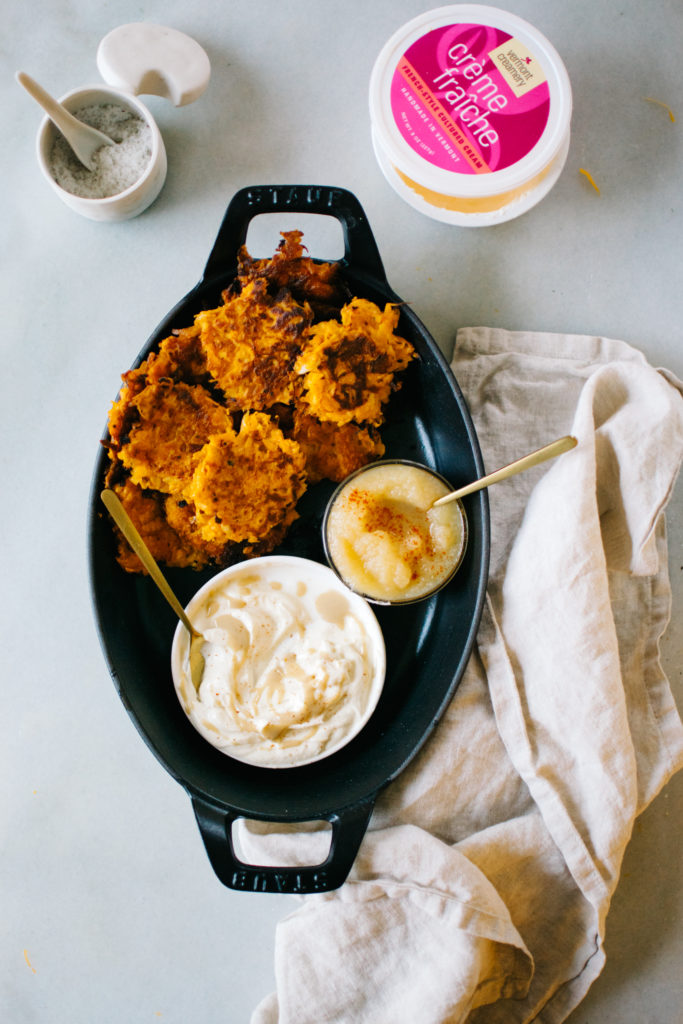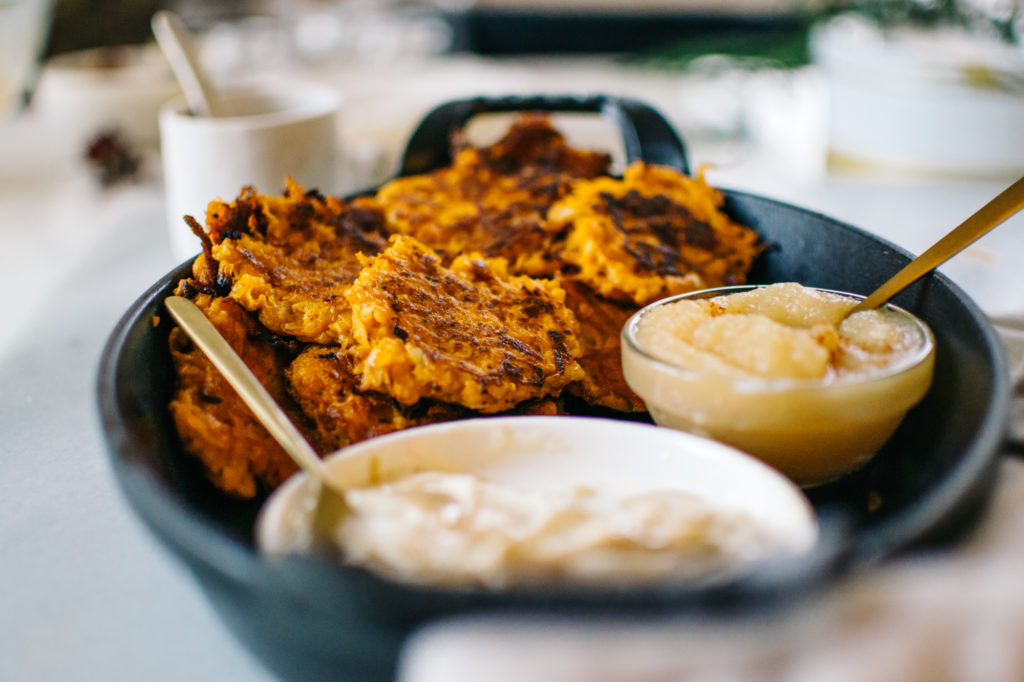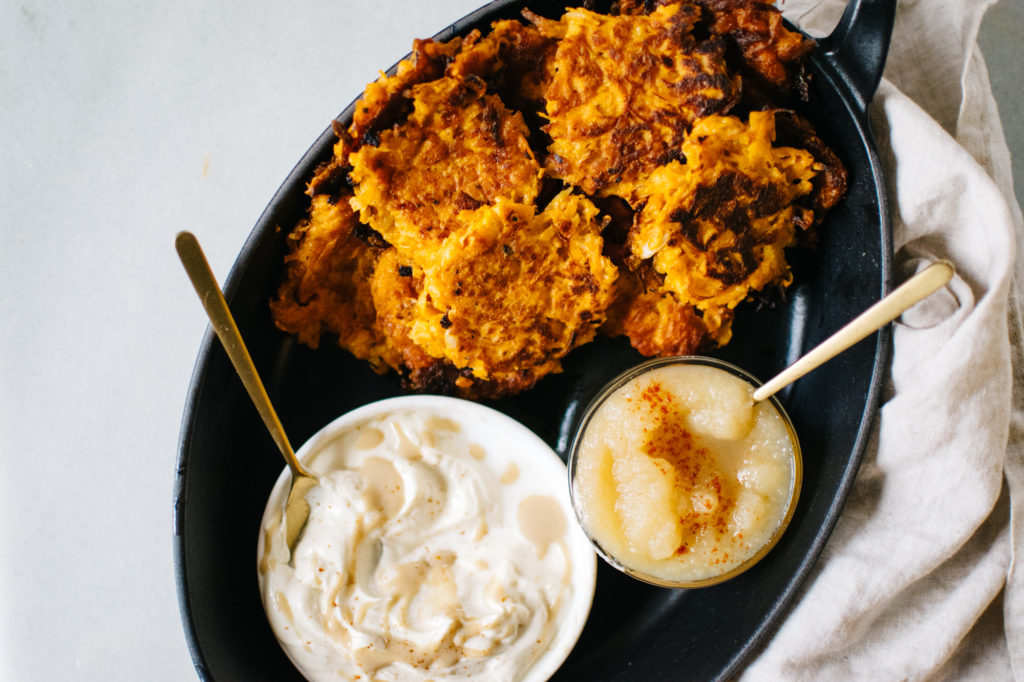 I promise to report back on my progress on all seven fronts. I made us tahini banana smoothies for breakfast, spiked with spirulina, hemp, maca, and reishi. Liba and I spent the majority of yesterday afternoon skinny-dipping with the baby. We made latkes for dinner last night (my friend Luís, from Portugal, skillfully took the reins on the frying), and I multitasked a batch of challah for the morning. And the jagged mountains surrounding us are dusted with snow.
Memory weighs heavily on me at times, but I am doing my best to breathe, knead, swim, read, feel the presentness of skin in water, not get lost in it. The sweetness of friendship helps, too. And these latkes.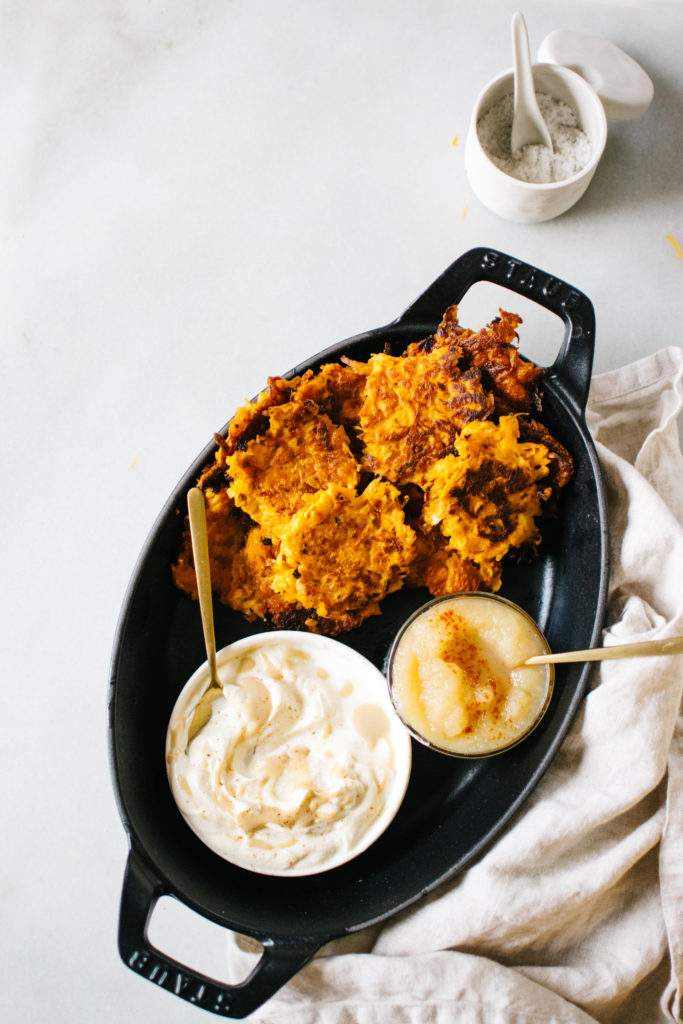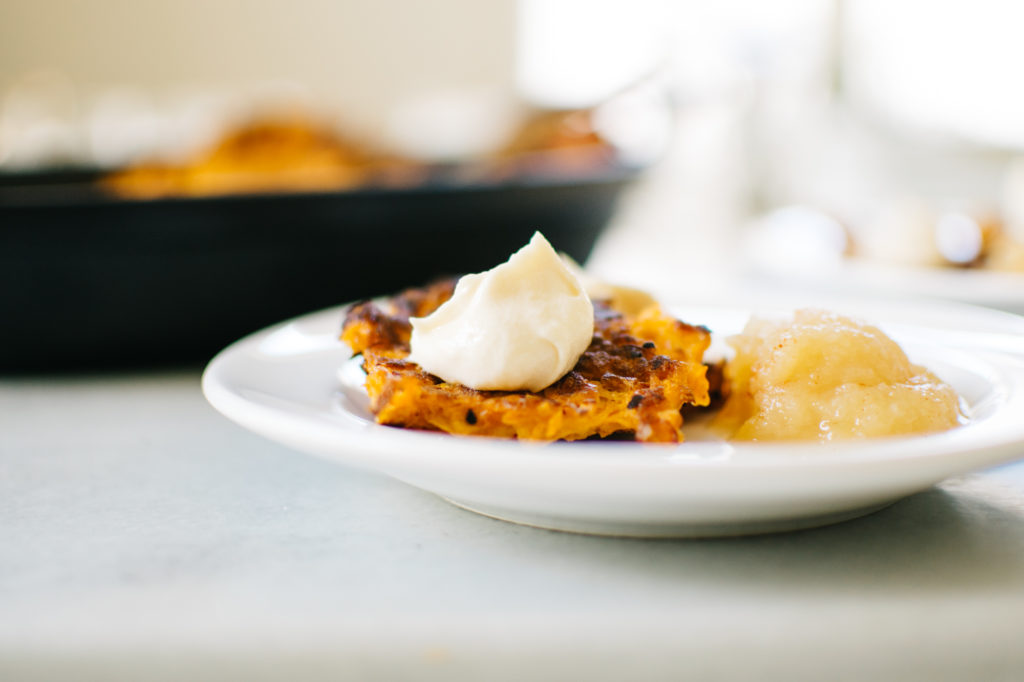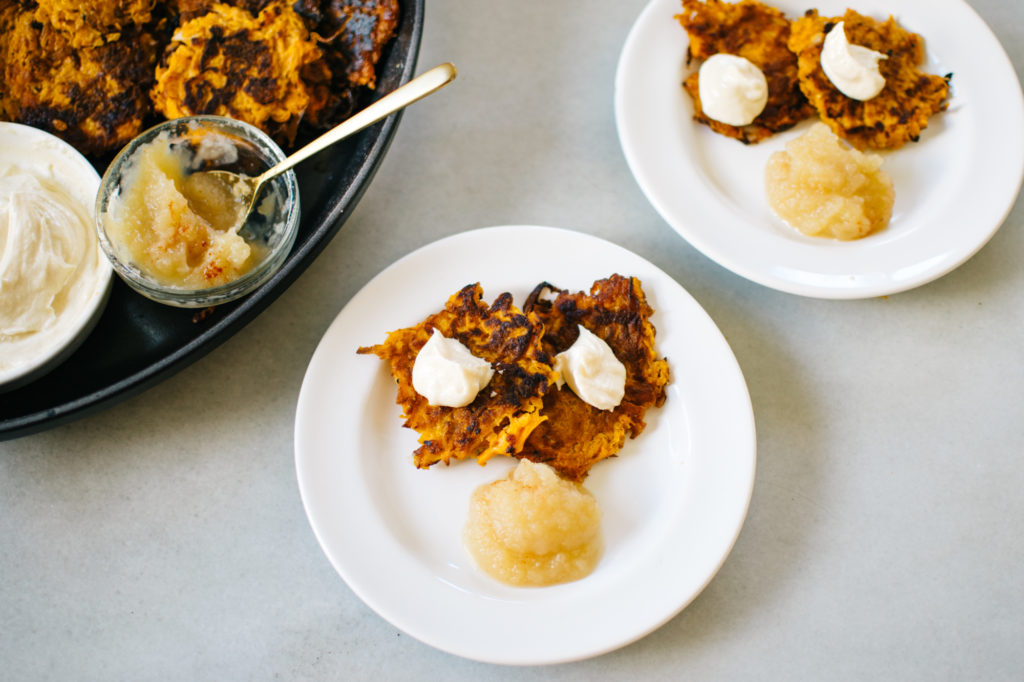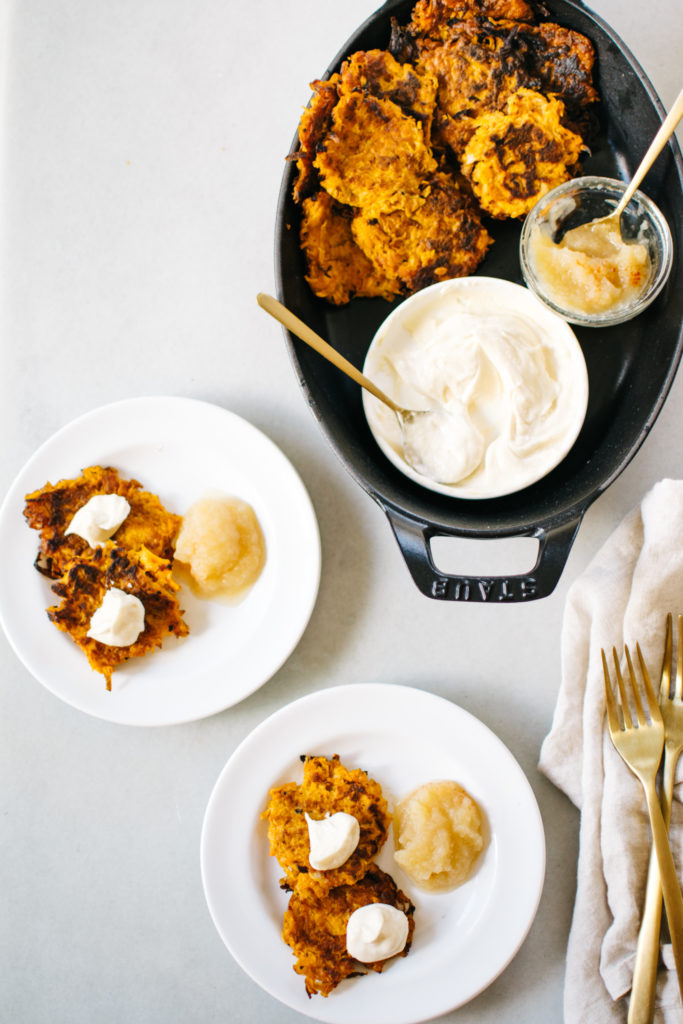 A few notes about them:
First, if you don't have harissa paste, don't worry. You can easily use a combination of ground chili powder, cayenne, and some cumin and coriander to taste. Be free. Be your own Hanukkah miracle.
Secondly, get excited for tahini crème fraîche. It's gonna knock your socks off. Vermont Creamery's crème fraîche is hands-down the most luscious you'll find anywhere, and swirled with salted tahini, it's exceptional. Add in the mandatory dollop of applesauce, and you're in latke heaven.
HARISSA BUTTERNUT SQUASH LATKES WITH TAHINI CRÈME FRAÎCHE.
Ingredients
harissa butternut latkes
½

large onion

grated

6

cups

grated butternut squash

2-3 pounds

1 ½

teaspoons

sea salt

1

tablespoon

corn starch

1/3

cup

all-purpose flour

(or corn starch for a gluten-free variation)

freshly cracked pepper

to taste

1

tablespoon

+ 1 teaspoon harissa paste

2

eggs

whisked

olive or other vegetable oil

for frying

apple sauce

to serve

smoked paprika

to garnish
tahini crème fraîche
½

cup

crème fraîche

3

teaspoons

tahini

pinches

few sea salt
Instructions
Place a piece of cheesecloth in a large metal strainer over a bowl, and squeeze as much liquid as you can out of the onion. Discard liquid, and continue to squeeze out liquid until the onion is as dry as possible. Place drained onion in a large bowl. Add the grated squash, salt, corn starch, flour, and freshly cracked pepper, and mix well. Add the harissa and eggs, and stir to incorporate.

Preheat the oven to 300º. Line a large baking sheet with parchment paper and place a wire cooling rack on top of the baking sheet. You'll use this to drain the latkes.

Shape latkes into 3-tablespoon-sized cakes. In a large frying pan, heat about ¼-inch oil over medium heat. When oil shimmers, drop latkes in, pressing down with your spatula. Let cook 4-5 minutes on each side, until they're golden brown and crisp. Transfer latkes to the wire rack in the oven to drain while you continue to fry.

Once complete, make the tahini crème fraîche by mixing tahini, crème fraîche, and sea salt. Finish with an extra drizzle of tahini, if desired.

Serve latkes hot, with tahini crème fraîche and apple sauce, topped with a pinch of smoked paprika, if desired.