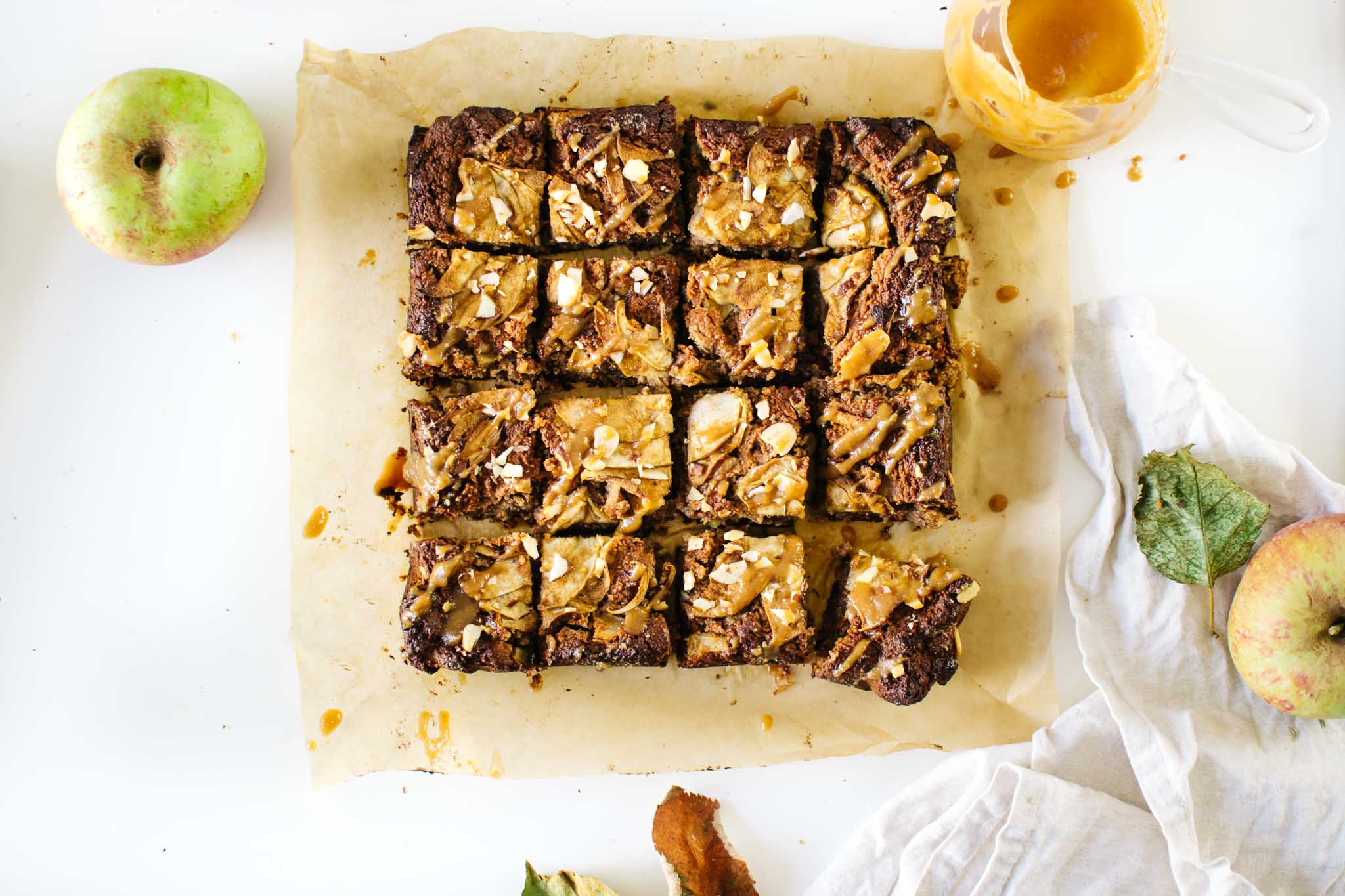 Jump to Recipe
Every morning in Vermont, I picked an apple. They weren't perfect apples—late season, their skin mottled with sun spots and evidence of worms—and it wasn't a perfect tree—the fruit was high, the branches were losing their leaves, and I often had to jump to reach the apples. But the ritual of it, feeling the dew hit my ankles in pin pricks of near-frost, grasping the sweet, weighty jewels in my palm, twisting, separating the fruit from a tree about to go into hibernation—I couldn't resist it. It was the first thing I thought of when I woke. Go pick an apple. Take a bite. Taste how sweet the world can be. How pure. How simple. The world is just this apple. Take it. Swallow.
The truth is, I fell in love with Vermont. I almost didn't leave. The state took every aching desire I have for a quiet, pastoral life and offered it up in an irresistible song of autumn. In contrast to the jostling murk of New York, where I'd been the week prior, Vermont was like plunging into a crystal clear lake.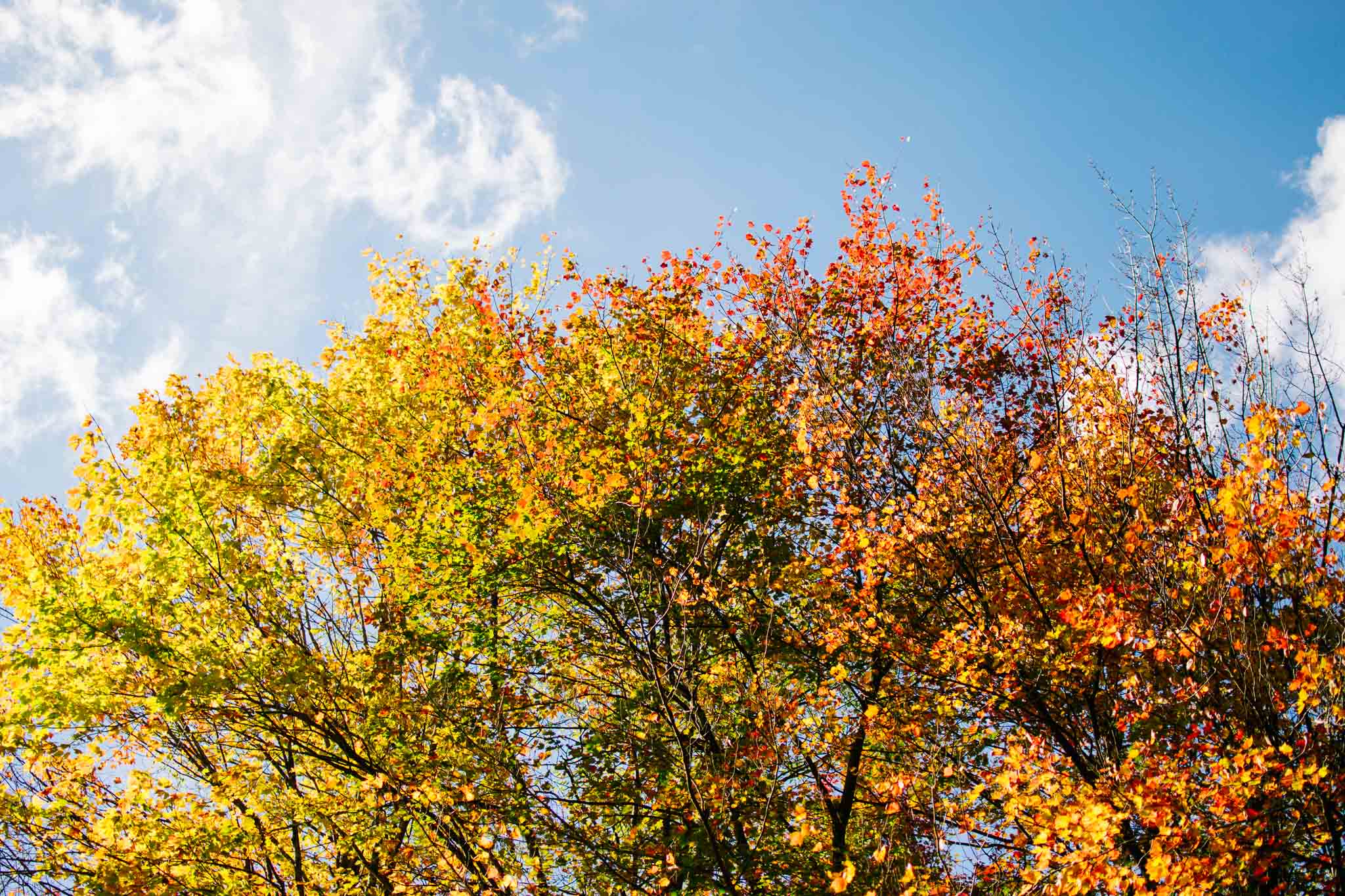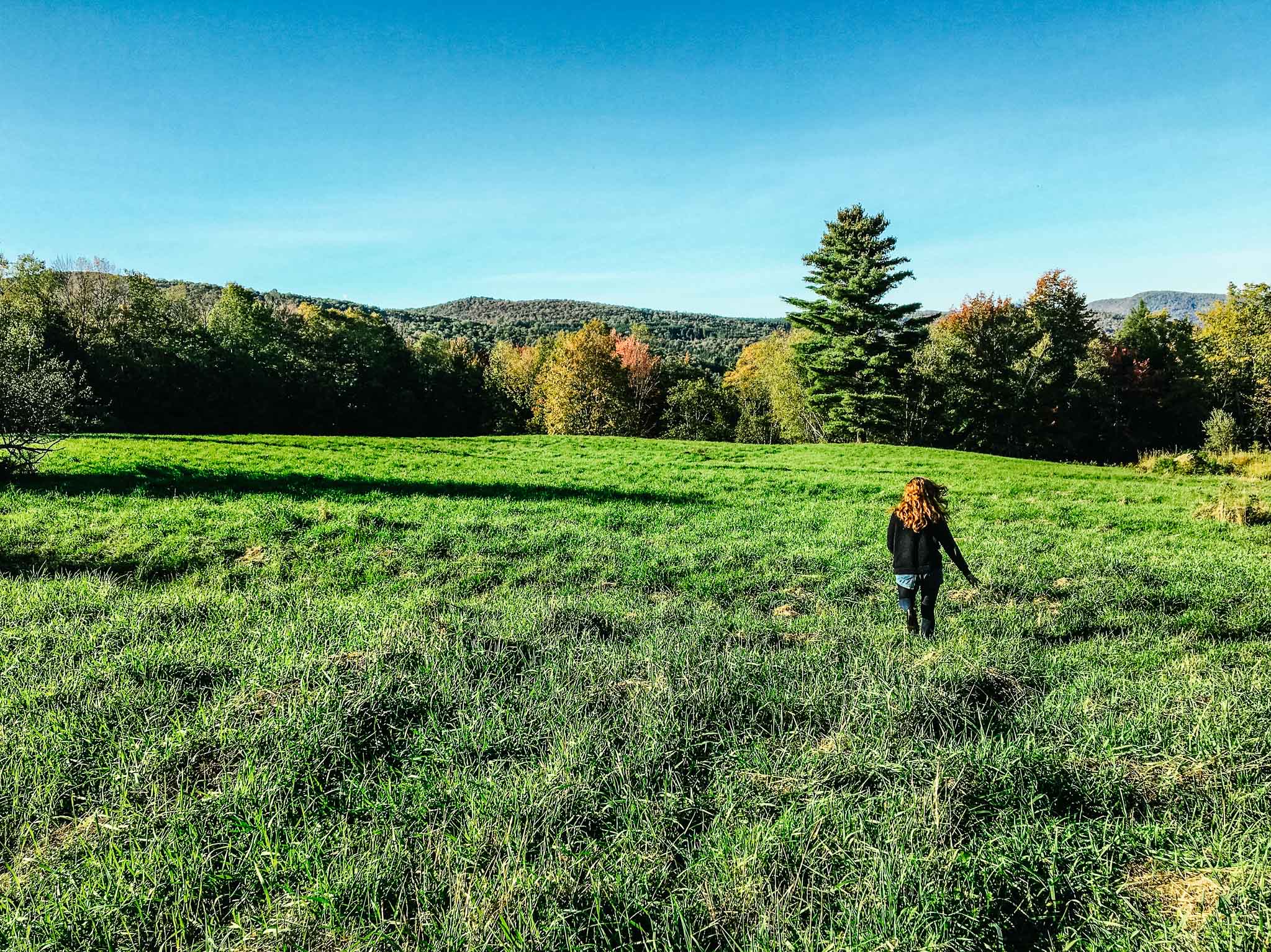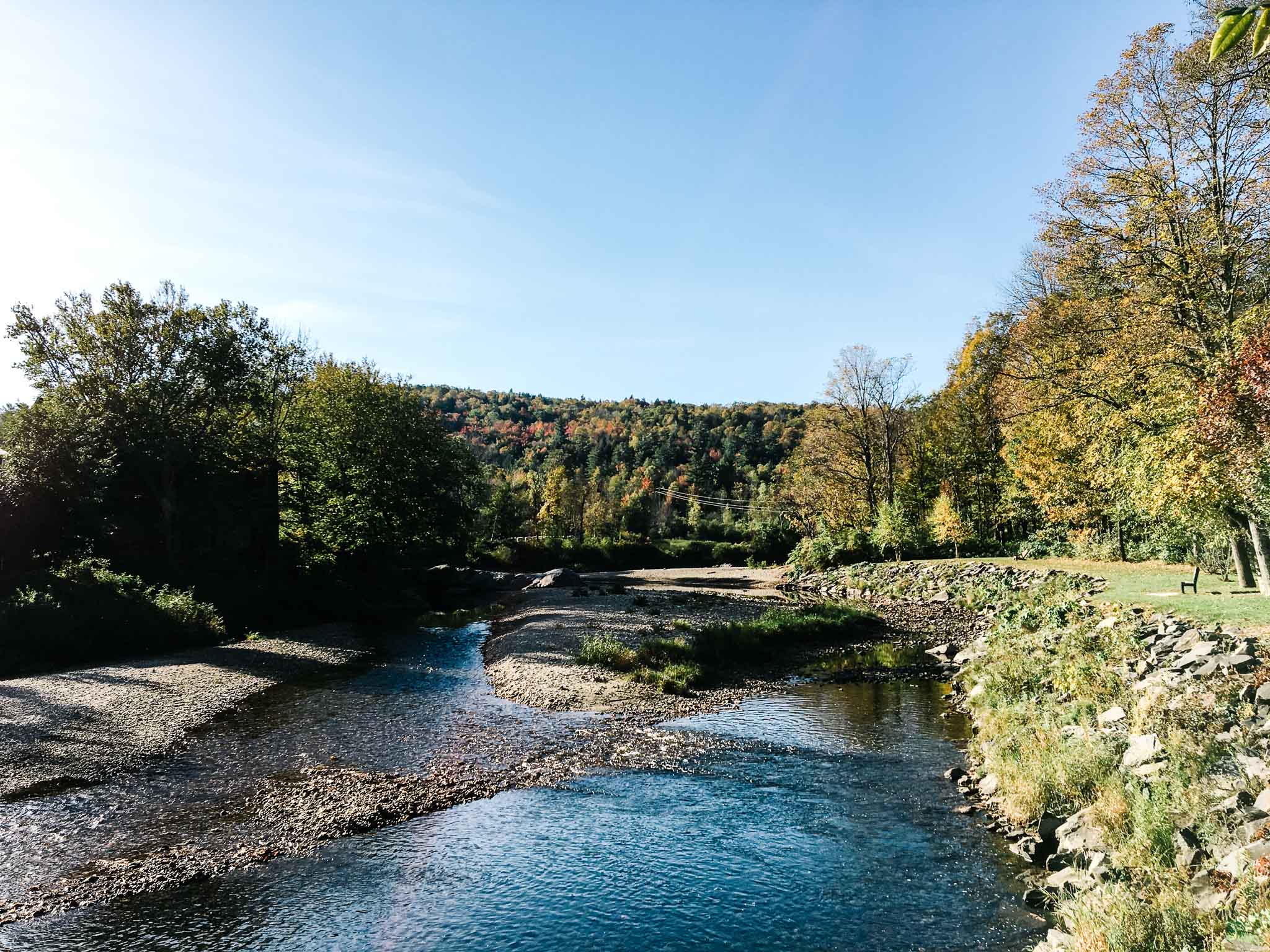 I was there with Vermont Creamery: they'd gathered a group of some of my favorite blogger friends for what they dubbed a CheeseCation. Translation: five days of bliss in rural Vermont, replete with visits to the goat farm, the creamery, Lake Champlain, and an endless meandering of rivers and tasting of cheeses. We got to spend time with the Hooper family, founders of Vermont Creamery, and learned about the women-driven artisanal goat cheese movement in the US. All four of the major goat cheese makers in the country are women.
When I asked co-founder Allison Hooper about this, she mused, "There's a level of humility that women have in business, which means they collaborate well and seek knowledge from each other. Men often say that they know; we say that we don't know. There's an honesty about it that gets you very far." This same honesty was everywhere in Vermont: in the billboard-less roads, the straightforward kindness of the craftsmen and farmers we met, the spark of connection to the land that glowed in everyone.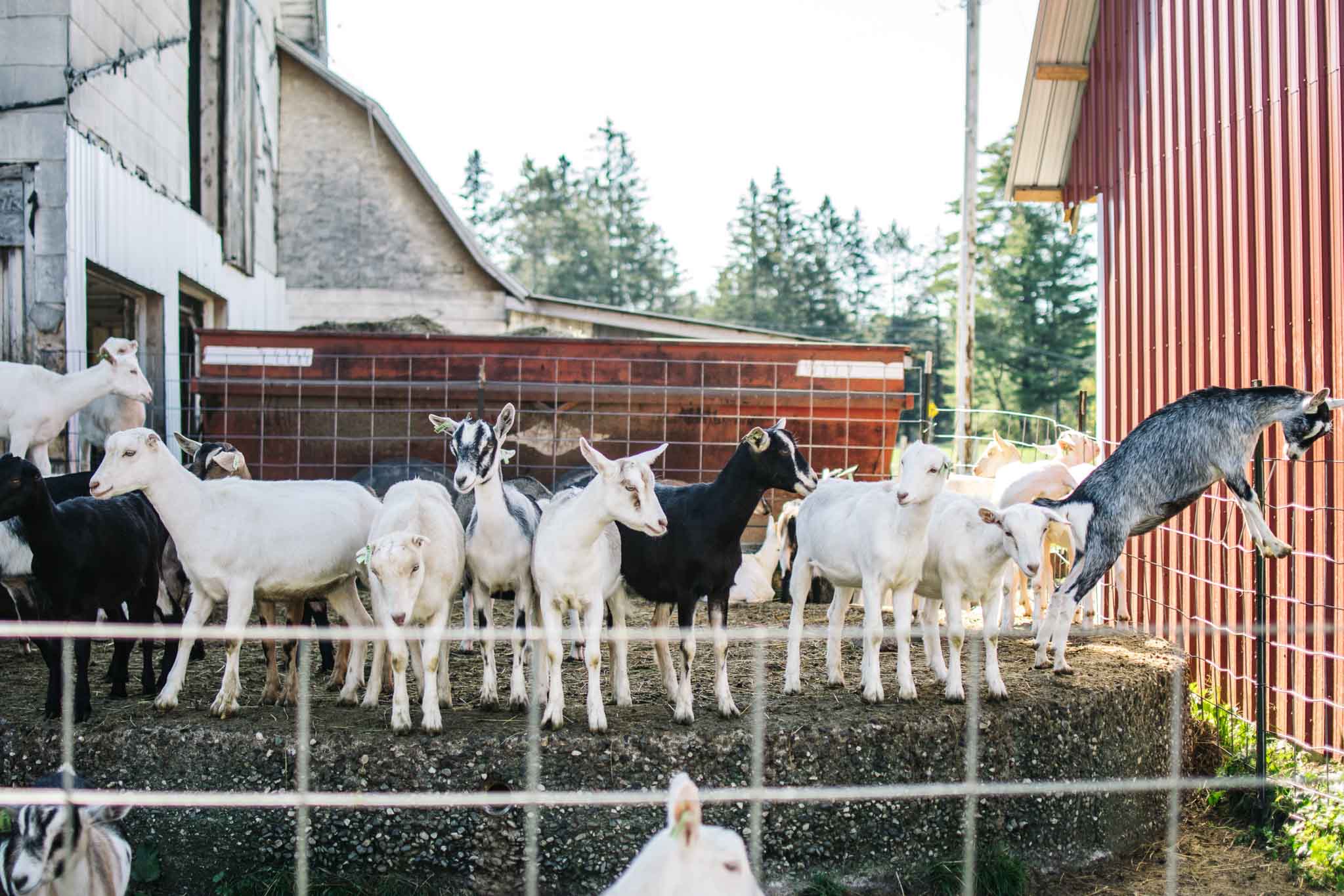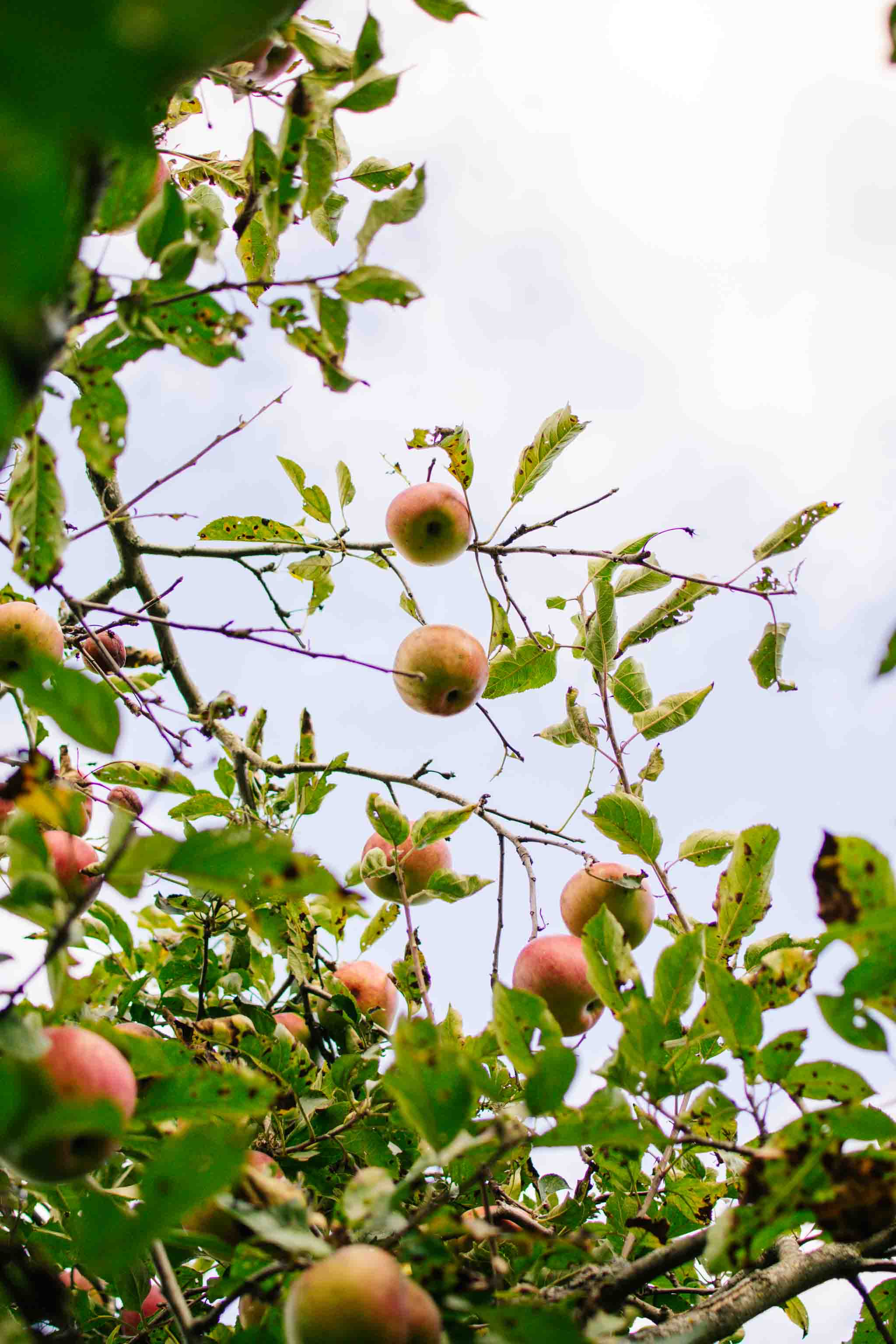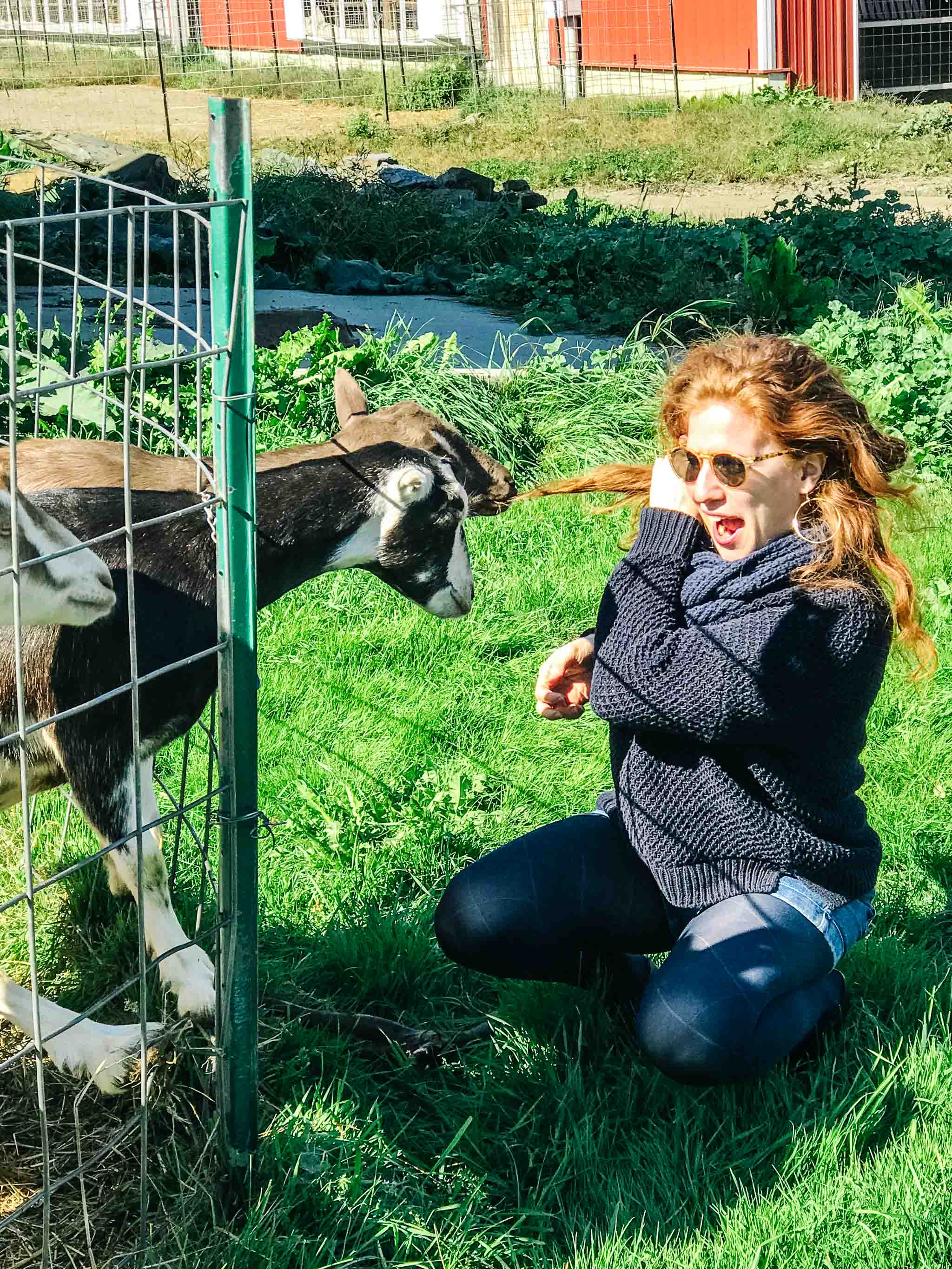 And yes, I almost got a haircut from a goat. I came this close to adopting a chicken (Sarah Fennel and I had a hard time letting go of our baby chicks at Shelburne Farms, evidenced below). And the oceanic beauty of Lake Champlain reminded me of how much I need water near me. All of these opportunities to reconnect with nature—all the apples I picked and the deep breaths of clean air I took—reminded me of the discomfort I've felt at home in LA.
It's not easy to commit these words to the page (or screen), but the truth is I feel uncomfortably disconnected to urban life here in Los Angeles. It's a city that will forever ask me to be a better artist and a more responsible community member, but every cell of my body is craving stillness, quiet, green. My heart leadens a bit as I type this, knowing how much of the globe has been wracked with wildfires, hurricanes, earthquakes, and other natural disasters this summer. Nobody is quite comfortable, but there are thousands far more uncomfortable than I—thousands who have no home left at all. So. I take my privileged discomforts with many grains of salt. I have a home that keeps me safe. I am fortunate.
And still, there is a seed of discontent in my heart; I am ready to be in nature more, in concrete less. I am figuring out what all of this means.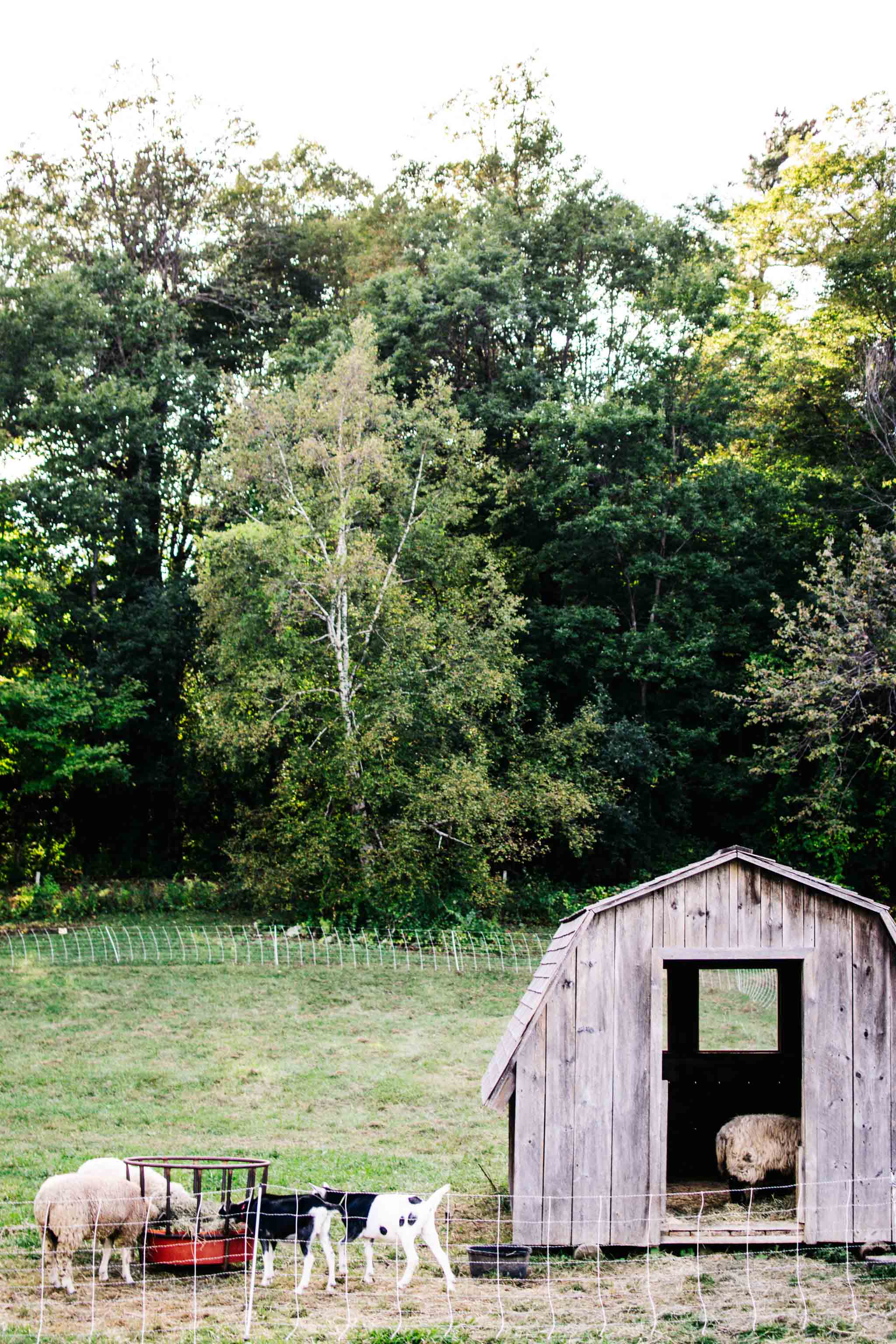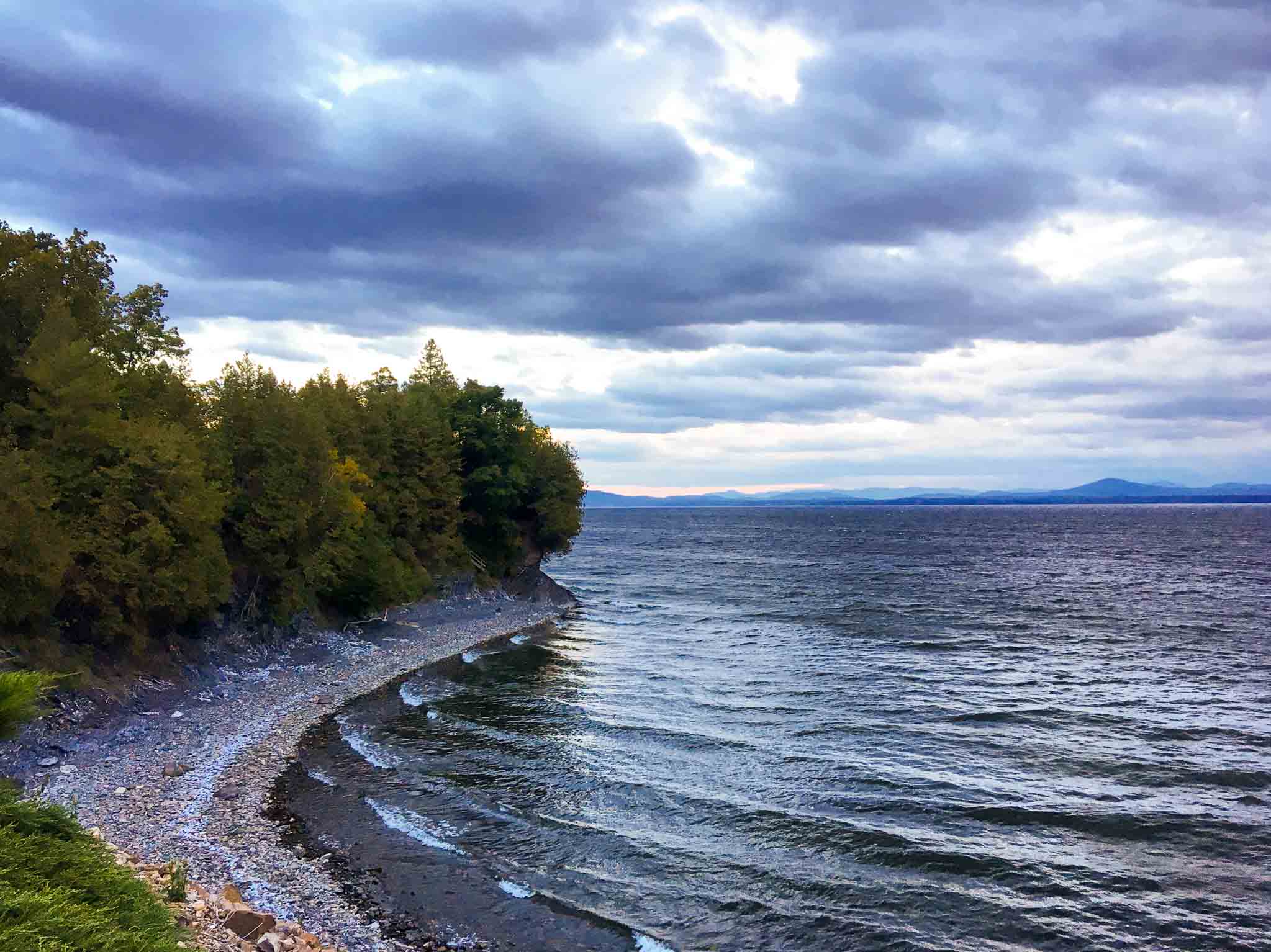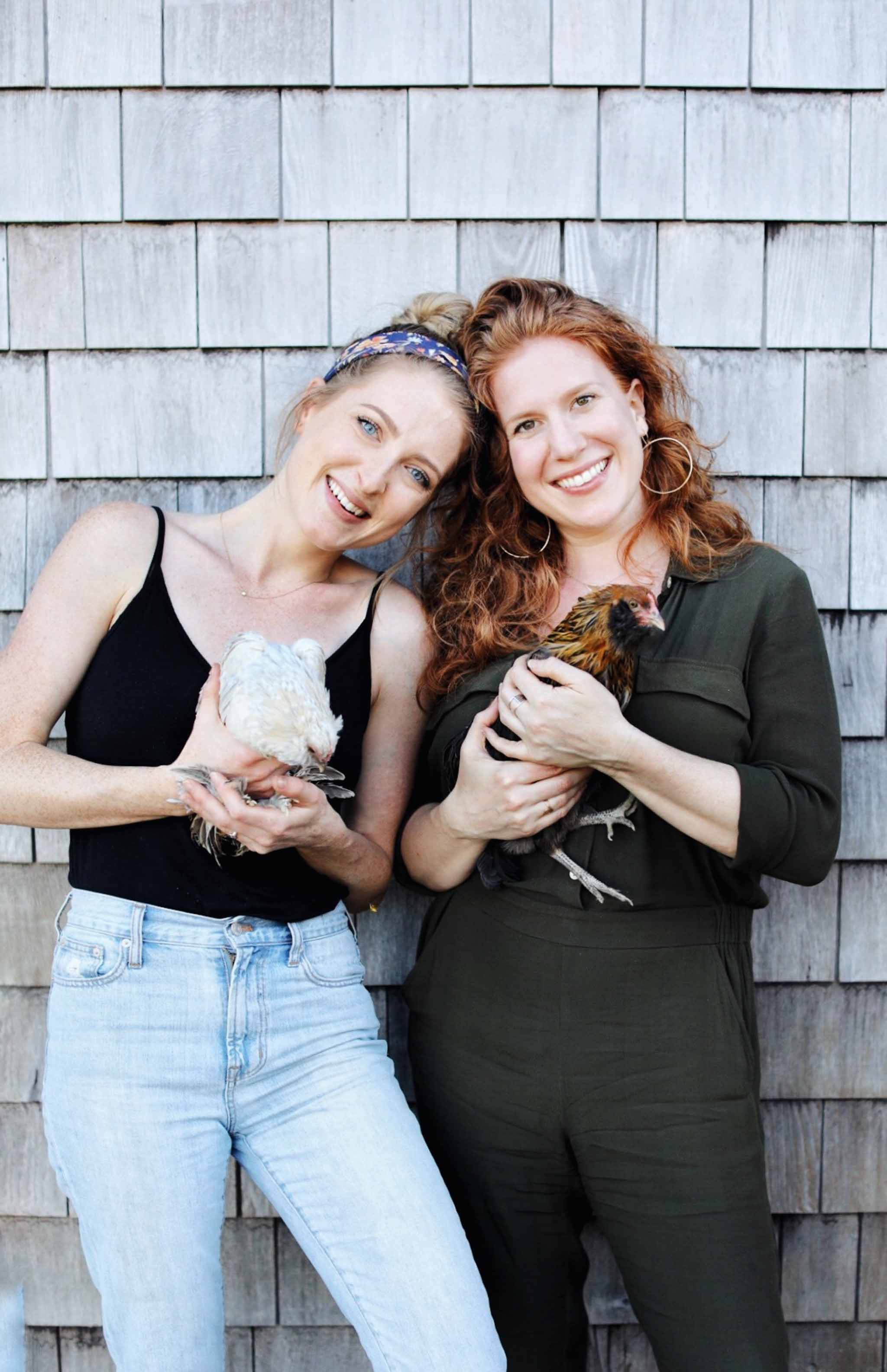 photo by Sarah Menanix
But before I force any answers on my rural yearning, I had to bake something to honor all those apples I picked. I'd been dreaming about Laura Wright's incredible grain-free, vegan brownies from The First Mess cookbook, and started imagining how I might use the base (which already has apple sauce in it), without chocolate, to create a caramel apple-like blondie. I'd spent the week swooning over Lake Champlain Chocolates' new apple cider caramel chocolate, and I wanted to emulate that richness of flavor. To get some of the complex butterscotch notes, I decided to add miso paste into the mix. Its salty, tangy, fermented funk would meld beautifully with the fresh apple sweetness, creamy almond butter, and dense maple syrup that form the base of the batter.
I am nothing like a gluten- or grain-free baking expert, and this recipe took several rounds of trial and error to perfect. I added almond flour at first, but nowhere near enough. And I upped the coconut flour, but it still wasn't enough. It took a delicate dance of baking chemistry to nail that dense and chewy yet not too wet texture I was looking for.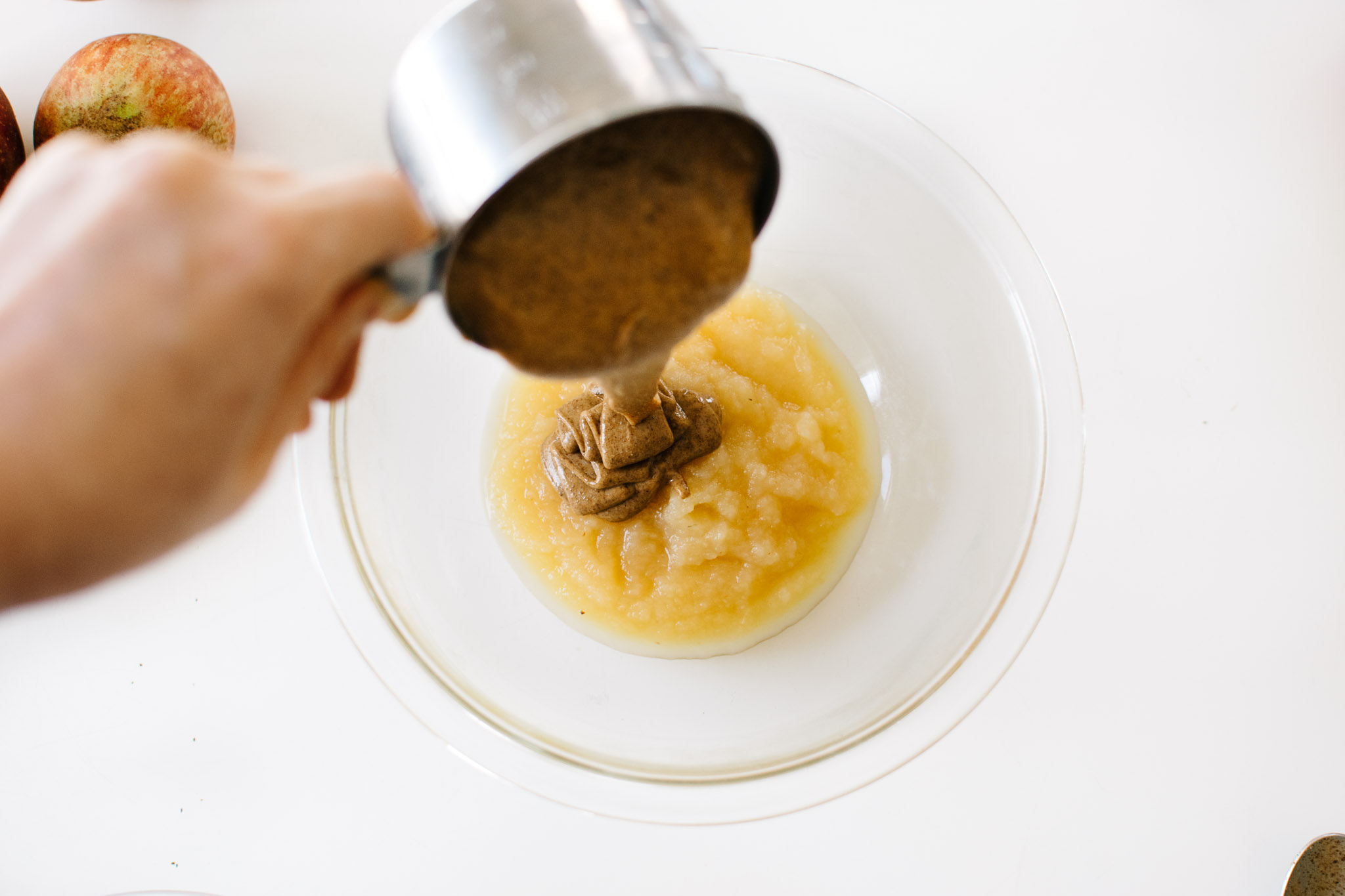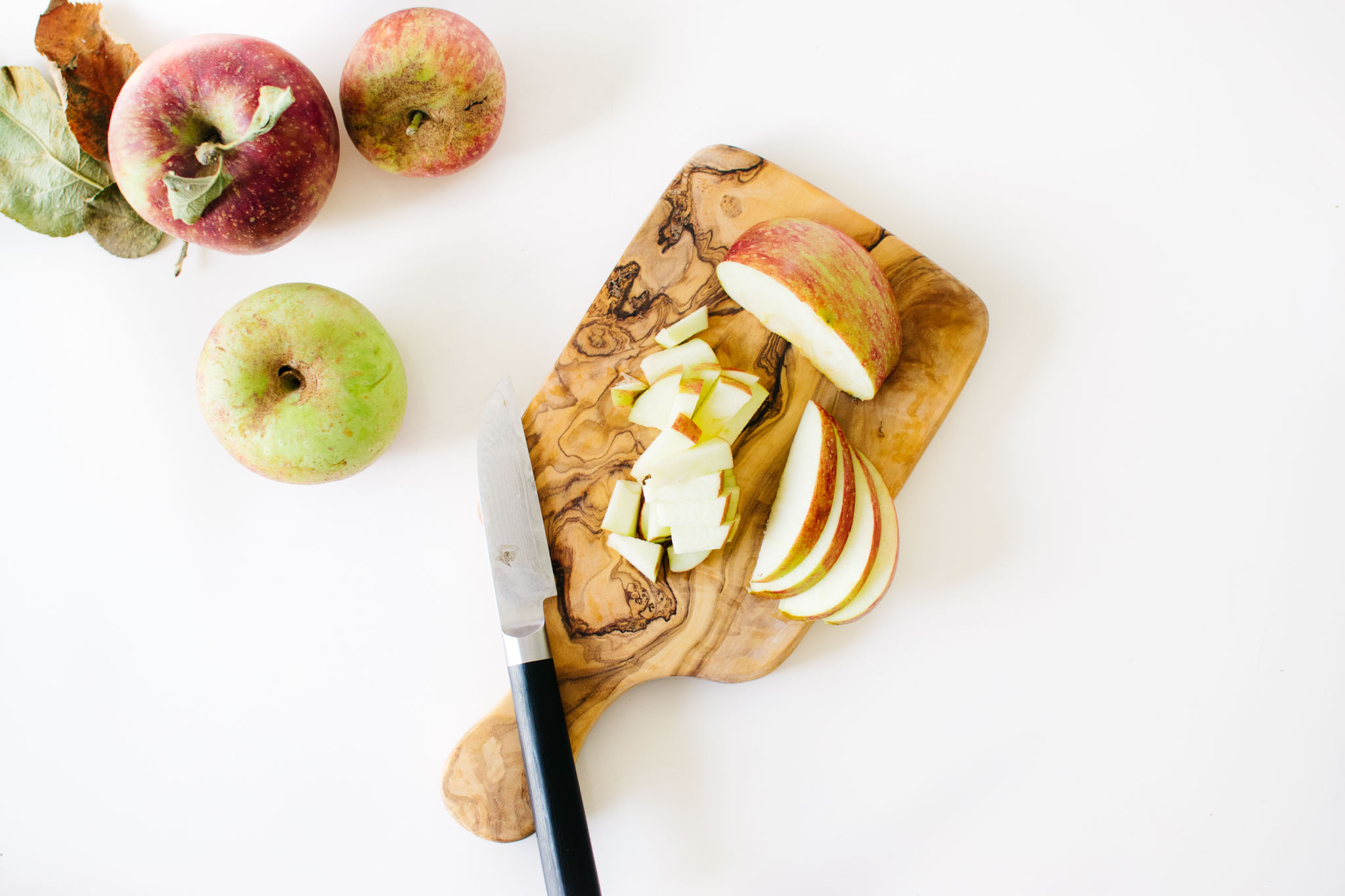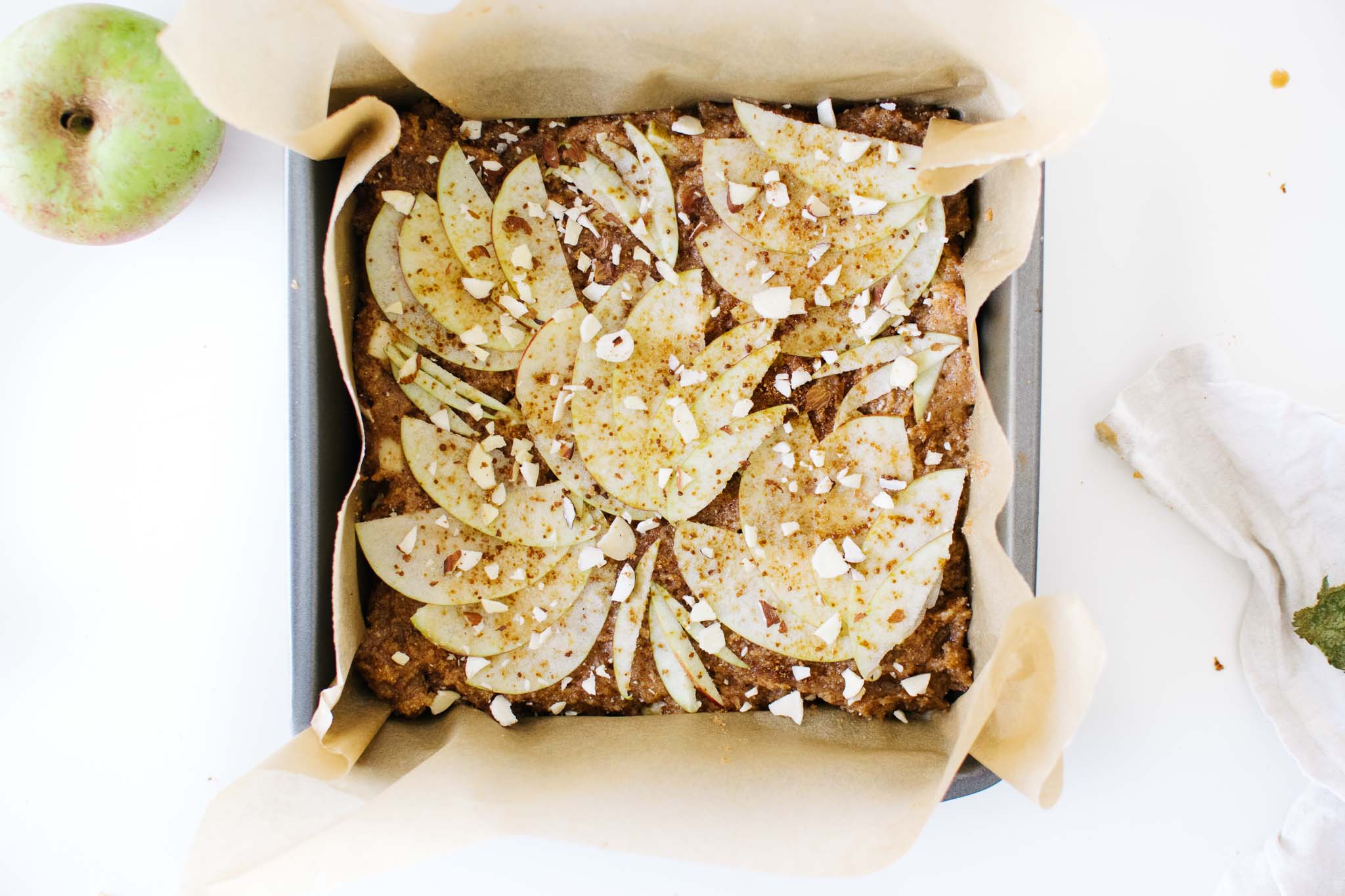 And then, of course, I wanted to top it with some caramel. Feel free to use a caramel sauce you have on-hand, or whip up this one—a variation of yet another of Laura Wright's incredible creations. Laura first made me this maple cream, as she calls it, on a cozy morning in Big Sur, California, and my life was forever changed for the better. It couldn't be easier, and you can use whatever plant milk or nut butter you have on hand. I used hemp milk and almond butter.
The blondie batter is topped with thinly sliced apple, coarsely chopped nuts, and a sprinkle of coconut sugar. They're beautiful. And they taste damn delicious. But they also remind me of that apple freedom of my Vermont mornings, every bite returning me to the simplicity of a tree bearing fruit.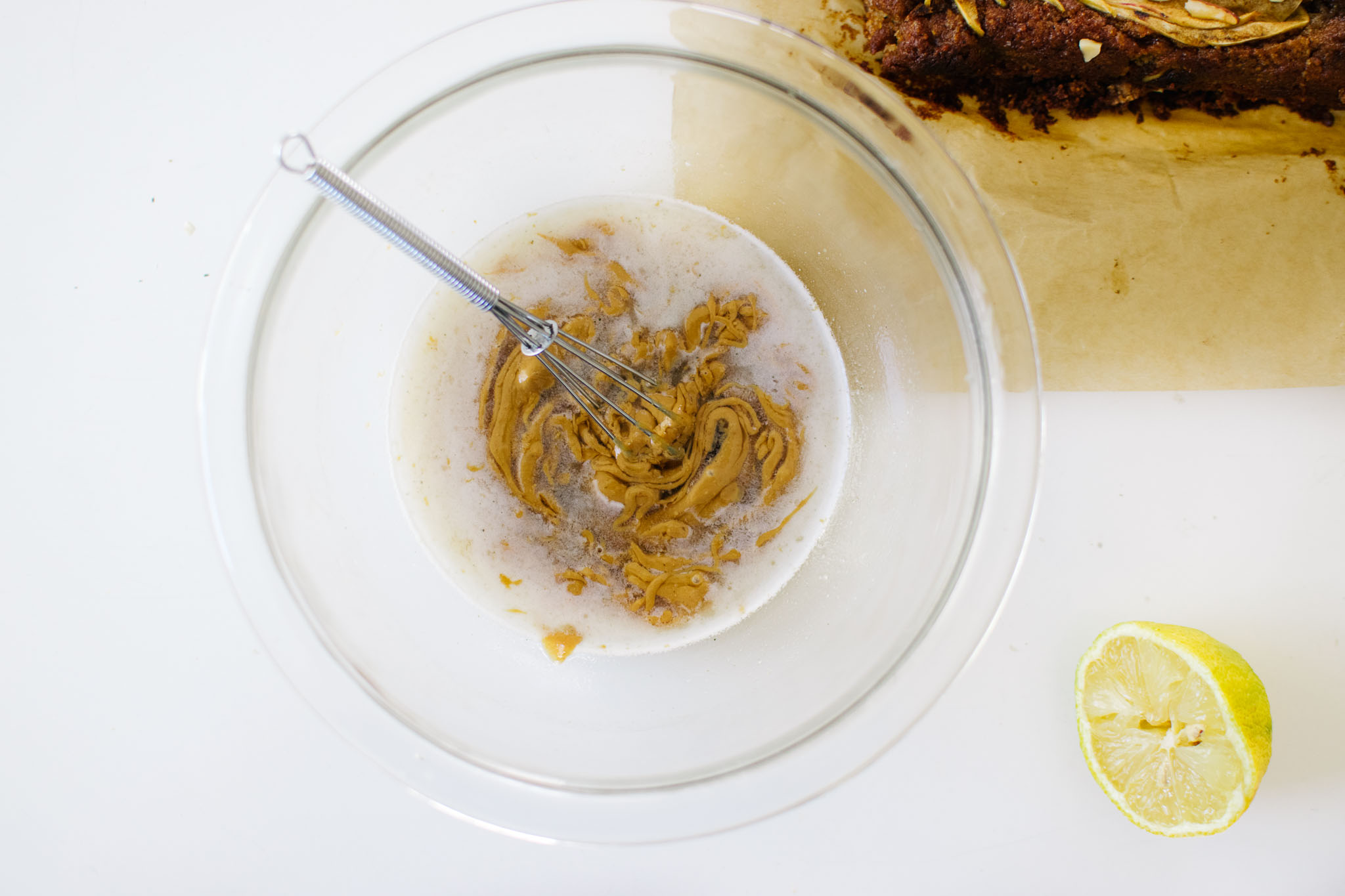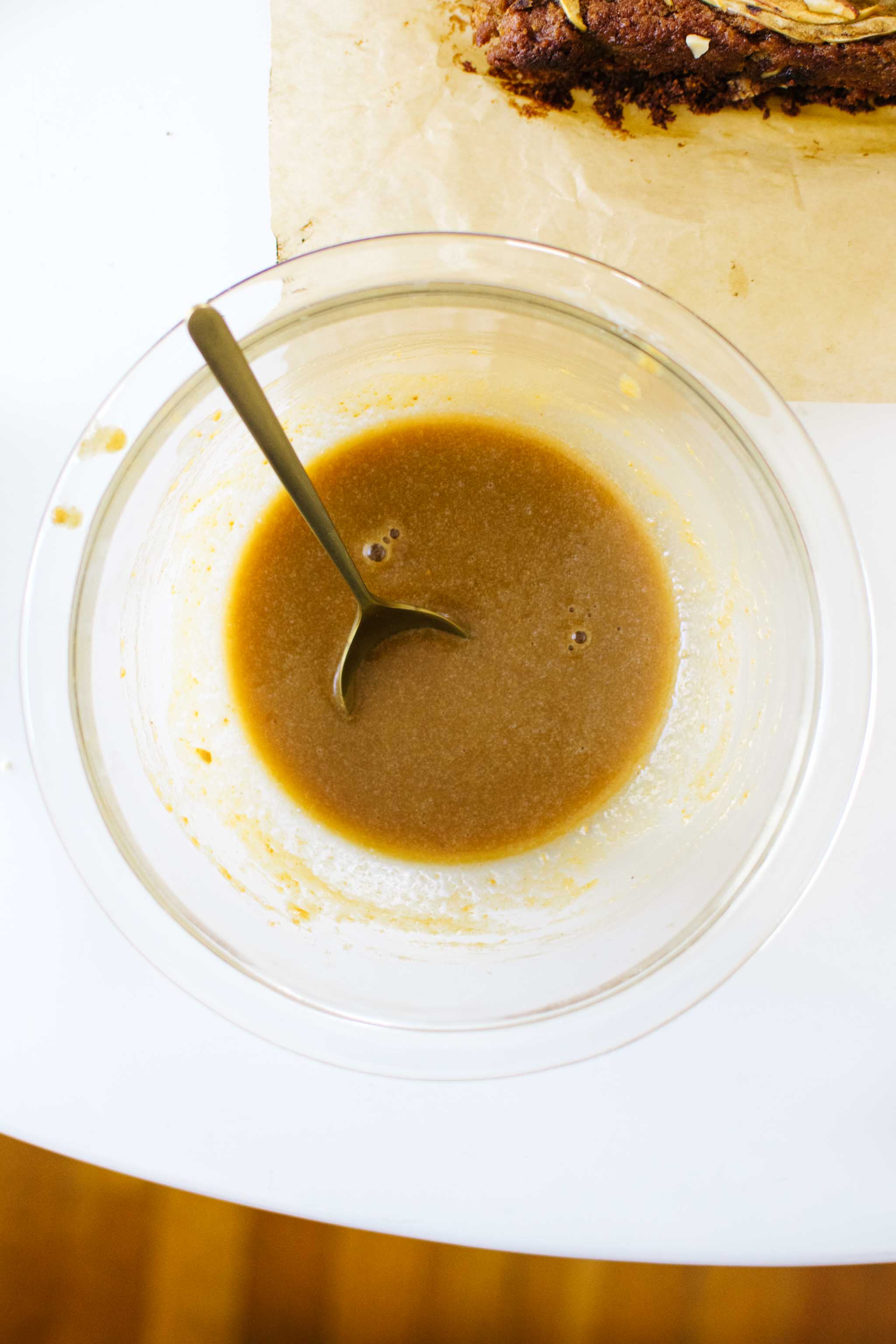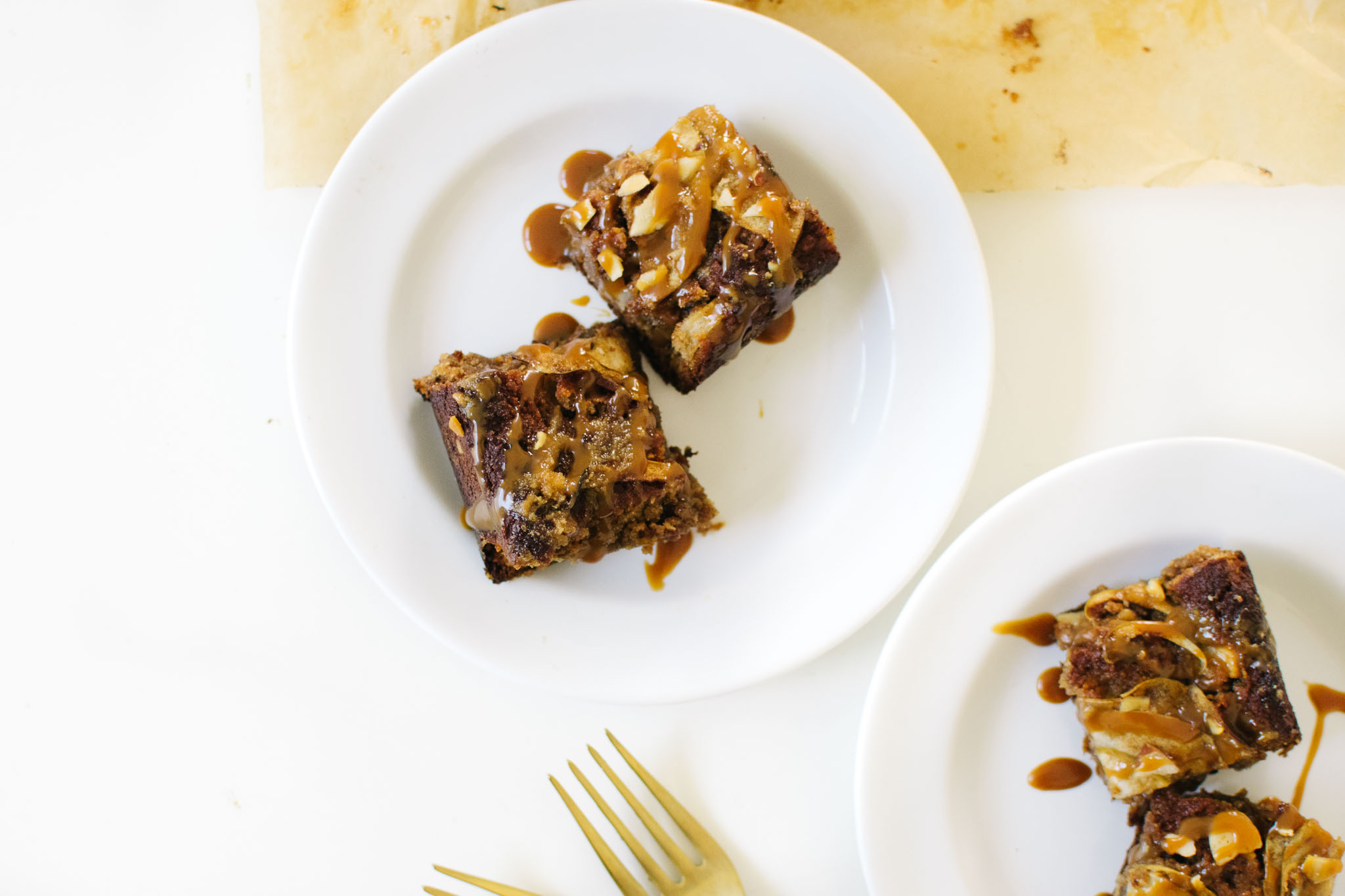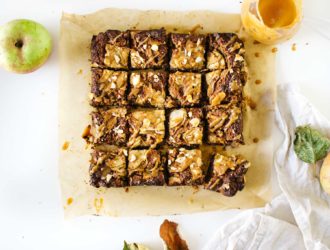 GRAIN-FREE VEGAN MISO APPLE BLONDIES.
Servings
16
2-inch squares
Ingredients
MISO APPLE BLONDIES
3/4

cup

raw unsalted creamy almond butter

1/2

cup

apple sauce

1/4

cup

maple syrup

1/4

cup

white miso paste

1 1/2

teaspoons

vanilla bean paste or pure vanilla extract

1/2

cup + 1 tablespoon

almond flour

1/4

cup + 1 tablespoon

coconut flour

3/4

teaspoon

baking soda

1/4

teaspoon

sea salt

1/2

cup

coarsely chopped apples

thinly sliced apples, to top

coarsely chopped or crumbled slivered almonds, to top

coconut sugar, to top
NUT BUTTER CARAMEL from THE FIRST MESS
2

tablespoons

nut butter of choice, I like almond or cashew

2

tablespoons

maple syrup

1

tablespoon

plant milk of choice

squeeze

lemon juice

pinch

sea salt
Instructions
Preheat the oven to 350ºF and line an 8-inch square pan with parchment paper, leaving a bit of overhang on all sides.

In a medium mixing bowl, whisk together the almond butter, apple sauce, maple syrup, miso paste, and vanilla until smooth.

Add the flours, baking soda, and sea salt, and mix gently with a wooden spoon or silicone spatula until blended. Add in the chopped apples and fold to integrate throughout.

Transfer batter into the prepared pan and smooth to get an even surface. Top with a single layer of thinly sliced apples—a few overlaps are fine. Sprinkle with chopped nuts and coconut sugar.

Bake for 30-35 minutes, until the top looks dry and golden brown, and a toothpick comes out clean or with just a few crumbs.

Let cool on a wire rack at least twenty minutes, then use the parchment paper to lift out of the pan and continue to cool on the rack, or eat warm, topped with the nut butter caramel (instructions below).

While the blondies cool, whisk together all ingredients for the caramel in a small bowl and set aside. Once the blondies are adequately cooled, drizzle with caramel and eat!

To store, wrap the blondies in plastic and place them in an airtight container in the fridge. They'll keep for up to a week.