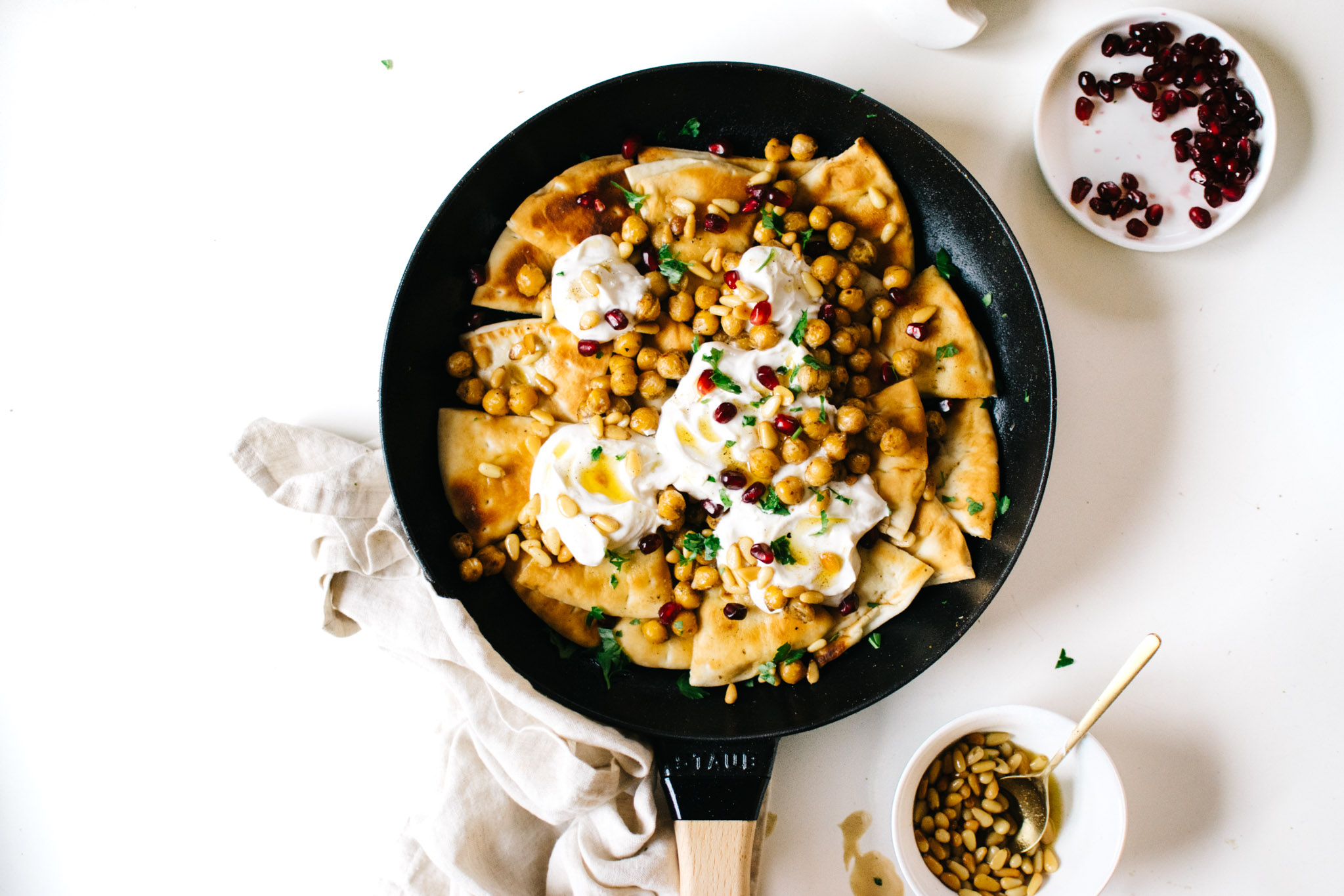 Jump to Recipe
I first met Eyad Houssami at a time when we had the privilege of seamlessly interweaving life and art: In college. We threw hefty doses of youthful political angst in for good measure, and looked to radical forebears to show us the way to wholeness through artistic expression. After college, Eyad and I rarely spoke. But sometime in 2015, an incredibly kind email zinged into my inbox: Eyad had printed out three Kale & Caramel recipes to make, remarking that many of the flavors I used reminded him of his current home (Beirut, Lebanon). And thus began a pitter patter of emails back and forth about pomegranate molasses, dates, and yogurt. Eyad sent beautiful pictures of the roasted kabocha fennel soup, sprinkled with a dukkah more legit than I could ever dream of making.
And so, when my friend Kimberley Hasselbrink brought a group of food writers together to share immigrant food stories in response to the executive order that's become commonly known as the "Muslim ban", I immediately thought of Eyad, of pomegranate molasses, of those foods native to him that have become so much a part of my life. Lucky for us, Eyad agreed to an interview. I thought I'd let him speak for himself, and for the dish I'm sharing today: Fatteh, layers of toasted pita with cumin-fried chickpeas, garlicky tahini yogurt, and ghee-toasted pine nuts. Eyad wrote to me from airports in Berlin and Istanbul, traveling home from auditioning refugees for a theatrical production he'll tell you more about below.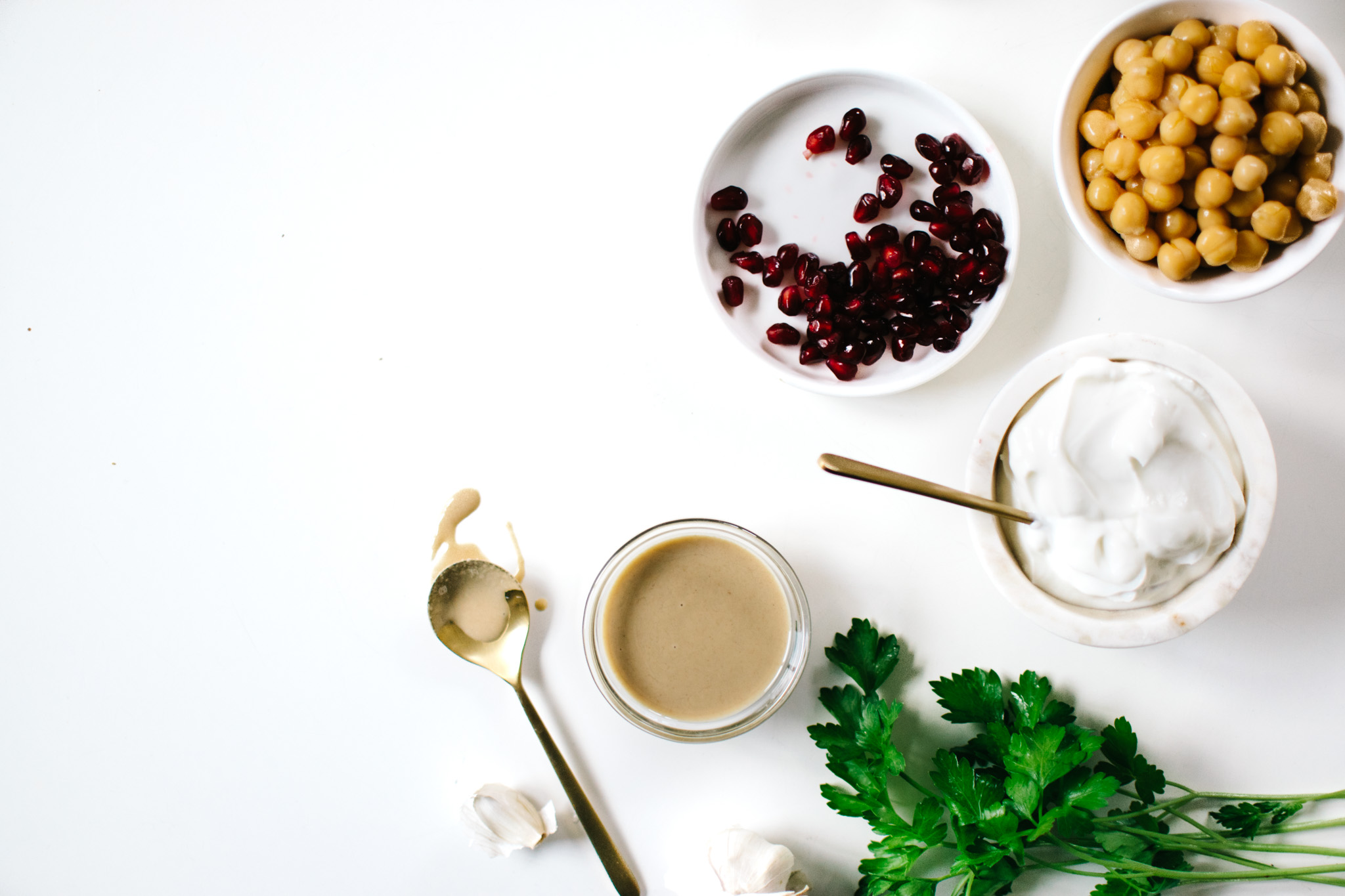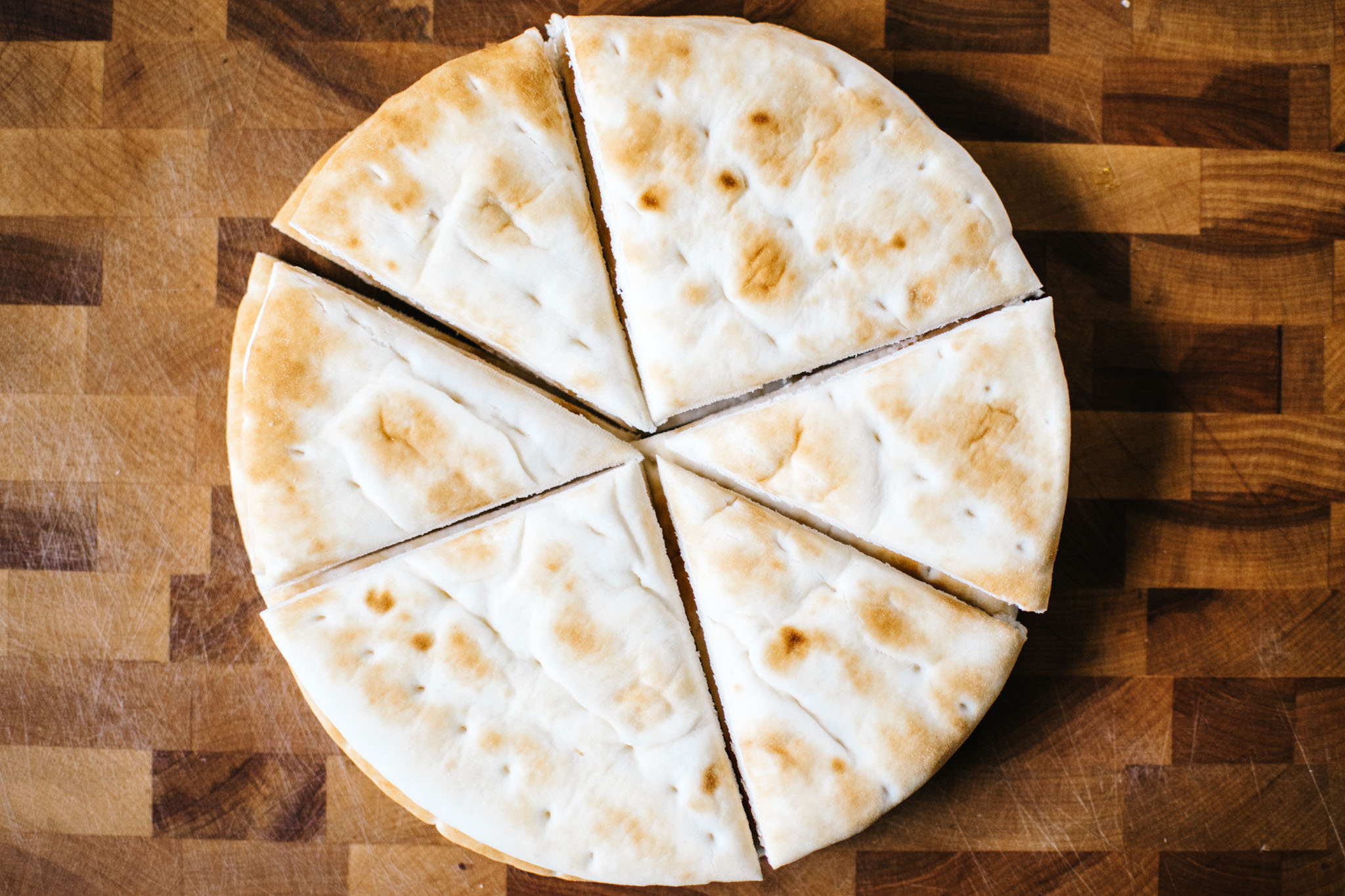 So we met at a time in our lives when our politics and our art were radically intertwined—creating performance works and writing in college. But I don't remember a first meeting point, or even think I know the story of what brought you to Yale. So let's start at the beginning: Where are you from, and where did you grow up? And, because it's K&C, let's also get to the heart of the matter straight off: What was your favorite food growing up?
I'm a Syrian boy, I'm a southern boy from the suburbs of Atlanta, Georgia. Sausage, egg, and cheese biscuits will always hold a special place in my heart even though I am now essentially vegetarian. My parents, they immigrated to the US from Damascus, setting up shop first in Columbia, South Carolina, in the late 1970s.
Where do you live now? What do you fill your days with?
I've been living in Beirut – where I am officially a migrant – since 2008. And for the past couple years, ever since I weaseled my way out of office jobs, I'm trying to spend more and more time at Bassatin Baanoub, an ancient organic farm undergoing revitalization in southern Lebanon. Depending on the season, my days are filled with a mixture of theatre, translation, writing, yoga, farming, and of course cooking!
When do you first remember feeling a personal connection to politics, and identity politics in particular?
I have vivid memories sobbing as a young child due to the inundation of images depicting Arabs as sub-human beasts from the First Intifada (the Palestinian uprising against the illegal Israeli occupation of the West Bank and Gaza) and the Gulf War. In elementary school, I faced prejudice and bullying due to my identity as a Muslim Arab and awakened to the legacy of the civil rights movement and black history in Atlanta. I remember, as a nine-year-old, admiring how my mother wrote an op-ed in the Atlanta Journal Constitution speaking out against the barbaric representation of Arabs in the Arnold Schwarzenegger blockbuster hit True Lies.
How has that connection to politics changed over the years, and what does it look like now in your home, your body, your mind?
I remain passionately committed to fighting – in the theatre – for the social and political equality of citizens, minorities, migrants, and refugees in Lebanon and abroad. When the Syrian revolution devolved into the ongoing horror of Syria World War III, I resolved to shift my approach to theatre, to try to fuse it with the pursuit for independence from fossil fuels since of course the wars, dictatorships, invasions, and occupations in the Arab Levant are campaigns to control access to petrol and natural gas.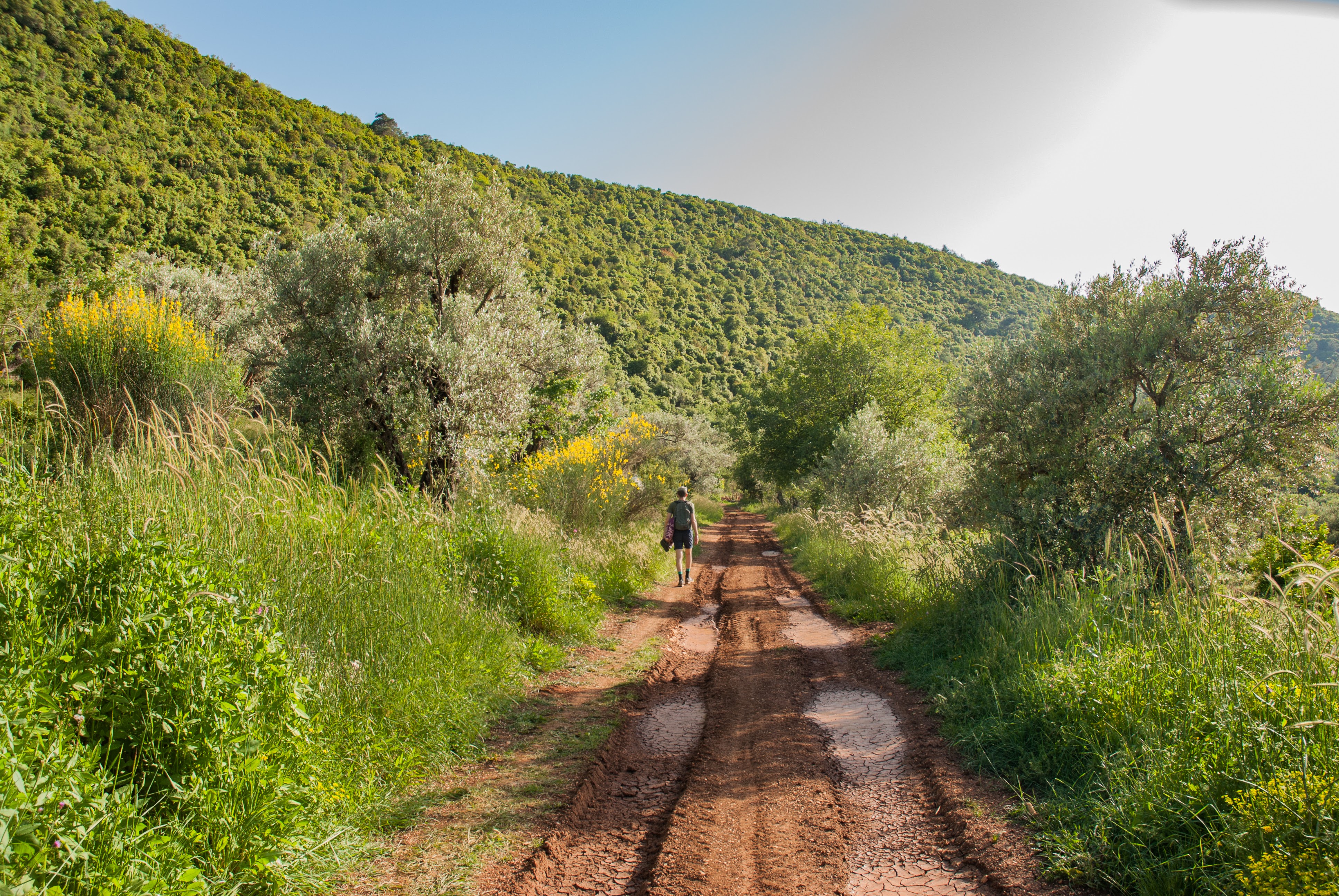 photo of Bassatin Baanoub gardens by Salim Batlouni
Did your commitment to pursue independence from fossil fuel influence your decision to become vegetarian (since the meat industry is one of the largest consumers of fossil fuels)? When was that?
You bet. I turned vegetarian back in 2013 after my first vipassana retreat, to reduce my participation in ecological destruction.
Do you spend much time in the kitchen? Why? What are your favorite things to make?
If I'm at the house, I'm usually in the kitchen. And it's because I'm really in my element when I can savor the seasons through the flavors and cycles of the phenomenal local fruits, vegetables, herbs, and nuts – and I love cooking for people, including my neighbors. Lately, I'm making hearty soups, like your stellar cream of shiitake mushroom and caramelized leek recipe and the cardamom carrot soup from Sally Butcher's The New Middle Eastern Vegetarian: Modern Recipes from Veggiestan, which along with K&C is a regular kitchen companion.
This so-called Muslim Ban, the president's executive order on immigration, how does it affect you and your family?
The Executive Order directly prohibits two of my aunts, dual-national Syrians who live in Europe, from visiting the US, and it jeopardizes the status of a dear cousin (and his wife and their two kids), who have lived in Atlanta for a few years now. From my vantage point, the president's Executive Order formalizes and throws into the media spotlight the decades-long legacy of discrimination, profiling, and detainment of minorities affected by policies and practices that fall under the umbrella of "counterterrorism and security." Even I, despite all my privilege and with my fair complexion, have been detained and questioned a number of times upon landing in the US. I've actually started to collect and to post on my fridge the little leaflets that the Transport Security Administration leaves at the bottom of my bags with increasing regularity. I'd agree with Jake Fuentes at Medium in that the EO is mainly a distraction from the corporate consolidation of power, and I'm thrilled to see people taking to the streets and organizing.
What does the word immigrant mean to you?
Endless renegotiation: an ever-shifting relationship between the self and both the homeland and the adopted country … and in turn changing both.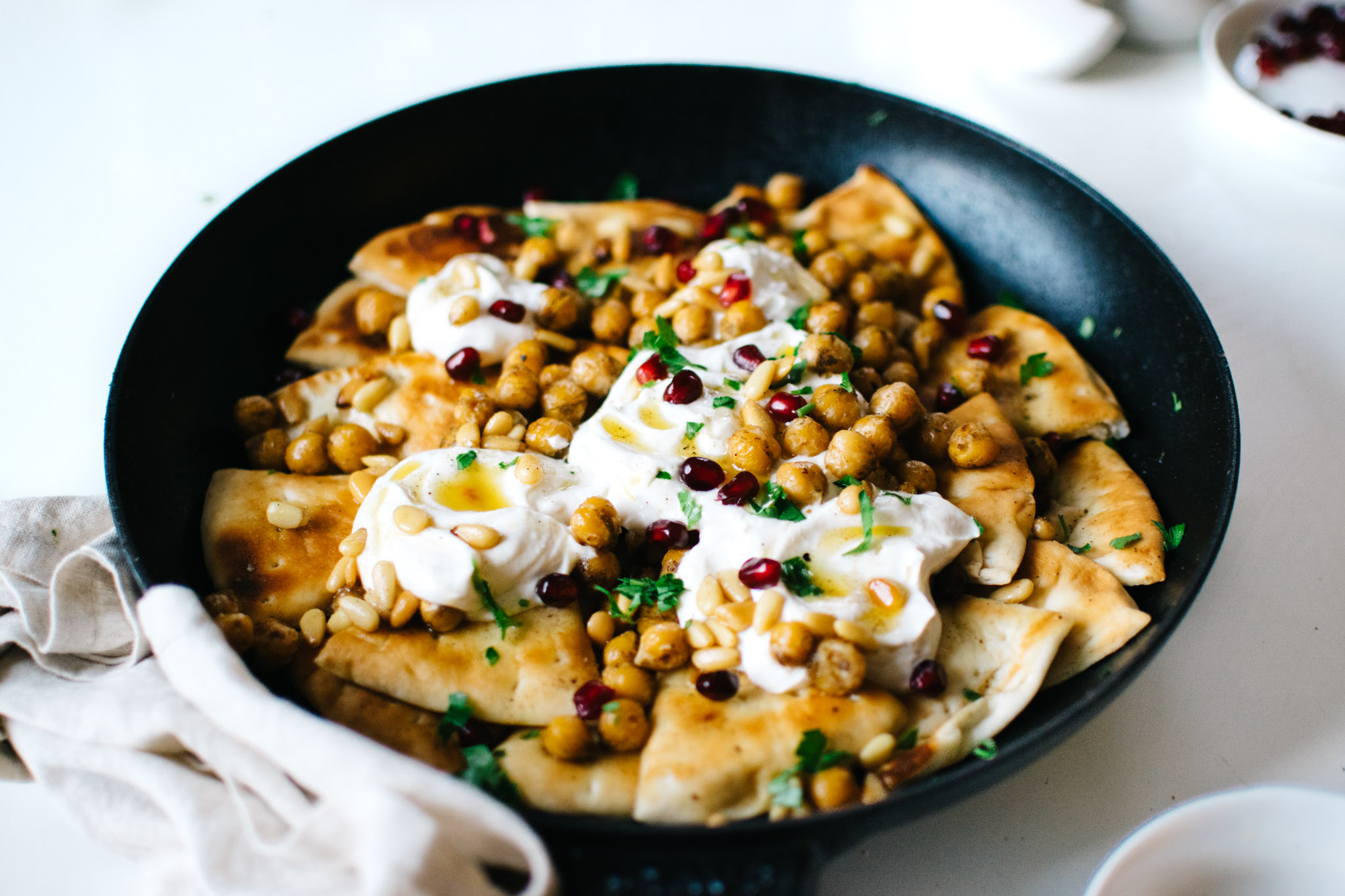 Americans have long been obsessed with Levantine foods like hummus, kebabs, falafel, and, more recently, labneh. I regularly douse my sweets and smoothies with orange blossom and rose water. I've been dousing everything in my sight with tahini as long as I can remember. Why aren't we better at honoring the whole picture of the culture where a food comes from, and how can we do better?
Although I left the US about ten years ago, what I know and remember about food in American cities is that most people don't question or wonder about what it is they are eating or where it is coming from … to say nothing of its cultural history. I think the Au Bon Pain boiled egg encased in plastic in the bowels of the NYC subway system says it all. Doing better? Well, it's cliché, but I do believe that the more that we, the world over, make an effort to reclaim and understand the processes and systems behind the food that we consume, the better off we will all be.
Tell me about your current theatre projects, including Masrah Ensemble, Sanctuary, and your ambitions for the farm you mentioned.
Pretty much all of the work I do in the theatre rallies together citizens, migrants, and refugees in unconventional contexts. With Masrah Ensemble, the nonprofit theatre organization I founded years ago in Lebanon, last spring we culminated a huge double-bill, Serbian-Caribbean musical theatre project, Family Ti-Jean, featuring eleven actors, including seven teenage amateurs, which we incubated in the historic refugee camp Shatila and presented in public parks and community centers throughout Beirut; this year, we aim to launch an unprecedented Theatre Maker-in-Residence program, likely in collaboration with our long-time partner the Migrant Community Center. Meanwhile, I'm also the dramaturg for a performance installation project, Sanctuary, by the South African artist Brett Bailey, which features a cast of activists, migrants, and refugees from Hamburg, Marseille, and Athens and will be presented in the three cities in May and June. Finally, my lifetime and slow-cooking project is to establish a theatre academy that champions independence of fossil fuels at Bassatin Baanoub.
Finally, but importantly, let's talk fatteh! You're great-aunt Hiam used to make fatteh for you—tell me more about that.
I adopted Mama Hiam as my grandmother when I left the US, and every New Year's Day, she would prepare a stately, blank slate lunch of only white dishes, including fatteh, kibbeh labaniyeh (kibbeh in yogurt), salatet malfouf (cabbage salad), and kishkeh khadra (a walnut-infused, typically Syrian labneh variation). As she told me, when she first left Damascus to move and marry in Beirut in the 1950s, she and her late husband would have fatteh at the crack of dawn, after late nights out dancing and partying, at the legendary Al Ajami restaurant in the old souks, long before they were ravaged by the 1975-1990 civil wars and subsequent reconstruction of the city center. In Syria, or to be more precise, in Damascus, fatteh is more of a breakfast dish, perfect for early risers (or late partiers!), whereas in Lebanon it's mainly a brunch thing. It's a modest dish, simple ingredients, so the challenge is one of subtlety: perfecting each element, especially the medley of textures, to be relished immediately upon serving.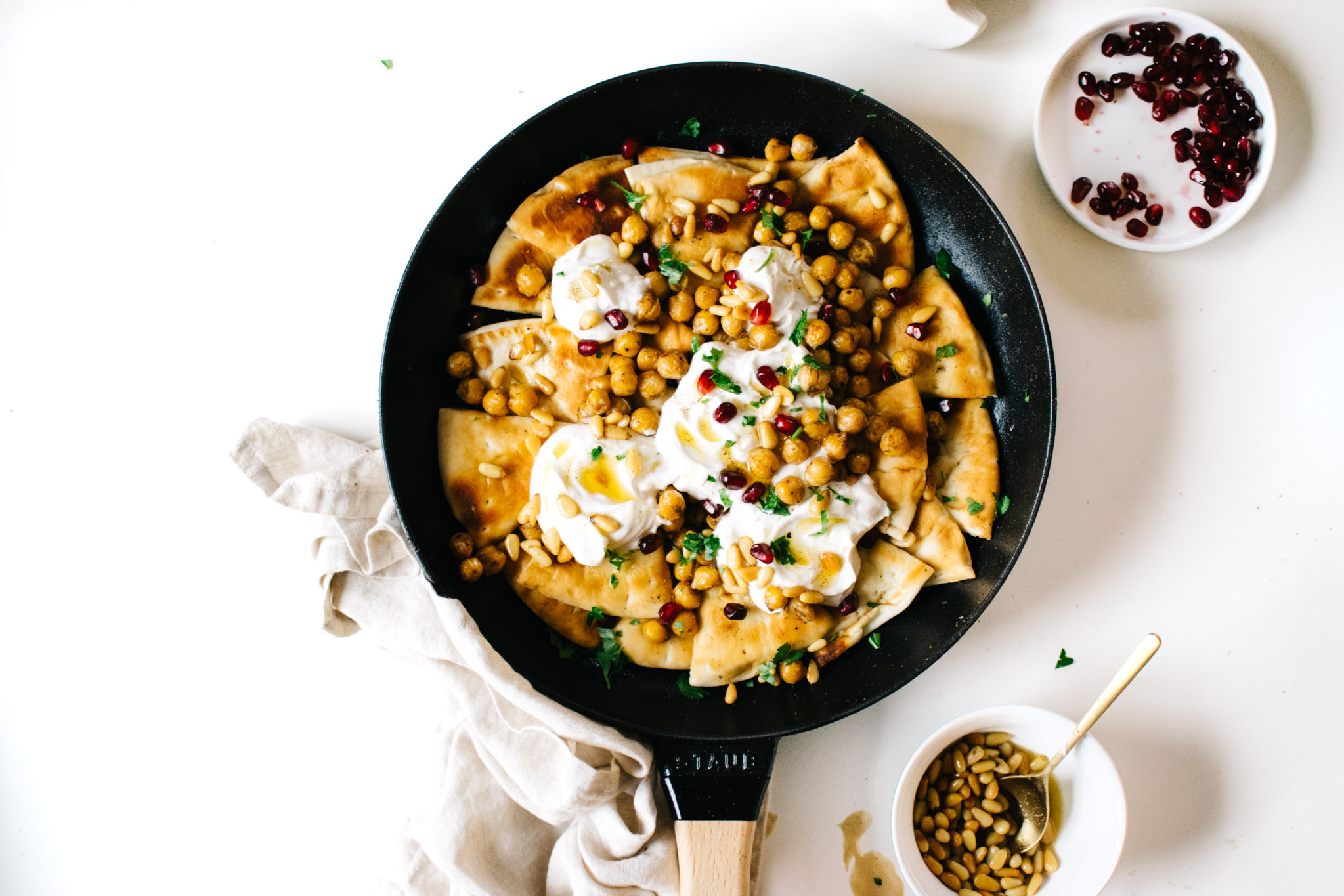 Follow #immigrantfoodstories across social media for more stories of home, belonging, food, and love.
Fatteh with Cumin Chickpeas & Tahini Yogurt
Ingredients
1/4 cup + 2 tablespoons

ghee

1

teaspoon

ground cumin

2

cups

cooked chickpeas, drained

3/4

teaspoon

sea salt

1/4

cup

raw pine nuts

3

large

pita breads

cut in sixths

1

cup

plain yogurt

1-2

cloves

garlic

smashed

2

tablespoons

tahini

2

pinches

sea salt

1/4

cup

pomegranate seeds

2

tablespoons

chopped flat leaf parsley
Instructions
Make the cumin chickpeas.
Melt 2 tablespoons of ghee in a large frying pan (cast iron, if possible) over medium heat. Add the cumin and swirl to combine. Add the chickpeas and swirl to coat. Sprinkle with sea salt. Let cook 5-7 minutes, until the chickpeas are beginning to brown. Transfer to a bowl and set aside.
Make the toasted pine nuts.
Melt 1/4 cup ghee in the same frying pan over medium heat. Add the pine nuts and let them fry until golden brown, 2-3 minutes. Transfer to a small bowl.
Mix the tahini yogurt.
In a medium bowl, mix the yogurt, garlic, tahini, and a couple pinches of sea salt. Set aside.
Toast the pita bread.
Place pita triangles in the same frying pan in a single layer, and toast until golden brown on each side. Remove from heat and immediately assemble the fatteh.
Assemble the fatteh.
Leave the toasted pita in the pan, and top with the cumin chickpeas. Add the tahini yogurt. Drizzle with the ghee and toasted pine nuts, and top with pomegranate seeds and chopped parsley. Serve immediately.