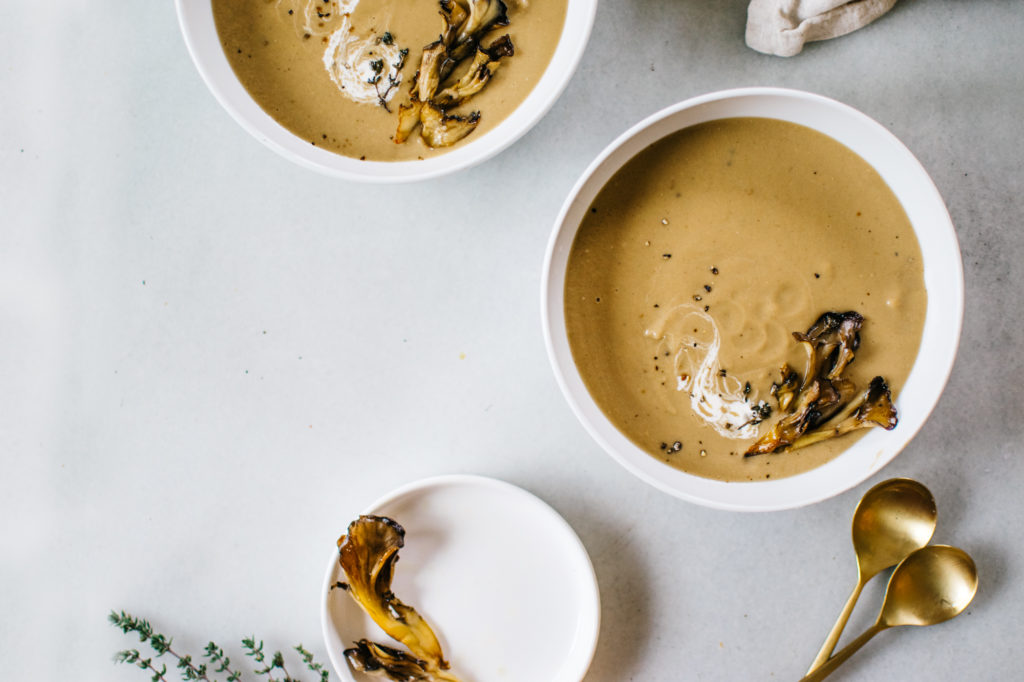 Jump to Recipe
Hello from Los Angeles, a city where it rains every day! For real—it's rained almost daily for the past week, and I couldn't be happier. We need this moisture so badly, so desperately that it would take a few months of regular rain to even begin thinking about saying things like, "This rain is great for the drought," and "Let's take a long hot bath (not together, tho)". I'm loving every minute of it, despite the fact that I'm also running around like a maniac finishing up holiday gifts—most of which are actually very belated thank yous to the crew that helped test recipes for the Kale & Caramel cookbook. I'm also getting over a cold and generally feeling so, so exhausted. All I want to do is cuddle up with a bowl of soup and a blanket and have the people I love tell me stories and rub my back*. Is that so much to ask? (*ALSO WORLD PEACE.)
To fulfill at least one small part of that fantasy, I made this earthy, delicious cream of shiitake mushroom and caramelized leek soup from Jennifer Farley's new book The Gourmet Kitchen. The book feels like one you can truly rely on—that book you can pick up when you're looking to make just about anything, and it'll have your answer. I came in search of a wintery soup, and a wintery soup I found.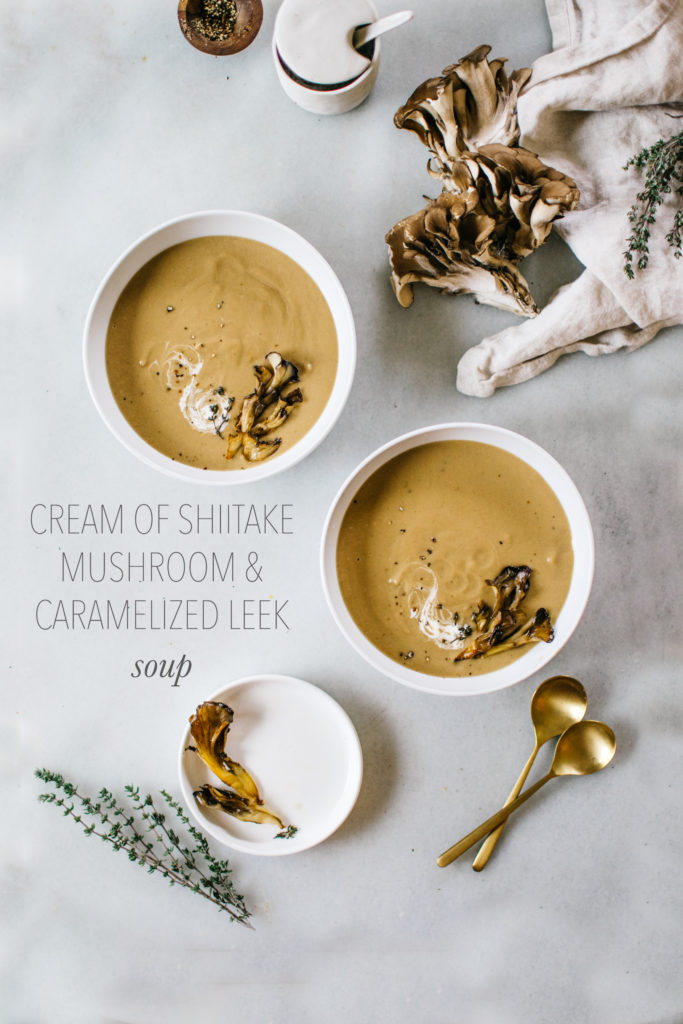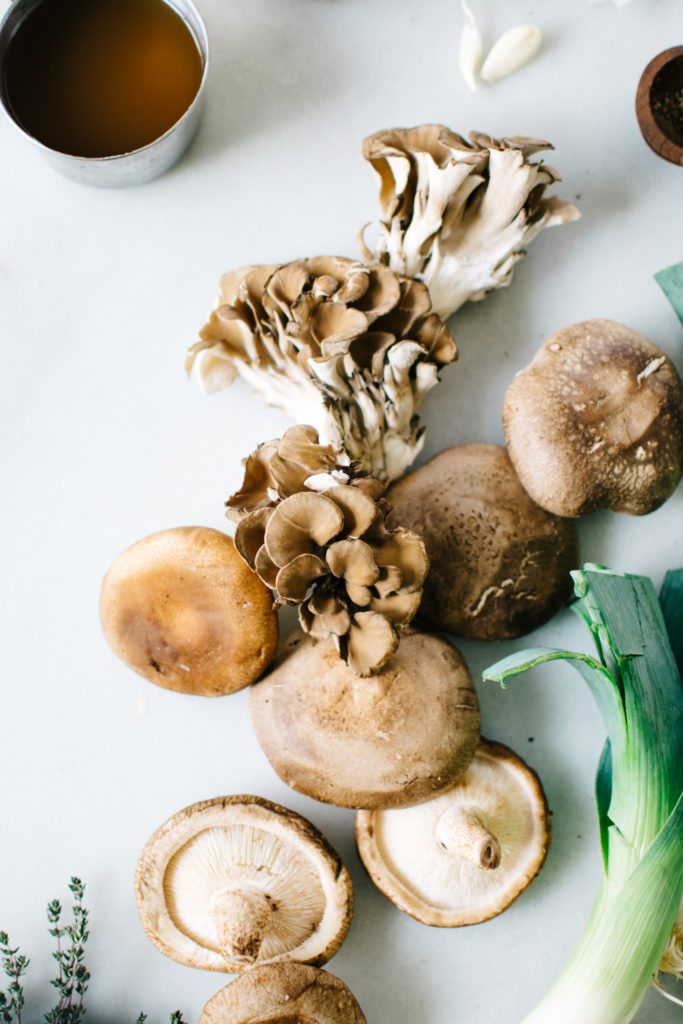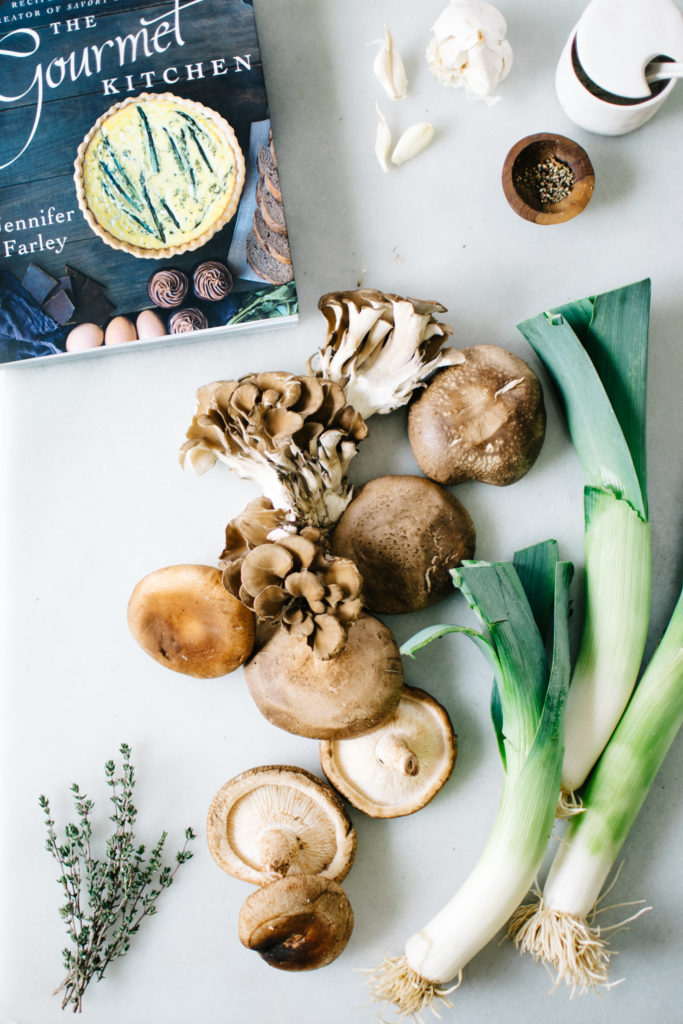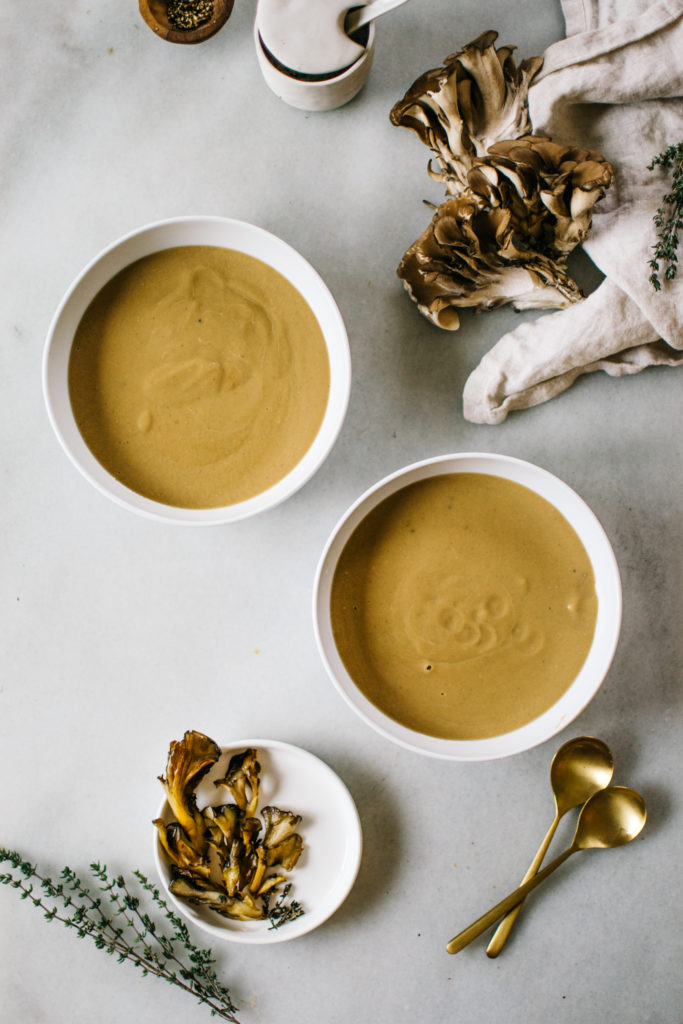 I decided to top this bisque off with some olive oil and thyme-fried maitake mushrooms, and an extra swirl of cream and black pepper. Plus I absolutely included the optional truffle oil—I consider any invitation to truffle a cause for celebration. The soup was just what I'd hoped for, luscious and rich, yet rootsy enough to feel grounded. It's also one whose flavor will only deepen throughout the week: Yay leftovers!
As you settle into your soup-making groove, I want to share with you a few of my favorite non-profit organizations to which I'm focused on giving this year. I know many of us feel that it's difficult to spend money on lavish items for ourselves or others when the world is in such total disarray. I'm going to be making donations instead of (or in addition to) buying gifts for friends and family this year—'cause I know that deep down, we'd all prefer an end to human suffering to a new xbox. (I honestly don't know *exactly* what an xbox is, but roll with me here.)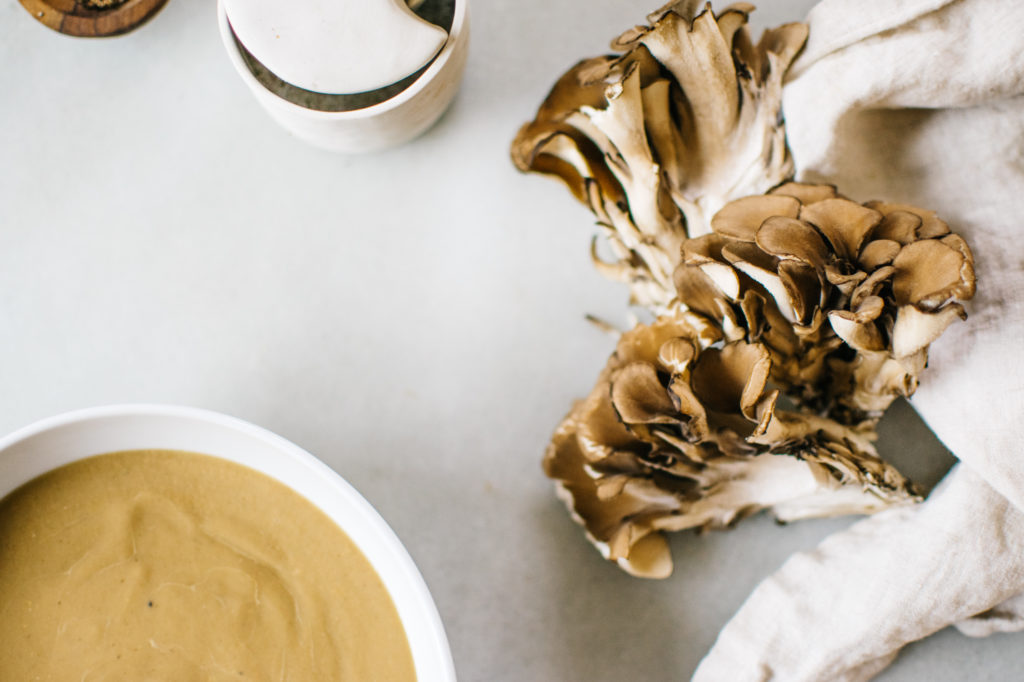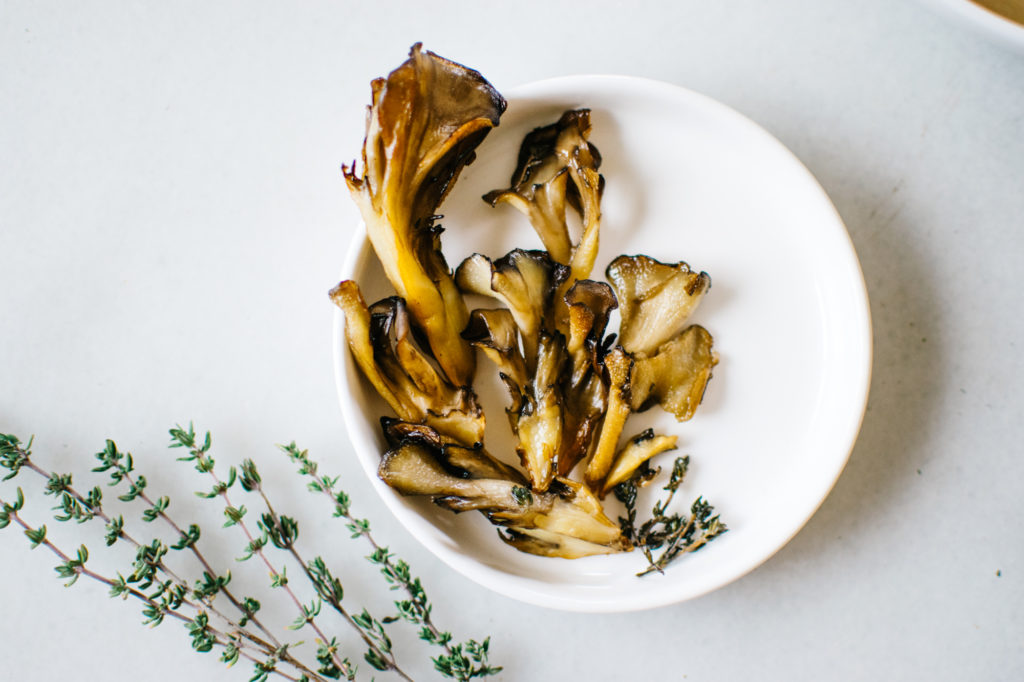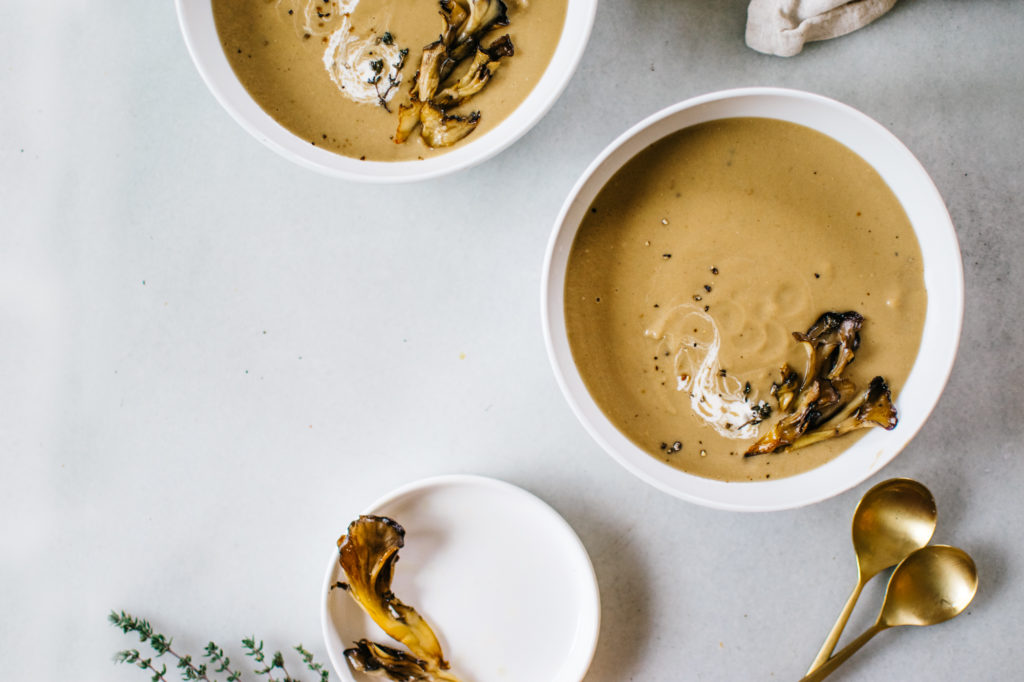 Below, I've gathered some top picks in a few different categories, so you can spread the love throughout your community, to the environment, the kids, the media, and the whole darn world. There are hundreds of deeply worthy organizations, so these suggestions are simply starting points. I'd love to hear your favorite non-profits, too—please leave them in comments, so we can all benefit from your knowledge. Details on non-profits local to your area would also be wonderful, just make sure to include your location!
Wishing you all a very sweet holiday weekend, from my soup bowl to yours.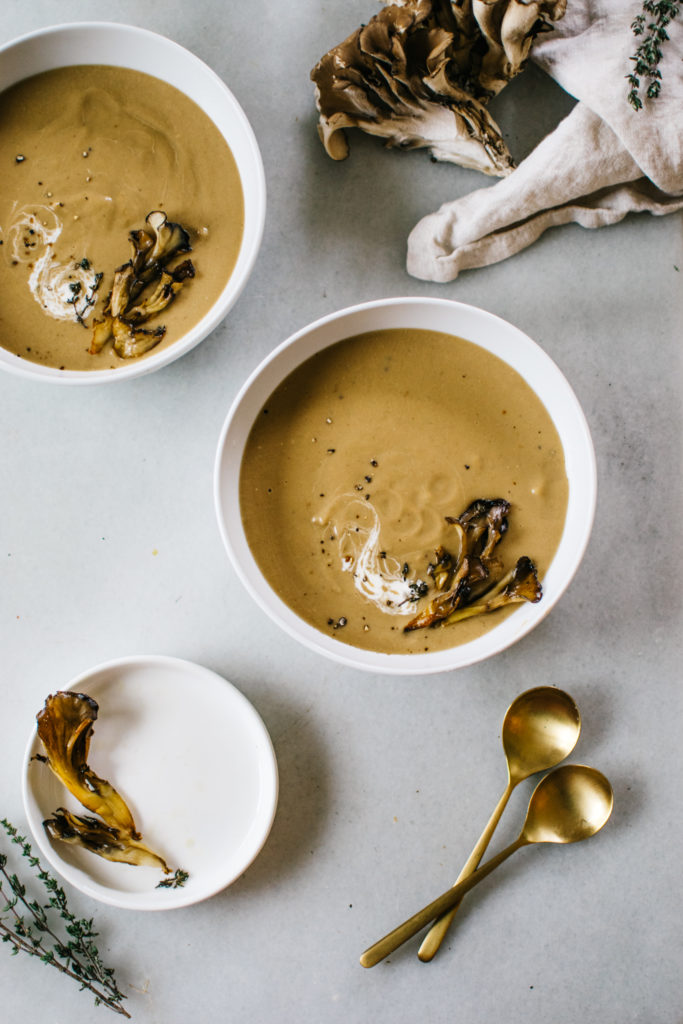 FOR THE ENVIRONMENT
The Plant a Wish Foundation has been a long-time fave (and not just because my extraordinary friend Sara Tekula is at the helm)—their mission is to bring communities together around the act of planting trees native to their area. What could be more powerful as an act of humanitarian and environmental connectivity?
FOR THE KIDS
No Kid Hungry is devoted to ending child hunger in America. In a season focused on an abundance of food, it's only right to share. No Kid Hungry is an outstanding organization that I trust to get funds where they're needed most.
FOR THE WORLD
The tragedy occurring in Aleppo, Syria is unthinkable. It's also so far away it's hard to even imagine. But the White Helmets are there, on the ground, operating to send rescue teams to injured civilians regardless of political or religious affiliation.
FOR THE TRUTH
I rely on my local public radio stations to bring me the news I care about most, and it's important to me to support them whenever and wherever possible. NPR.org has a red donate now icon at the top of the screen that will take you to the donation page for your local station.
FOR THE COMMUNITY

No doubt your local community is filled with laudable non-profit agencies: Pick a cause you care about and do a quick internet search—you'll find dozens of local organizations in need of your support. This year, I donated to the Downtown Women's Center, as well as my local Goodwill and Salvation Army. I also recommend bringing some baked treats down to your local fire station.
Reprinted from The Gourmet Kitchen by Jennifer Farley, with permission of the publisher, Gallery Books 2016.
CREAM OF SHIITAKE MUSHROOM & CARAMELIZED LEEK SOUP + A HOLIDAY GIVING GUIDE.
Ingredients
1

tablespoon

unsalted butter

2

cups

leeks

white and pale green parts only, thinly sliced (approximately 2 leeks)

pinch of kosher salt

5

cups

shiitake mushrooms

roughly chopped, tough stems removed

3

cloves

garlic

smashed

½

cup

dry white wine

4

cups

vegetable stock

½

cup

heavy cream

plus more as needed

1 ½

teaspoons

kosher salt

plus more as needed

ground black pepper

¼

teaspoon

truffle oil

(optional but deeeelicious!)

thyme-fried maitake mushrooms

Kale & Caramel addition!

3-4

tablespoons

olive oil

2

teaspoons

fresh thyme leaves

4

ounces

maitake mushrooms

sliced into individual florets

2

pinches

sea salt
Instructions
Heat the butter in a large stock pot over low heat. Keep a small cup of water nearby. Add the leeks with a pinch of salt and stir to coat with the butter. Allow the leeks to sweat for 2 to 3 minutes and then turn up the heat to medium-low. Allow the leeks to slowly caramelize, stirring frequently, 15 to 20 minutes. As a brown glaze forms on the bottom of the pan, add 1 to 2 tablespoons of water at a time and stir to incorporate the glaze back into the leeks. Once they are nicely caramelized, approximately 10 minutes, add the mushrooms.

Continue to cook the mushrooms and leeks for another 3 to 5 minutes, stirring frequently and deglazing with water as needed, until the mushrooms have softened and shrunk down a bit in size. Add the garlic and stir for another 30 seconds. Deglaze with the wine, scraping up the brown bits that will have formed on the bottom of the pot and incorporating them into the vegetables.

Allow the wine to reduce to almost nothing and then add the stock. Bring the soup to a boil, cover the pot, and reduce the heat to low. Allow the soup to simmer for 1 hour.

Ladle the soup into a blender and puree, in batches if necessary, until silky smooth. Pour the soup back into the pan and add the cream, salt, and pepper. Add the truffle oil, if using. If a thinner consistency is desired, add more stock or cream.

Once soup is ready, fry the mushrooms. Heat olive oil in a frying pan over medium heat until it sizzles. Reduce heat to medium-low, then add thyme, mushrooms, thyme, and salt, and fry a couple minutes on each side, until golden brown. Remove from heat and scoop mushrooms out into a bowl. Let cool.

Ladle soup into small bowls, top with mushrooms, a drizzle of cream, and freshly cracked pepper, and serve hot.