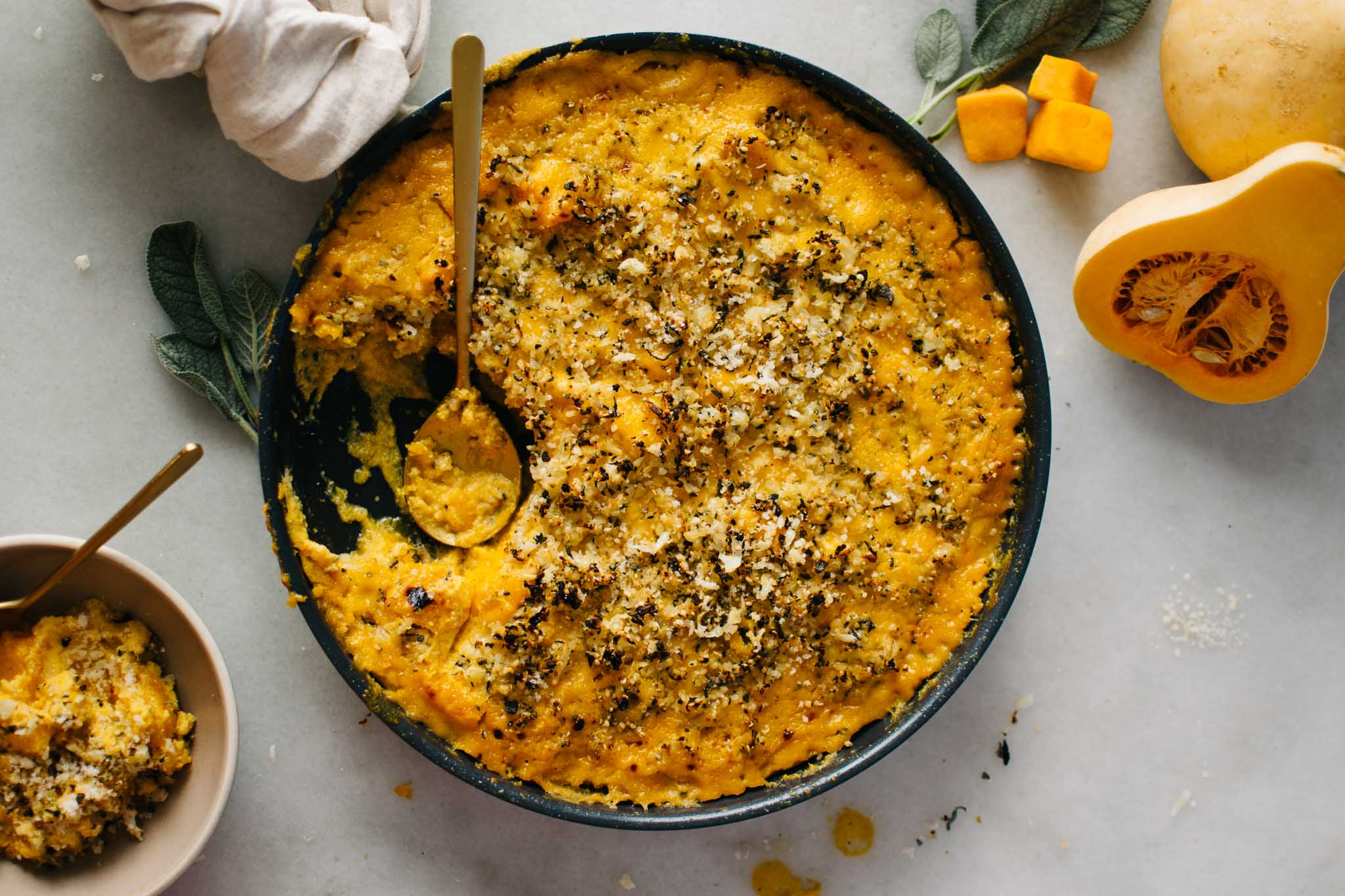 Jump to Recipe
This post was created in partnership with GreenPan. All opinions are my own—like my head-over-heels crush on this ceramic non-stick frying pan set.
Last week was filled with firsts: My first trip to Portland, my first time flying into a city where there was an active state mandate for people not to go outside, my first time doing a cooking demo, my first time meeting my friend Sophia's baby Wilder, and my very first hotdish. More on said (cheesy butternut) hotdish both above and below, but first Portland. Portland was surrounded by forests of flame when I flew in—a landscape that should have been gloriously green and blue marred by smoke and ash. It was surreal. It was sad. It was apocalyptic. It was one of a mess of natural disasters that suffused the news cycle with a growing sense of doom.
Despite the state mandate that people not go outside, I decided to persevere with the Kale & Caramel book event scheduled at Williams-Sonoma. It ended up being small and sweet, with plenty of wine and burrata and roasted lemon mint pesto. We mourned the burning trees. We ate cheese. We drank wine. I signed books. We talked about herbs. We loved each other.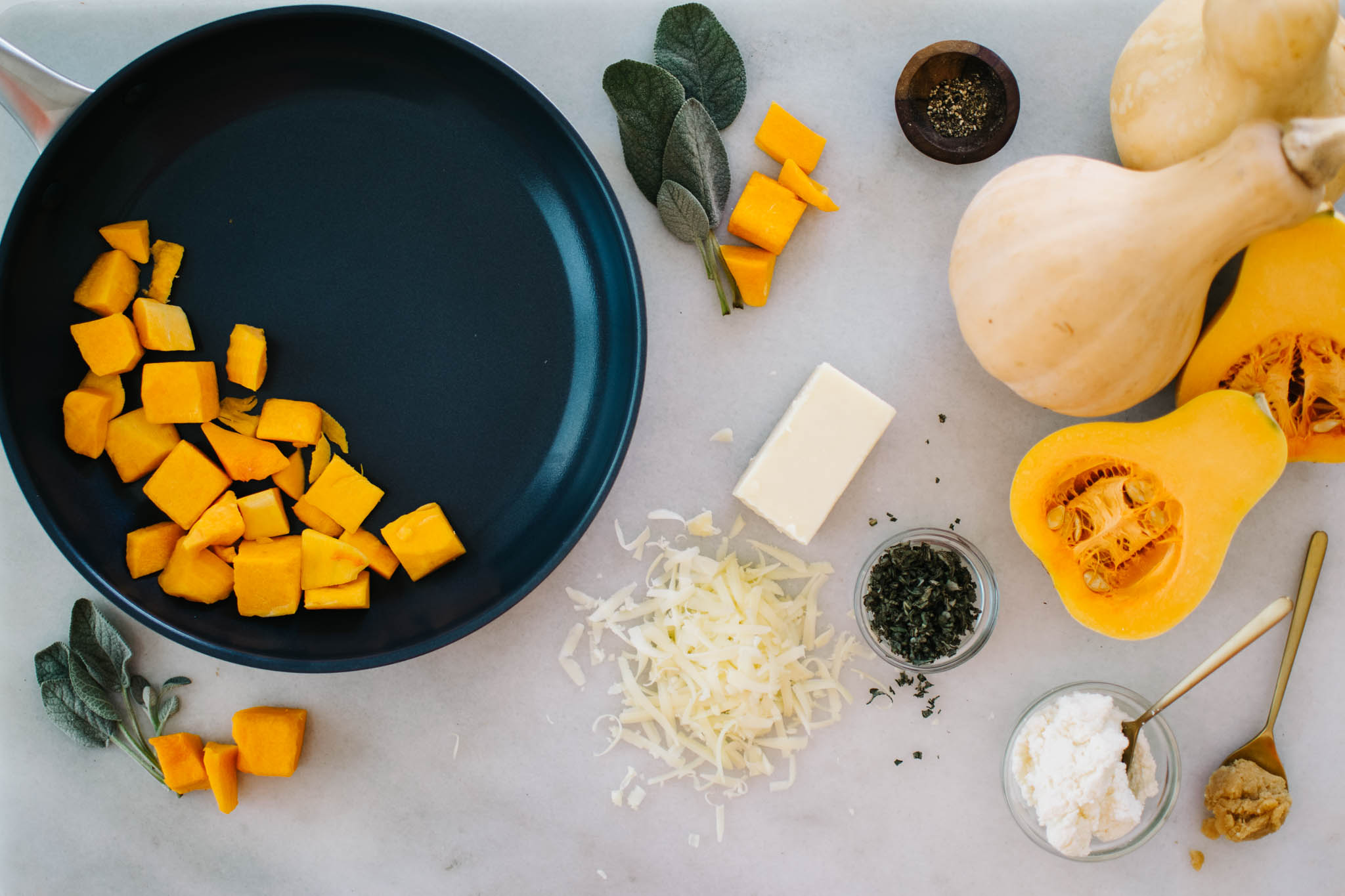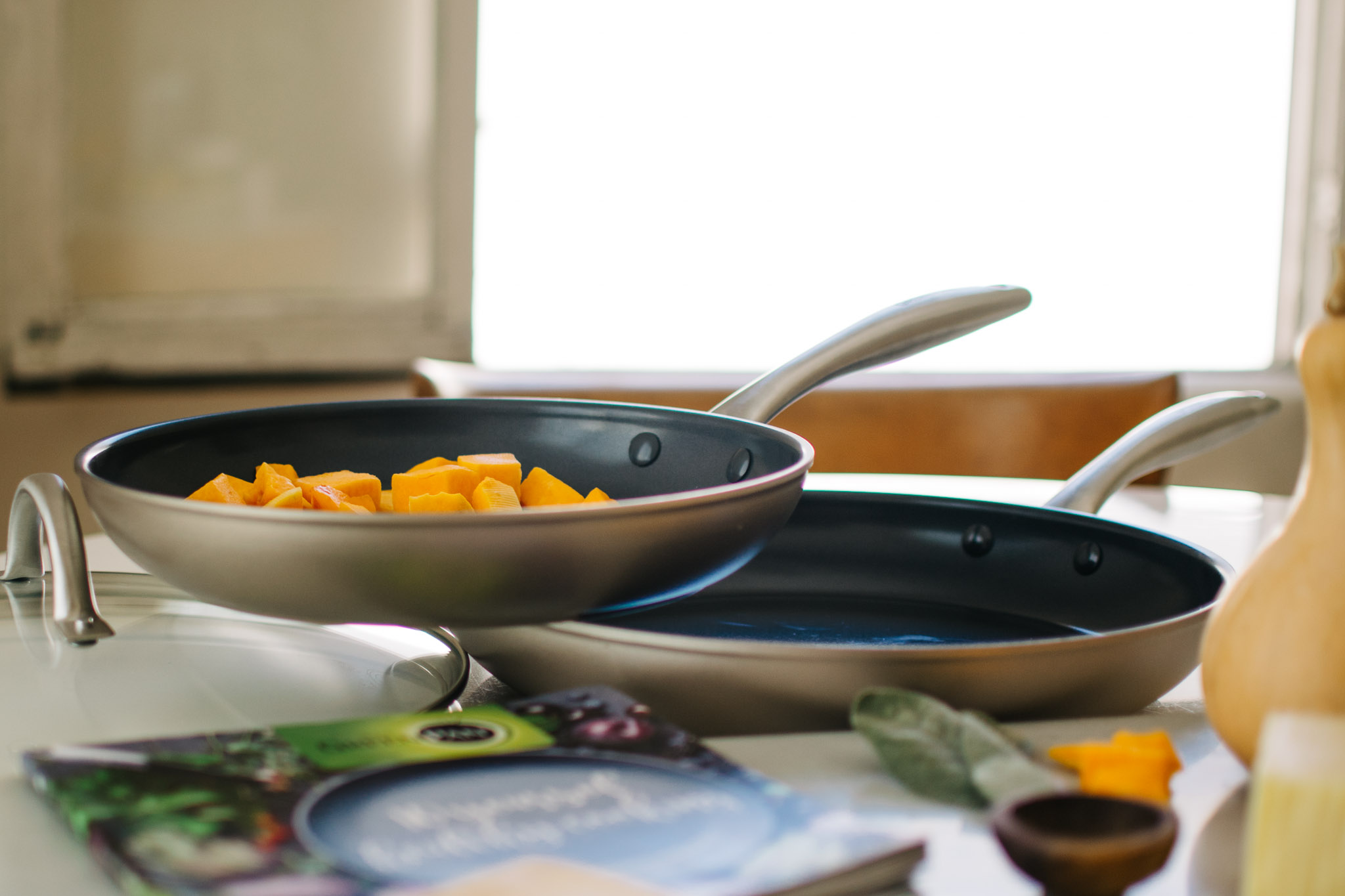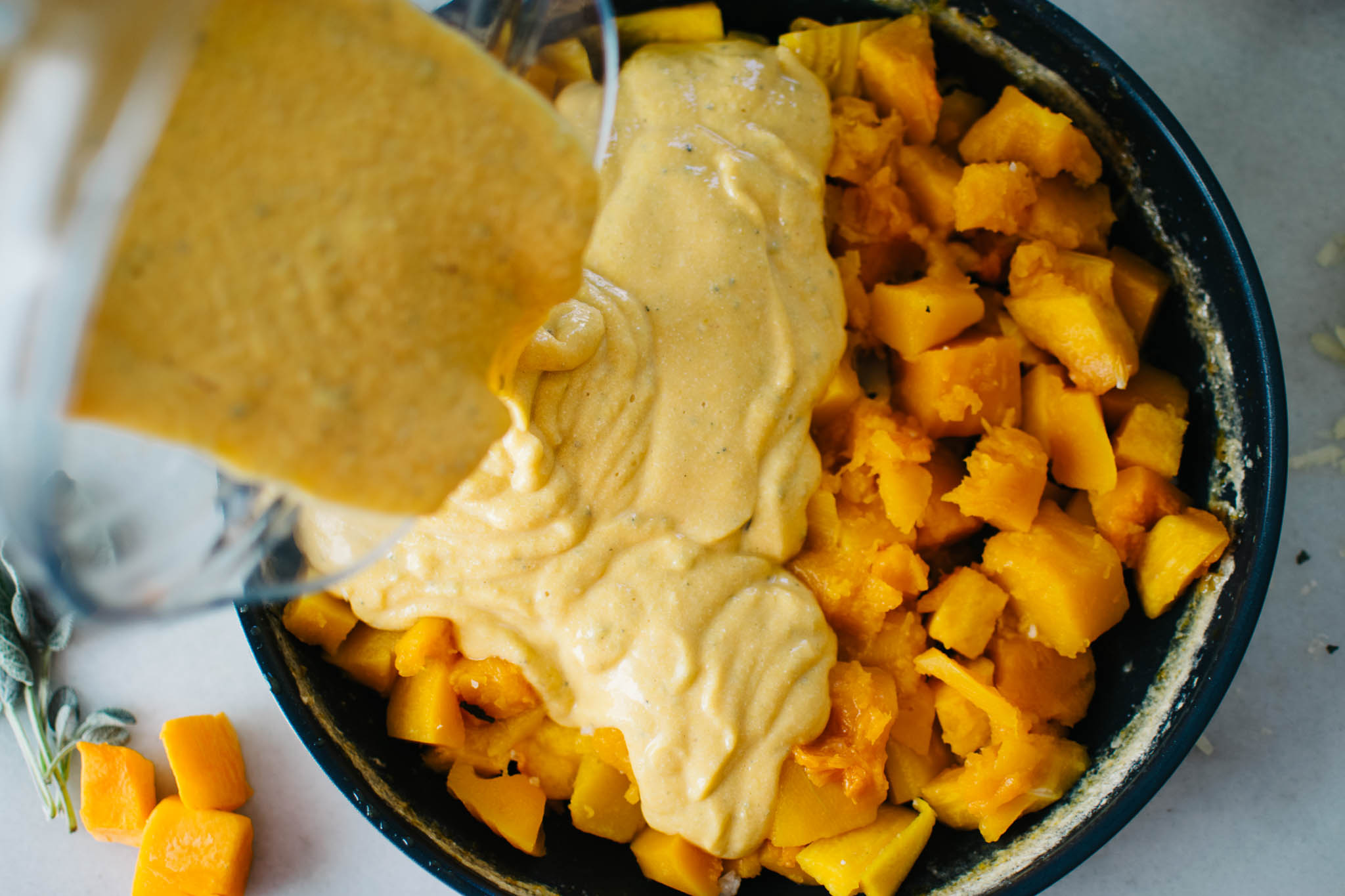 And then I got to meet my sweet friend's son, Wilder, for the first time. Wilder also had a big first last weekend: He got to see his parents get married, on land that went miraculously unscathed by the fires. There was so much beauty in watching their sweet family marry, the evidence of the bride and groom's deep love and commitment already present in physical form, in their babe. That tenderness washed away all the other madness. The childlike wonder that remained was infectious.
I took that sense of wonder with me throughout the rest of the weekend, as we ate and danced together, and as I got to explore Portland in the wake of the fires. The skies eventually cleared, the state mandate was lifted, and I was able to visit a few of the spots I'd long had on the agenda.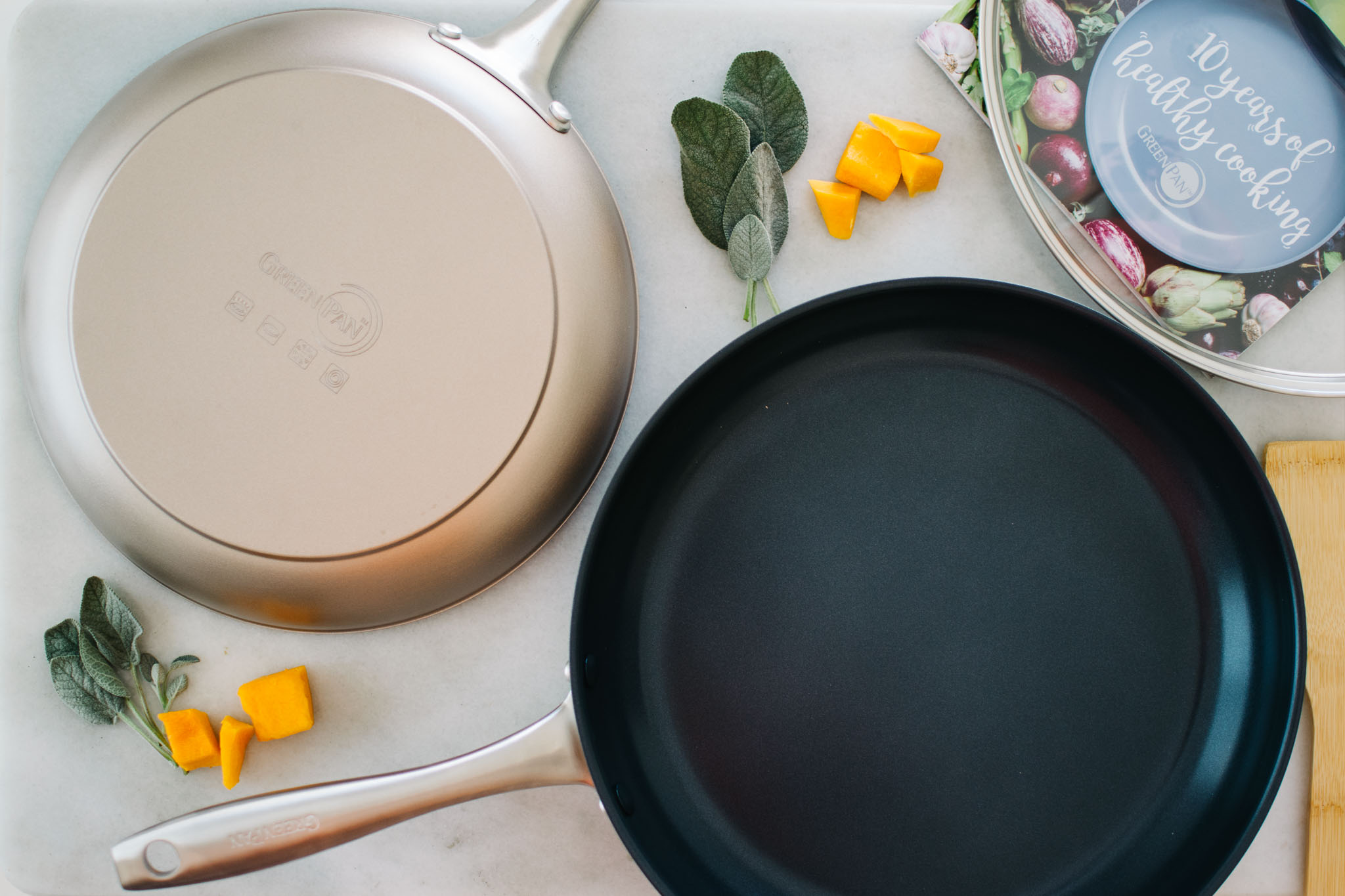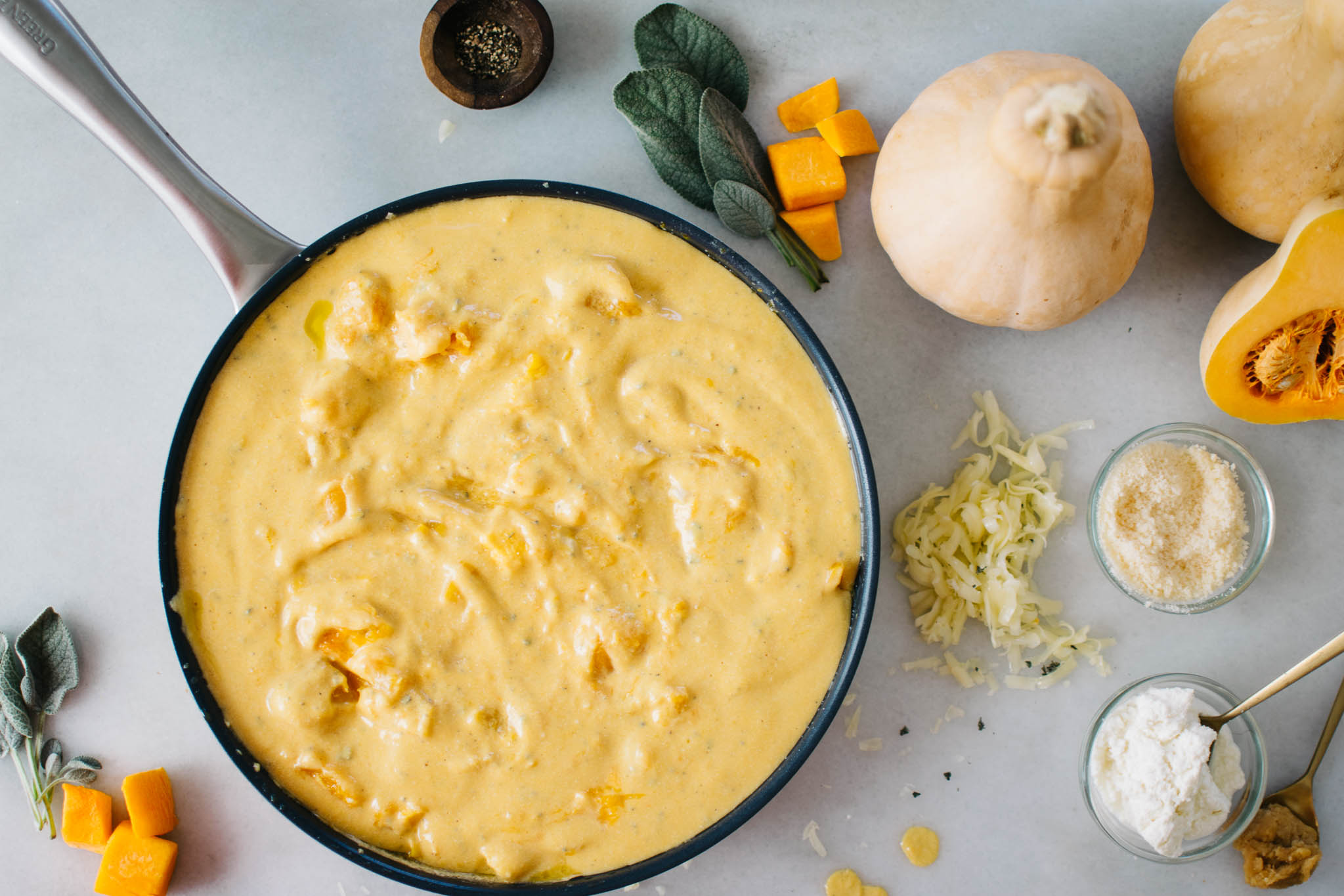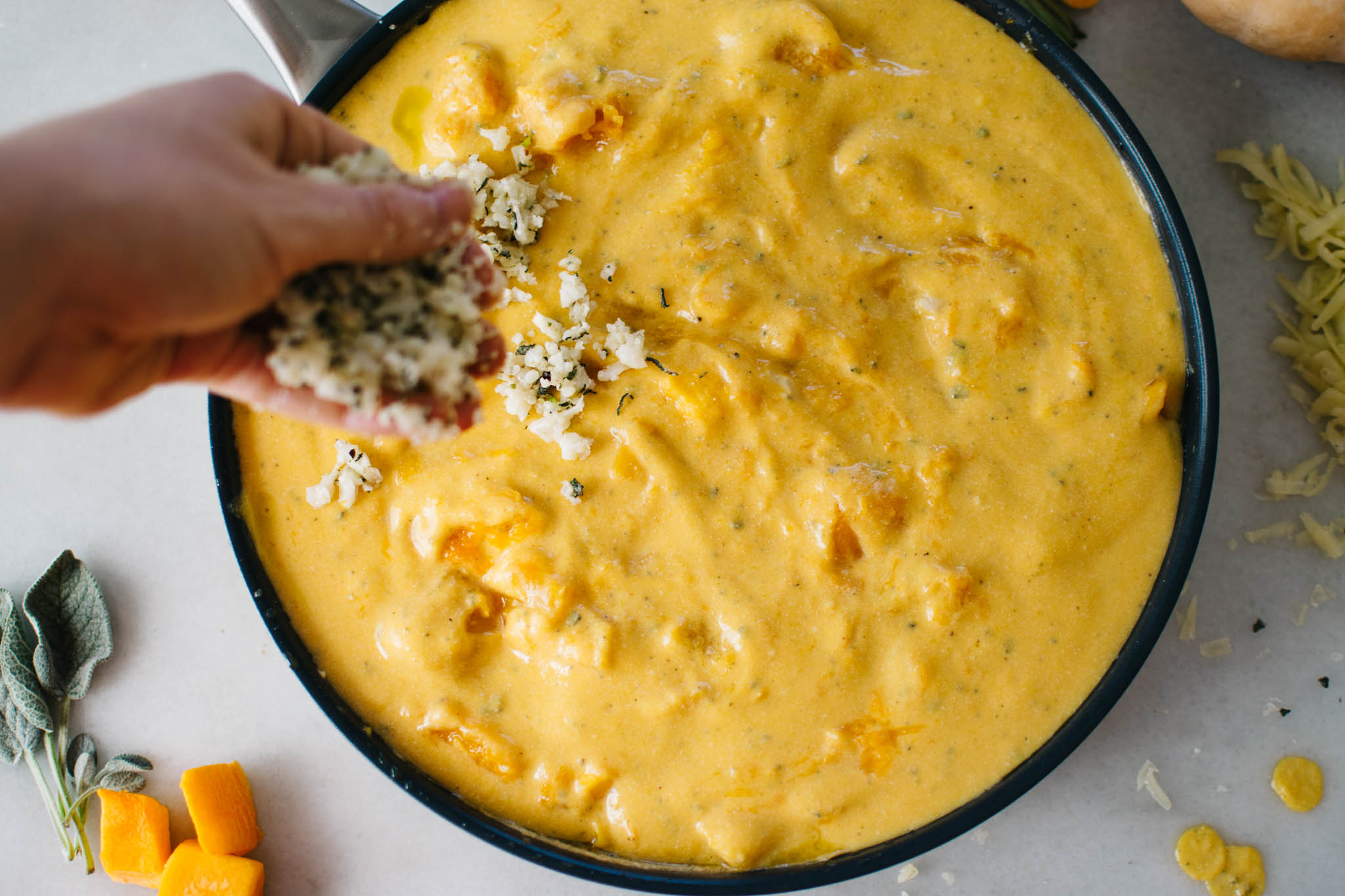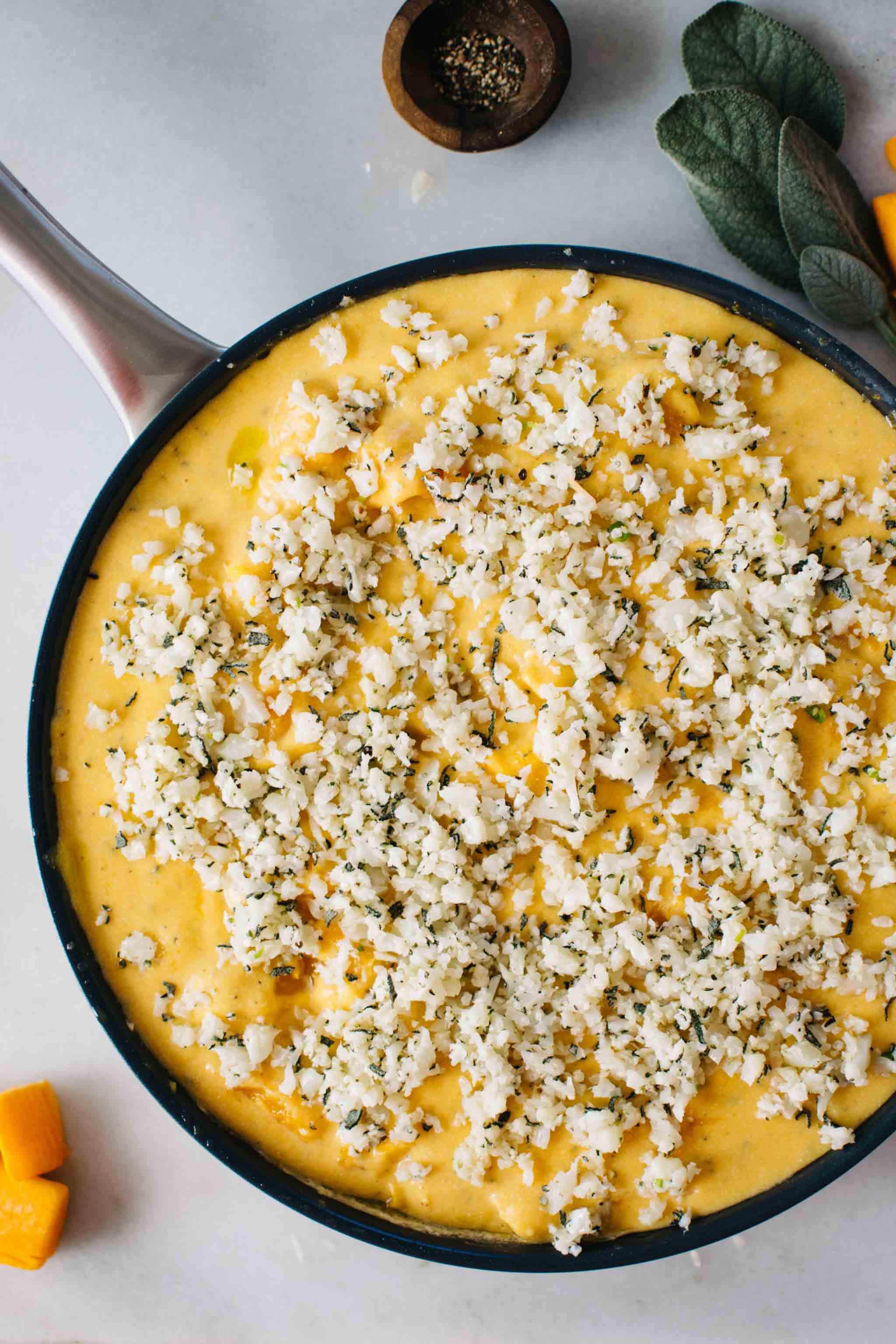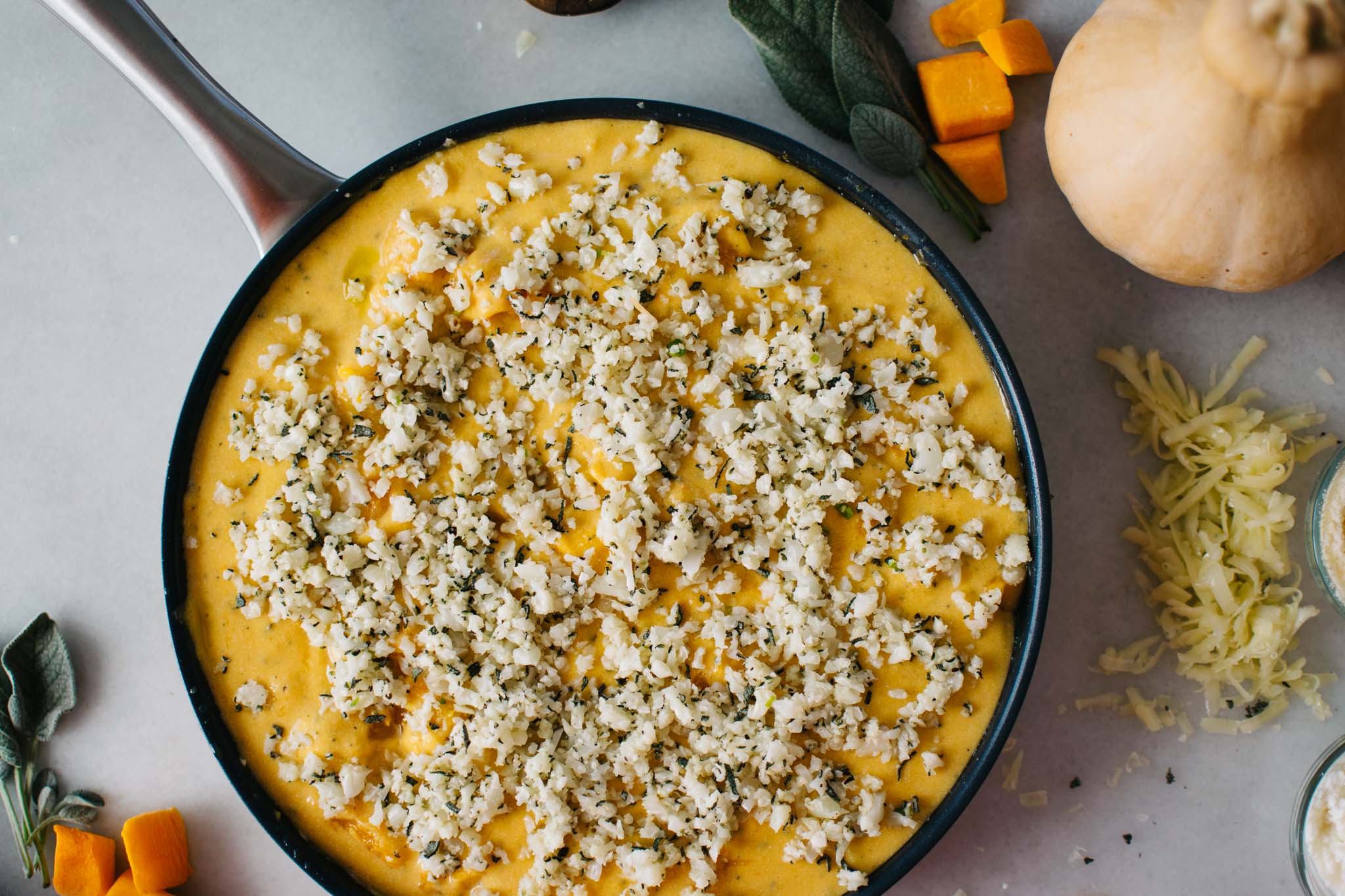 I came home exhausted but fueled by the natural beauty revealed once Portland's skies cleared. And ready for the leftover cheesy butternut hotdish I'd sequestered for my return. You must know: I didn't intentionally make a hotdish, but when I described this cheesy butternut bake to hotdish queen Molly Yeh, she looked me square in the eye and informed me I had, indeed, done just that.
This cheesy butternut squash hotdish is about as close to healthy comfort food as it gets. It's filled with flavorful cheddar, ricotta, and parmesan. and the rich flavors of white miso and fresh sage leaves. Sage-infused vegetable broth and whole milk form a comforting base for the succulence of butternut squash. Miso delivers extra umami with salt and sweetness, enhancing the power of the cheese.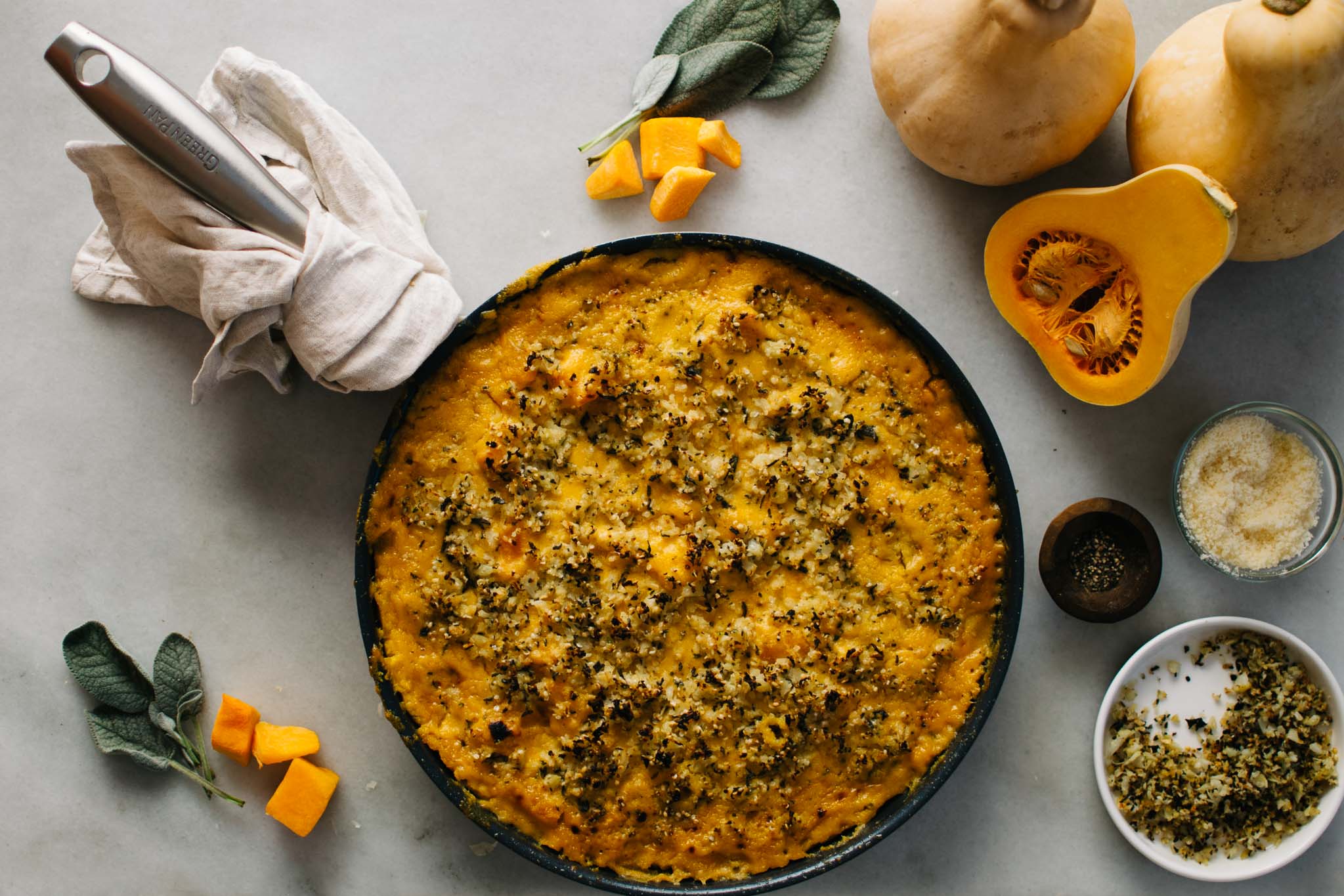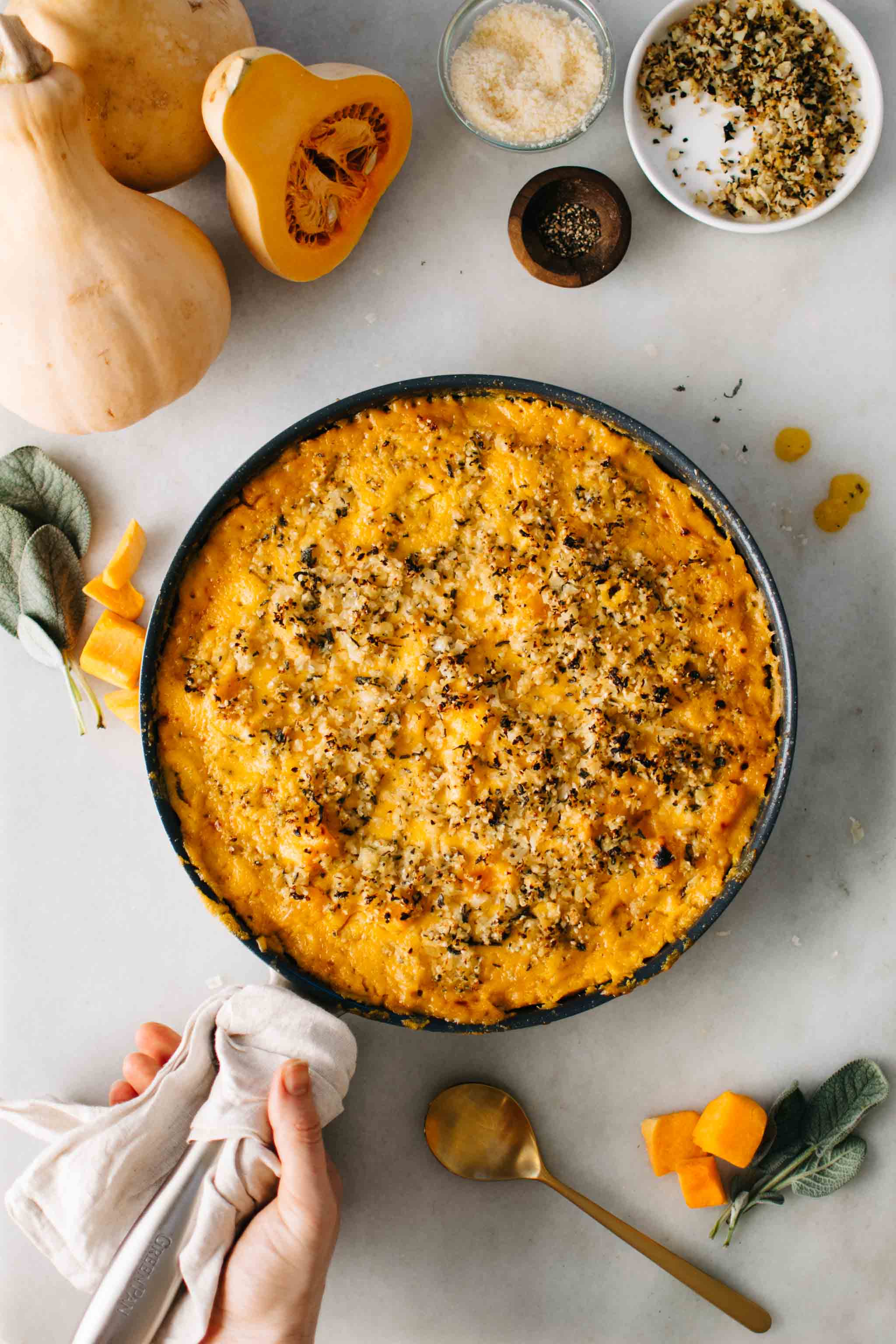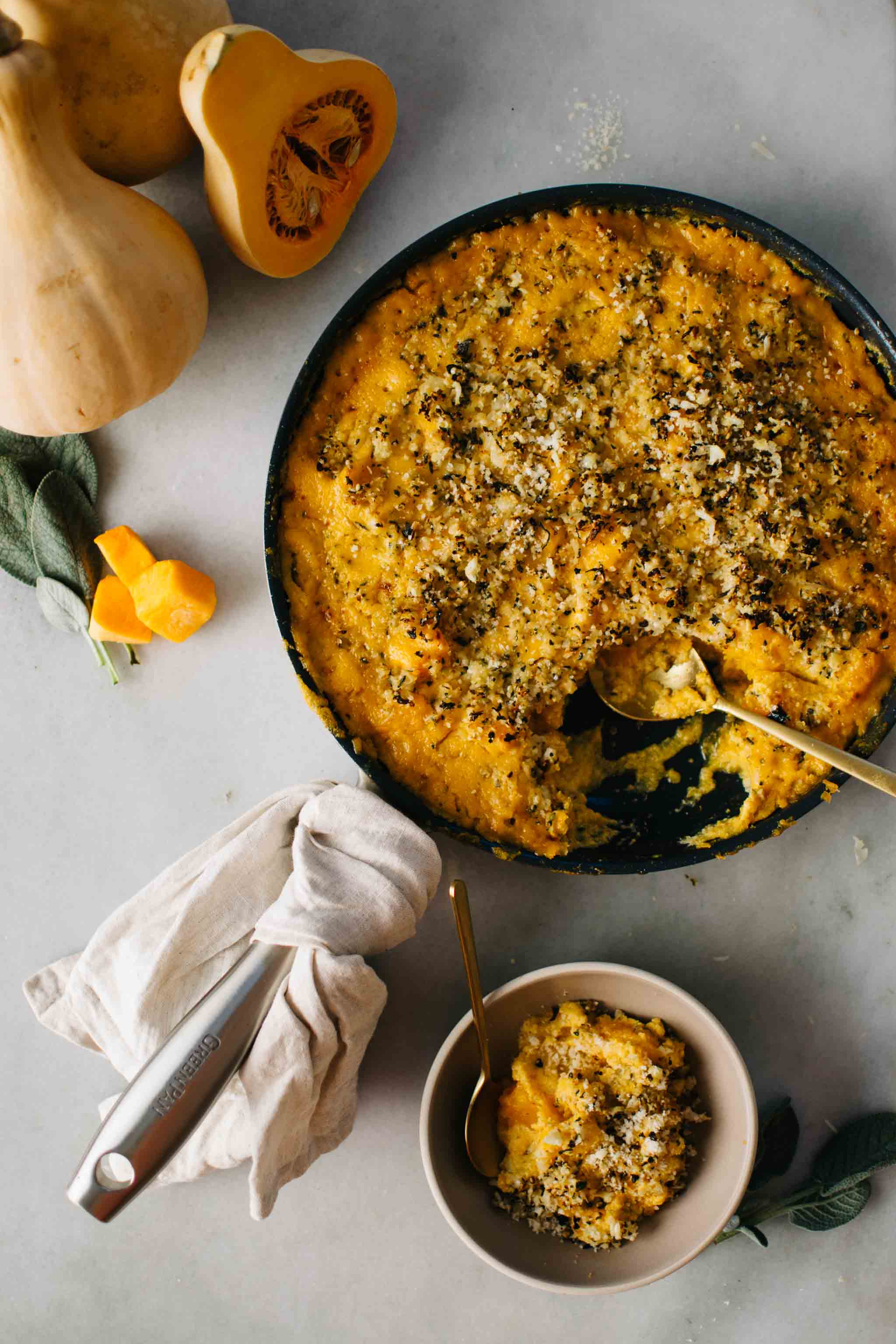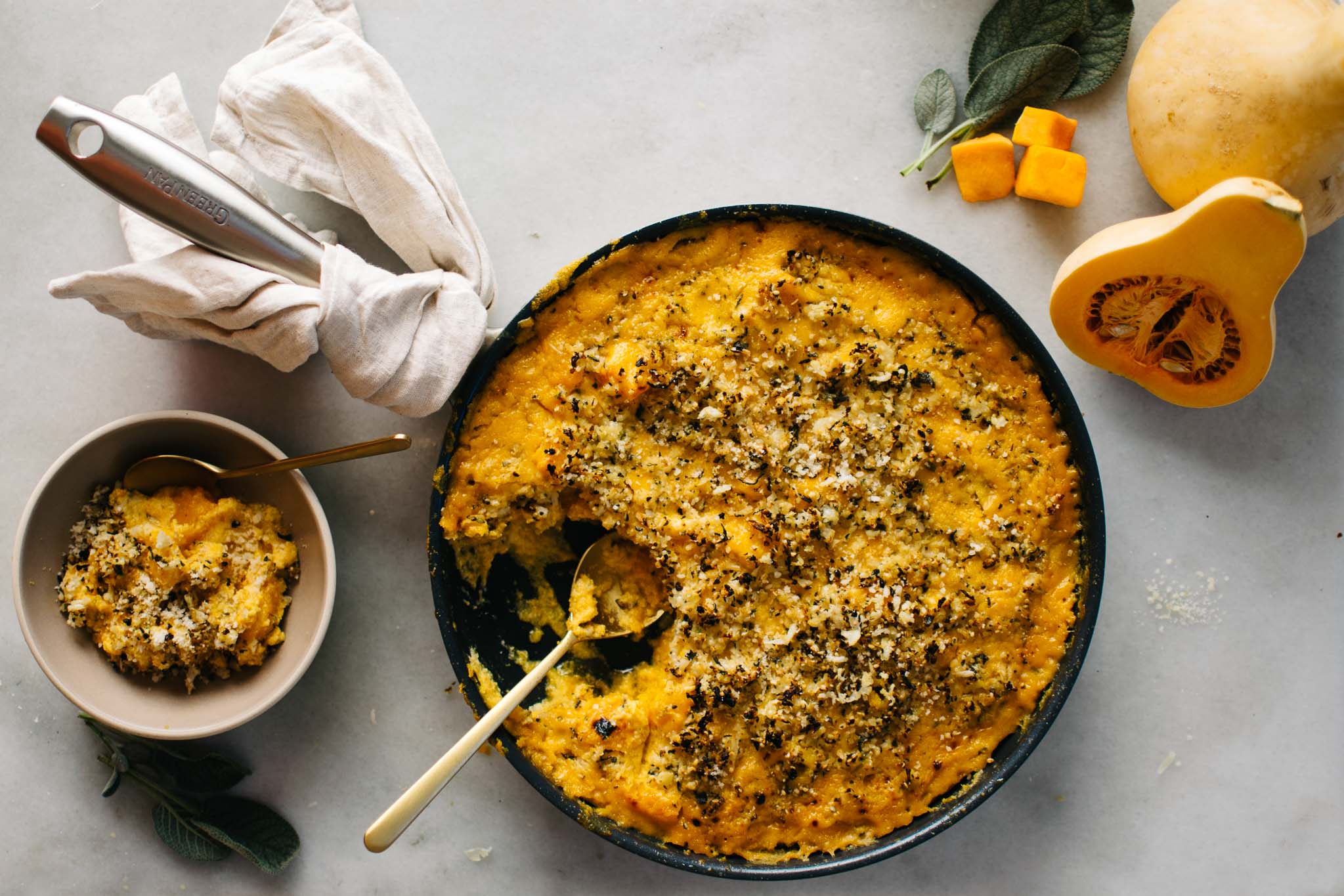 Sage comes out to play again with the cauliflower hemp "breadcrumbs"—a favorite of mine for anything that needs to be roasty, toasty, comforting, and healthy. No grain to be found here, but the satisfying crunch and heft of crumb from protein- and omega 3-rich hemp seeds and the tenderness of cauliflower. Sage gets mixed in for savory deliciousness.
But the real genius of this cheesy squash (squash 'n' cheese? butternut hotdish? the good news is it's delicious no matter what it's called) is that it gets baked in the same non-stick ceramic GreenPan it starts in, stovetop.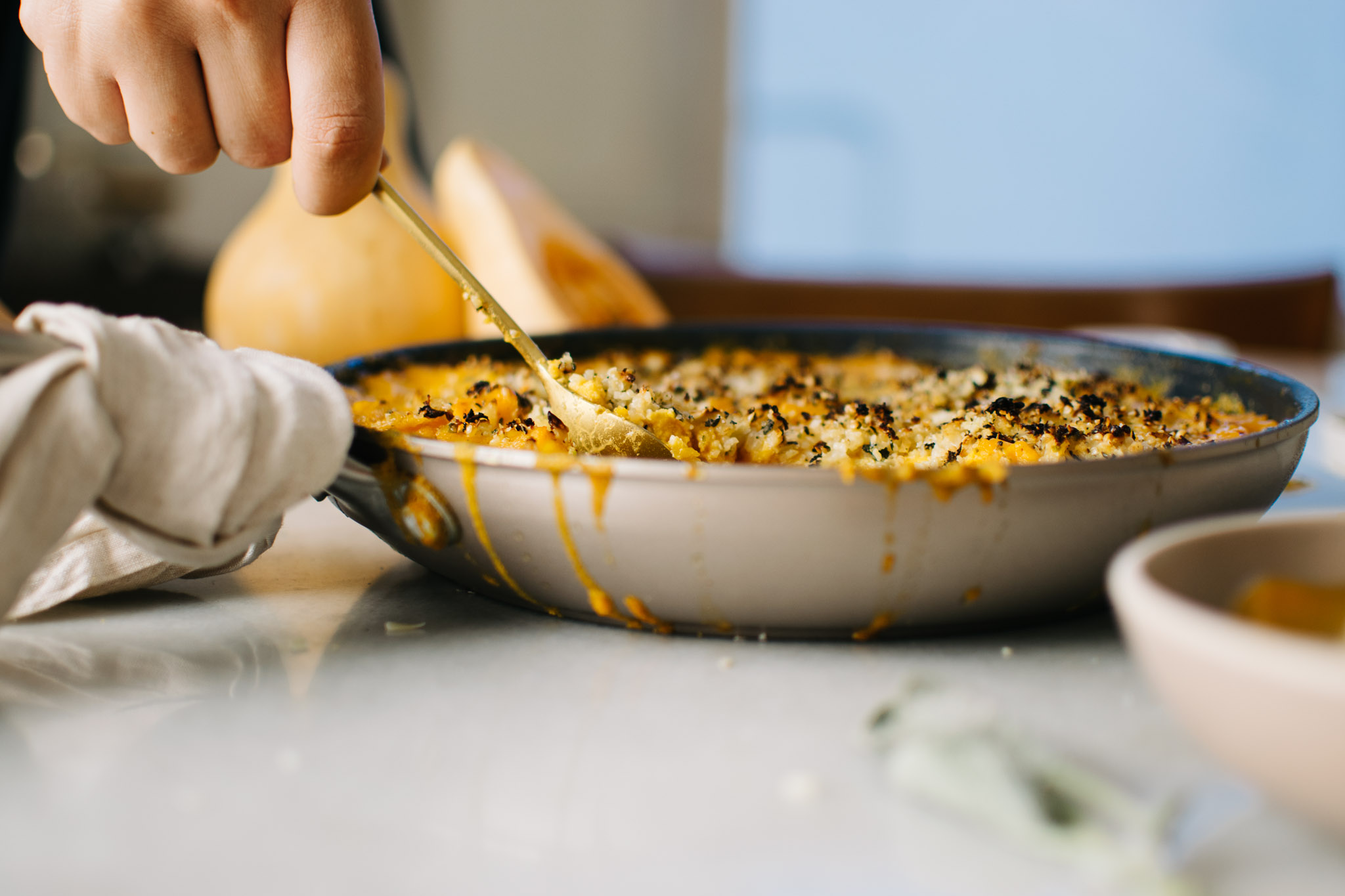 Beyond the one-pan-does-it-all boiling, simmering, baking, and broiling, though, there's the safety, ease, and familiarity. You all know my mom was the queen of healthy, and I grew up in a home where non-stick was banned because she knew it wasn't safe (and GreenPan didn't exist yet). It wasn't until GreenPan arrived on the market that I let non-stick into my own home—with confidence and a clear conscience. I've trusted them since the beginning.
GreenPan's 10th Anniversary Lima Collection pans are dreamy: made using healthy Thermolon™ non-stick ceramic inside and out for effortless clean-up (even after boiling, simmering, baking, and broiling). Thermolon™ is made from a sand-derivative so that you never have to worry about an unhealthy coating blistering, peeling, or flaking into your food. Thermolon™ also requires 60% less CO2 emissions in production than traditional coatings.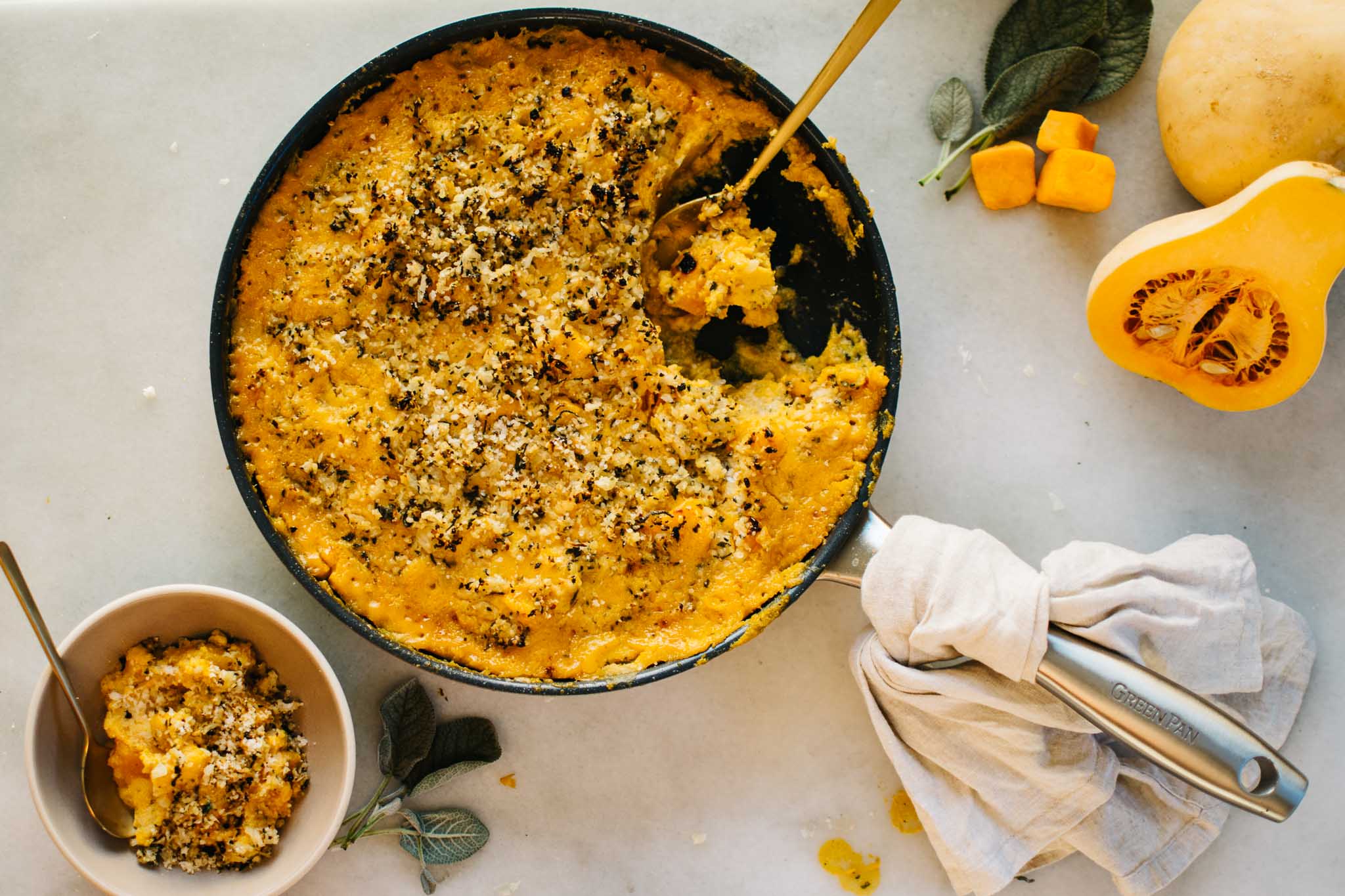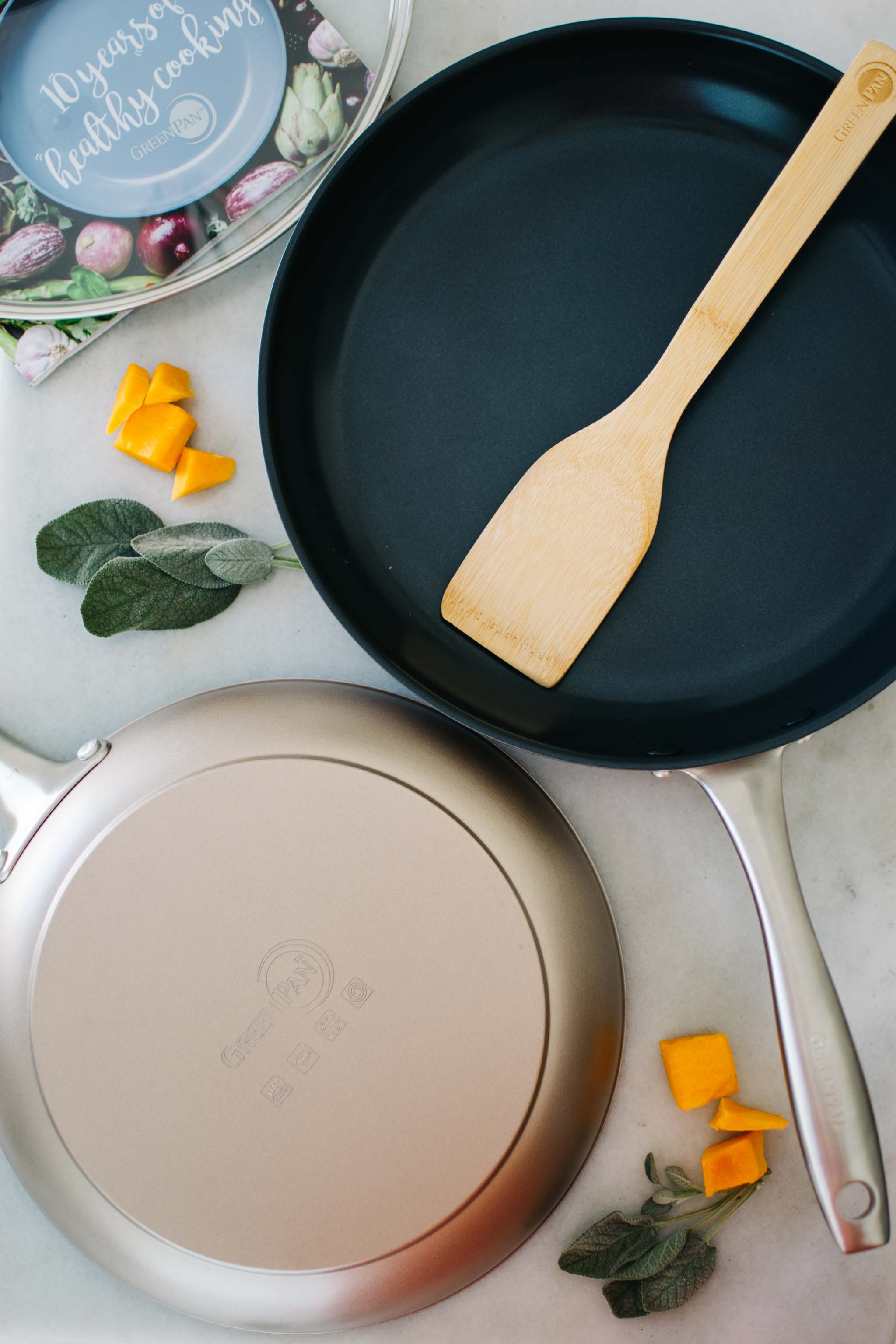 From September 15, 2017 to September 24, 2017, GreenPan is celebrating their 10th anniversary with a 20% off sale on all their frying pans across all e-tailers—including this Limited Edition 10th Anniversary 5-Piece Set in bronze. I'm completely obsessed with the gorgeous golden hue. See photos above for all five pieces of the set: a 10″ frying pan, a 12″ frying pan with an oven-safe glass lid, a healthy recipe book, and a bamboo tuner.
And then get to cheesy butternut squashing! It's pure comfort.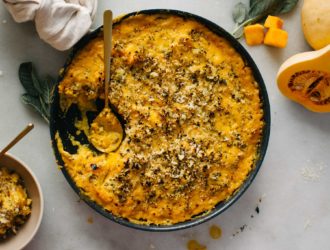 CHEESY BUTTERNUT SQUASH WITH SAGE CAULIFLOWER BREADCRUMBS.
Cheesy baked butternut squash hotdish with three cheeses, miso, and fresh sage, topped with gluten-free cauliflower breadcrumbs.
Ingredients
Cheesy Butternut Squash
3

pounds

butternut squash

cubed (about 9 cups), divided

1 ½

cups

whole milk

1

cup

vegetable broth

3

tablespoons

minced fresh sage leaves

divided

1

cup

shredded mild cheddar

½

cup

ricotta cheese

¼

cup

parmesan cheese

1

tablespoon

white miso paste

½

teaspoon

sea salt

generous shake of ground nutmeg

generous shake of ground cayenne

freshly cracked pepper

to taste
Sage Cauliflower Breadcrumbs
4

cups

cauliflower florets

steamed

2

tablespoons

hemp seeds

2

garlic cloves

minced

2

teaspoons

olive oil

1

tablespoon

minced sage

½

teaspoon

sea salt

freshly cracked pepper

to taste
Instructions
Preheat oven to 375ºF.

In a 10-12" ceramic, oven-safe, non-stick frying pan, combine 3 cups of uncooked butternut squash cubes with milk, vegetable broth, and 2 tablespoons of minced sage. Bring to a boil over medium heat, then reduce heat and simmer for 15-18 minutes, until the squash is fork tender.

While the squash simmers, steam remaining 6 cups of squash cubes with 4 cups of cauliflower florets (keep cauliflower and squash separate in sections or layers) just until tender. Don't overcook, since they're going into the oven later. Remove from heat, and separate squash and cauliflower.

Mince cauliflower into small "breadcrumbs"—you'll have about 2 cups. Transfer into a clean dishcloth or double-layered cheesecloth and squeeze out as much liquid as you can. Transfer the "breadcrumbs" to a bowl, and toss with the hemp seeds, minced garlic, olive oil, sage, salt, and pepper. Set aside.

Once the squash simmering in milk and broth is tender, remove from heat, and mash squash into the liquid until mostly smooth. Transfer to a blender or food processor, and add the remaining 2 tablespoons of minced sage, cheddar, ricotta, parmesan, miso, salt, nutmeg, cayenne, and pepper. Blend until smooth.

Give the frying pan a light coating of olive oil, then place the steamed squash cubes in a single layer in the base. Cover with the blended cheese mixture, leaving at least ½-inch around the top, and stir gently to distribute it evenly throughout. If you're using a smaller pan, you may have some cheese mixture left over—use it as a sauce on any veggies or as a delicious hot dip.

Sprinkle 1-1 ½ cups of cauliflower breadcrumbs over the top of the dish. Place the pan on top of a baking sheet and bake for 25-30 minutes, until the cheese is bubbling and the cauliflower is beginning to turn golden.

Place remaining breadcrumbs on a small baking sheet and bake until golden brown and beginning to turn crispy, 10 to 12 minutes. Remove from oven and set aside for garnish.

Turn the broiler to low and give the pan a few minutes under the broiler to brown and crisp the cauliflower breadcrumbs. Serve immediately, garnished with additional breadcrumbs, grated parmesan, and freshly cracked pepper.