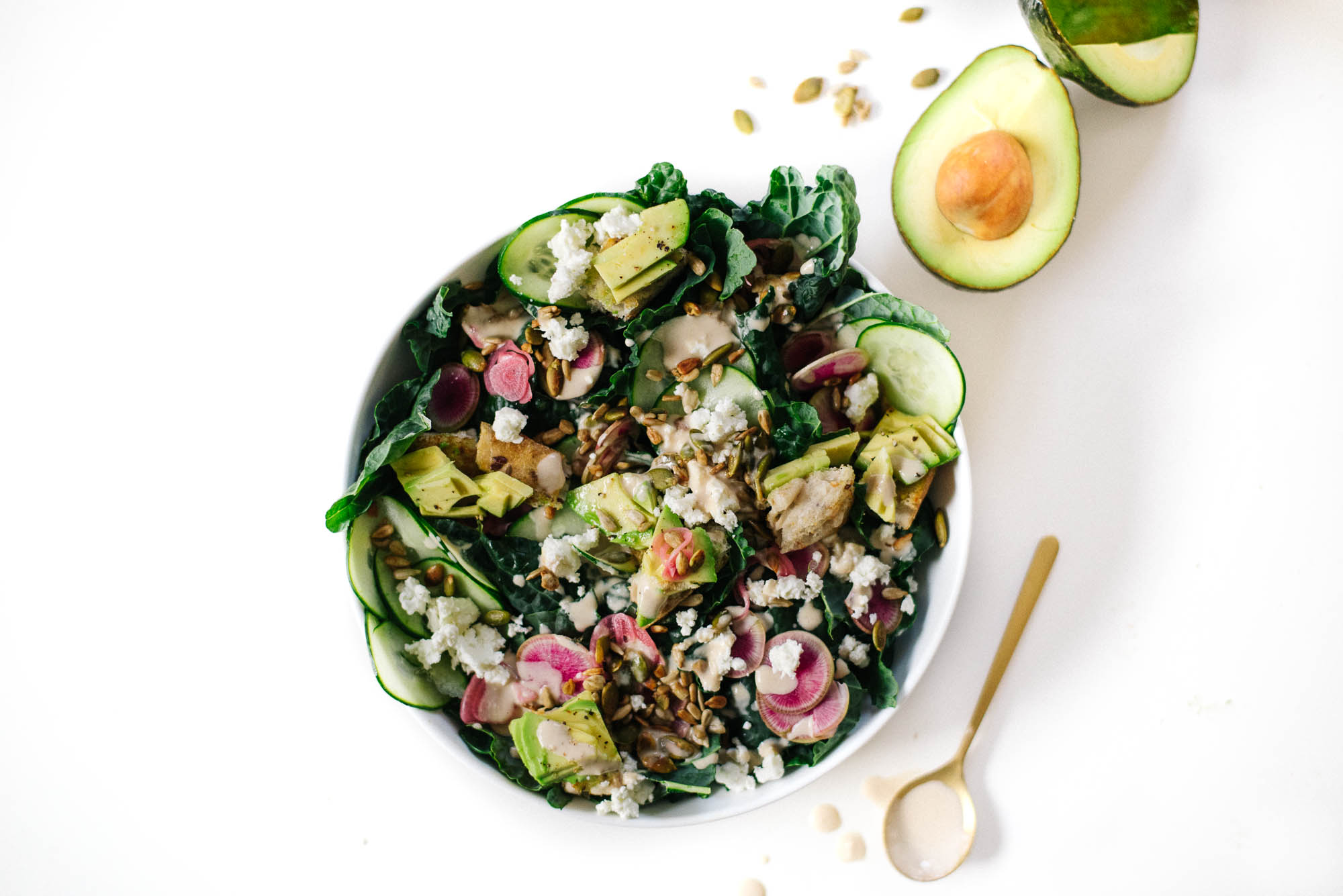 Jump to Recipe
This time last week, I shipped a homemade bag of pre-blended dry cake ingredients to Maui (nota bene: some might call this a "cake mix"). I needed to make things as quick and easy as possible when I got off the plane for my dad's eightieth birthday. One flight, two pre-cut 8-inch parchment cake-pan liners, three phone calls to the caterer, and at least four rounds of coordinating with the musicians later, we had a party in full effect.
Our neighbors Julie and Neil lent us bistro lights and tiki torches, friends wrote exquisitely rhyming poems, and verses of Sinatra were reworked to celebrate my father's infamous walking sticks (he's an avid hiker, and takes his Nordic walking sticks wherever he goes—even down Sunset Boulevard in LA). We ended the evening with an epic dance party. As my dear friend Liba put it when she said goodbye to my father this morning, "I hope I'm half as spry as you are when I'm eighty." Truly. You should see the man get down to "Man In the Mirror".
I want to tell you so much more about Maui (I'm here a few more precious days), but first I need to direct your attention to this extraordinary culinary *happening*: The Avocado Toast Salad™.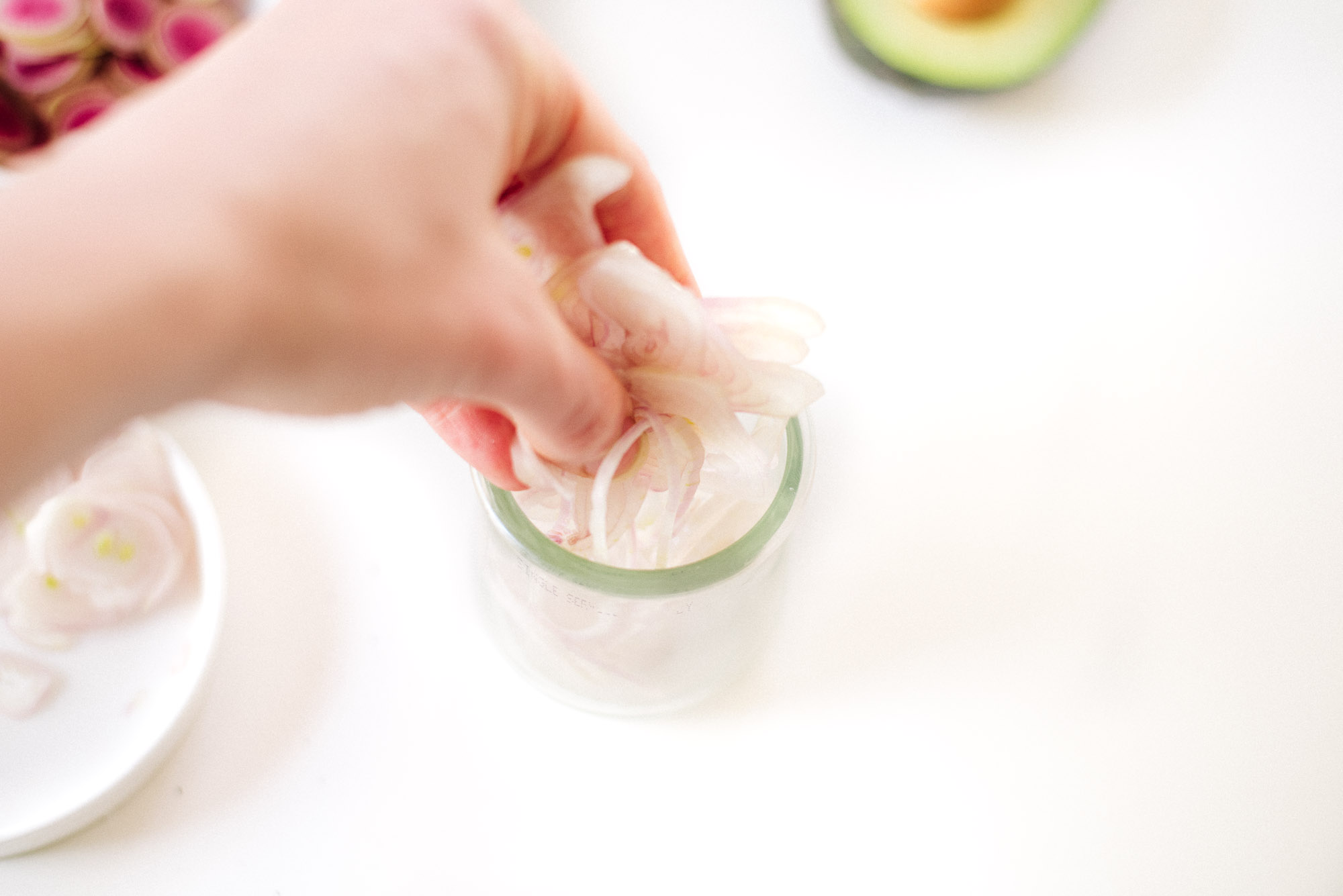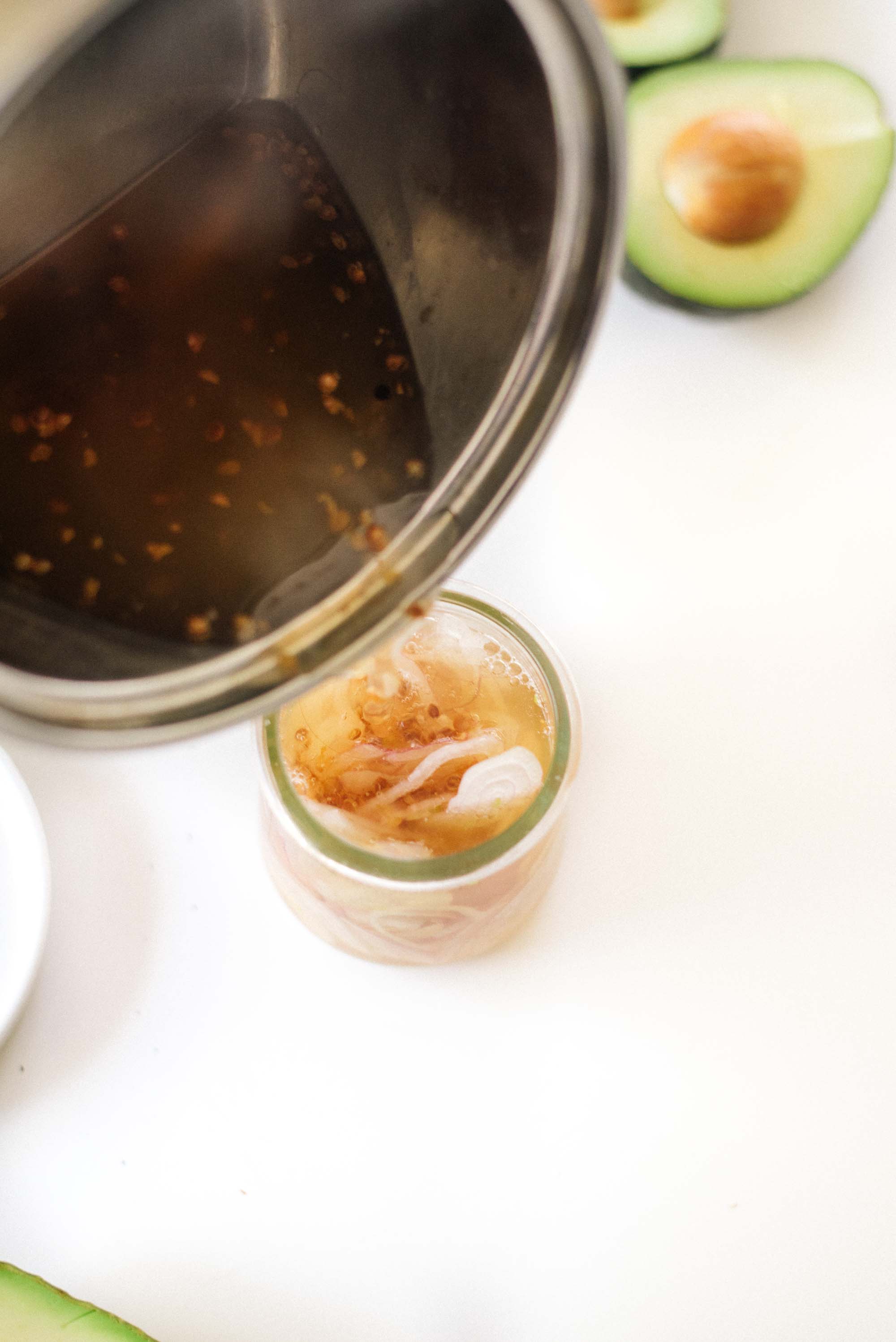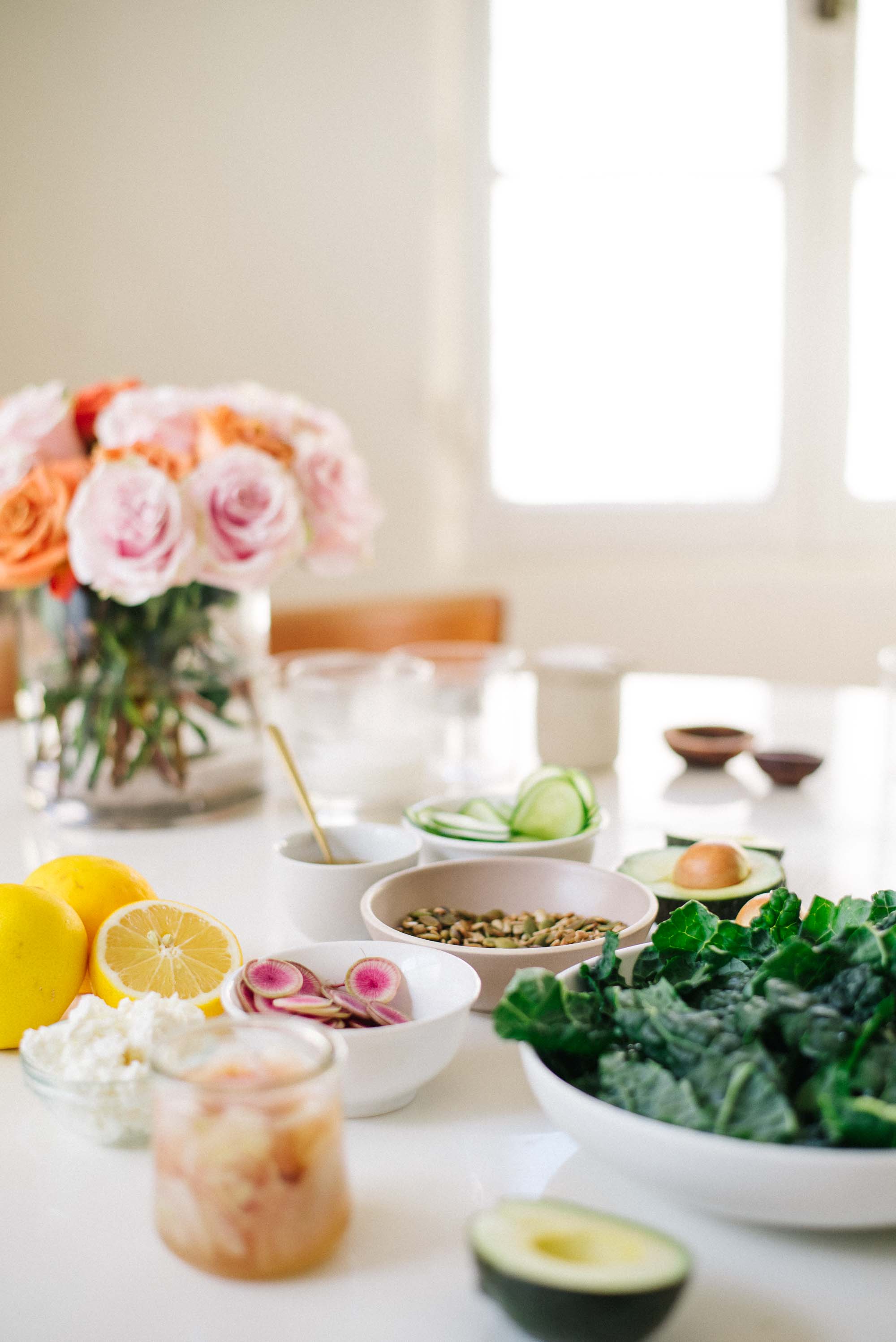 Last month, the brilliant and beautiful Haley Davis of Brewing Happiness was visiting LA. We spent an evening noshing on salad and imagining the best version of our futures. Unbeknownst to us, we were also living through the birth of the long awaited avocado toast salad. I had done what I do best, filling a large salad bowl to the brim with veg of all kinds and topping it off with olive-oil toasted bread chunks. Who doesn't love a bread salad? Nobody.
As we ate, a fog of virtuous millennial clarity descended upon us. The bread chunks commingled with the avocado. Suddenly, I was eating avocado toast. In my salad. "Could we do this?" I mumbled, my mouth jammed with avo and carbs. "An avocado toast salad?!"
"YES," Haley cried, alight with the glow of hipster foodie glory. "WE MUST."
And so we did. Straight from Brewing Happiness x Kale & Caramel headquarters, we bring you everything you'd want on an ideal avocado toast in salad form—with mini avocado toasts in each bite.
We made you a video about it, too: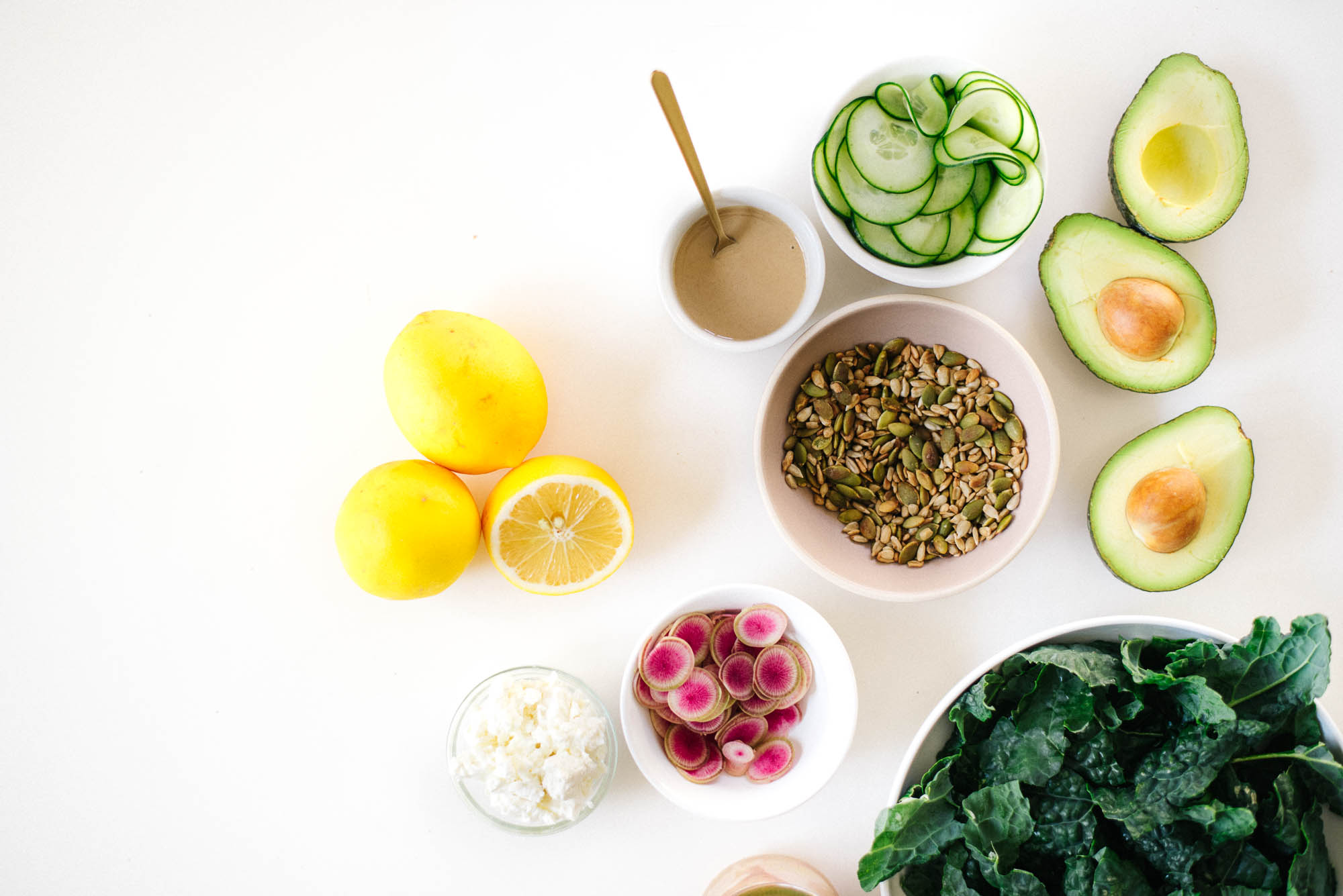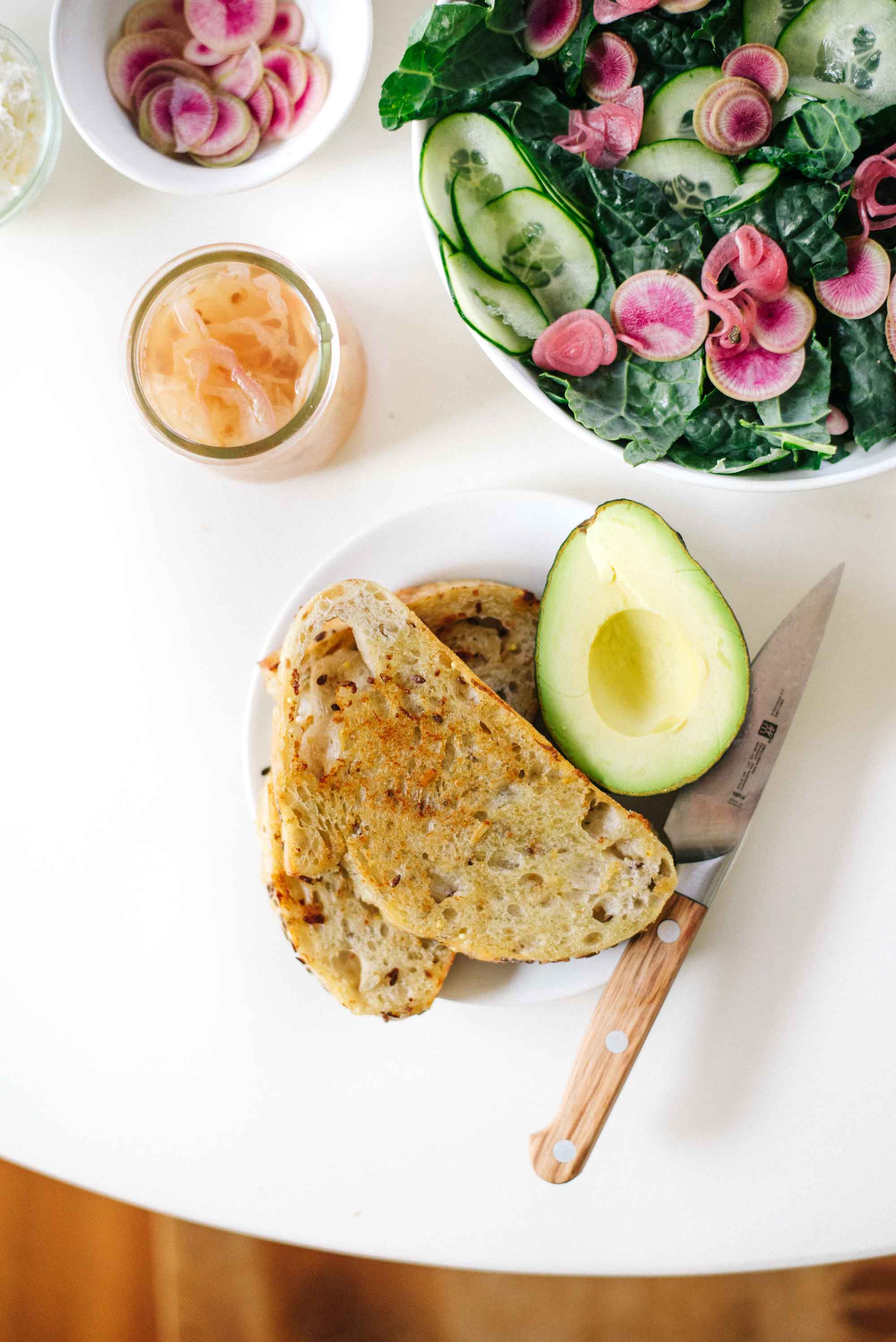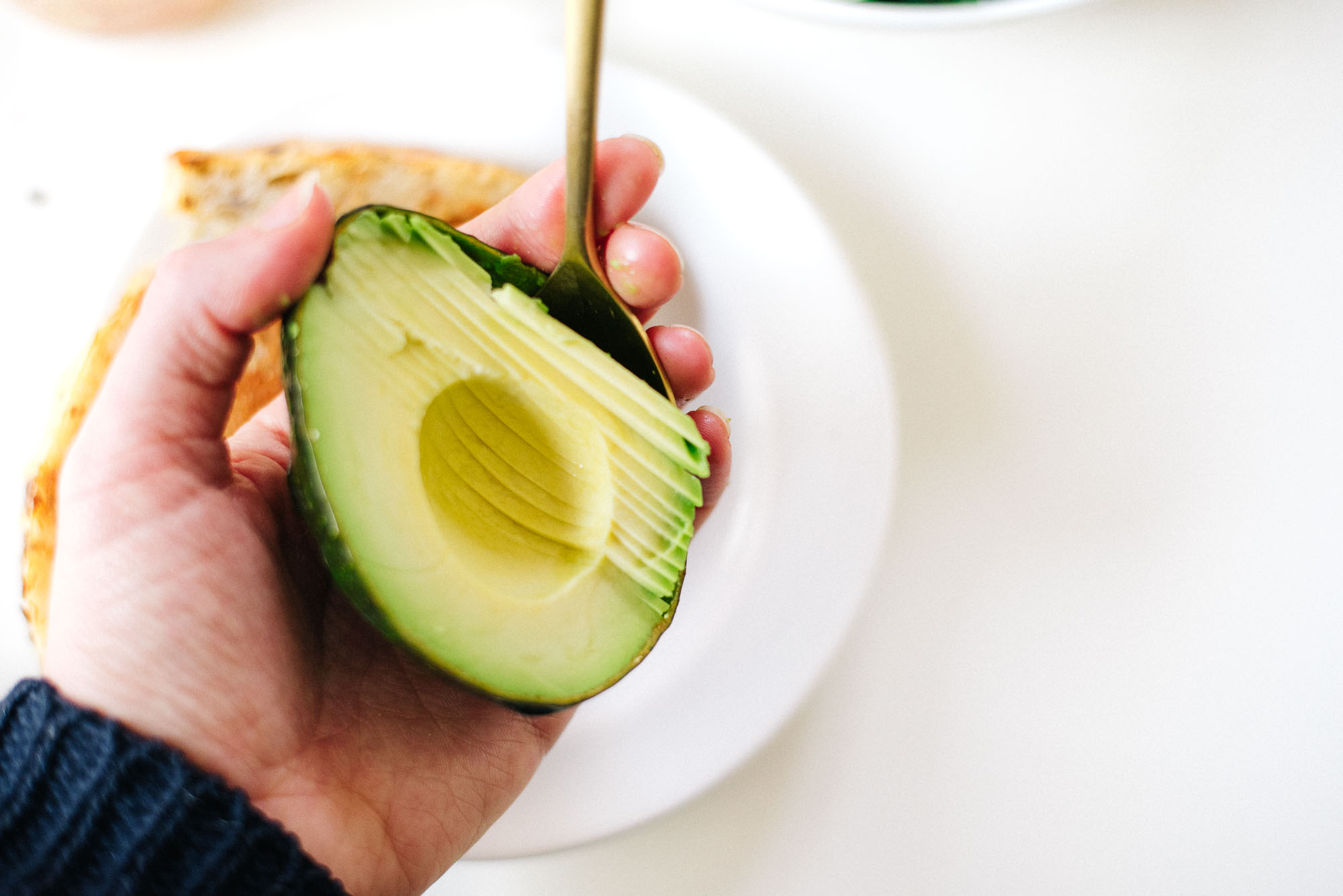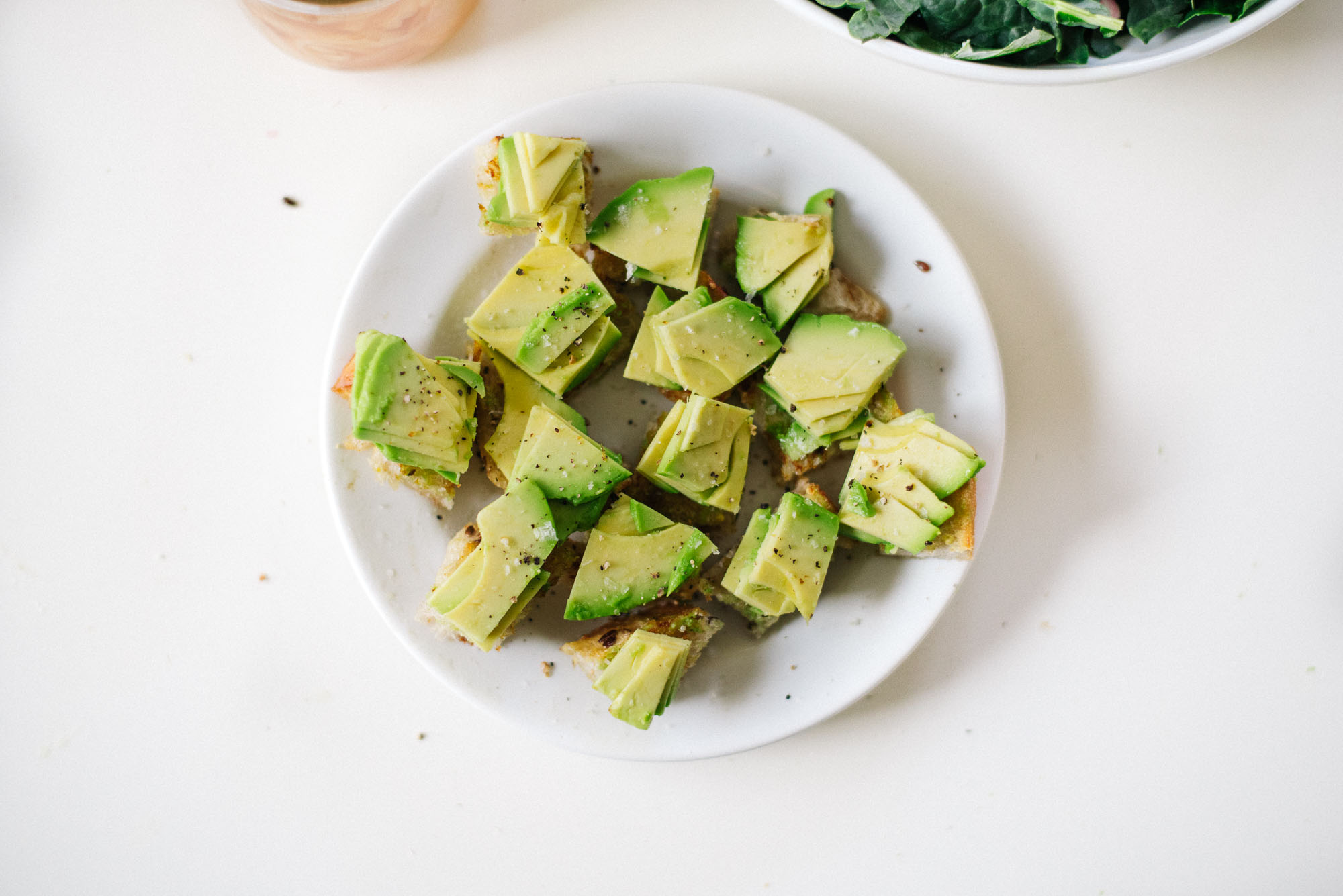 You know what to do with that video. Watch it a hundred times. Share it. Break the internet with your gosh darn Avocado Toast Salad™. Then go make one for yourself. You'll be so glad you did.
While you eat, let me tell you a little more about Maui. One of my best friends from college, Liba, was visiting Maui for the first time. Though she was a true saint of patience through the party prep and execution, I tried to squeeze in as much Maui magic for us as I could. Fresh off the plane, we jumped in the ocean and swam under a double rainbow (I know—I'm not kidding) as the sky alternately cleared and clouded over. That night, she gasped at the clarity of the stars in a sky the color of inky silk. It's extraordinary what you can see when it's truly dark out. It makes you want to be quiet. To listen. It bends you towards reverence.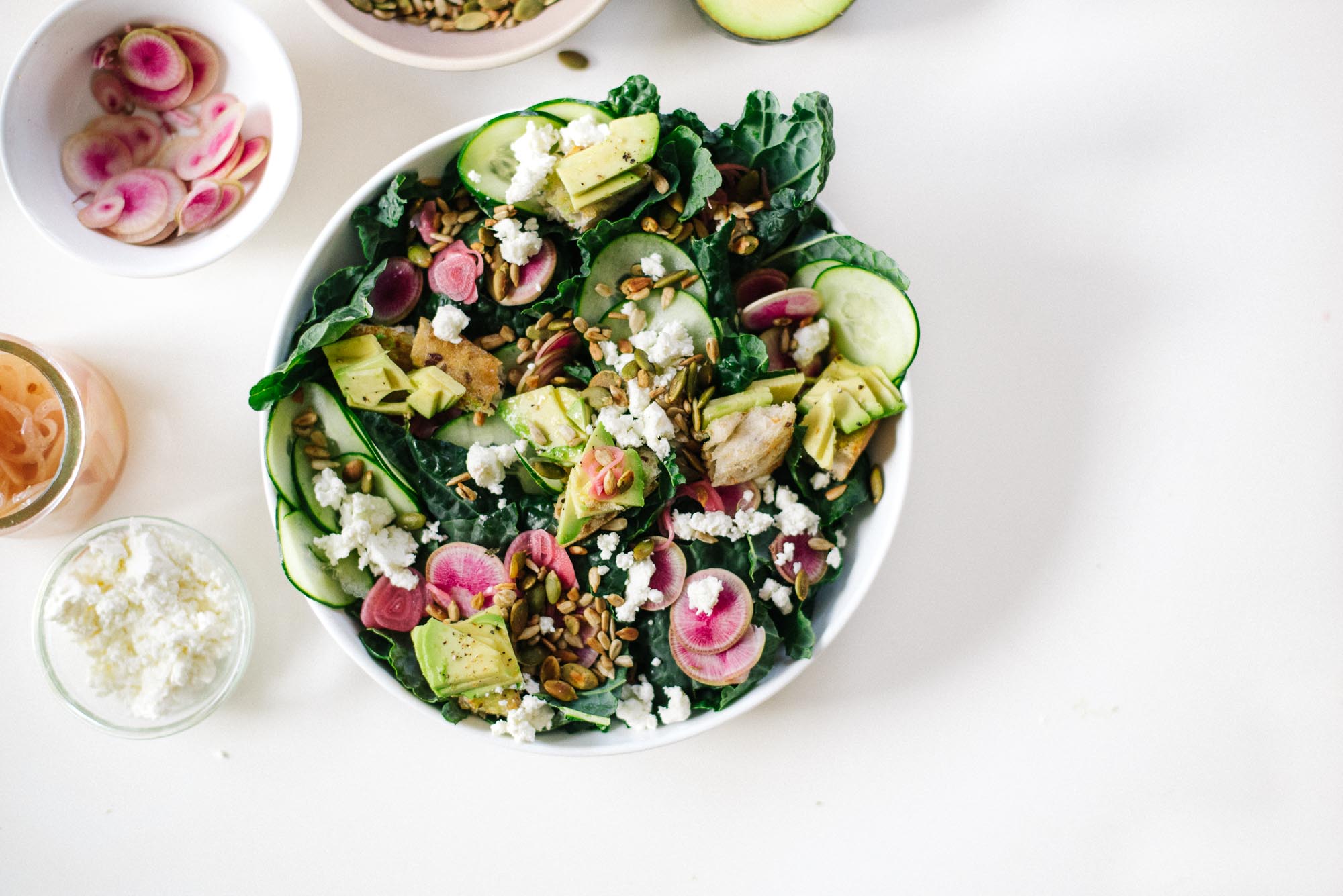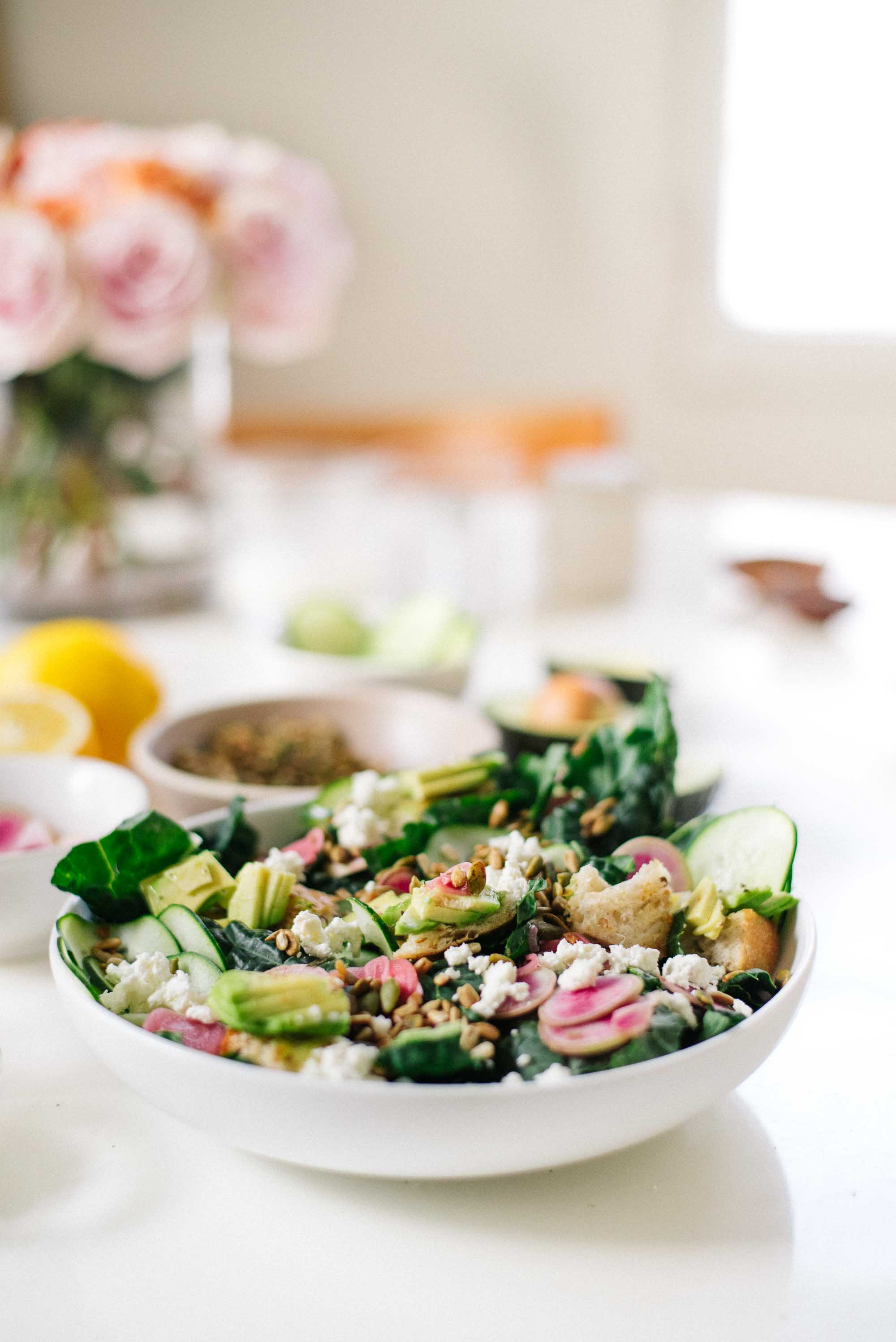 As the days progressed, we made inroads on other Maui favorites. Sunset on the beach in Wailea, hiking a stretch of muddy bamboo forest barefoot, watching stream waters rush in the sudden, flooding fury of life after rainstorm. And, of course, the gift of being out on the land where I grew up. Waking to birds in papaya trees and falling asleep to the bark of axis deer in the fields nearby. Experiencing Maui anew, through Liba's awe, is its own kind of beauty.
I have a few days left here, and though I'm sad Liba's already gone, I'm happy to have a couple extra days to celebrate my father. His eighty years inspire me. They feel like a prize, his health a beacon of hopeful possibility. His friends marvel that he almost looks better now than he did when he was fifty. Everyone wants to know his secret. If I ever find out, I promise I'll tell you. Maybe it has to do with the eight miles a day he walks (see above note re: Nordic walking sticks). Or the gratitude practice he does each day, naming and remembering what fills his life with good. Maybe it's the meditation, the beauty he surrounds himself with, the four prunes he has each morning with his green tea, or the occasional vodka martini at sunset. Perhaps it's just the spirulina. Whatever it is, I'm paying attention. May we all be so radiant at eighty.
Until I have the answer to his fountain of youth, I'm going to take a wild guess and say that this Avocado Toast Salad™ might just do the trick.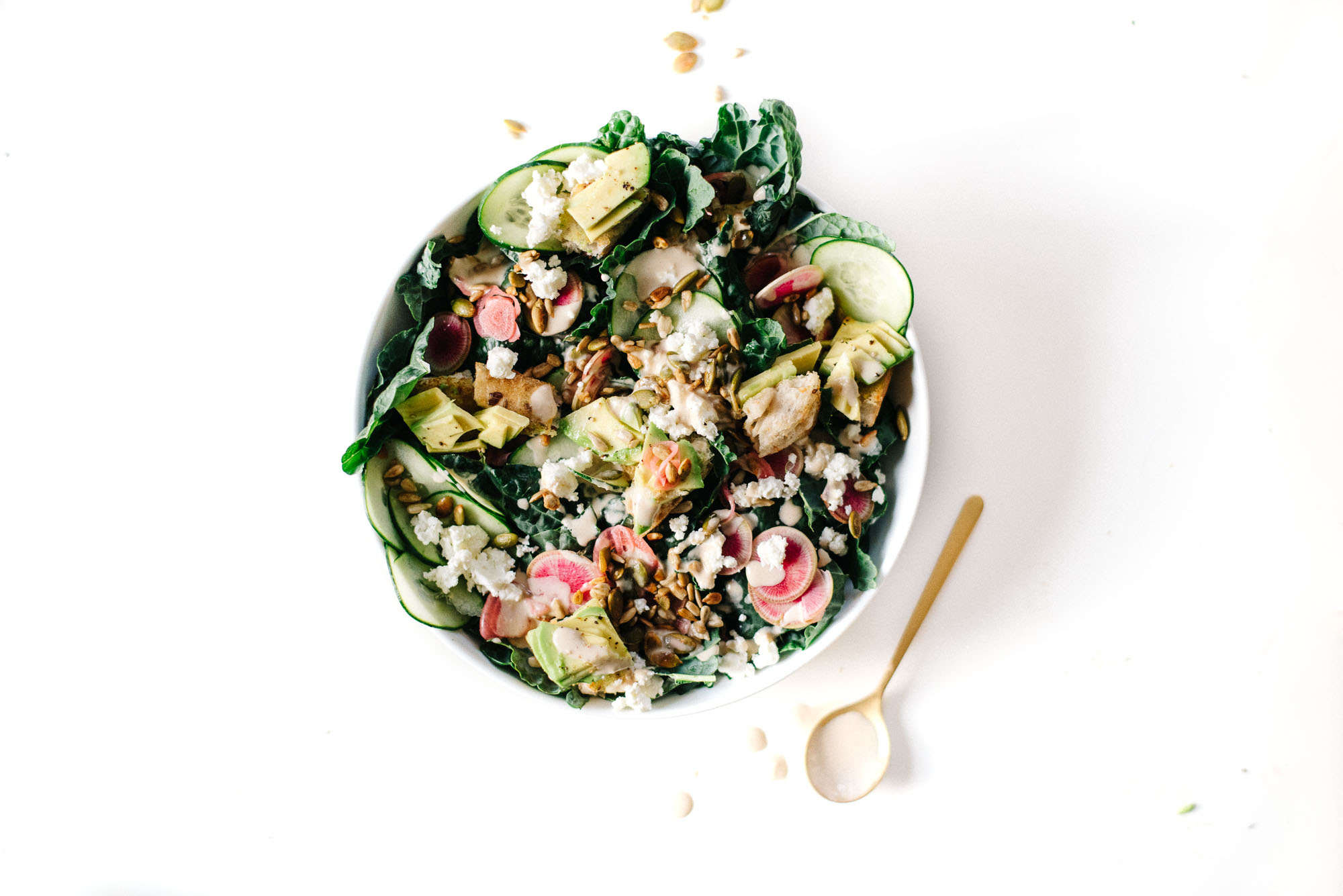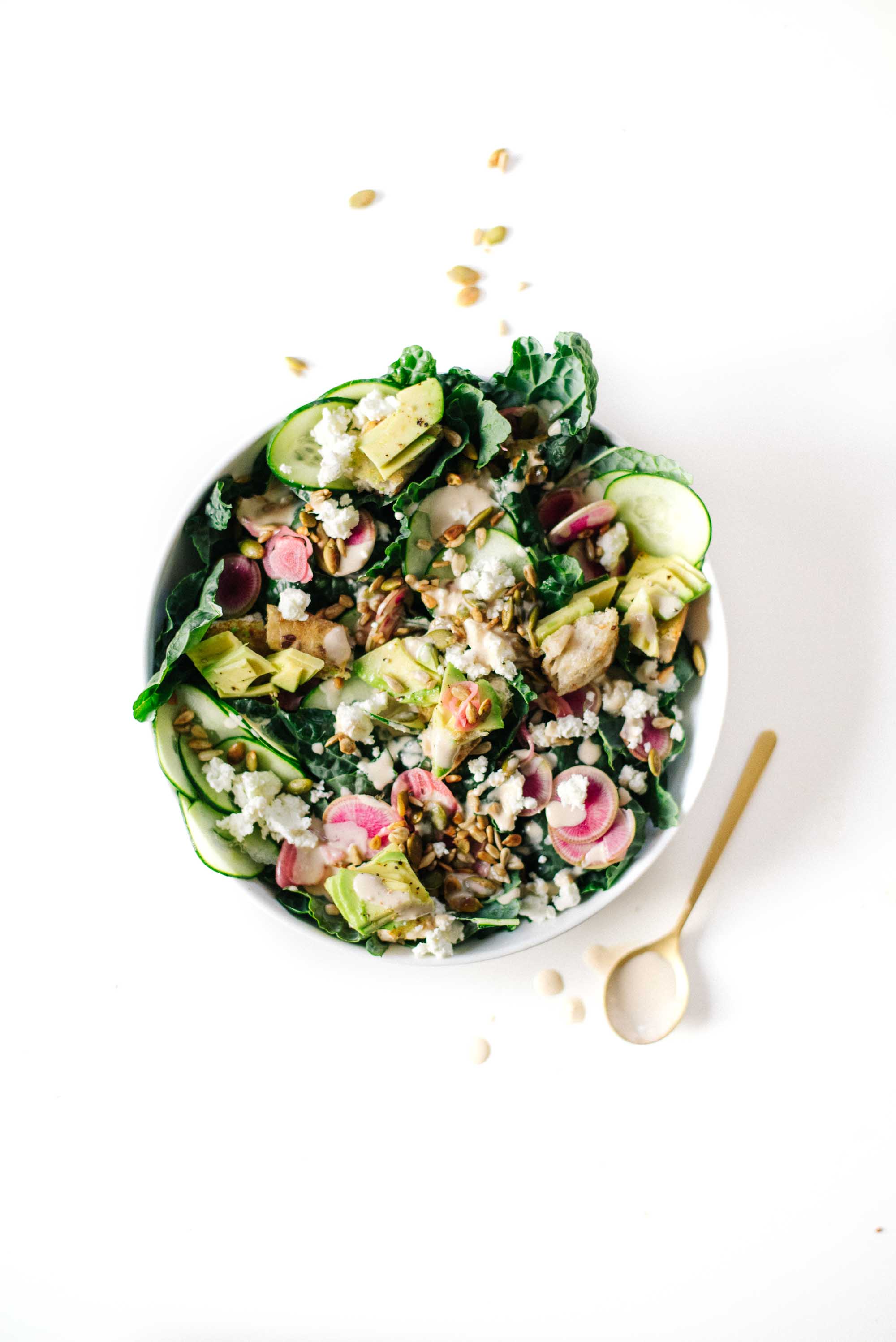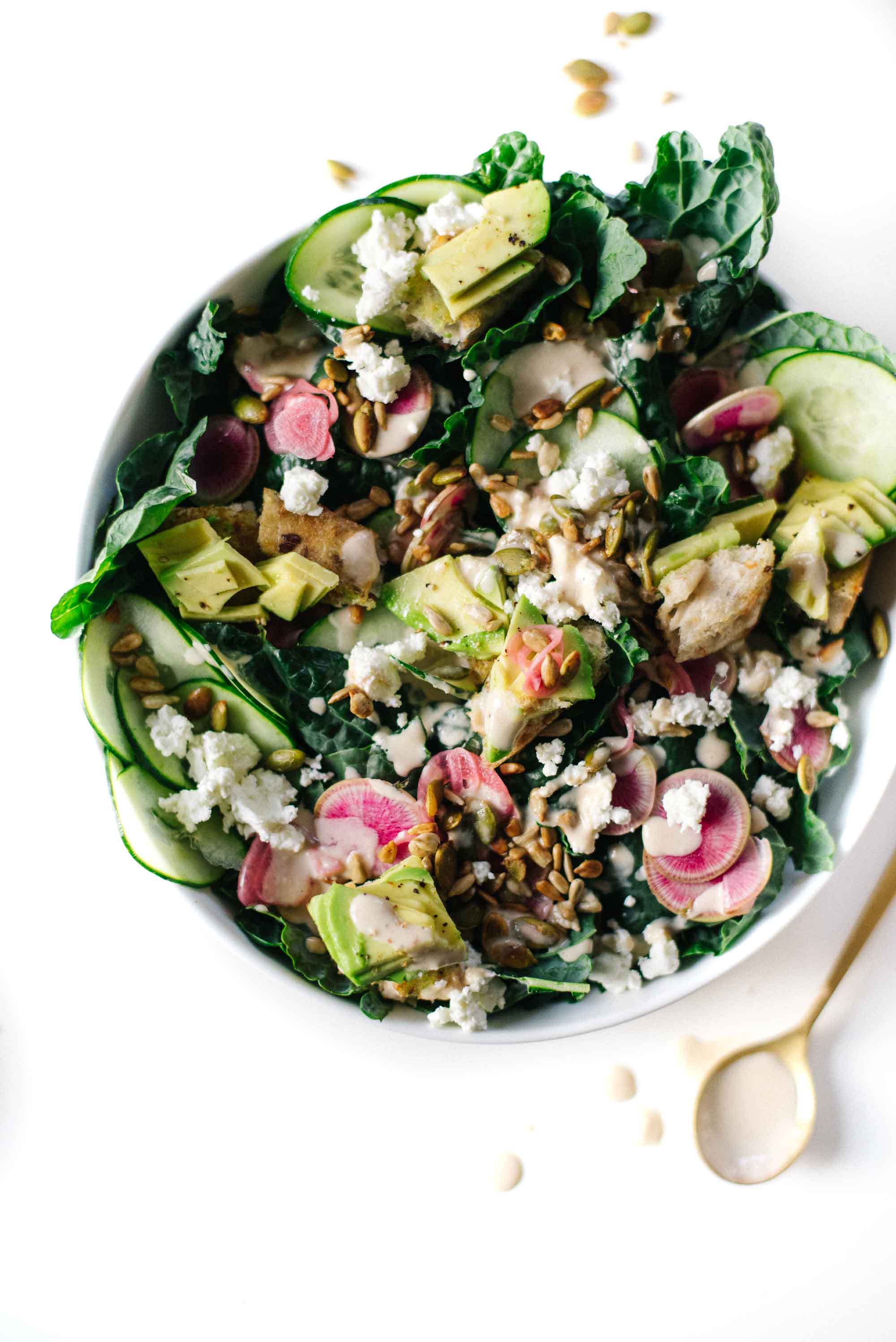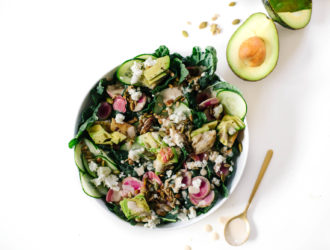 Avocado Toast Salad
You love salad. You love avocado toast. We bring you: Avocado Toast Salad! Packed with greens, radishes, cucumbers, pickled shallots, feta, toasted seeds, and lemon tahini dressing.
Ingredients
Quick-Pickled Shallots
2

small-medium

shallots, very thinly sliced

or 1 small-medium red onion

1/2

cup

water

1/4

cup

apple cider vinegar

1/4

cup

white vinegar or red wine vinegar

1/2

tablespoon

sea salt

1/2

tablespoon

sugar or sweetener of choice

1/2

tablespoon

whole coriander seeds, crushed

optional, or other seeds, like cumin or fennel
Toasted Seeds
1/4

cup

raw sunflower seeds

1/4

cup

raw pumpkin seeds

few

dashes

Braggs liquid aminos or tamari
Salad
2

slices

bread, 3/4" thick, toasted

1

small-medium

avocado

flaky sea salt and cracked pepper, to garnish

4-5

cup

greens of choice (I used dino kale, but you could use also use lettuce, arugula, or spinach)

1

tablespoon

olive oil, for massaging the kale (not necessary if using other greens)

1/3

cup

thinly sliced cucumber

1/4

cup

thinly sliced radish

1/3

cup

crumbled feta
Lemon Tahini Dressing
1/4

cup

tahini

6

tablespoons

water

2

tablespoons

fresh lemon juice

1

clove

garlic, grated or minced

1/4

teaspoon

sea salt, or more to taste
Instructions
Make the quick-pickled shallots at least 20 minutes before serving.
Pack the thinly sliced shallots into a 12- or 16-ounce glass jar. Set aside.

In a small non-reactive saucepan, combine the water, vinegars, salt, sugar, and crushed coriander seeds over medium heat. Bring to a boil, stirring occasionally. Remove from heat. Pour the brine over the shallots, making sure they're fully covered. Cool, then seal and refrigerate at least 20 minutes before serving.
Make the toasted seeds.
Toast the sunflower and pumpkin seeds in a small frying pan over medium heat until they begin to turn golden brown, 2-3 minutes. Remove from heat, and douse with a few dashes of Braggs liquid aminos or tamari. Stir to coat. Set aside.
Assemble the salad.
Make your avocado toast, topping toasted bread with smashed or sliced avocado. Sprinkle with flaky sea salt and cracked pepper. Cut into 1-inch cubes.

If using kale, gently massage the torn leaves with olive oil in a medium serving bowl. Add cucumber, radish, feta, avocado toast cubes, and toasted seeds.
Make the dressing.
In a glass jar or measuring cup, combine tahini, water, lemon juice, garlic, and salt. Whisk until smooth and homogenous. Drizzle the dressing over the salad a few tablespoons at a time so you can gauge sauciness, toss, stick a fork in it, and eat your heart out.