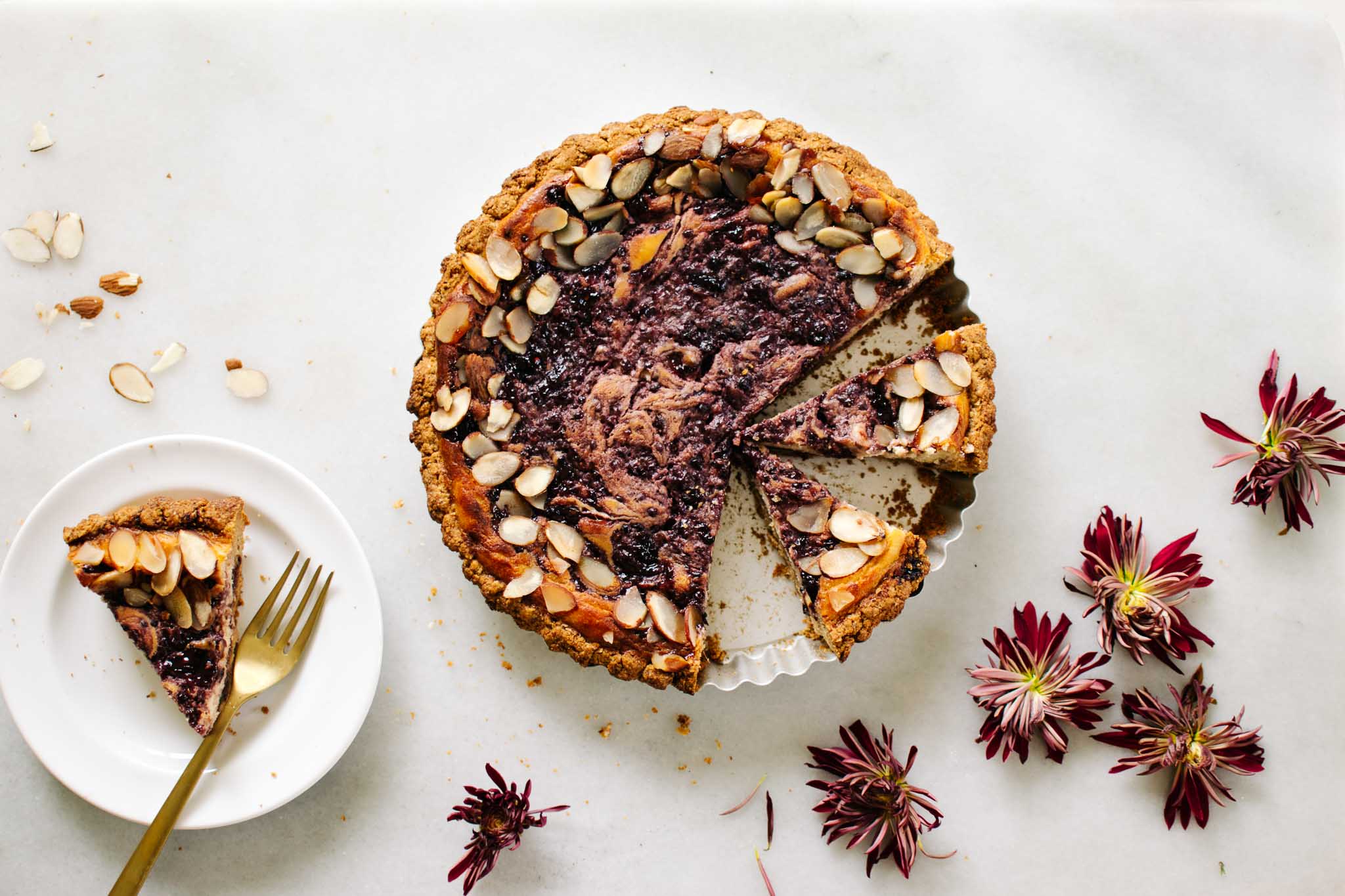 Jump to Recipe
I watched the Malibu coastline as long as I could before the plane arced itself away, towards an infinite expanse of ocean. It's a kind of obsession, the desire to live near the coast, to constantly remind myself of my tenuous place on earth, how easily I could slip: into the ocean, away from solid ground, off the continent, out of myself, into the unknown. This is my twentieth flight of 2017, and the flying, the traveling, the projecting myself away from the earth, has taken on a strange pleasure. There's a thrill in losing sight of the coastline.
I'm on my way to Maui, but last week, I was in the Midwest. It snowed in Chicago. We ate soup and made cornbread at Read It & Eat. I got to laugh with little Izzy, who's just learning to walk. And then I spent the week with my maternal family, many of whom I haven't seen for eleven years. Since then, my heart has broken three or four times, depending on the severity of the count. My mother has died. I've moved three times. I wrote two books and published one. I'm starting to notice white hairs where before they were burnt amber. I feel horribly old and terribly young.
I am in Indianapolis for a wedding, but I do not have a date. Or I do, but not the kind everyone thinks you should have. I'm traveling with my tenacious and loving Aunt Cathy, who I am getting to know all over again, or maybe for the first time. Her body is like my mother's, and their physical similarities hit me in strange moments, hard, so that it's difficult to breathe. I will myself to keep breathing.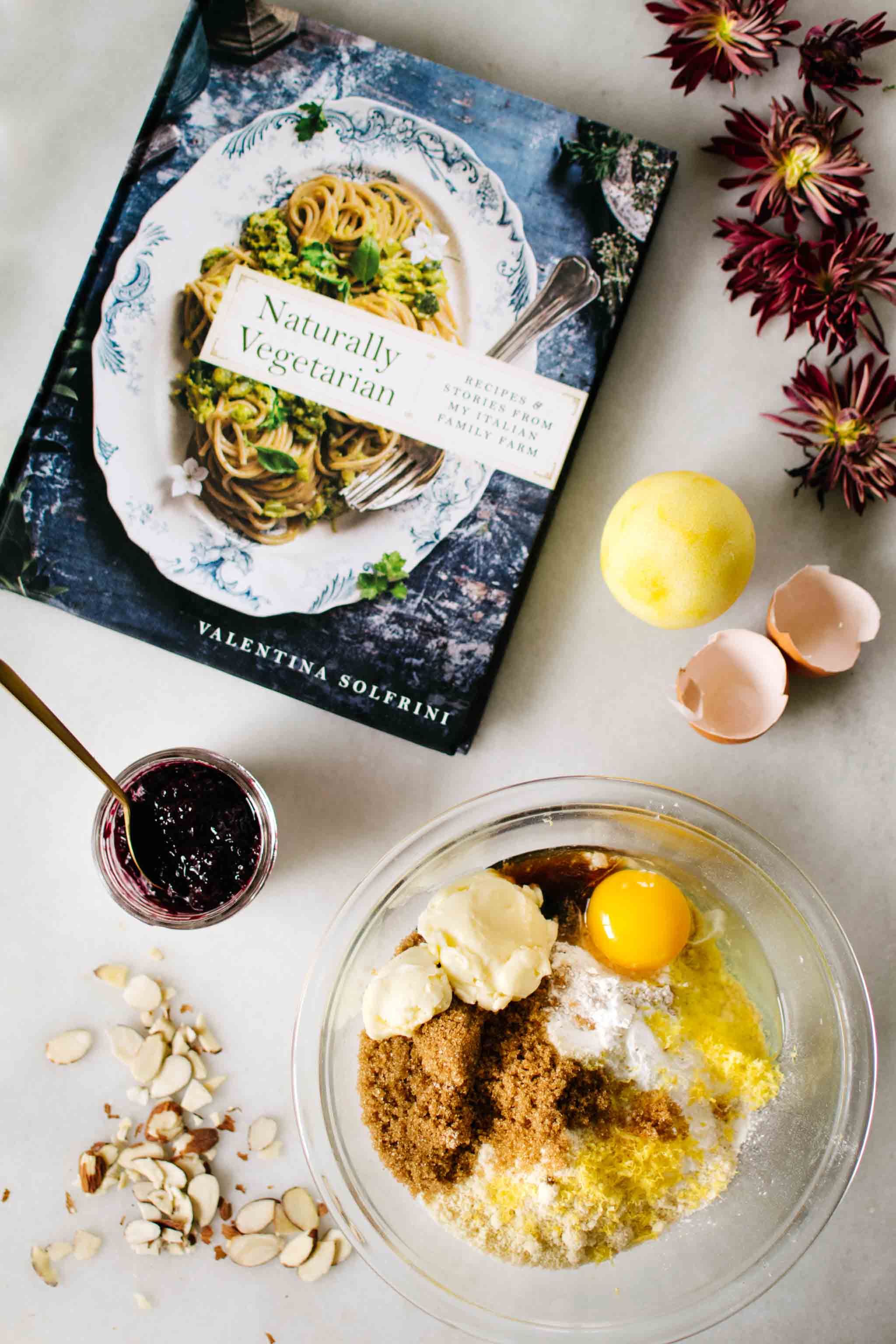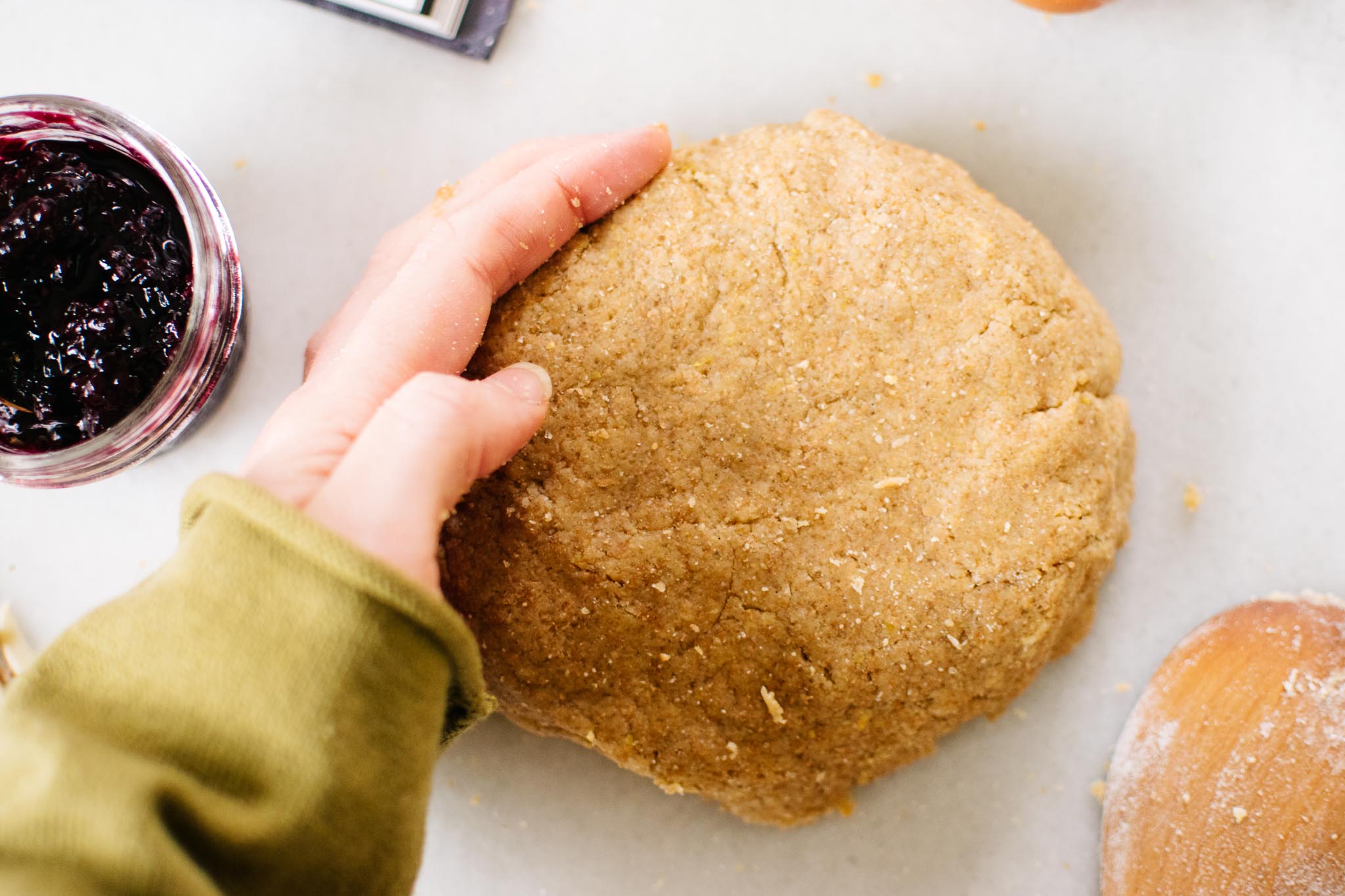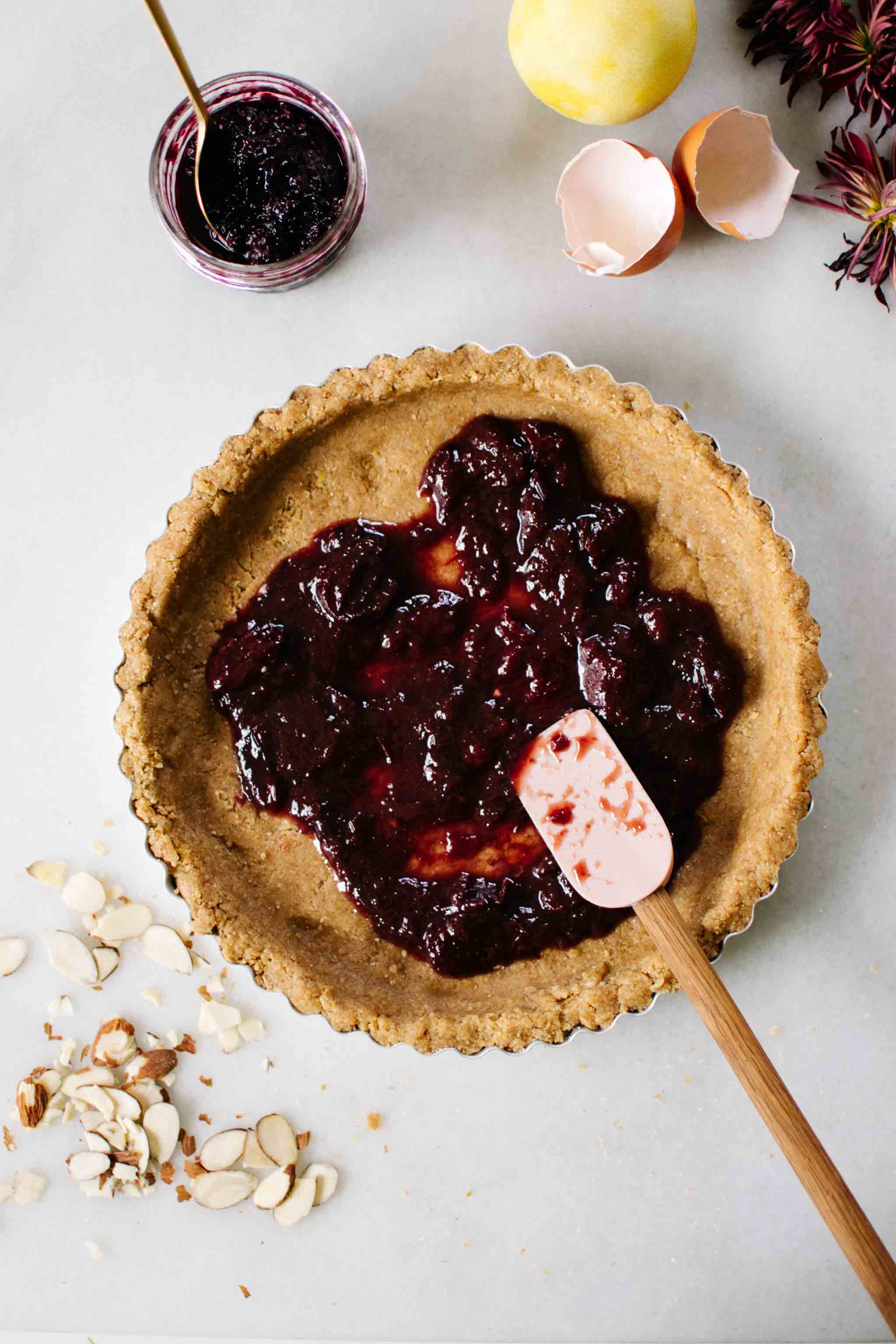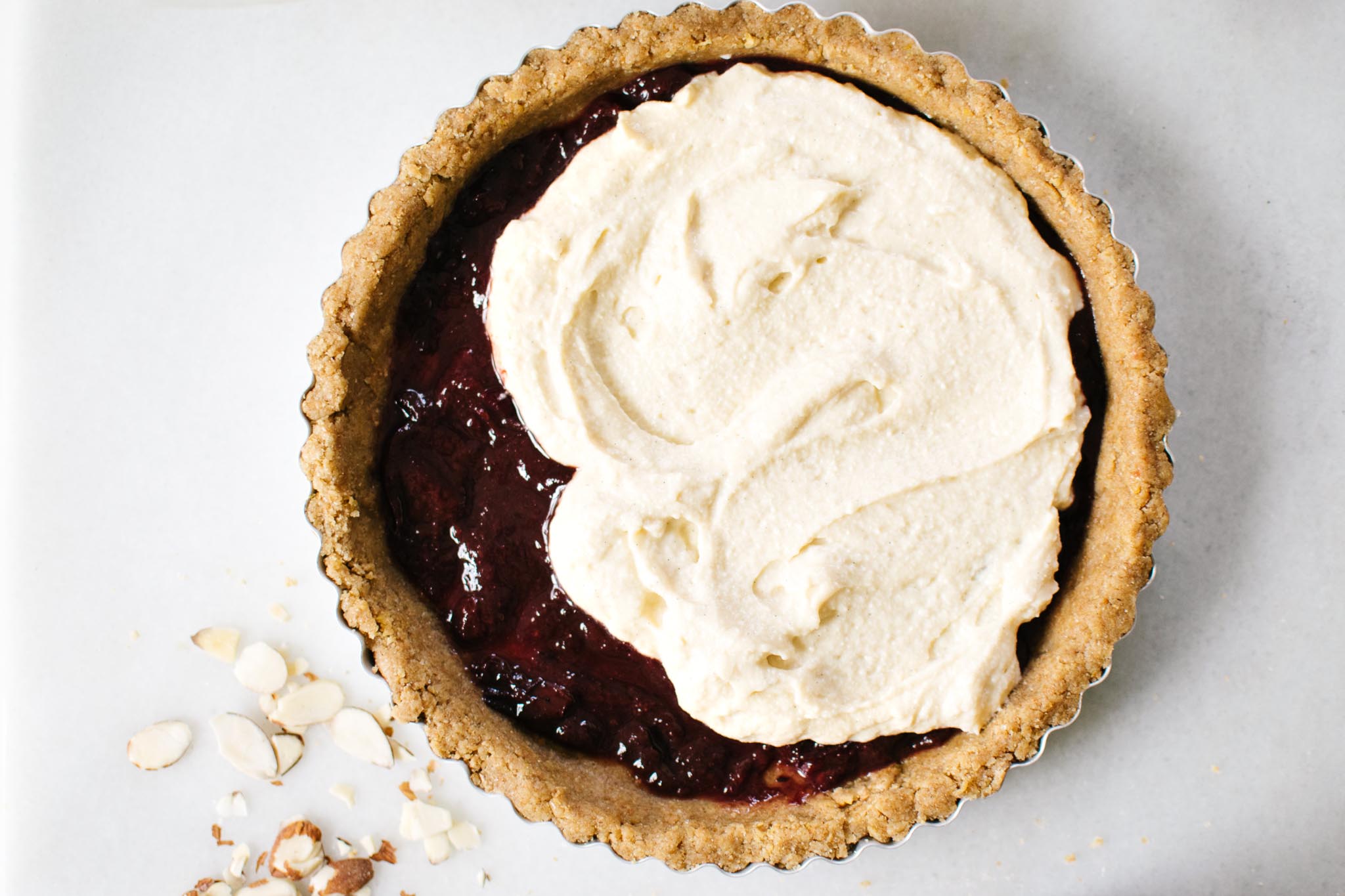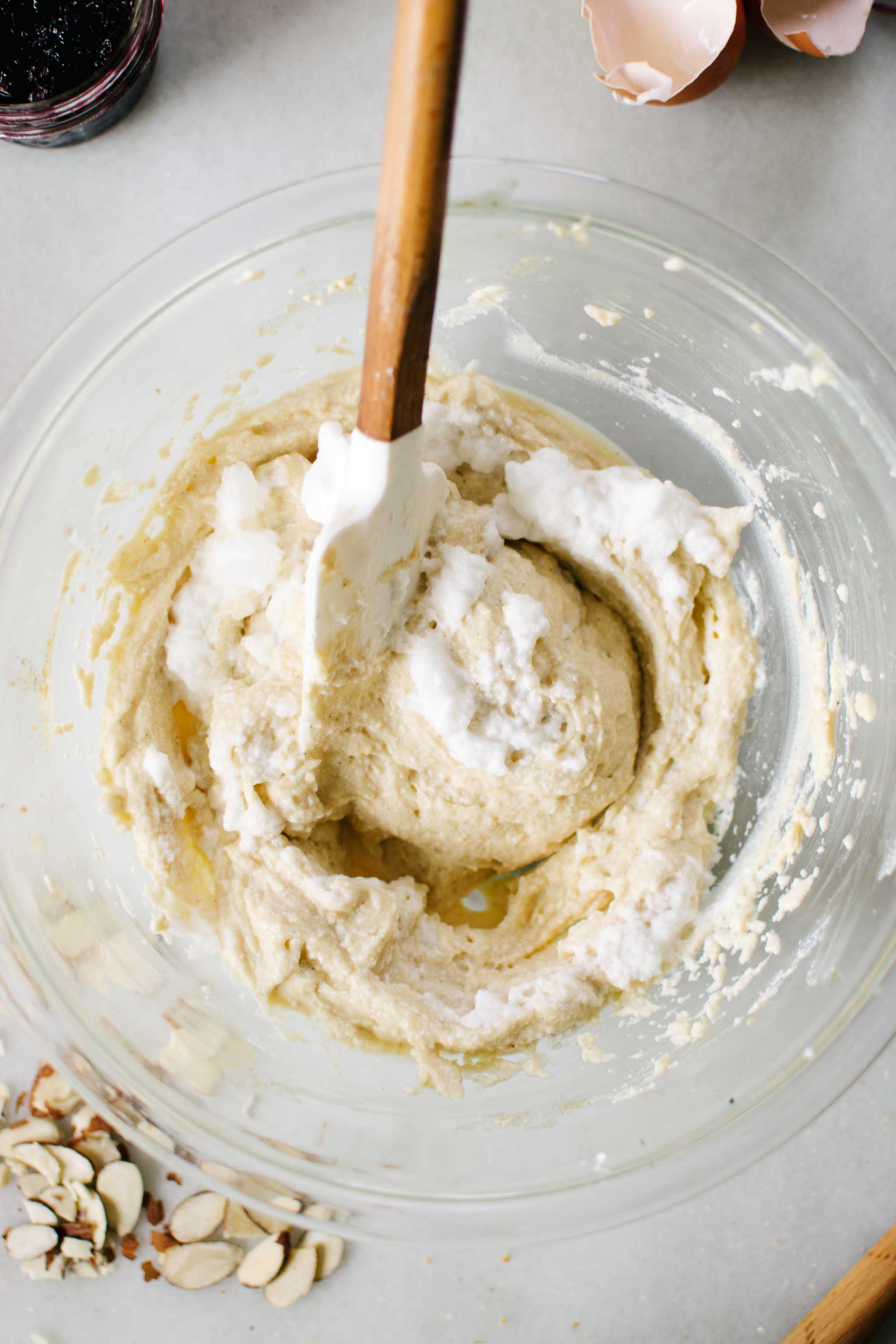 Before the wedding, though, I get five days of cousins. The cousins I grew up with, the cousins that made me believe I wasn't entirely alone despite living in the middle of the Pacific, that I did have family. It's Anne's thirtieth birthday and Beth's wedding and my book parties, and we do all we can to take care of each other in these five days. We have conversations we haven't had in eleven years. I meet the good, thoughtful, funny men they love. I find out what kind of birthday cake Anne wants—chocolate with chocolate frosting and sprinkles—and I make it. It's my first time putting sprinkles on anything, and it's true what they say—they do cast some sort of happy spell on me. We sing happy birthday together, and there is a heart glow that hovers around us, a happy making.
Later in the week, I spend the evening with Shelly and Sonja of Vegetarian 'Ventures and A Couple Cooks, at Traders Point Creamery, where the Indiana fields hold cows and barns and a pastoral sweetness that makes me never want to leave. We eat delicious food that the Creamery's chef prepared using recipes from our books, we meet kind people, we giggle when a woman shrieks in glee having found the chapter about sex in the Kale & Caramel cookbook.
It is cold in Indiana, and it wakes me up. I feel alert, my heart pumping to keep warmth circulating through my veins. I feel competent. I think about leaving Los Angeles, its heat and concrete and smog-white sky, as I have been for the past few months, but I don't know where to go. I remind myself to slow down, first. One thing at a time.
The wedding. Family. I get to be with my second cousins, a coterie of girls-now-women that, too, made me believe in family. Melissa, Alison, Rachael, Julie. Anne and Beth. These were the names by which I learned to be related. Now, we don't exactly know each other, but we want to love each other. We reach out. We throw our arms around each other. It feels good.
I pack hotel room welcome bags with Aunt Lynne and Uncle Dave, and we marvel at our assembly line efficiency, how much we can get done when we work together. After the bags are loaded with breath mints and Advil and maps of Indianapolis, we drink margaritas and eat guacamole and the groom's parents have hearts so big they invite me to stay with them in Boca. Why not? We are family now.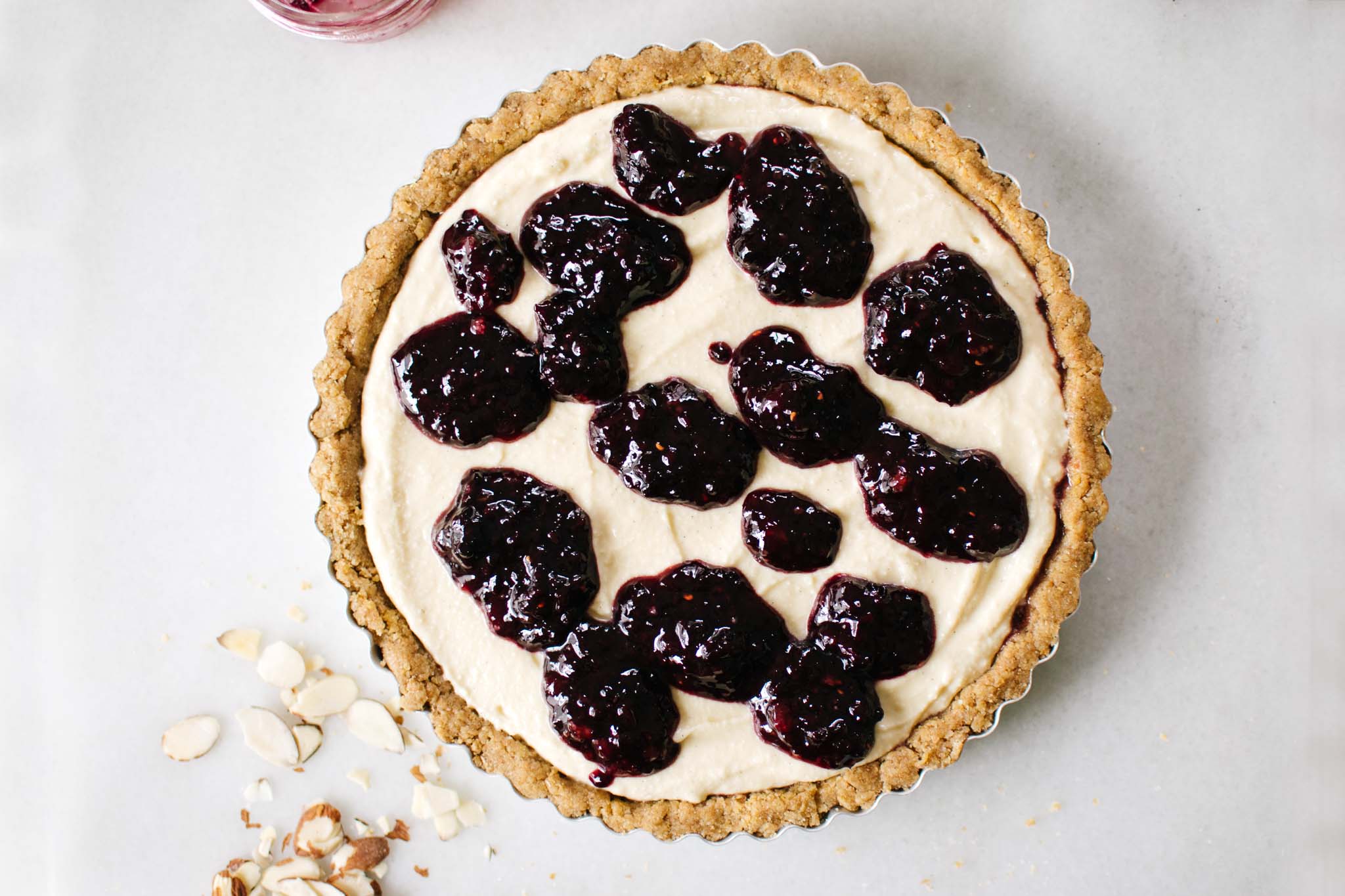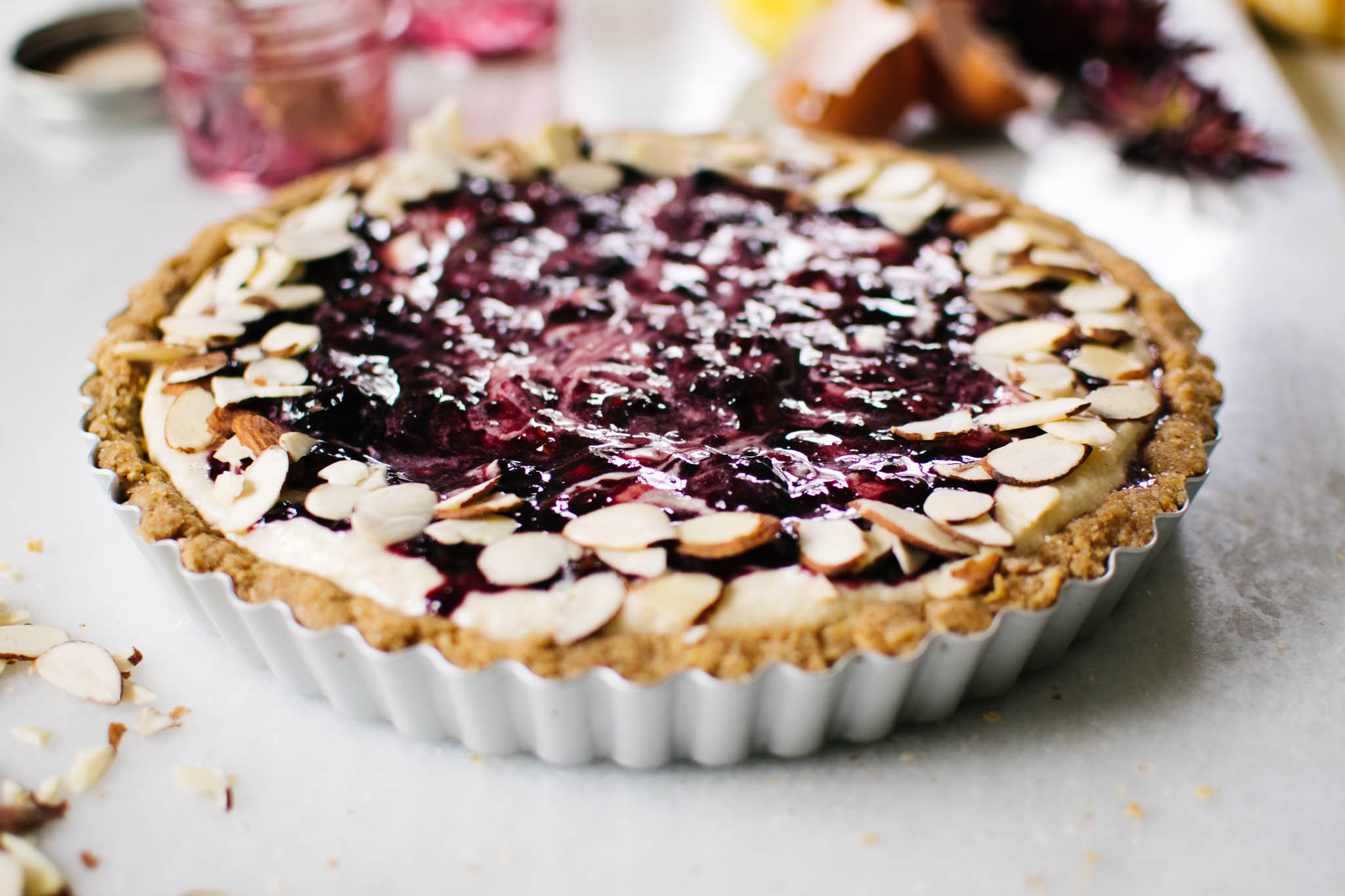 The day of the wedding, Aunt Cathy and I go out into the whipping wind of the thunderstorms rolling through the city. There isn't rain yet, so we walk an unexpectedly beautiful circuit of canals with umbrellas in hand, watching leaves rise into the sky like the outlines of autumnal ghosts. Nobody is out. We walk until the canal meets the river, and when we turn back, the rain comes. It arrives with a wind so strong it flips our umbrellas inside out, over and over again, so that we have to walk backwards and sideways to right them.
We keep going, though, me at 34 and Cathy at 75, willful in the face of it all. She turns to me during a break in the wind and says, "My father would be proud of us, out here." My grandfather, a great naturalist, died when I was six months old, but I imagine his pride as some sort of blessing that rises from the Indiana earth. This willfulness to be out in the cold and the wind, this is family, too.
The wedding is perfect, Beth a glowing bride, and I have only two days home in LA before I get on the plane to Maui for Thanksgiving. It's short, but it feels so good. For the first time in a long time, I want to be home. LA home. I missed it. I note the missing.
I make this gorgeous crostata, and it reminds me of the raspberry and almond linzertorte my mother used to make. This, though, comes from my friend Valentina's family, from her Italian kitchen, her own maternal legacy told through her new book, Naturally Vegetarian. She remembers using jam from her grandmother's fridge to make crostata as a girl; I, too, snuck jam from my grandma's fridge. I imagine Valentina in Italy and me in Indiana, each of us clutching jars of our grandmother's jam, eager for sweetness.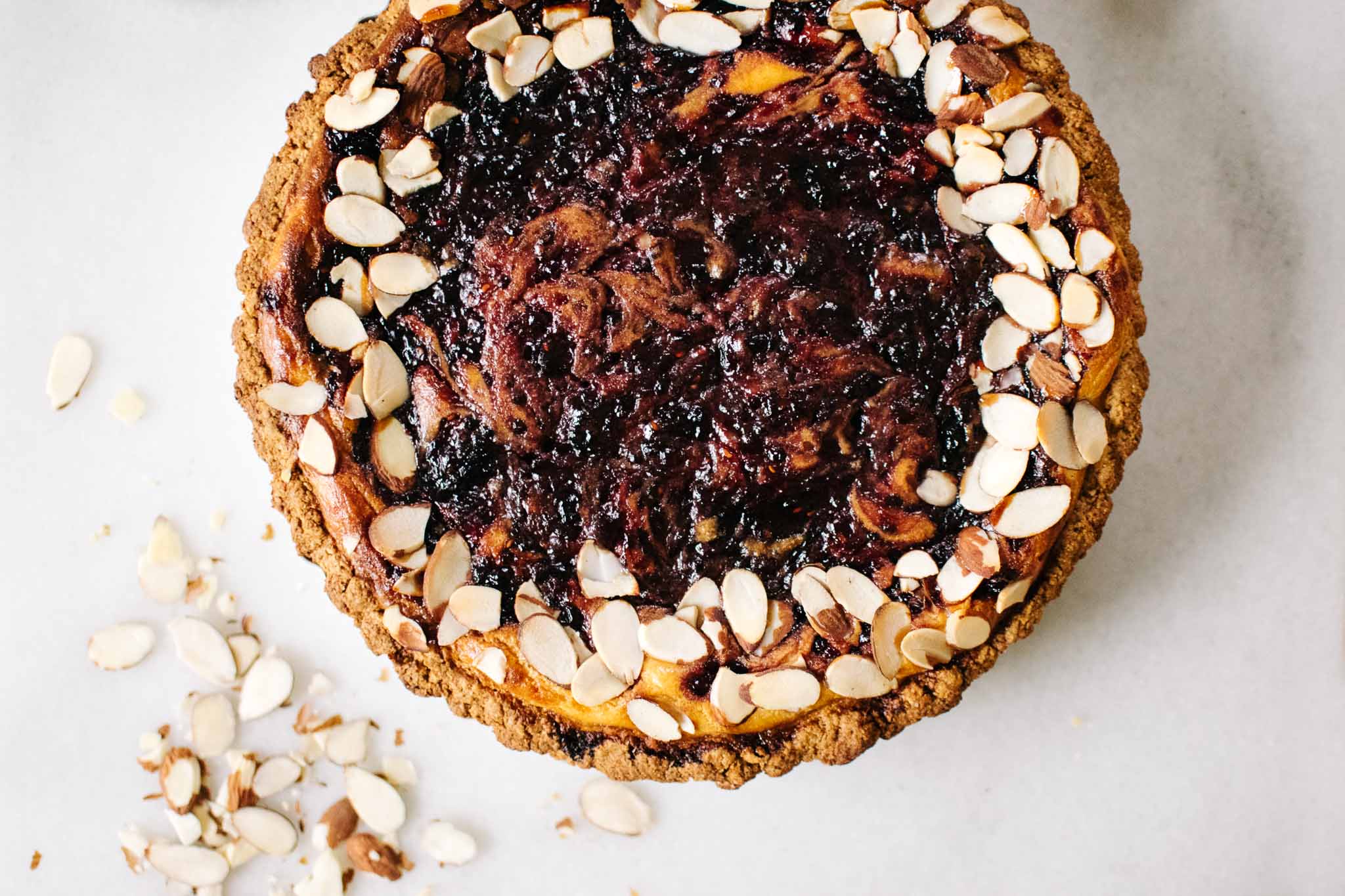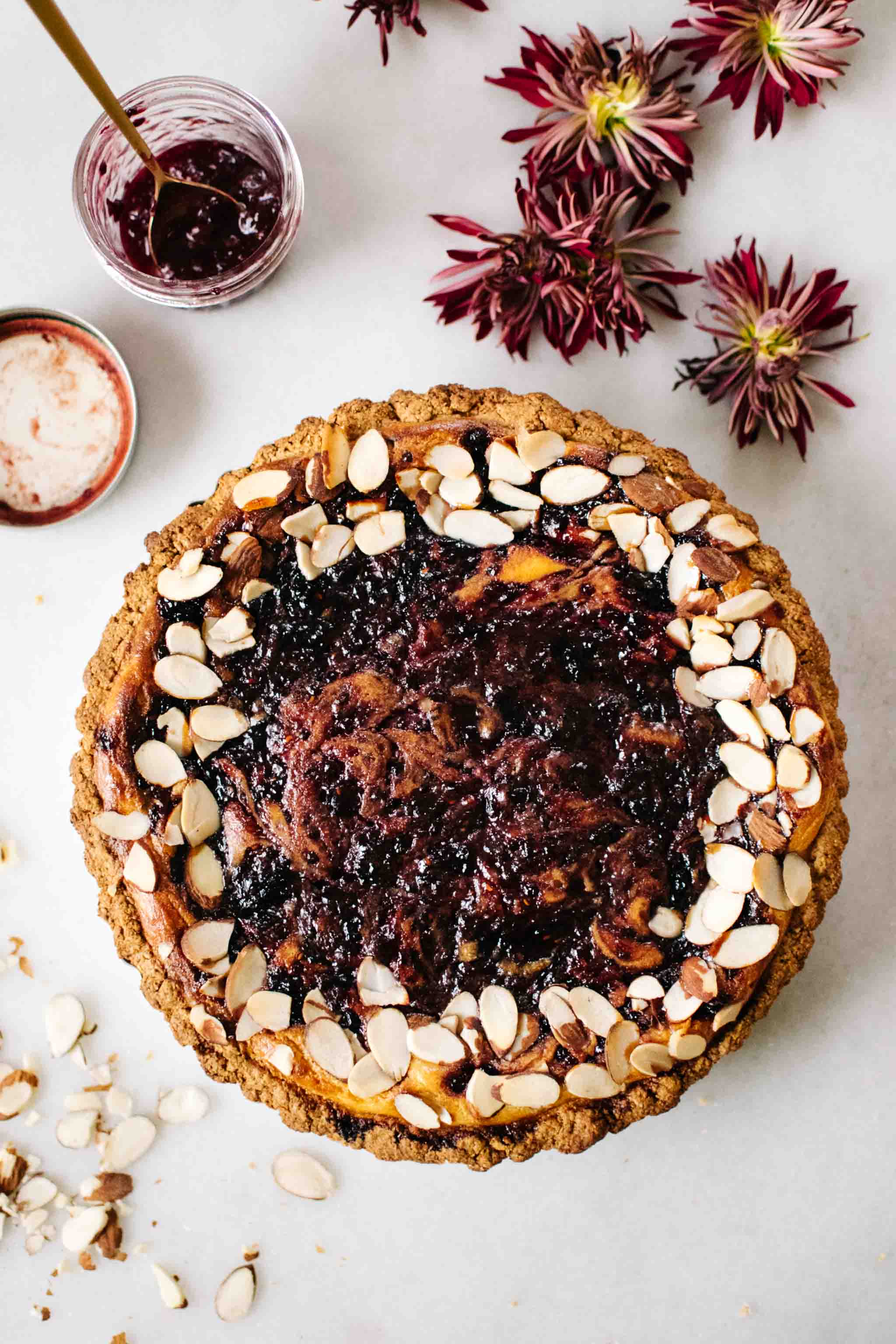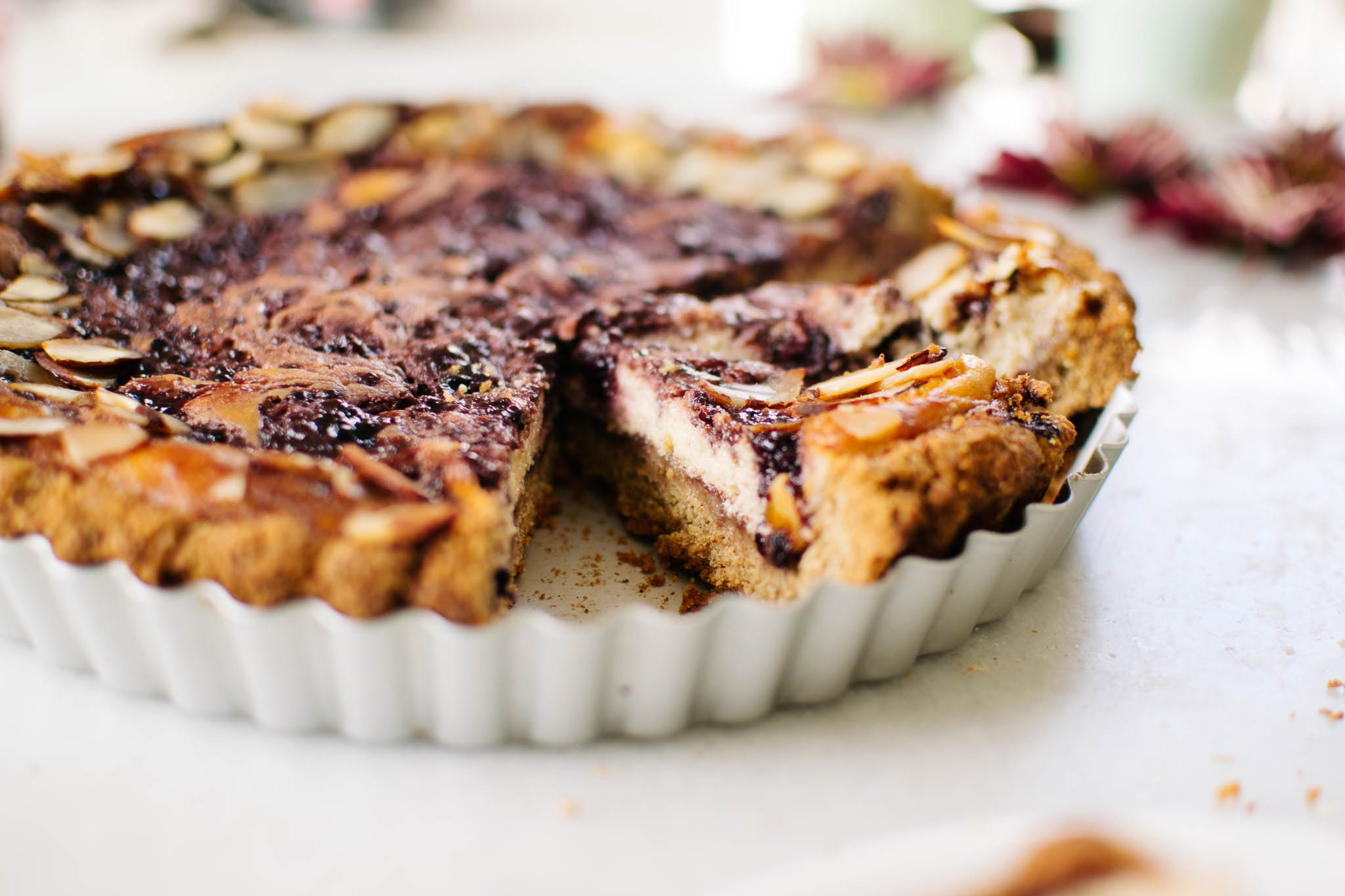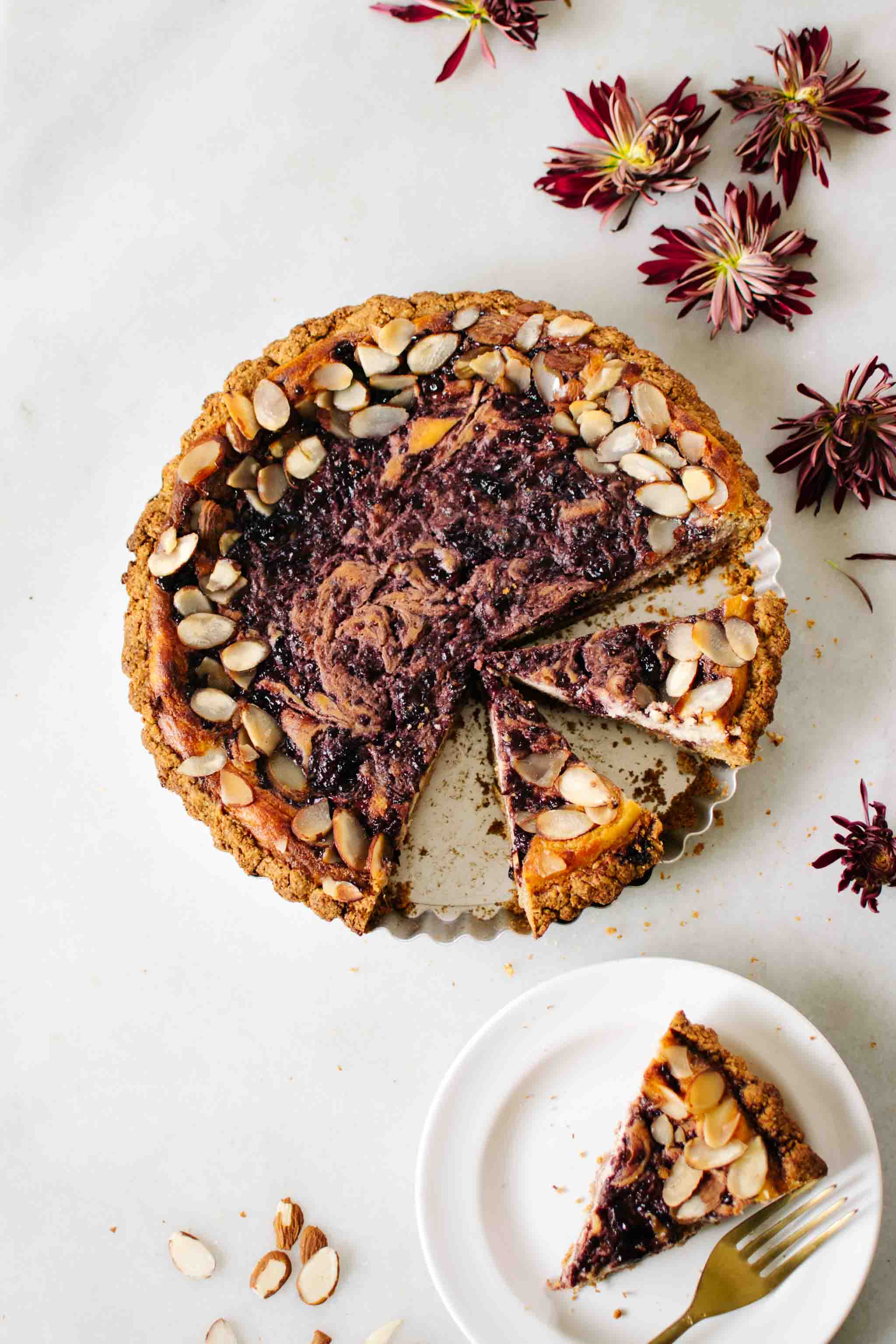 This crostata is from Valentina's extraordinary book Naturally Vegetarian, which I had the privilege to get a very early copy of, months before its release in November. The book instantly took my breath away. Valentina understands the sacred relationship between home and land and family and food, and her book is a testament to that knowing, told through the pristine beauty of Northeastern Italy. This book will transport you to family, to the Italian countryside, to sweetness. Start with this crostata.
I'm sending love from Maui. From my island family to you.
ALMOND CROSTATA WITH RICOTTA & JAM.
Makes one 10-inch crostata. Reprinted from Naturally Vegetarian by arrangement with Avery Books, a member of Penguin Group (USA) LLC, A Penguin Random House Company. Copyright © 2017, Valentina Solfrini.
Ingredients
For the crust:
½

cup (2.8 oz/80 g)

whole-wheat flour (see Note)

½

cup plus 1 tablespoon (2.8 oz/80 g)

rice flour

½

cup plus 3 tablespoons (2.5 oz/70 g)

almond flour

3

tablespoons (1 oz/30 g )

potato starch

½

cup (3.5 oz/100 g)

packed dark brown sugar

1

teaspoon

baking powder

½

teaspoon

baking soda

3

tablespoons (1.4 oz/40 g)

cold unsalted butter

1

large egg

1

teaspoon

vanilla extract

Grated zest of 1 small lemon

Almond milk or nondairy milk

if needed
For the filling:
1

large egg

separated

¼

cup (1.7 oz/50 g)

packed dark brown sugar or honey

1

teaspoon

vanilla extract

1½

cups (10.5 oz/300 g)

fresh ricotta cheese

1½

cups (375 ml)

cherry jam, strawberry jam, or any other jam you love

a handful almond slivers

to garnish
Instructions
Make the crust: Combine the whole-wheat flour, rice flour, almond flour, potato starch, brown sugar, baking powder, baking soda, butter, egg, vanilla, and lemon zest in a food processor and process until the dough comes together. (You can also make the dough in a bowl and just knead it with your hands.) Scrape it out and knead it briefly to incorporate any flour that may not have been combined. If the dough is crumbly, add milk by the teaspoon until it comes together. The dough should feel wet but not really sticky. Let it rest for at least 30 minutes, or prepare it the night before and refrigerate.

When ready, press the dough evenly into a 10-inch (25 cm) tart pan and set aside in the fridge while you prepare the filling.

Make the filling: Combine the egg yolk, brown sugar, and vanilla in a medium bowl and beat the mixture in a stand mixer or with a handheld mixer for at least 5 minutes, or until the mixture is foamy and has tripled in size. Add half the ricotta and beat. Add the remaining ricotta once the first half is creamy and smooth.

In another clean, dry bowl, beat the egg white until stiff. Mix one-third of the egg whites into the ricotta mixture and, once fully incorporated, gently fold in the rest.

Preheat the oven to 350°F (180°C).

Take the crust out of the fridge and spread ½ cup (125 ml) of the jam on the bottom. Spread the ricotta mixture on top, then dollop on the rest of the jam and marble it with the spoon or spatula you are using. Sprinkle with almond slivers and bake for 35to 45 minutes, until the ricotta is set and the crust is golden (cooking time depends on your oven).

When the crostata is ready, the crust willfeel soft to the touch and it might seem undercooked, but if it has browned on top it is done. If you leave it in the oven too long, it might turn a little tough. Test it with a toothpick and, if the toothpick comes out dry, it is ready. Turn off the ovenand let it set for5minutes more before removing.

Wait for it to cool before unmolding and slicing, as crostata is very crumbly when hot.
Recipe Notes
You can substitute the whole-wheat flour with fine polenta meal to make a gluten-free version.