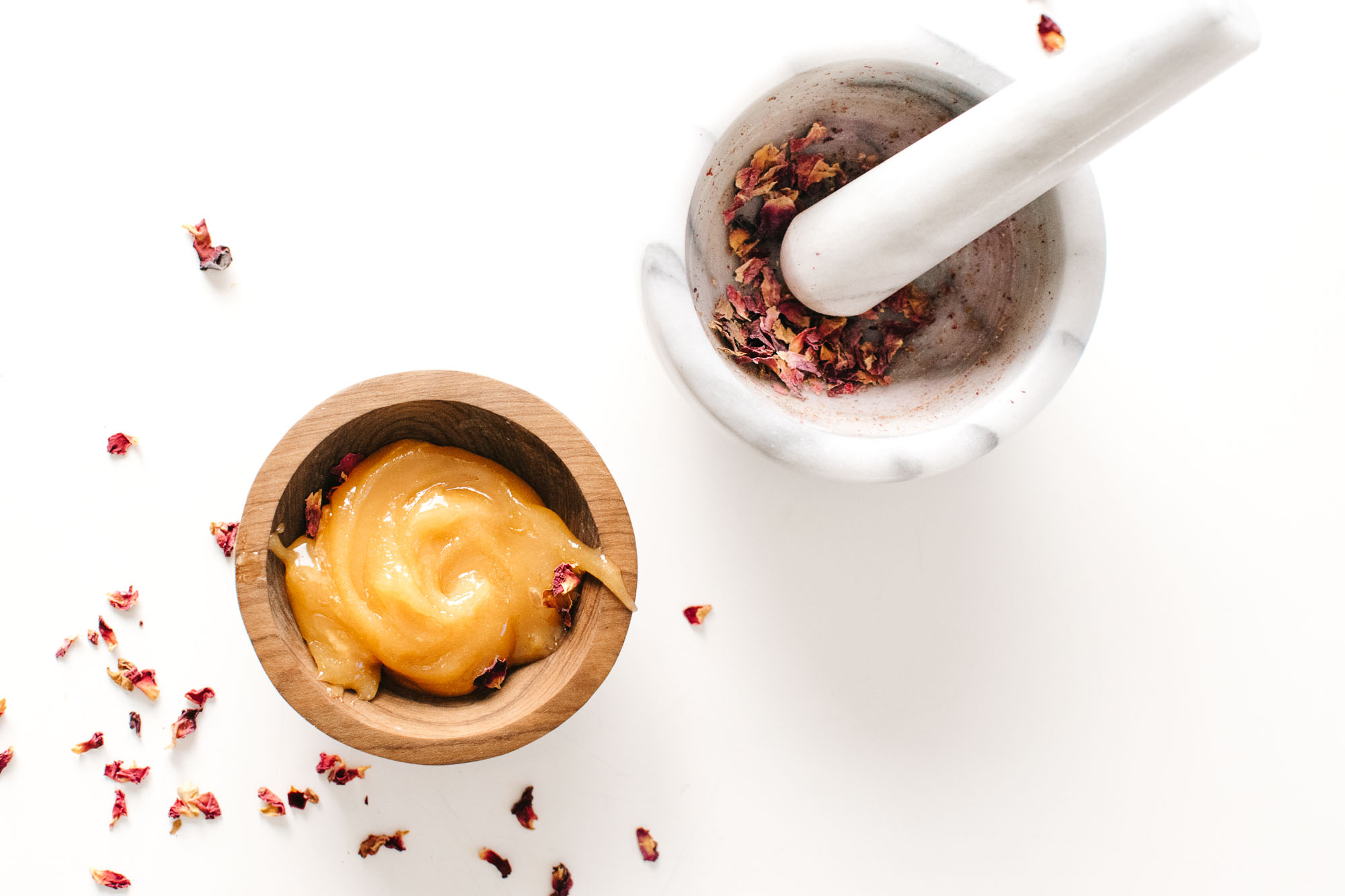 Jump to Recipe
I've been washing my face with raw honey for the past decade. It's a self-care practice that completely changed my life and my skincare routine—it eliminated breakouts, irritation, and dry skin, and radically decreased the amount of money I was spending on facial cleansers, toners, and moisturizers. I first mentioned honey face washing two years ago in the Modern Girls Guide to Being an All Natural Bad-Ass, and wrote about it extensively in the Kale & Caramel cookbook.
There's a recipe for a honey rose facial cleanser in the book, and I've got numerous honey masks on K&C (spirulina! lavender honey brightening!), but what's going down today is honey washing 101: the pure basics of why and how I wash my face with honey.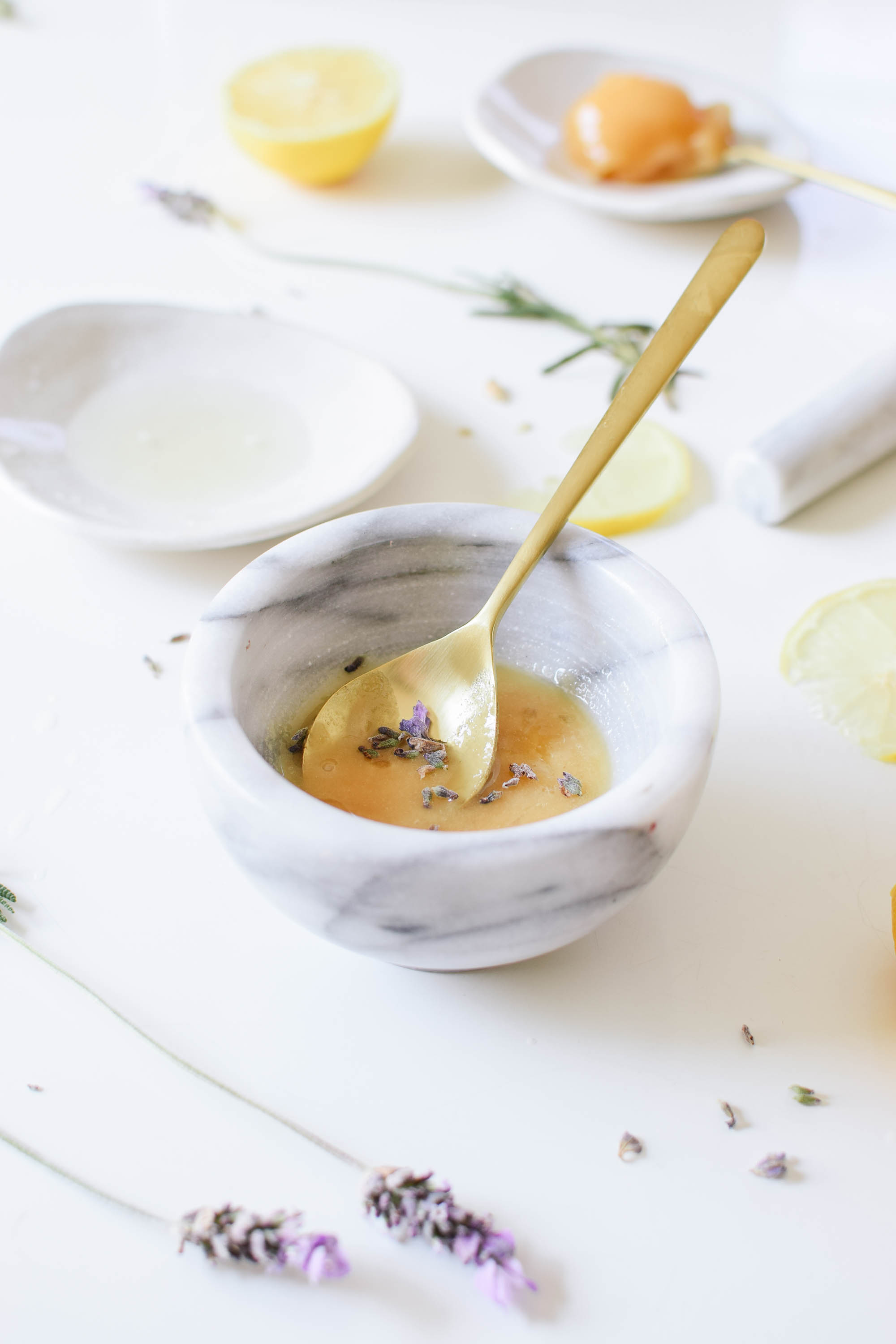 THE WHY
In 2008, I got a facial from an aesthetician named Anat Leavitt. Before I left, she asked me about my skincare routine. "I use a natural cleanser and a face oil," I replied. Even then, my skincare regimen was very basic—I've never been one to fuss or spend too much on products. In part, this minimalism comes from my upbringing: My mom was an aromatherapist and herbologist and I learned young the benefit of using food-safe skin products. In other words, as much as possible, I avoid any product that has ingredients I wouldn't eat. After all, the skin is the body's largest organ. What goes on your skin goes directly into your bloodstream, your organs, and your body's biochemistry.
To that end, I was intrigued by Anat's suggestion that all I needed to cleanse my skin was honey. I couldn't imagine the sticky, sweet stuff being fun to wash my face with, let alone effective. When I voiced my doubt, here's the rundown Anat gave me:
Honey is a natural antibacterial agent;
Honey is a natural preservative (aka, anti-aging agent);
Honey is both slightly astringent and humectant (moisturizing), helping to regulate the skin's production of sebum (our skin's naturally occurring oil);
Honey preserves the skin's acid mantle and regulates the skin's pH.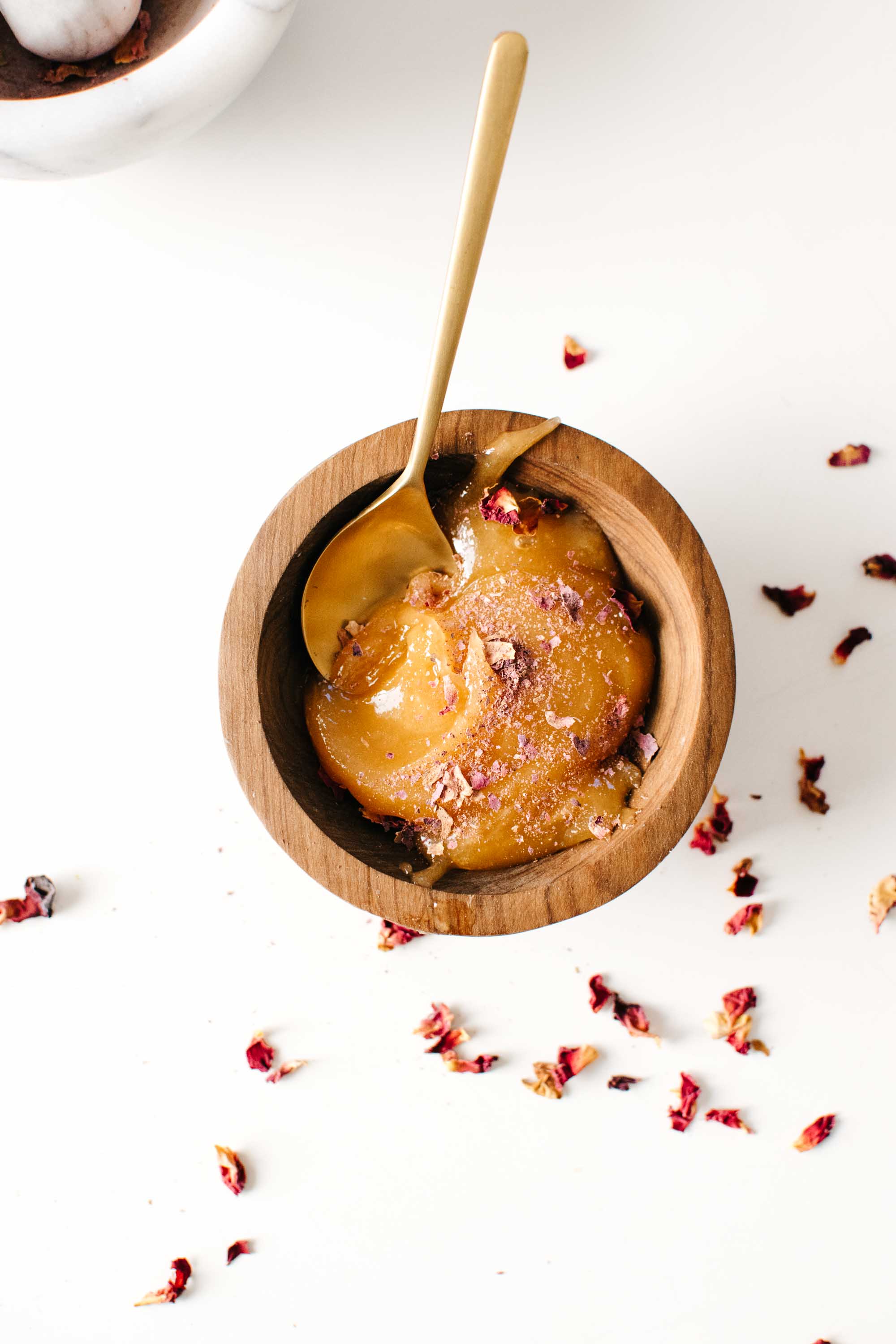 Needless to say, I was intrigued. Anat sealed the deal by telling me that my sensitive skin needed to be treated in the same basic way one would treat a baby's skin. It didn't need to be aggravated with harsh cleansers, acids, or exfoliators. It just needed to be taken care of, using the same ingredients with which I nourished my inner biome. I decided to give it a go.
Ten years later, I've become a honey washing evangelist.
If you have any severe or chronic skin conditions, please consult a dermatologist before trying a new skincare routine, including this one. That said, I've corresponded with numerous readers who've come to the end of their patience using traditional methods and medication, and had transformative (chronic acne-, redness-, and irritation-eliminating) results with honey washing. It's a joy to behold, because it's such a victory on every level: It's simple, it's inexpensive, it's pure, and it's effective.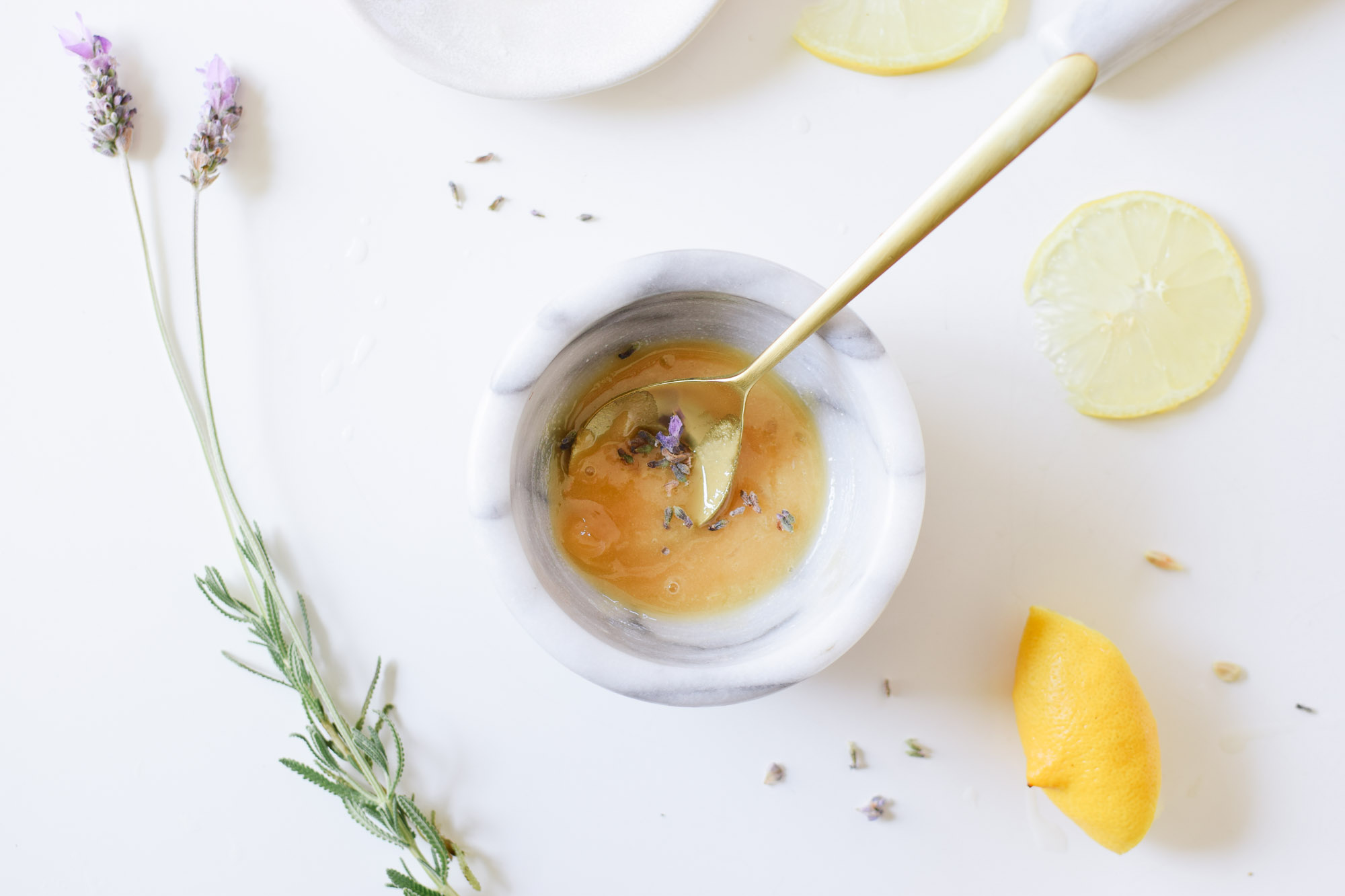 Here's a bit more about each of honey's benefits, as mentioned above: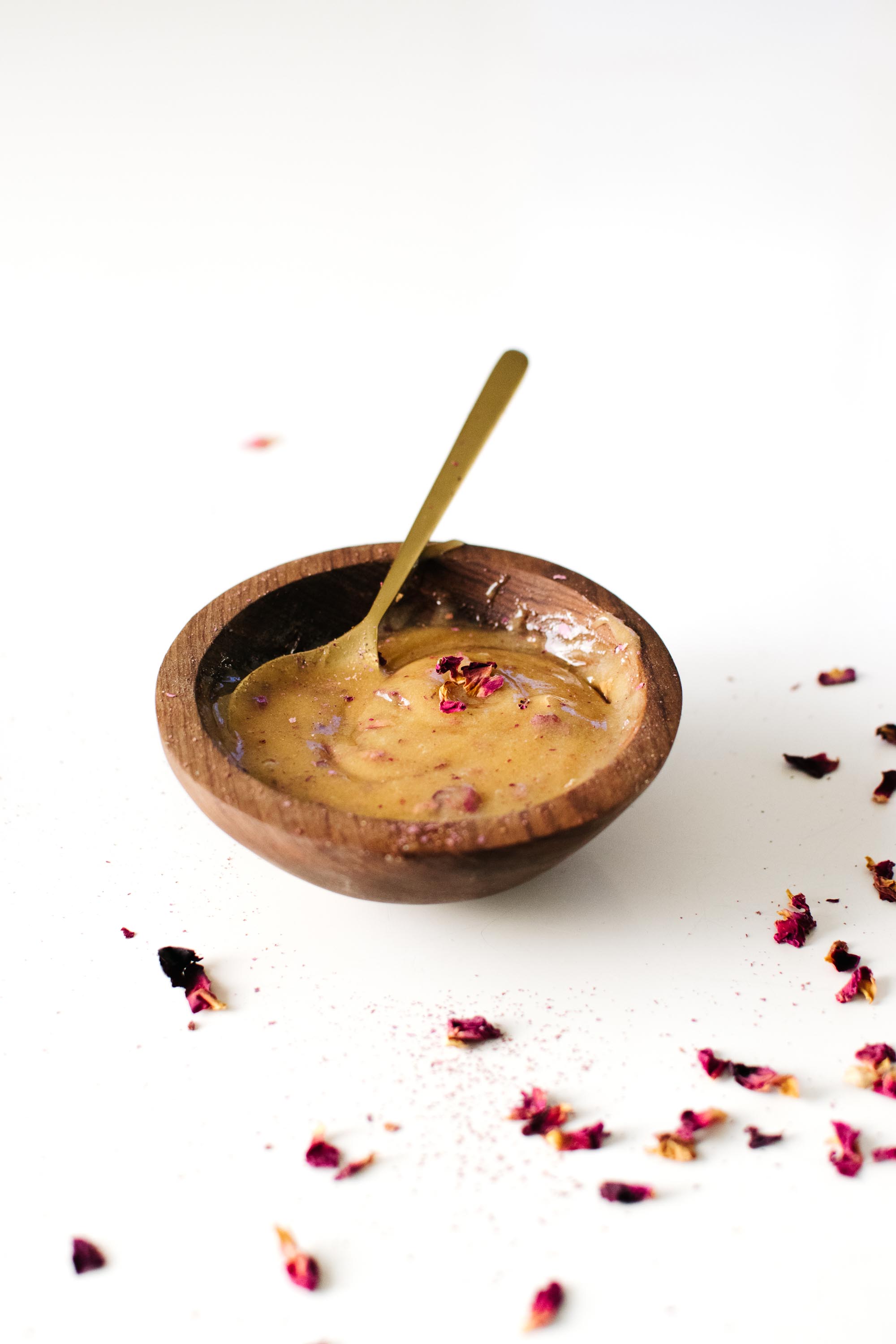 THE HOW
What to Buy
Raw, unfiltered honey: Raw, unfiltered honey contains the strongest medicinal properties and also tends to be thick and viscous. I like to use a thick, viscous honey that has a bit of granularity to it—this provides a bit of exfoliation.
I use this one from Trader Joe's ($5.99) or this one from Whole Foods (~$6.59). Manuka honey has also been shown to have excellent effects, but it's much more expensive, and I don't believe necessary for the same results.
These jars will be good for about 130 applications—you don't need me to do the math for you to tell you this is a very good deal ($.05 cents per application).
Where to Put It
I keep a jar of honey right by my sink or in my shower. Usually, I keep the honey in the jar I bought it in, with the lid on. If this is aesthetically problematic for you, feel free to transfer your honey into a glass jar, or any other airtight container with a wide-mouth opening.
How to Use It
Remove any makeup using a natural oil (I like sweet almond or jojoba oil) applied to a cotton ball or cotton pad. Gently wipe away the makeup using the oiled cotton ball.
Wet your face with warm water.
Open the jar of honey and scoop out about 1/2 teaspoon of honey. You don't need to be exact. I use my hand to scoop, but you could also keep a small spoon with your jar.
Massage the honey all over your face, the same exact way you'd use a soap-based cleanser. (There won't be suds, and your skin won't get that "tight" feeling it gets after you use soap. This is a good thing—it means your skin's natural moisture is still intact!)
Wash the honey off with warm water, the same way you would with a cleanser. Make sure you wash off your hands, neck, and any run-off that went down your arms. Don't worry, you won't be sticky!
Apply toner if desired (but remember, you already balanced your skin's pH with the honey, so it's not necessary), and then apply your moisturizer of choice (I like sweet almond, rosehip seed, or raw sesame oil).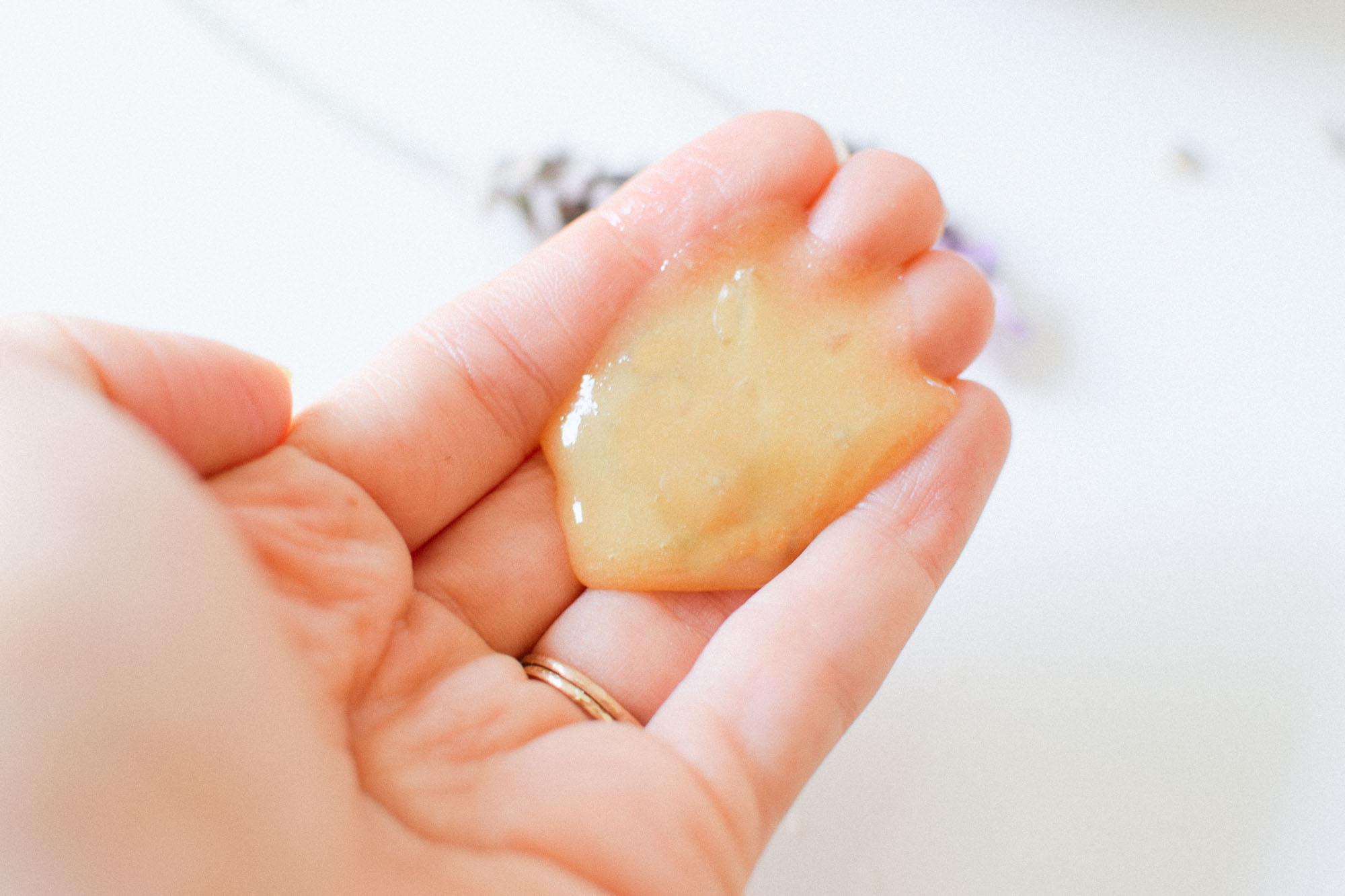 How Often to Use It
I've never been one to wash my face twice a day—I find my skin is happier if I wash once, at night. That said, you do you. But if your skin is oily and you're washing twice a day to combat oiliness, remember that an excess production of sebum is the result of your skin being too dry. Once you give your skin the moisture it needs, your sebum producing glands will generally self-regulate.
For this same reason, I'm a big fan of moisturizing with oils (except coconut oil, which can clog the sensitive skin on your face; it's fine for your body). You can read more about this in the Modern Girls Guide to Being an All Natural Bad-Ass and in the Kale & Caramel cookbook. I'm also preparing two more posts on moisturizing oils and toners—to be continued.
Please leave any questions you might have about honey face washing in comments below, and I'll do my best to get to them!
As always, please consult a dermatologist for any recurring skin ailments, and before changing your skincare routine.