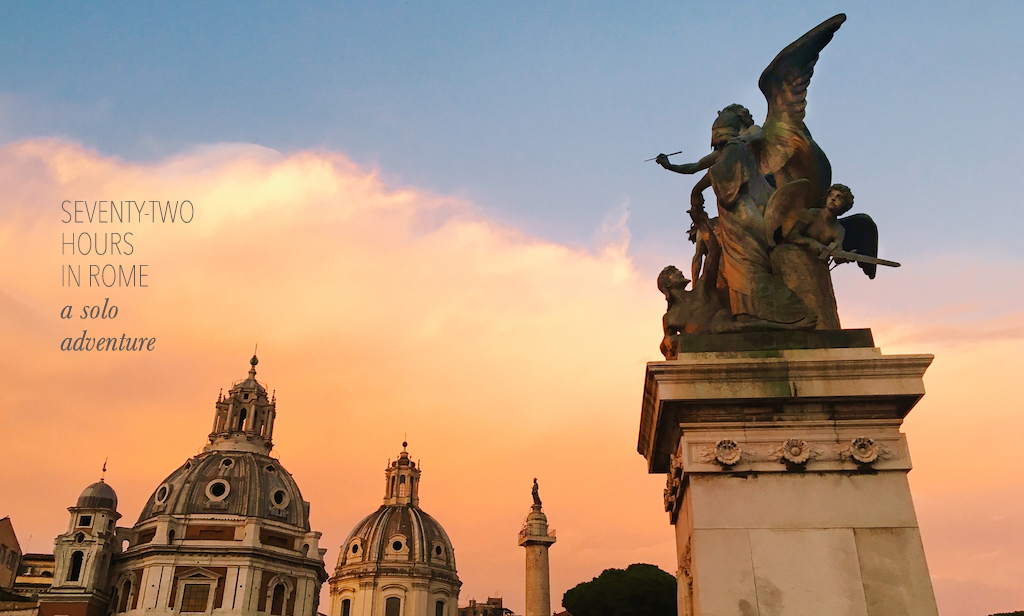 Here's what I thought extravagant trips to Italy were for: 1) unbridled romance; 2) over-the-top family vacations; or 3) post-college sorority sister splurges. I very pointedly did not think they were for solo trips, the kind of trip that people immediately deemed my "Eat Pray Love moment" (let's call that an EPLM for short). With all due respect to the illustrious Ms. Gilbert and the cult of Eat Pray Love, I considered EPLMs a bit embarrassing. They were for heartbroken divorcés (again, all respect). They were for people (I daren't say women) desperate to find meaning. They were, most certainly, not for me.
In fact, I'd done tough psychospiritual work to get to the very moment of deciding to go on a trip to Italy by myself in order to have the antithesis of an EPLM. I wasn't seeking answers, I was seeking sleep, and art, and gelato, and beauty, and the sea. And I was tired of waiting for somebody else's schedule to align with my own. And I was tired of waiting for a clearly off-schedule prince charming to whisk me away. And, after a year of incessant book shoots and edits and recipe testing and writing, I was just plain, deeply tired.A $127 round-trip mileage plus ticket to Rome later, I began planning. Of course, all my floating anxieties about doing this trip alone (would I be safe? would I be bored? would somebody steal my camera when I went swimming? how could I get an international data plan without paying AT&T four billion dollars a day? and, fundamentally, would I be able to do it all by myself?) arose in short order.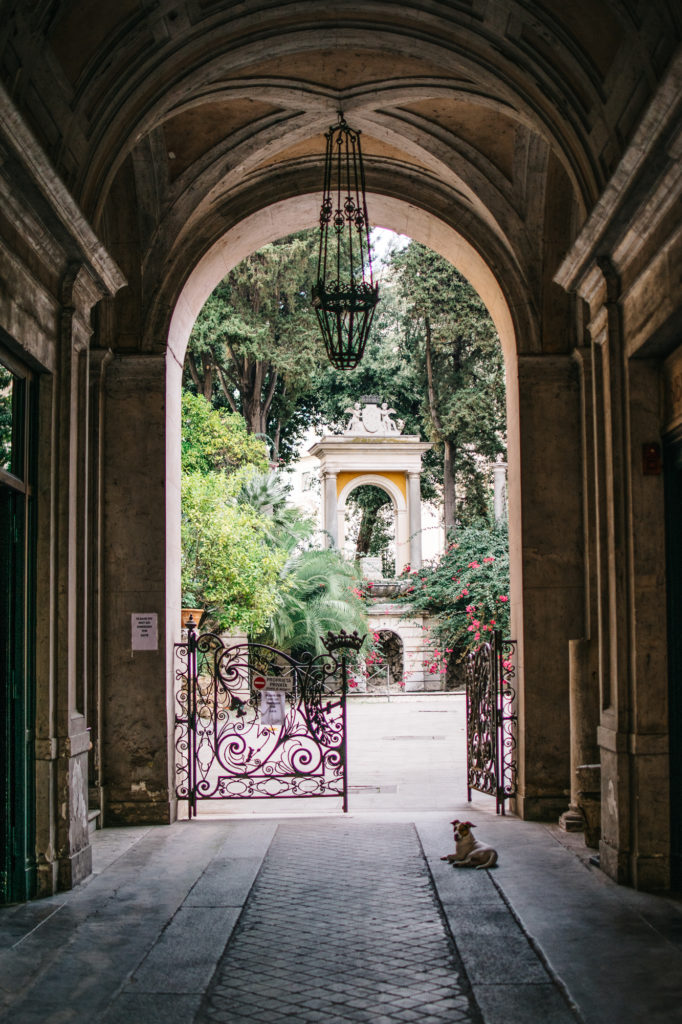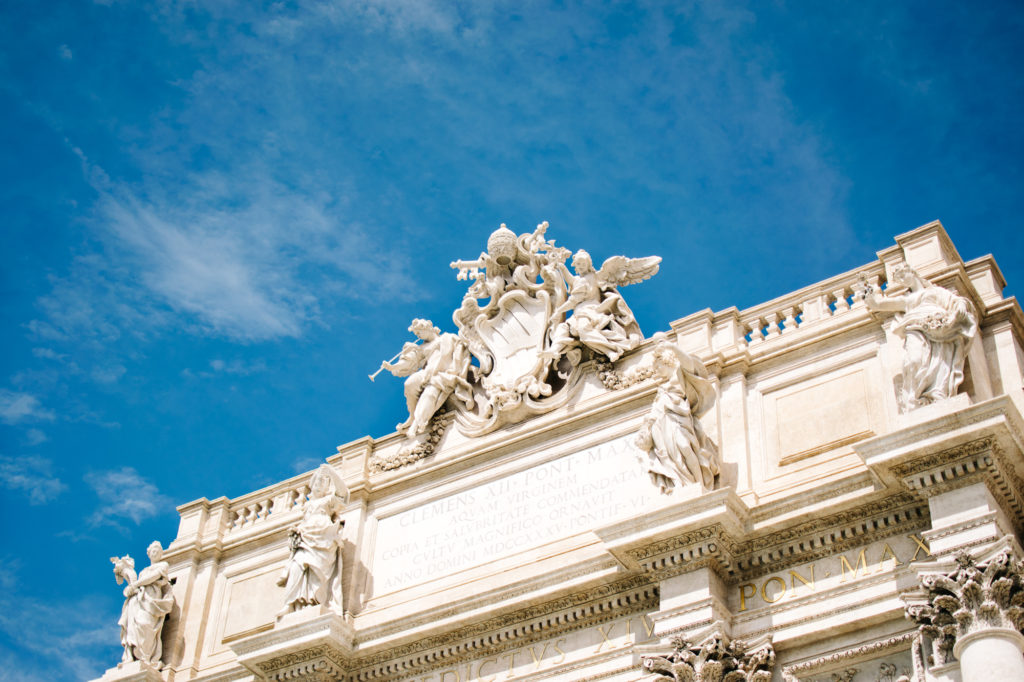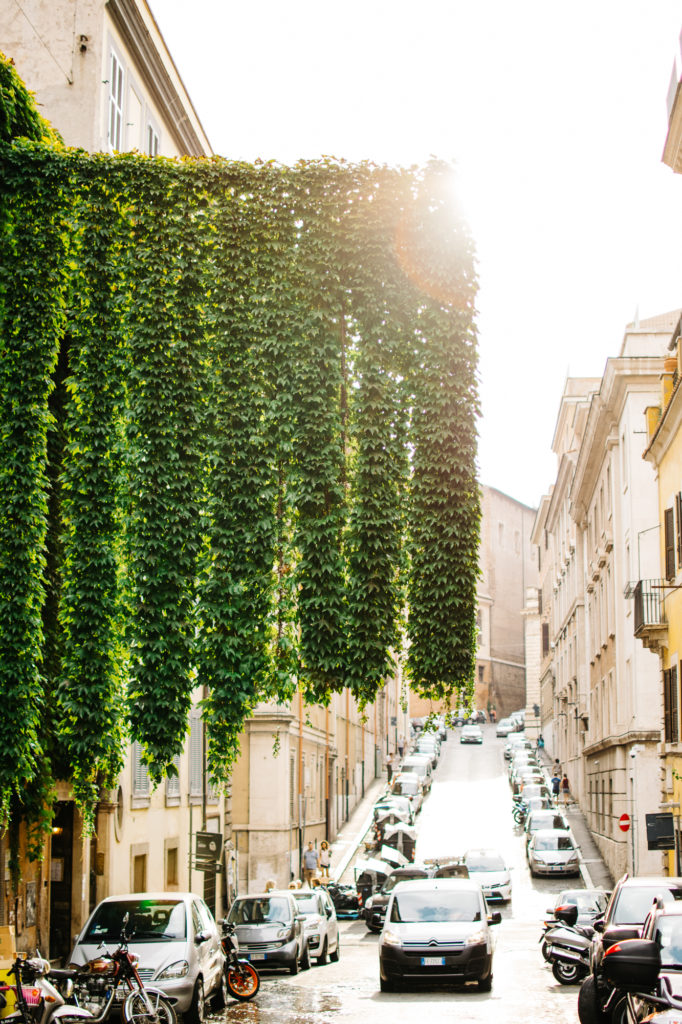 I had dreamt of spending time on the Amalfi Coast for years, and so had everyone else in the world, it seemed: It was nearly impossible to find a place to stay in Positano. I almost gave up at a certain point (bless Rebecca for commanding me to stay the course), but finally found a spacious Airbnb (with four too many beds) that was the best deal in town. Anxious that by the next morning every place to sleep in Positano would have evaporated into the thin, greedy air of tourism, I booked it immediately. The confirmation email whizzed into my inbox: You've got a place to call home in Positano.
And now that I'm on the other side of it, I can tell you, heart full and body rested (heck, I even slept 13 hours one night), that I was purely, deliriously happy every single day of the trip. All my floating anxieties were completely demolished by the exploration, the thrum of art and history that drives the country, the kindness of the people I met, the unreal beauty of the land, and the generosity of the towns I visited. I came back ready for another solo adventure, any time, anywhere (well, maybe; maybe not anywhere; hold on, floating anxieties briefly returning).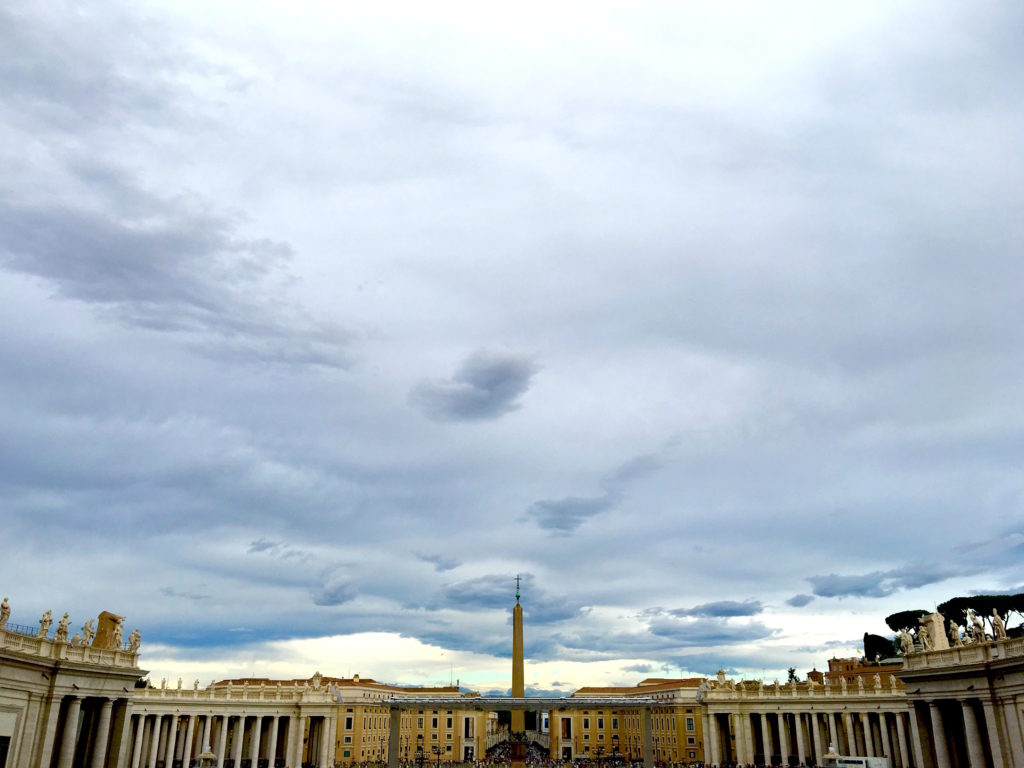 So did I have an EPLM? Maybe, in that I got just exactly what I wanted, and then some. But what I wanted was the simple fulfillment of being happy, truly happy, to explore the world on my own.
Below you'll find notes from each of my eight days in Italy, and, if you scroll to the bottom, lists of where I stayed, ate, and played in Rome. See here for details of what I packed in my carry-on (everything worked like a charm, including the mobile hotspot I rented!).
ROME DAY 1 
The first thing I notice on the Leonardo Express train from the Rome Fiumicino airport into the city is that the landscape looks tropical, even vaguely Hawaiian to my Maui-girl eyes. We are close to the sea. The air is rich with humidity. Tall cane grasses, shocking pink oleander, lush green everywhere. And, arriving into the city, the same sensation of being swallowed up by a place, immediately enveloped in the scent and heat of the city.
I walk from Termini station to the Fifteen Keys Hotel, where I am greeted by serene glass and blue walls and brass fixtures and warm modern design. Hungry and exhausted from the 6,000+ mile journey, I unpack and inquire as to where I might find a snack. I'm in the Monti neighborhood, famed for its hipster chill, vintage shops, family feel, and proximity to the Colosseum. The lovely Helena guides me to Trieste Pizza, just down the street.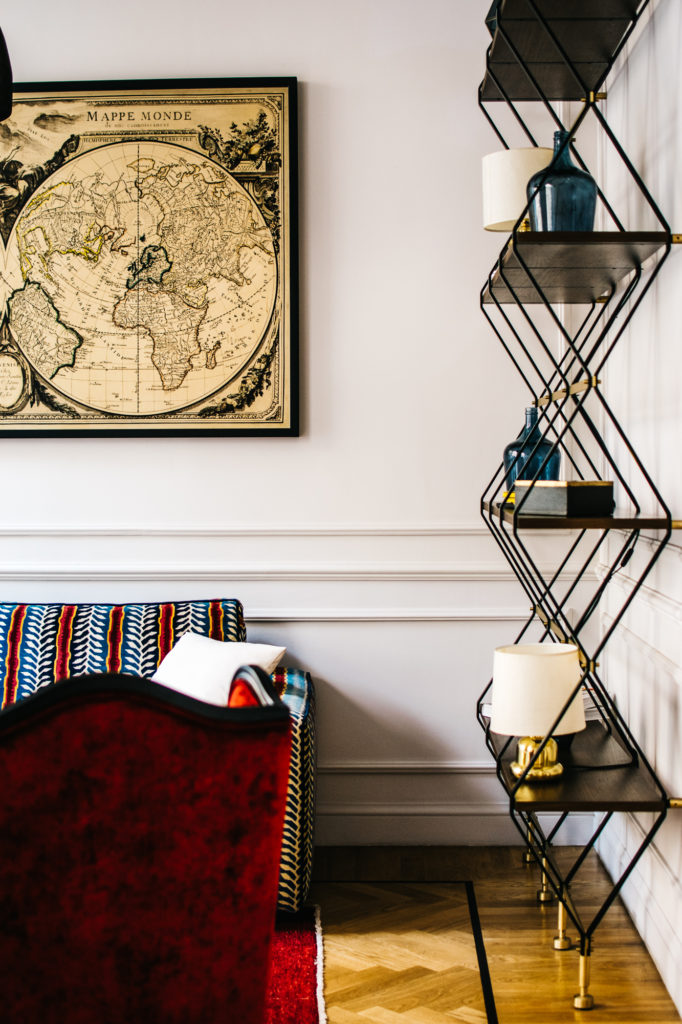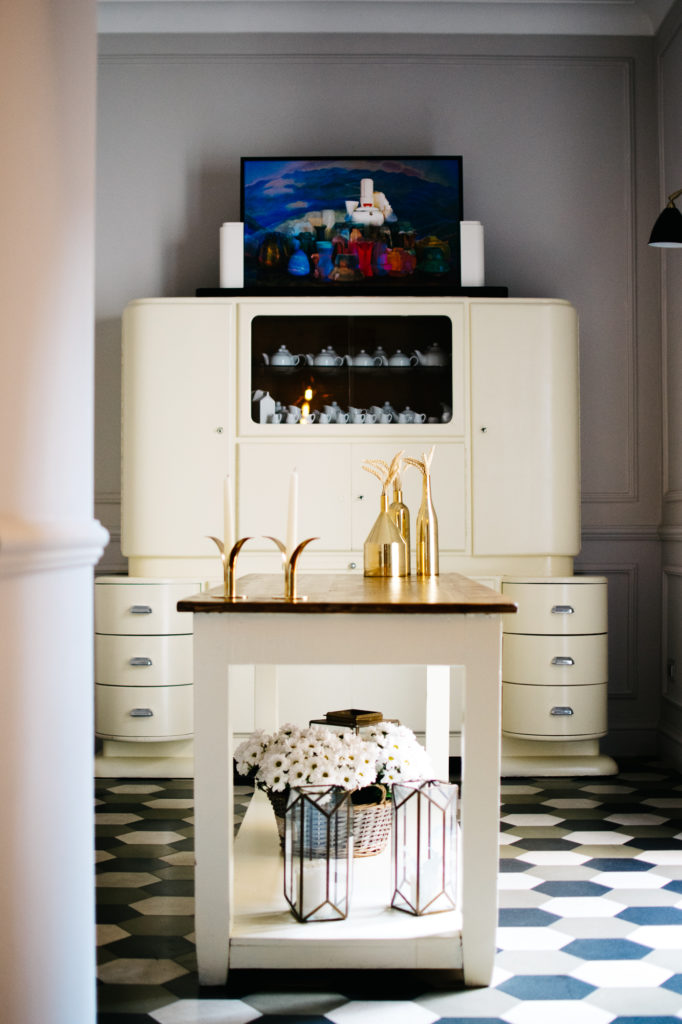 Along the way, I find Grezzo, a gorgeous little raw chocolate and smoothie shop that makes me my first sip in Italy (don't laugh): A green smoothie. Fresh almond milk, spinach, mint, dates, vanilla, and a hint of cayenne. Feeling thoroughly LA ridiculous, I march out to find pizza bianca (pizza dough baked with herbs, olive oil, and cheese) at Trieste.
Freshly baked pizza bianca in hand, I wander. Voraciously. Everywhere I look, I'm in love. I feel as though I could walk for days in this city and never stop discovering corners of miraculous art and architecture. I can feel myself settling into Rome's bright staccato, buoyed by the city's energy. After a turn around the Colosseum and the Forum, I find adorable vintage clothing shops, stop to listen to transcendent guitar music on the street, and finally walk to meet my dear friend Jennie who is in town for the next day.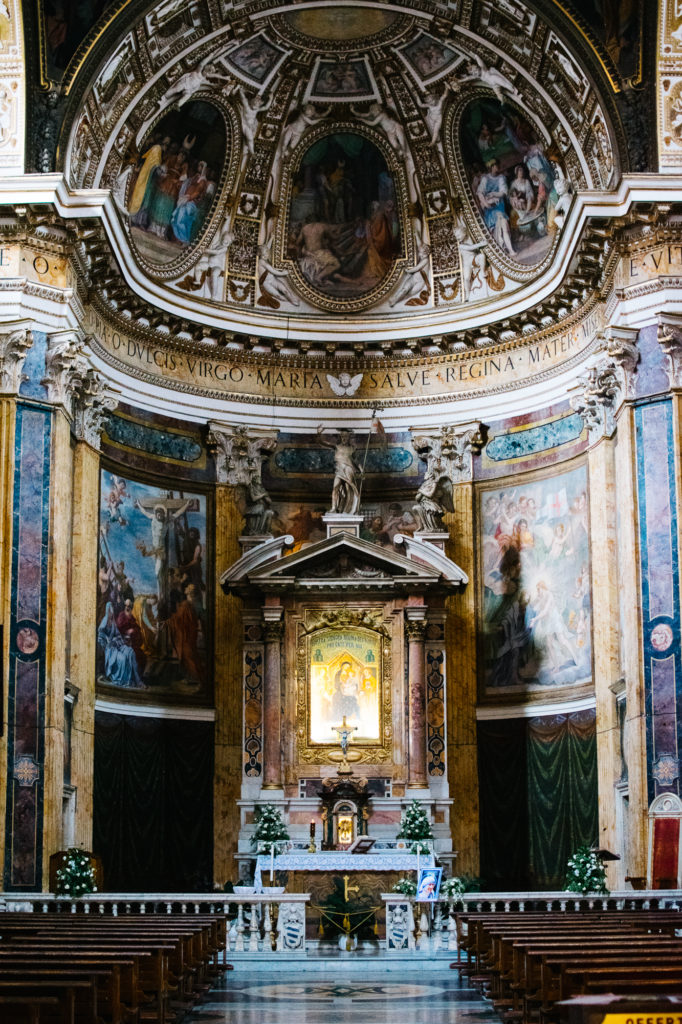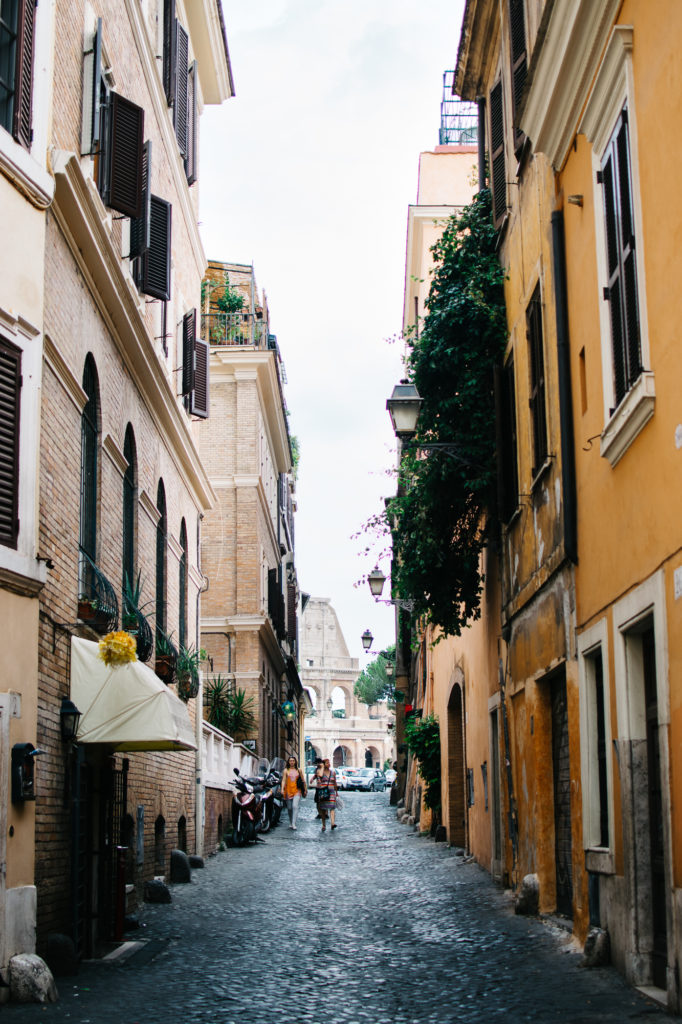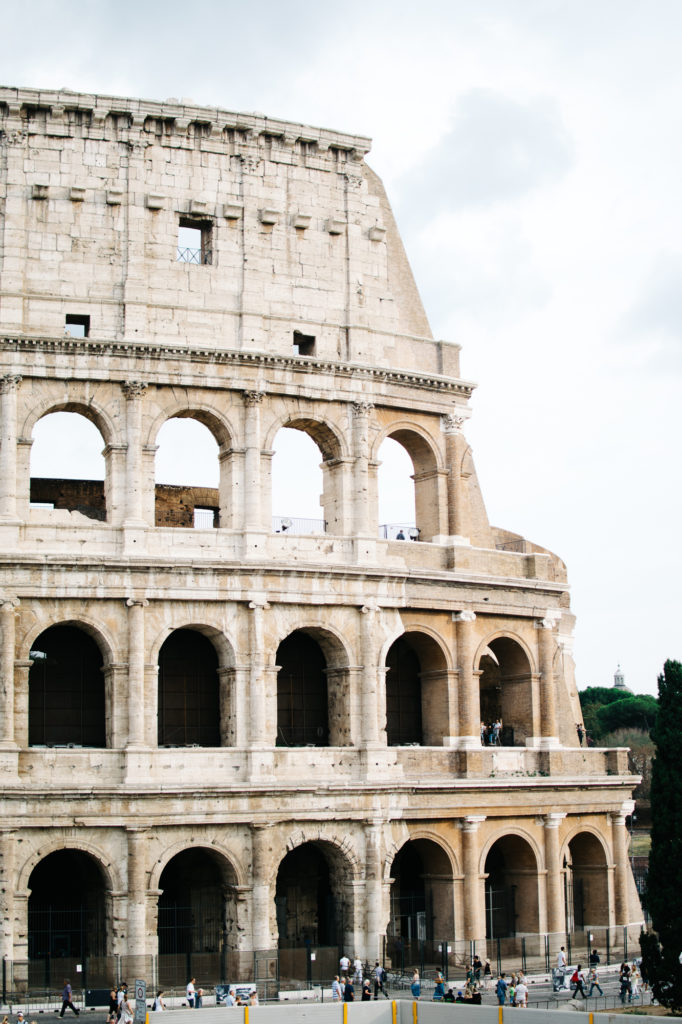 On our way to dinner, we find ourselves in front of the Piazza Venezia at sunset, dulcet technicolor tones caressing Roman monuments, singing miracles in the sky. The torches are lit at the adjacent Altare della Patria, and, upon the occasion of my first sunset in Rome, I begin to think I may be permanently slack-jawed—it's just that stunningly beautiful in every direction.
After dinner at Emma Pizzeria (it was highly recommended, but disappointing for us), we walk home through the rain to Gelateria Fatamorgana. Fatamorgana becomes my holy grail of all things creamy frozen dessert on this trip (and in life). That night, we go back for seconds because our first round of fennel, honey & licorice with walnut, rose petal & violet, and mint chocolate with Madagascar chocolate aren't enough. We share a final round of limone and melone for a night cap.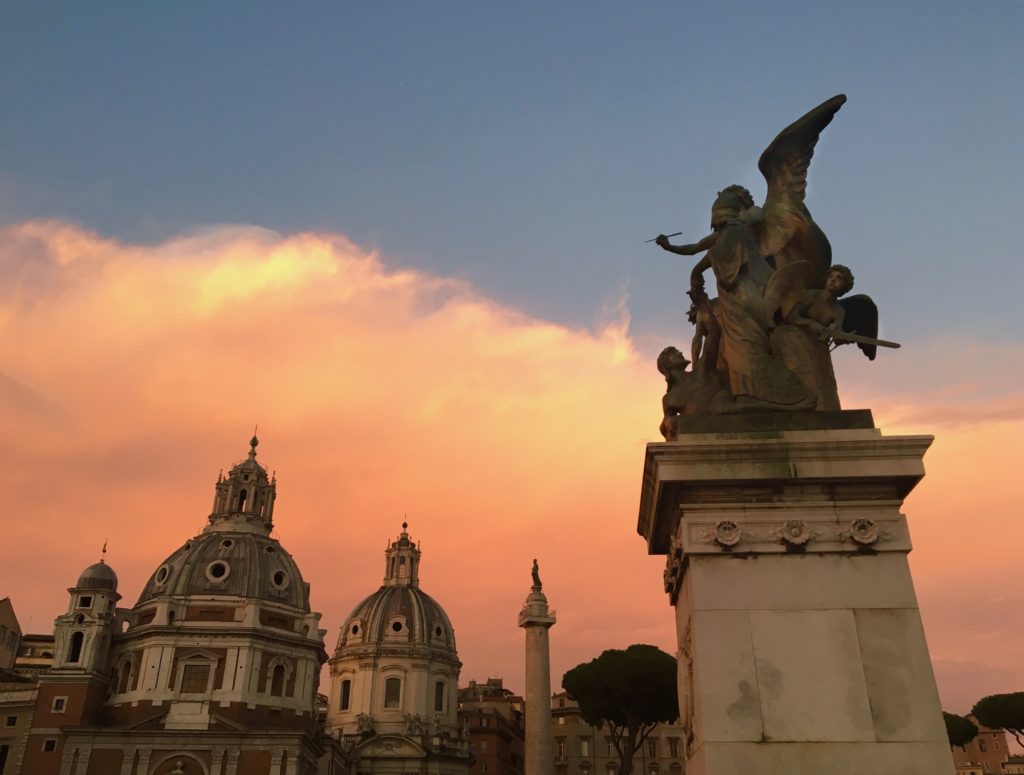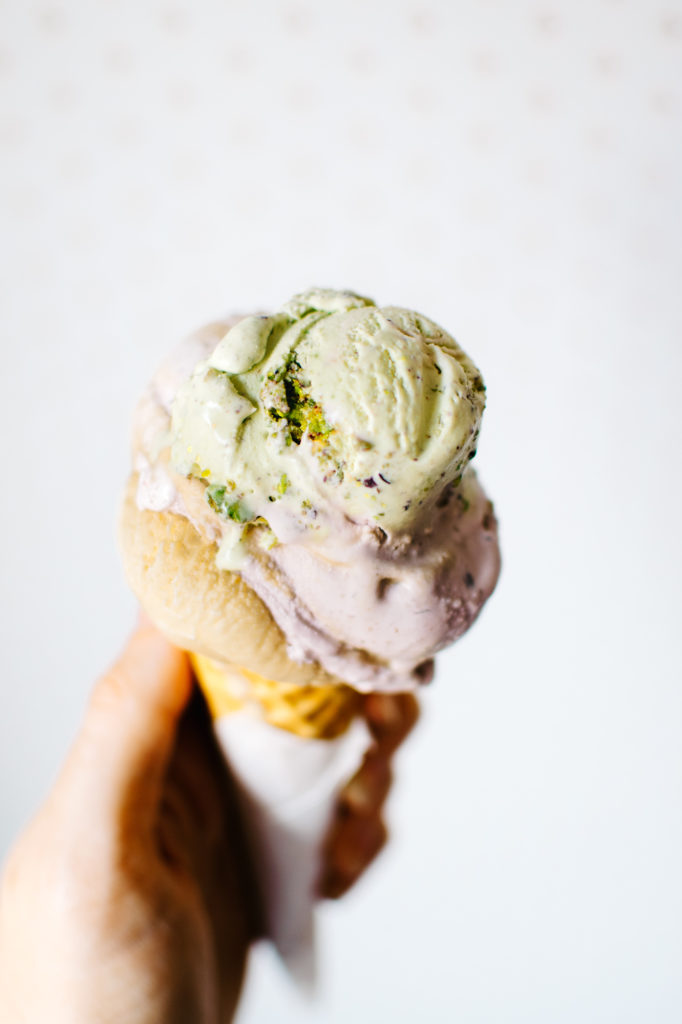 ROME DAY 2
After a lovely organic breakfast spread at the Fifteen Keys and a quick costume change to address a giant hole in the (ahem) rear of my skirt, Jennie and I traipse gleefully across town to the Villa Borghese. Every corner of this seventeenth century party villa and its surrounding park are gorgeous, but the Bernini—the Bernini! Stumbling through the doorway to witness the astounding Apollo e Daphne sculpture, I realize I could likely study this singular work for the rest of my life and learn all I need to know about the craft and philosophy and practice of art.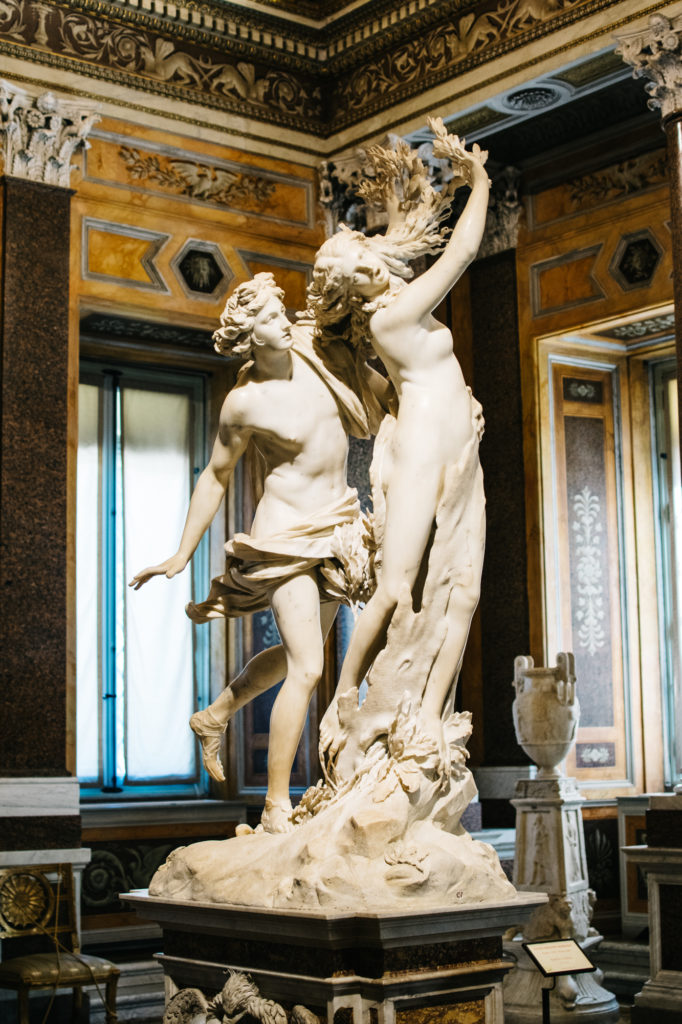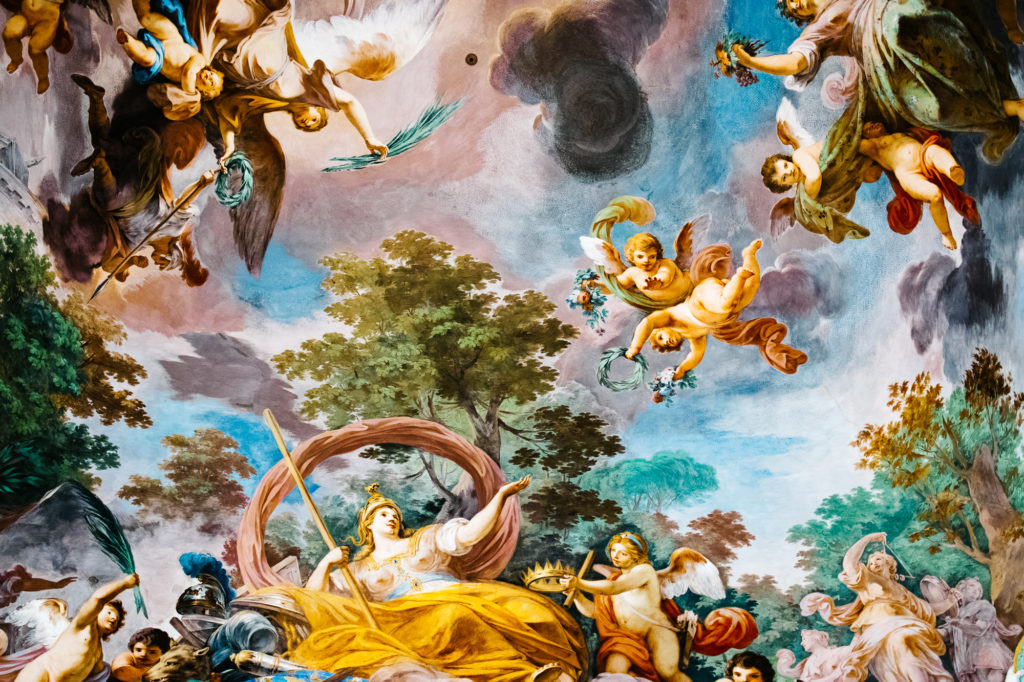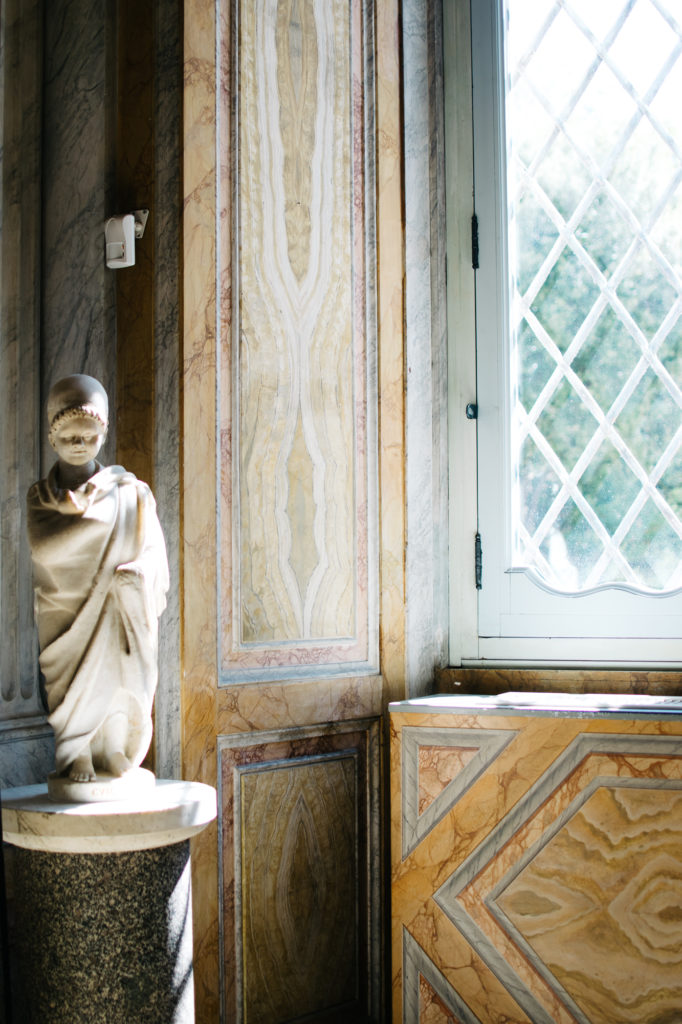 Jennie, long-steeped in art history as the daughter of one of the world's leading Monet scholars, schools me on presentations of posture and the introduction of the S curve in Roman sculpture as we make our way through the museum and out to the grounds. After a brisk walk through the park, we snag a fast limonata and panini and head to Vatican City.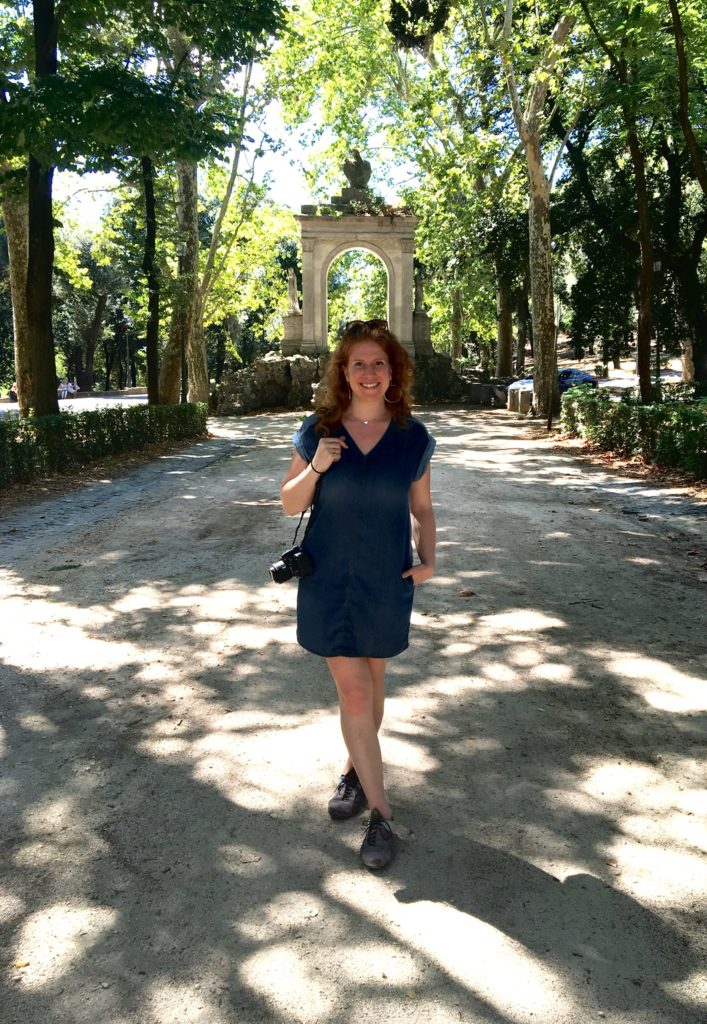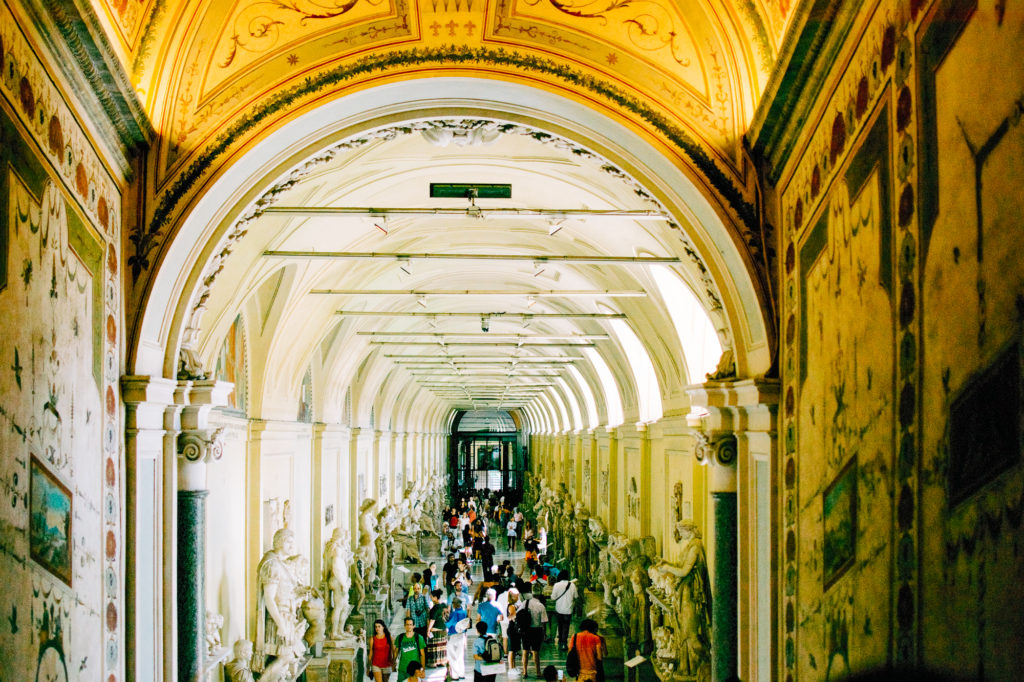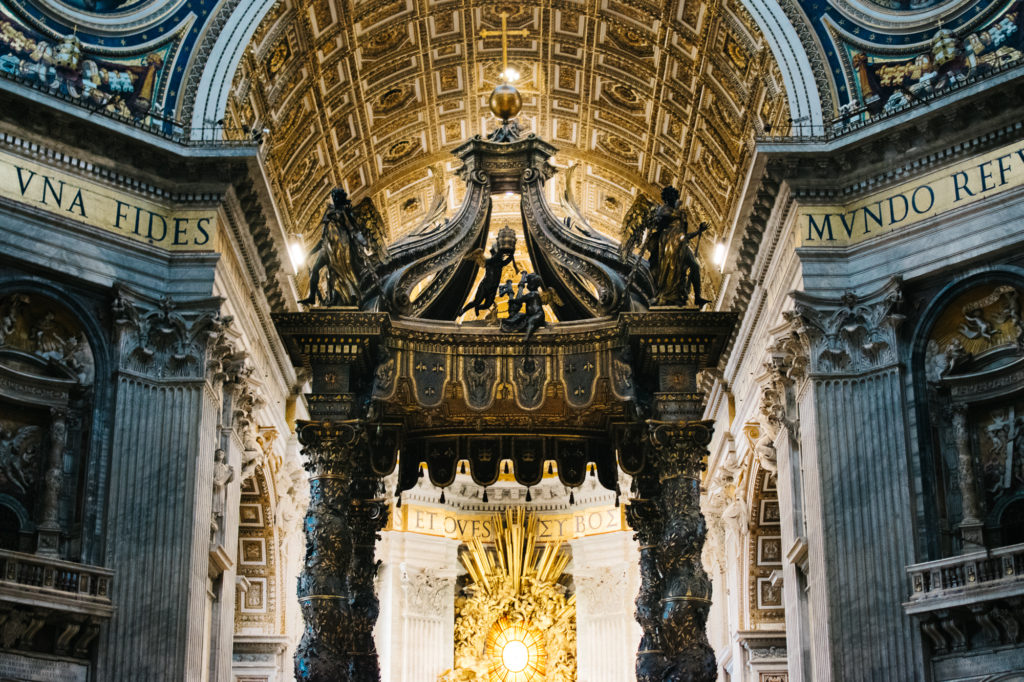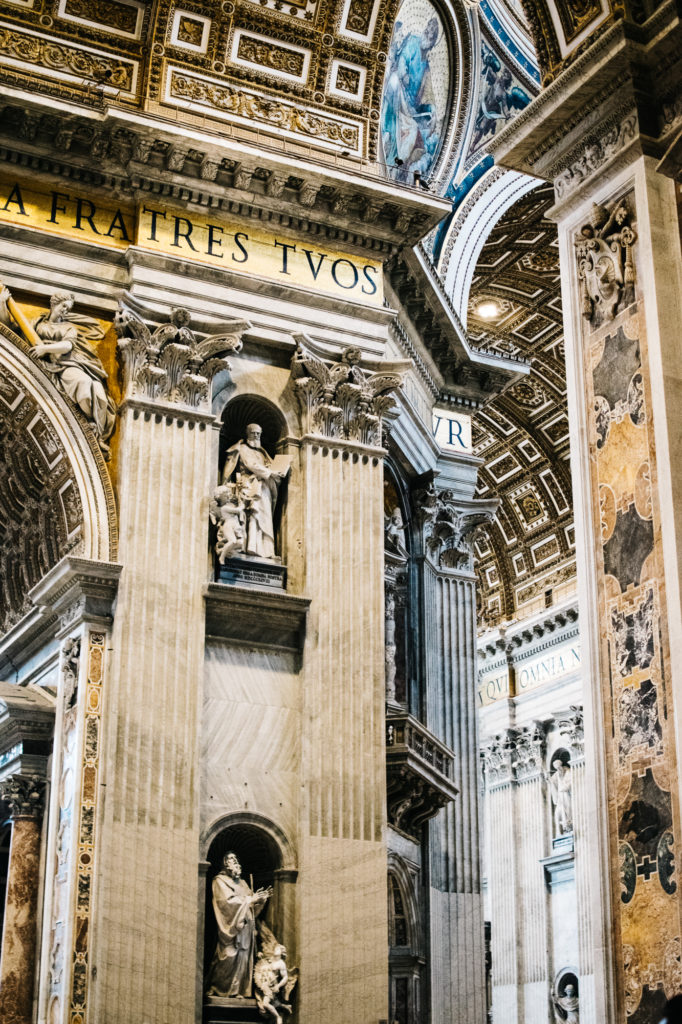 Though we'd purchased tickets in advance for the Vatican City Museums, which include the Sistine Chapel, the place is overrun by crowds and group tours, bottleneck after bottleneck occurring on the slow, unidirectional procession into the Sistine Chapel. In all of the herding and shushing over loudspeakers, when it was my turn to gaze up at the Chapel ceiling, I forgot to look at Adam and God reaching out to each other across the celestial heavens. Insert cat ghost face emoji. Next time.
After a too-brief turn through St. Peter's (I could have spent hours: the light, the architecture, the angles!), we limp our way out into Vatican city, realizing we've been averaging almost twelve miles a day on foot. We hail a cab and cruise across the river to Antico Forno Roscioli, and its accompanying restaurant. Jennie snaps up a light and flaky sfogliatella and I ogle every mile-high piece of focaccia in the case. Mental note to come back to the bakery as soon as humanly possible. I bid Jennie farewell as she now heads to Tuscany, and sleep.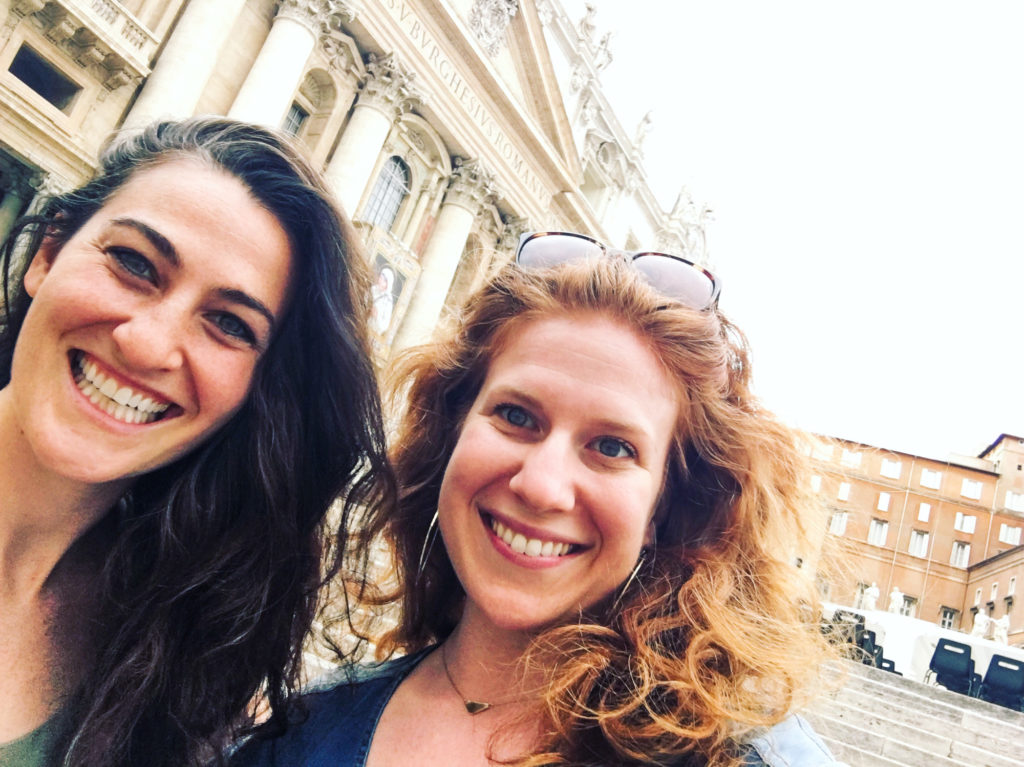 ROME DAY 3
I wake slow and take my time breakfasting and planning the route down to Positano the next day. The Fifteen Keys team generously helps me assess possible routes, and I decide not to decide—a new, more relaxed approach I credit to it being my third official day of vacation, and the 9 hours of sleep a night I've been getting.
Day 3 is the Trevi Fountain and the Spanish Steps, both beautiful but tremendously crowded. Still, though, the Trevi is astounding—a work of human strength and artistry so enormous it's hard to conceptualize its being completed without any machine.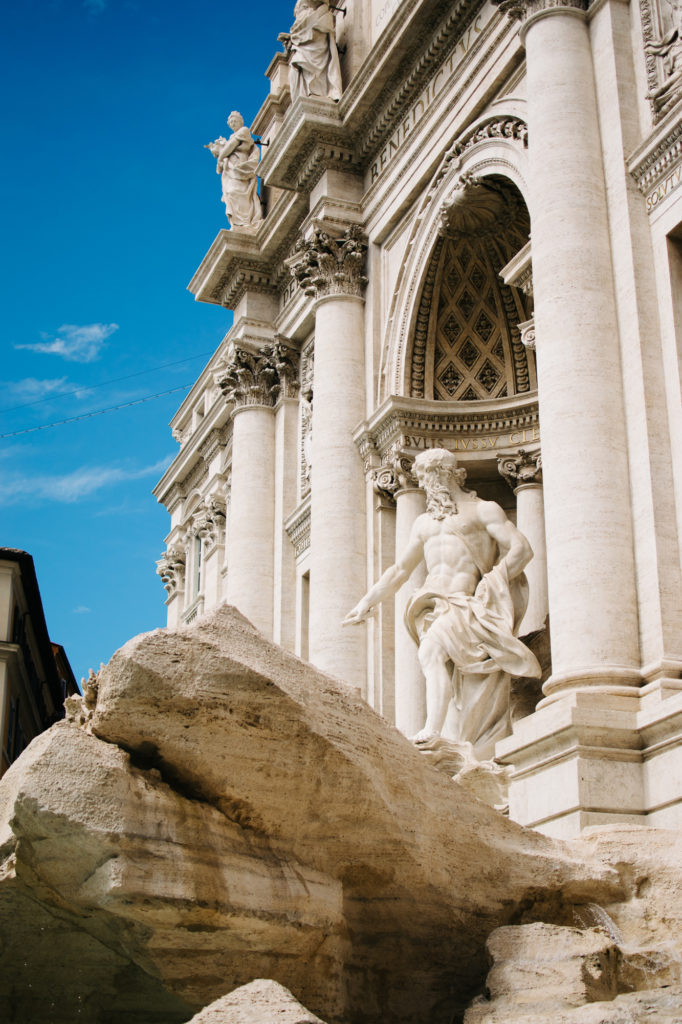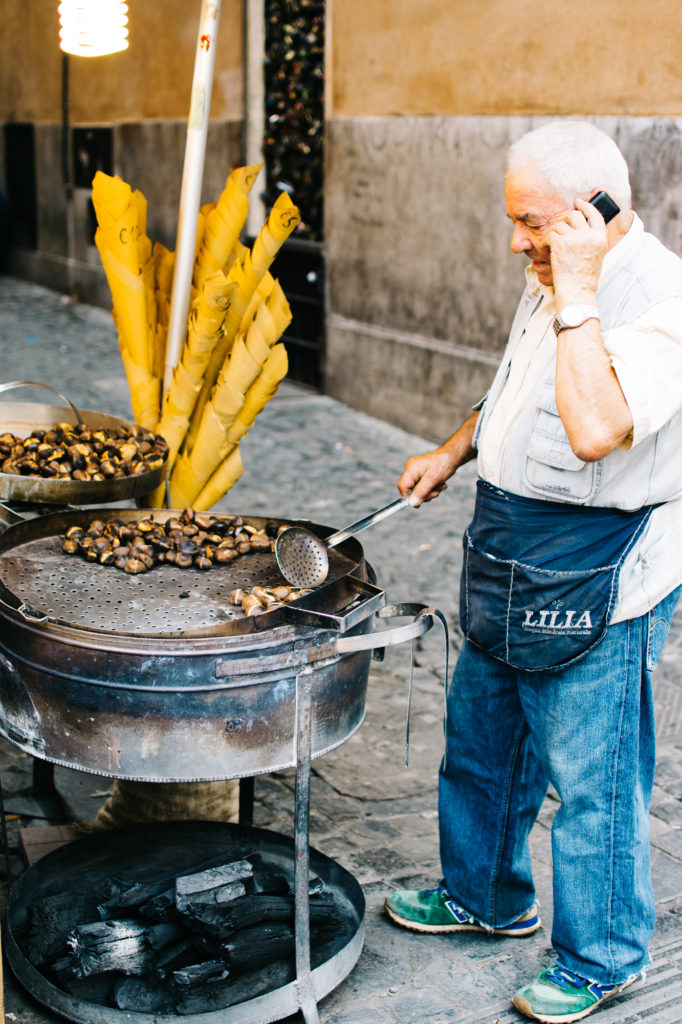 Again true to K&C form, I find a lovely roasted eggplant and tomato salad at a to-go spot near the Trevi called aT Restaurant (Active Natural Eating). On the way home, another stop at Fatamorgana for an unexpected combo: the Kentucky Chocolate (chocolate and tobacco) and the Pensiero (pink grapefruit, ginger, candied lemon peel, and wasabi). Beyond the beyond delish.
That evening, I meet with Dahvi, a friend from LA, and we wander across town to find a sweet spot where she can tell me all her Amalfi Coast secrets, having spent the last week writing there. And at 11:55pm that night, as I take her to (a still crowded!) Fatamorgana for her last gelato in Roma, we decide I must get on a bus at 7am tomorrow morning, bound direct for Positano. (Come back next week for the full guide to Positano and the Amalfi Coast!)
BONUS: ROME DAY 4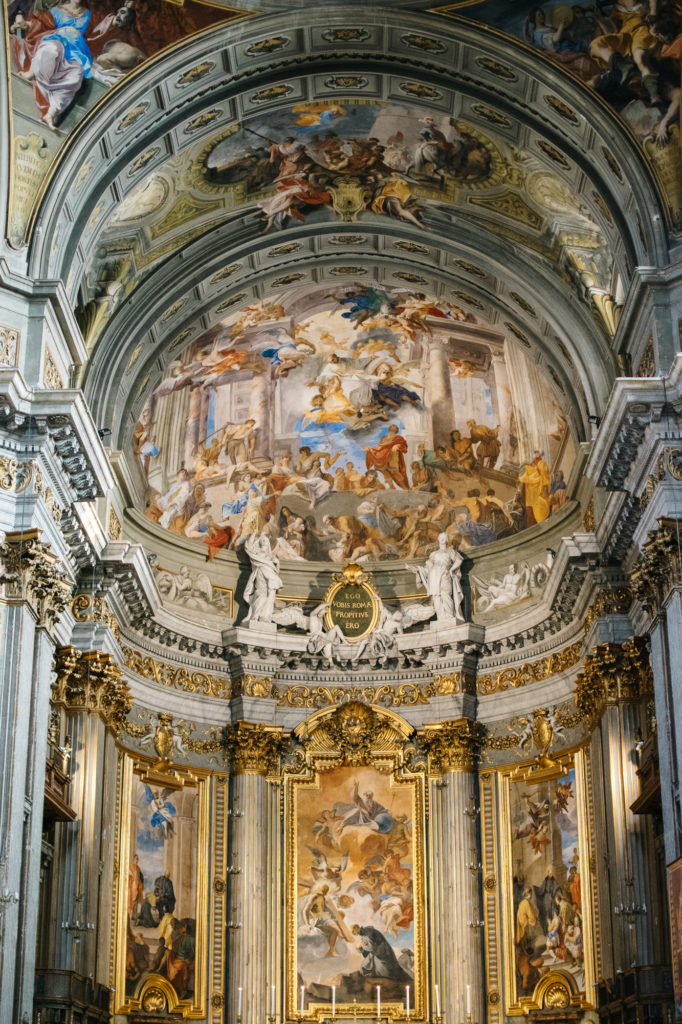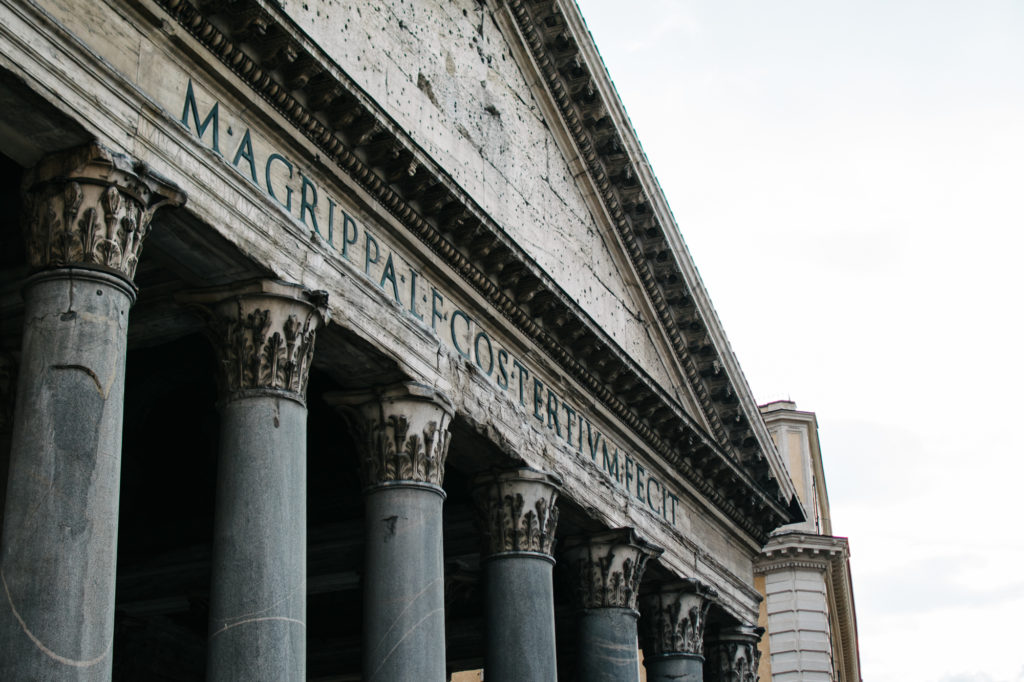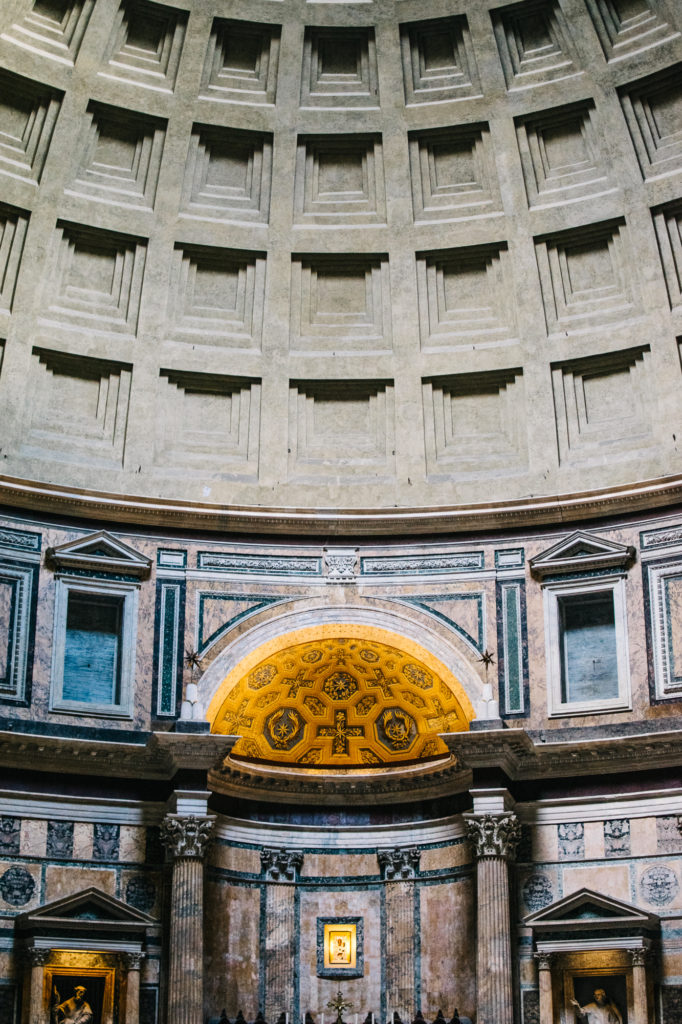 After four blissful days in Positano, a bonus afternoon in the city as I steel myself for the impending shock of hurtling home to Los Angeles. But first, a scooter ride from Airbnb host Crescenzo down to the dock, a boat, and a train back to Rome. A happy return to the Fifteen Keys, where they greet me with hugs and cookies and inquiries as to my time in Amalfi.
My last afternoon in Rome, I walk through the Chiesa Sant'Ignazio and on to the Pantheon, a building almost two thousand years old that rivals any architectural feat constructed today. I breathe in old air, new air, old art, new people. I have one more gelato from Fatamorgana. I go to Roscioli for bags of dried pasta and that focaccia—I didn't forget—and take it to the Ponte Sant'Angelo for sunset over the Tiber River. I let Rome swallow me up again, even though this time I have to go.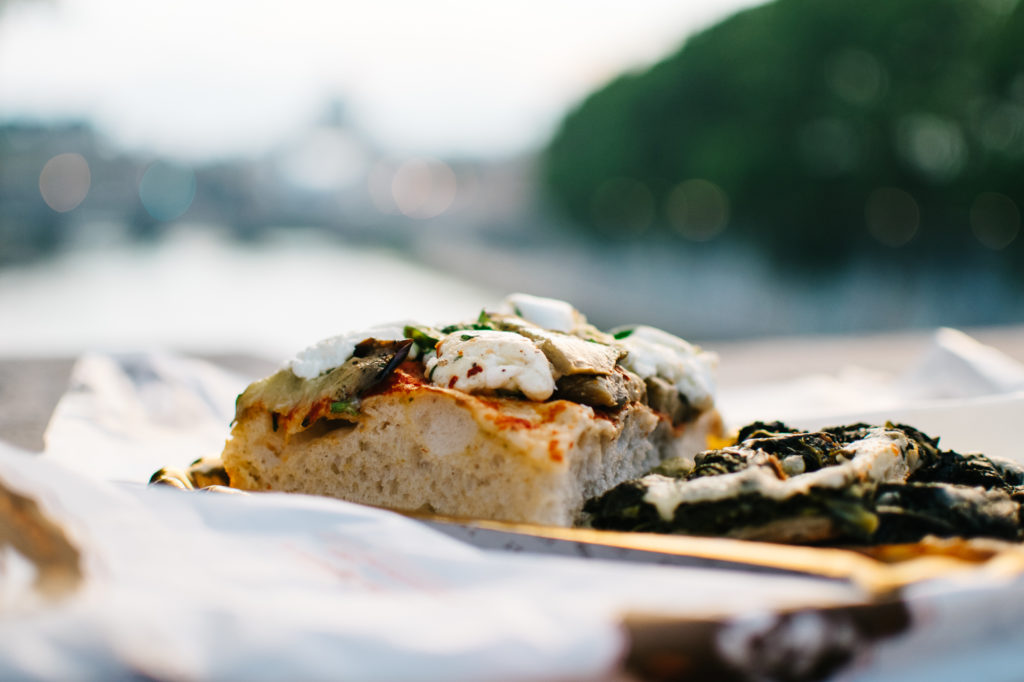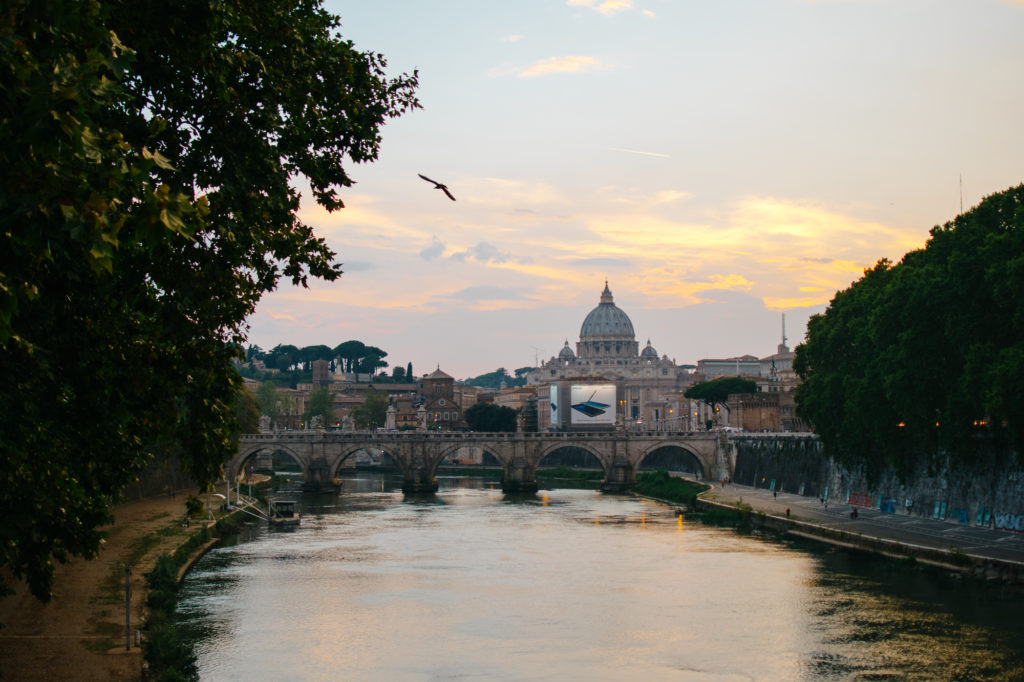 I'll be back soon.
ROME
WHERE TO STAY:
WHERE TO EAT:
Antico Forno Riscioli (and their restaurant, reserve ahead)
aT Restaurant (Active Natural Eating)
WHERE TO PLAY:
Piazza Venezia
Altare della Patria
Villa Borghese and Galleria Borghese (buy tickets ahead)
Vatican City Museums and the Sistine Chapel (buy tickets ahead; adhere to dress code)
St. Peter's Cathedral (adhere to dress code)
Trevi Fountain
Spanish Steps
Campo dei Fiori