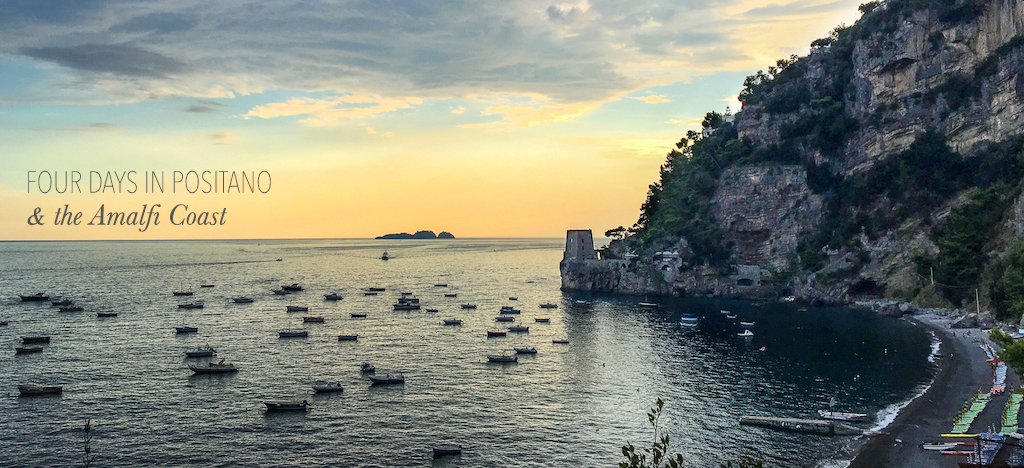 I am in Italy for three days before I make my way south to the Amalfi Coast. Amalfi. Three syllables that have, for years, occupied a liminal space of longing and romance and beauty in the primordial soup of my mind. I want that mediterranean blue refracting light into sky, onto skin. I want salt crystals drying on my back from long days of submersion. I want cliffs that tumble over themselves in their own hurriedness to make it down to the seduction of the sea. And finally, it's now. Amalfi and I will meet.
Still, though, it's with regret that I leave Rome (see my guide to 72 hours in Rome). There should be a name for the pack job I do at 12:30am the night before I depart for Positano: I am a highly focused, micro-efficient dervish, whirling a frenzy of order into my suitcase. I charge all my devices. I try to talk myself down from my pre-Amalfi high. In bed finally, I beg my mind to rest.
AMALFI DAY 1
At 7am, only four hours of sleep under my belt, I begin the hurtling, winding journey from Rome's Tiburtina station to Chiesa Nuova in Positano. I sleep, I wake, I gasp at the views of Mount Vesuvius and Pompeii, and then at turn after turn of the most stunning coastline I've seen besides the road to Hana on Maui.
A gracious welcome from my Airbnb host leads me to the top of Positano, through stone corridors populated with olive trees, rose geranium, jasmine, and lavender. Igor the cat meows his hellos. I sleep off the bus ride as a rain storm sweeps in across the sea. I am in Mediterranean heaven. My primordial longing is deeply sated, rain and all.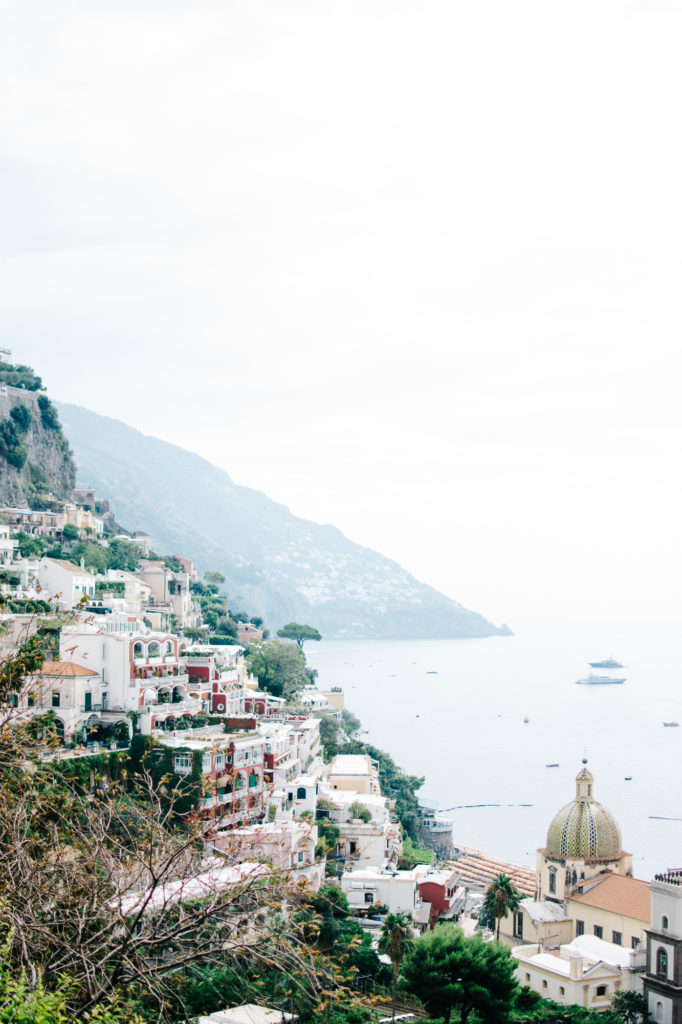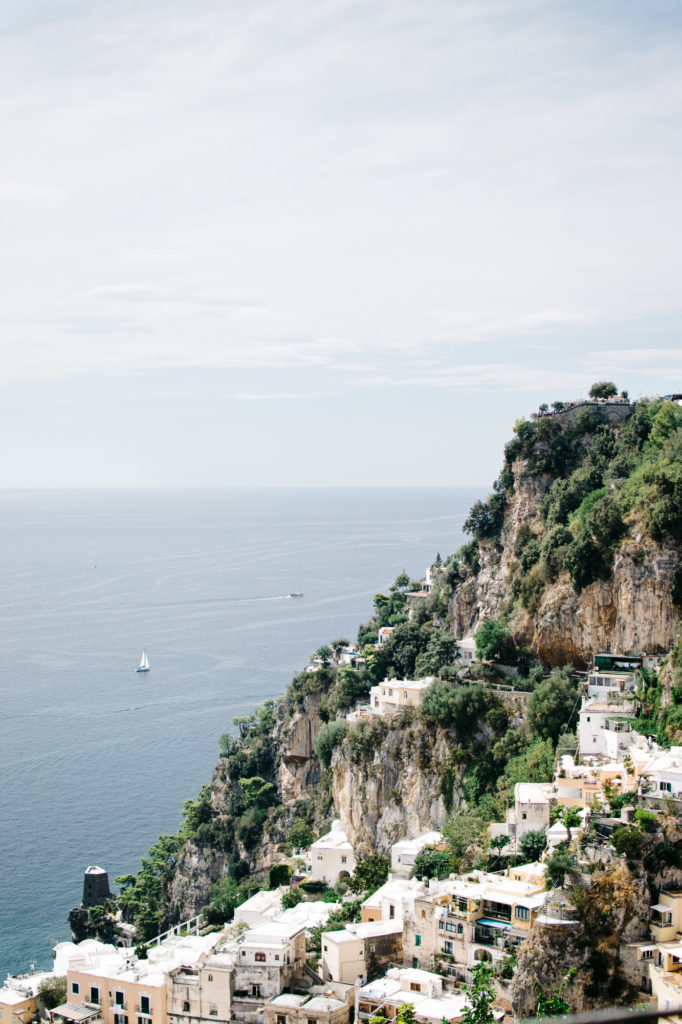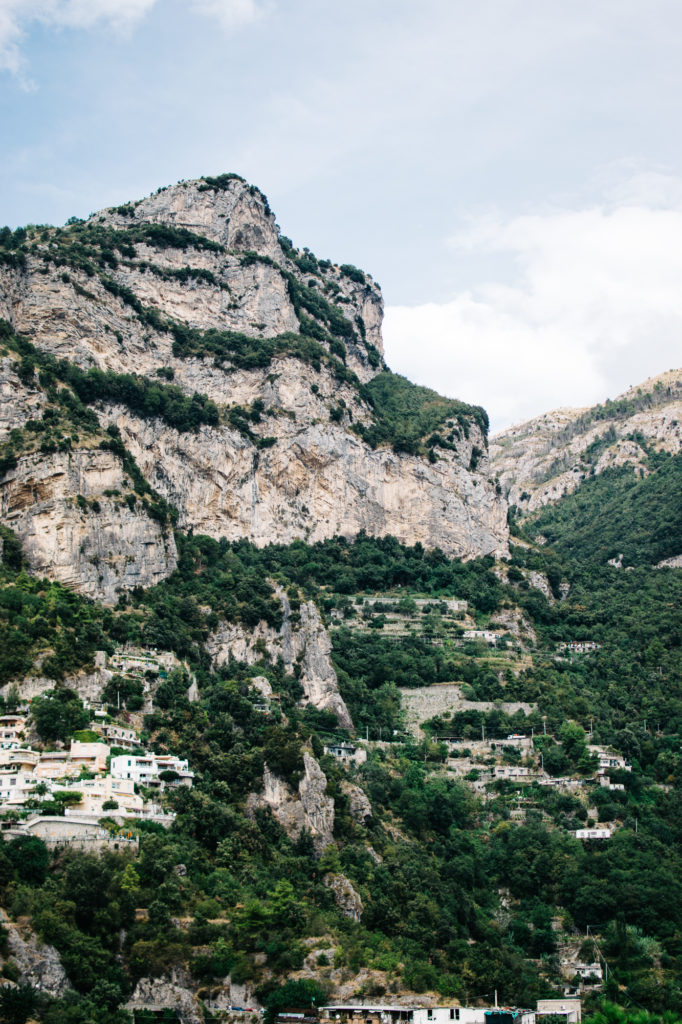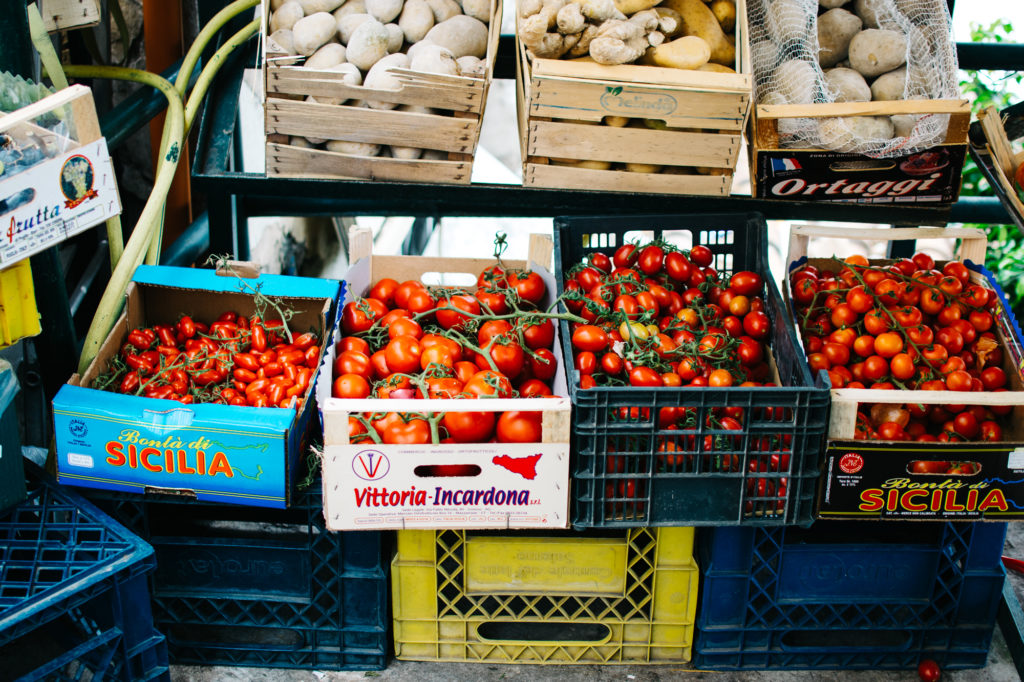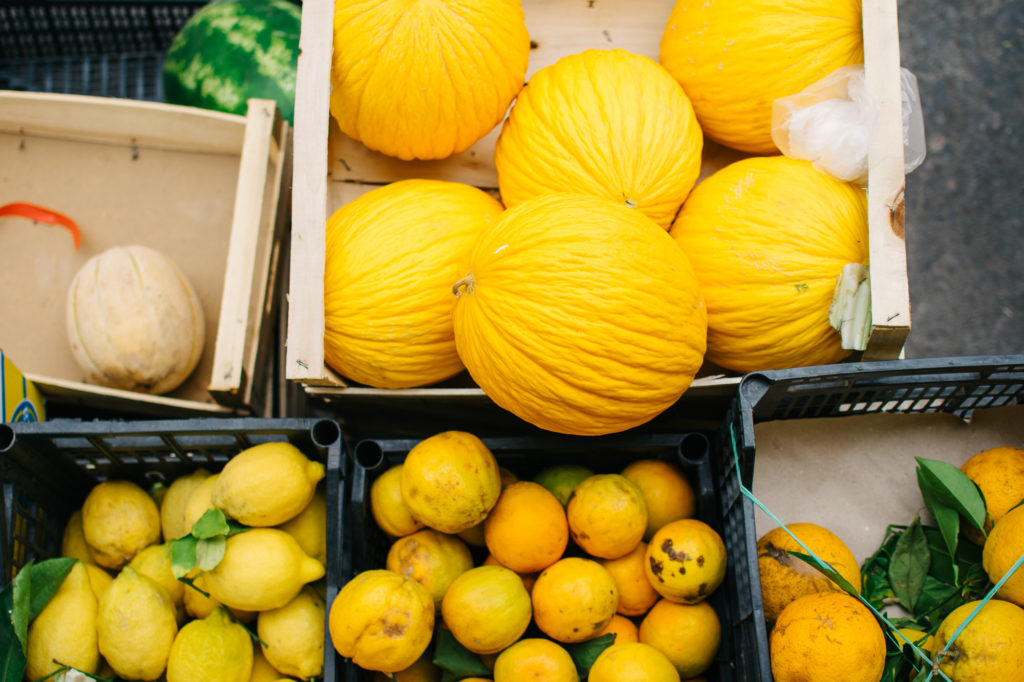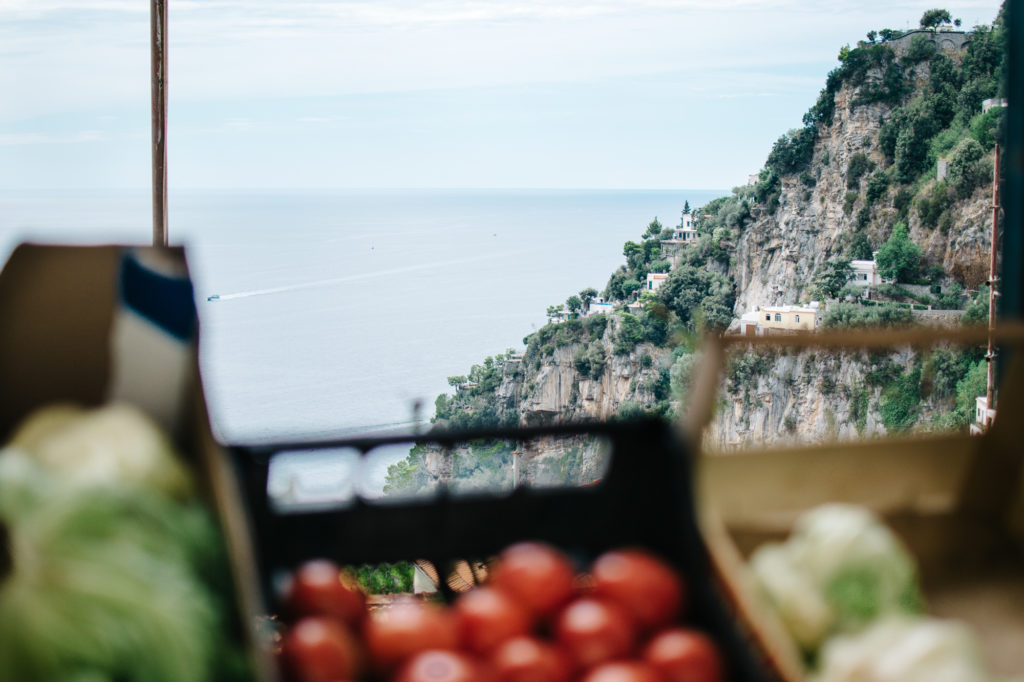 That night, I tumble down the giant hill on the bus, accept an invitation to have drinks with a Chicago man also traveling solo, and eat what feels like my first real, delicious meal in Italia. I am seated on the near empty patio of Hotel Poseidon, with a view so perfect it looks fake. I eat crispy pizzete fried dough balls and lusciously battered zucchini flowers and cod with yellow tomatoes and olive. An unstoppable wind blows and the wait staff brings me as much prosecco as I can handle (two glasses, sigh).
After dinner, Chicago-man Clark buys me a beer and I tell him I need to get down to the sea. We walk our beers down to the water and I take off my shoes and put my feet in the sea and look up into the clear face of the moon. We wander over to Music on the Rocks and gaze out at a view of sea and cliffs as some blessed gentleman plays jazz on the piano. I say goodbye and sleep very, very well.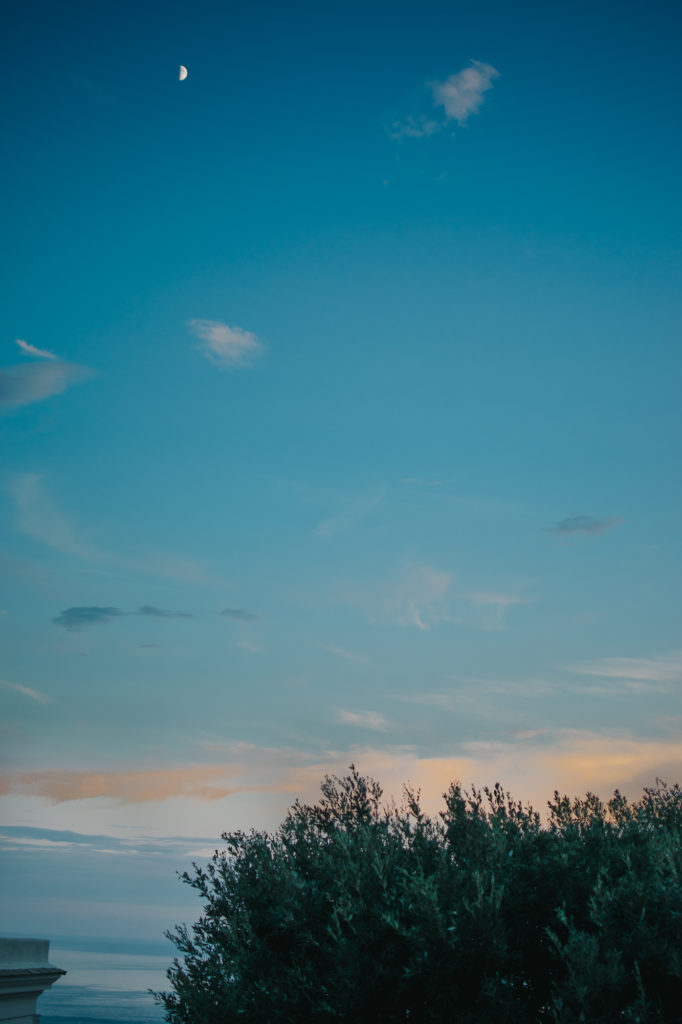 AMALFI DAY 2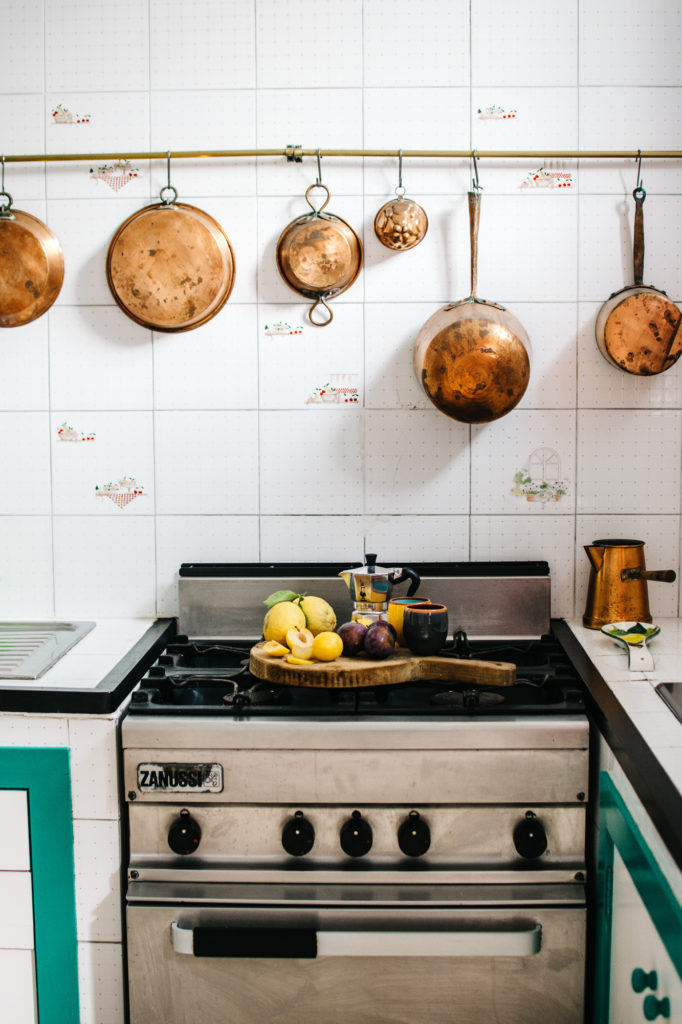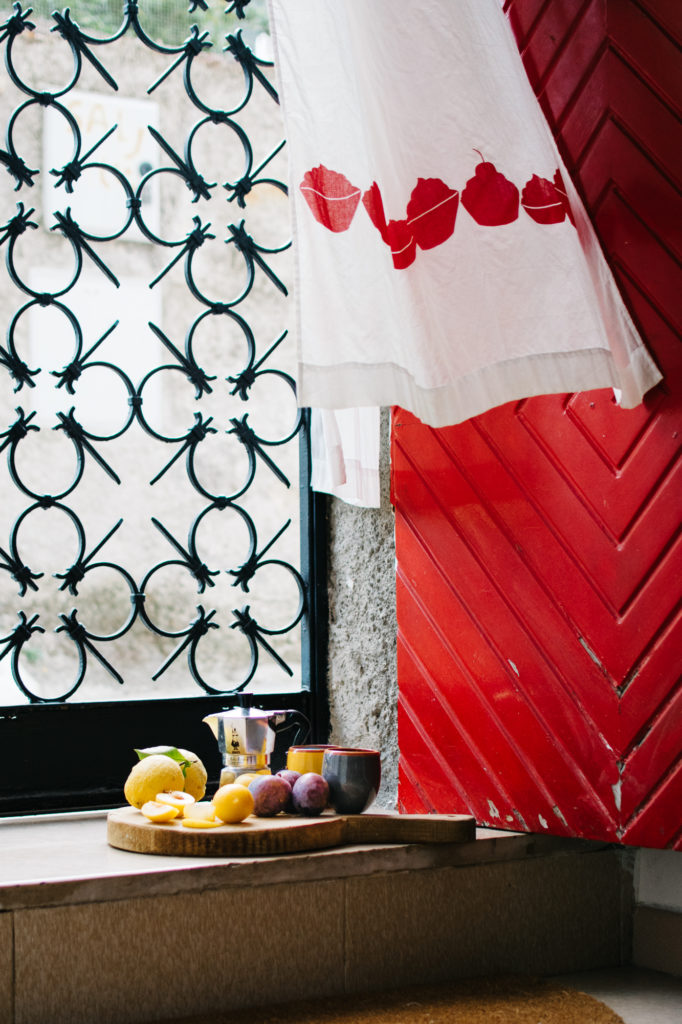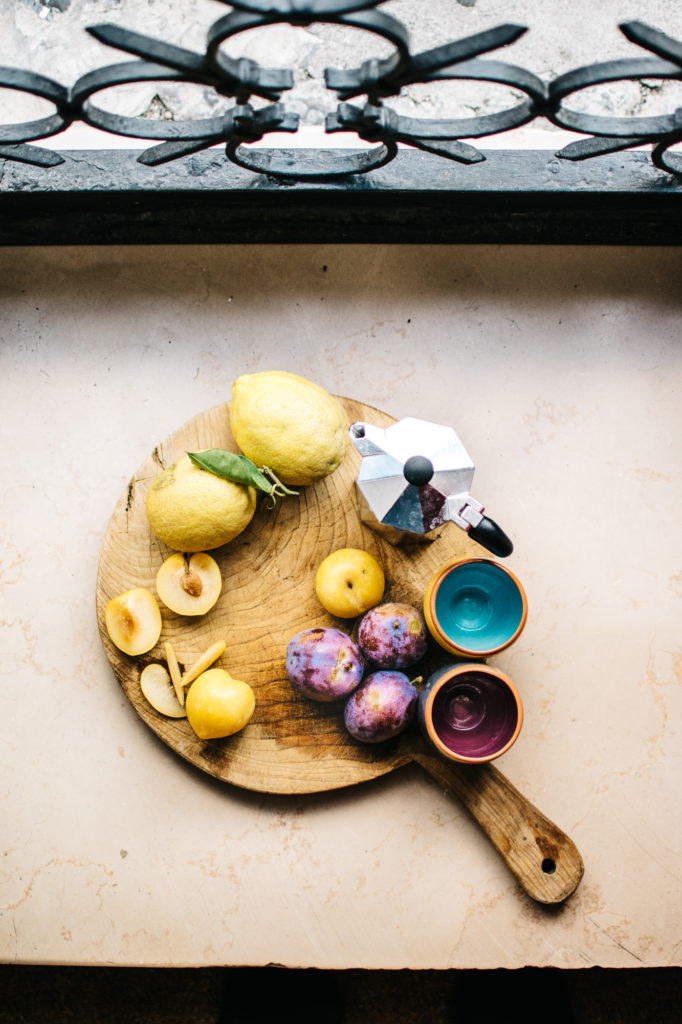 Today is a kayak trip from Positano to Praiano, and despite my extremely meager kayaking skills, the gracious Alberto manages to lead me down the coast, through the Grotta di Cadavere, in and out of various inlets, spouting geographical lore the whole way. We learn about the islands of Li Galli, and their mythological roots in the Odyssean sirens. And, marine gentleman that he is, Alberto kayaks ashore at the secluded Laurito Beach to make me a reservation for that afternoon at the fabled Da Adolfo.
Back in Positano, I quickly pick up a Turkish beach towel before boarding Da Adolfo's red fish boat, which departs every half hour to shuttle eager guests to its relaxed shores. The trick with Da Adolfo is that you must have a reservation to go, and they only except reservation by phone—yet they never answer their phone. Hence one must resort to a trek by kayak, a skilled concierge, or hopping on the boat at its first departure at 10:30am and hoping for the best.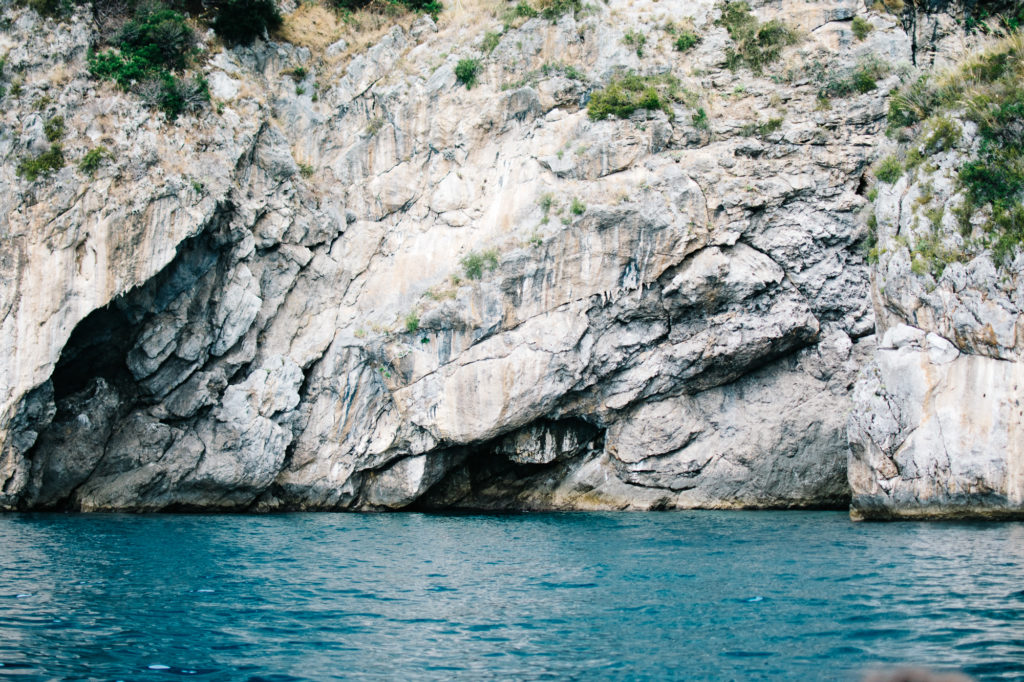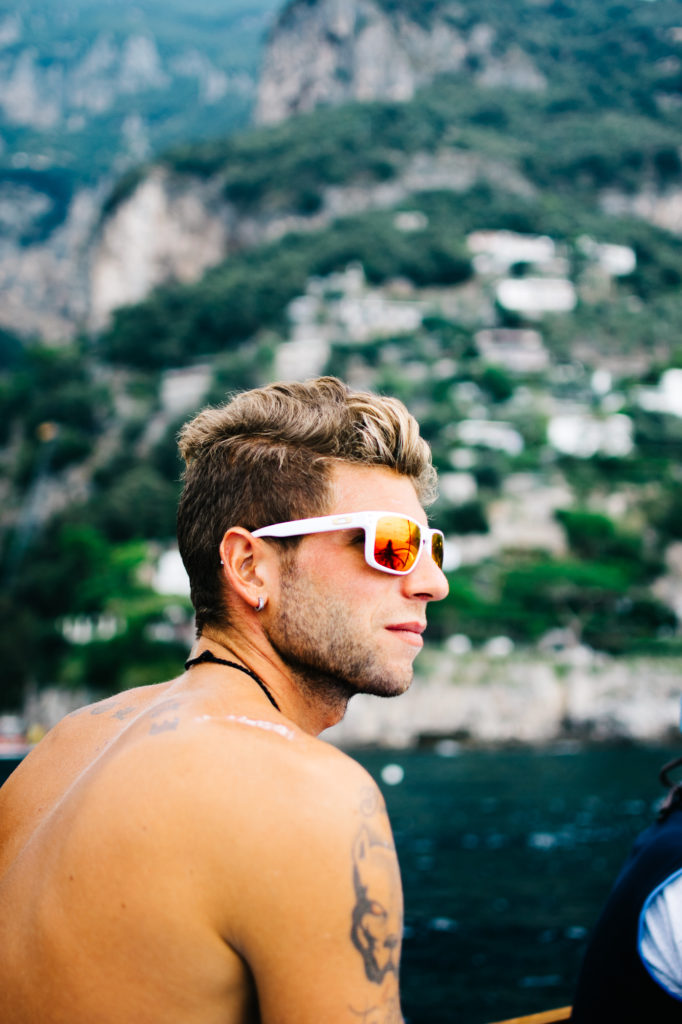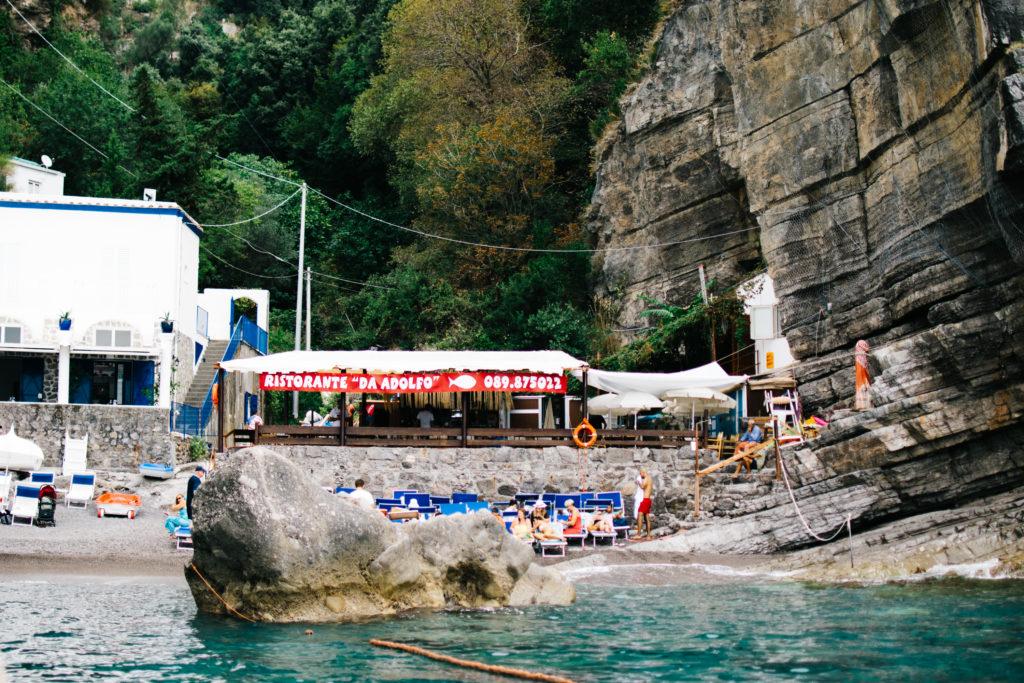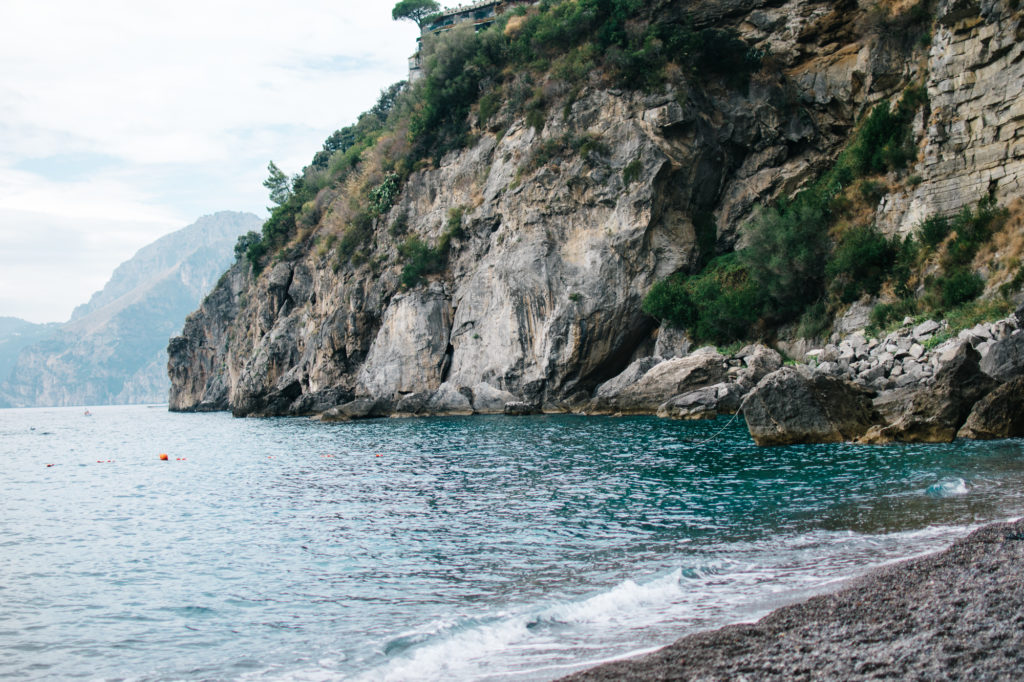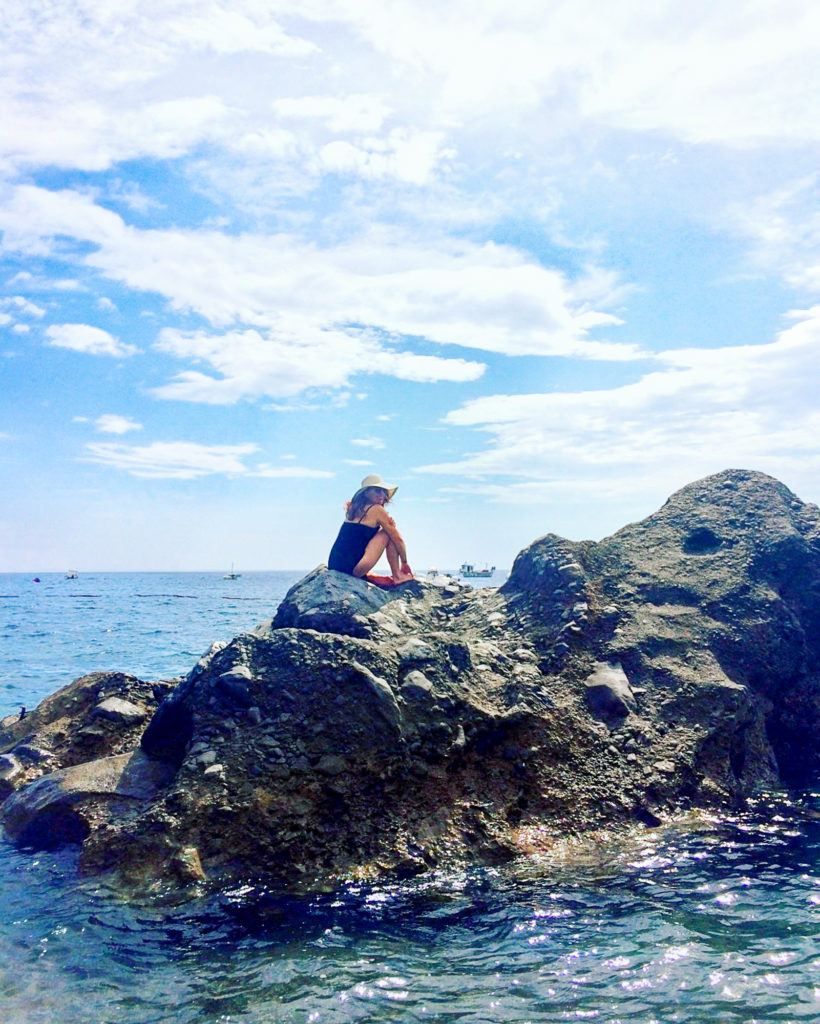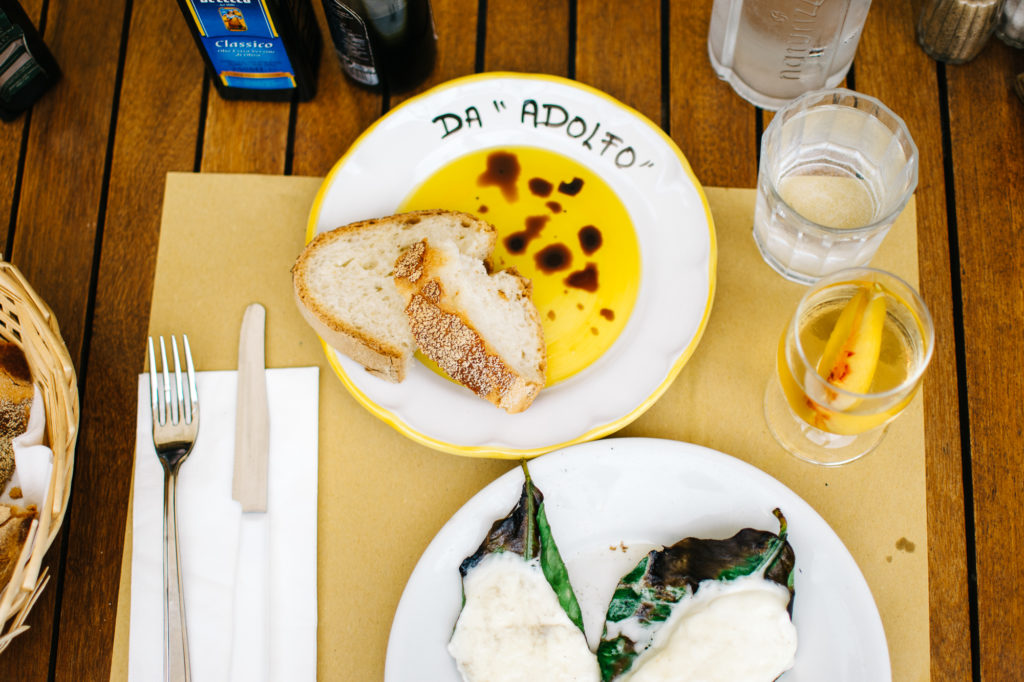 Once there, I know immediately I'll be coming back again. Sparkling blue, crystal clear waters. Jutting cliffs on either side. A perfect rock for sunbathing just a bit off shore. Laurito Beach is divine. And so is the food at Da Adolfo: White wine with fresh peaches, grilled mozzarella on fragrant lemon leaves, and the best handmade pasta and pesto I have ever tasted. The young newlywed couple seated next to me strikes up a conversation, and Angelika, Hayden and I spend the rest of the afternoon swimming, climbing, exploring, sunning. Before leaving, I make my coveted reservation for tomorrow.
The evening begins with a quick trip to the tiny grocery of Chiesa Nuova, where the produce shelves look out onto the sea, and I take home my plums and citrus and tomatoes and fior di latte mozzarella to enjoy in the copper-clad kitchen of my Airbnb (called House of the Chef, for the original owner who was chef at the exclusive San Pietro resort in the 1980s and '90s).
AMALFI DAY 3
It may have taken me three days, but I finally find the steps that lead from the top of town down to the beach. I breathe in the morning glories and rosemary and citrus and figs on the way.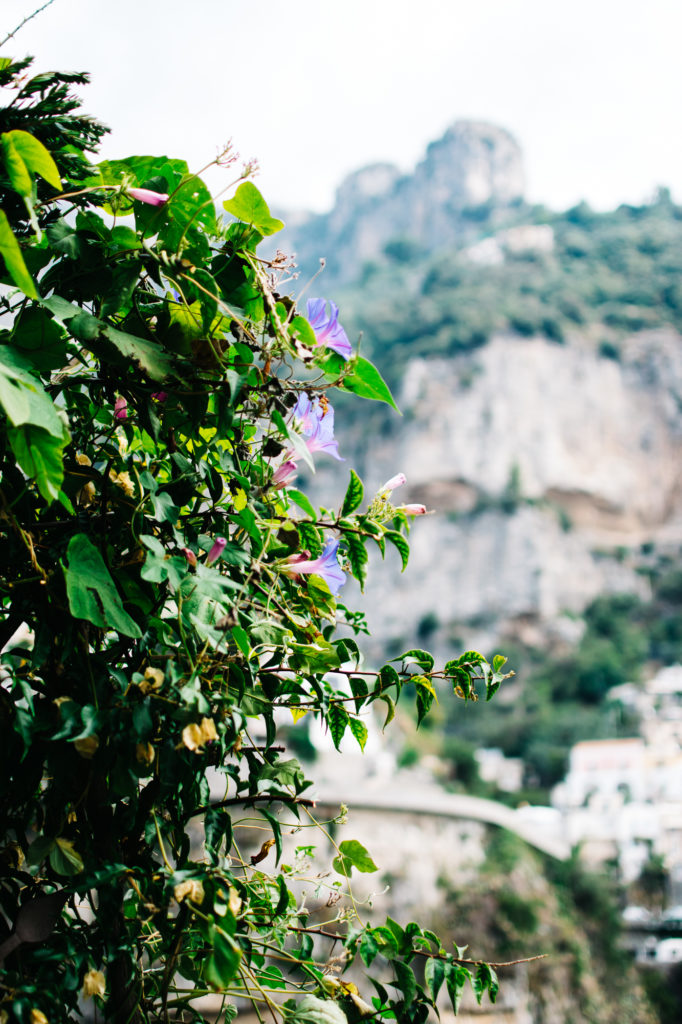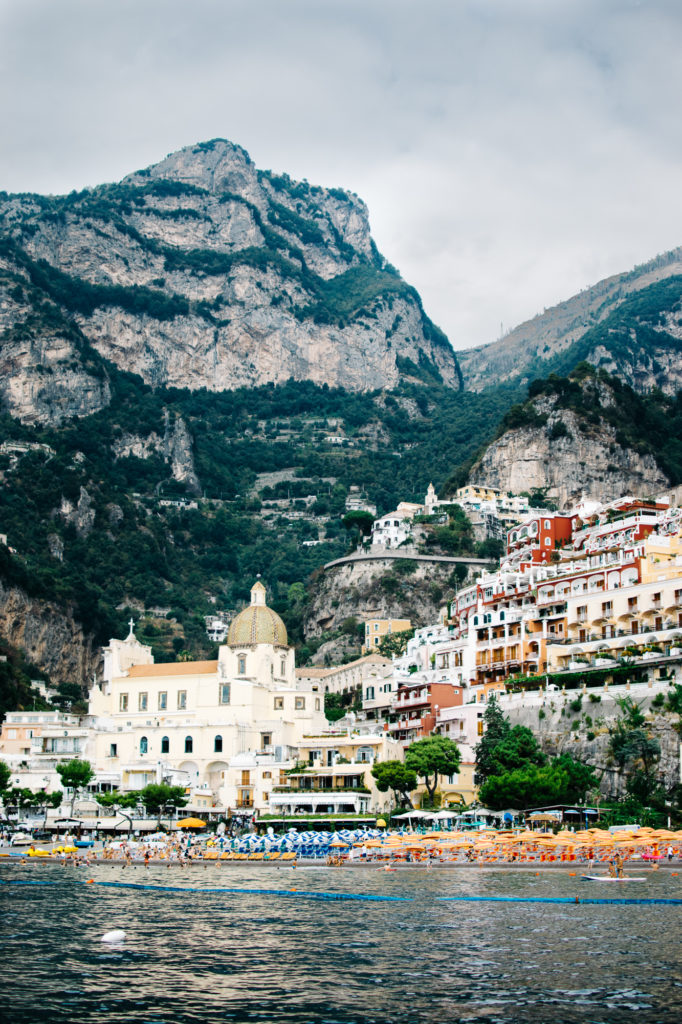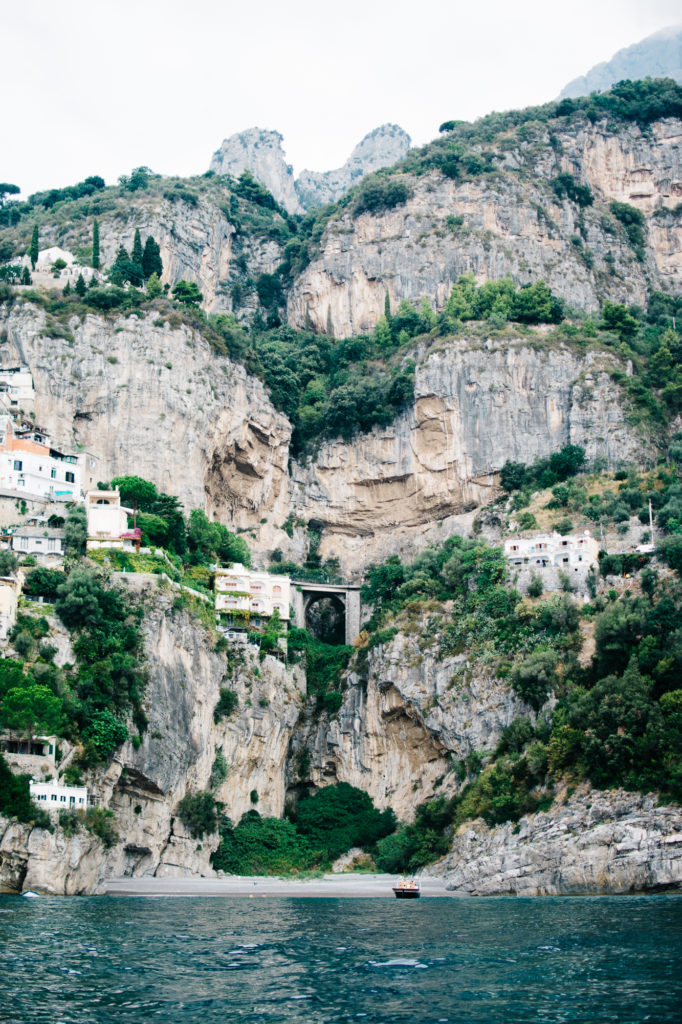 And then, once again, I'm boating to Laurito, where this time I secure a beach chair at the neighboring Treville Beach Club. After a welcoming aperol spritz and snack, I start exploring the cliffs and beach to my right.
People today are particularly full of EPLM (Eat Pray Love Moment) reactions, instantaneously crafting a single-girl-on-a-journey-of-self-discovery narrative for me in their minds: "Ballsy!" "Good for you!", and, my favorite, "Wow. A Cali girl takes Italy." I let them have whatever fantasy about me they want. Everyone is exceedingly friendly—Including the group of young Italian boys who tell me the legend of Il Cazzo Volante, the flying cock.
Yes, a human phallus in sculpture form that, ahem, pops up throughout the property—if you look for a large red phallus in the righthand field of the Da Adolfo photo a bit up from here, you'll see one. Il Cazzo Volante is Da Adolfo's patron saint of sorts. Our glowing server, Alba, tells us to rub one for good luck.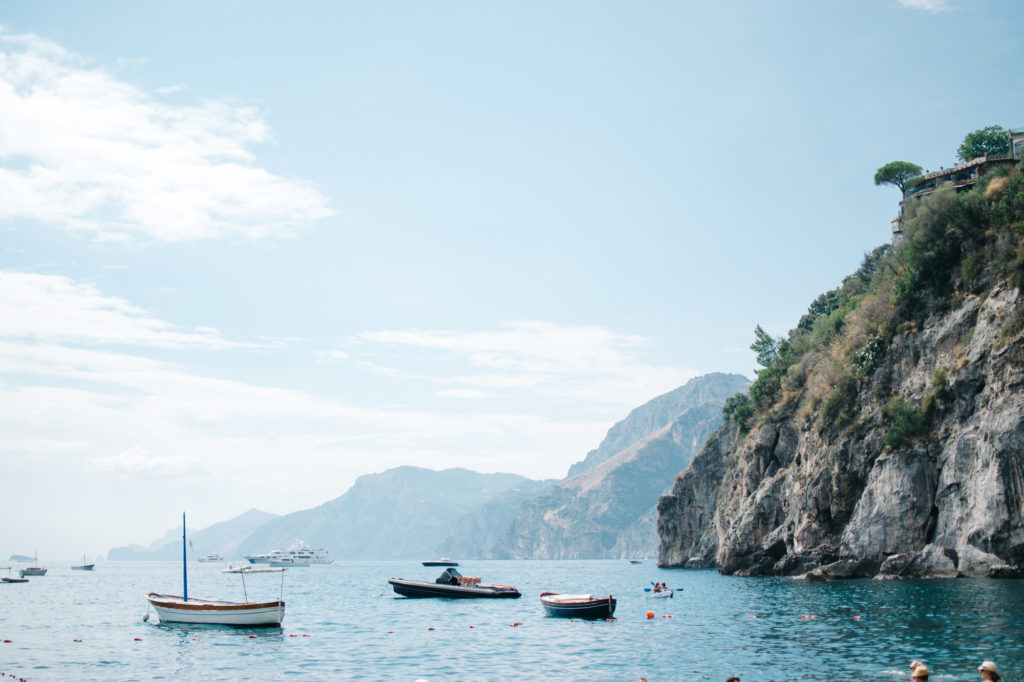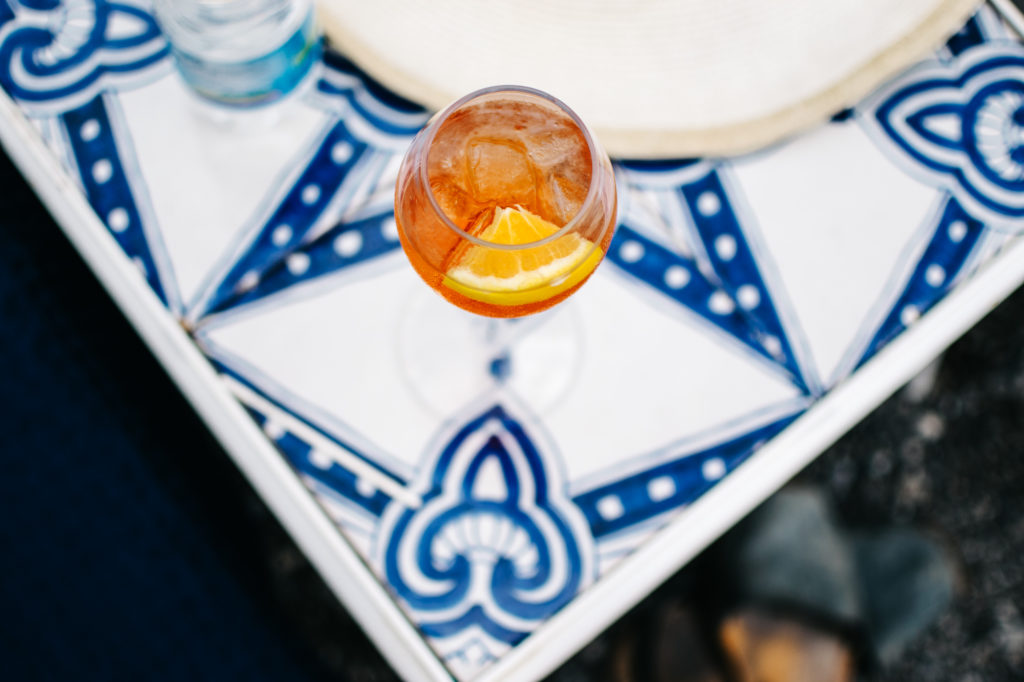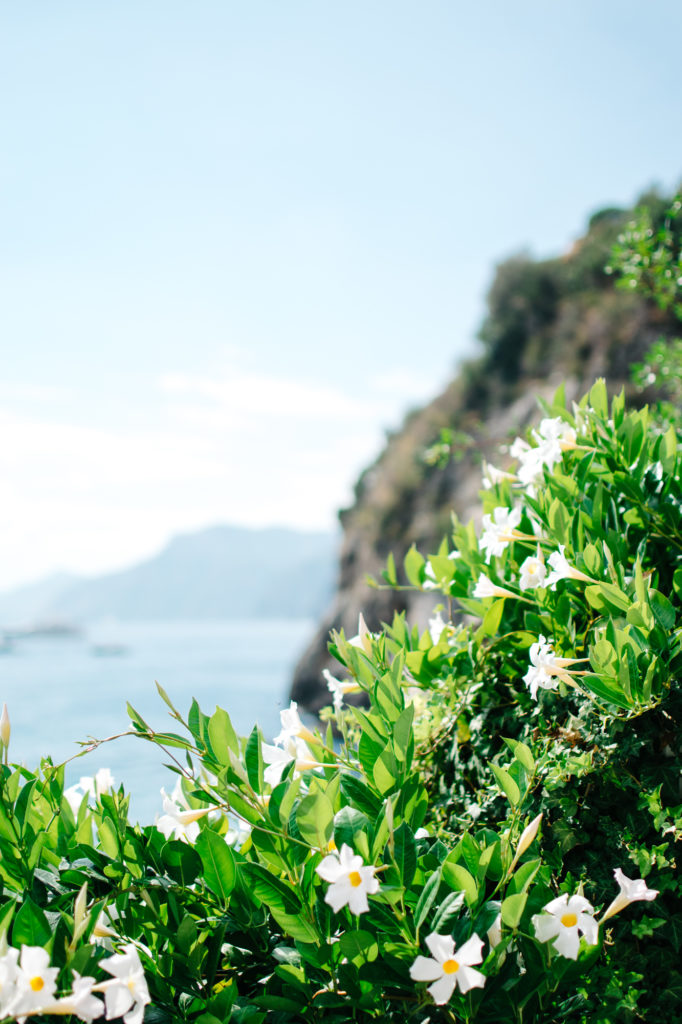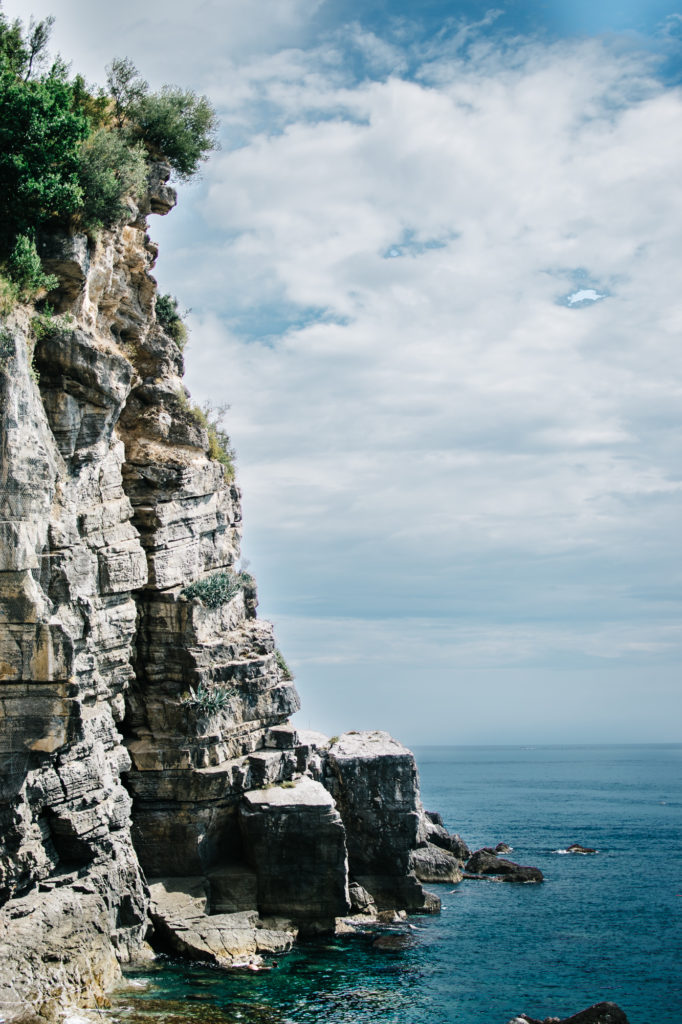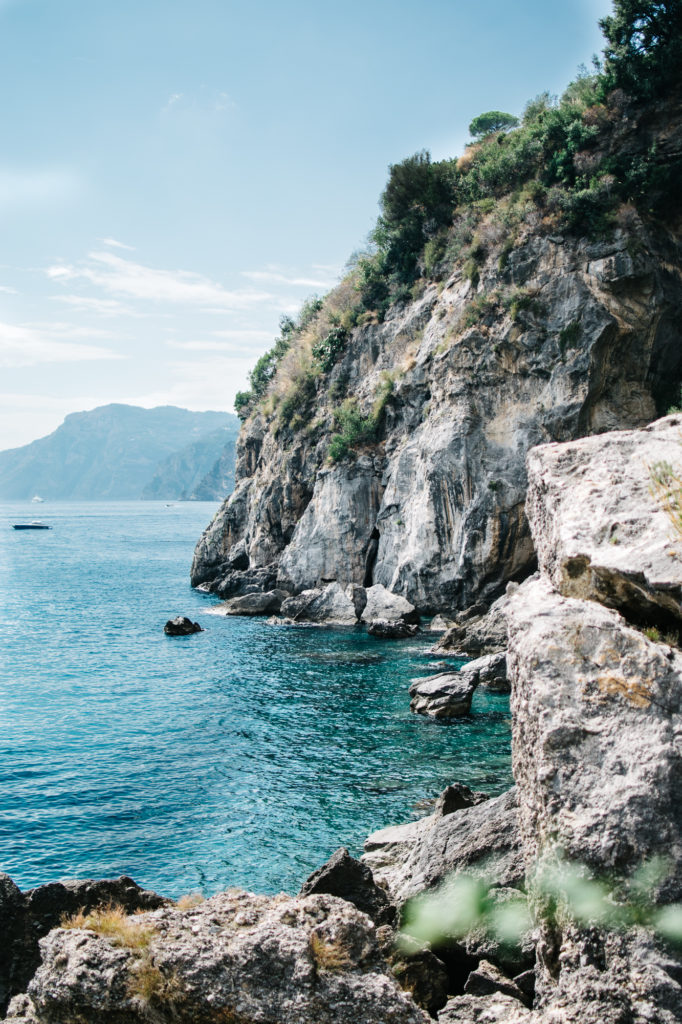 On the way home, I wander over to Spiaggia del Fornillo, the beach just north of Positano's main drag, and while I love the trail walk and sweet mini beach just before I arrive at Fornillo, I'm still partial to my secluded Laurito. After a delicious dinner at the second-story Ristorante Buca di Bacco, replete with a heart-shaped eggplant croquette from a waiter attempting to woo me with fried vegetables and limoncello, I stand under the moon watching the Positano Premia Danza performance, the 44th anniversary of a dance festival that draws choreographers and performers from around the world.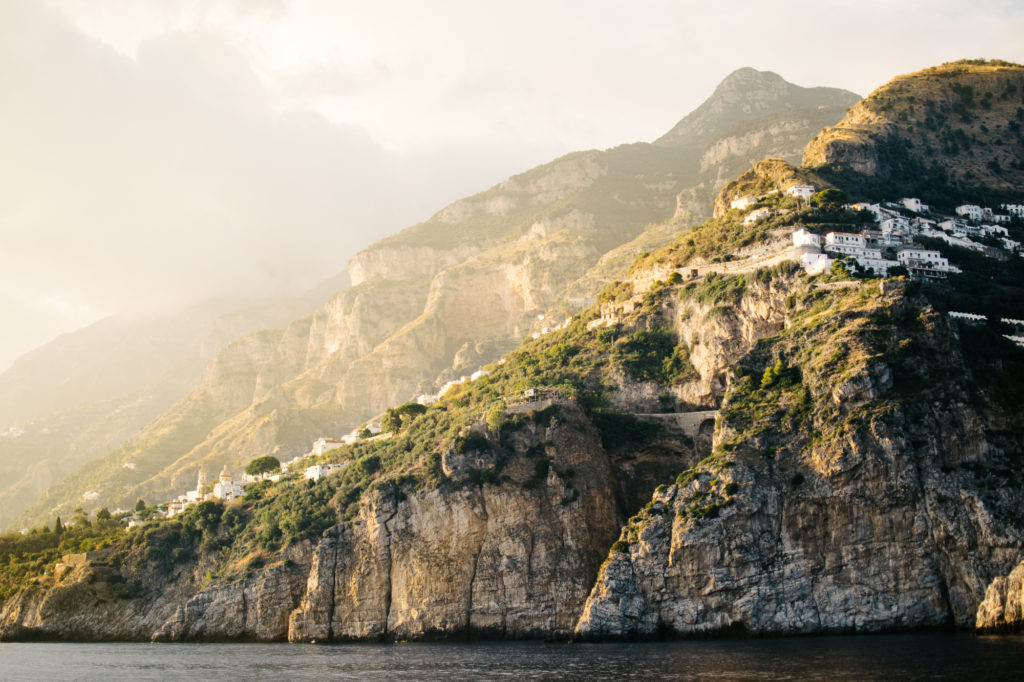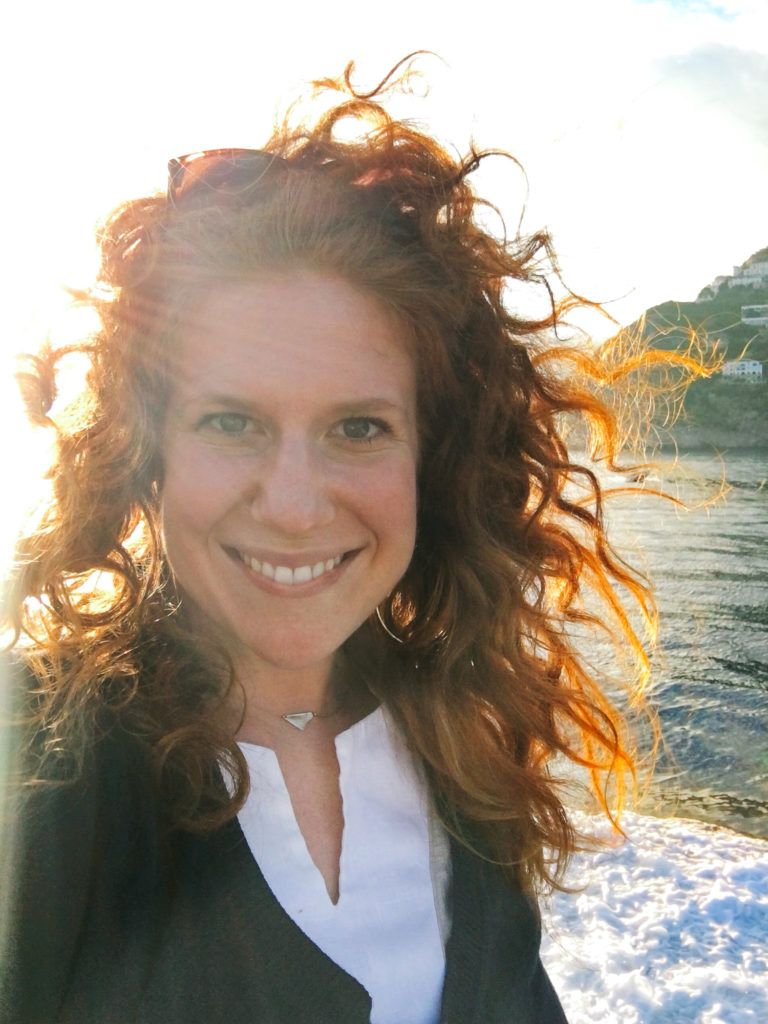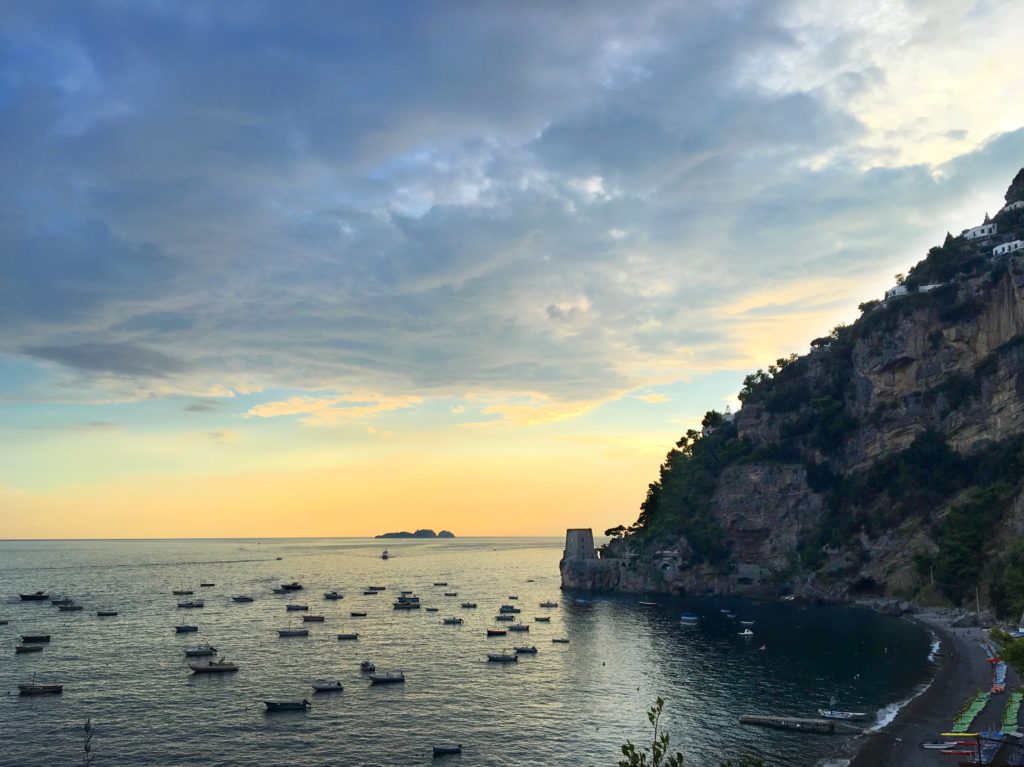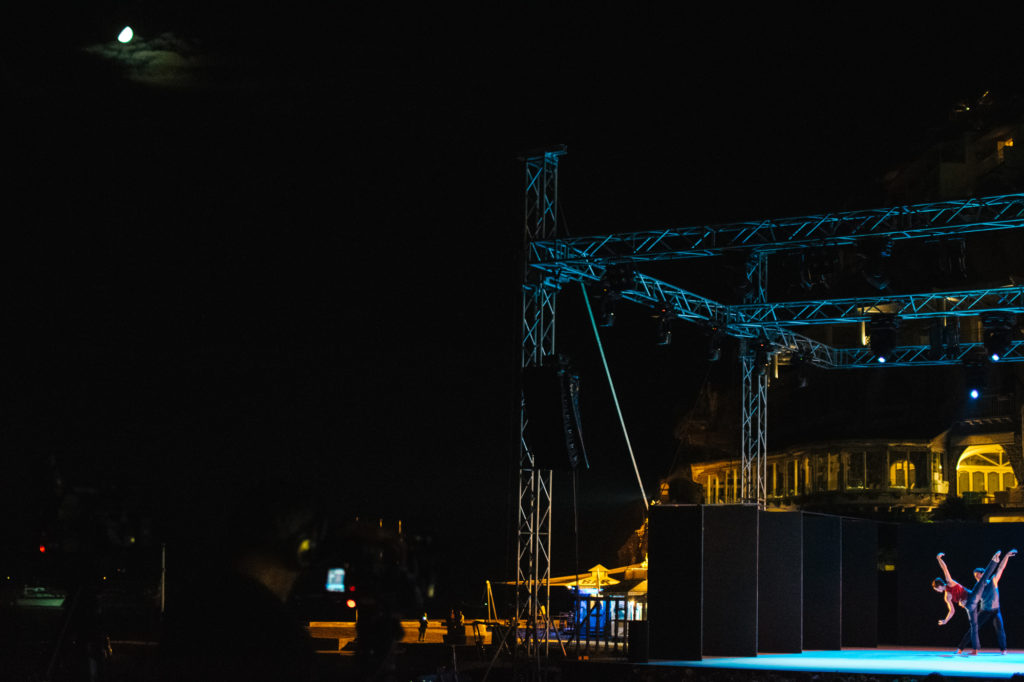 AMALFI DAY 4
I wake up at noon, the revelation of thirteen hours of sleep dawning on me like a quiet, internal smile. I am stunned. I can't remember the last time I slept thirteen hours. I feel new, my skin elastic, happy. But I've got a boat to catch, because today is Ravello day.
The TravelMar boat takes me to Amalfi, past a coastline dotted with villas and churches, kissed with afternoon sun. In Amalfi, I immediately make my way to the bus depot, and purchase my ticket up to the small town of Ravello. We climb hairpin turn after hairpin turn, each blind curve wilder than the one before.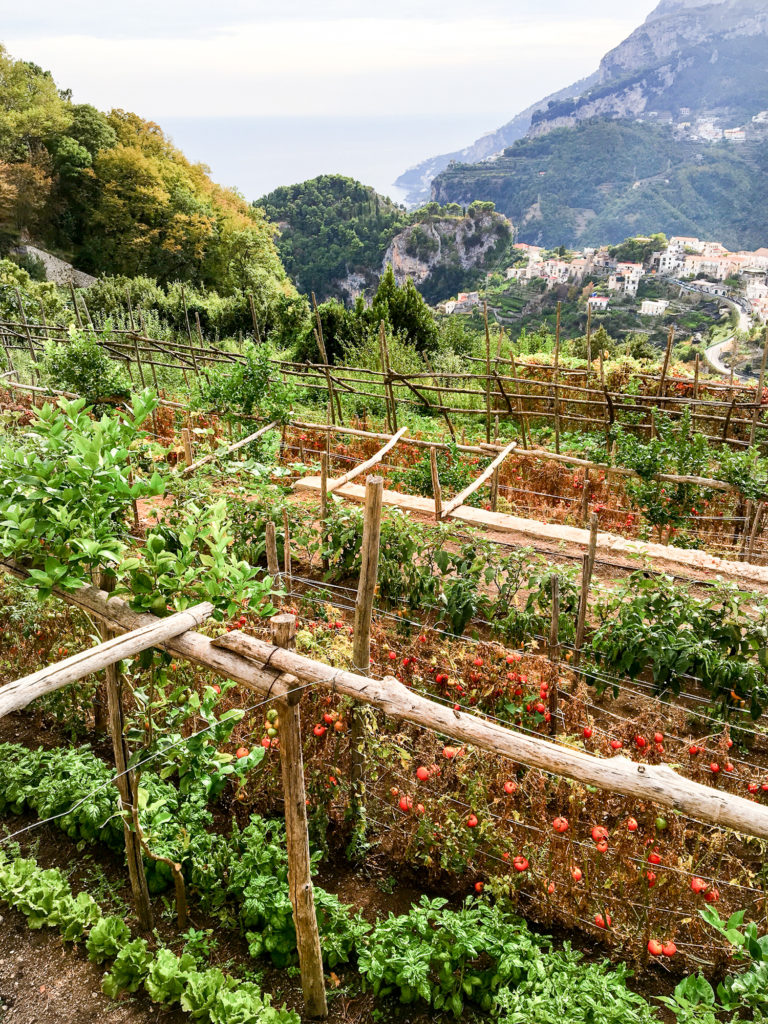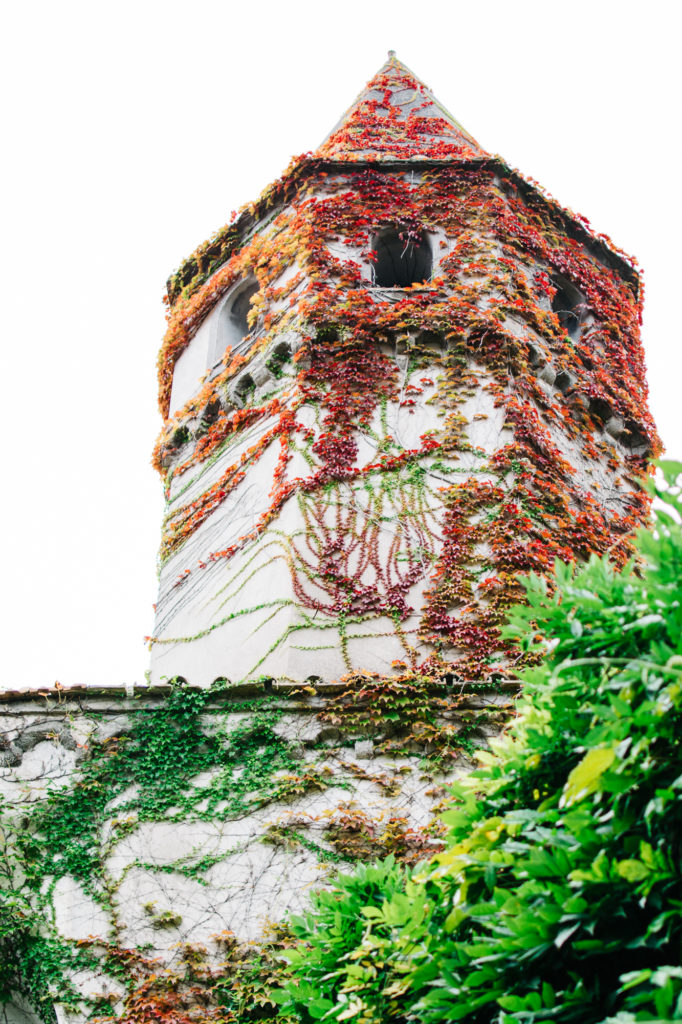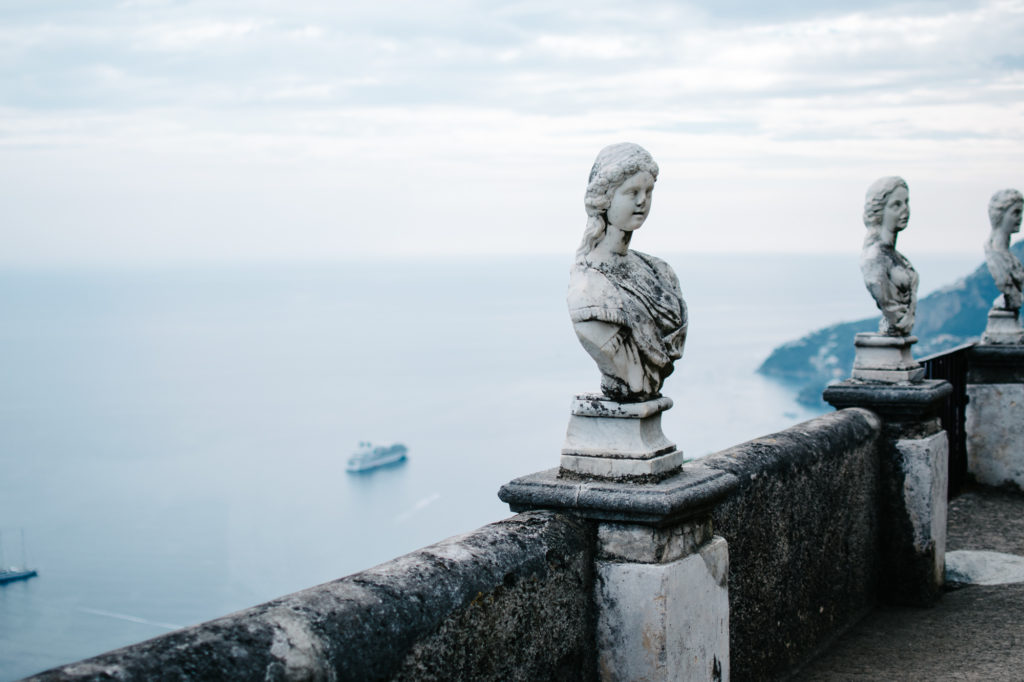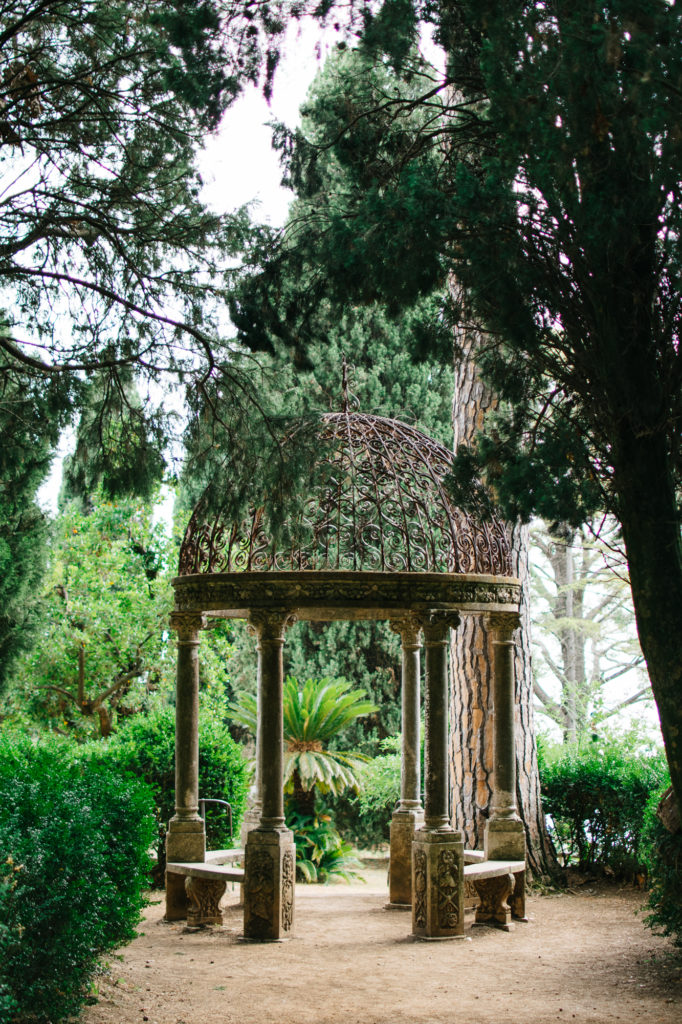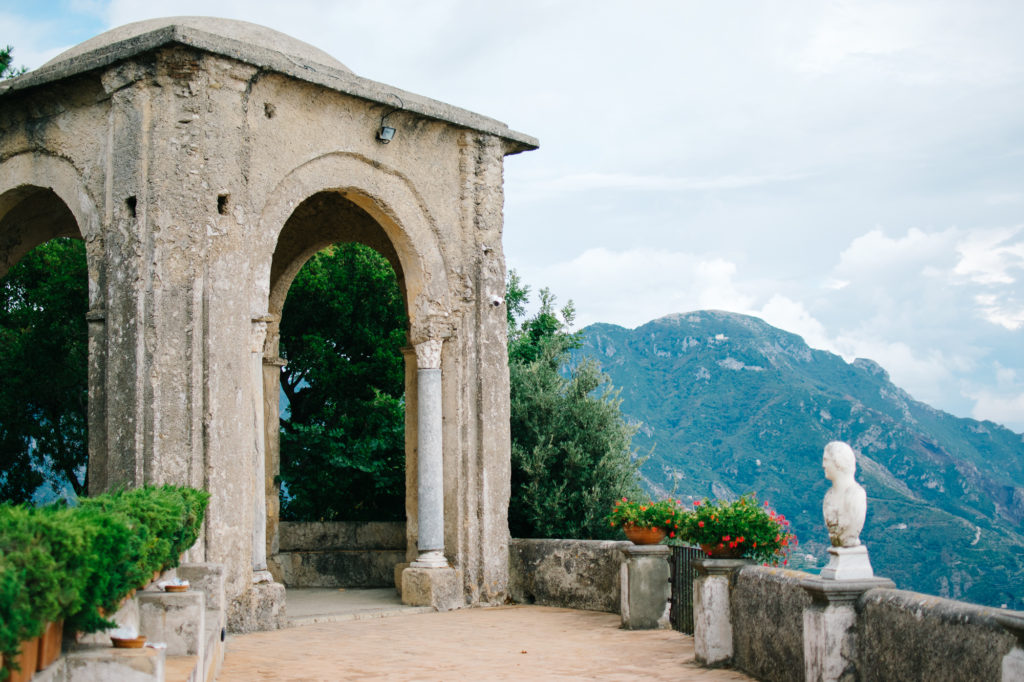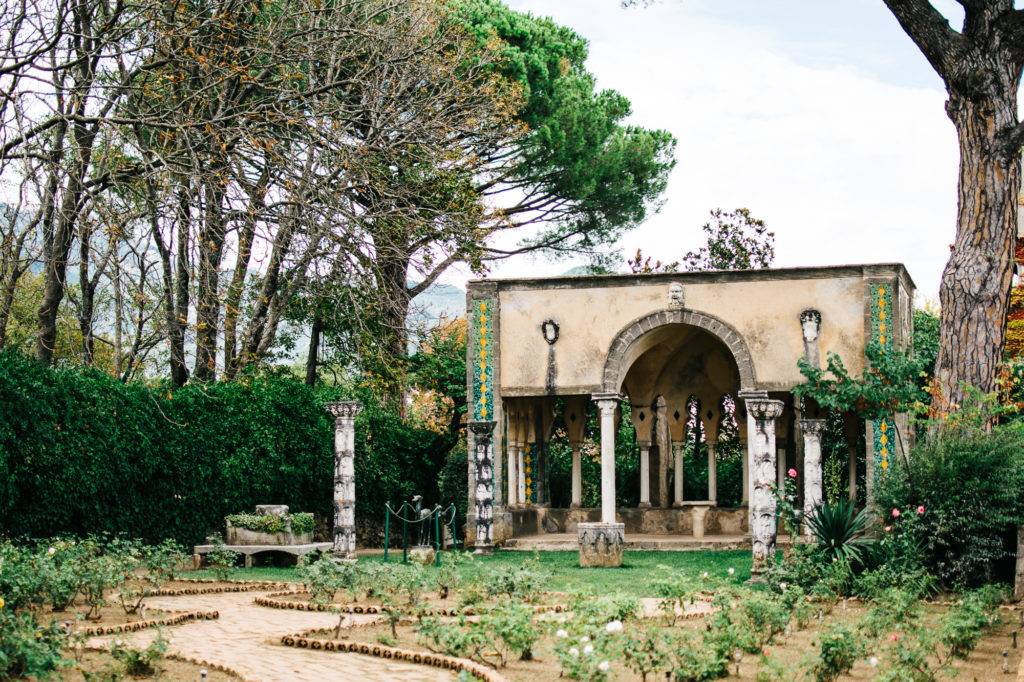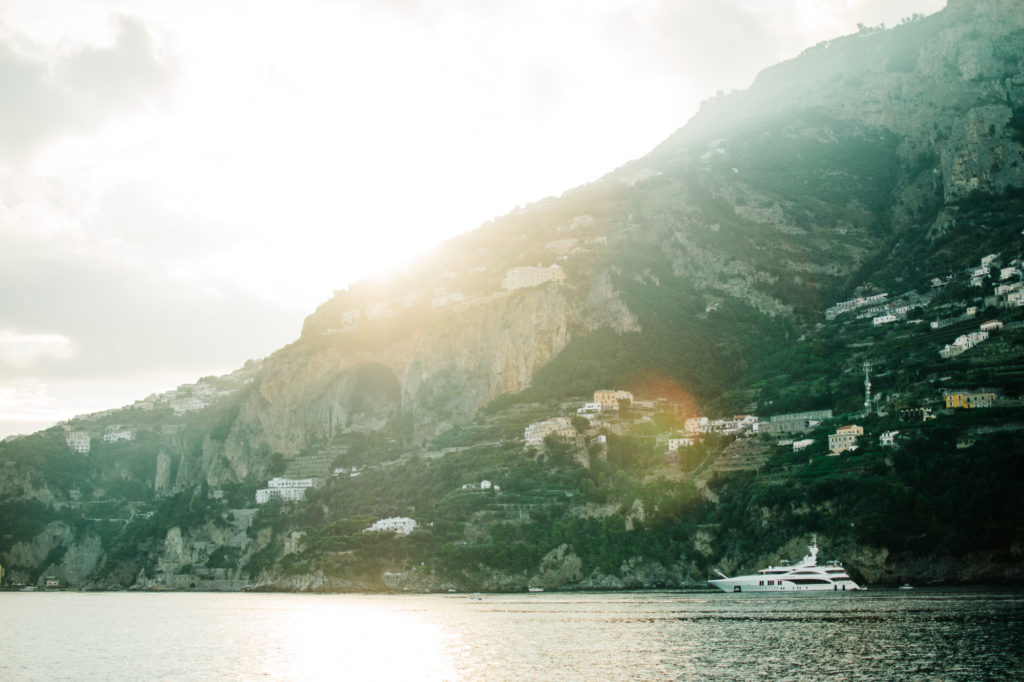 I spend my last afternoon in Amalfi tucked into the hills high above the coast, exploring Ravello's mountain refuge and the beauty of the Villa Cimbrone. Though the villa was built in the eleventh century, it was eventually abandoned. In 1904, an English traveler named Ernest William Beckett bought the estate and partnered with a man from Ravello, Nicola Mansi, to bring it back to life. Now, the sprawling English and Italian gardens, the rose terrace, the tea room, and the staggering views make it entirely sublime.
As I make my way back towards the bus, I realize I've lost my hat. Somehow, I'm fine with it. I like the idea that some part of me will remain behind in Amalfi, even as I hurt back to Rome, and then to LA. A hat in exchange for the fulfillment of primordial soup fantasies. It's a deal.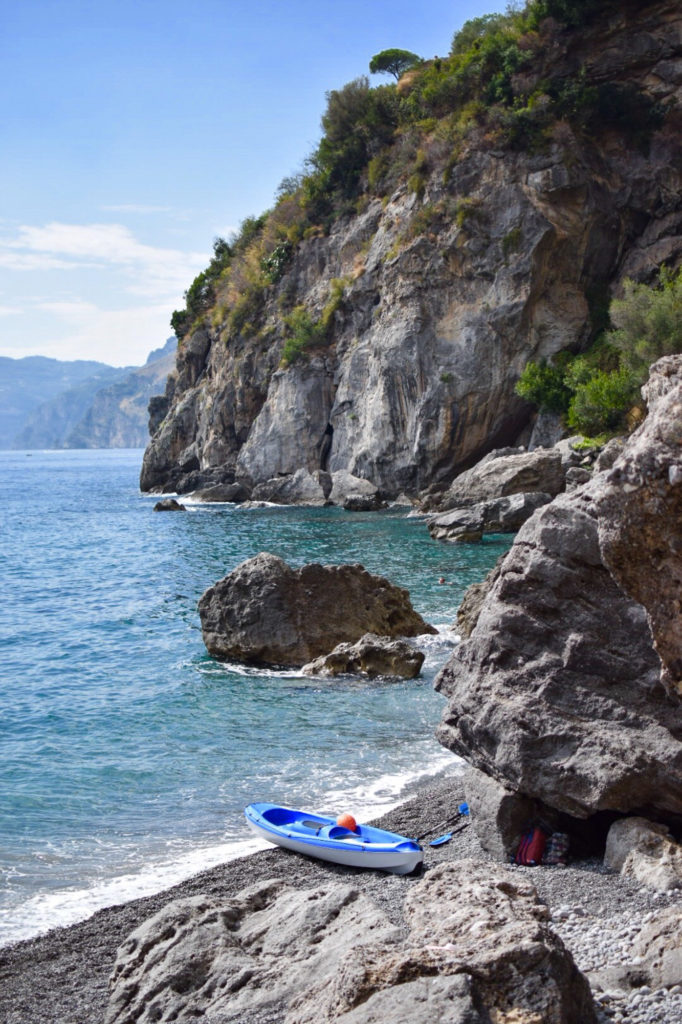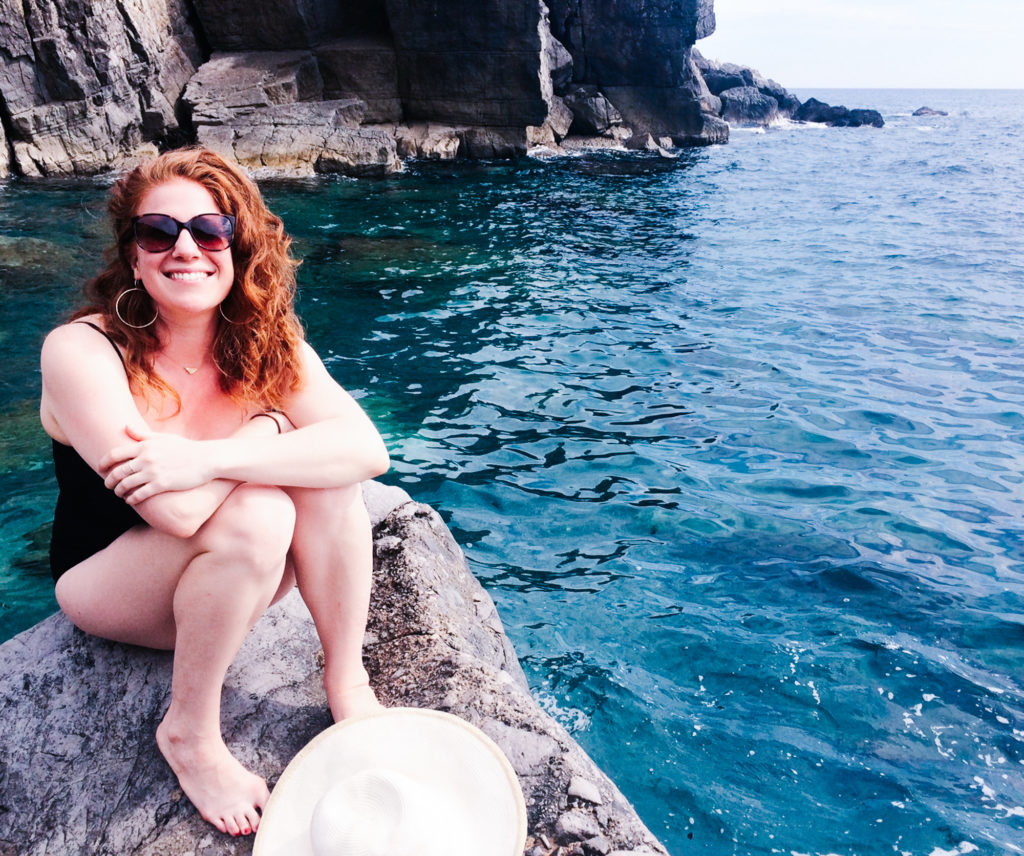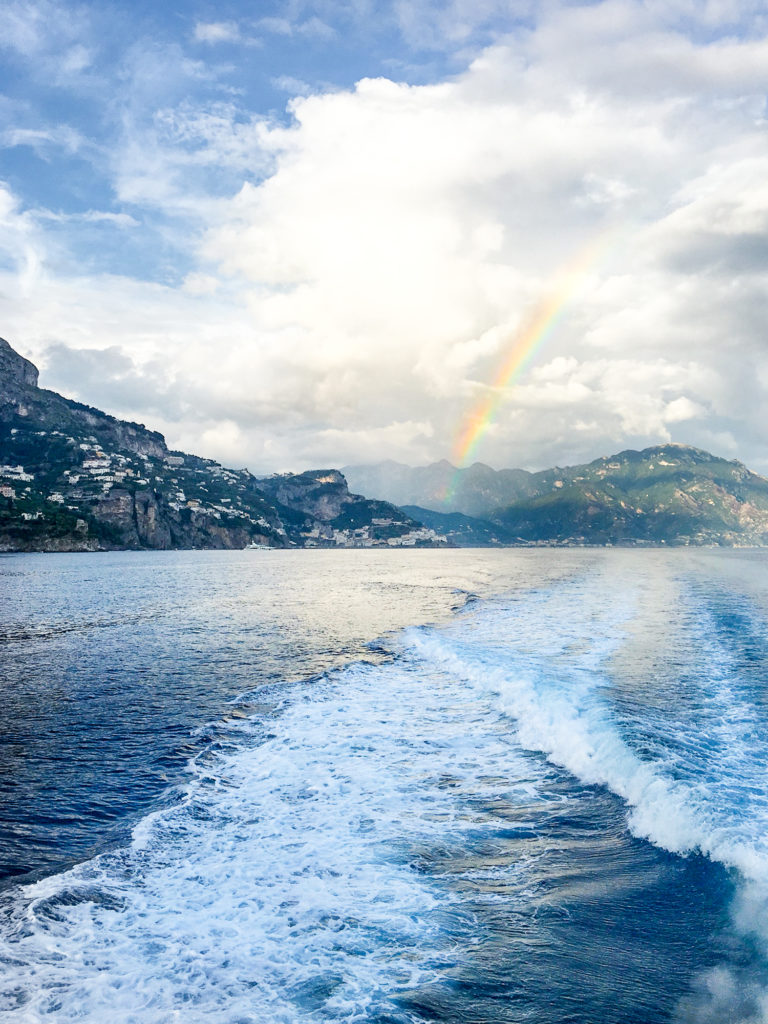 Read below for my recommendations of where to stay, eat, and play in Positano and Amalfi.
POSITANO & AMALFI 
WHERE TO STAY:
Airbnb
WHERE TO EAT:
Ristorante Buca di Bacco (upstairs)
A few restaurants I wanted to go to but didn't have time to: Da Vincenzo, Il Ritrovo, San Pietro di Positano
WHERE TO PLAY:
Kayak In Positano (ask for Alberto)