Jump to Recipe
This is a sweet and simple summer meal that I'm accompanying with a sweet and simple post—bits and bobs of audio and visual media I've been loving of late, the things keeping me nourished and sane. To start: Tender eggplant and chickpeas get tossed with a heavy hand of za'atar spice, coriander, and cumin, and roasted into crispy-soft beauty. They perch atop a bed of summer's juiciest tomatoes, doused with olive oil, vinegar, flaky sea salt, and basil. The elevated tomato salad is finished with a garlicky tahini dressing. You could eat it with your fingers if you like. Add some kale. Share it with your favorite person/people. Or you could just hog the whole thing for yourself (I'd halve the recipe, in that case).
I'm in the midst of scheduling Kale & Caramel cookbook events for five cities. Five! Portland, New York, Chicago, Indianopolis, and Bloomington, in September and November! It's incredibly exciting and simultaneously incredibly challenging—nota bene: Do not start planning a five-city book tour a month before said tour begins. So every time I hit the I'm-so-exhausted-I-want-to-stare-at-a-wall-for-three-days pocket, I do what I can to turn up the nurturing and turn down the mental noise. I feed myself food that's healing. I listen to music that calms and enlivens me. I read books that fuel my creative mind. I watch sh*t that makes me laugh. And I listen to podcasts that captivate and teach me.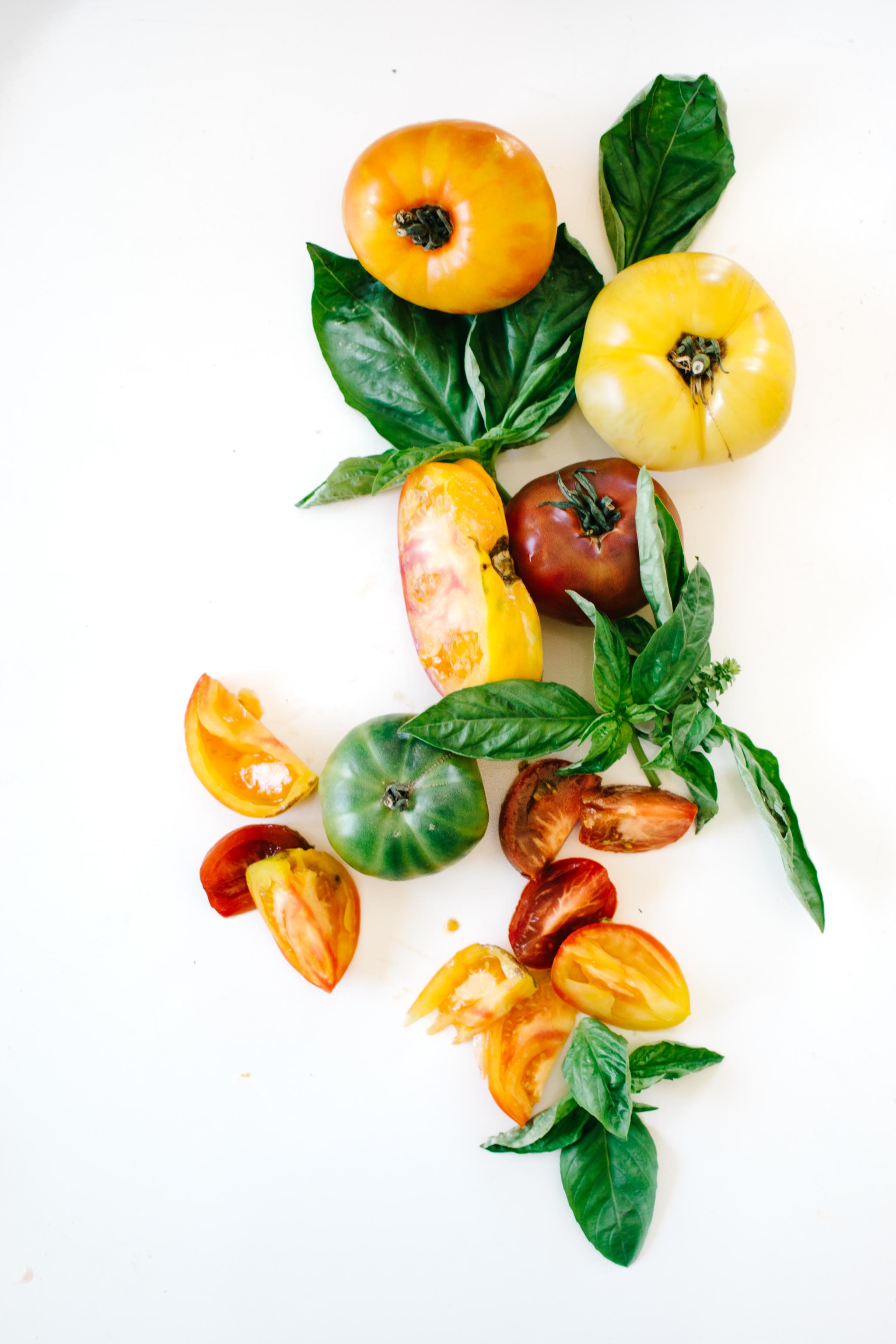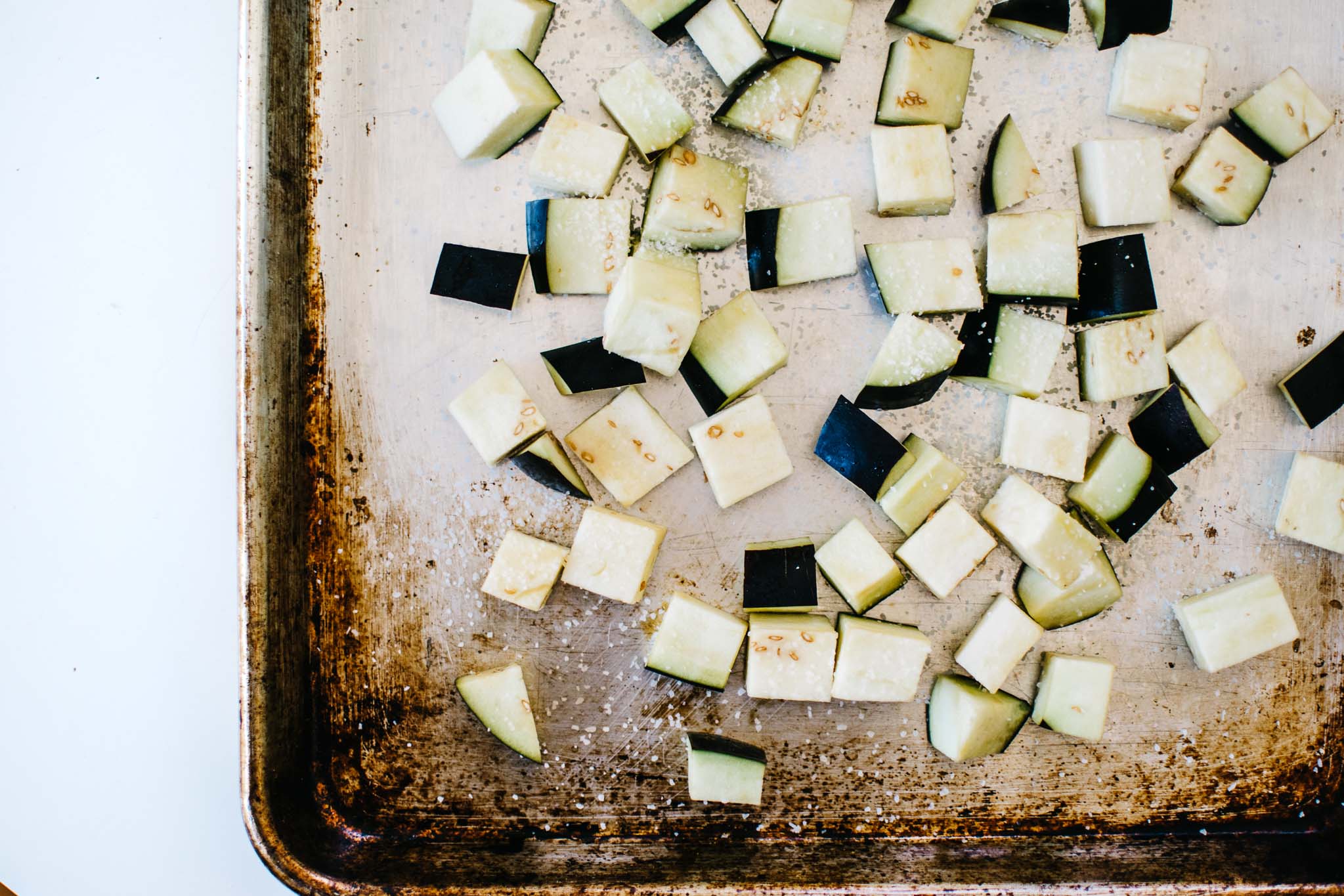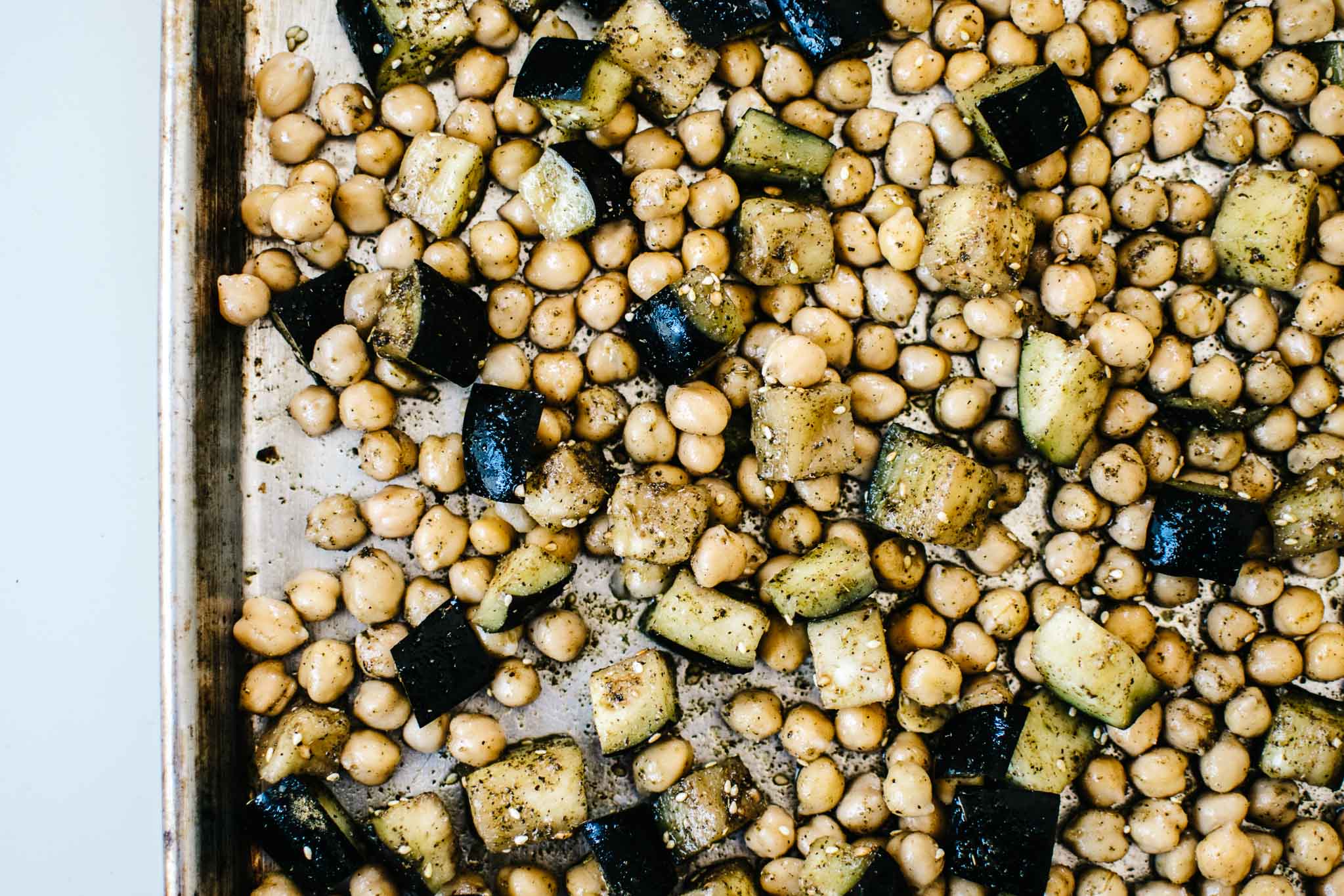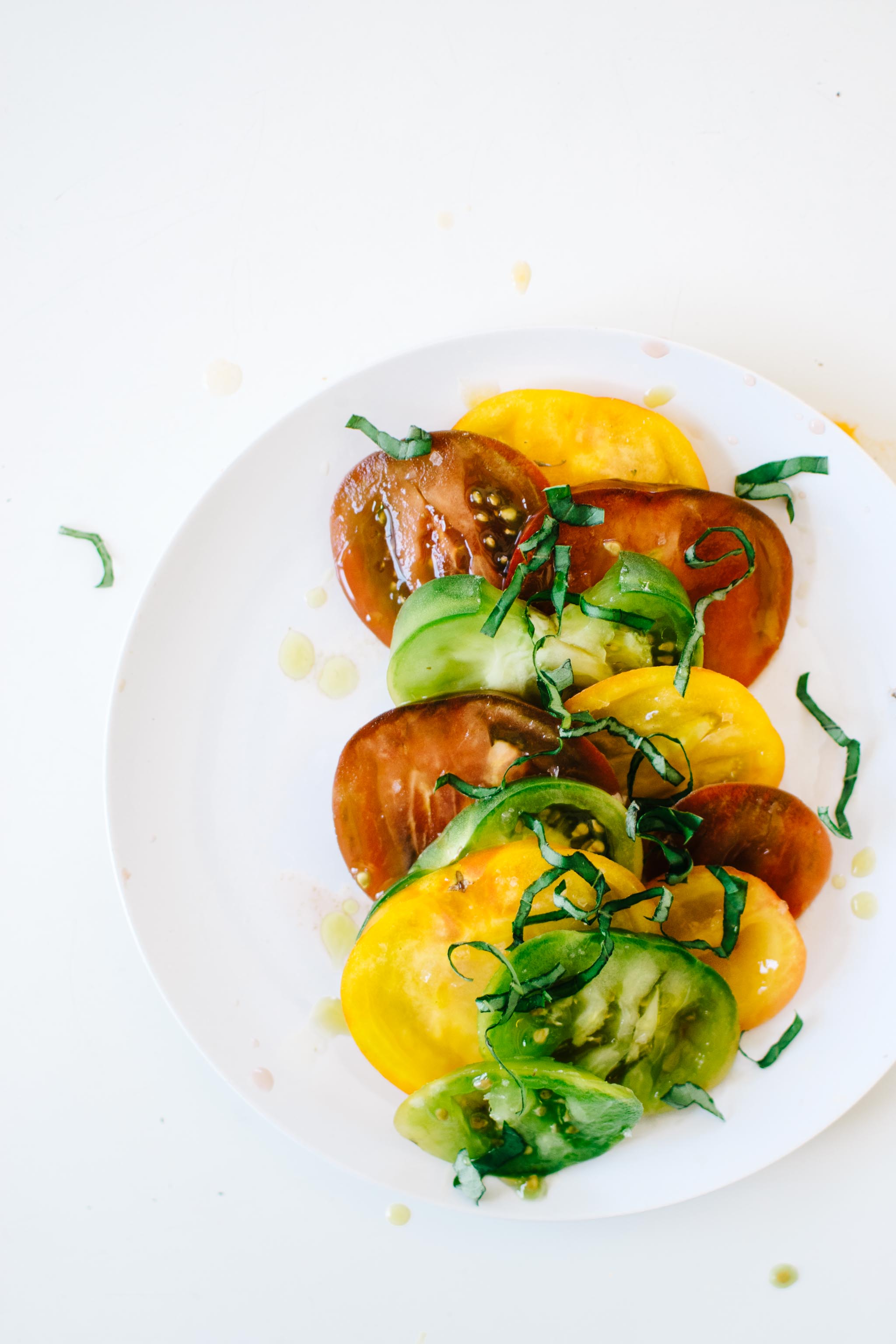 MUSIC
HAIM's new album Something To Tell You is heavenly. If you're not already enjoying this band of three sisters, hop to it. Favorite tracks: Want You Back, Ready For You, Walking Away, and Found it in Silence. (Sidebar: Because LA is LA and I am a supremely lucky lady, I got to have dinner with Danielle Haim last week at the opening of Good Measure in Atwater Village. I just about died but kept it together enough to chat about the Amalfi Coast and ogle over how totally lovely she is in person.)
BOOKS
Performance artist Marina Abramovic's memoir Walk Through Walls is my favorite book I've read this year. Her life began in Communist Belgrade, 1946, and spans decades and artistic and spiritual lifetimes across continents and planes of existence in the most staggering and heartening way. Where Marina's art is sometimes distancing, her voice here is clear and welcoming, her life a template for moving forward with fearlessness despite all odds. Plus: What other book can you read that prominently features both Lady Gaga and His Holiness the Dalai Lama?
TV
CONFESSION: I HAVE WATCHED FOUR SEASONS OF VEEP IN THE PAST FOUR WEEKS. Zomg. It is just so dang good. I laugh. I cry. I feel an uncannily heightened understanding of our current political administration.
PODCASTS
Podcasts are my lifesavers in LA traffic, while I'm cooking and shooting and recipe testing at home, and in moments where I just want a little company. My favorites right now are:
2 Dope Queens: Listen to them. Worship them. Listen to Jon Hamm worshipping them.
Homecoming: This is a scripted podcast featuring Catherine Keener, David Schwimmer, and Amy Sedaris—it's a thriller about military veterans and PTSD treatment and I cannot stop listening. Highly recommended for driving and road trips.
RadioLab: The OG long-form podcast experience, RadioLab continues to educate and amaze. Check out last week's episode about "photoshopping" for audiovisual content. It's bracing. And super important.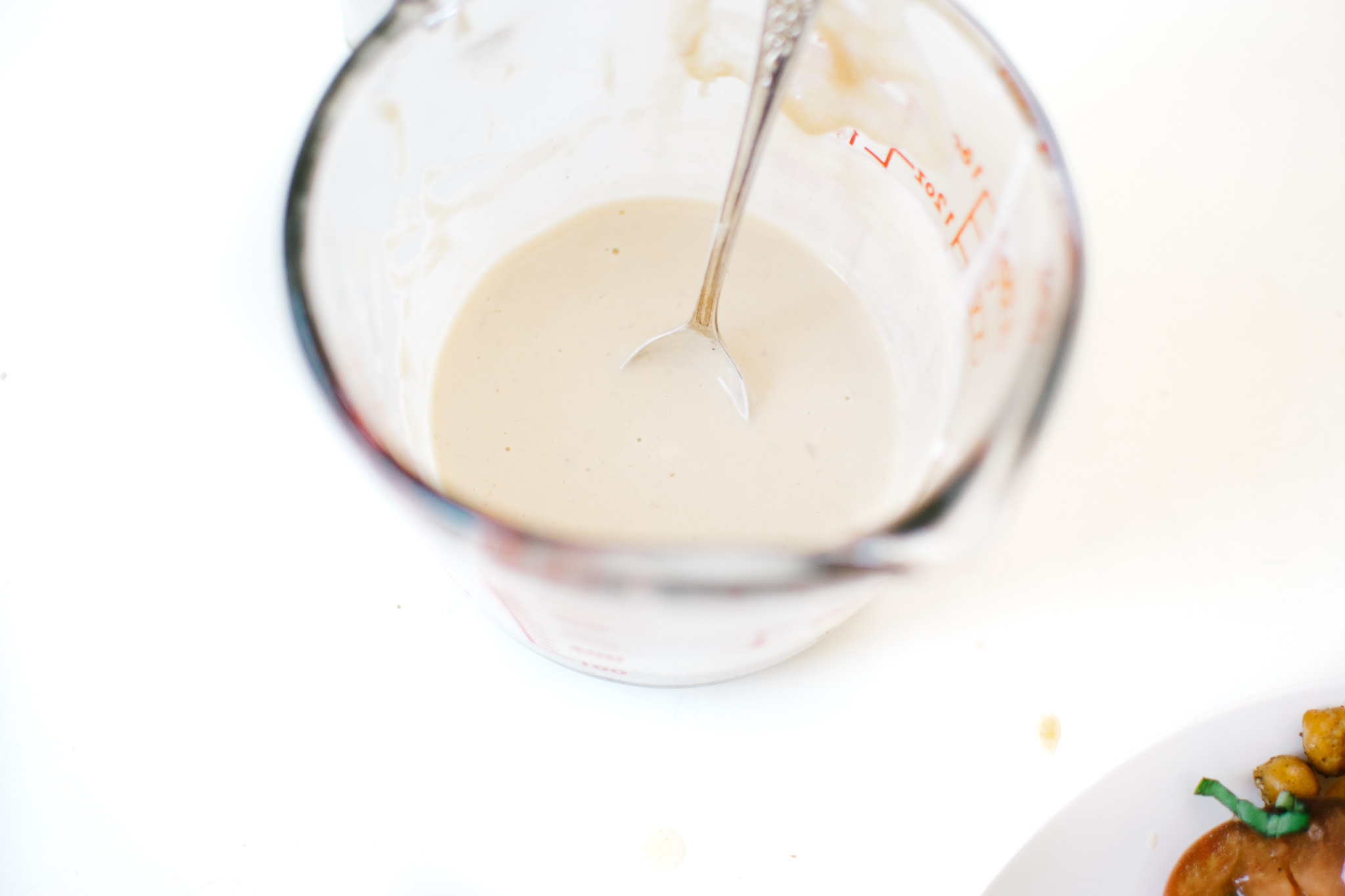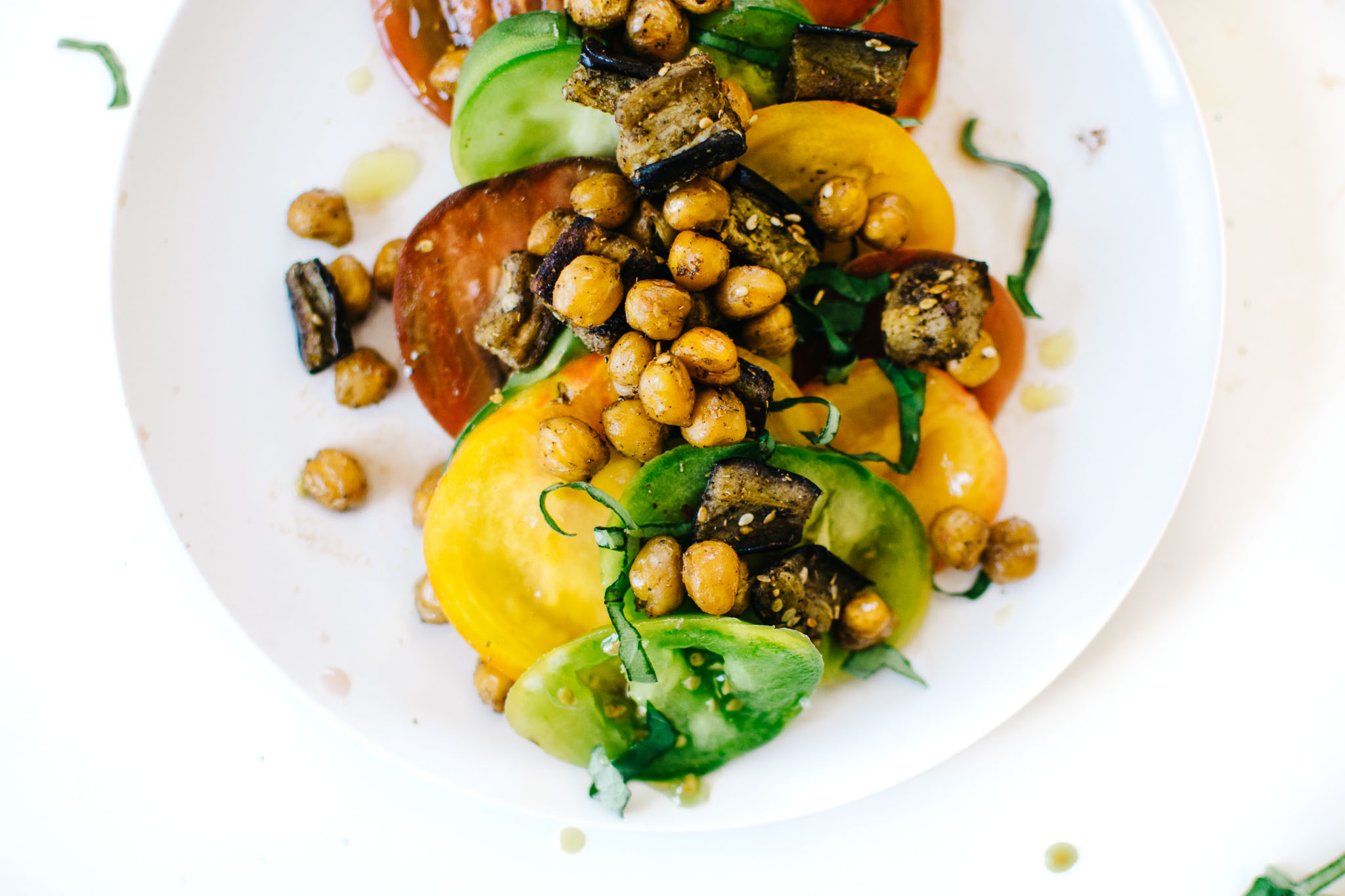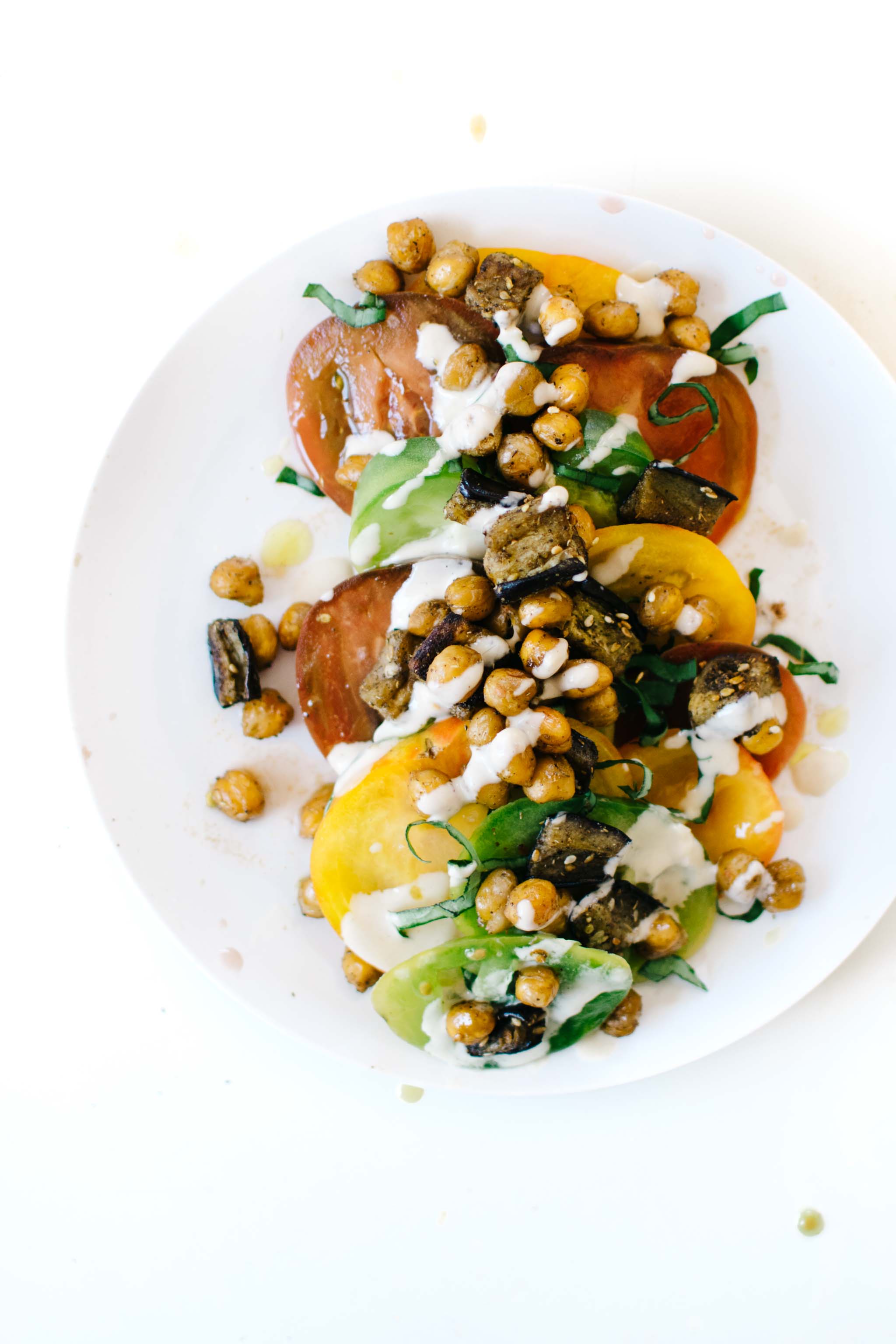 Now go make yourself this salad, take some deep breaths, relax, know that you are loved. What are you listening to/watching/reading/loving right now?
ZA'ATAR ROASTED CHICKPEA & EGGPLANT TOMATO SALAD WITH TAHINI DRESSING.
Ingredients
1

pound

eggplant, washed and trimmed

1

teaspoon

sea salt

3

cups

cooked chickpeas, drained (2 15-oz. cans)

1/4

cup

olive oil

1

tablespoon

za'atar spice mix

1/2

teaspoon

ground coriander

1/4

teaspoon

ground cumin

1/2

cup

tahini

1/2

cup + 2 tablespoons

water

2

tablespoons

fresh lemon juice

1

clove

garlic, grated or minced

1/2

teaspoon

sea salt

2-3

pounds

heirloom tomatoes, or other hearty tomatoes

olive oil & red wine vinegar

to taste

flaky sea salt

to taste

coarsely chopped basil

to taste
Instructions
Slice eggplant into 1-inch cubes and lay in a single layer on a baking sheet. Sprinkle with 1 teaspoon sea salt and toss. Let sit for 20 minutes, then squeeze the eggplant with paper towels to remove excess water.

Add chickpeas to the baking sheet, drizzle with olive oil, and sprinkle with za'atar, coriander, and cumin. Toss to coat thoroughly and return to a single layer. Roast for about 30 minutes, stirring halfway through, until eggplant is tender and browning, and chickpeas are beginning to get crisp on the outside.

In a measuring cup or bowl, whisk together tahini, water, lemon juice, garlic, and 1/2 teaspoon salt until it turns pale and homogenizes into a dressing.

Cut heirloom tomatoes into medium-thick slices and layer five or six slices on a single plate, per serving. Drizzle with olive oil and red wine vinegar, then sprinkle with sea salt and chopped basil. Top with a hearty handful or two of roasted chickpeas and eggplant, and drizzle with tahini dressing. Finish with a fragrant handful of basil.