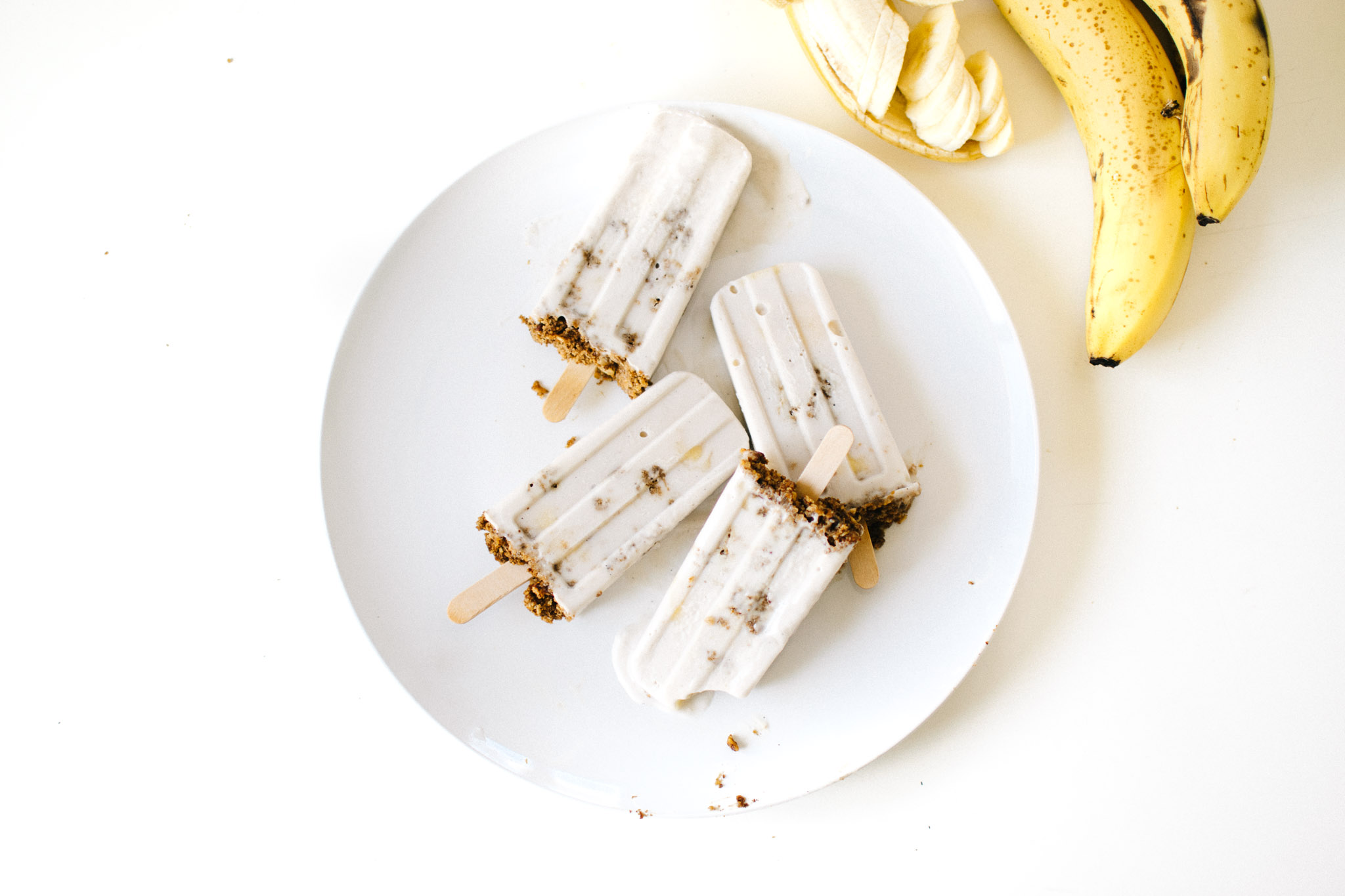 Jump to Recipe
Popsicle Week has arrived, my friends, and not a moment too soon. It's been sweltering in California, and this veritable food holiday couldn't be better timed—who isn't ready for a popsicle-shaped 4th of July, replete with sticky-sweet icy juices flowing? This year, your beloved SLAMM squad (Stephanie, Lily—that's me, Alana, Molly, and Michelle) members decided to take a trip down nostalgia lane with pudding pops.
Not that I ever ate a pudding pop as a child—the closest I got were Melona popsicles, creamy melon flavored pops I occasionally snuck after school, when no hardcore zero-sugar-policy moms were looking. I'm still not sure I've ever had a chocolate pudding pop, but I digress. We are gathered here today for the sacred act of recreating rich, luscious banana pudding in vegan, gluten-free, mega-delicious popsicle form.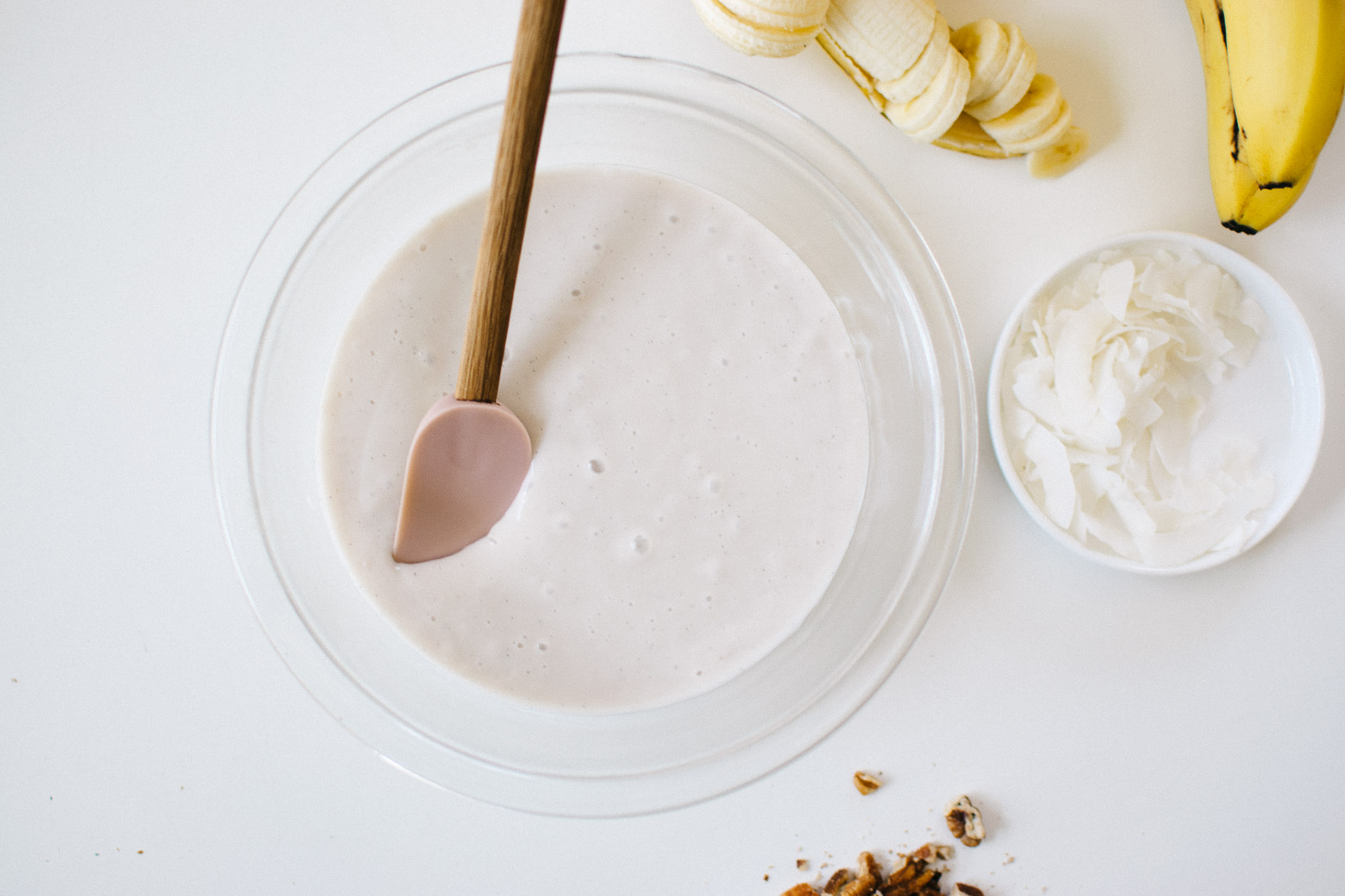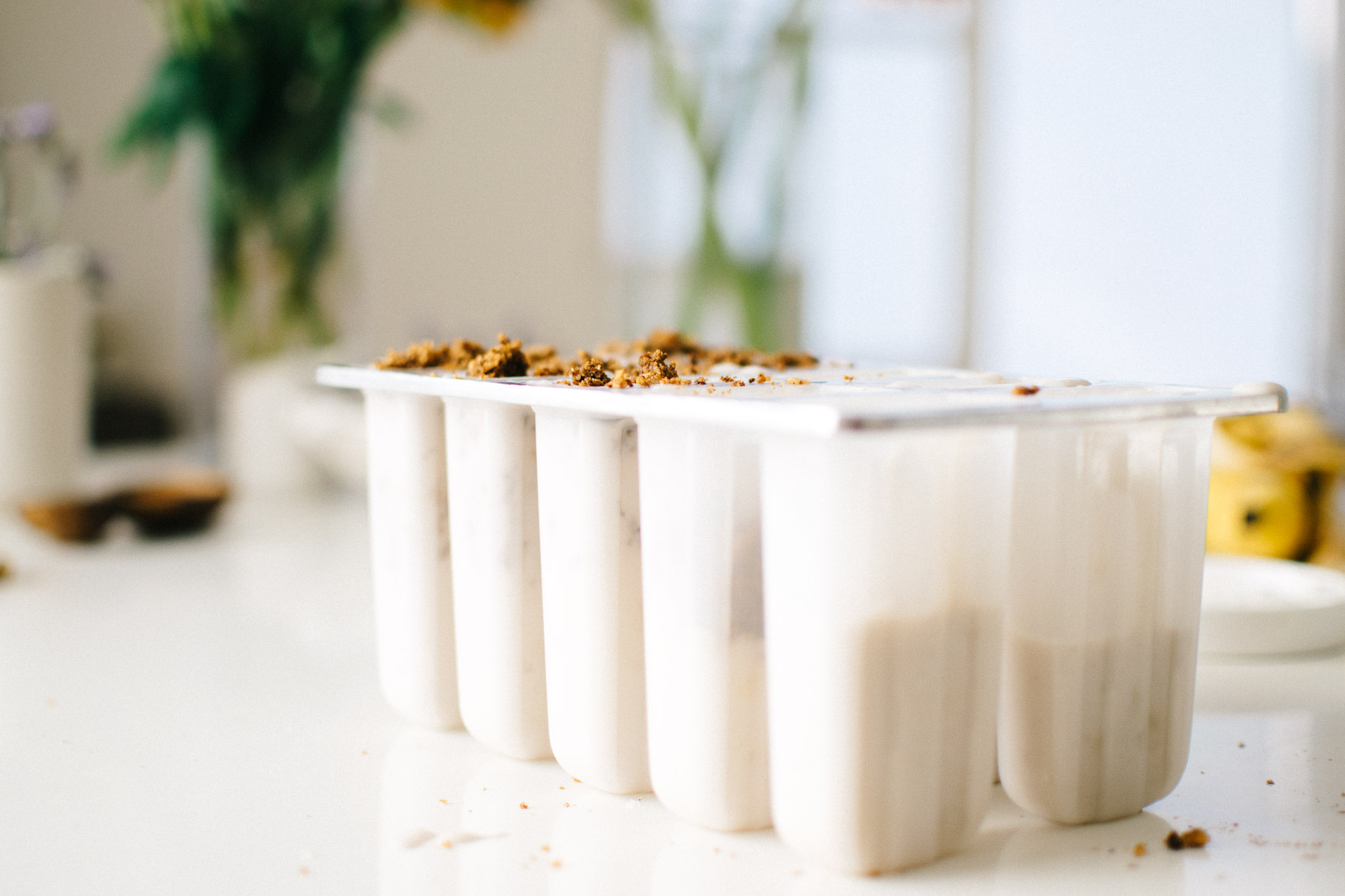 After some sleuthing, I found myself adapting recipes from Vegetarian Times and Minimalist Baker, both of which use cornstarch to thicken plant milk. While they use either coconut or almond milk, I prefer a blend of both—I find it yields a mellower, less cloying flavor profile.
I made several discoveries in my journey to pudding pop euphoria:
You gotta keep whisking forever and ever until that cornstarch thickens. Don't give up too early, or you'll end up with a runny mess.
You don't actually mash any bananas into the pudding—sliced bananas add bright flavor and beautiful texture to a silky vanilla base. I was dubious, but found it was absolutely perfect.
To the same end, I was uncertain of how the banana slices would freeze—would they be too icy? too hard to bite? In fact, once frozen, they were tender and easy to bite, and incredibly flavorful. 10/10 would recommend.*

*…unless your name is Molly Yeh, in which case you hate bananas and these popsicles are your literal nightmare. Forgive me, my banana-loathing angel.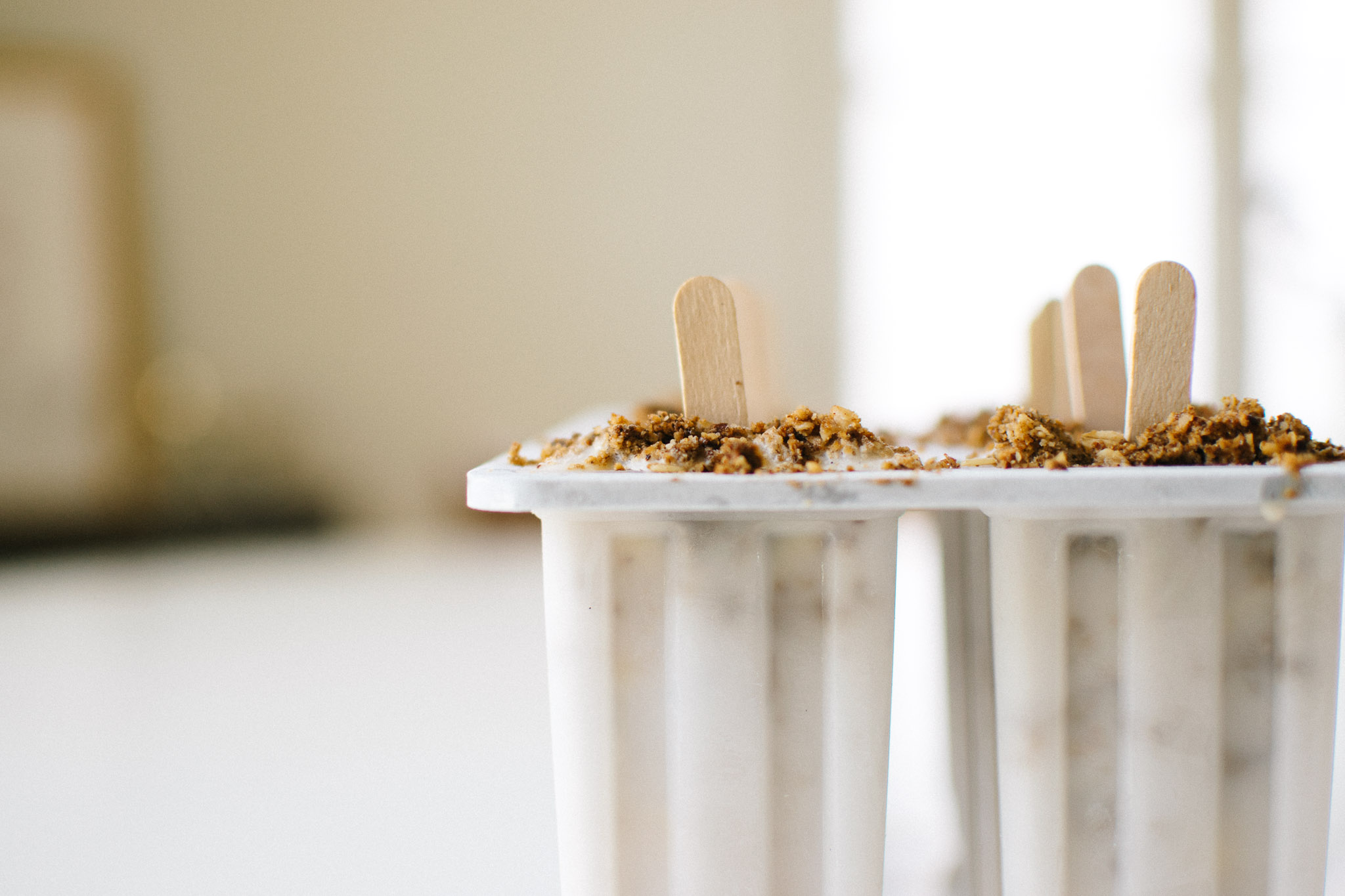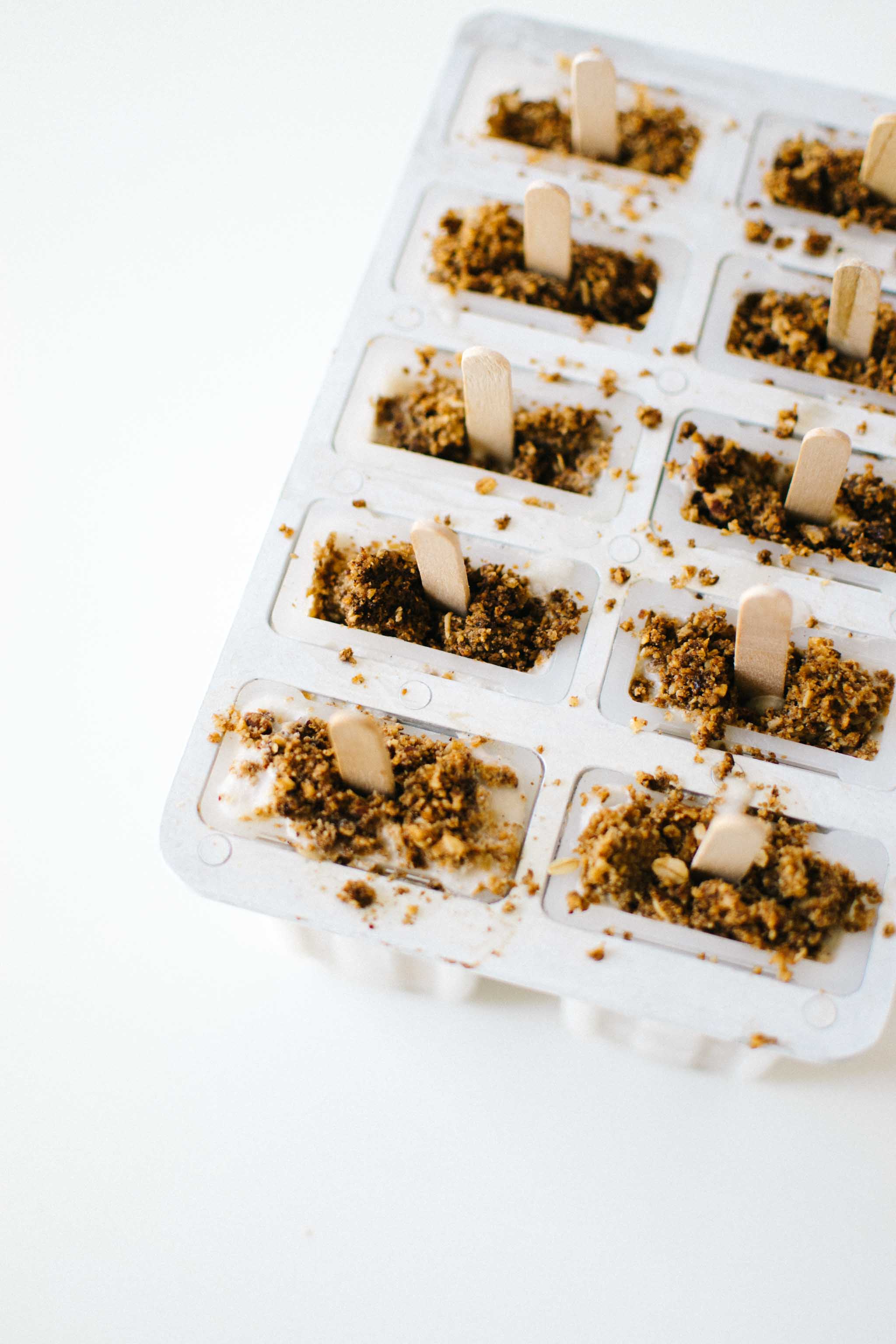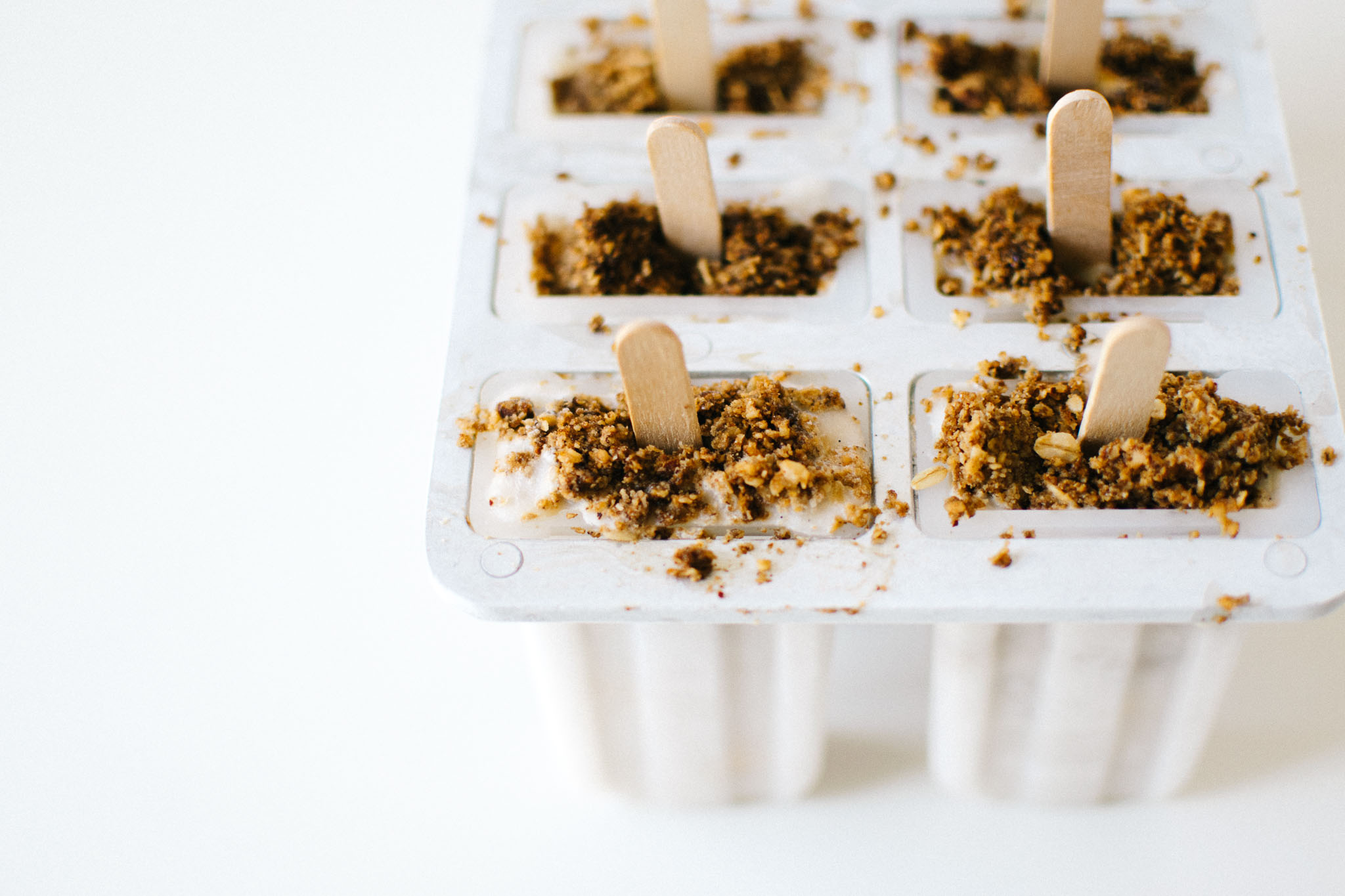 These pudding pops are everything I dream of in a dessert—creamy, chewy, richly flavored, multi-textured. The pecan oat crumble is complex with the caramel notes of coconut sugar, and a perfect match for the pudding's mellow vanilla-banana vibe. I have to say, I'm all for a mellow vanilla-banana vibe. Am I right?
SLAMM squad is bringing you five different pudding pops today, and I desperately wish this pop party were in vivo so my mouth could experience each and every one. There's Matcha Azuki from Fix Feast Flair, Pistachio Butter from my name is yeh, Carrot Cake Cream Cheese from I Am A Food Blog, and Strawberry Yellow Cake from Hummingbird High.
Because we love you like that.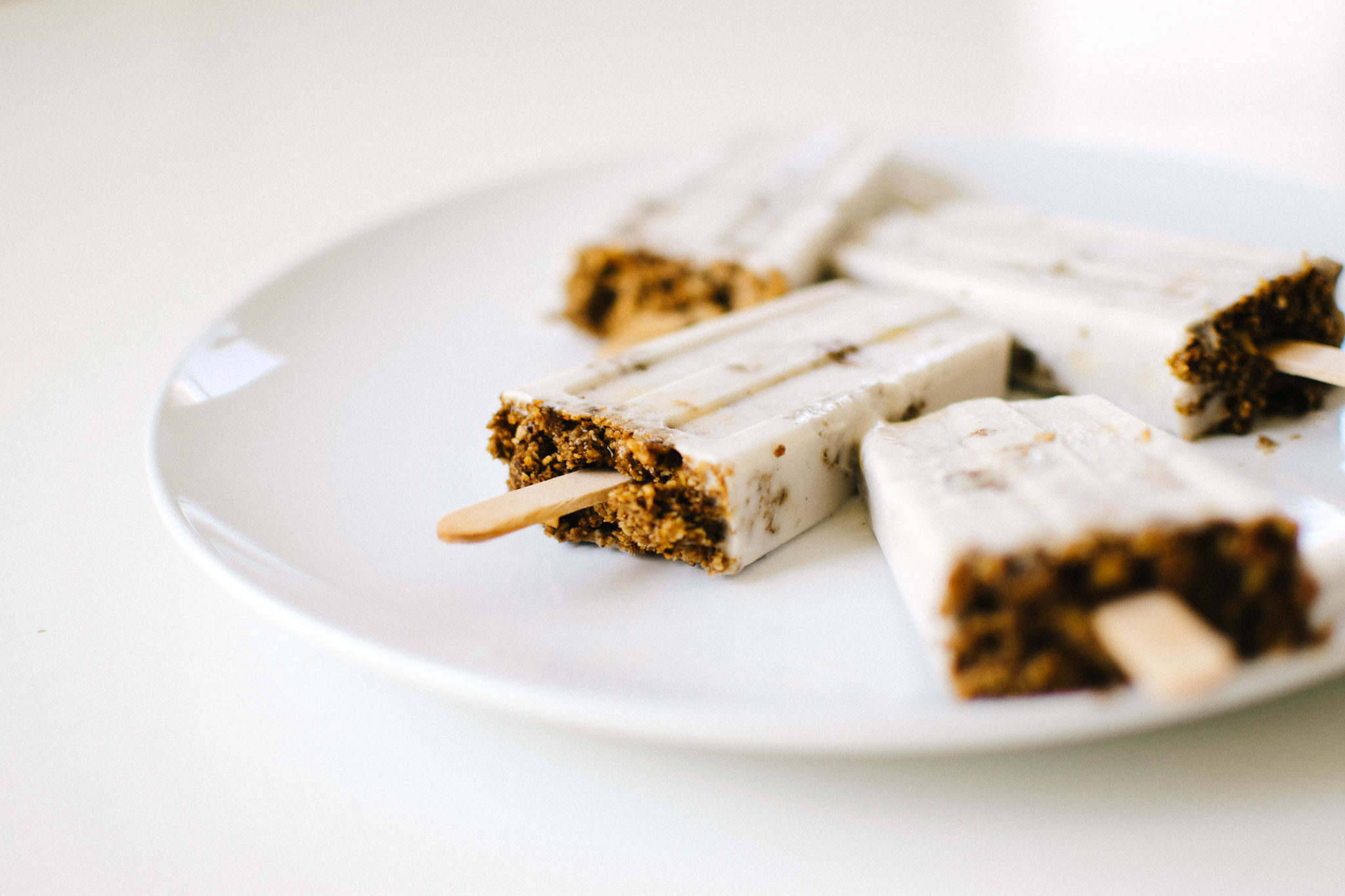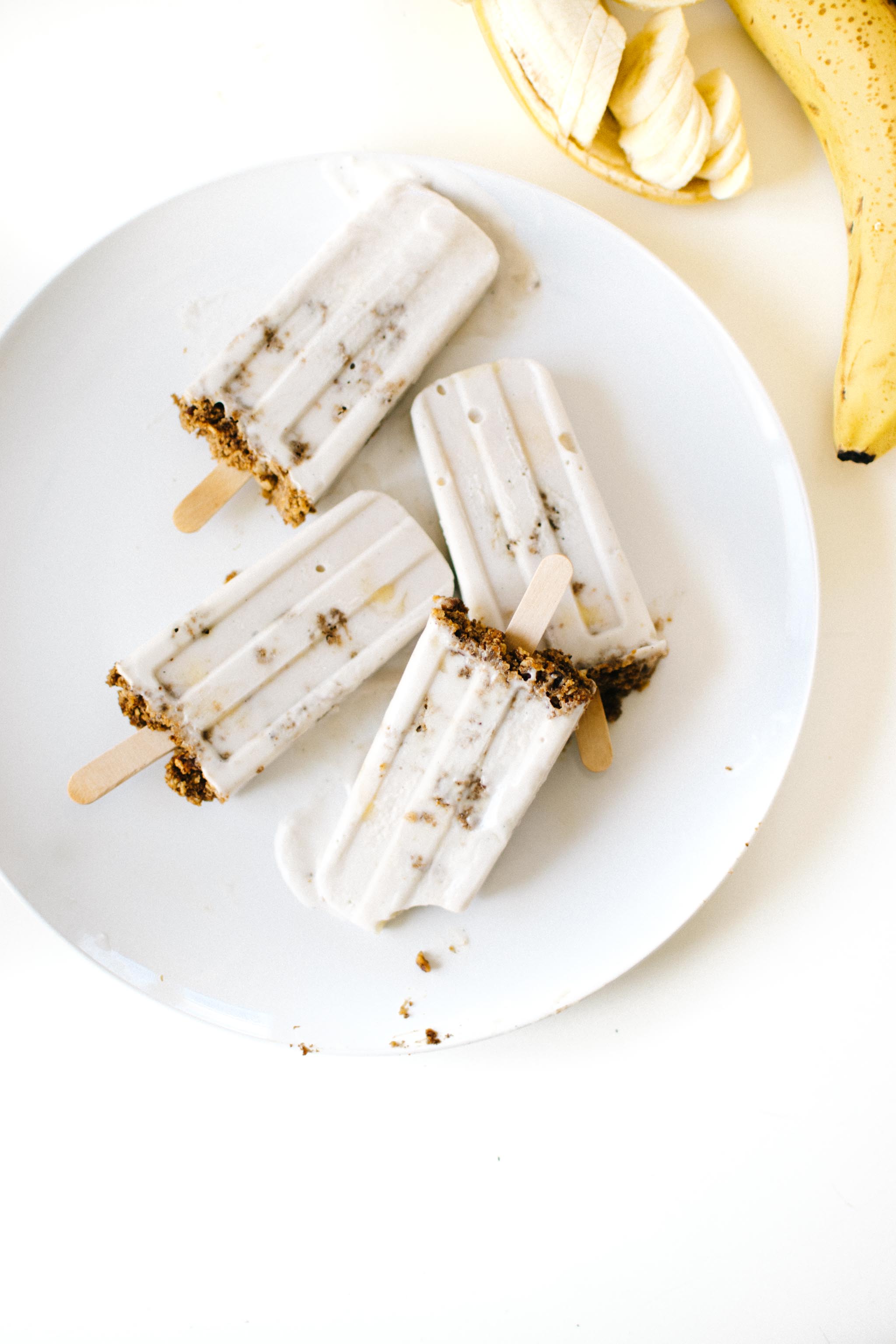 Happy Popsicle Week!
Carrot Cake Cream Cheese Pudding Pops | I Am A Food Blog
Matcha Azuki Pudding Pops | Fix Feast Flair
Pistachio Butter Pudding Pops | my name is yeh
Strawberry Yellow Cake Pudding Pops | Hummingbird High
…and the rest of the Popsicle Week universe on Wit & Vinegar!
VEGAN BANANA PUDDING POPS.
Ingredients
BANANA PUDDING
1/3

cup

granulated sugar

4

tablespoons

corn starch

1/8

teaspoon

sea salt

1

15 oz. can

full fat coconut milk (about 1 3/4 cups)

1 1/4

cup

almond milk (or milk of choice, sweetened or unsweetened per your preference)

1/2

teaspoon

vanilla bean paste (or 1 teaspoon pure vanilla extract)

2

bananas, thinly sliced
PECAN OAT COOKIE CRUMBLE
3/4

cup

raw pecans

3/4

cup

rolled oats

2

tablespoons

coconut sugar

1/4

teaspoon

sea salt

1/4

cup

melted raw coconut oil
Instructions
BANANA PUDDING
Whisk sugar, corn starch, and salt in a medium saucepan to integrate.

Add coconut and almond milks, turn heat to medium, and whisk vigorously to remove any clumps.

Bring to a boil, whisking constantly, then reduce heat to a simmer and continue whisking as the pudding thickens, 10-20 minutes. It's done when it looks a bit jiggly, and when you can drizzle a ribbon over the top and see it remain a bit distinct.

Stir in vanilla and let cool while you slice the bananas.

Transfer pudding to a bowl and fold in banana slices, ensuring they're fully submerged to prevent browning.

Cover bowl and place in fridge to chill completely.
PECAN OAT COOKIE CRUMBLE
Preheat oven to 350ºF. Line a small baking sheet with parchment paper.

In a blender or food processor, pulse pecans, oats, coconut sugar, and sea salt into a meal.

Pour in coconut oil and pulse a few more times to incorporate into a dough.

Remove dough from blender and pat down into an even layer about 1/4-inch thick on parchment paper. Bake for 12 minutes, then increase heat to 375ºF and bake an additional 3-5 minutes, until golden brown on top and toasty around the edges.

Remove from heat and let cool completely, then break up into multi-sized crumbles.
PREPARE THE POPSICLES
Fill each popsicle mold 1/3 full with banana pudding, then add a layer of crumbles, then another layer of pudding, leaving 1/3-inch at the top for one more layer of crumbles. Repeat on all molds.

Insert popsicles sticks and freeze at least six hours or overnight.

To remove, run mold under hot water while pulling up on the popsicle stick until it loosens.