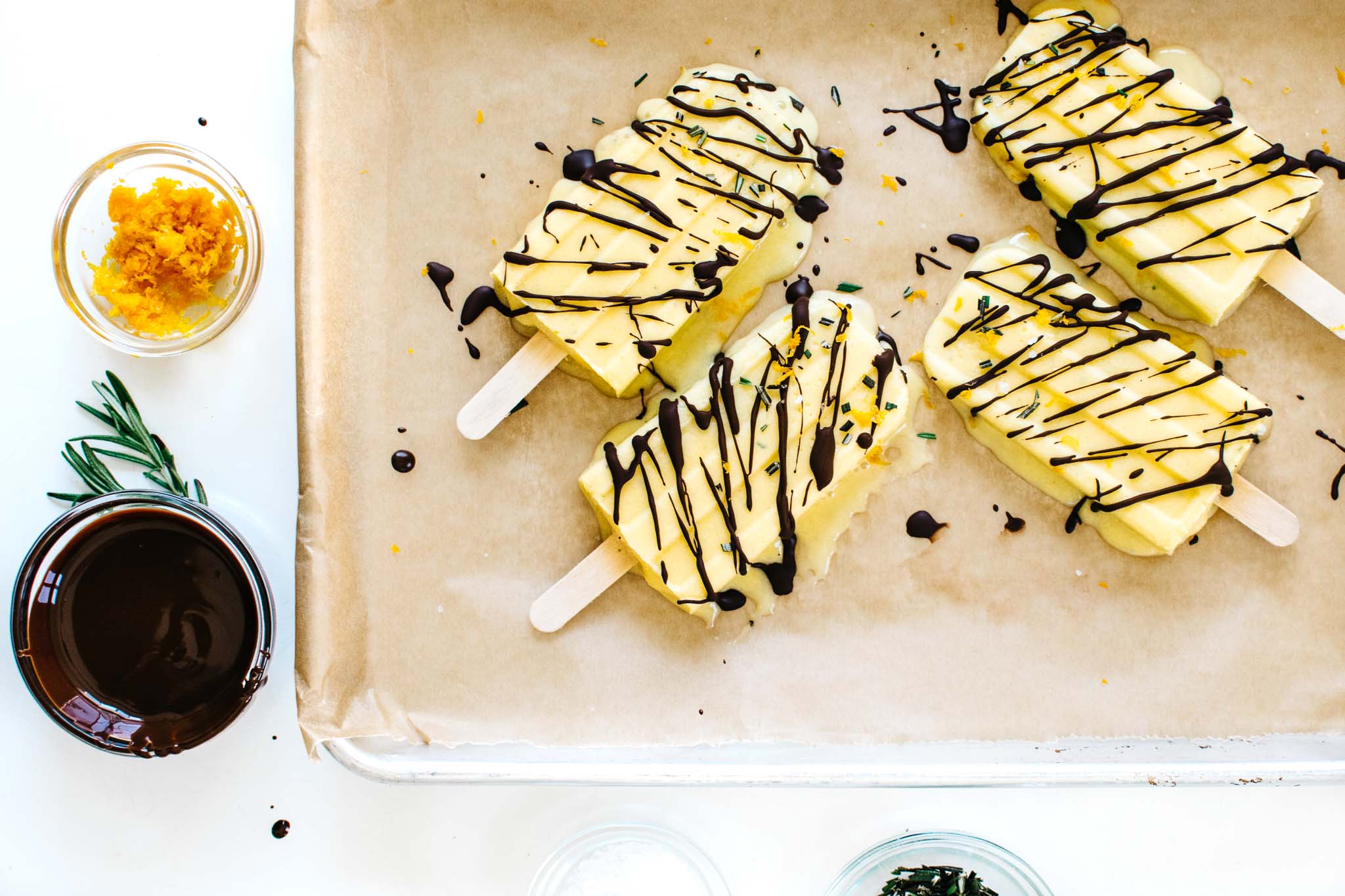 Jump to Recipe
For once, let me not bury the lede: Today is my book birthday, the emergence of Kale & Caramel: Recipes for Body, Heart, and Table into the world! Get thee to thy local bookstore (I pray you still have one to get to) and locate thy cookbook section. Find #kaleandcaramelcookbook! Take a pic! Take a selfie (and tag me, duh)! Hug the book! Smell its pages! Roll around in the aisles with it!
Perhaps this is just what I plan to do when I first see my baby in Barnes & Noble, but I give you full license to aisle roll with me. Because the book is born! Let's have some Sweet Orange & Rosemary Creamsicles about it, shall we?
The past two weeks blew my heart right open. At the beginning of April, we prepped about eighty-five #kaleandcaramelcookbook packages to be sent to blogger friends around the country. We filled them with rose cacao nib sprinkles (the topping for Chocolate Chia Mousse with Cardamom Rose Coco Whip in the ROSE chapter) and Lavender Oat Milk Bath (from the LAVENDER chapter, yasssss queennnnn). I wrote eighty-five love notes to eighty-five friends. I sent them off with a prayer the book would be received in as much love as it was made. (Do I or do I not sound like I'm describing making a real human baby? K. Just checking.)
And BOY was it received in love. Love so strong it blew the hinges of my heart door right off their frame. And for the past two weeks, I've been walking around with my heart expanded wider than I've felt in years. Each day, I woke up to see the book keeping a friend company over quiet morning tea, in a late-night bath, or at the dinner table.
These small moments, seeing the book being lived with, was the greatest gift. Books have been my refuge for as long as I can remember, as has my kitchen—to offer you the chance to take refuge in both, in the stories that unite food and meaning and feeling in my life, this is the greatest joy. I cannot wait for you to hold the book in your hands.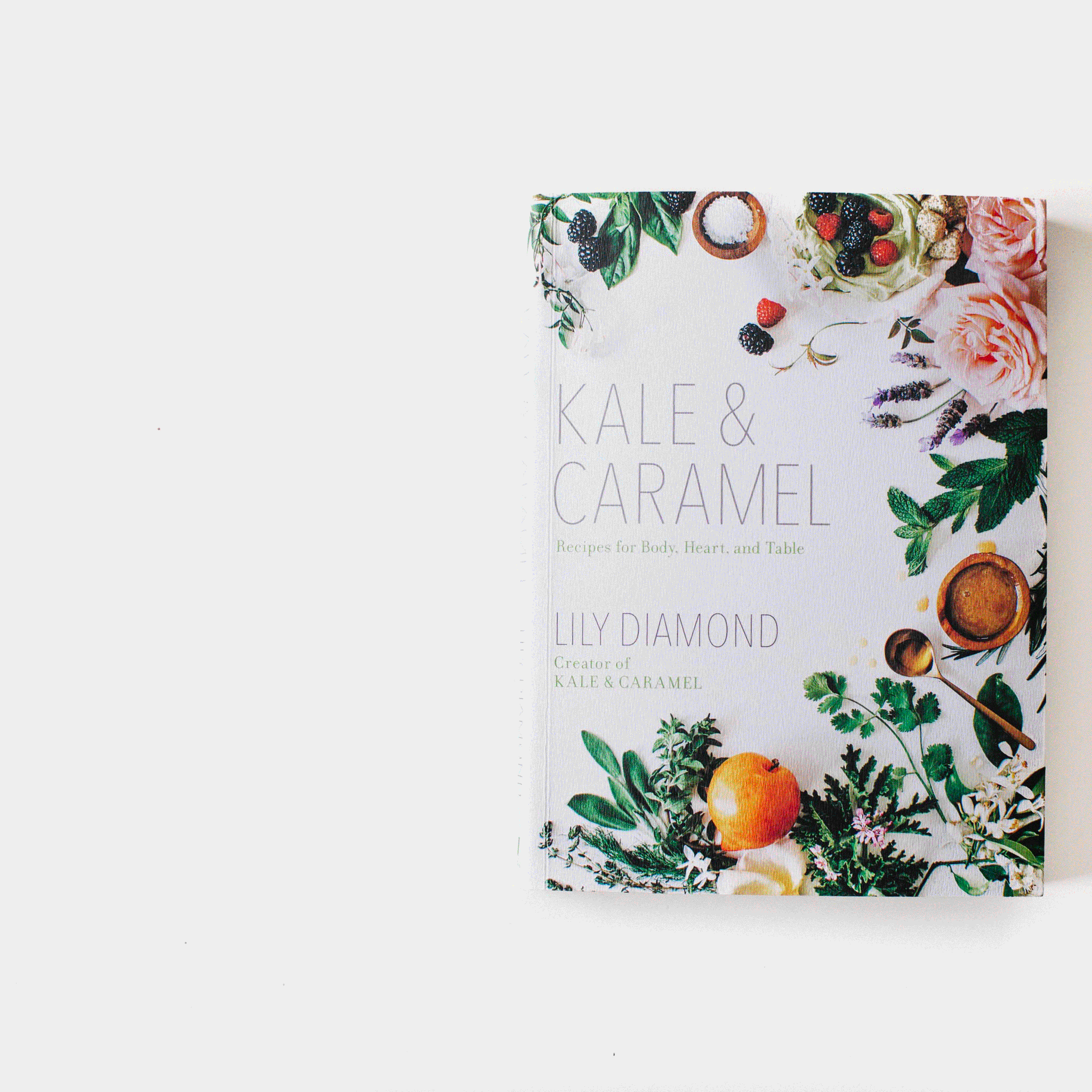 These sweet orange and rosemary creamsicles are from the ROSEMARY chapter of the book, and feature a rosemary infused honey (sounds fancy, is one hundred percent easy). They've got an extra layer of fresh rosemary blended into the oranges and cream, and a salty chocolate drizzle on top. They're the perfect entree to summer living.
Speaking of, I'm kicking off #kaleandcaramelcookbook events with a Book Release Party here in LA tonight, in an epic indoor-outdoor space: Rolling Greens. It's like your favorite home goods store and your favorite plant shop, florist, and nursery had a love child. There are still a few moments to grab your ticket for the party—I would so love to meet you.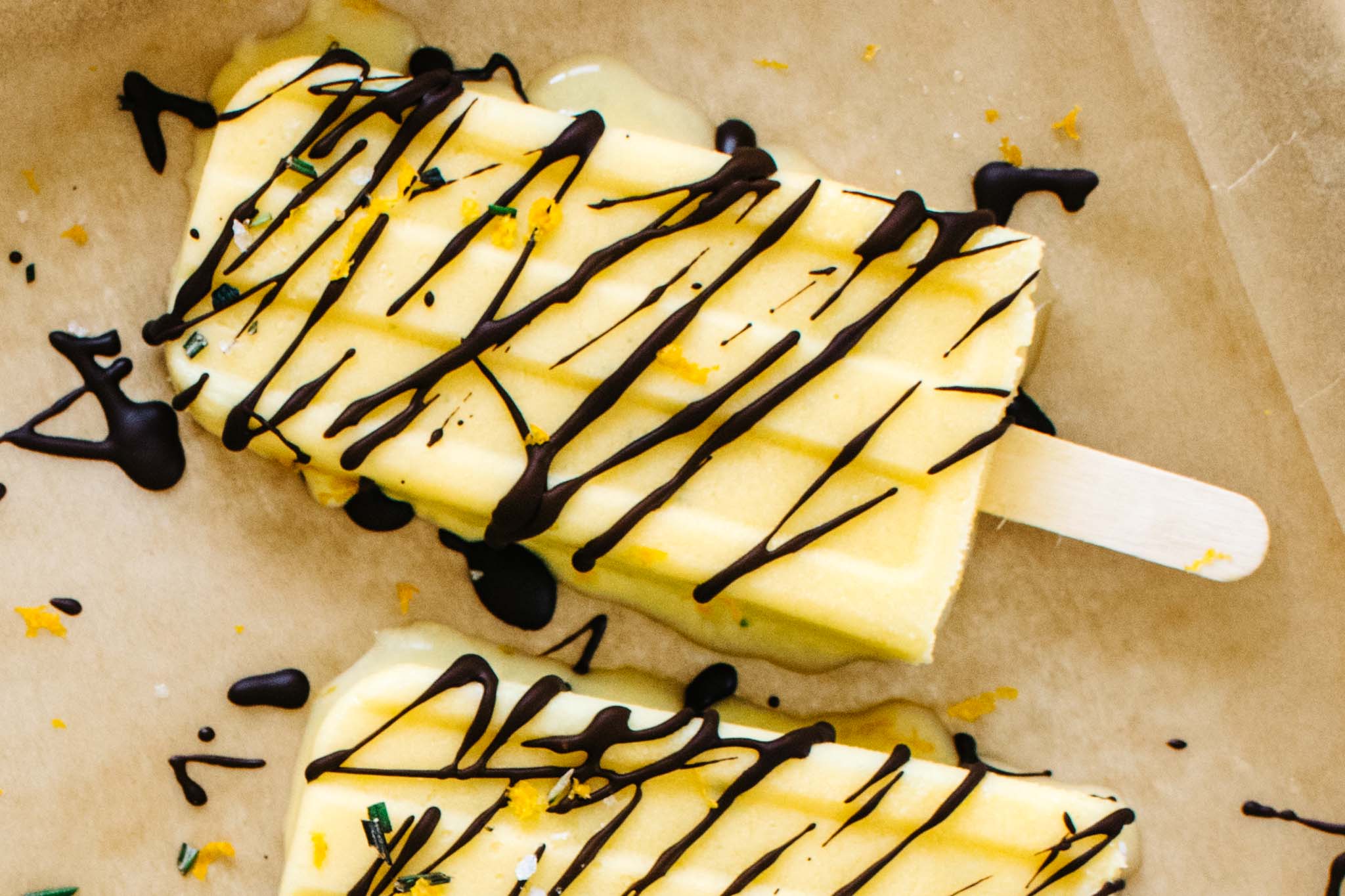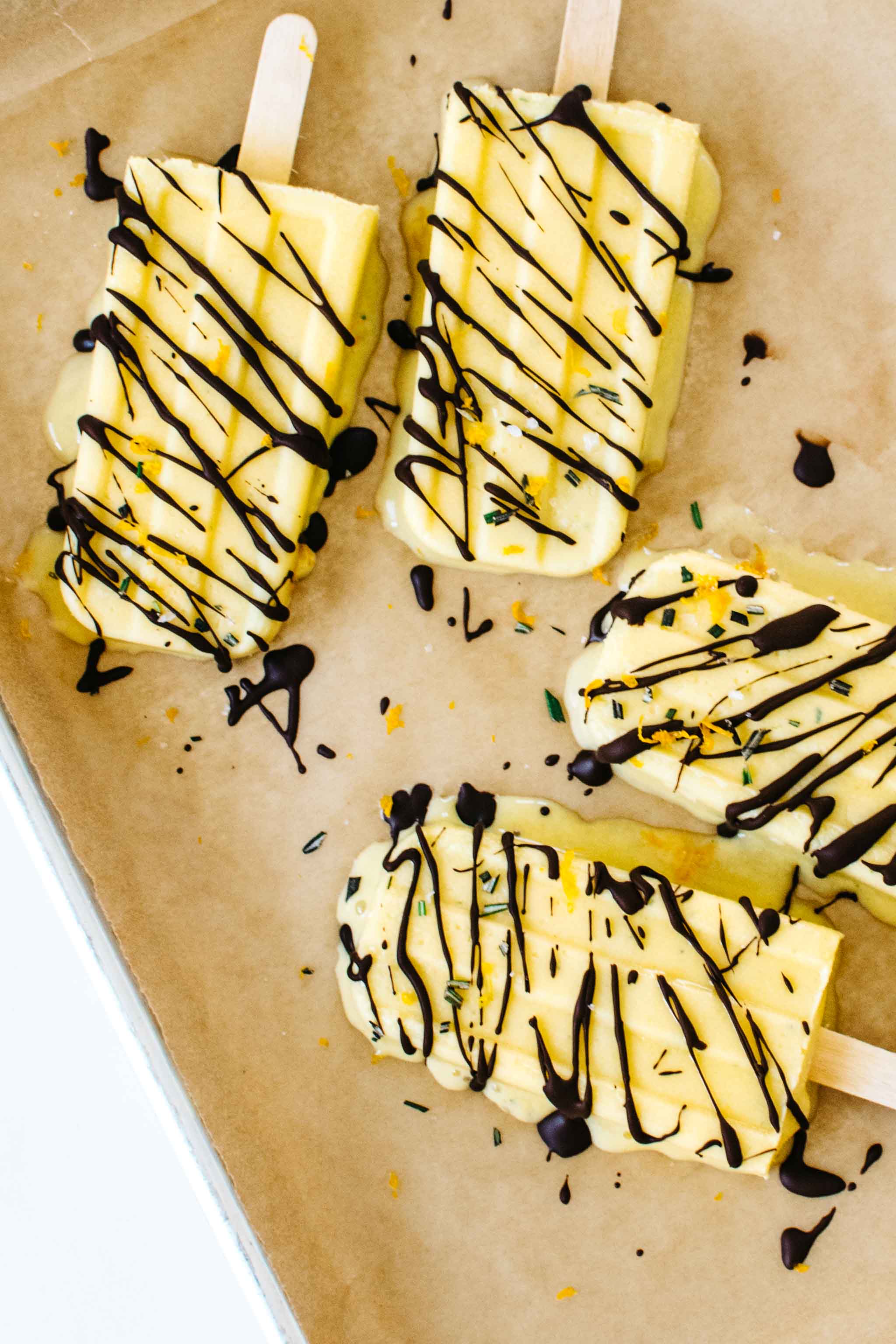 I just finished steeping the last of 7.25 gallons (gallons!) of lavender tea for our spiked lemonade. This afternoon, we'll be whipping up 8 gallons of vodka-spiked Sparkling Cucumber Basil Lemonade (from the BASIL chapter) and 8 gallons of Honey Lavender Lemonade (from the LAVENDER chapter), tray upon tray of Roasted Lemon Mint Pesto Tartines (from the MINT chapter), and assembling the cheese trays god always wanted us to eat.
It's time to celebrate!!
Welcome to the world, Kale & Caramel: Recipes for Body, Heart, and Table. May your adventures take you around the world. May you speak truth to the hearts of all you meet. May you live long and thrive!
SWEET ORANGE & ROSEMARY CREAMSICLES WITH SALTY CHOCOLATE DRIZZLE
Tangy, salty, and sweet orange and rosemary creamsicles made with honey and cream, and finished with a dark chocolate drizzle. Copyright © 2017 by Lily Diamond from KALE & CARAMEL: Recipes for Body, Heart, and Table published by Atria Books, a division of Simon & Schuster, Inc.
Total Time
4
hours
40
minutes
Ingredients
ORANGE & ROSEMARY CREAMSICLES
1/3

cup

honey

4

sprigs

fresh rosemary plus 1 1/2 teaspoons chopped rosemary leaves

1 1/2

cups

orange segments, seeds and pith removed

1/2

cup

heavy cream

1/4

cup

plain Greek yogurt
SALTY CHOCOLATE DRIZZLE
1/2

cup

bittersweet chocolate, chopped or as chips

1 1/2

teaspoons

raw coconut oil

2

pinches

sea salt
CREAMSICLE TOPPINGS
flaky sea salt

fresh rosemary leaves, finely chopped

orange zest
Instructions
MAKE THE CREAMSICLES
Place the honey in a small saucepan over low heat. Add the sprigs of rosemary and stir as the honey softens. Bring to a simmer, and then remove from the heat. Let sit for at least 30 minutes (and up to 2 hours, for a stronger rosemary flavor), then remove the rosemary sprigs.

In a blender or food processor, puree the orange segments, rosemary leaves, rosemary infused honey, heavy cream, and yogurt.

Pour into popsicle molds until the mixture reaches 1/4 inch from the top. Cover the molds and add popsicle sticks, per your mold's specifications. Freeze for at least 4 hours.
MAKE THE DRIZZLE
When the creamsicles are frozen, melt the chocolate in a heatproof bowl nestled into a pot of boiling water. Stir in the oil and the salt, and whisk until fully combined.
GARNISH THE POPS
Line a baking sheet with parchment paper. Fill a small, widemouthed glass with chocolate drizzle. Set the salt, finely chopped rosemary, and orange zest nearby.

Remove the creamsicles from their molds by running the molds under hot water while pulling upward on the sticks. Place the creamsicles on the baking sheet, drizzle with chocolate (or dip for greater coverage), and sprinkle with the desired toppings.

Return to the freezer. Let freeze for at least 10 minutes, then eat as desired!