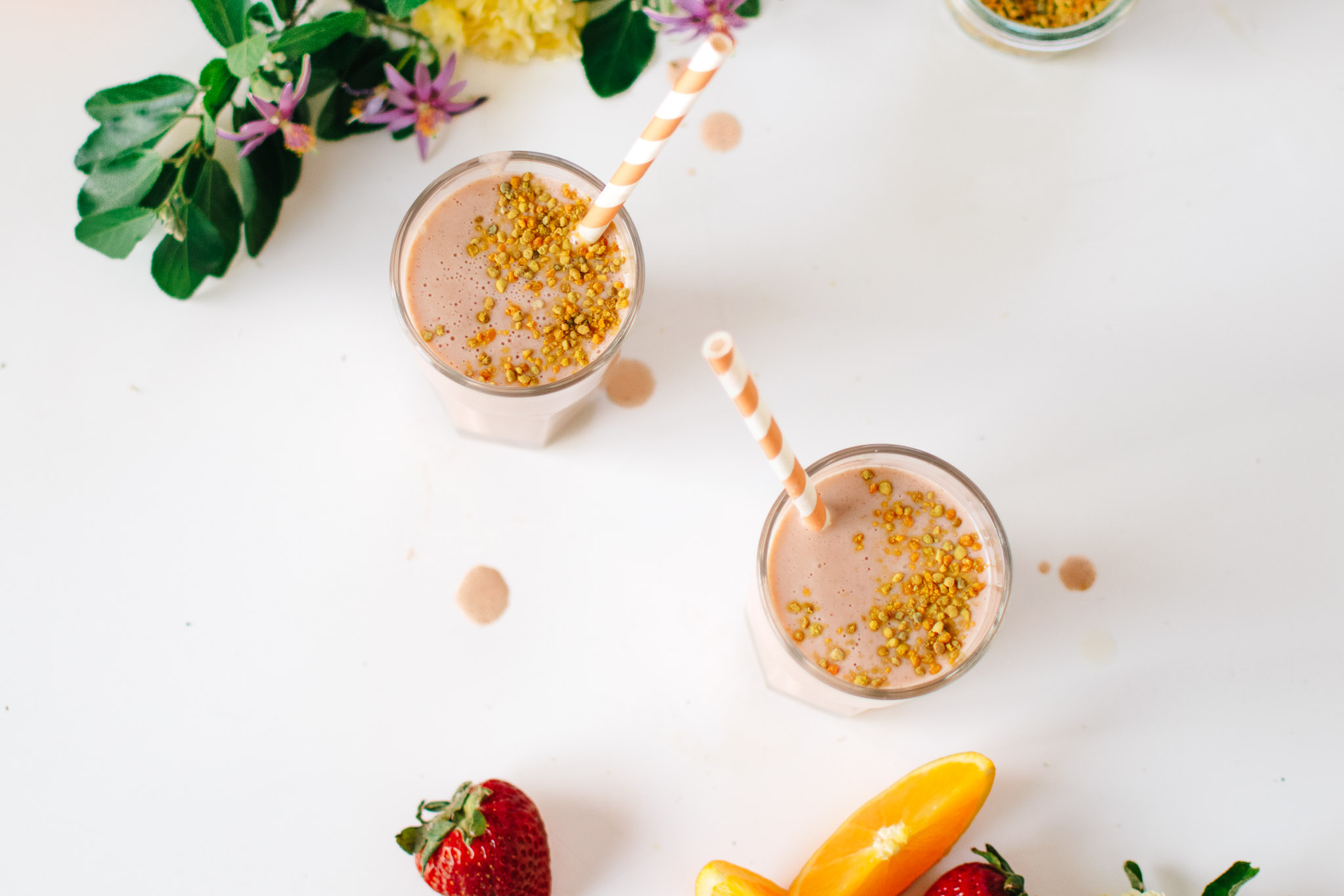 Jump to Recipe
T-minus one week until I wake up and have a book in the world! Kale & Caramel: Recipes for Body, Heart, and Table publishes on Tuesday May 2 (preorder your copy now! It's almost 50% off on Amazon), and I am looking forward to that full-body-chills moment of walking into my local Barnes & Noble and attempting to foist my books to the fore of whatever shelf upon which they're perched. In the meantime, I'm very excited about this smoothie, about all the gorgeous blog posts friends have been sharing as #KaleandCaramelCookbook teasers, and about the Q&A video my friend Lynn Chen and I made for you!
AND!! Come Friday morning, I will have four cases of vodka, one giant box of party supplies, a truckload of cheese, twenty pounds of fresh herbs and lavender, even more cases of Kevita and kombucha, and—yes—my giant book cover blow-up ready for the Book Release party at Rolling Greens. Are you coming?!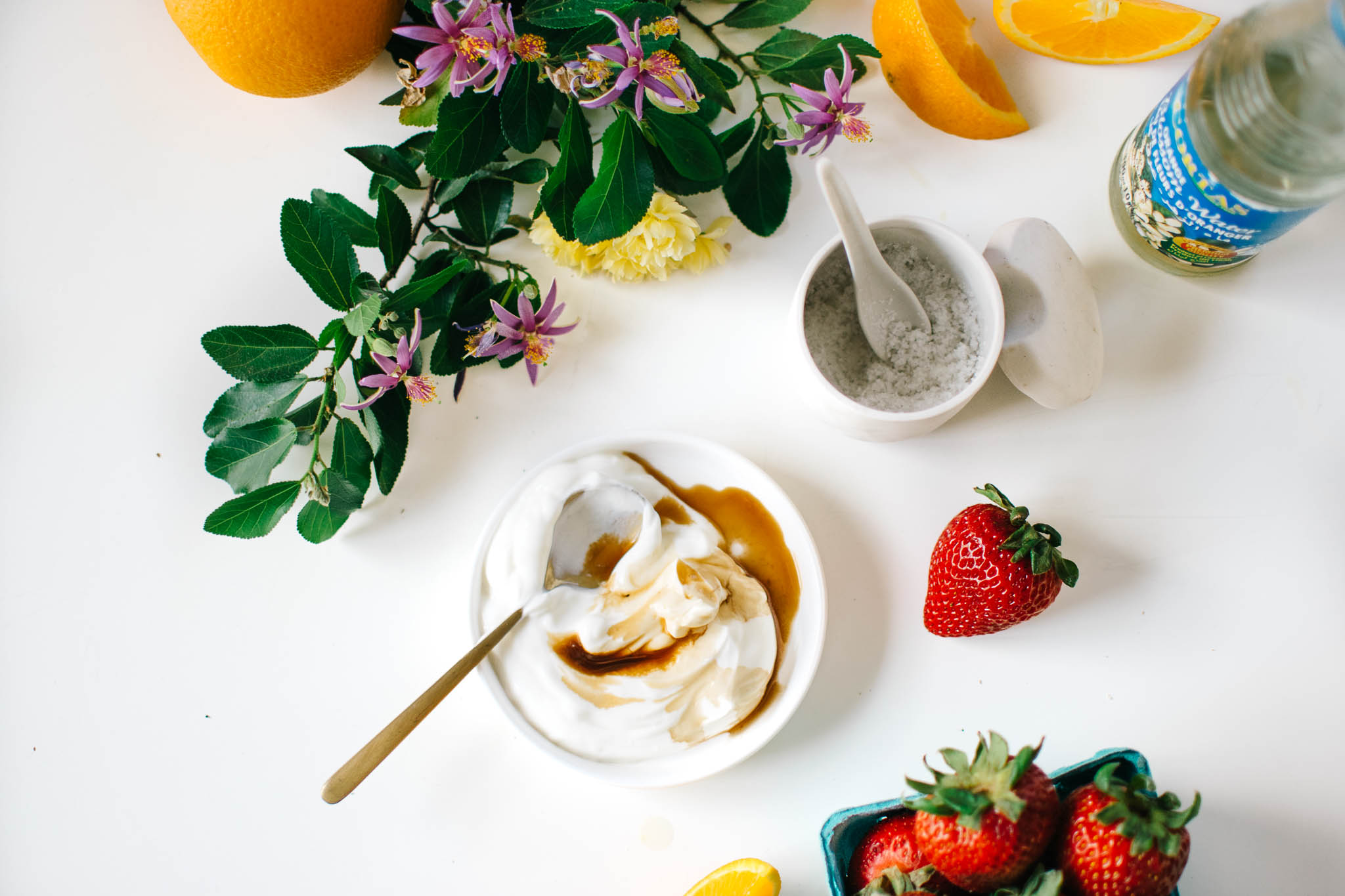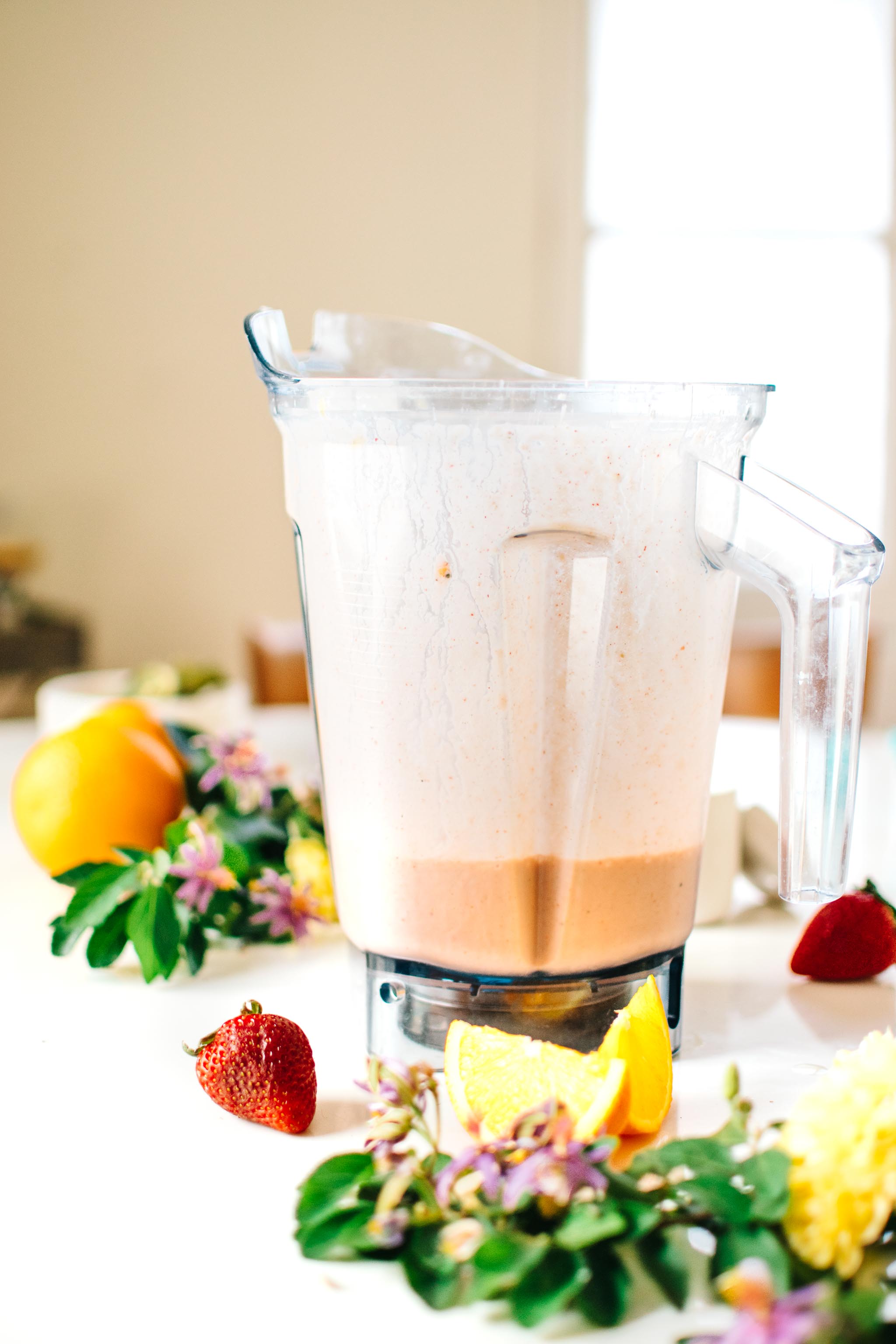 Before we do a deep dive into the book Q&A, let's talk about this smoothie: It's super simple but tastes wildly elegant—a sunny blend of strawberries and oranges blitzed into creaminess with Greek yogurt, hemp seeds, vanilla, and orange blossom water. I topped mine with bee pollen, but go wild with any smoothie flair you like. This dreamy blend will make you feel like making out in the sunshine, barefoot and happy. Which brings me to the psychospiritual powers of orange blossom water.
Orange blossom is one of the twelve aromatic herbs and flowers that form the chapters of the Kale & Caramel cookbook. The book is organized by aromatics, each of which gets broken down into its origins, savory and sweet flavor pairings, and more subtle healing qualities. I learned these healing qualities through decades of tutelage under my mother, who was a consummate aromatherapist and herbologist. These plants have been used for centuries for their healing properties. Orange blossom is a soothing aphrodisiac, and pairs beautifully with yogurt, cardamom, citrus, mint, pistachio, and olive oil.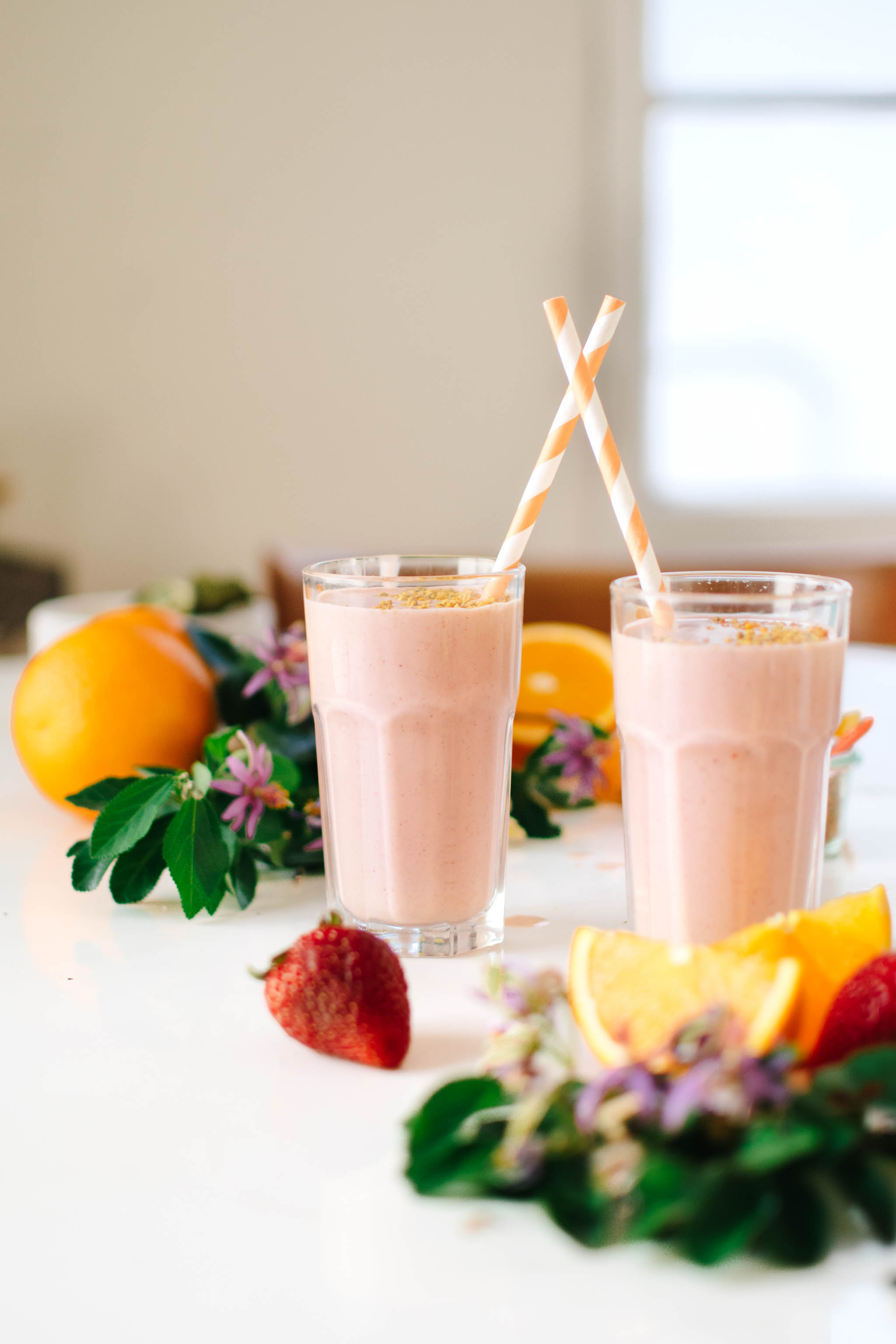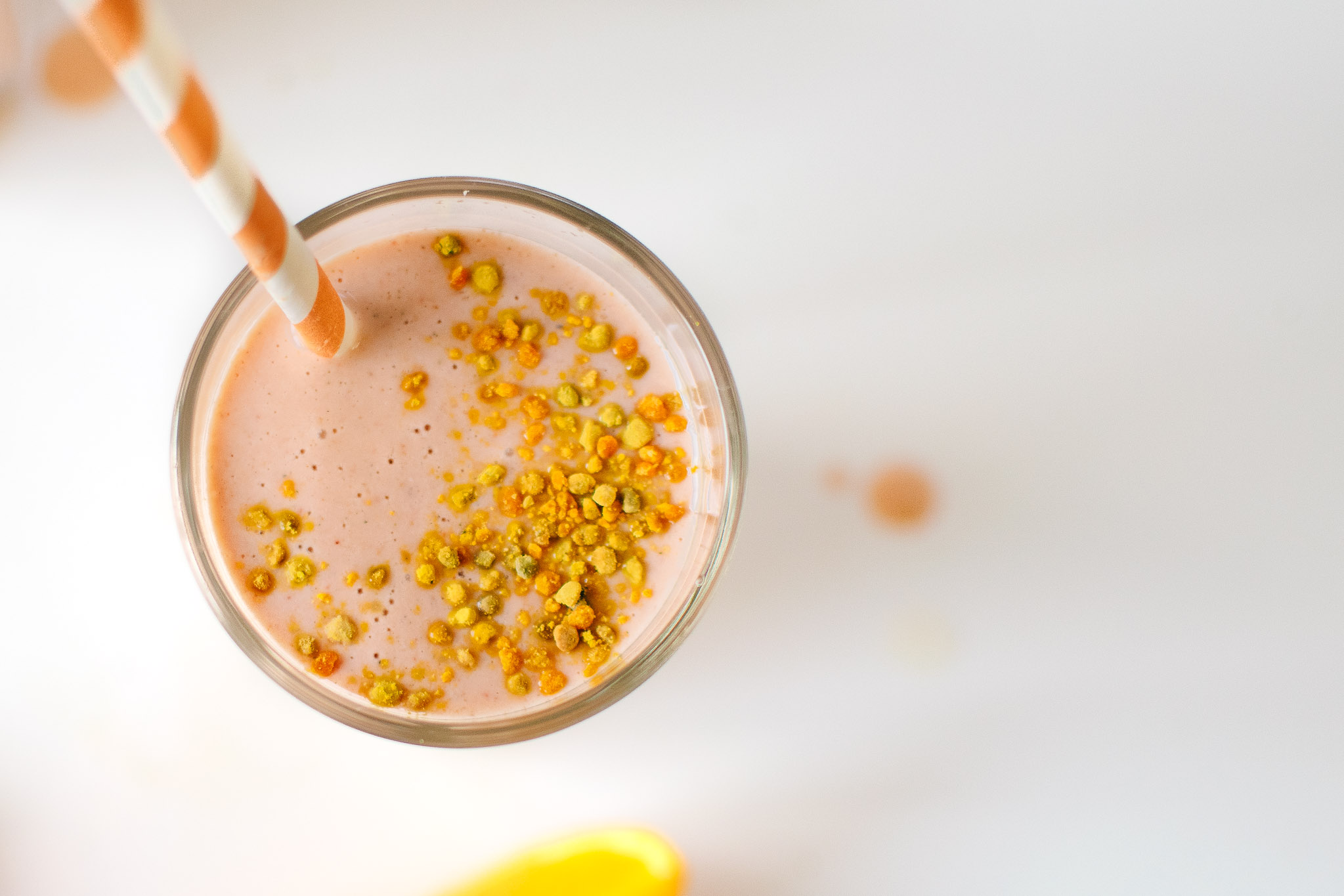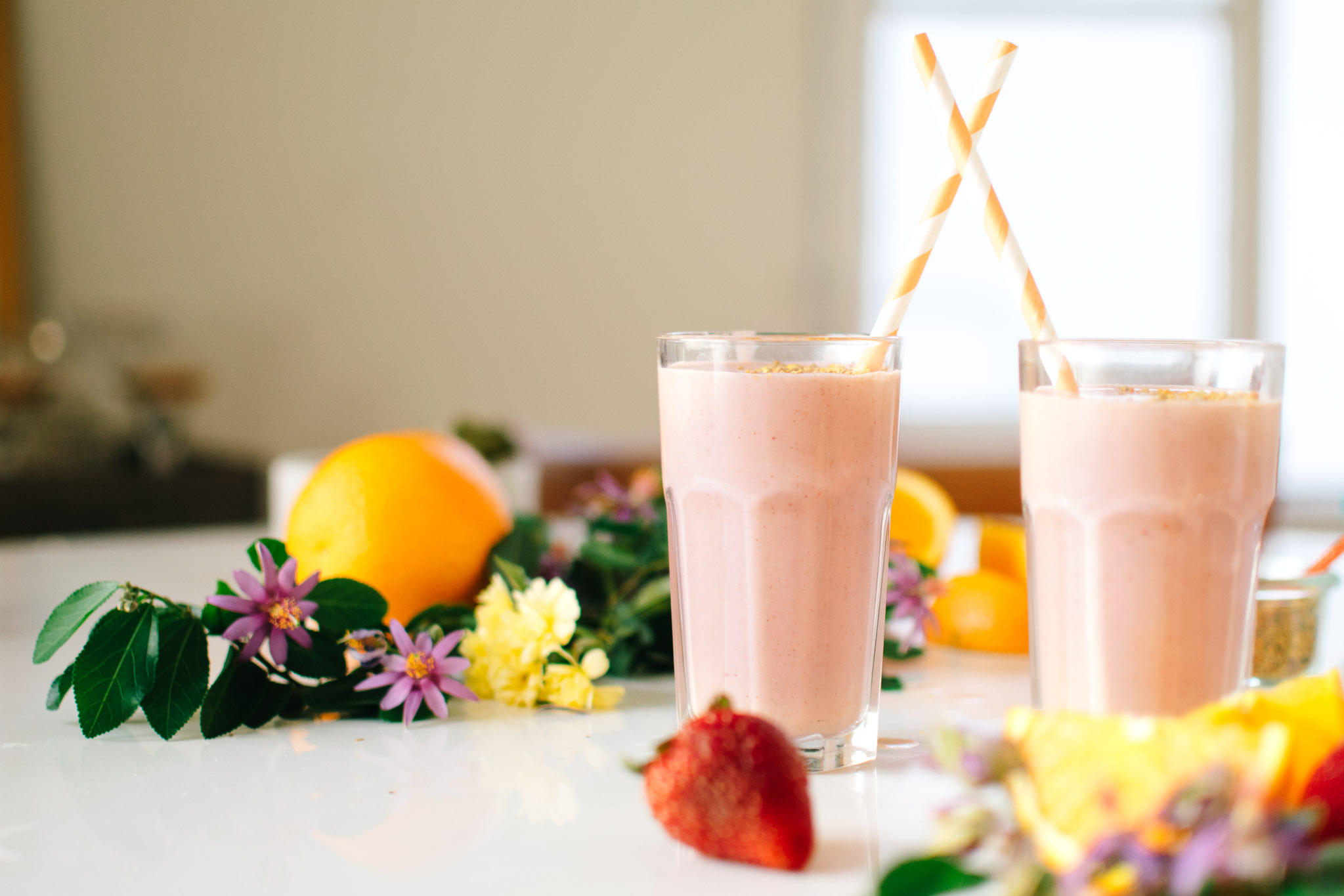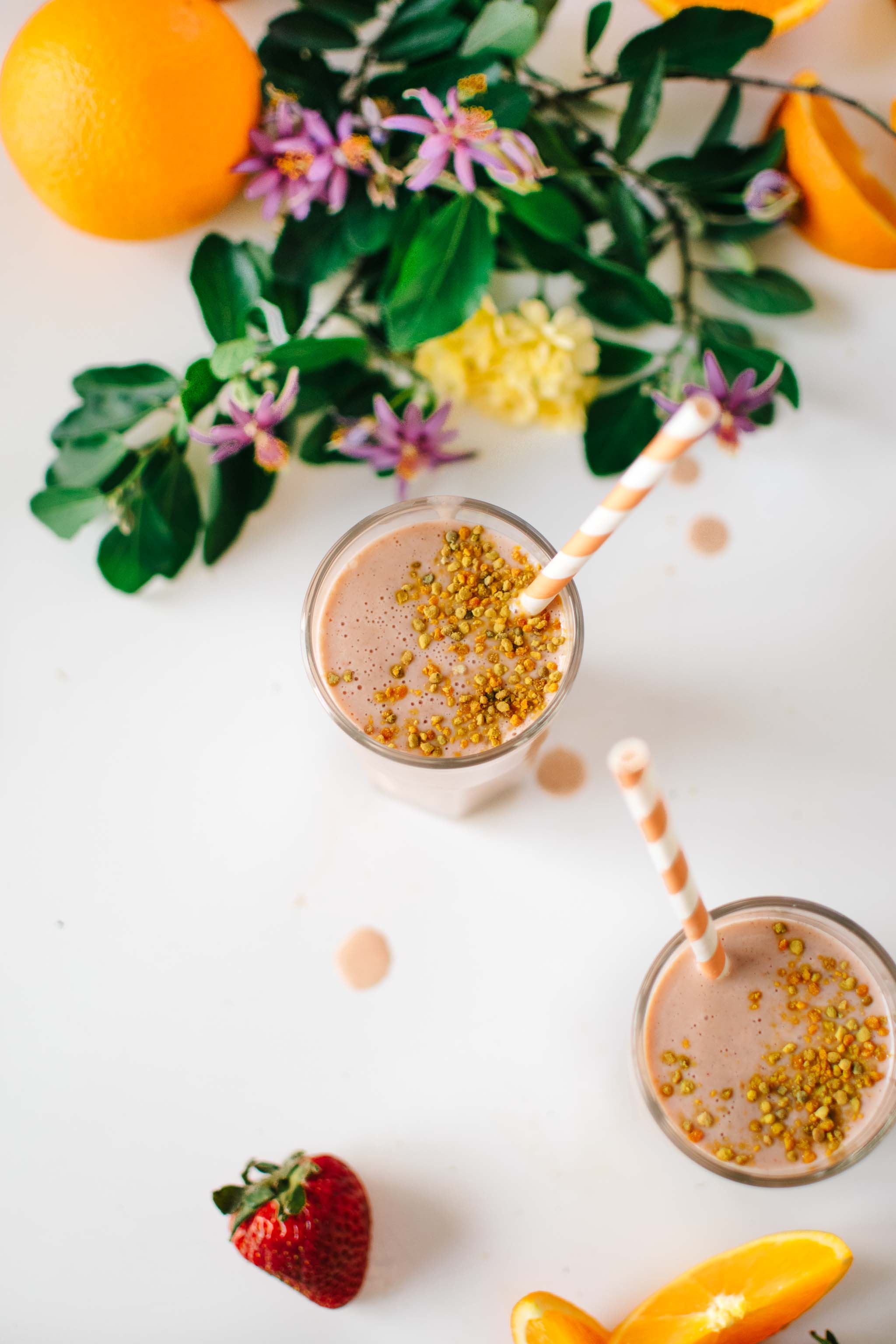 Before I answer too many more of your questions here, let me present you with this impromptu video my friend Lynn and I filmed for you, which will hopefully address them all—and more. Two ladies. One book. Ten questions. A naked dinner party. Beyoncé. And a whole lotta very '80s hair. Mine, that is. Lynn's is looking totally 2017.
Did we answer all your Kale & Caramel cookbook questions?! Let me know if you have any more in comments, and go preorder! Then make yourself this smoothie. And come hang out with me at the party on pub day, next Tuesday May 2!
STRAWBERRY ORANGE BLOSSOM CREAMSICLE SMOOTHIE.
A bright, protein-packed smoothie with strawberries, oranges, hemp seeds, and Greek yogurt, laced with vanilla and orange blossom water.
Ingredients
1

heaping cup

frozen strawberries

1

medium

orange, refrigerated

peel, pith, and seeds removed

1/2

cup

water

1/2

cup

plain Greek yogurt

2

tablespoons

raw hemp seeds

1

teaspoon

pure vanilla extract

1

teaspoon

orange blossom water

1/2

teaspoon

honey or sweetener of choice

optional

2

pinches

sea salt

bee pollen

to garnish
Instructions
Place all ingredients in blender and blend until smooth.