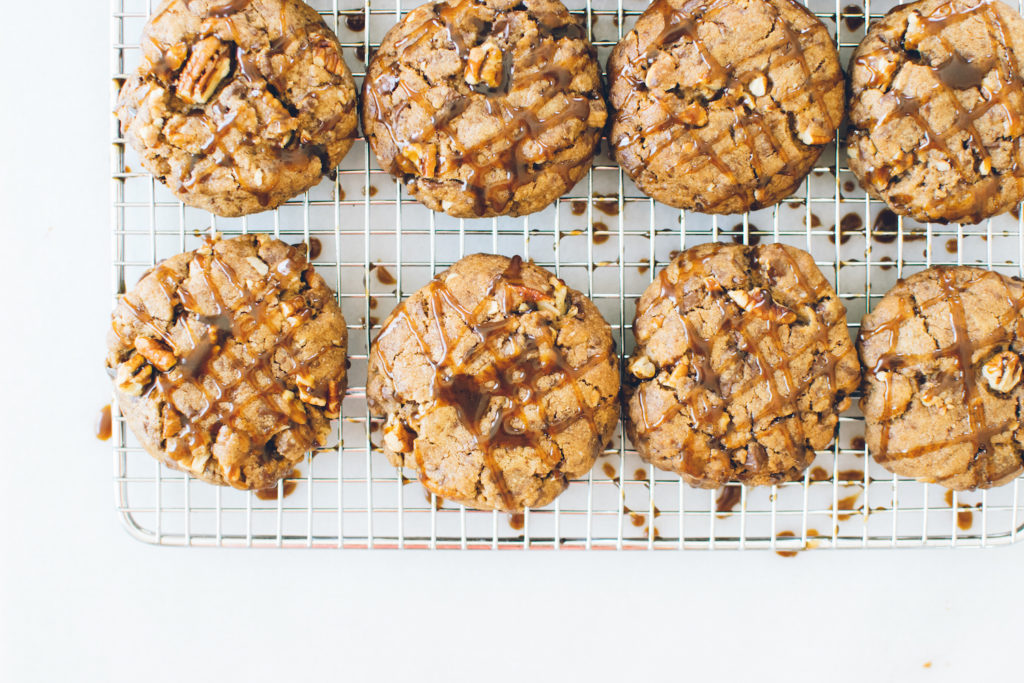 Jump to Recipe
A) I have cookies. Smothered in salted caramel. Made with coconut sugar. (!)
B) It's my birthday. (!!)
C) We had a picnic. (!!!)
D) There are pictures of every single earth-shatteringly caramel-y, picnicky, people-I-love-being-adorable moment. (!!!!)
I'm going to let the images speak their thousands of words, but a couple notes on these cookies before I do. Because we're all on that epic quest for the perfect chocolate chip cookie, right?
Mine is some mix of chewy, dense, brown buttery, deep chocolatey, and salty. Earlier this spring, my beautiful friend Alana and I made a batch of Tara O'Brady's (into cookie pops for our girl Molly Yeh), which were pretty phenom. But I missed the magic touch of brown butter. So I went on a hunt for some chocolate chip cookie intel and found myself at Alana's amazing blog Fix Feast Flair, where she has an incredible chocolate chip cookie-making resource. This girl has BROKEN IT DOWN. I won't say more—just check it out for yourself.
Drawing from the wisdom of both Tara and Alana's recipes, I developed this one, full of brown butter, flakes and chunks of dark chocolate, coconut sugar, and pecans. And drizzled with the most delectable salted caramel made with the same coconut sugar.
Why coconut sugar? It's got an irresistibly rich, deep caramel-y flavor that transitions effortlessly into a caramel sauce, as if it were returning to its true state. It's also very low in fructose and glucose (and higher in sucrose), making it a nice alternative to energy draining cane sugar.
So YAY COOKIES. YAY BIRTHDAY. YAY SALTED CARAMEL. YAY PICNIC.
I'm off to go jump in the ocean and pretend like I just turned 15 / am eternally ageless. Here are pictures!
❤
ps, I don't really wish I were turning 15. 32 rocks. I think I feel younger than I did at age 10, and I think I feel great about that.
Clockwise from top left: Savannah DeVarney, Caleb and Mawn Scott, moi (PC: Micah Fitzerman-Blue), Elina Tilipman.
Upper right: Suzanne Joskow & Micah Fitzerman-Blue get dramatic with the chocolate peanut butter truffles Suzanne made from scratch (!!!). Bottom right: The epic raspberry curd and candied sage birthday cheesecake Suzanne ALSO made. How lucky am I?
Clockwise from top left: Andrew Galdi, Suzanne Joskow & Brian Kendig (PC: Micah Fitzerman-Blue), the ladies of Challah Hub (Sarah Klegman and Elina Tilipman), moi again (PC: Micah Fitzerman-Blue), Jessie Lande & Paiman Kaleyeh.
And now for the cookies and the caramel.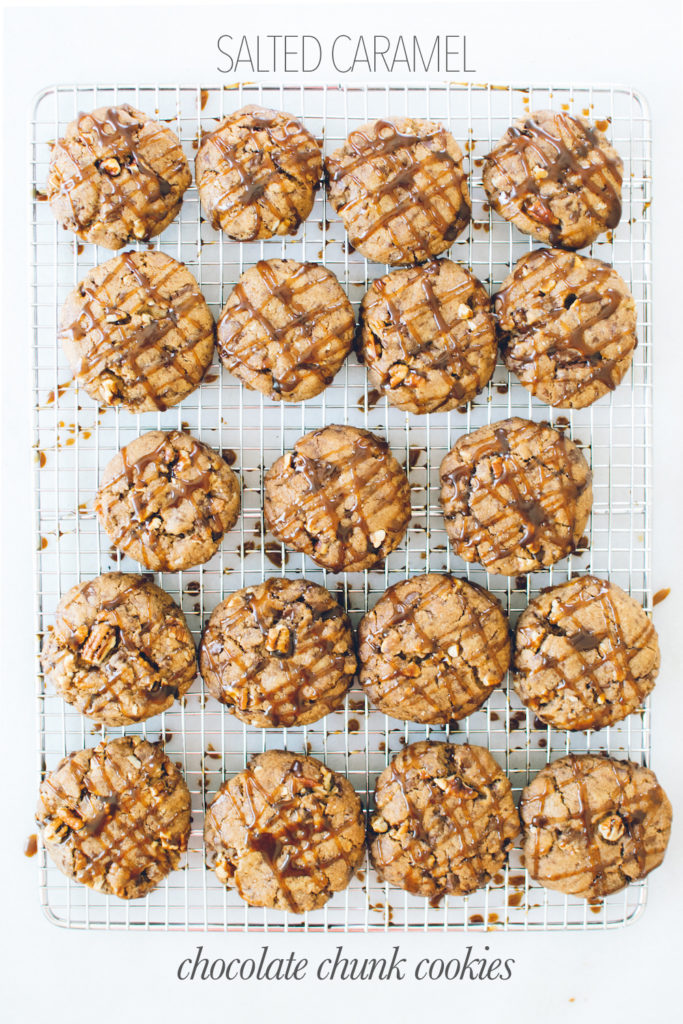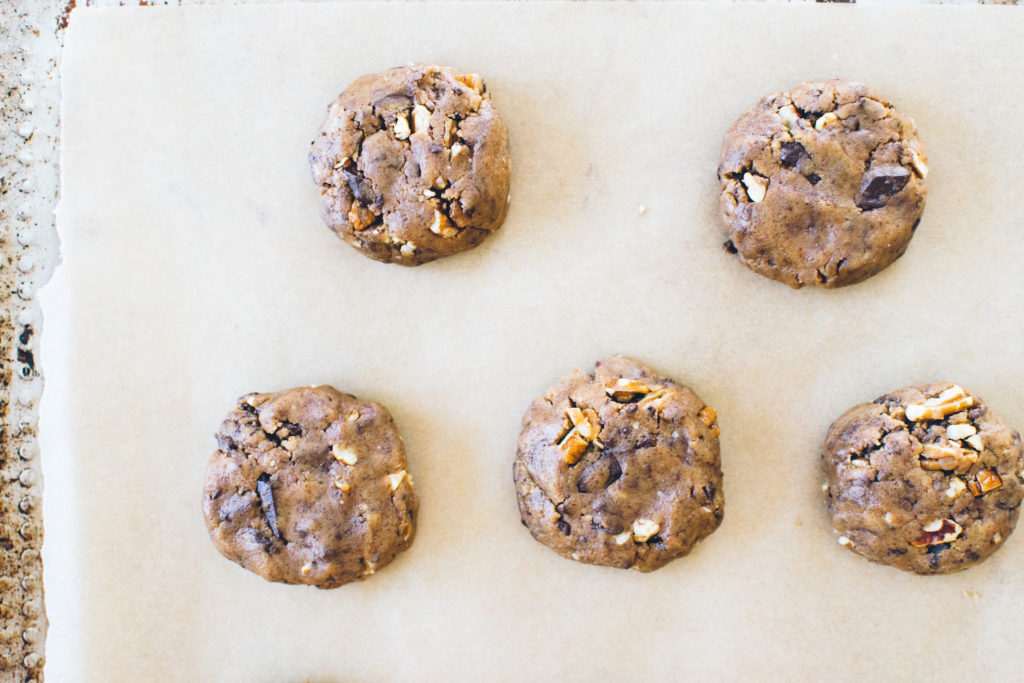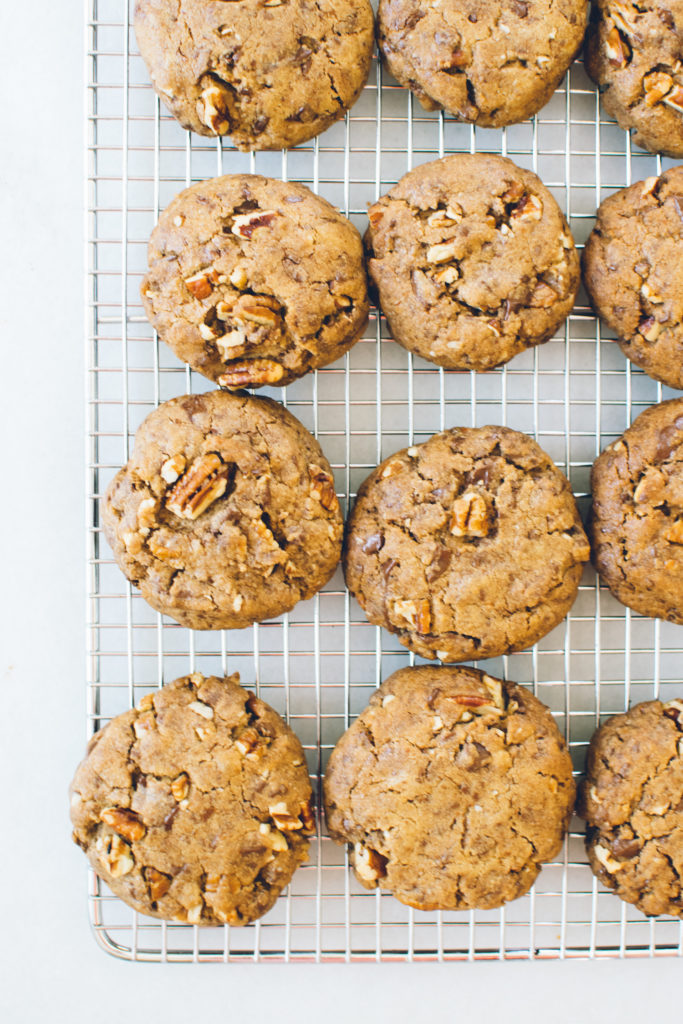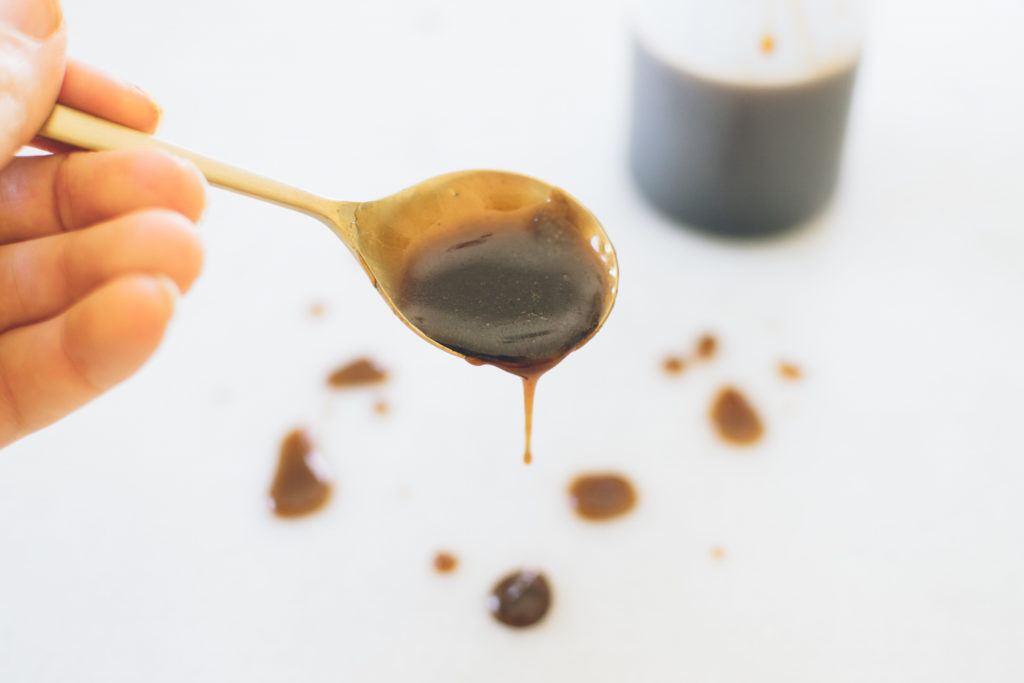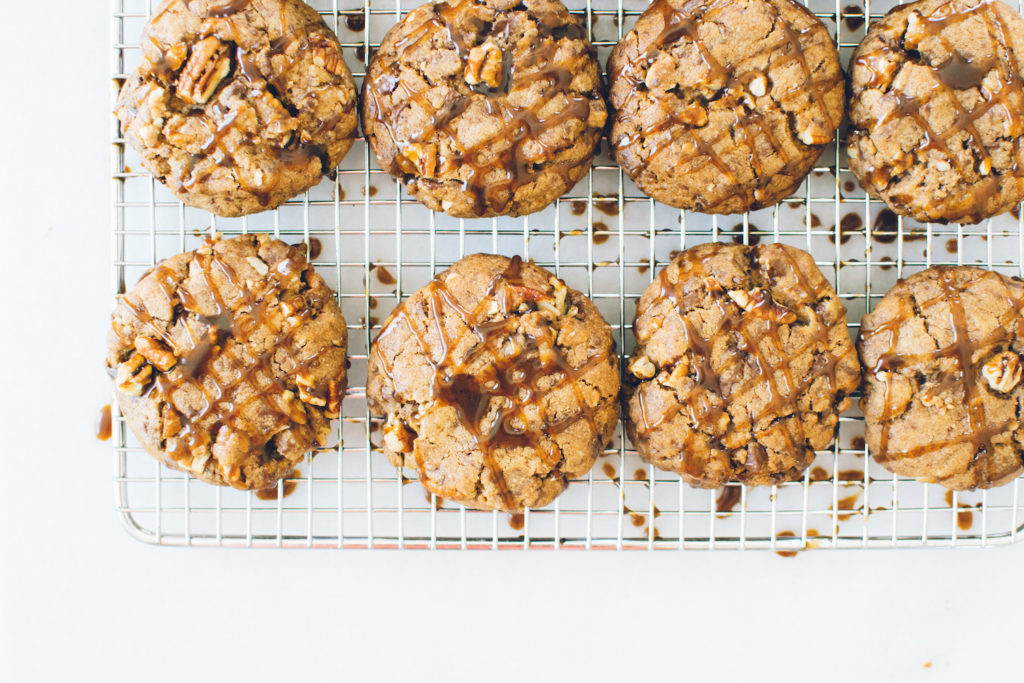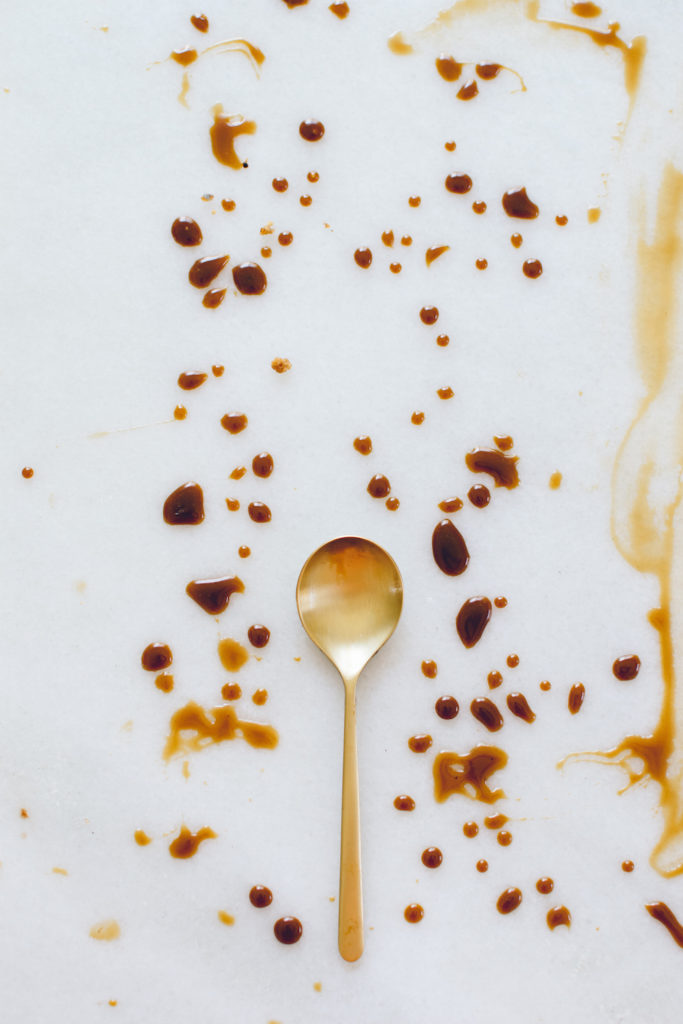 SALTED CARAMEL CHOCOLATE CHUNK COOKIES.
Servings
24
large cookies
Ingredients
heavily adapted from Fix Feast Flair and Seven Spoons
1 ½

cups

unsalted butter (3 sticks—I know

deal with it)

3 ¼

cups

all purpose flour

1 ¼

teaspoons

baking soda

1 ½

teaspoons

sea salt

1 ½

cups

light brown sugar

firmly packed

½

cup

coconut sugar

cane sugar also works

1

egg + 2 egg yolks

1

teaspoon

ground vanilla bean or 2 teaspoons vanilla extract

¾

cup

roughly chopped pecans
adapted from Bon Appetit
½

cup

coconut sugar

cane sugar also works

2

tablespoons

water

2

tablespoons

heavy whipping cream

2

tablespoons

unsalted butter

2

pinches

sea salt
Instructions
the cookies
First we're gonna brown the butter.

In a saucepan, melt the butter over low-medium heat. Swirl as it melts. Over the next few minutes it will start to bubble and sputter as the water burns off. Then it will start to become a deeper yellow. Use a wooden spoon or silicone spatula to scrape the bits of butter off the sides and bottom so they don't burn. Continue to swirl until the bits of butter at the bottom turn amber brown, then remove from heat and pour into a bowl to cool (you can put in the fridge to speed the process, but it'll take about 15-20 minutes).

In a medium bowl, whisk together the flour, baking soda, and sea salt.

Once the butter is room temperature, mix it in a large bowl with the brown and coconut sugars and vanilla. When incorporated, add egg and yolks one at a time, mixing until just combined.

Gradually add in dry mixture, and when it's not quite all mixed, add chocolate and pecans.

Line two baking sheets with parchment paper and distribute 3 tablespoon rounded cookie dough balls onto baking sheets, leaving 2-3 inches between the cookies. Slightly flatten each cookie. Refrigerate at least 30 minutes.
the caramel
During this time, make your salted caramel! It's so easy you're going to freak out. These instructions are for coconut sugar. If you use regular cane sugar, follow the recipe it's adapted from.

In a saucepan over medium heat, stir coconut sugar and water until sugar dissolves. Raise heat to medium-high and bring to a boil, swirling in pan without stirring. Continue to cook another 1-2 minutes, being careful not to burn.

This caramel is unusual in that it doesn't need to cook long in order to reach a deep amber color and achieve a strong depth of taste. Once it's been at a simmer for a 2-3 minutes total, remove from heat and add butter, cream, and two pinches sea salt. Whisk to combine. And you're done. Let cool completely.
the cookies (baking)
When the cookies have chilled, preheat oven to 360º.

Cookies bake best when you do one sheet at a time on a middle rack. Bake each sheet for 10-12 minutes, rotating the pan halfway through.

Cool cookies on the baking sheet for a couple minutes, then move to a wire cooling rack.
the whole shebang
When the cookies are TOTALLY cool, drizzle them with your caramel. Or, y'know, just spoon it on while they're hot and shovel it all in. Either way.

Happy birthday-picnic-salted caramel-love day.