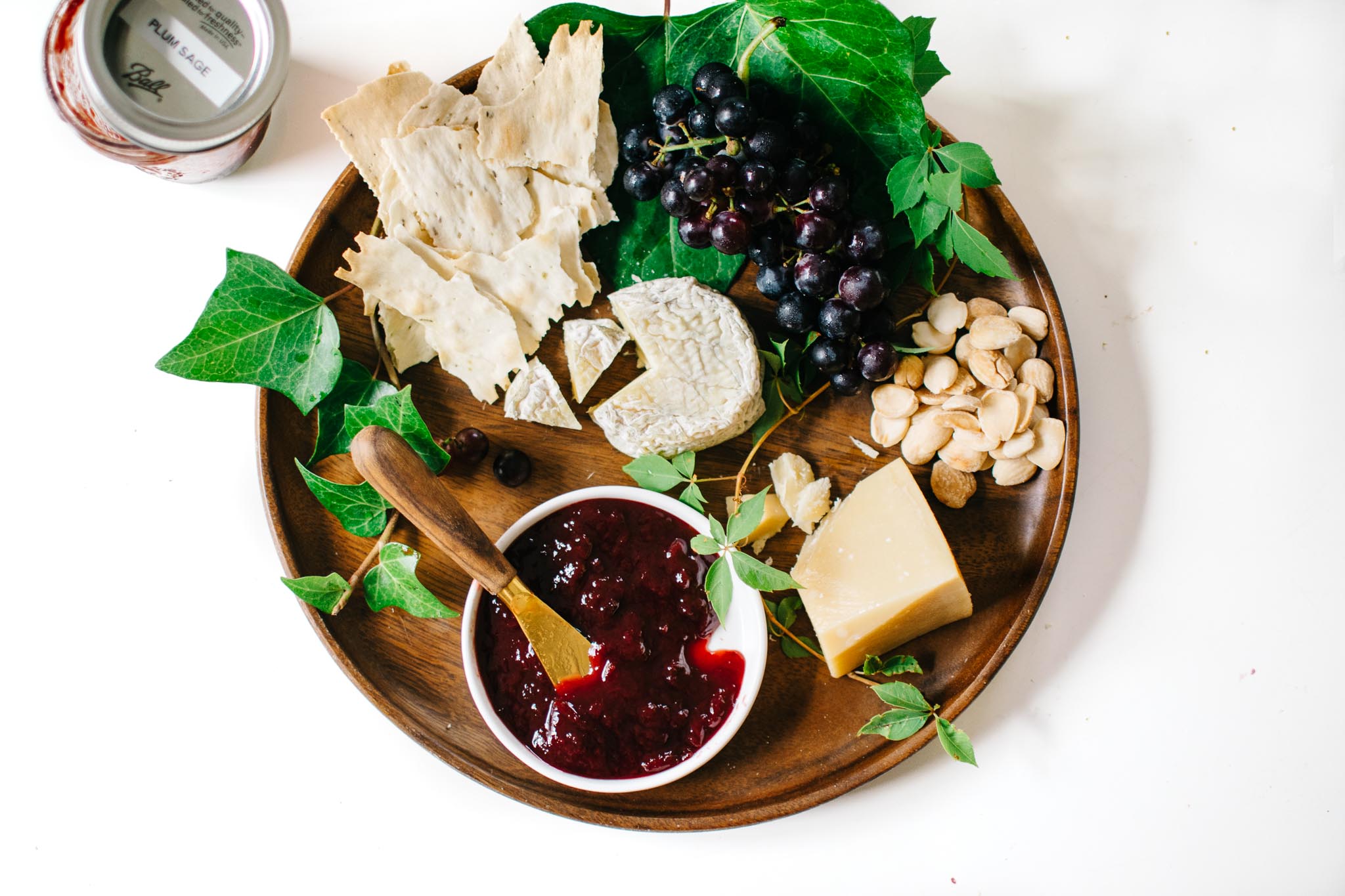 Jump to Recipe
Every time I think I've had it with LA, the city reveals some new side of itself I can't turn my back on. So it was with this plum jam adventure—my friends Serena and Heather and I had been planning a jam day for weeks, and when it arrived, it was smack in the middle of LA's heat wave. I was dreading being outside, let alone stuck inside over a boiling pot of fruit. Nevertheless we forged ahead, imagining jams of blueberry and rosemary, blackberry and sage, strawberry and vanilla. We were committed.
A few days before the mythical Jam Day arrived (it should be a holiday, really—we were so excited in the lead up that Serena's boyfriend started teasing her it was basically Christmas), I got a jam-changing DM on Instagram. My friend Rachel wanted me to come pick plums in Mount Washington. She had thousands. She didn't know what to do with them. Would I want some?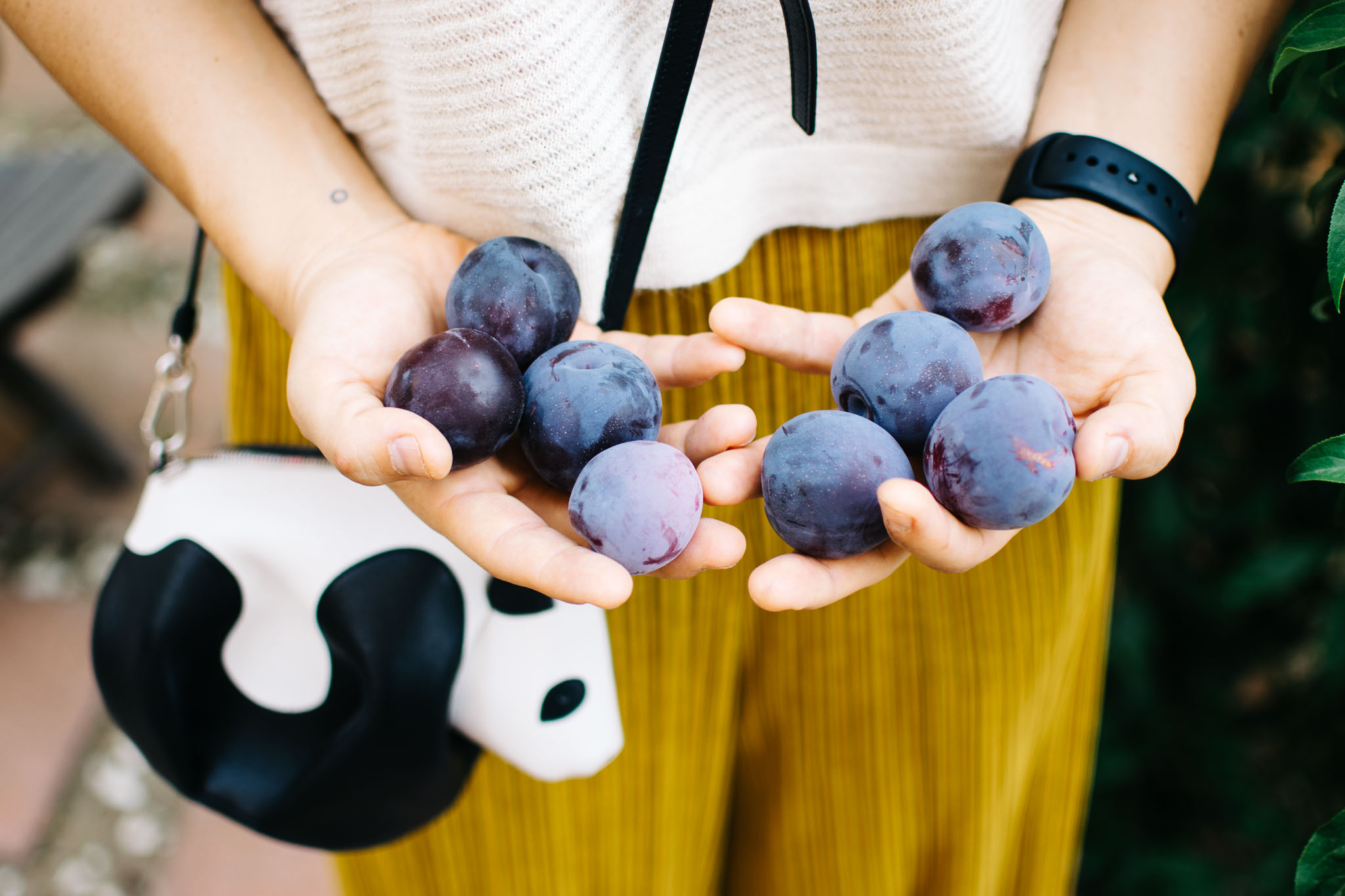 You can imagine the enthusiasm of my response, and within 72 hours, Heather, Serena, and I trekked over to Rachel's (pictured above, sitting beneath her mythic tree) for a good picking sesh. The blinding heat was soothed by the mere presence of green, leaves, that magic inhale-exhale trees do that makes even a heat wave better. Rachel spent the weekend prior making her own jam, and sent us home with a sampling of her sweet concoction and a human boatload of plums.
The three of us were giddy, drunk on freshly picked plum power. We found ourselves at the farmers market, getting the best deal we could on blackberries (we were still set on making one other type of jam, blackberry thyme) and sidling up to cheese and a baguette for Jam Day snacks. By the time we made it back to Serena's, some of the plums' skins were starting to crack, their sweet juices escaping into heat.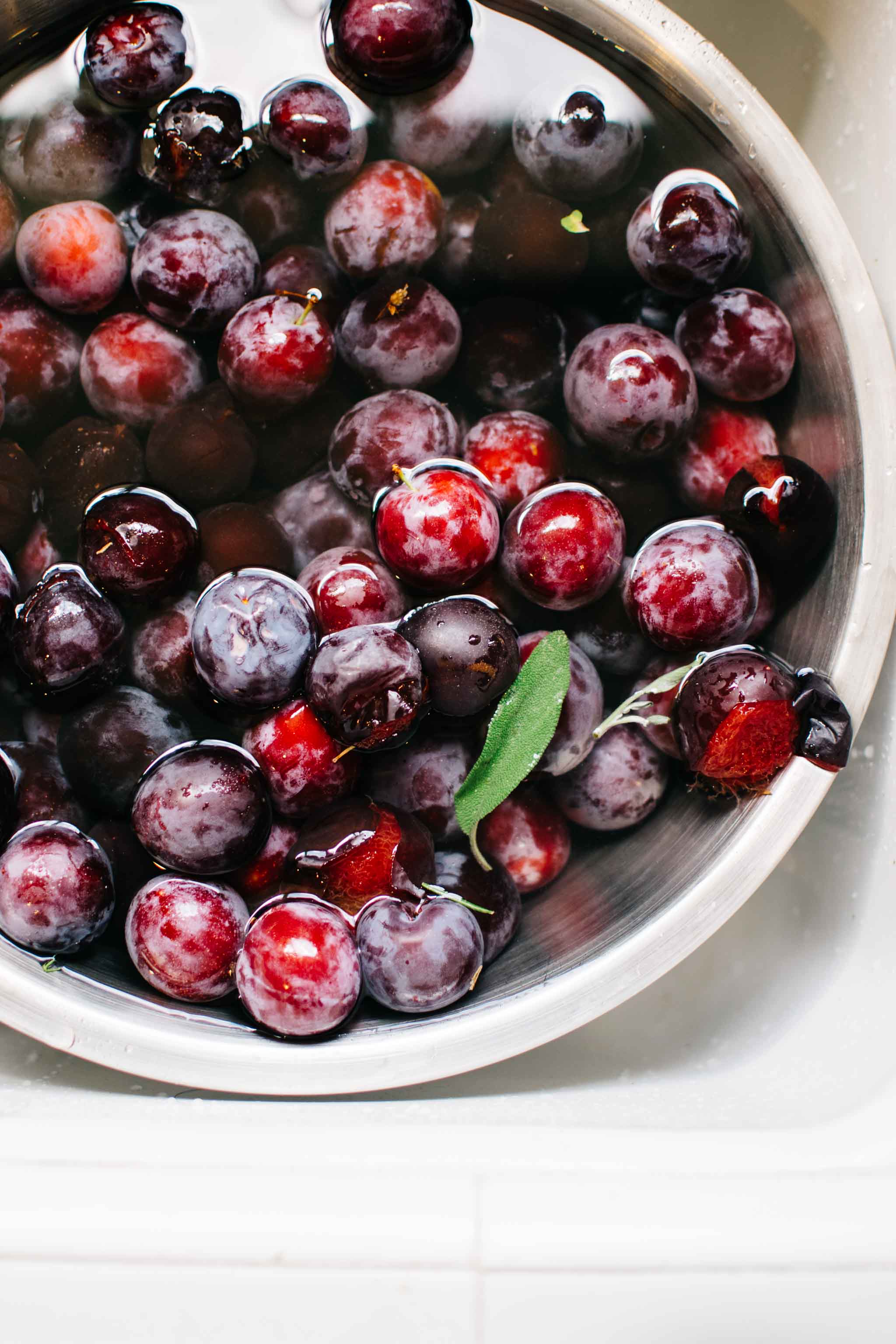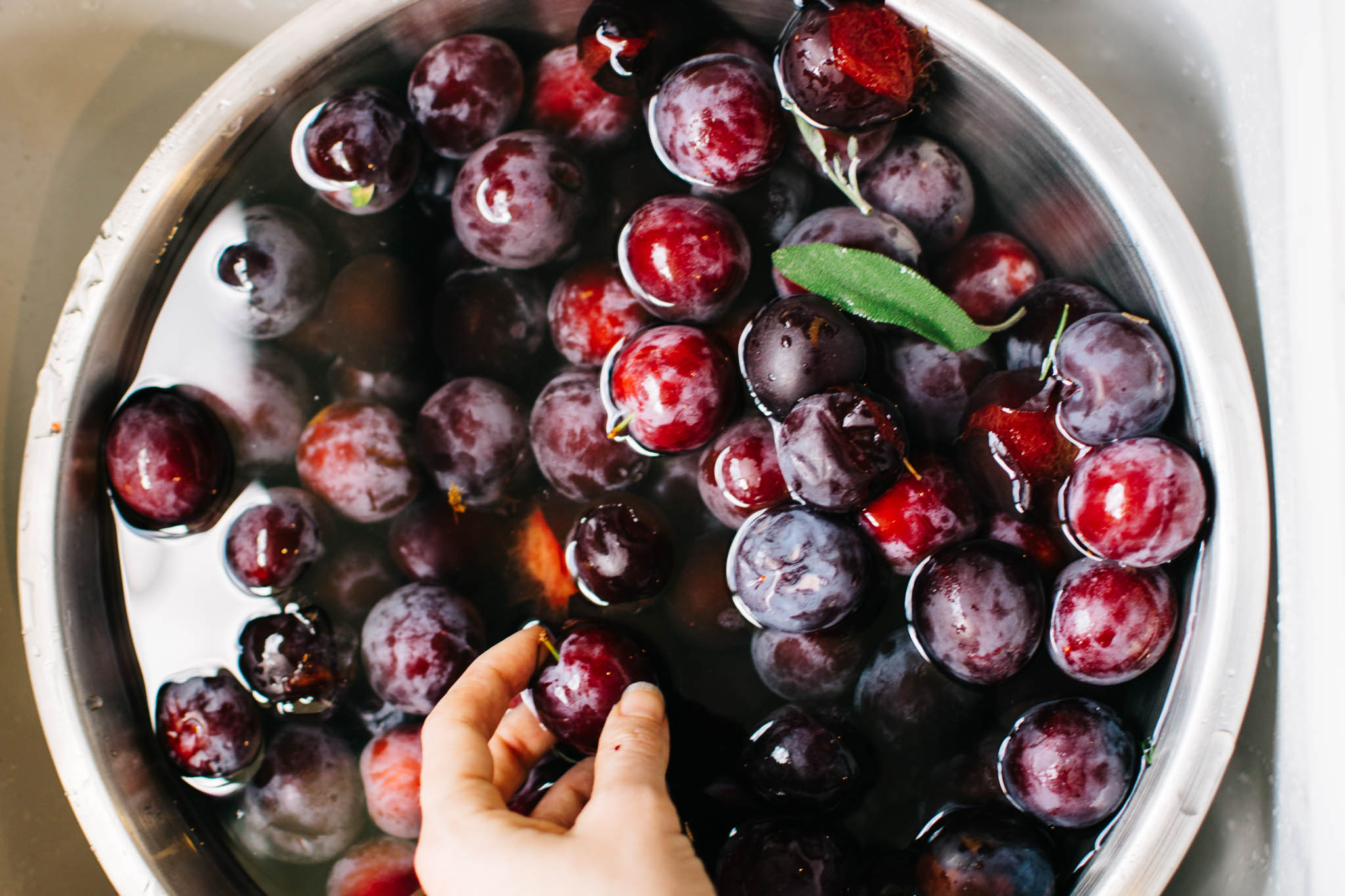 There was one small caveat to our Jam Day glee: We hadn't settled on one particular recipe, and as we each delved deeper into the plum-jam-Google-wormhole, we discovered that no two recipes were alike. Each recommended different lengths of time for maceration, or no maceration at all, or tons of lemon juice, or none, or pectin, or none, mountains of sugar, or very little—and all with wildly different cooking times. We soon realized we were essentially left to our own devices with just a basic plum jam blueprint.
And with three passionate cooks, that sometimes means trouble. Over the course of the afternoon, I think we each had moments of mild panic that we'd completely ruined the jam. Outwardly, we calmed and soothed each other, but internally, we were each worried that we'd do something terribly wrong and end up with gallons of unsalvageable fruit.
What we should have realized, based on the wildly varying instructions we found, is that it's actually relatively difficult to completely ruin a batch of jam. Unless, of course, you cook it into its own death. Which we had no intention of doing. We wanted fresh, vibrant, sage-infused plum glory.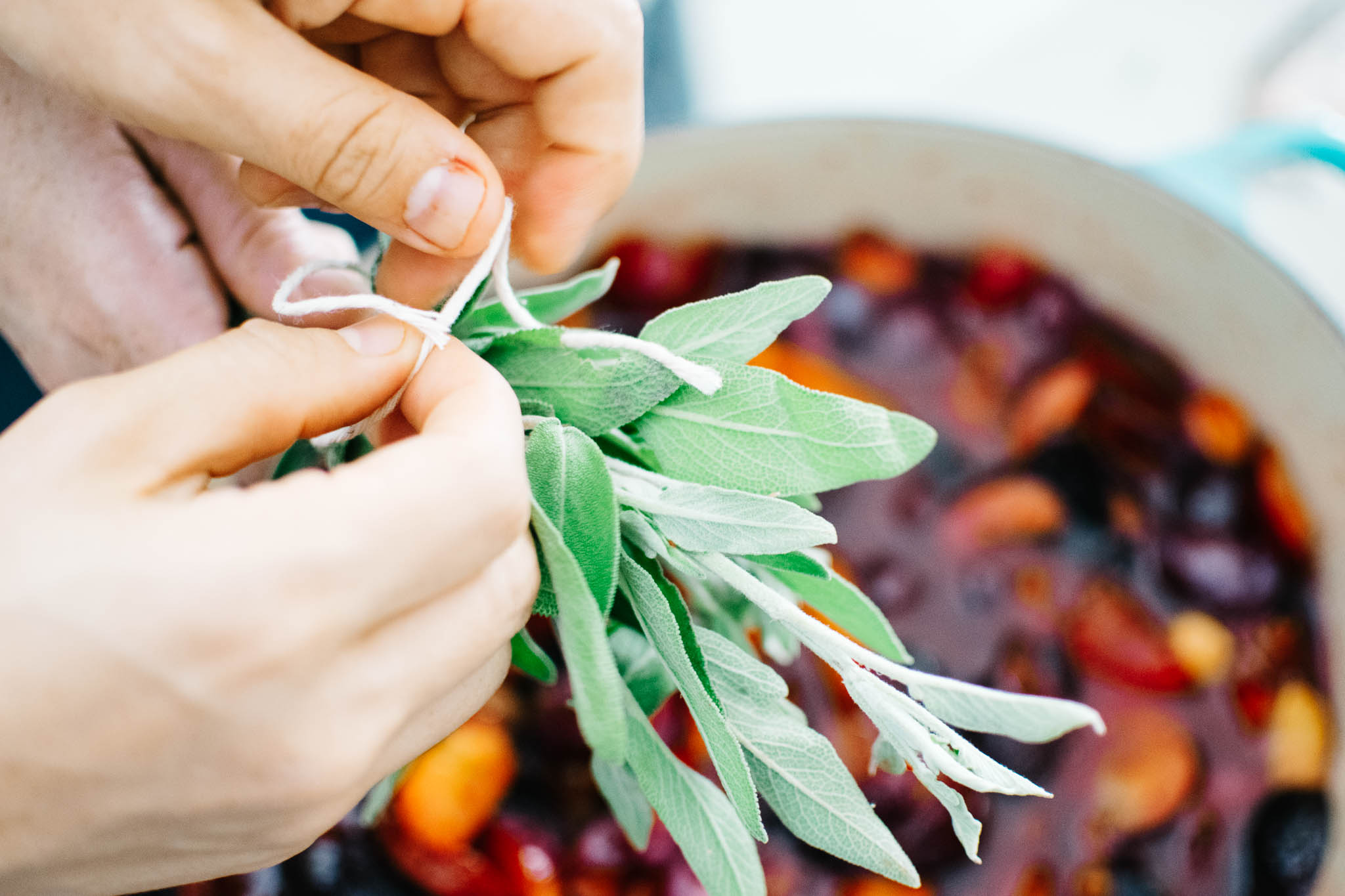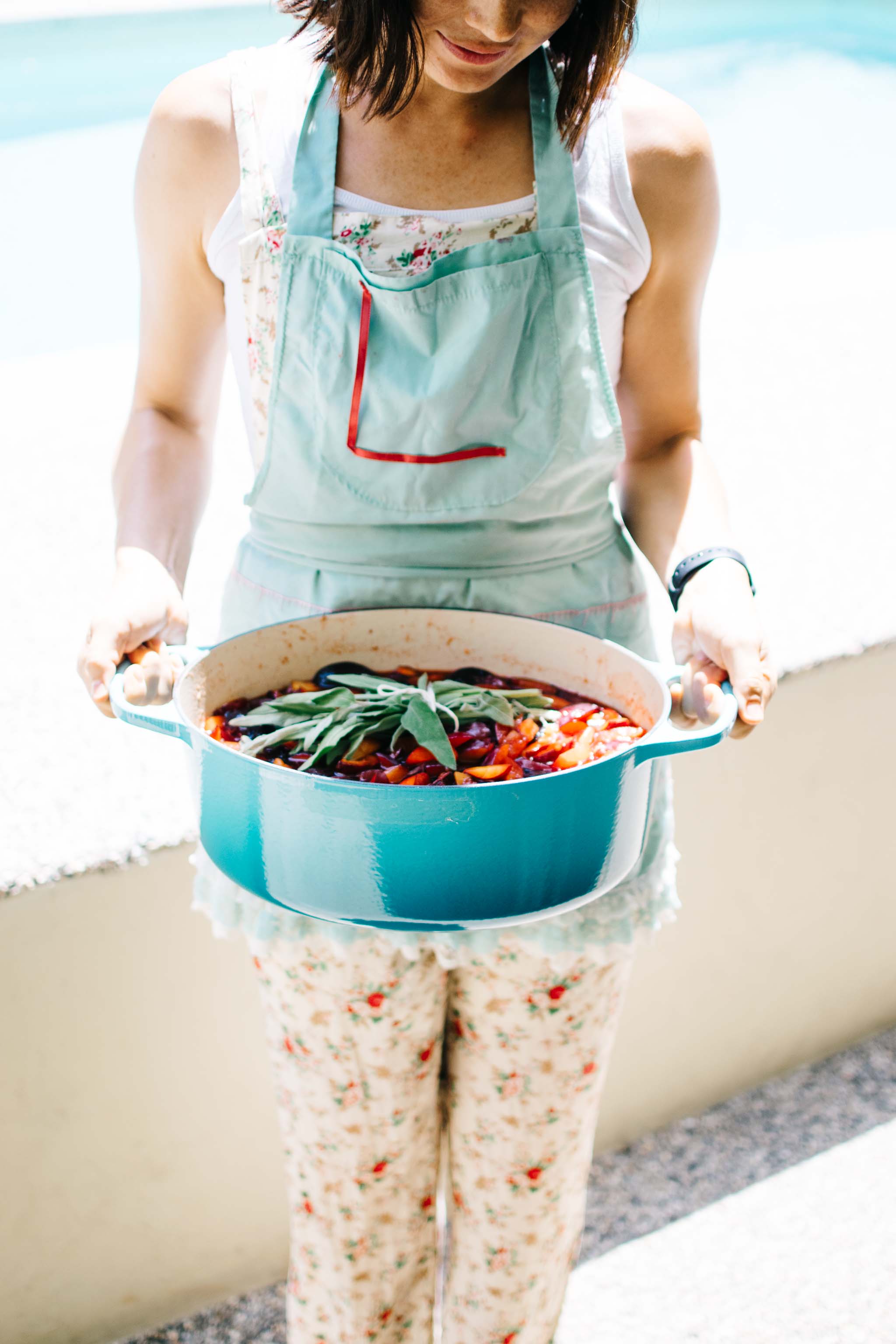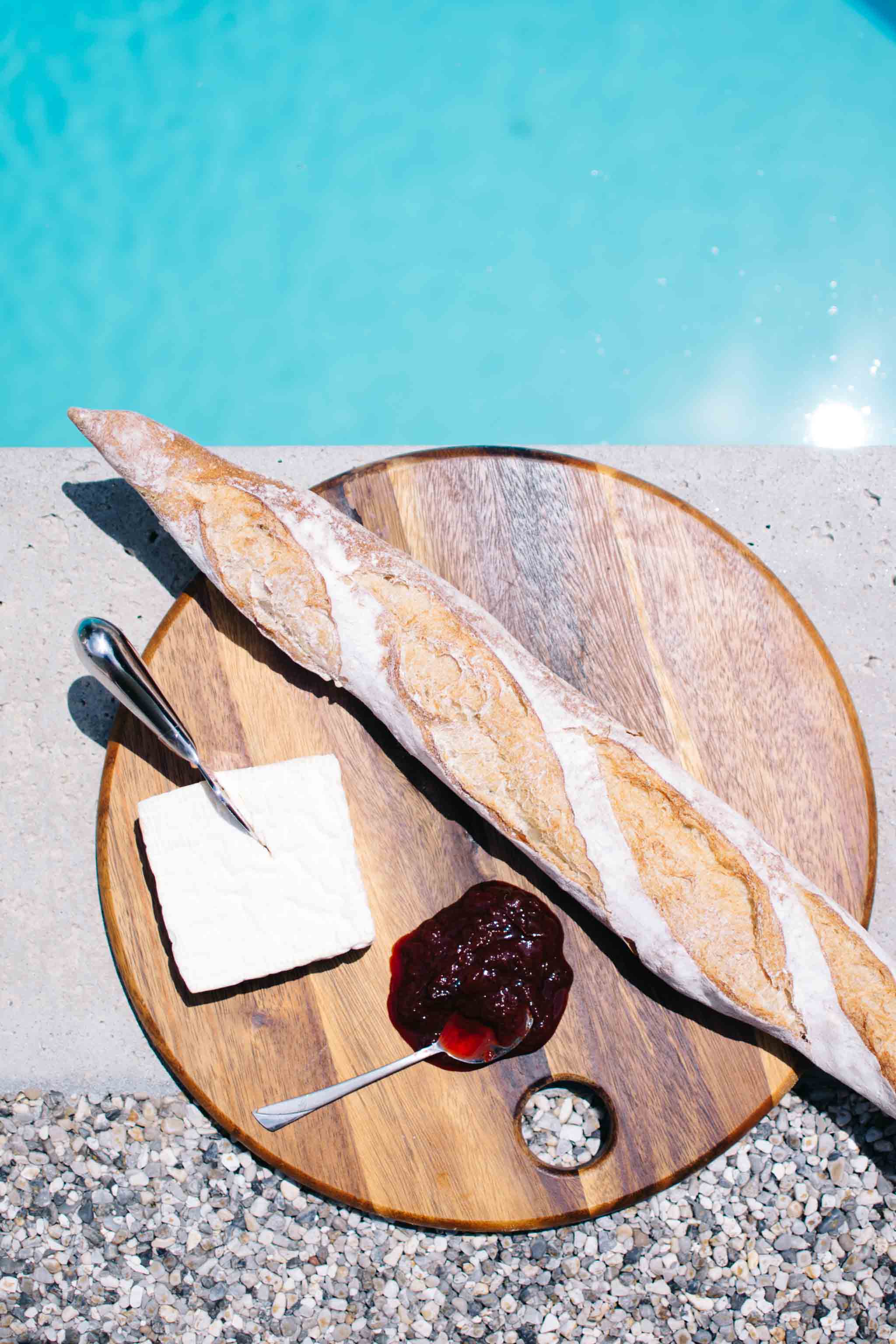 As the day wore on and we made game-time decision after game-time decision, we tired our minds into jam acquiescence. Was it too runny? Was it starting to caramelize? Did we add enough sugar? Why didn't we bring it to a harder boil at first? Can we taste the sage? In the moment, these questions felt like life or death. I'm not saying our jam self-interrogation was right, I'm just telling you how it was. We were obsessed.
In the end, we were very proud of our Jam Day results. We texted long into the night and the following days about what was getting slathered with the ruby glory: Oatmeal, bagels, cheeses, English muffins, yogurt. We dreamed about what flavors we would make next. And, of course, we deliberated over what we would do differently next time. But mostly, we were just thrilled that Jam Day had been every bit as fulfilling as we'd dreamed.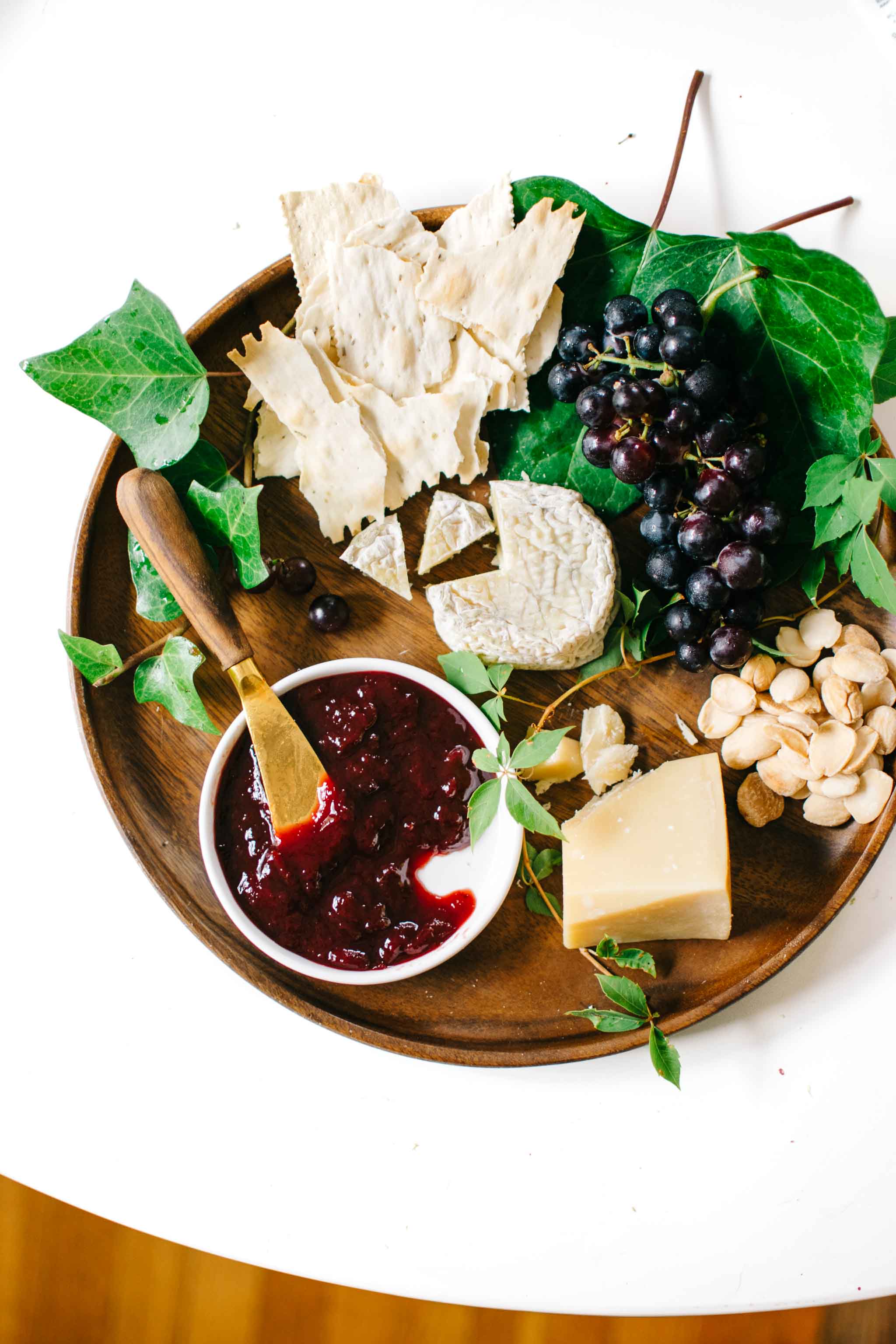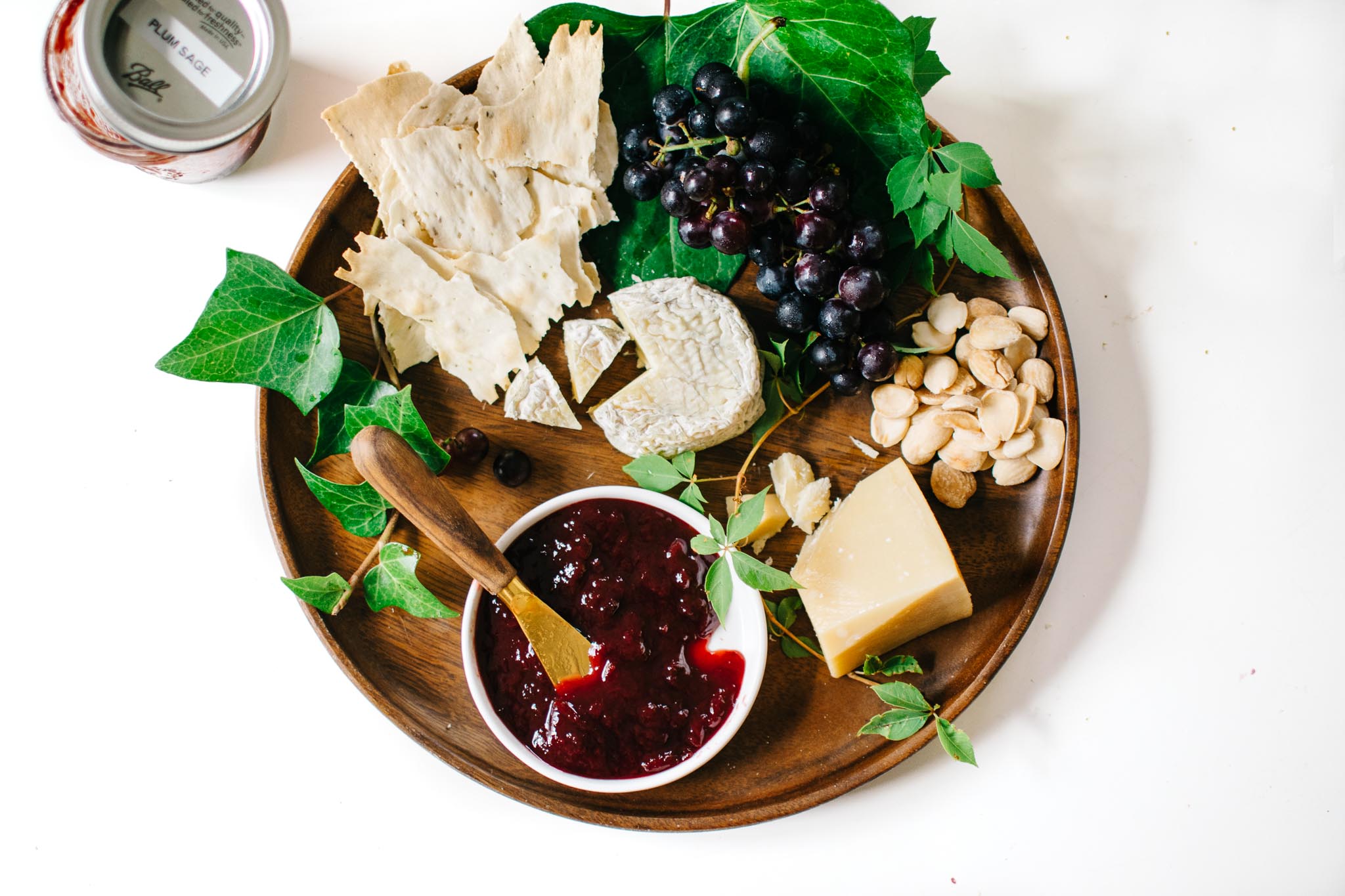 The recipe below hasn't been tested a million times. It's a result of the plum jam sleuthing process Serena, Heather, and I endured as we made the jam ourselves, including the many adjustments we made along the way. It's as much a record of our day as it is a recipe, and in that vein, I urge you to make it your own. And, always, to follow your intuition in the kitchen.
SAGE PLUM JAM
I have yet to see any two plum jam recipes with the same approach or cooking time. Let my timeline below be a starting point: Follow your intuition, and don't boil the fruit to death. You want to keep that vibrant plum spirit alive.
Total Time
1
hour
10
minutes
Ingredients
4-5

pounds

plums, about 11 cups sliced and pitted

3

cups

granulated sugar

1

medium lemon

zested and juiced

10

large sprigs

fresh sage, washed, dried, and tied into a bundle with string

1/4

teaspoon

sea salt
Instructions
Place plum slices and sugar in a large bowl and mix to coat thoroughly. Let sit for 30 minutes to one hour, or up to a full day for a shorter cooking time. Place a small plate in the fridge—you'll use this to test your jam for doneness later on.

After the plums are macerated, transfer the mixture to a large non-reactive pot, add the lemon zest and juice and the sage bundle, and turn heat to medium. Bring the mixture to a boil, stirring occasionally to make sure the bottom doesn't burn.

Reduce heat to medium-low and continue to cook until the jam starts to thicken, 25-30 minutes. Stir occasionally, scraping the bottom and sides. After 10 minutes, taste for sage infusion—if it's strong enough, squeeze the sage bundle against the side of the pot and discard. If you want more, leave it in another 5-10 minutes, then taste test again.

While the jam cooks, wash and dry your jars and lids, and, if canning, prepare your boiling water bath.

Once you feel jam is starting to set, pour a small spoonful onto the chilled plate from the freezer. Return to the freezer for 2 minutes. Remove, and use your finger to draw a line through the jam. If the lines remain clear, and it's not too runny, it's likely done.

Once done, funnel the jam into clean jars, seal, and process according to your canning process. If not canning, let cool, then store in the fridge for up to a month. Serve with toasts, yogurts, cheeses, and other treats.