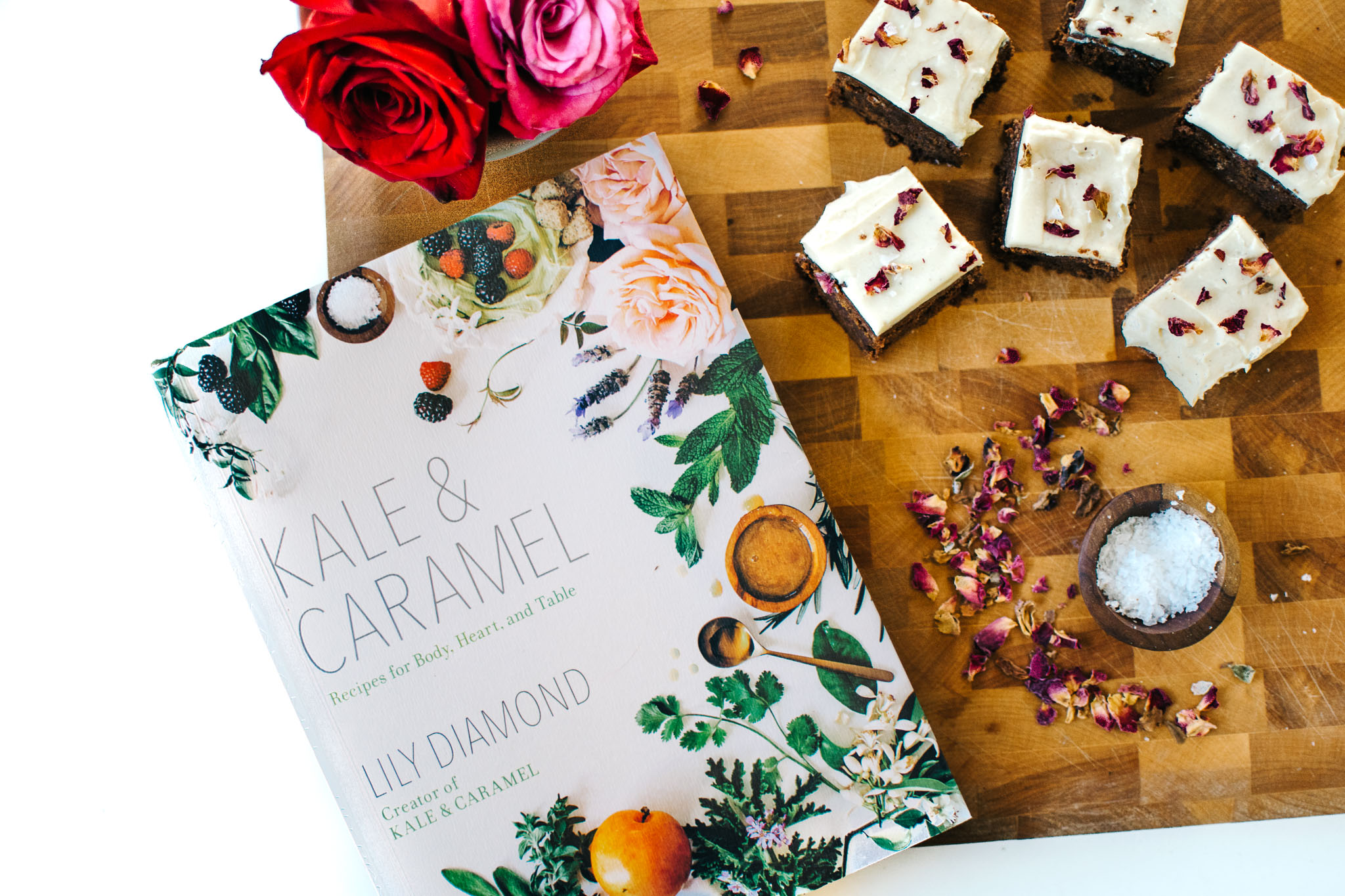 Jump to Recipe
There's a truism attributed to Joseph Campbell, though no-one has ever found a specific source in his work for it: We must let go of the life we have planned, so as to accept the one that is waiting for us. You've probably heard it dozens, even hundreds of times, often enough that it became part of the background noise, or, as David Foster Wallace once described, the water through which all of us fish swim so freely that we no longer notice its presence. But something strange happens when wisdom becomes background noise, when we stop noticing the very water through which we swim: Life becomes very dull. We're cool with this dullness because the alternative—chaos, the unexpected and unknown—is deeply uncomfortable. In moments of uncertainty, background noise rises to the fore, the water becomes heavy with drenching wetness. And then, only then, do we start to wonder about the veracity of that life we'd always planned for ourselves. We consider that maybe, just maybe, there's a whole new person waiting for us on the other side of all the ideas and concepts we've adopted about who we are. An us that's always been there (probably with way better brownies), if only we'd been willing to look.
I think a lot about this other me—I try to stay vigilant of her presence always, but especially each year when Valentine's Day rolls around, and any time something significant in my life happens. And it turns out this year, those two eventualities coincided. First: I am, yet again, single on Valentine's Day. And second: Just last week, I received the very first copy of my book—the Kale & Caramel cookbook.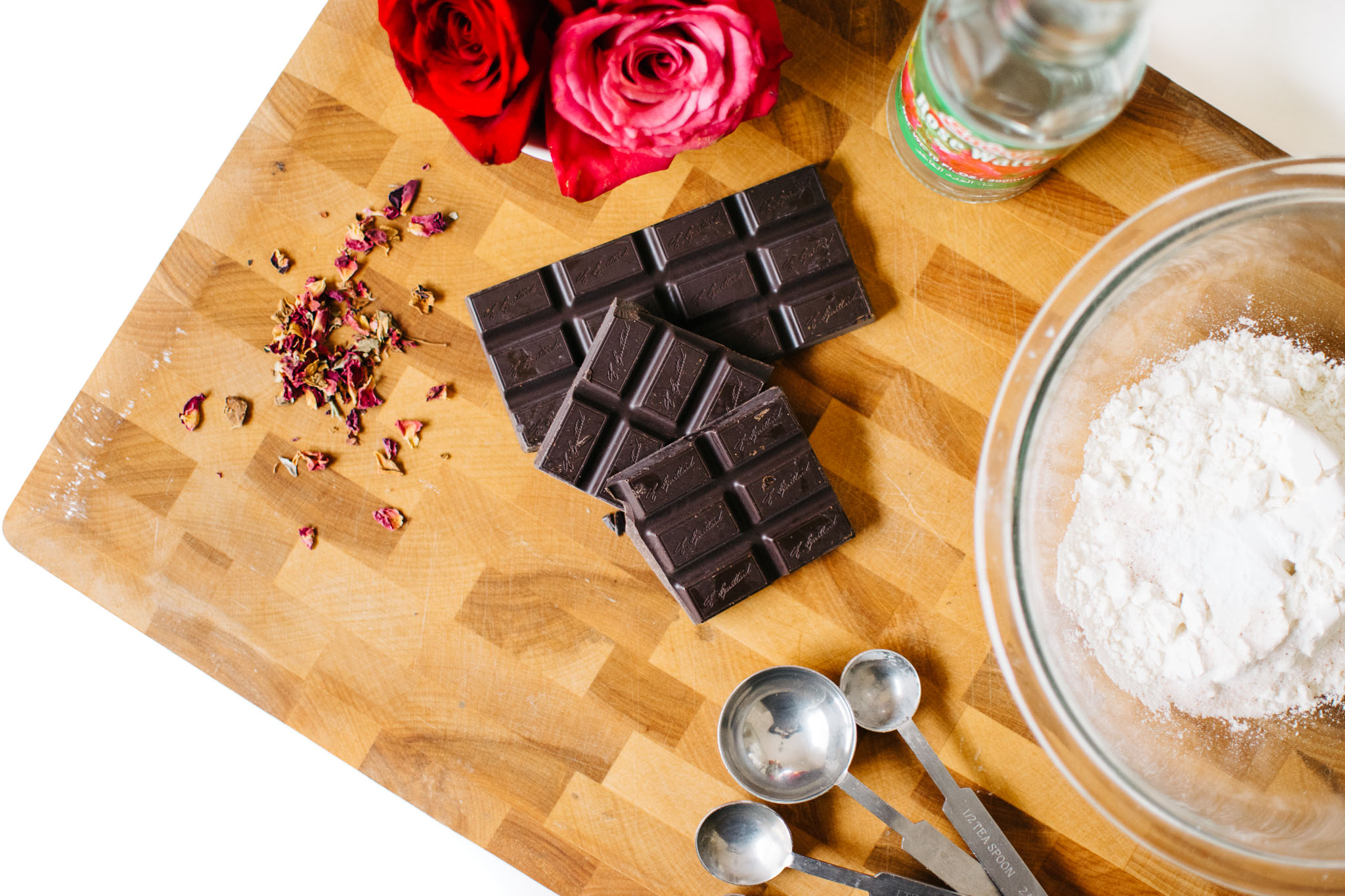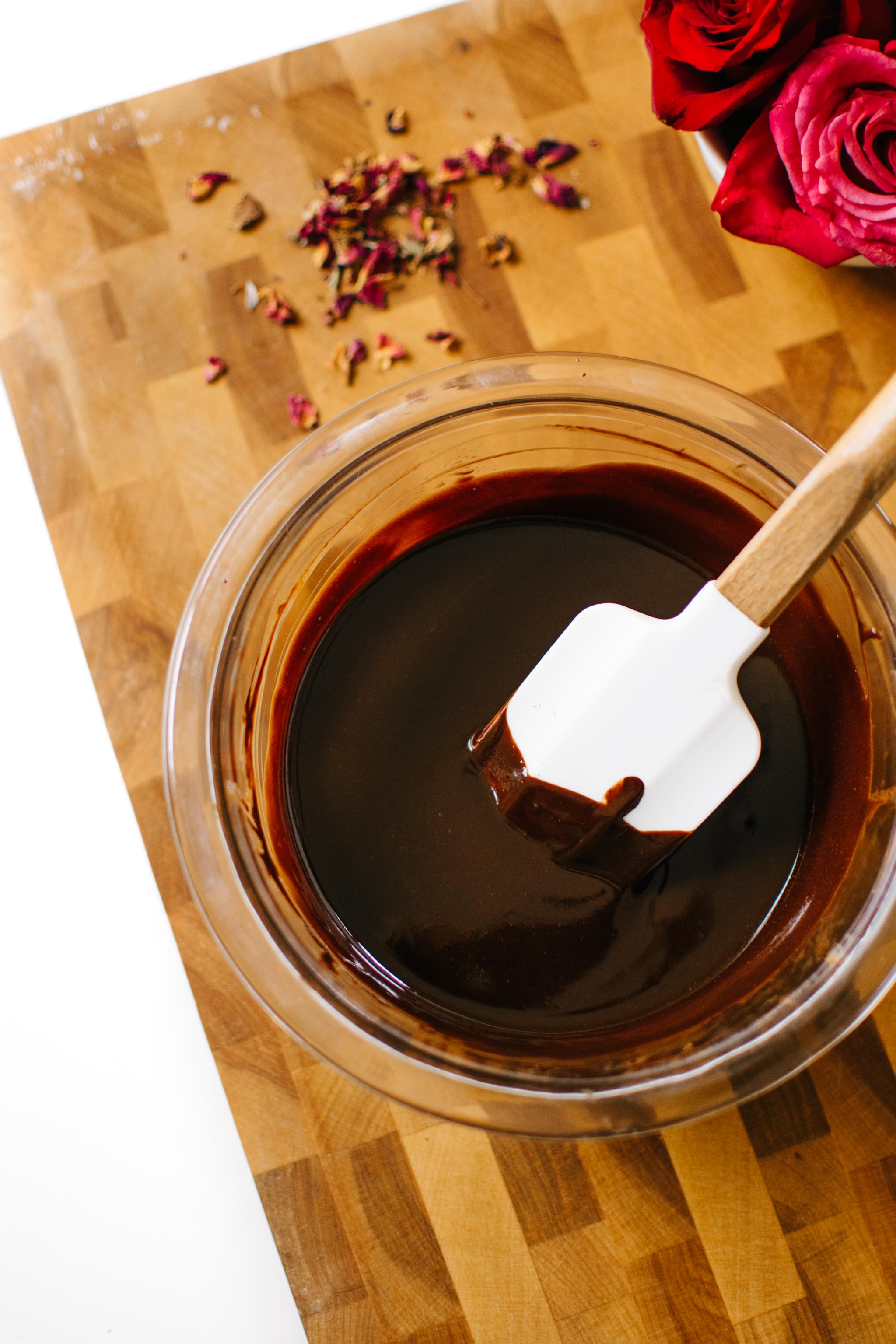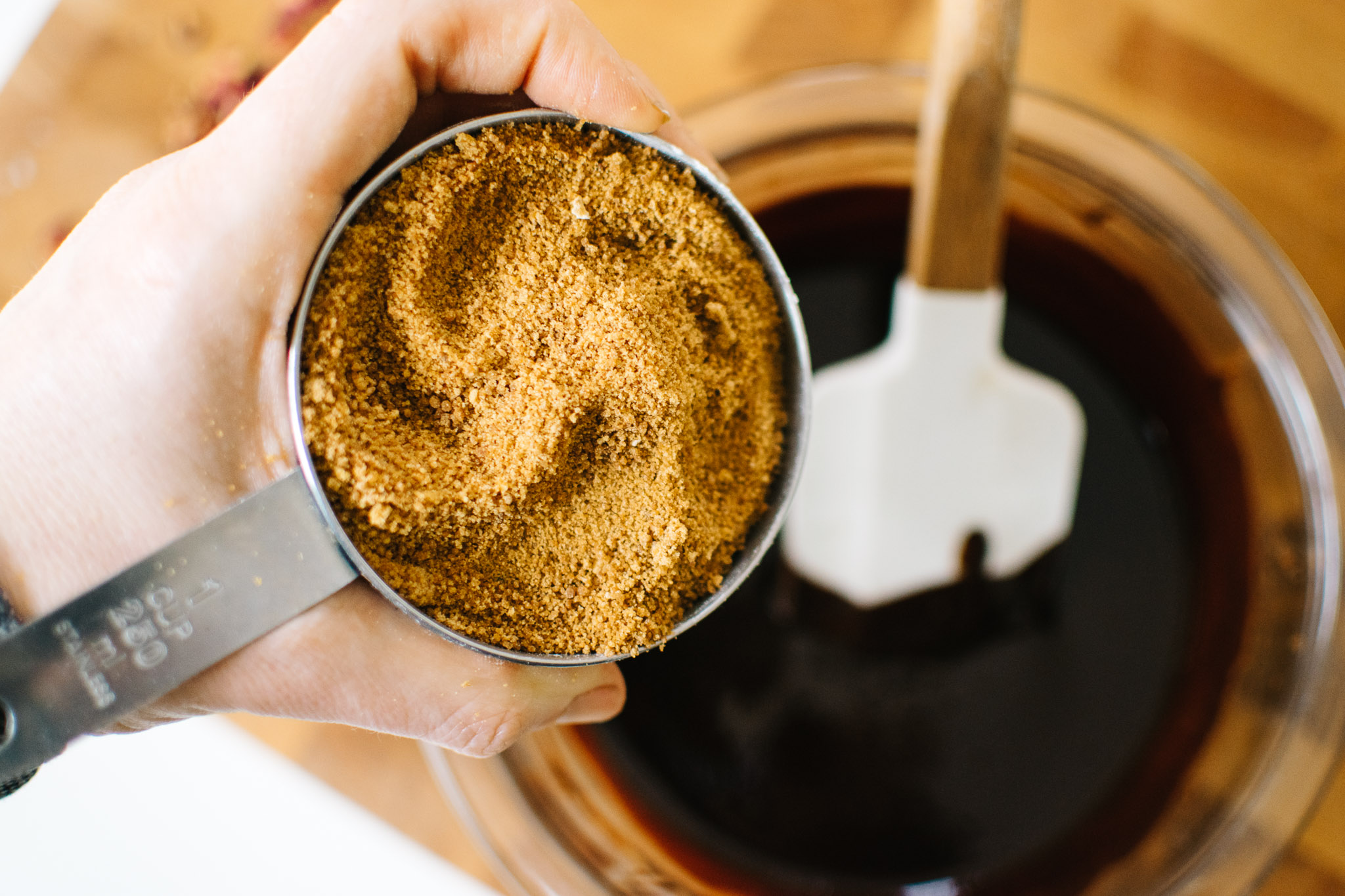 About the singledom: Though this year, like so many before it, I am partner-less, I feel a new kind of settled fullness in my body and heart. Perhaps it was the arrival of my book that shifted the frame in the direction of fullness rather than lack, but I feel more aware than ever that hewing my life to some specific mold I created as a child is not only impossible, but also uninteresting. No matter how tightly I may have held to that vision, life itself has other plans. And, right now, holding my first book in my hands, every inch of it something I poured myself into completely, I'm excited about the life that exists beyond the bounds of my mind's creation.
And, of course, what joy in sharing the cover with you, today. Here she is, sweet friends: Kale & Caramel: Recipes for Body, Heart, and Table.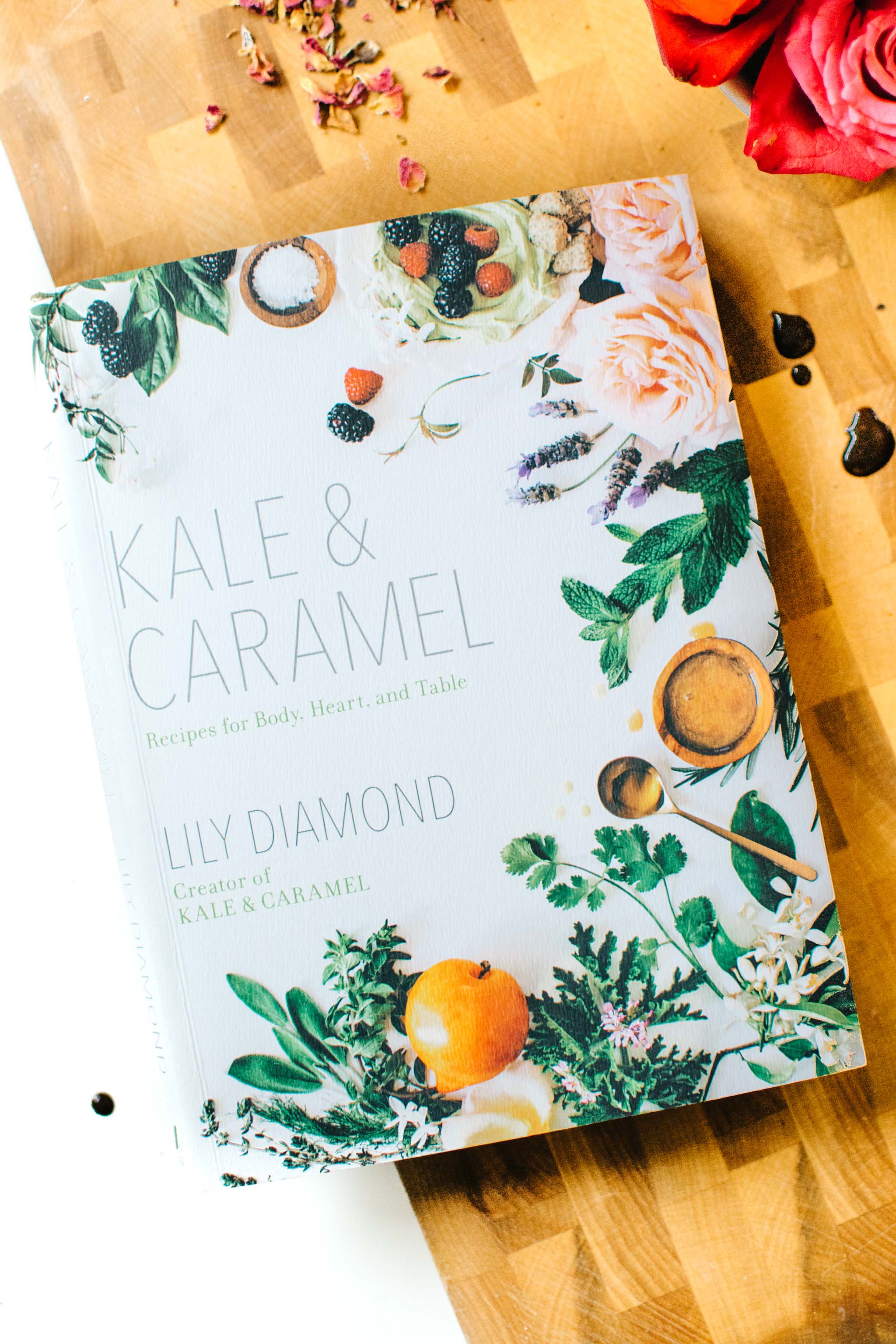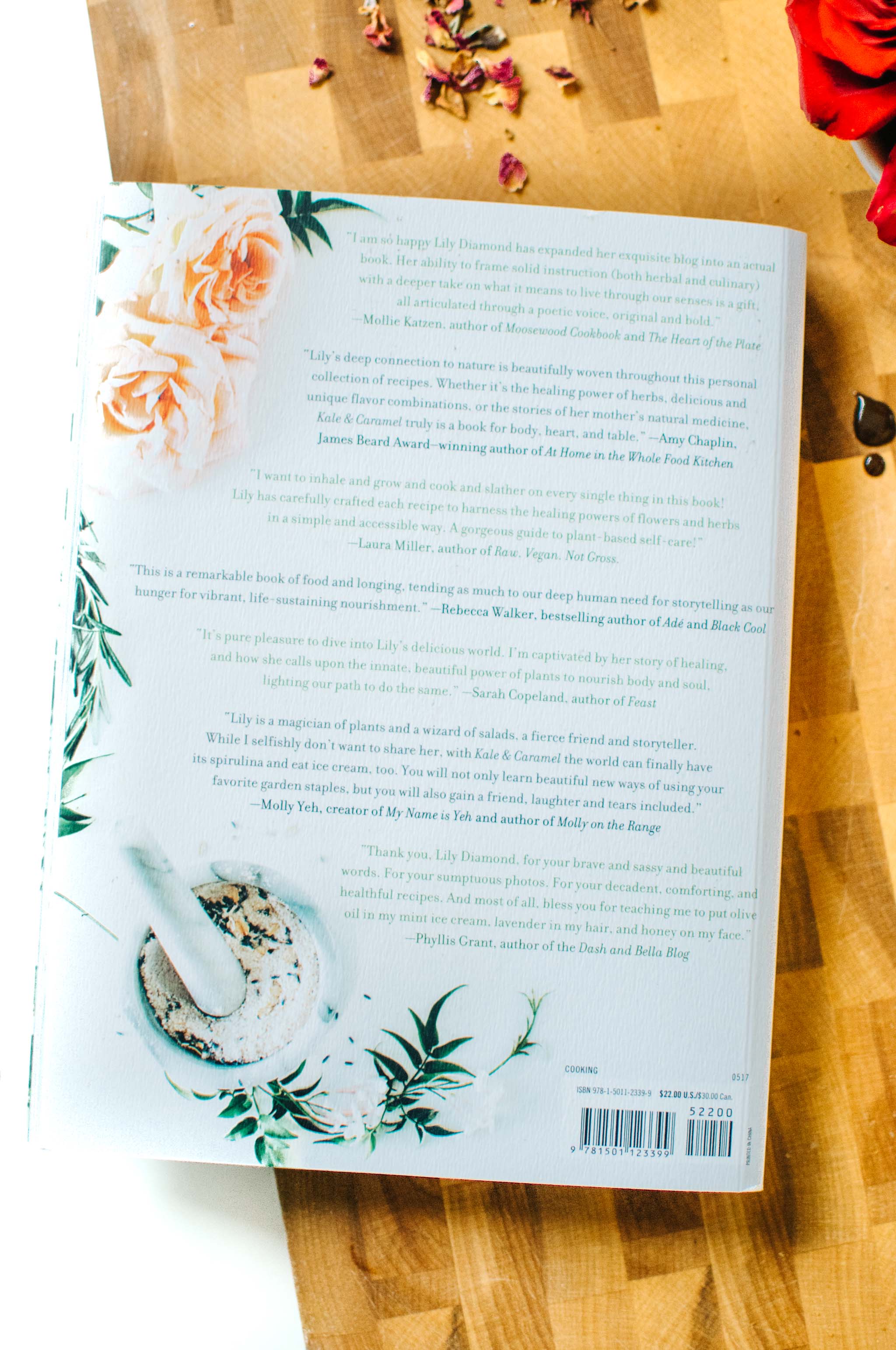 Let me tell you a little bit about the book, which you can now preorder (and there will be many preorder bonuses to come, so hang on to your order numbers once you do). The book is a coming of age story told through the lens of my relationship to fresh herbs and flowers, both for food and for DIY body and beauty products. There are stories about naked dinner parties and death and sex and breakups. There is strawberry basil cream pie and vegan basil lemongrass coconut ice cream and even a requisite kale salad and a transcendent green soup. And my super-easy, food-based skin and beauty regimen is in the book, so you, too, can keep jars of anti-aging and skin-healing honey and coconut oil in your bathroom.
The book is me and you, hanging out, spilling our guts to each other, laughing and crying and eating brunch and dinner and dessert. And then coming back the next morning to have a spa day. It publishes May 2, and I cannot wait for you to hold it in your hands. Because it feels really damn good.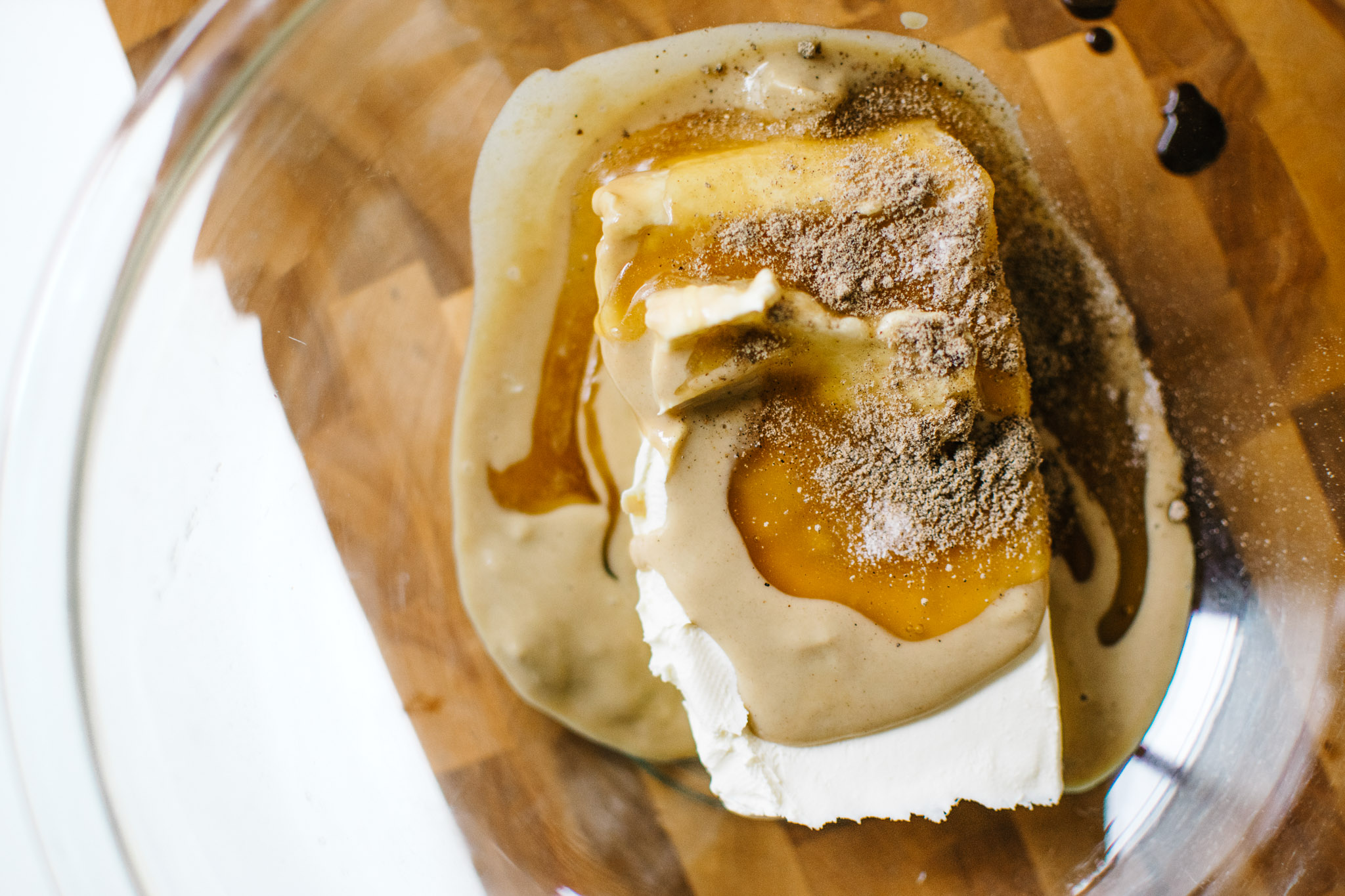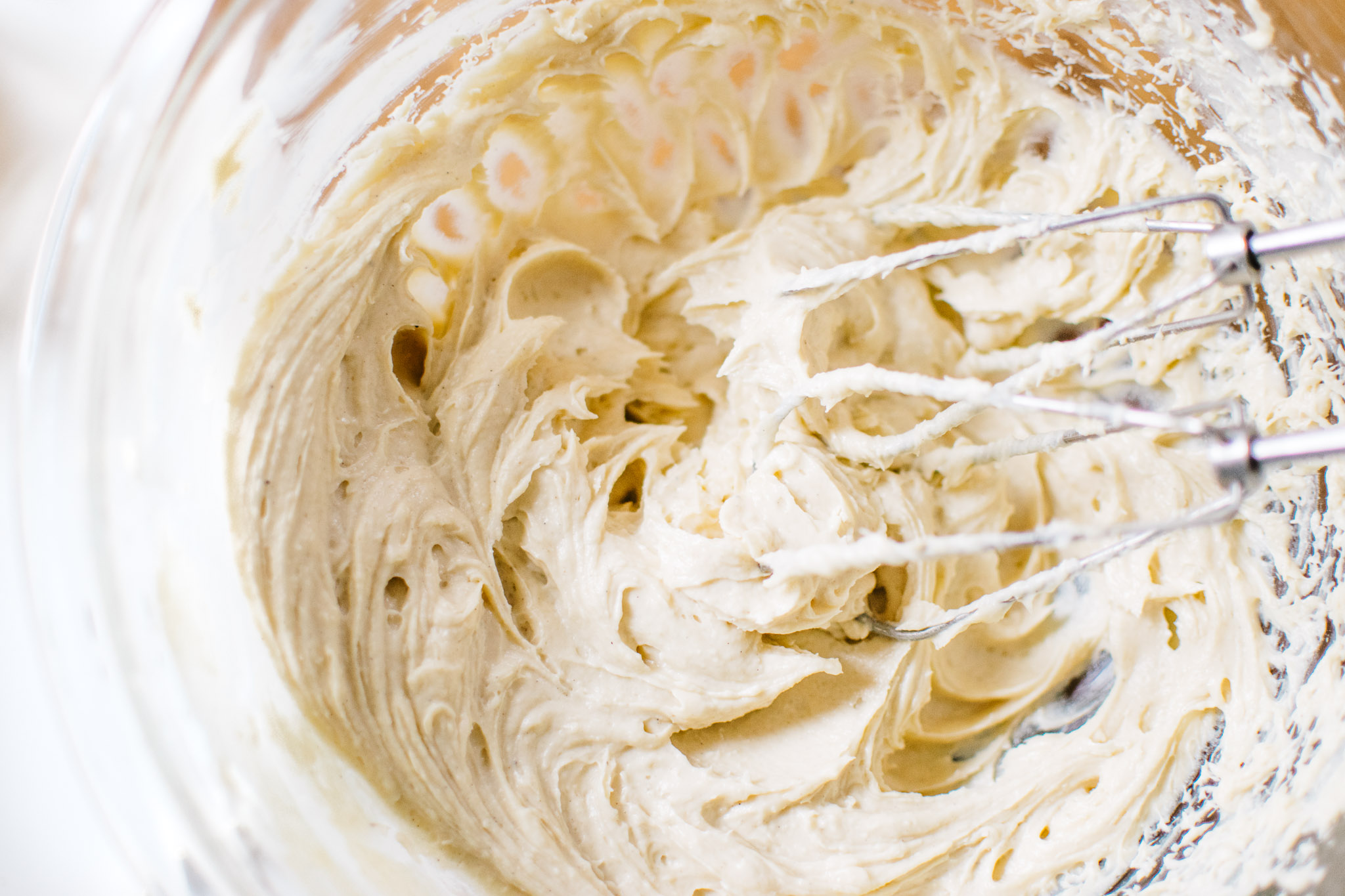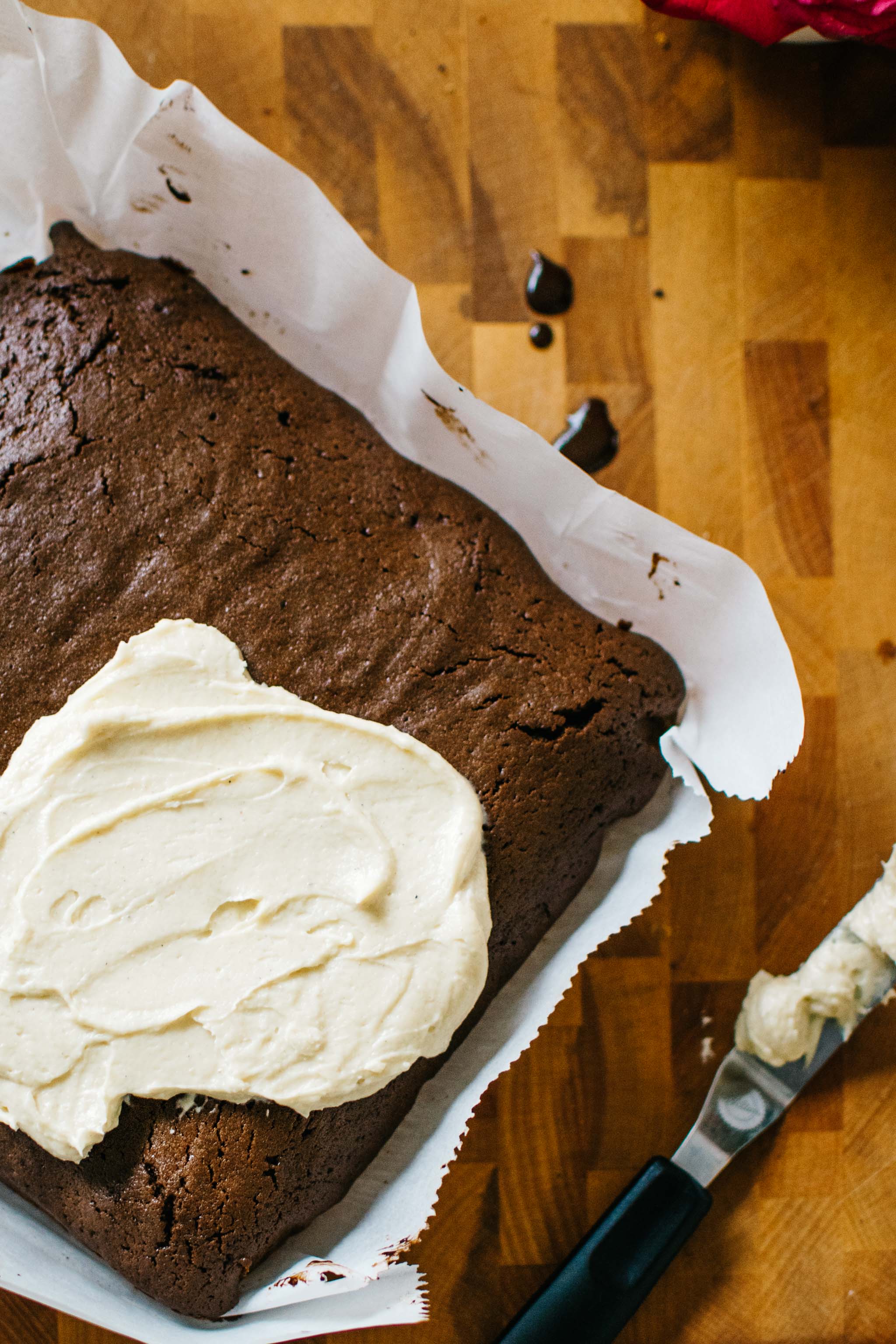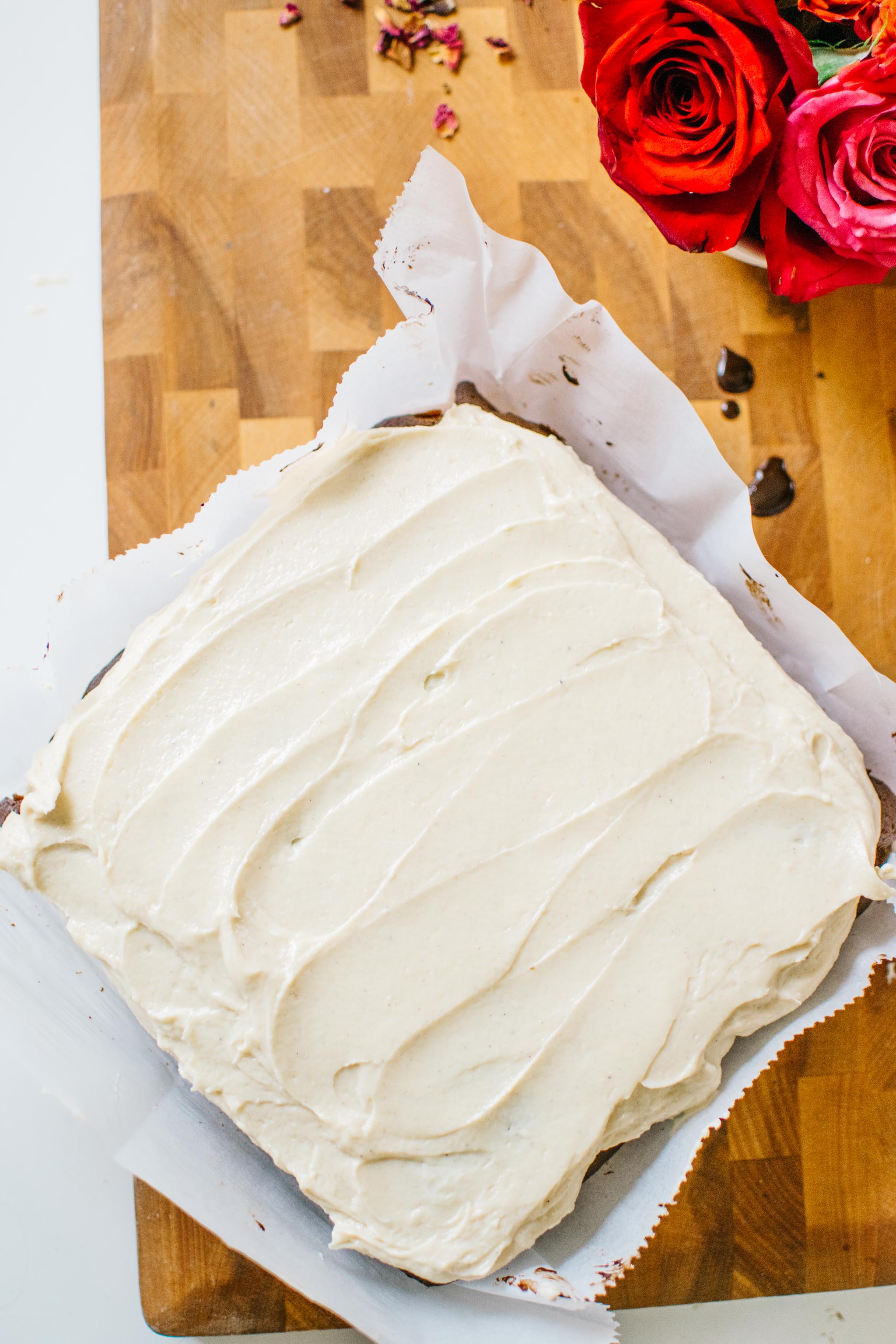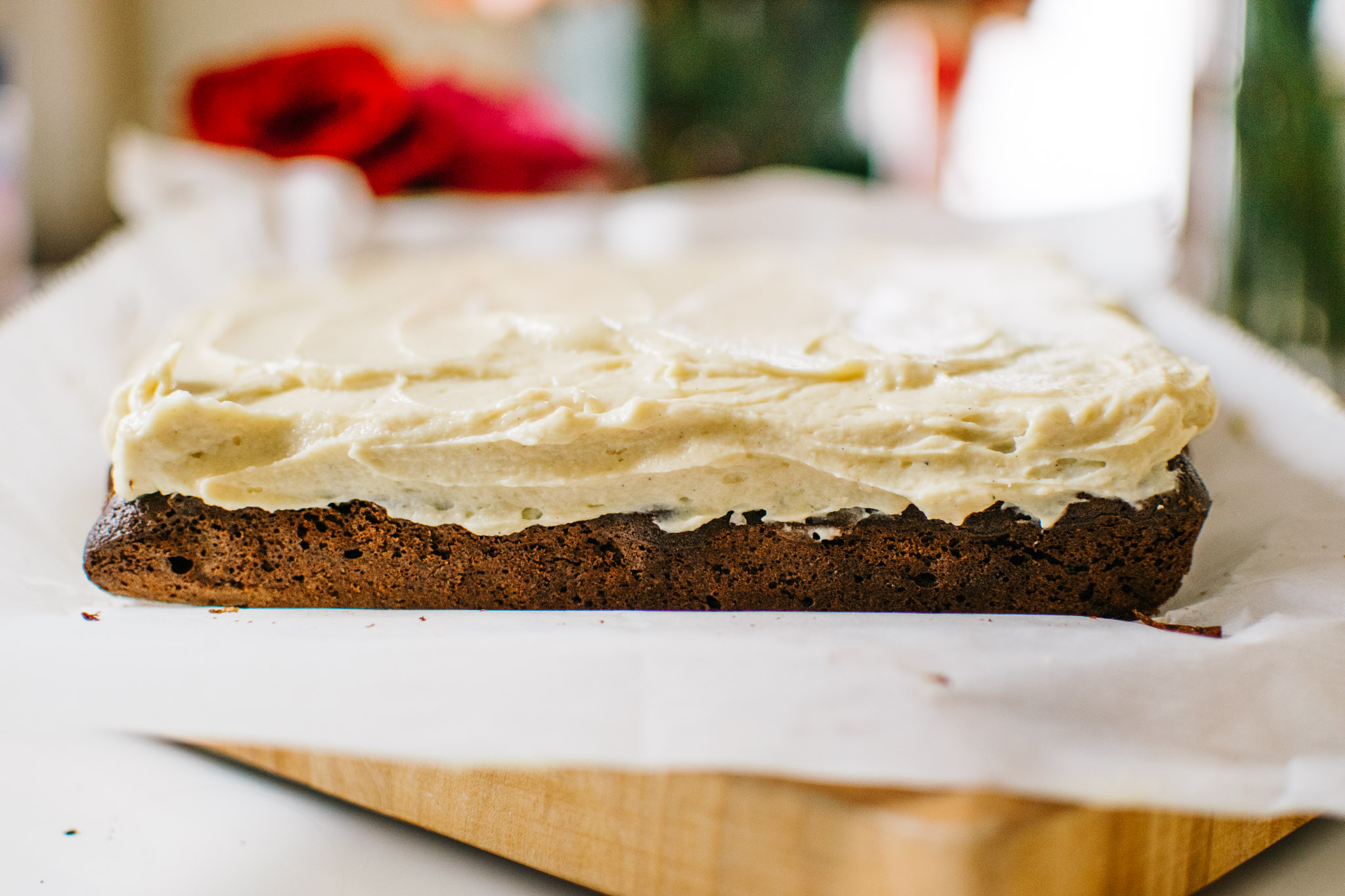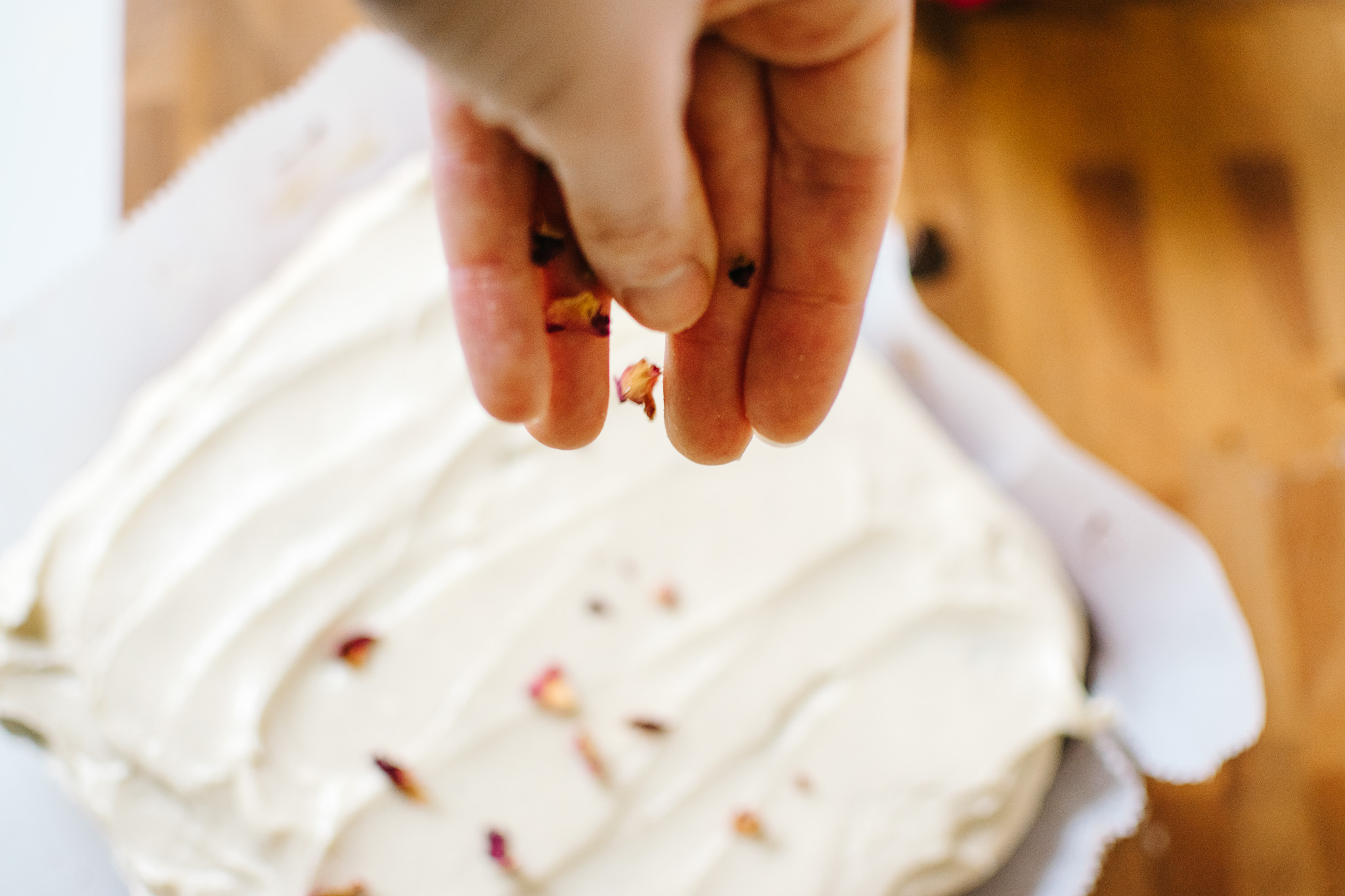 Speaking of dessert, and flowers, and Valentine's Day, I made these brownies for a bunch of my girlfriends who came over for a chocolate bark making party on Friday (the brownies underwent a 10-person panel evaluation, and came out far better for it). My inspiration came from Jennifer Farley's chocolate brownies with salted tahini frosting, discovered in her beautiful cookbook, The Gourmet Kitchen. Because I can rarely leave any recipe alone as it is, when I first made these, I spiked Jennifer's buttercream with ground cardamom and paired it with the brownies from Sarah Kieffer's Vanilla Bean Baking Book. The combination was dreamy. But then again, I had a hankering to make a mostly refined sugar-free alternative.
And then, because, well, I'm me, I thought about how dreamy it would be to put rosewater in these coconut sugar brownies, and to make the cardamom tahini frosting with cream cheese and honey. So, there you have it: an entirely new recipe, largely refined sugar-free, inspired by Jennifer and Sarah. These brownies are on the cakier side, to play nicely with the density of the cream cheese tahini frosting on top. And the whole glorious mess is finished with edible rose petals and a few flakes of sea salt.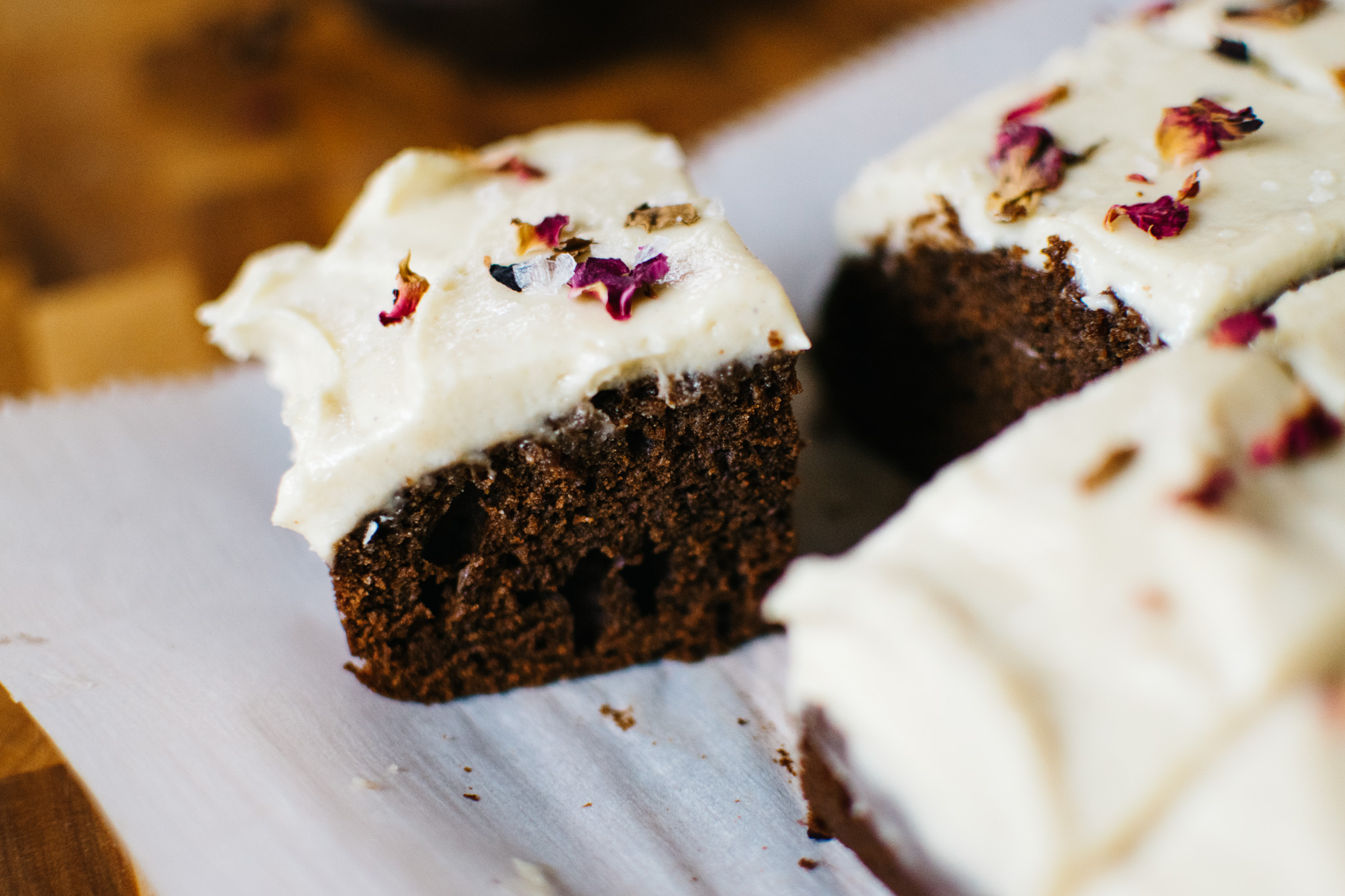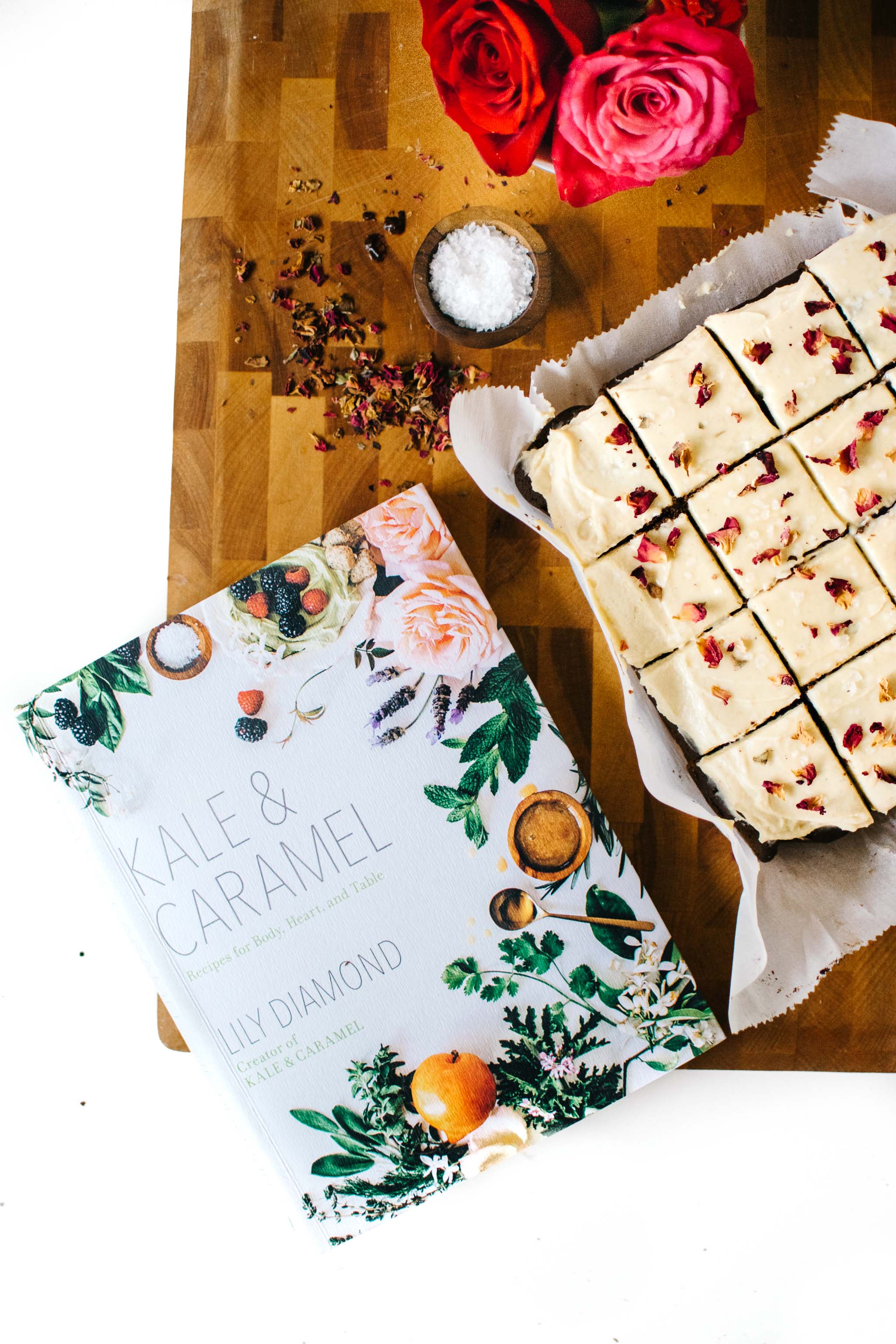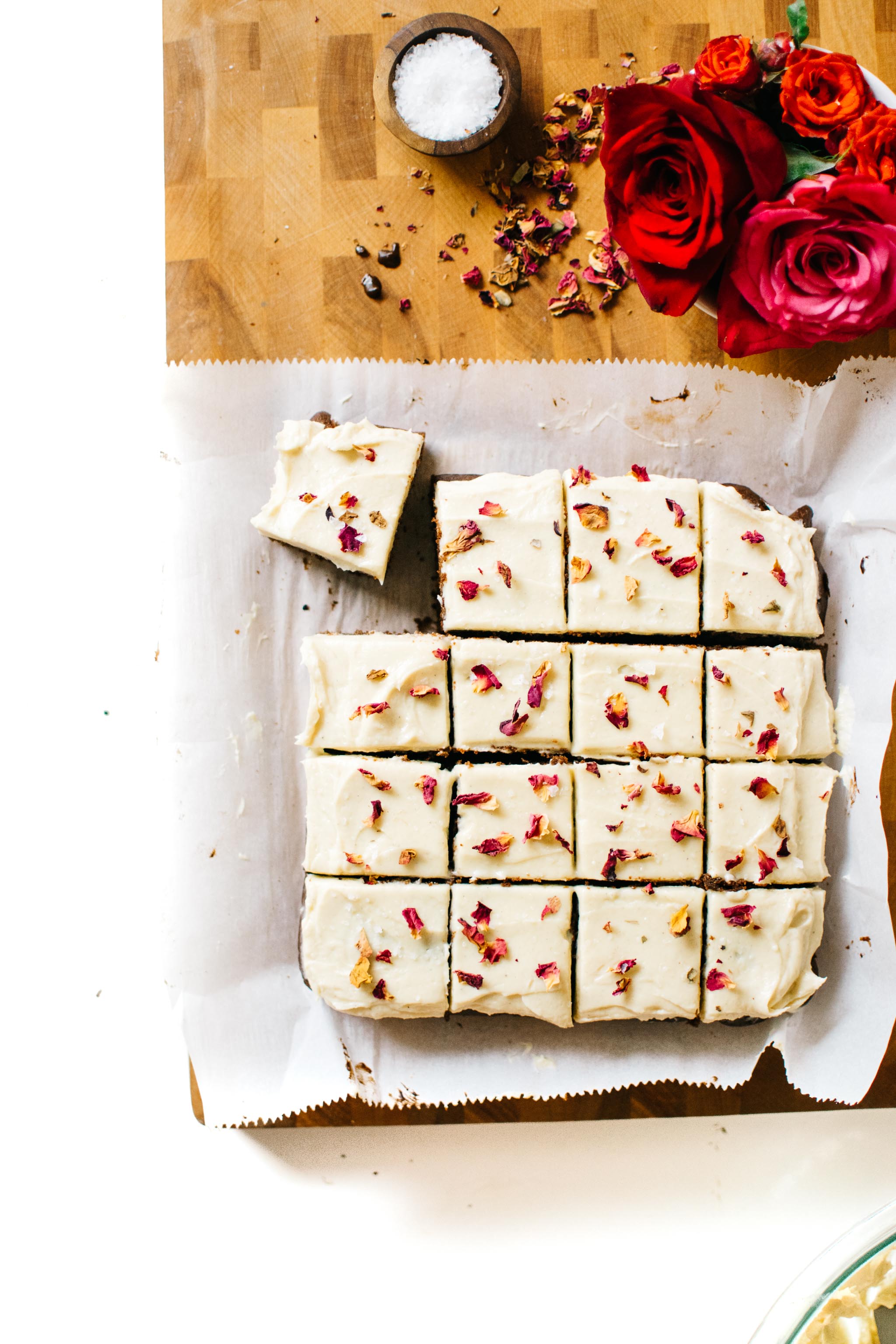 These are brownies that let go of the life they planned and accepted the fate I had waiting for them on the other side. A fate of rose water and flaky sea salt, of cardamom, cream cheese, and tahini. I think they're happy here, and I think you will be, too. They're brownies filled with love and the excitement of so much sweetness to come.
Enjoy, and preorder Kale & Caramel: Recipes for Body, Heart, and Table!
ROSEWATER BROWNIES WITH CARDAMOM TAHINI FROSTING.
Ingredients
Rosewater Brownies
2/3

cup

all-purpose flour

1/2

teaspoon

sea salt

1/4

teaspoon

baking powder

5

ounces

semisweet chocolate (60-70%)

chopped

10

tablespoons

unsalted butter

1

teaspoon

pure vanilla extract

1 1/2

tablespoons

rosewater

optional

1

cups

coconut sugar

2

large

eggs
Cardamom Tahini Frosting
8

ounces

cream cheese

at room temperature

1/4

cup

tahini

1/4

cup

honey

1/8-1/4

teaspoon

ground cardamom

to taste

1/4

teaspoon

sea salt

flaky sea salt

to garnish

dried edible rose petals

to garnish
Instructions
Make the rosewater brownies.
Preheat the oven to 350ºF. Line an 8"x8" pan with parchment paper, or butter and flour the pan.

In a medium bowl, whisk the flour, salt, and baking powder, and set aside.

Over a double boiler or bain marie, melt the chocolate and butter until smooth and consolidated. Remove from heat.

Stir in the vanilla, rosewater, and coconut sugar. Whisk in the eggs, one by one, incorporating fully after each.

Switch to a silicone spatula, and fold in the flour mixture a little at a time, just until fully combined.

Pour batter into prepared pan, and bake for 18-21 minutes, or until a toothpick inserted into the center comes out with just a few crumbs. Let cool completely.
Make the cardamom tahini frosting.
In a large mixing bowl, use an electric mixer to blend the cream cheese, tahini, honey, cardamom, and sea salt. Set aside.
Frost the brownies.
Once the brownies are cool, use an offset spatula or butter knife to frost them. Top with sprinkles of flaky sea salt, rose petals, and some extra cardamom if you like.