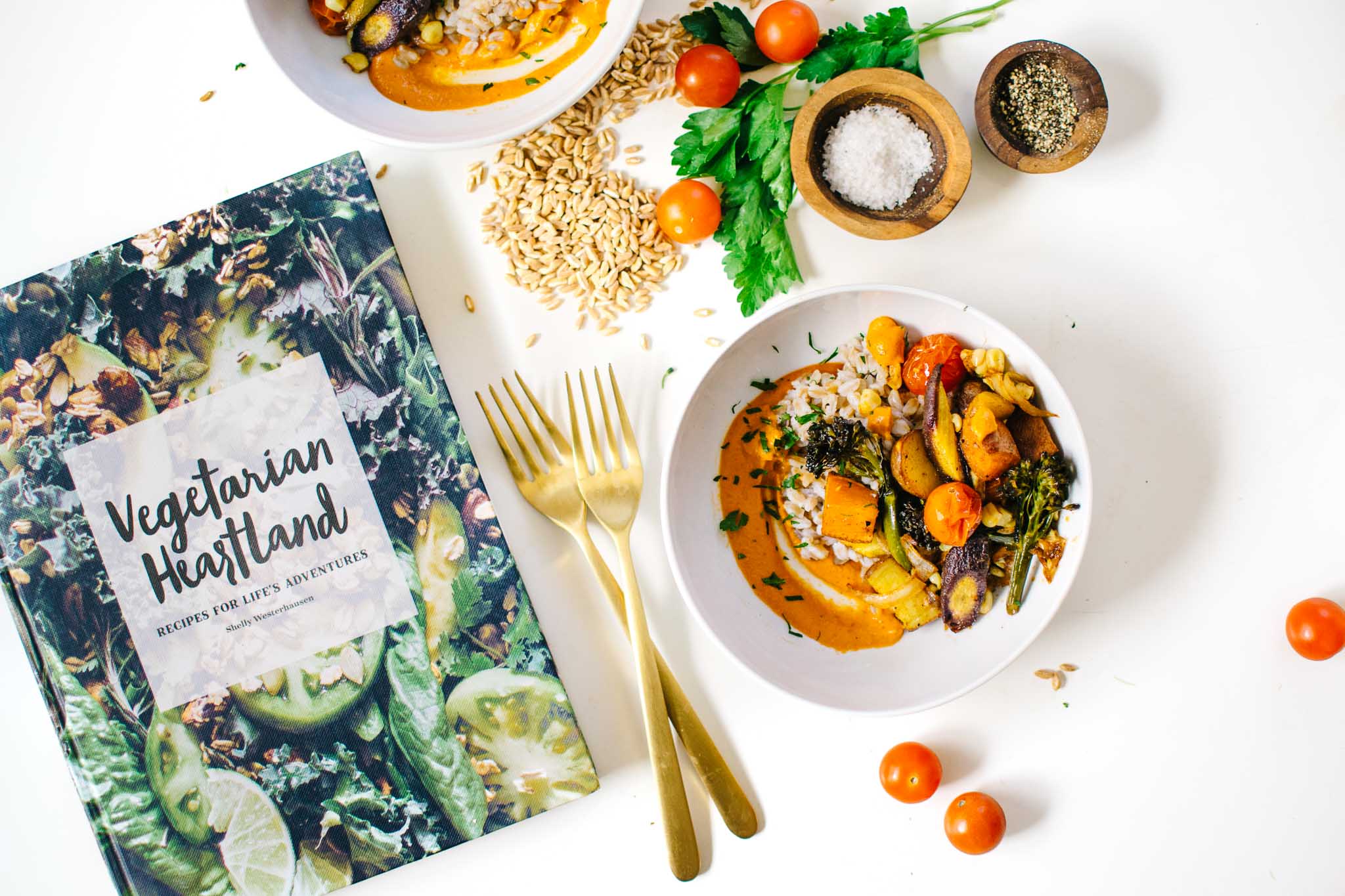 Jump to Recipe
Thunderstorms. The scent of rain on wide, apple-green leaves. Swimming pool chlorine. Fireworks. Fireflies. Family. I learned the midwest in mosaics of child wonder during the weeks we spent in Indiana every summer. My mother grew up in South Bend, daughter of the first female president of Temple Beth El, of the man who was a founder of St. Joseph County's verdant parks. She and her sisters left South Bend as quickly as they could, seeking out coastlines and warmth in California and the Pacific Northwest. Each summer, though, we'd return to the prodigal midwestern homeland to see my uncles and aunts, my cousins, my grandmother. And despite my parents' hesitancy, Indiana was a wonderland to me.
South Bend meant grilled cheese sandwiches by the pool after a day of swimming with cousins, ice cream sundaes in front of the tv, absurdly cheesy lasagna with almost no vegetables in sight. It meant running around after dinner to catch fireflies in glass jars, and muddying my feet in the St. Joseph River that ran through my grandmother's backyard. It meant family—people who looked like me, a recognition I rarely received at home in Hawaii. So as much as my parents lamented the lack of almond milk, spirulina, and filtered water in my grandmother's house, I relished the change. I had a midwestern heart.
Which is why Shelly Westerhausen's new cookbook Vegetarian Heartland: Recipes for Life's Adventures (out June 20, 2017) made me cry as I explored its opening pages. I know that Indiana land that Shelly calls home—the land that inspires her food, the land that speaks so eloquently through each season of recipes in the book.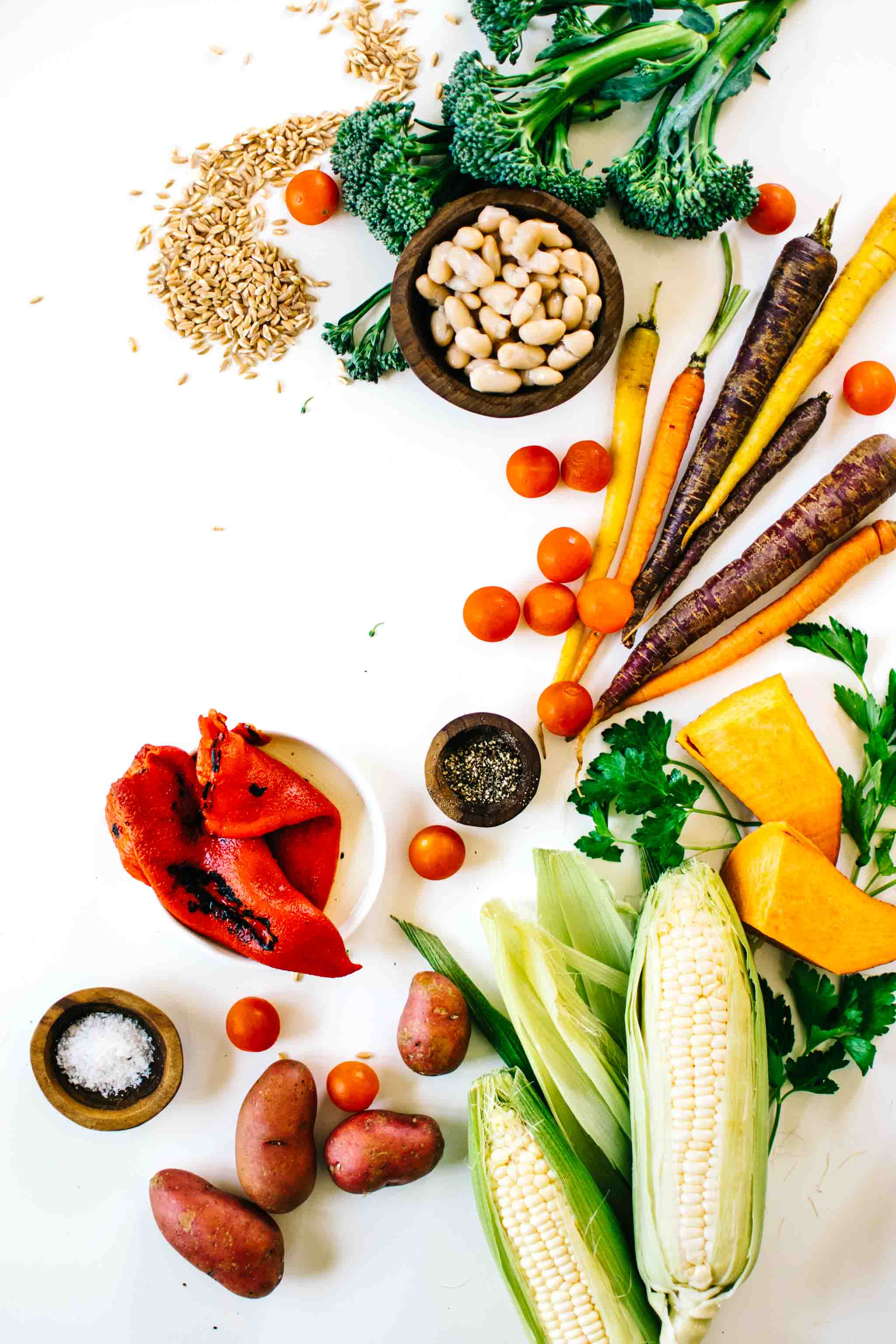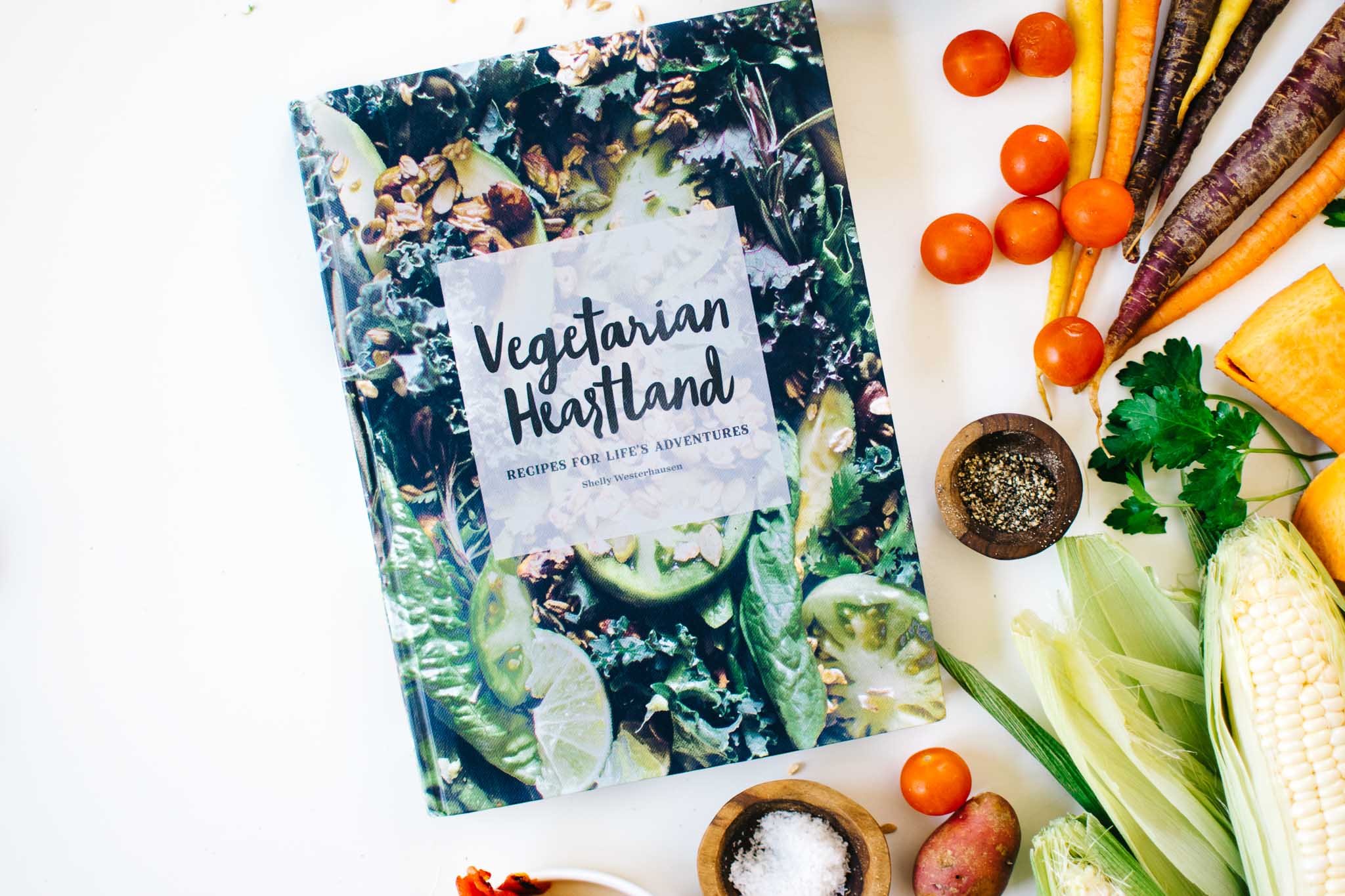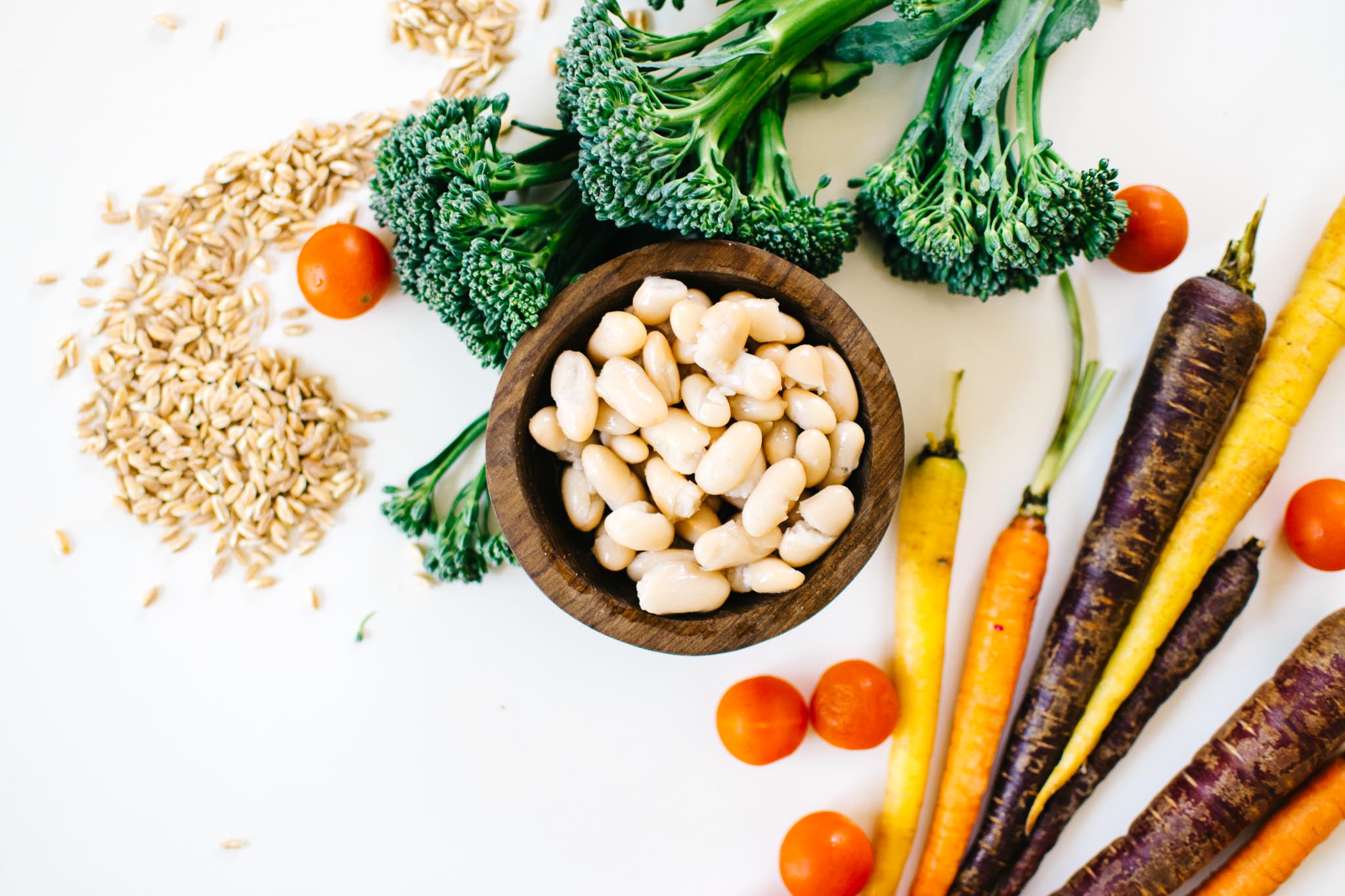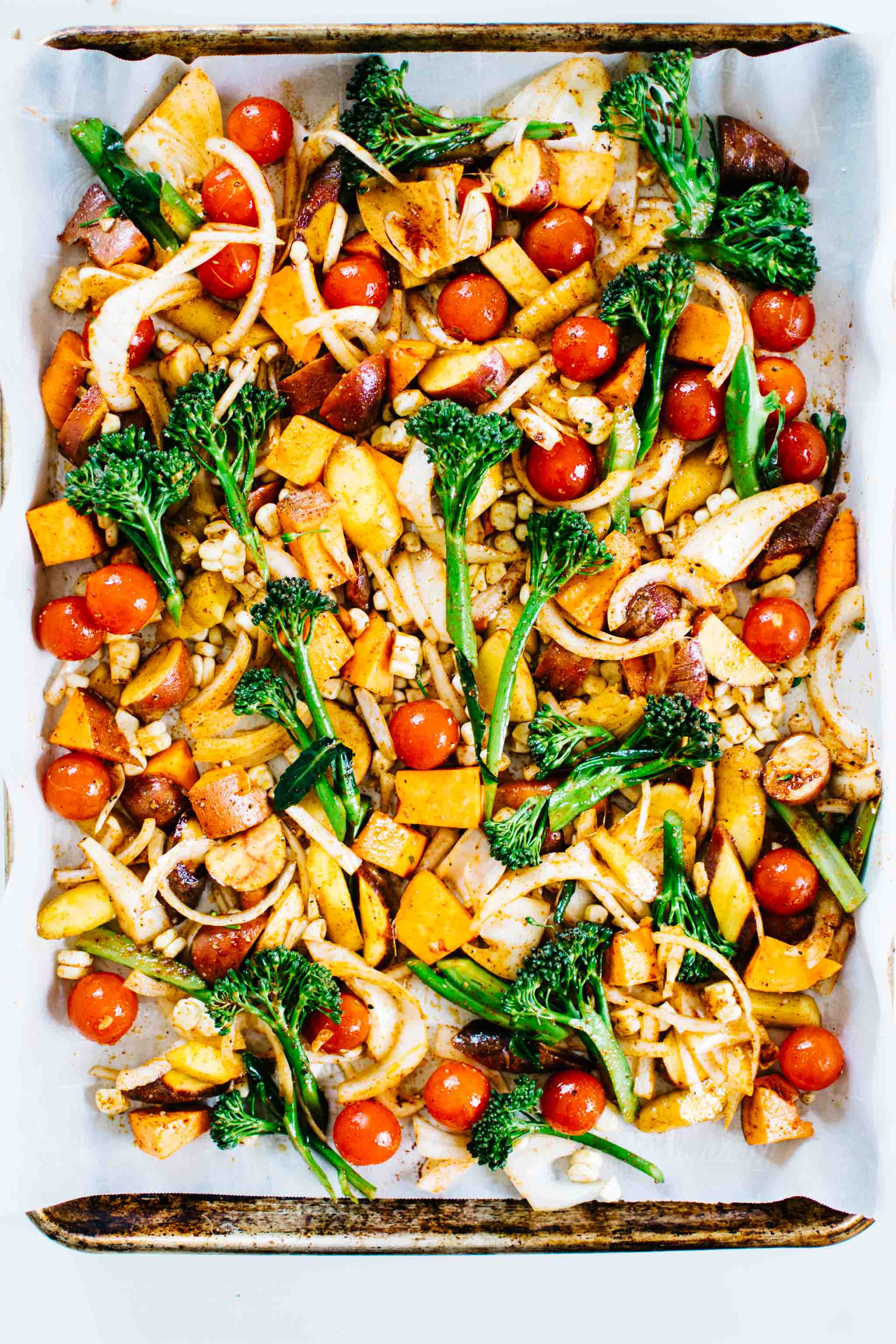 Vegetarian Heartland begins with Shelly's exploration of a vegetarian lifestyle, and the complexities of navigating this in a place that looks more kindly on corndogs than broccoli. But in the process of finding her way to food and cooking routines that nourished her body and mind, Shelly stayed attuned to the traditional outlines of midwestern cuisine. This book is extraordinary in so many ways—from the stunning seasonal snapshots in nature to the crave-worthy recipes—but its greatest triumph (in my humble opinion) is its commitment to honor the place and people from which it comes. Vegetarian Heartland is a love letter to the midwest, and one that makes me feel closer to the region just by thumbing through its pages.
The next thing I noticed bubbling up in me as I flipped through was an overwhelming sense of fun. Vegetarian Heartland is organized both by season and by adventure—from a summertime picnic to an autumnal camp fire to a winter romp in fresh snowfall. Shelly has perfect edible pairings and gorgeous photos to accompany every adventure your heart desires. This is a book you'll want to keep for yourself and gift to all your friends.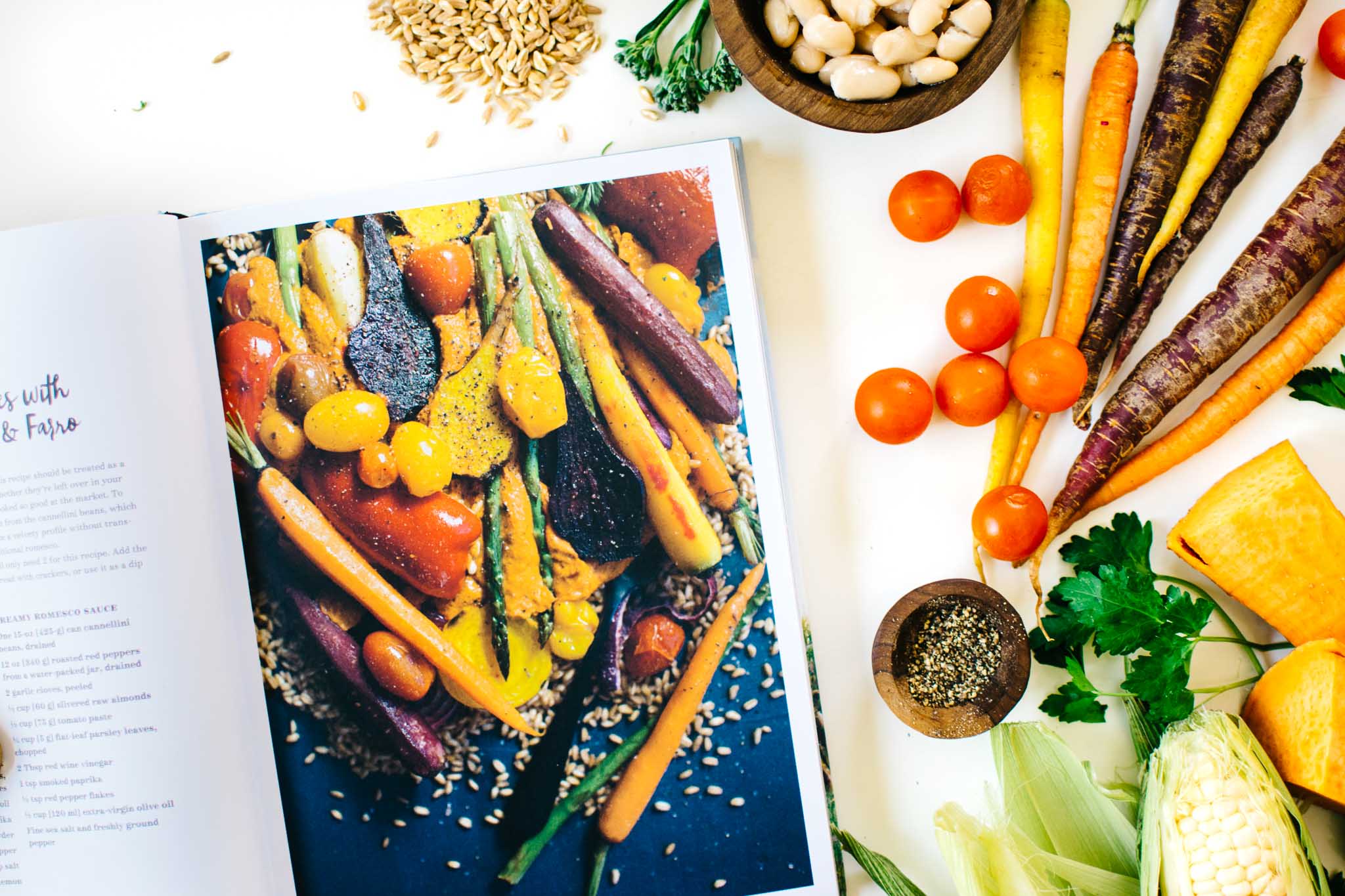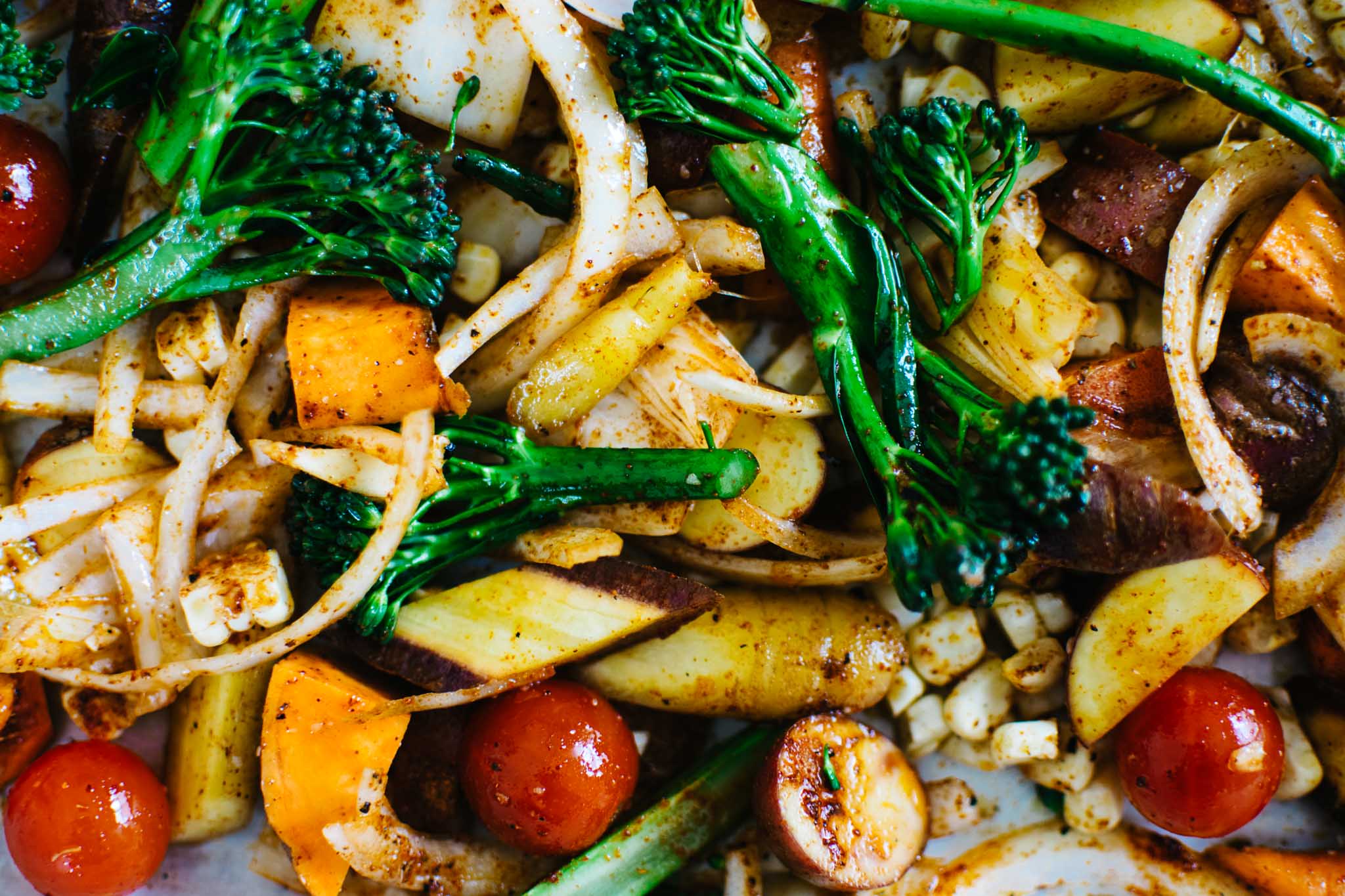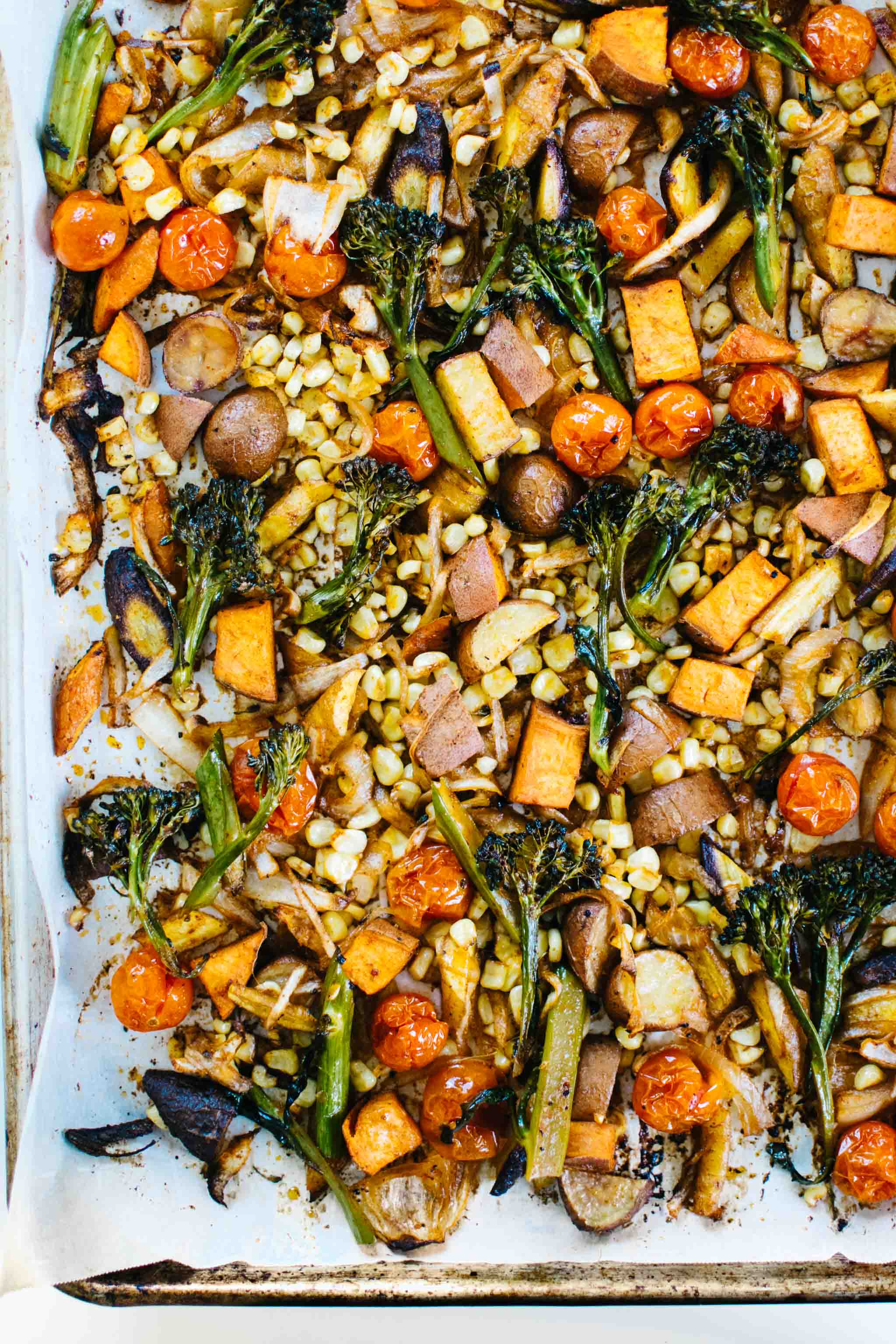 The incredible flavors and textures of this roasted vegetable, creamy romesco, and garlicky farro dish are inspired by a springtime trip to the farmers market—drawn out by the perfect balance of salt, acidity, and smoky sweetness of paprika and chili powder. Shelly's flavor balancing here is pure umami perfection—a feat I feel certain she's mastered after many years of talking diehard meat-eaters down from their vegetable-phobic ledges. The flavors here are woodsy, elemental, and deeply satisfying.
Even better, Shelly encourages us to use the produce in season at our own markets, providing a flexibility that makes it easy to use this recipe throughout the year—which I know I will.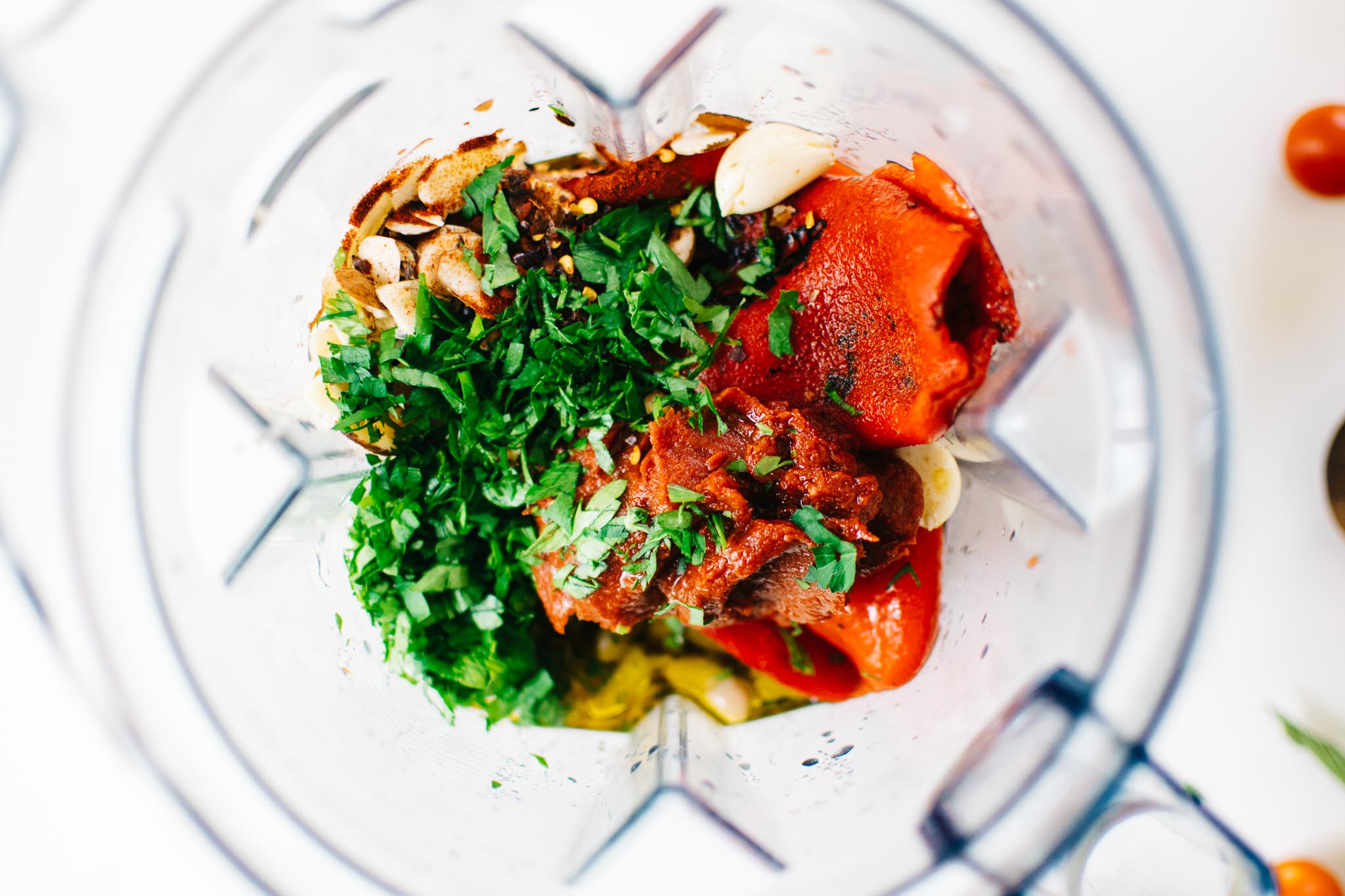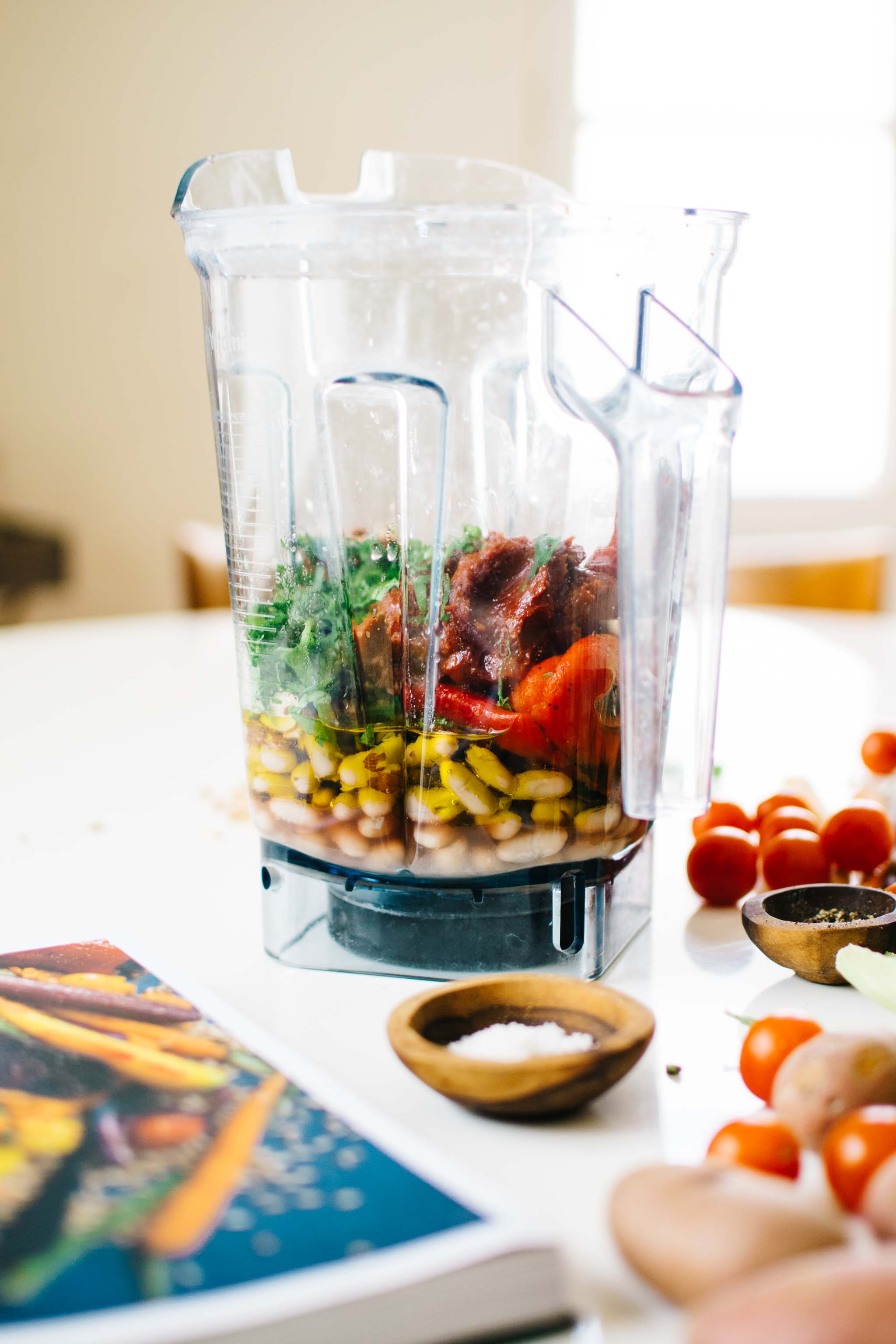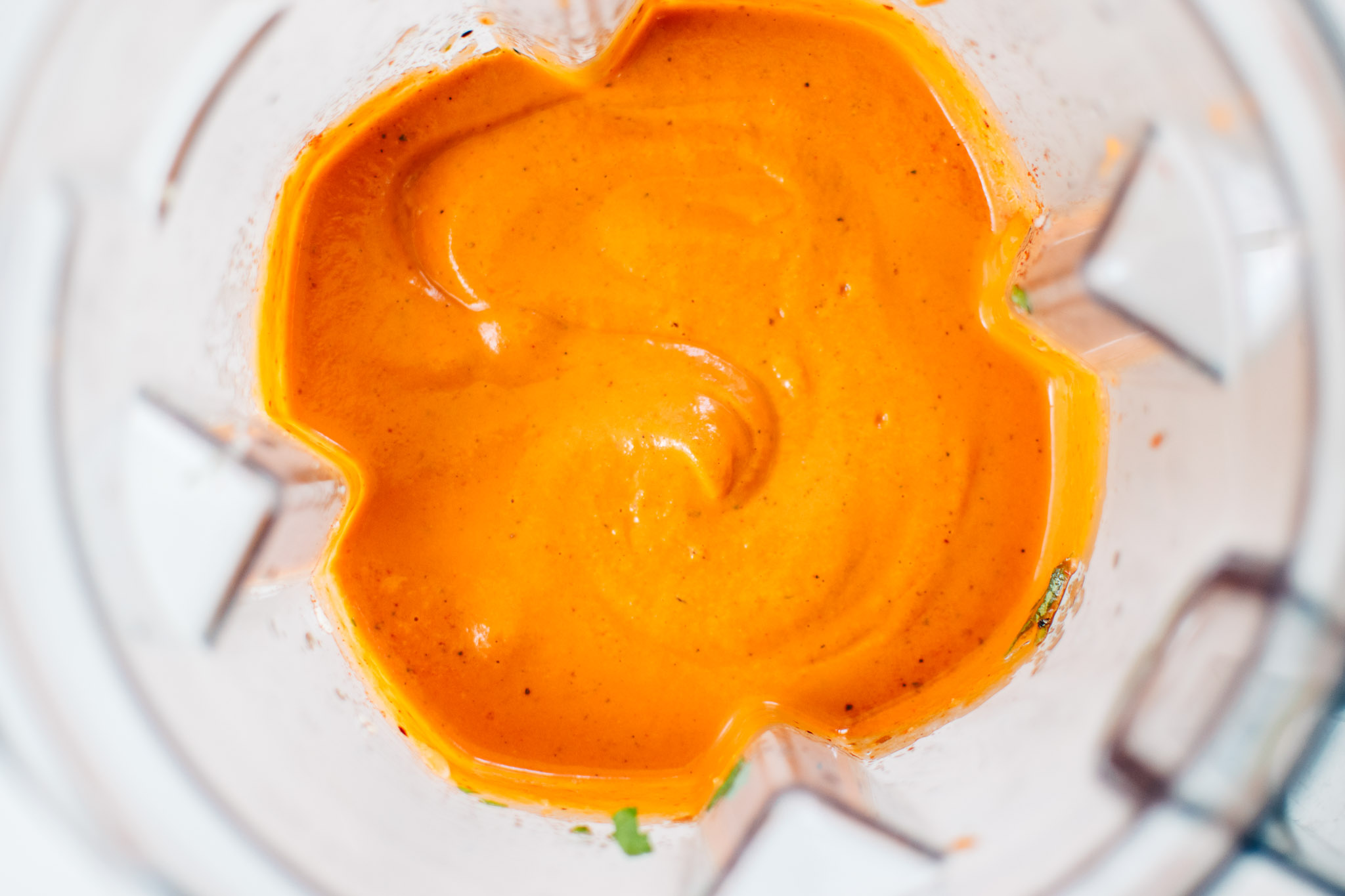 And finally—this romesco sauce! The addition of tender cannellini beans makes it incredibly creamy, a perfect pairing to the crisp-edged roasted vegetables and chewy farro. The recipe makes a bit more sauce than you'll use for the four servings, and I'm already dreaming up a romesco pizza for dinner this week.
Lucky for me—and even luckier for you—Shelly gave me a copy of Vegetarian Heartland to give away to one reader, along with a delicious artisan barbecue spice blend made by the author herself. I will be picking one winner on May 31st. For a chance to win, all you have to do is leave a comment below telling me one thing you love about the place you're from. (UPDATE: GIVEAWAY CLOSED! CONGRATS TO ALEXA REHM!)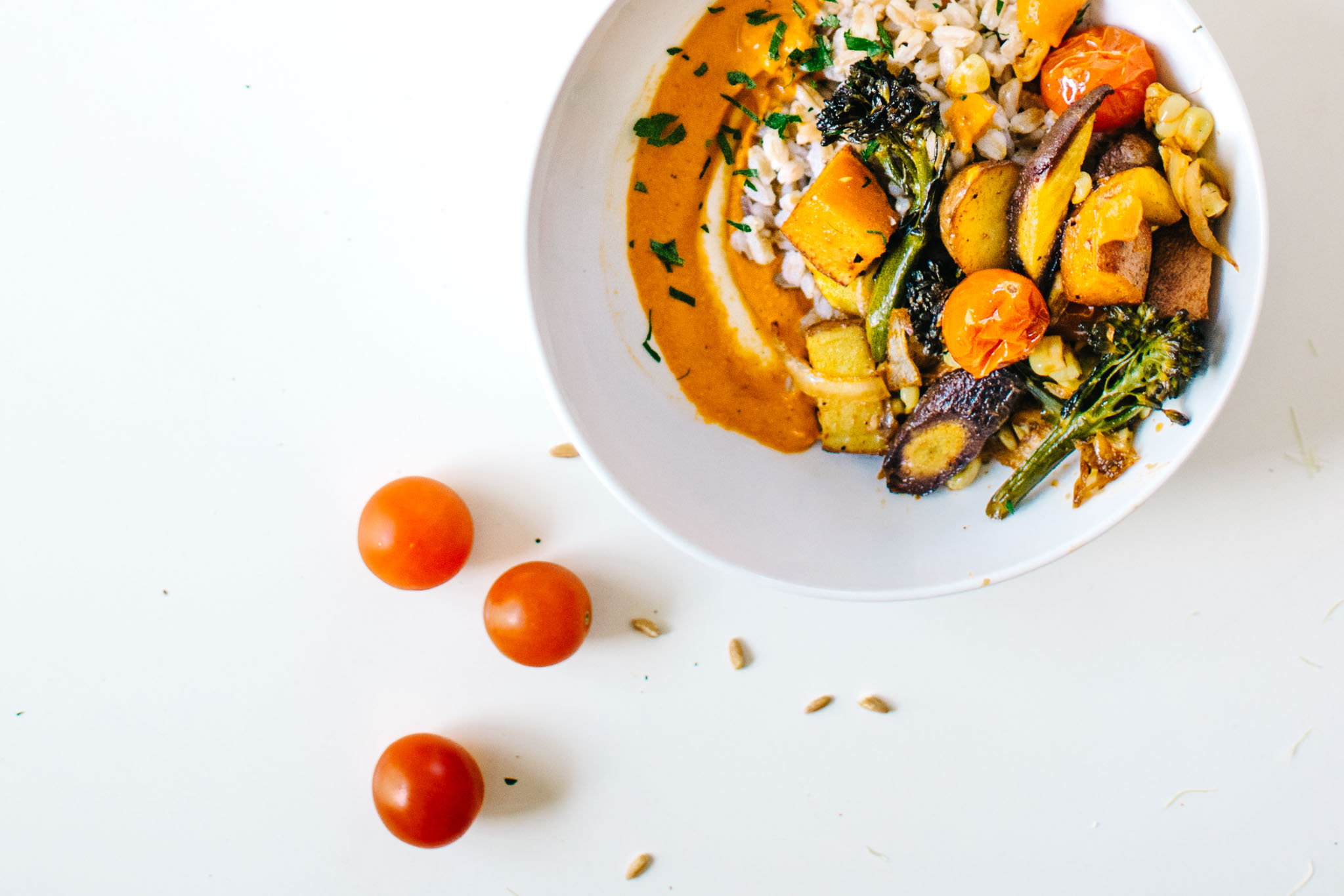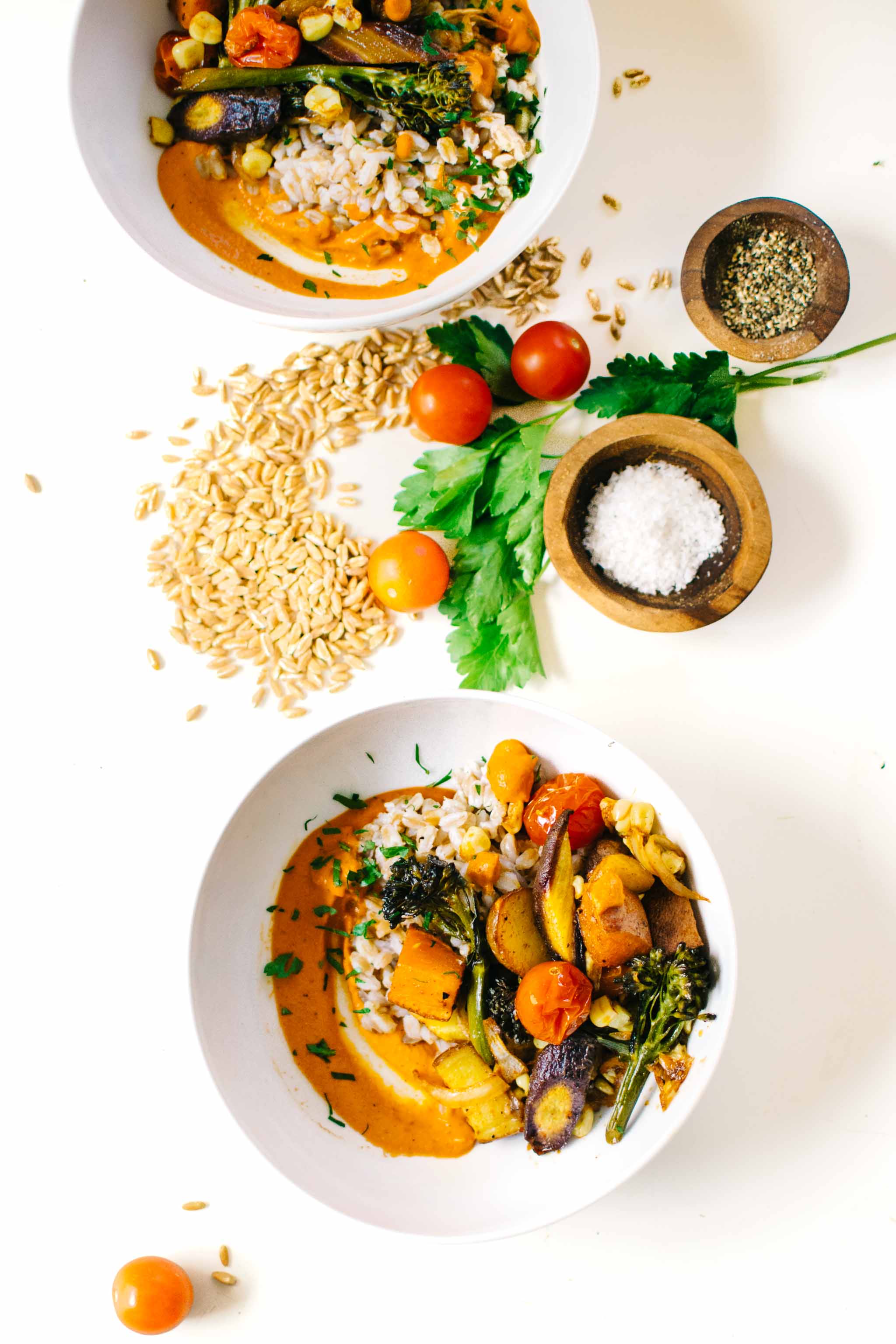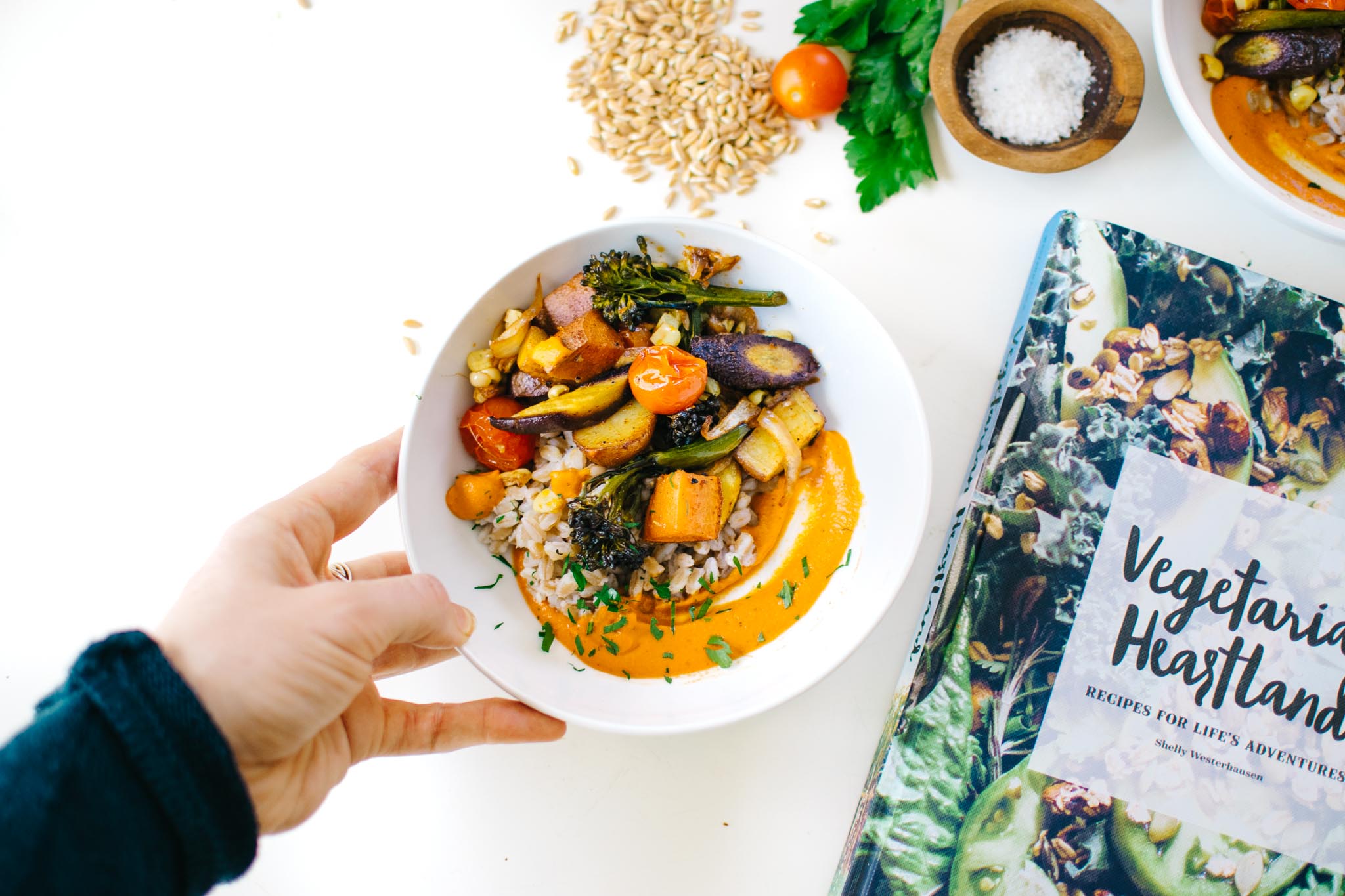 Follow along on Shelly's Vegetarian Heartland blog tour:
Wild Rice Veggie Sliders on A Beautiful Plate
Pimm's Punch on With Food + Love
Coconut Curry Shakshuka on A Couple Cooks
Don't forget to leave your comment below to win a copy of Vegetarian Heartland with an artisan blended barbecue spice mix! Can't wait that long? Preorder your copy today. (UPDATE: GIVEAWAY CLOSED! CONGRATS TO ALEXA REHM!)
Roasted Vegetables with Creamy Romesco & Farro
Recipe reprinted with permission of the author from Vegetarian Heartland by Shelly Westerhausen, copyright Chronicle Books, 2017.
Ingredients
FARRO
1/2

teaspoon

olive oil

4

garlic cloves, minced

2

cups

farro, rinsed (360 grams)

5

cups

water (1.2 liters)

1

teaspoon

fine sea salt
ROASTED VEGETABLES
5

cups

assorted vegetables (such as yellow onion, cherry tomatoes, sweet potatoes, russet potatoes, broccoli, asparagus, carrots), cut into 1-in pieces

2

tablespoons

olive oil

1

teaspoon

smoked paprika

1

teaspoon

chili powder

1/2

teaspoon

freshly ground black pepper

1

teaspoon

salt

1/2

lemon
CREAMY ROMESCO SAUCE
1

15-ounce can

cannellini beans, drained

12 ounces

roasted red peppers from a water-packed jar, drained

2

garlic cloves, peeled

1/2

cup

slivered raw almonds

1/3

cup

tomato paste

1/4

cup

flat-leaf parsley leaves, chopped

2

tablespoons

red wine vinegar

1

teaspoon

smoked paprika

1/2

teaspoon

red pepper flakes

1/2

cup

olive oil

fine sea salt and freshly ground pepper
Instructions
To make the farro:
In a medium saucepan over medium-low heat, warm the olive oil. Add the garlic and sauté until fragrant, about 30 seconds. Add the faro and sauté for 30 seconds, then add the water and 1 teaspoon salt. Turn the heat to high and bring to a boil. Once boiling, turn the heat to low, cover, and simmer until the faro is chewy but still slightly firm, about 30 minutes. Drain any water that hasn't been absorbed.
To make the vegetables:
Preheat the oven to 375º. Line a baking sheet with parchment paper.

In a medium bowl, toss together the assorted vegetables, olive oil, paprika, chili powder, pepper, and salt. Transfer to the prepared baking sheet and spread into a single layer.

Roast, stirring halfway through, until all the vegetables soften and begin to brown, about 30 minutes (I kept mine in closer to 40). Remove from the oven and squeeze the 1/2 lemon over the vegetables.
To make the romesco:
In a high-speed blender or food processor, blend together the beans, roasted red peppers, garlic, almonds, tomato paste, parsley, vinegar, paprika, and pepper flakes. With the motor running, slowly pour in the olive oil and continue to blend until a smooth sauce forms, about 30 seconds. Season with salt and pepper. Store in an airtight container in the refrigerator for up to 5 days.

Scoop the farro into bowls and top with the vegetables. Pour 1/2 cup romesco sauce over the top of each serving. Serve immediately.