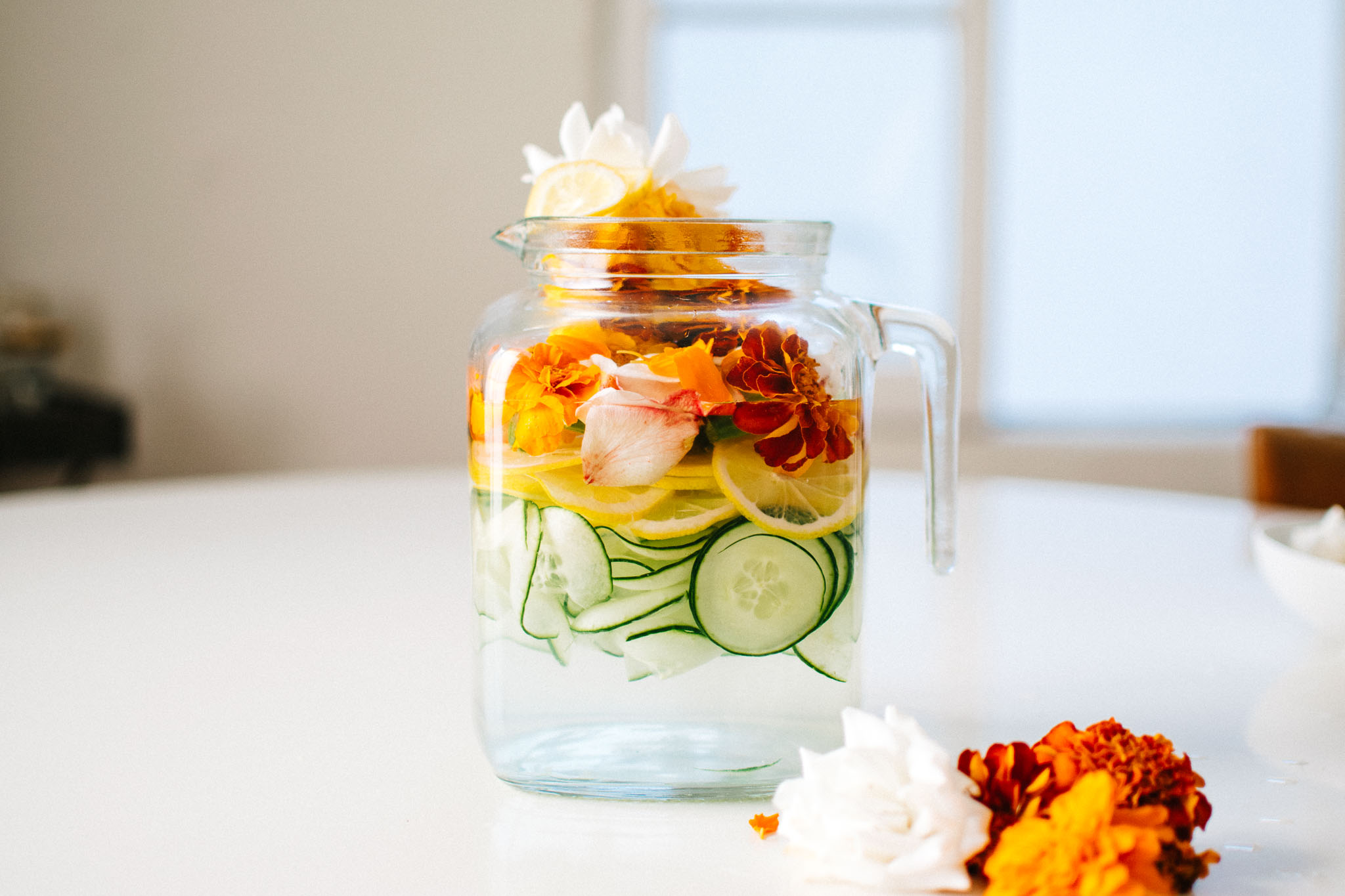 Jump to Recipe
This is all I ever want to drink. This (ahem) real deal summer water came together in the kitchen of a gorgeous estate in the Hollywood Hills a few weeks ago when I was prepping for our Flower FEAST LA dinner. Speaking of which, I have photos to share with you from that afternoon and evening, taken by the uber talented Aja Hitomi. I'll let this post take us through a visual essay of the experience, which was a celebration of all things floral, summer, lush, and feminine. Amanda Robson, the creative director of FEAST, is a master at creating the space for comfort and artistry to flow, and the evening was no exception.
We began with a table setting that featured both the Kale & Caramel cookbook and the exquisite menu developed by Chef Michelle Wilton of Four Cafe in Eagle Rock. Amanda spent the first hour guiding our guests through the art of flower crown making, or in Hawaiian, lei po'o. Working with graceful blooms set a tone for the evening, brought a softness and ease to the skin and the eyes, and helped to cut through the deadening heat that still pounded down outside (LA broke a 131 year heat record that day). The petals and scents laid the perfect foundation for the menu to come.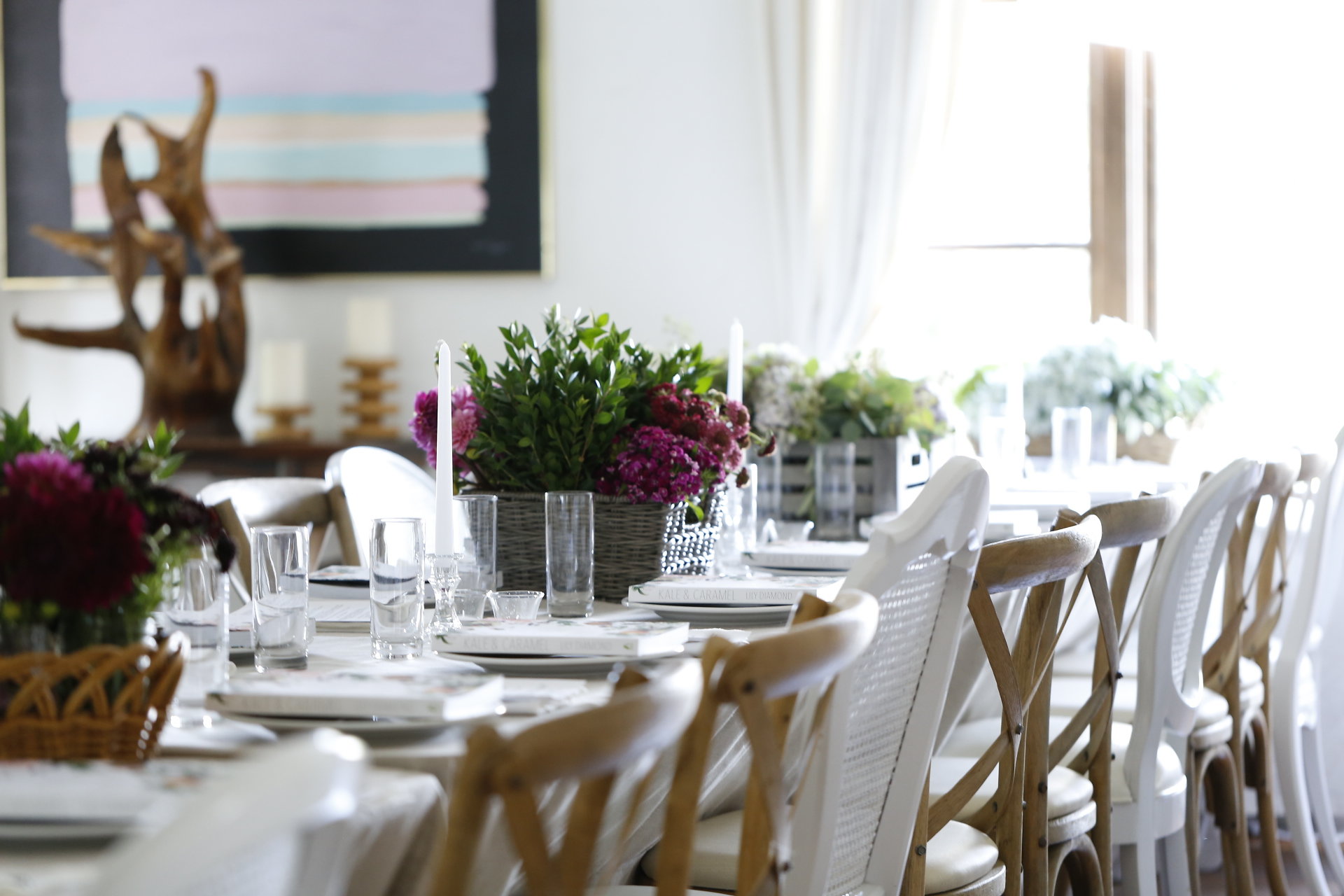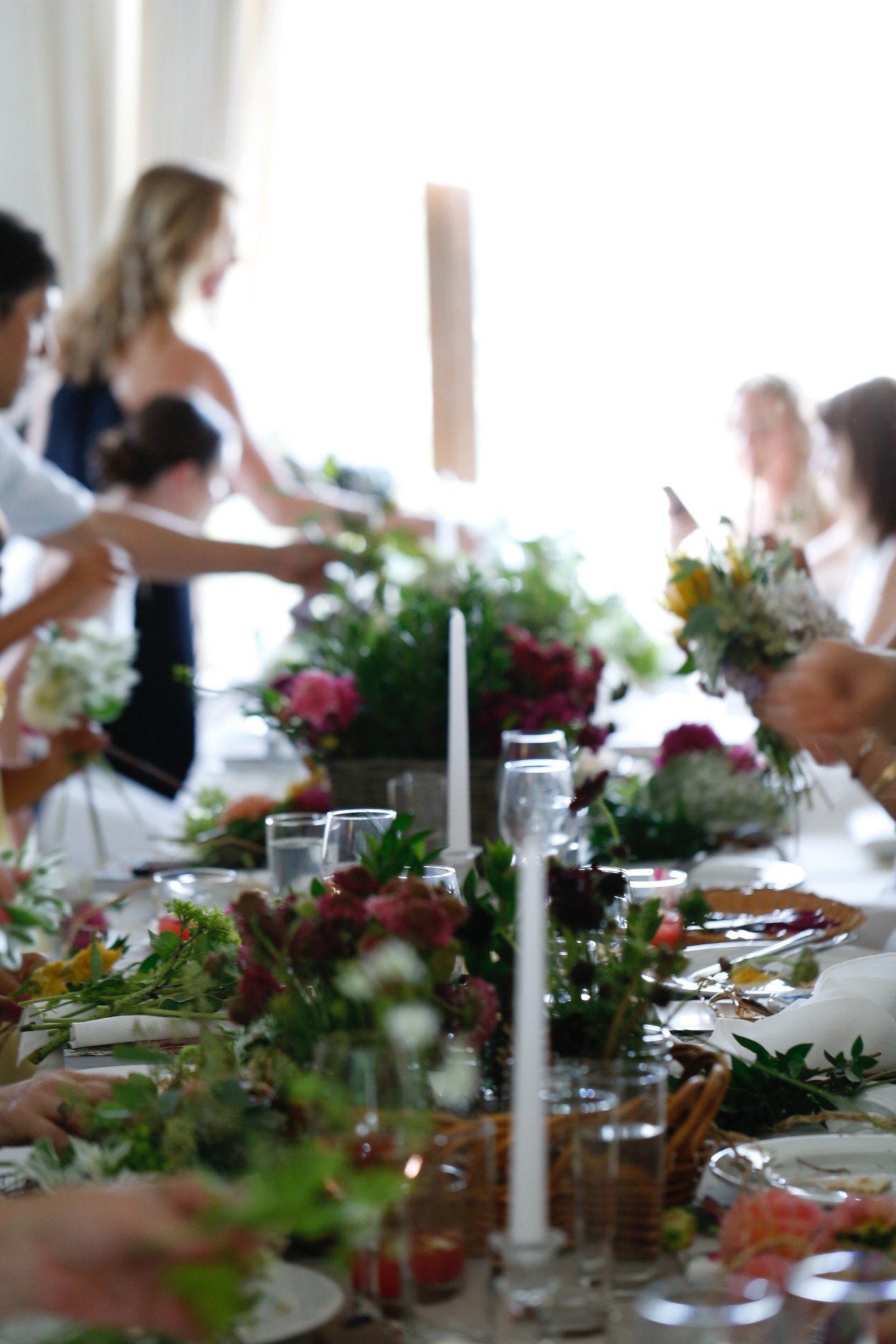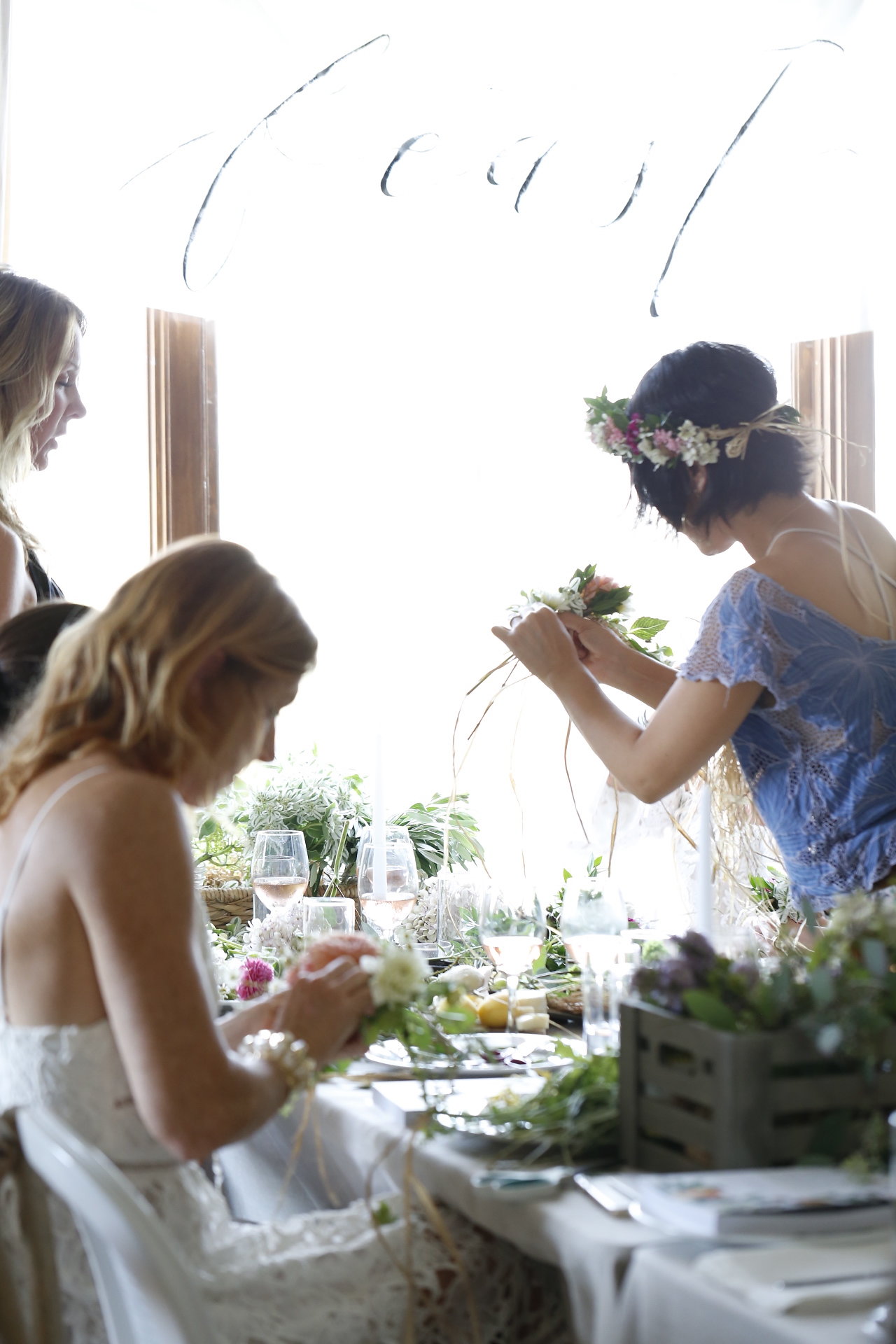 Photos by Aja Hitomi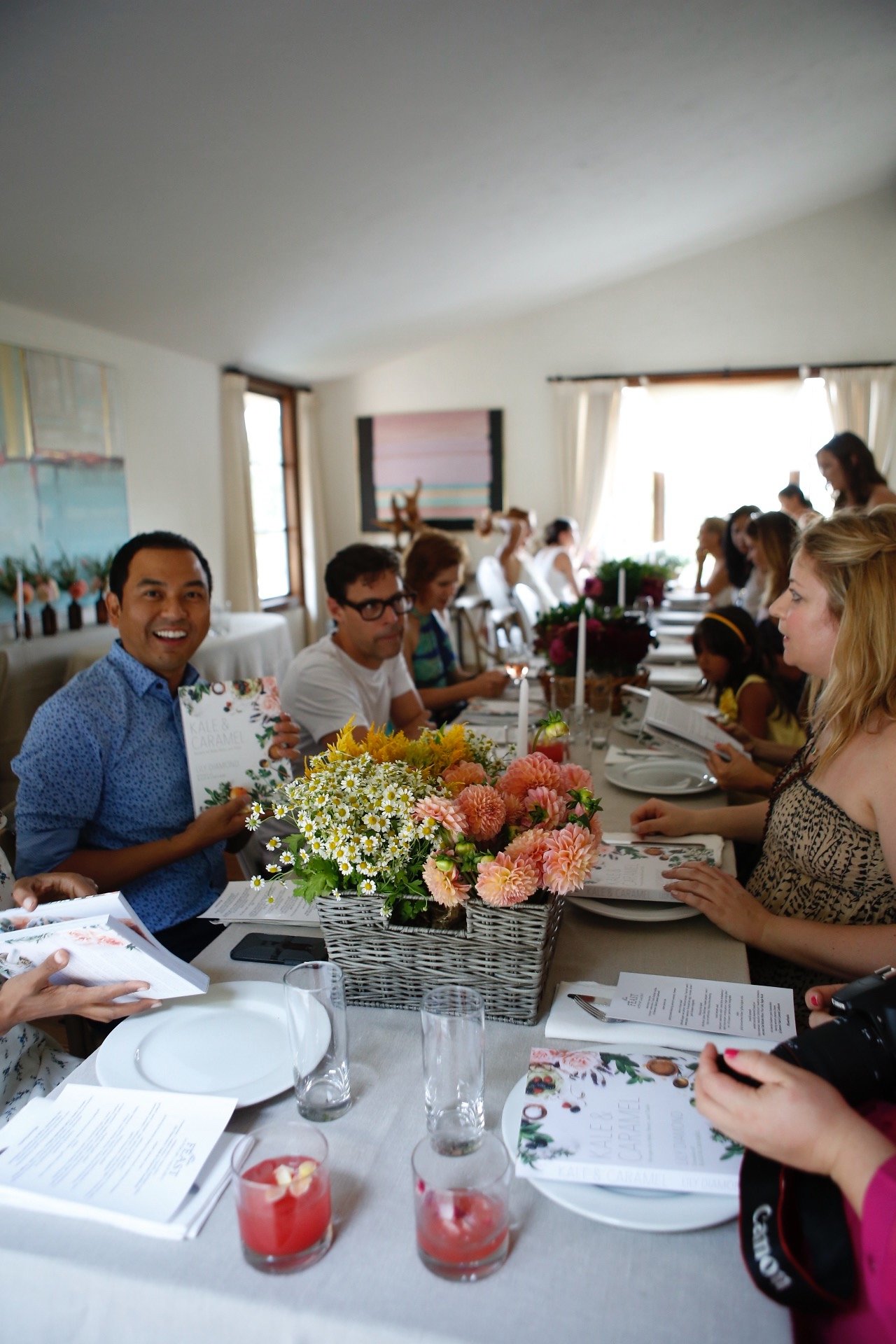 And what a menu it was: Stunning cheese from Vermont Creamery. Watermelon rose elixirs from Kale & Caramel cookbook. Rosé from Paper Planes Wine. And from Chef Michelle: Salmon niçoise with garlic blossom vinaigrette. Hibiscus chop salad. Maple tempeh salad with jasmine shallot dressing. Handcrafted leavened breads shaped with jaw-dropping skill and beauty. Hibiscus muhammara, nasturtium chimichurri, and hazelnut romesco. I mean. The flavors!
I was in awe of the menu on paper, but as it came to life before me in the kitchen, I was enchanted. Chef Michelle was an inspiration, moving between counter, stove, and grill with a calm evenness that can only come from years and years in the kitchen. I felt keenly aware of my greenness: These two dishes, the cocktail and a lavender blueberry goat cheesecake from Kale & Caramel cookbook, were the first I'd ever prepared for such a large group. These thirty guests were my large group chefing guinea pigs. But between Chef Michelle's placid kitchen moves and Amanda's generous belief in me, we made it through. And truth be told, I had so much fun.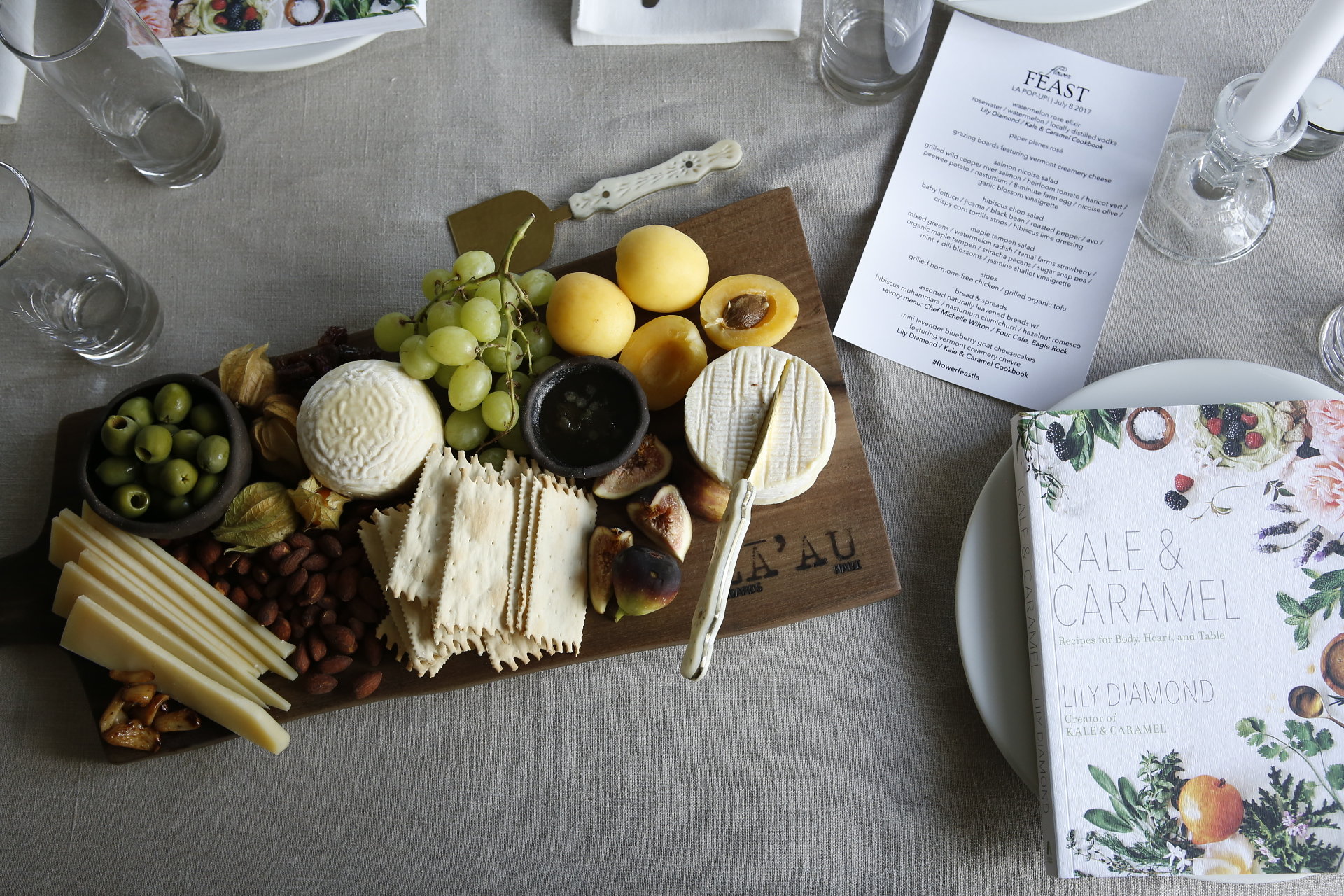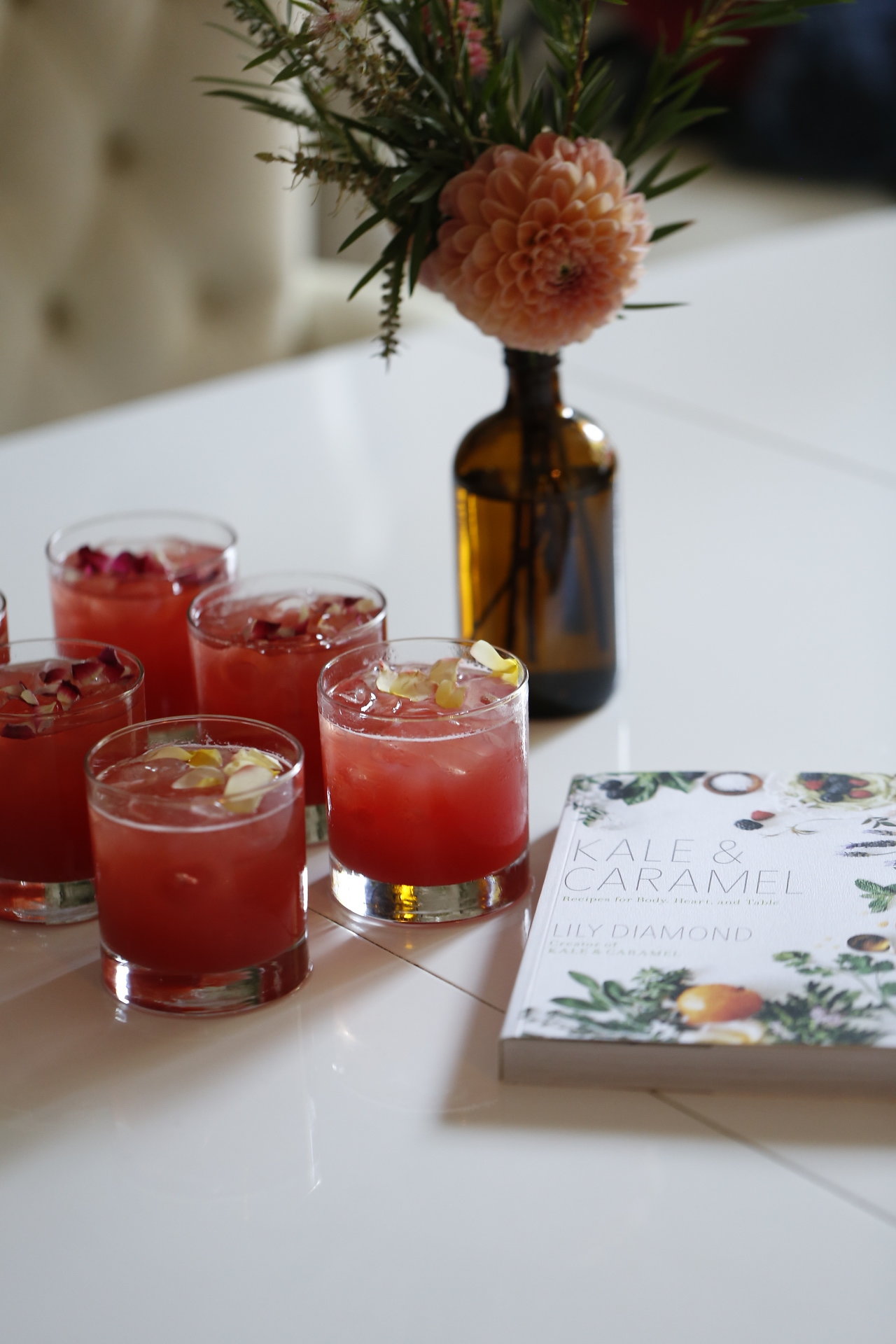 Photos by Aja Hitomi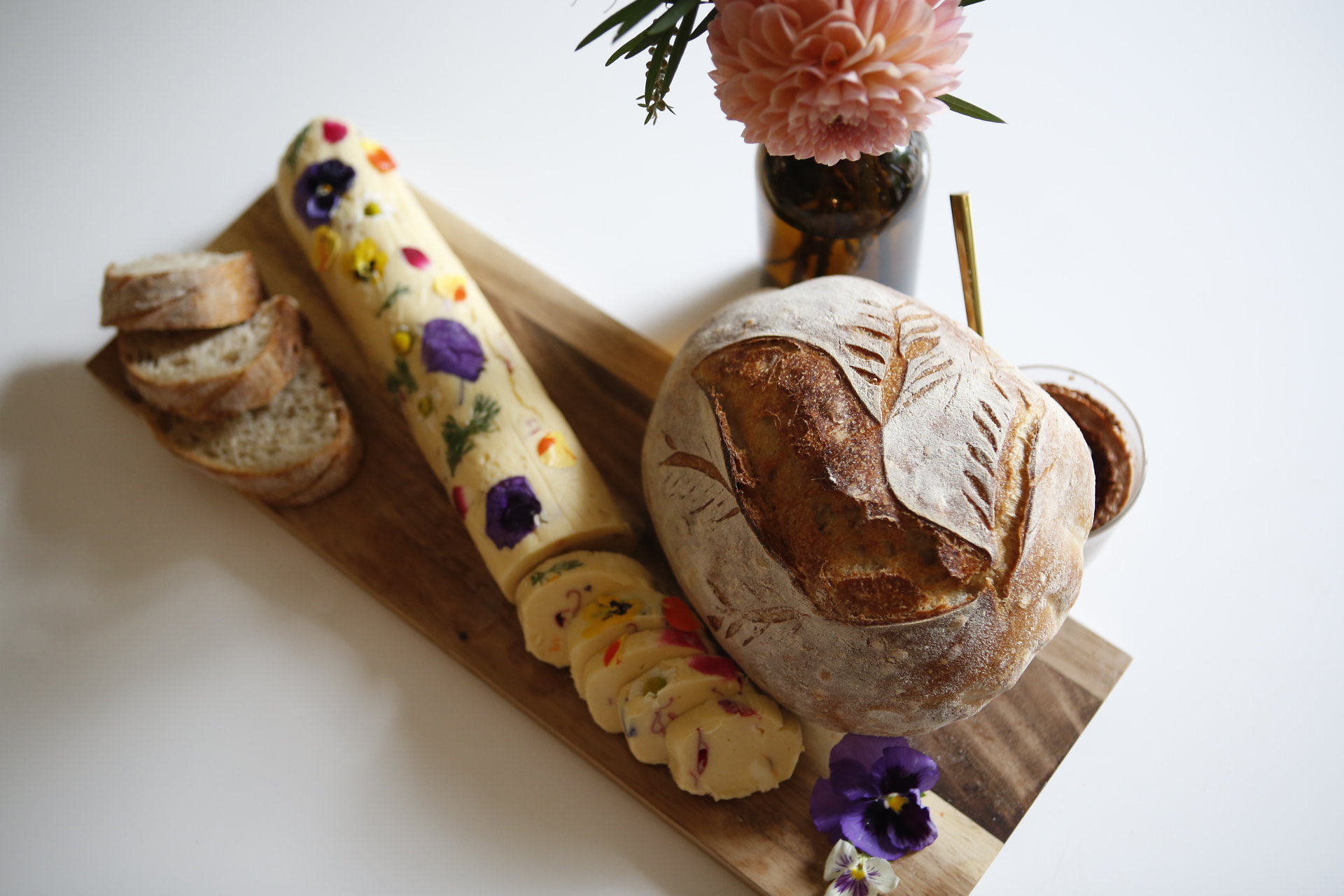 Adding to the sweetness, two old friends from Maui—women I hadn't seen since we were teenagers—showed up to help celebrate. I got to hang with them in the backyard for poolside lei po'o selfies and reminiscences of our days at the ballet barre with the tiny, fiery, cigarette-smoking Miss Cynthia. The thread of home, muscle memory, and flower love flowed seamlessly through our reunion. And as they sat down for the meal, I returned to the kitchen to finish prepping desserts.
The lavender blueberry goat cheesecakes from the LAVENDER chapter of Kale & Caramel cookbook are truly perfect for summer entertaining. They're no-bake, and much, much lighter than a traditional cheesecake. Every ingredient is infused with some form of lavender, so that the fresh blueberries and lemon harmonize exquisitely against a bright floral melody. And since they're served in jars, they'd be perfect at a picnic or other outdoor meal where portable containers are key. And the best part: Even after such a stunning savory menu, my hefty servings got gobbled up within moments. They're a total crowd pleaser (and don't worry, there's no "goaty" flavor at all, just a lovely tang).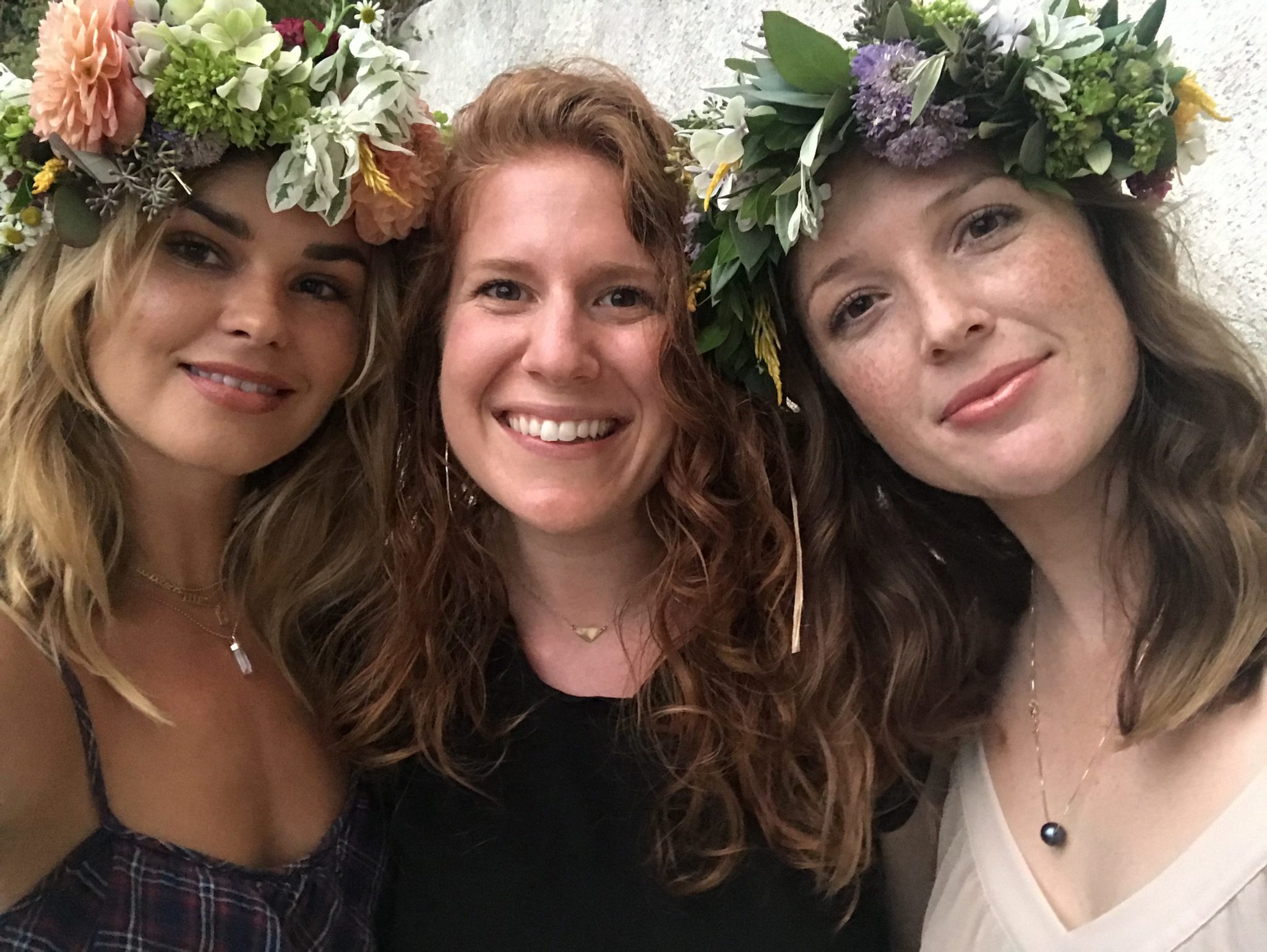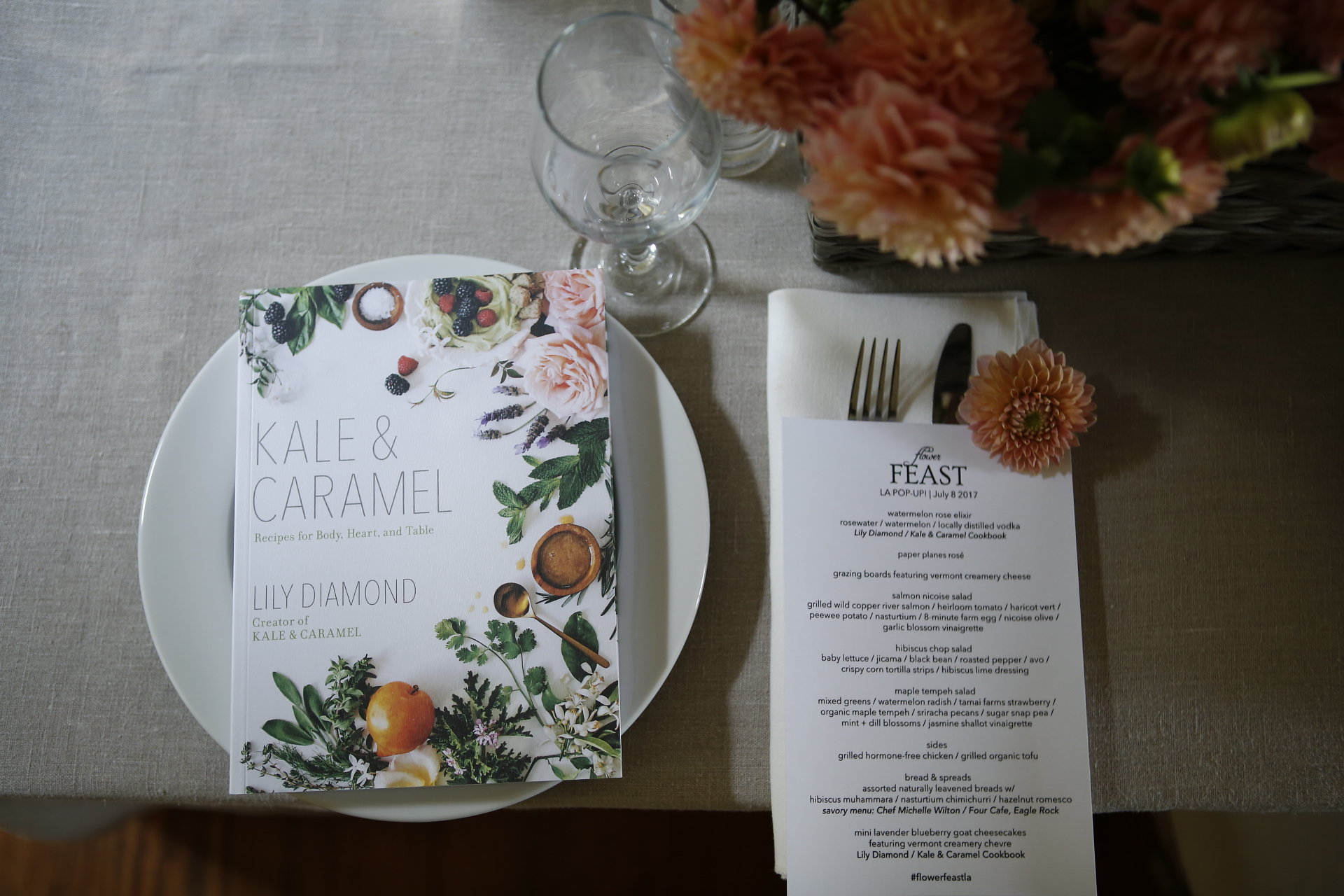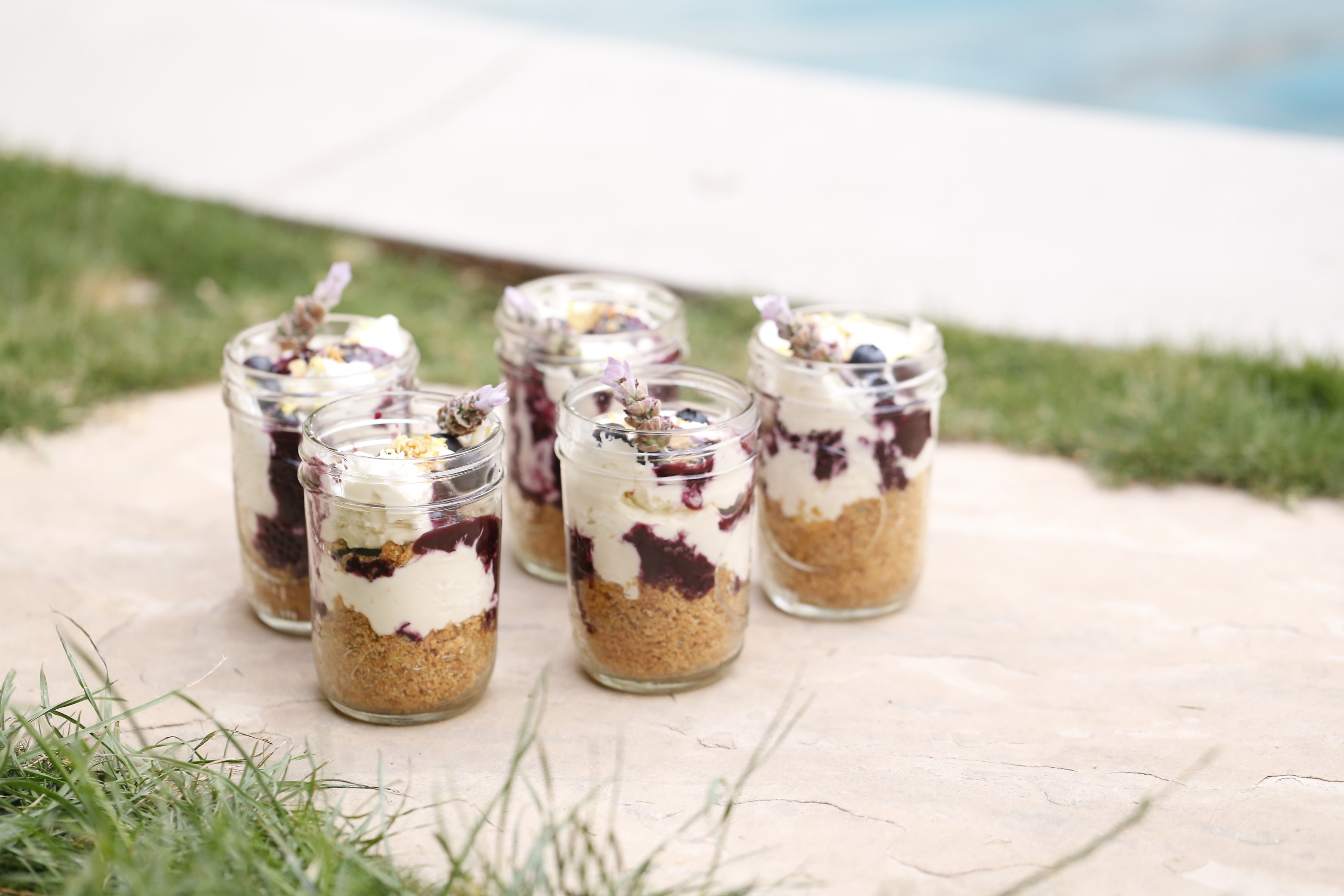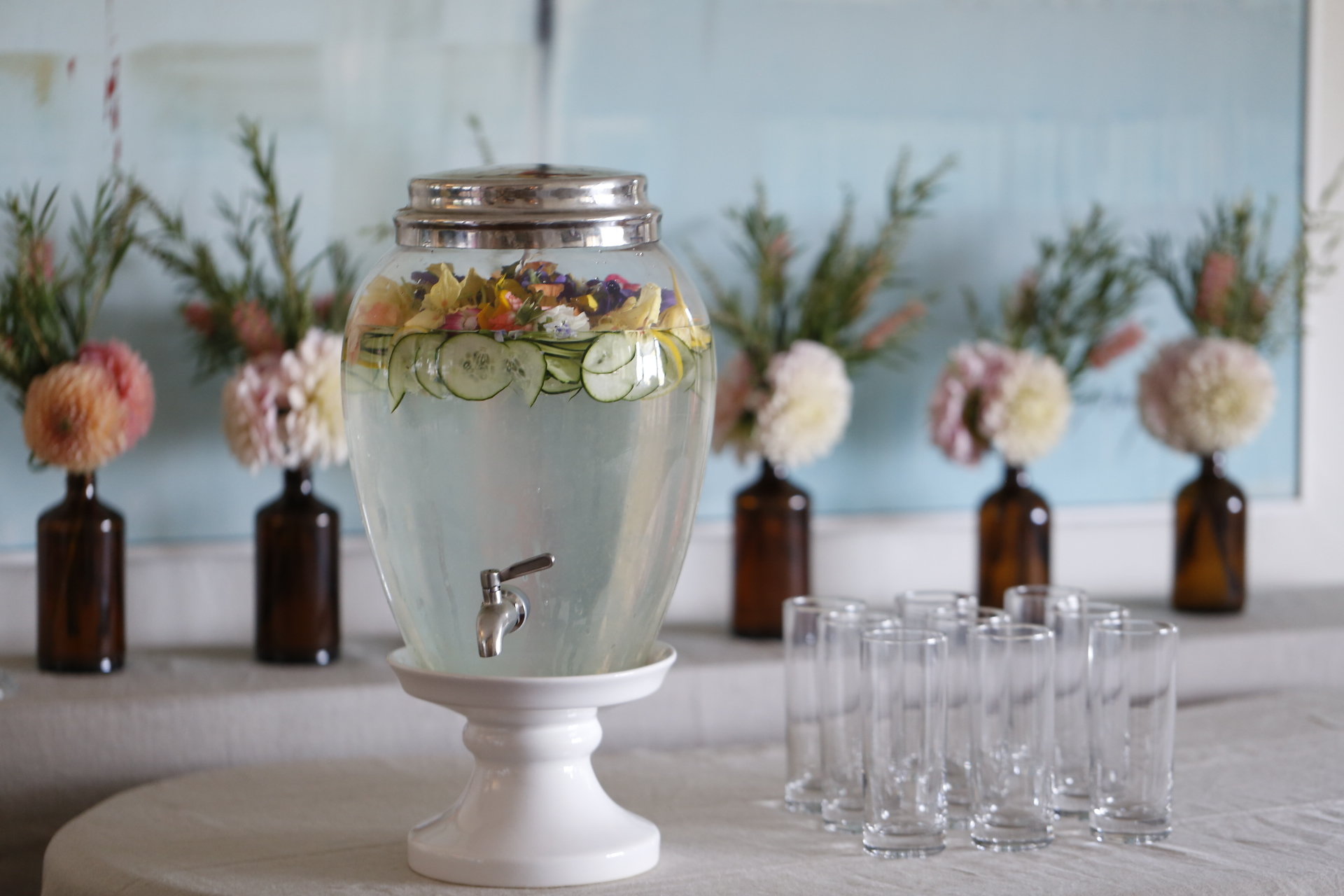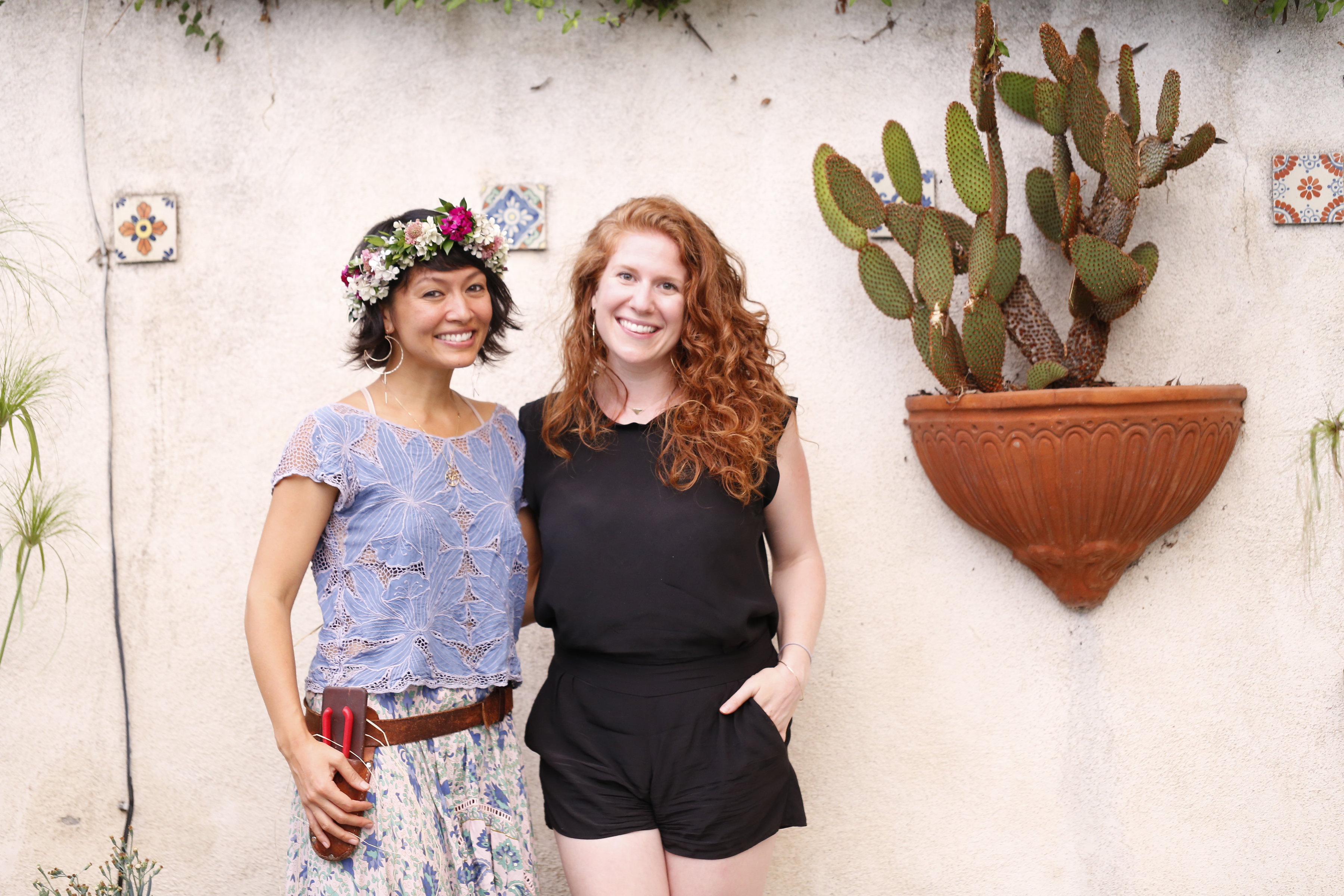 I'm so honored I got to collaborate on this beautiful evening with Amanda—stay tuned for more later in the year. I'm already excited for what's next. But before we zoom too far out, let's cozy up to our real deal summer water.
When Amanda asked me to concoct a simple floral water to hydrate our guests on arrival, I immediately imagined something flush with citrus and cucumber, and the earthy notes of orange blossom and rose water. Together, they weave an incredible web of aromatic taste that's equally hydrating and addictive—with every sip, you just want more. Luckily, it comes together in mere moments, and you can improvise with whatever you have on hand in the kitchen.
The Real Deal Summer Water magic formula is: citrus + cucumber + floral waters.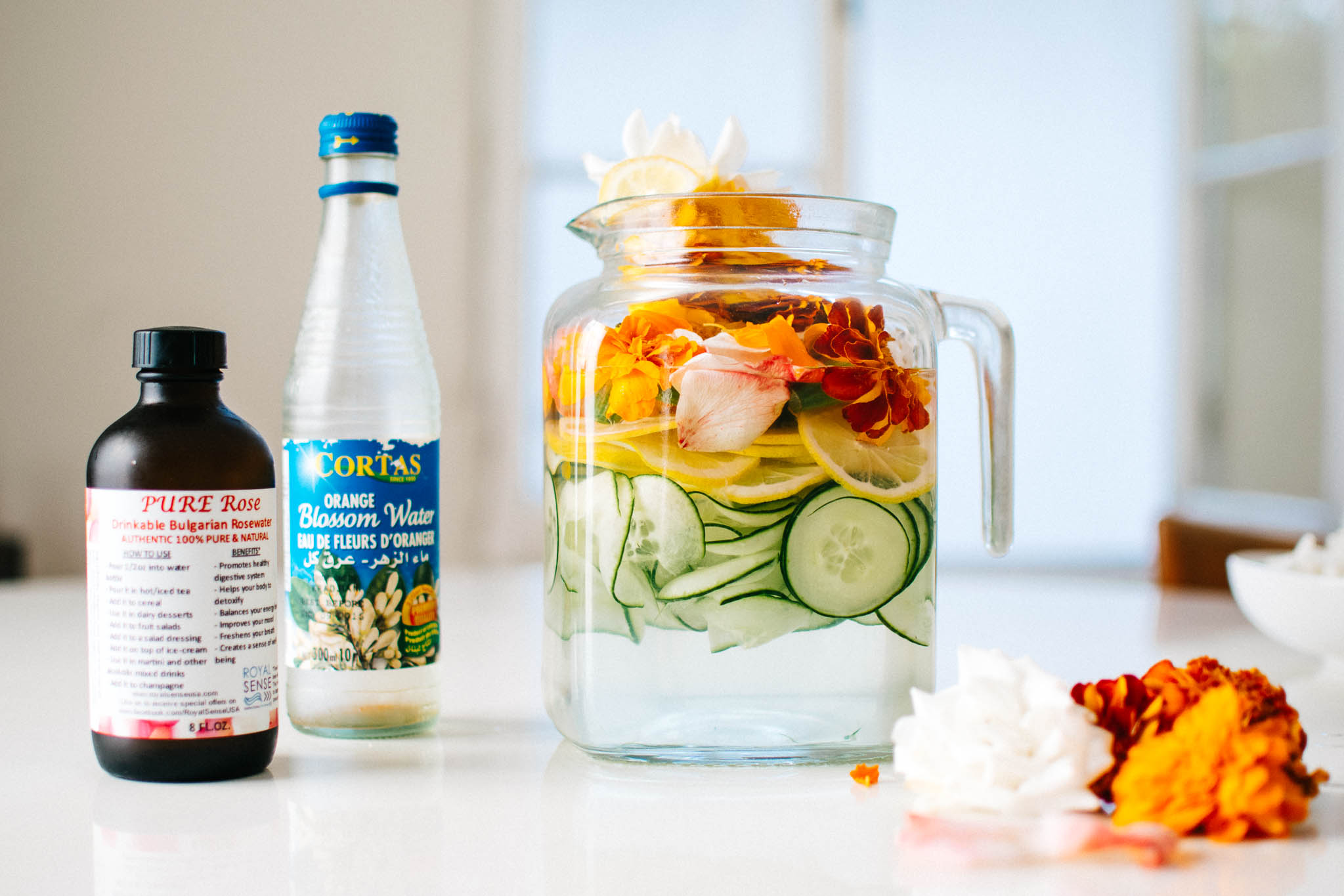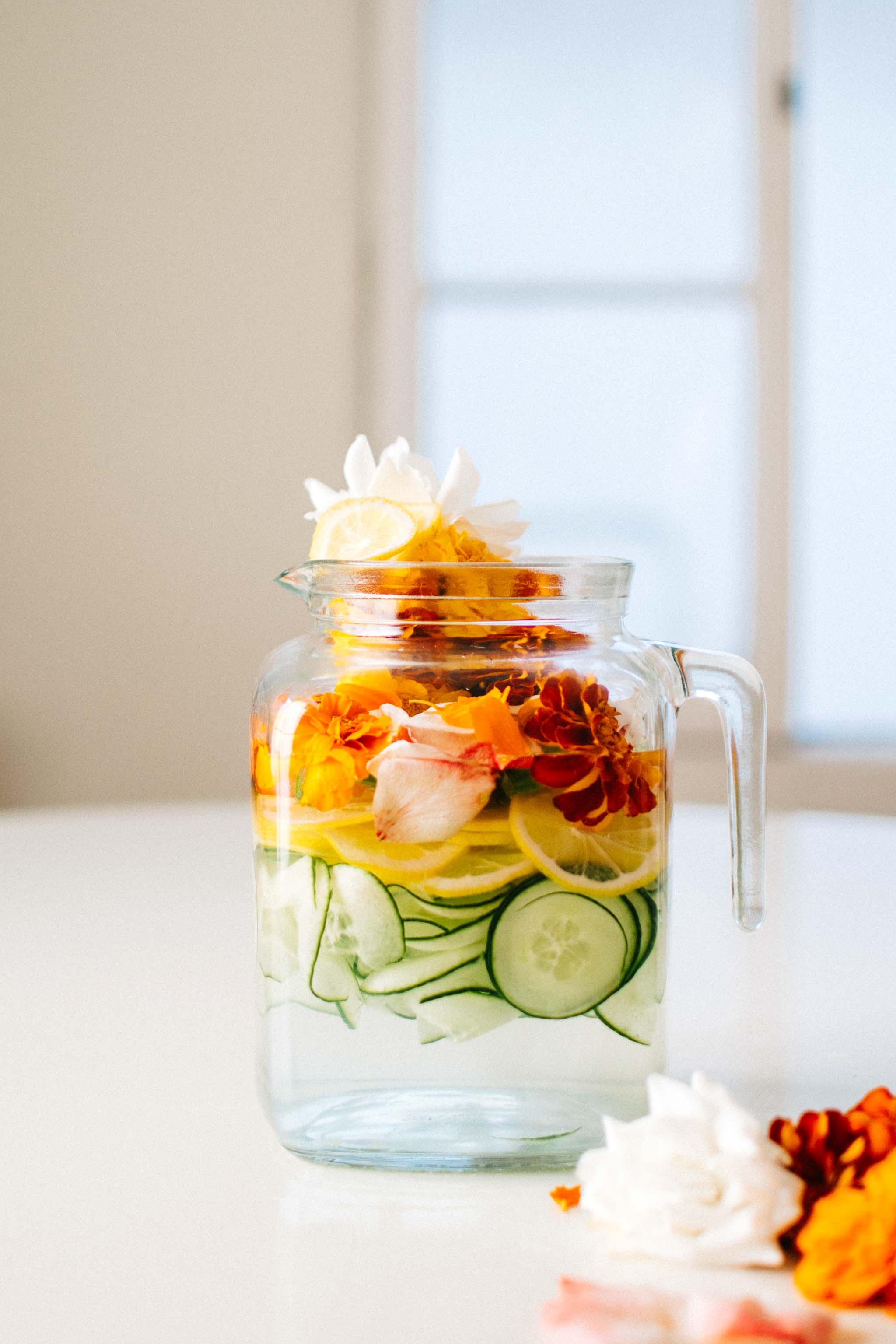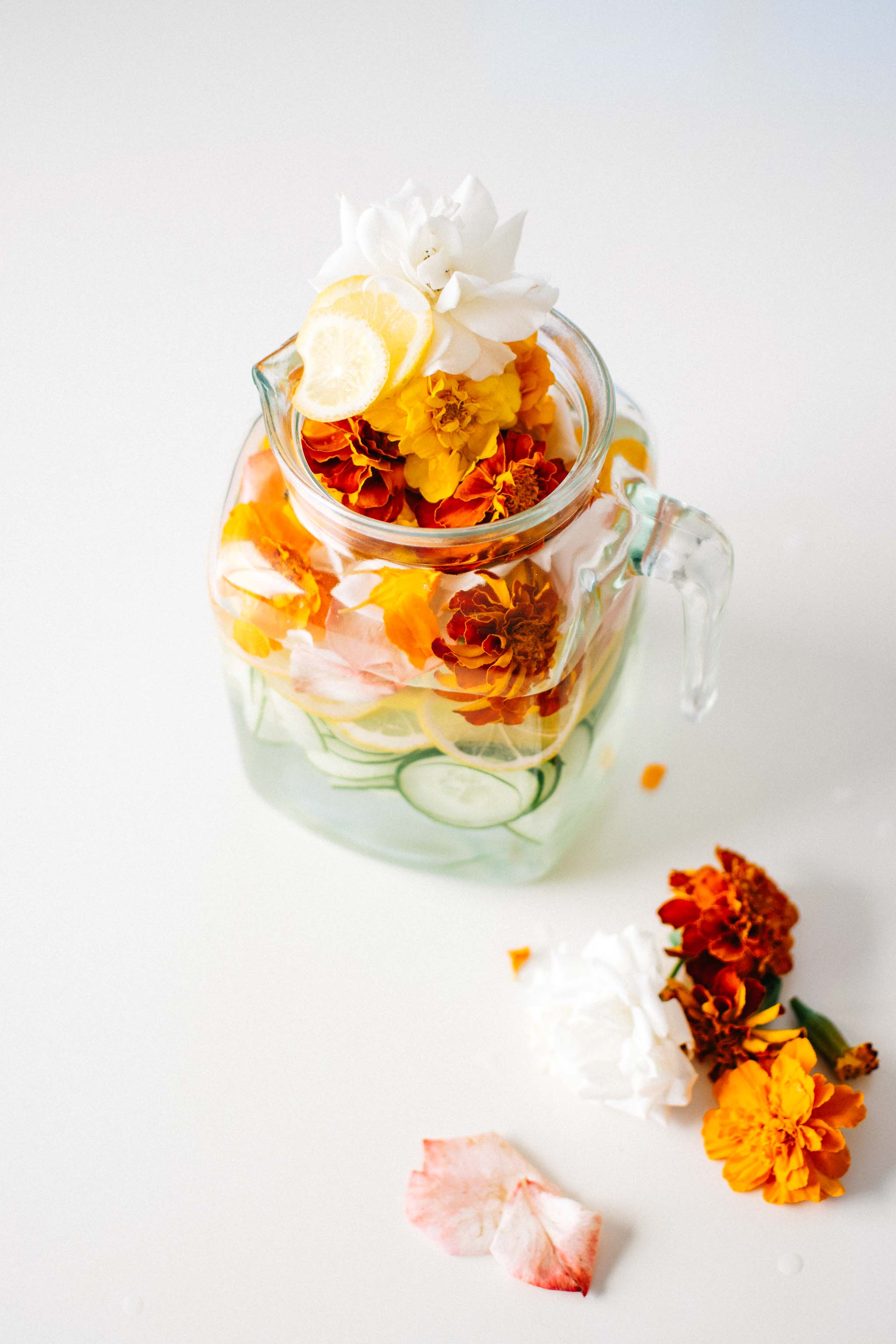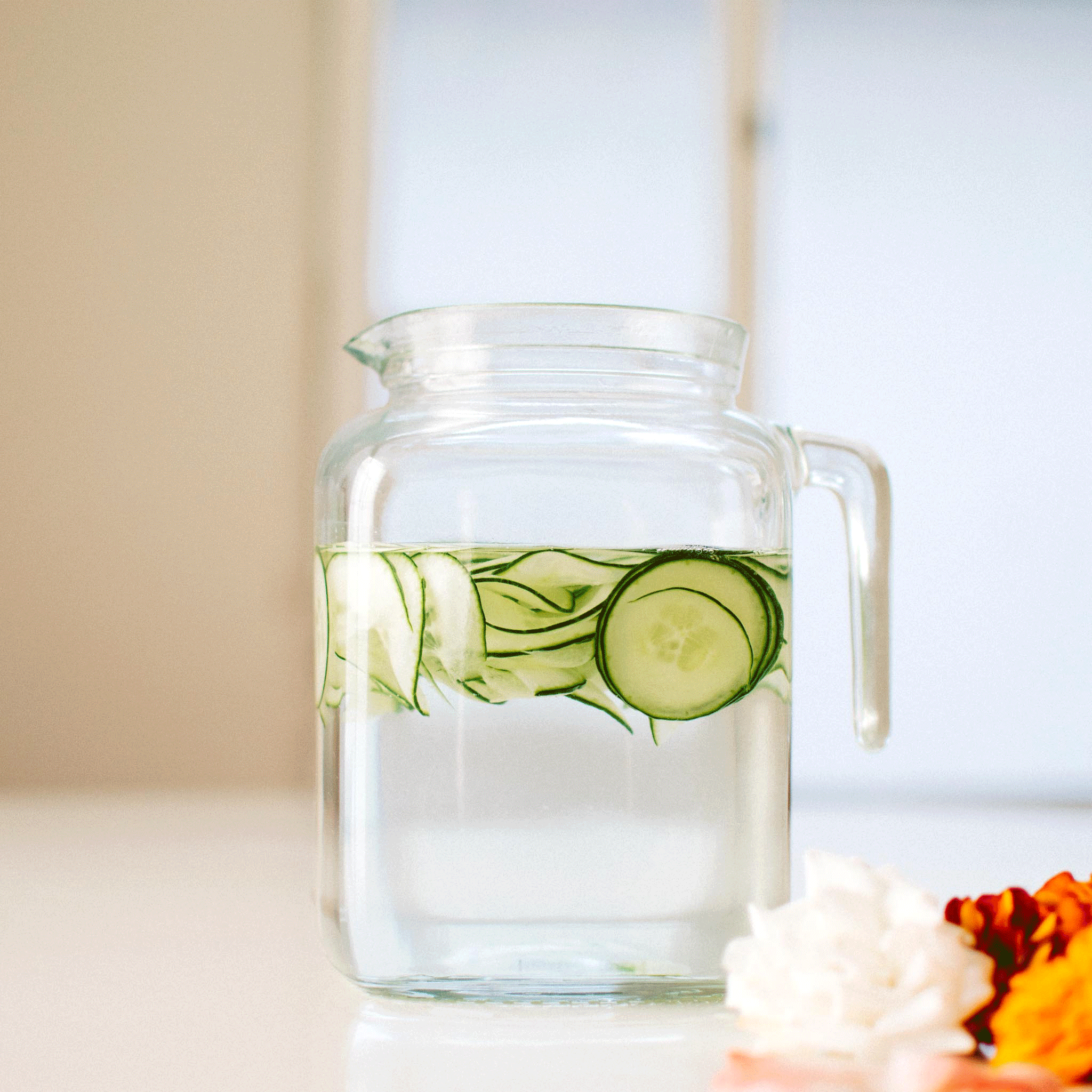 Go forth and show the people water real summer water looks like! And don't forget the edible flowers for garnish.
REAL DEAL SUMMER WATER
Ingredients
7

cups

pure water

juice of 1/2 medium-large lemon

1/2

tablespoon

rose water

1/2

tablespoon

orange blossom water

ice, if desired

1

lemon, thinly sliced

1

cup

thinly sliced cucumber, skin on

edible flowers, to garnish (unsprayed marigolds, roses, pansies, lavender, etc.)
Instructions
In a large pitcher, mix water, lemon juice, rose water, and orange blossom water. Add ice, if desired.

Top with cucumber and lemon slices, and edible flowers.

Drink liberally, refill often. Once you drink your first round, simply add more water, lemon juice, and a touch more rose and orange blossom waters to the pitcher of lemon and cucumber slices. Keep that summer water flowing!