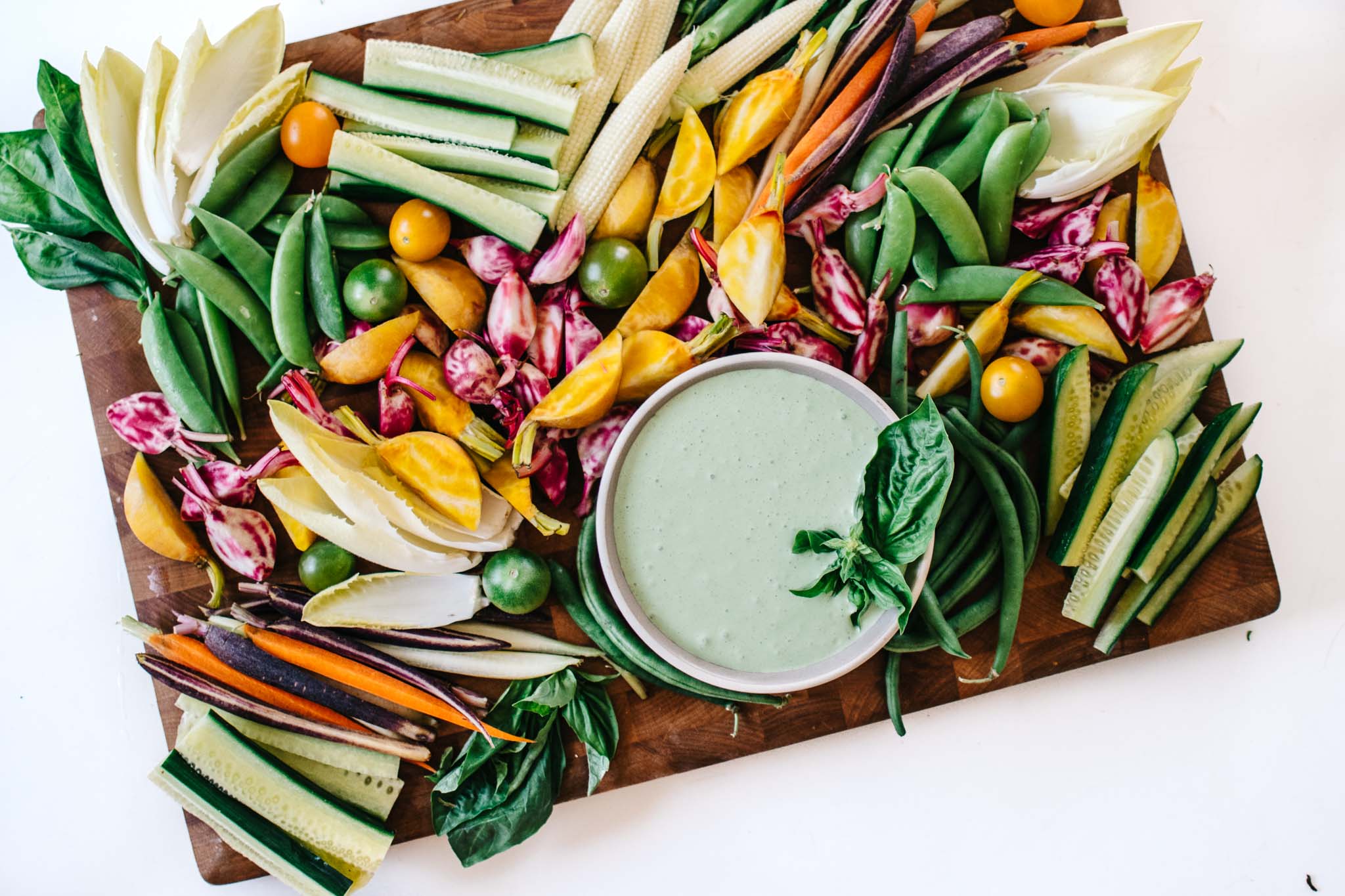 Jump to Recipe
This post was created in partnership with siggi's. All opinions are my own—including my obsession with their yogurt.
Hello from the heat-stricken west coast! I'm prepping all kinds of fun food demos for the #kaleandcaramelcookbook tour stop in Portland, Oregon next Wednesday (September 6) and surviving off as many liquids and chilled foods as possible. This heatwave is proof enough that it's ok to still be in a summer state of mind, despite the back-to-school mania. As the temps rise, I'm perpetually seeking super cooling foods—both literally, temperature-wise, and in terms of how various foods tame or ignite heat in the digestive system. And because I'm often not too keen on turning on the oven, chilled, snacky foods that deliver hefty amounts of nutrition are the absolute dream. Enter the pesto yogurt dip, accompanied by your ultimate veggie platter: simple ingredients, not a lot of sugar.
Let's break it down, shall we?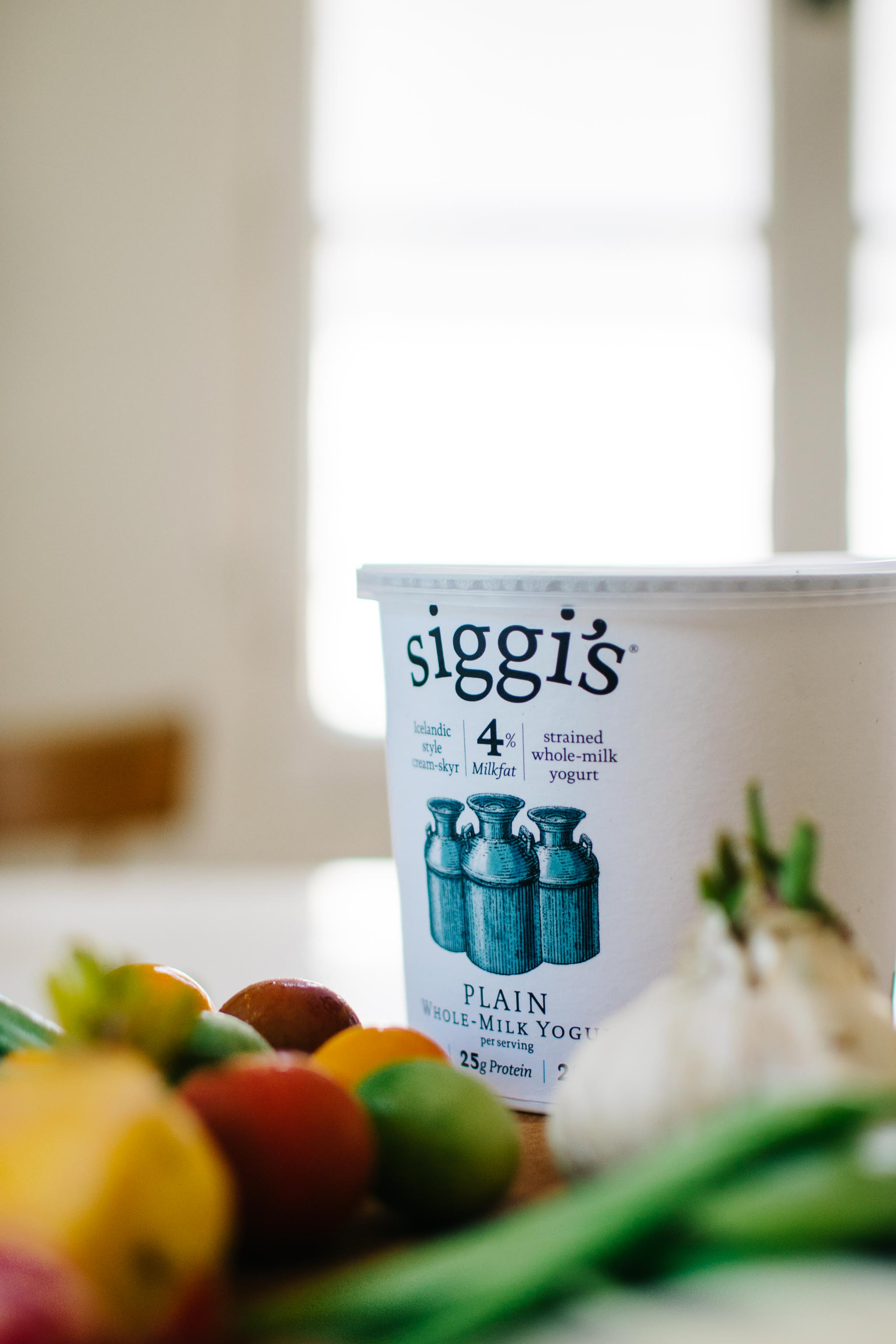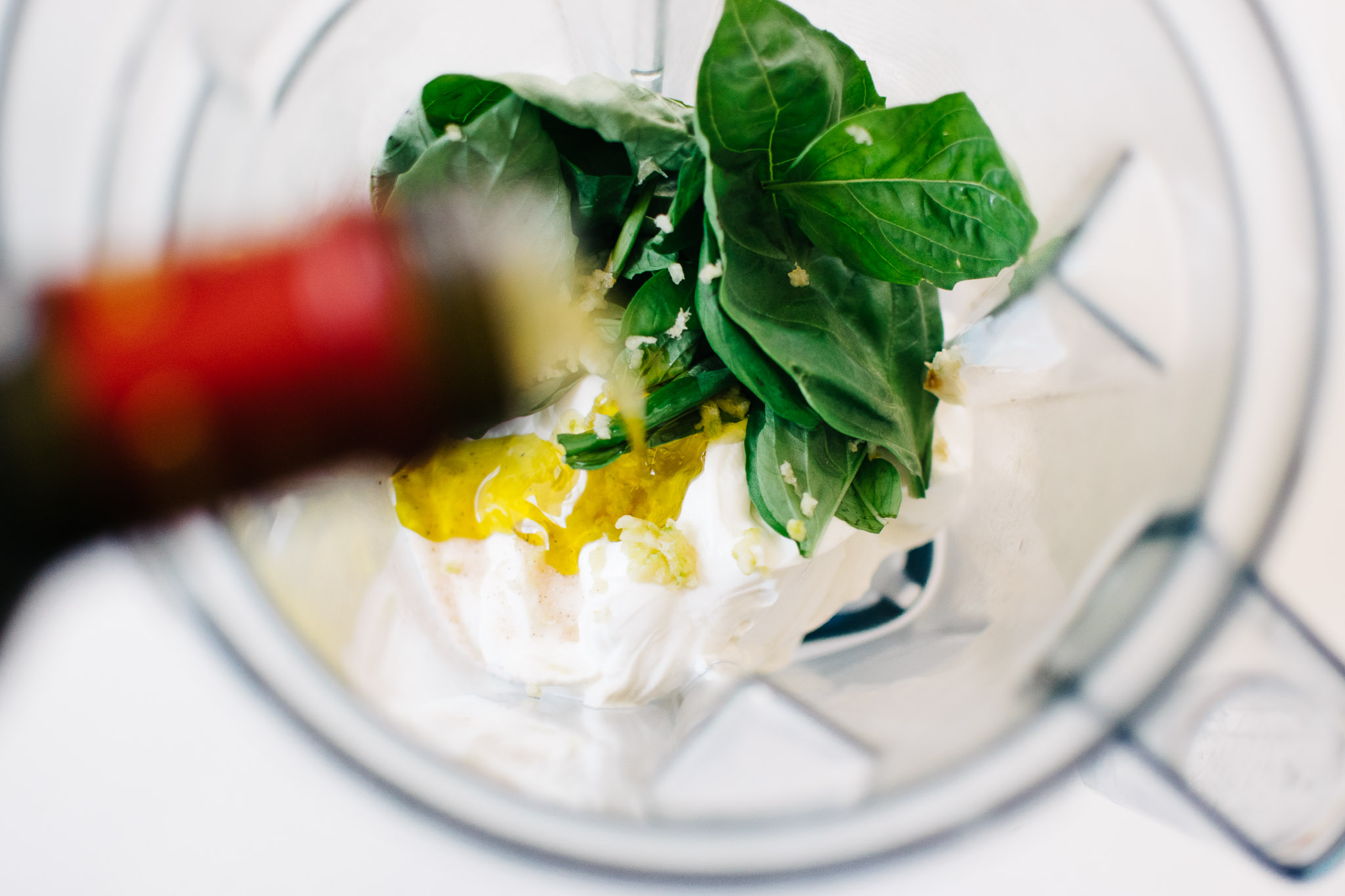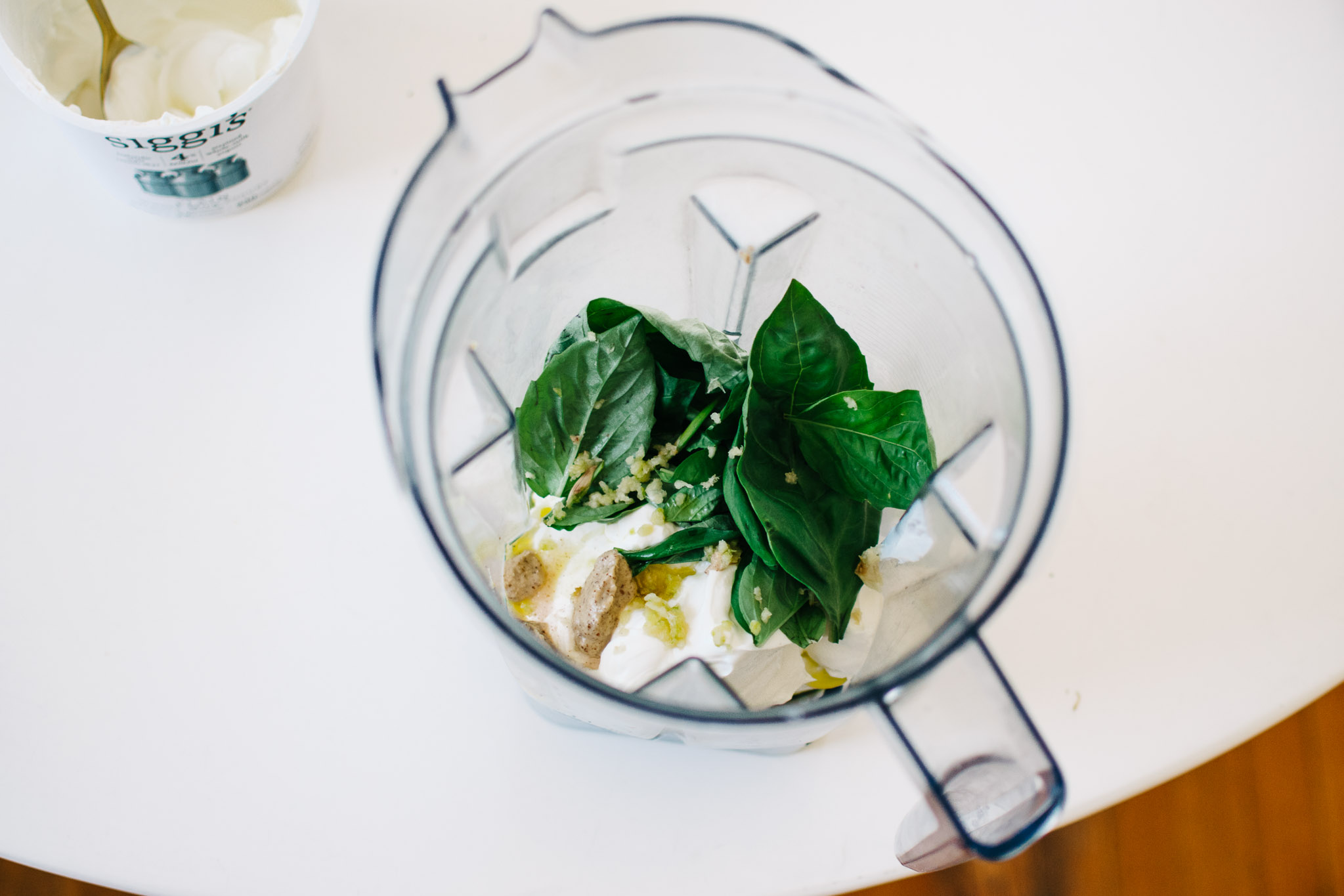 First, the dip: I'm obsessed with using siggi's 4% plain whole-milk yogurt as the base. It's got a lush mouth-feel (isn't that what the cool kids say?), isn't too crazy tangy, and boasts a whopping 25 grams of protein per serving—simple ingredients, and no preservatives. This makes my body so happy, and simplifies my meal needs because I feel more fully sated, for longer. The plain yogurt is delish with sweet treats, but I love pairing it with the herbaceous power of fresh basil, zesty garlic, and a hit of stoneground mustard in this yogurt dip.
It's got all the flavors of pesto with none of the drama: No nuts, no cheese, pure flavor and protein. And it pairs exquisitely with every vegetable on earth. Which is my preferred way of getting those heavy doses of siggi's protein directly into my mouth.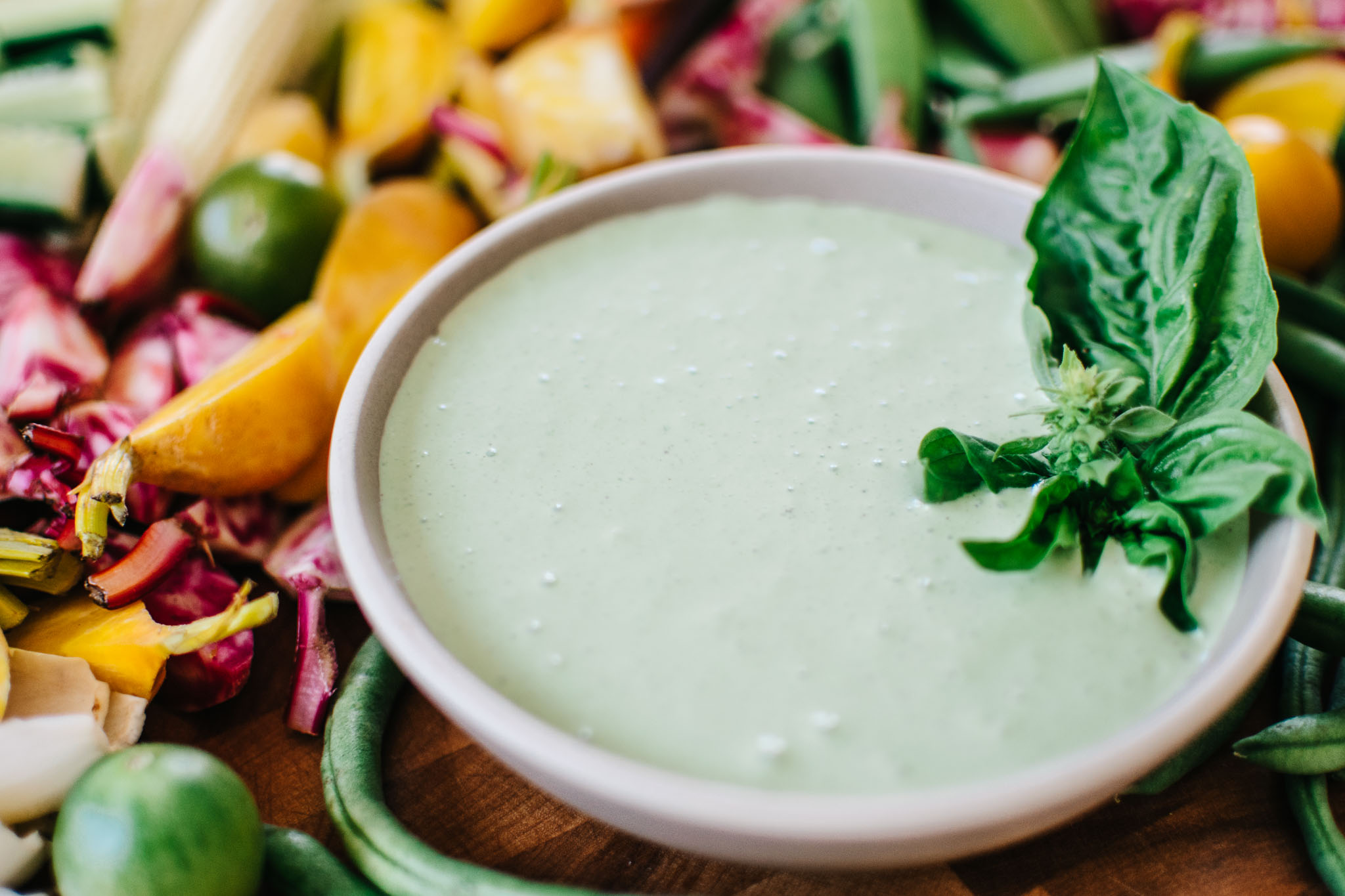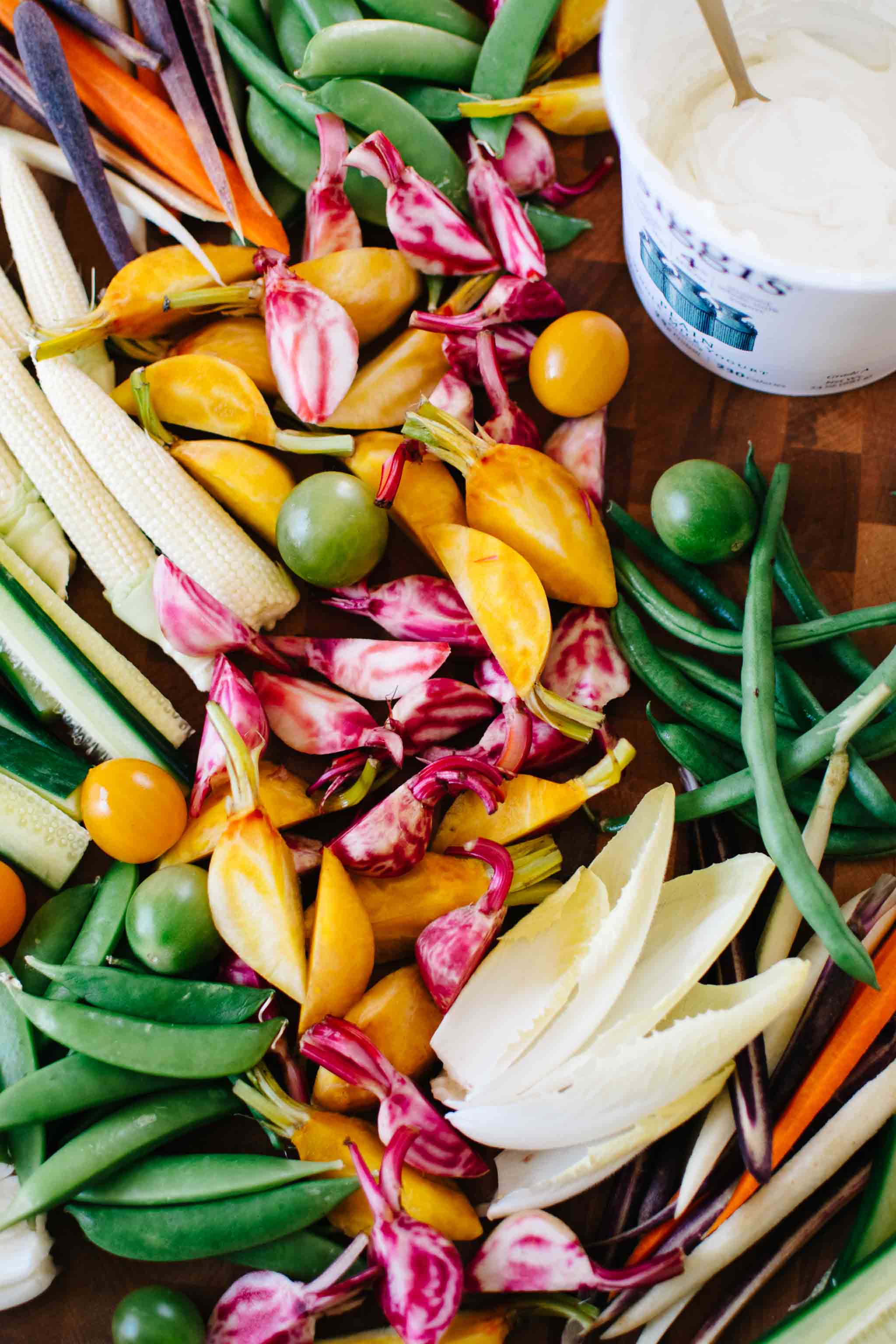 So this brings us to the official Kale & Caramel Guide to Assembling Your Ultimate Veggie Platter™!
STEP 1: THE GOODS
Head to your nearest farmers market or grocery store and stock up on the crispest, crunchiest veggies in sight. You want vegetables that are hardy enough to scoop up that creamy yogurt goodness, or any other dip you have in mind. Scoop-frienly shapes (like endive) are a bonus.
My faves include: Carrots, beets, peas, cucumbers, celery, fennel, endive, broccolini, cauliflower, green beans, radishes, and the list goes on.
STEP 2: THE DISPLAY
Find your largest cutting board (or whatever is appropriate for the number of people you're feeding), wipe off the dust, and get it ready to display your summer bounty. It doesn't need to be fancy; we're just looking for good surface area to smother in vegetables.
STEP 3: THE PREP
First, wash the veggies and peel or trim off any unwanted leaves, stems, and peel (you get to decide what stays and what goes!).
Now, decide on a few different shapes you're going to slice your veggies into. For example:
beets can be cut into thin rounds, or quartered or cut into sixth or eights depending on their size
cucumbers can be sliced lengthwise or cut into rounds
carrots can be cut into spears or rounds
peas can be sliced lengthwise or left whole
Whatever you choose, make sure you have a variety of options that are ideal for dipping fun. If you're not ready to assemble the board yet, submerge your veggies in water in an airtight container and store in the fridge until you're ready to roll.
STEP 4: THE ASSEMBLY
Once you've got the lay of the proverbial land with your prepped veggies and your empty cutting board, decide where your dip or dips are going to go. Placing the dip in the middle is nice, or slightly off center in the top or bottom quarter, as I chose here. Keep that space clear as you assemble your board.
Now, begin to lay the veggies out across the board. Let each type of veggie pop up in a few spots on the board, rather than laying them all out in one spot. This provides a nice degree of visual variation, and breaks up the blocks of color.
Place distinctly colored vegetables next to each other (pink beets next to sugar snap peas, for example), but don't leave any room between veggie piles. Pack it all in! You're going for a feel of maximum veggie abundance.
Now, consider the shapes of the veggies you're putting next to one another, and vary that pattern, too. Place quartered beets next to cucumber spears and round cherry tomatoes. Mix up shape and color in splotches across your board, and you're on your way to a truly beautiful thing.
If it starts to look jumbled up, try grouping more of the same veggies in one place, and remember: Simple is good. Vegetables will look beautiful without your help. Food styling is just a way of listening to and expressing the natural beauty each food inherently possesses.
STEP 5: THE SERVE
Once you're ready to serve, place your dip bowl(s) into their reserved spots on the veggie platter, and garnish the dip as desired. Serve and watch the crowd marvel at your handiwork!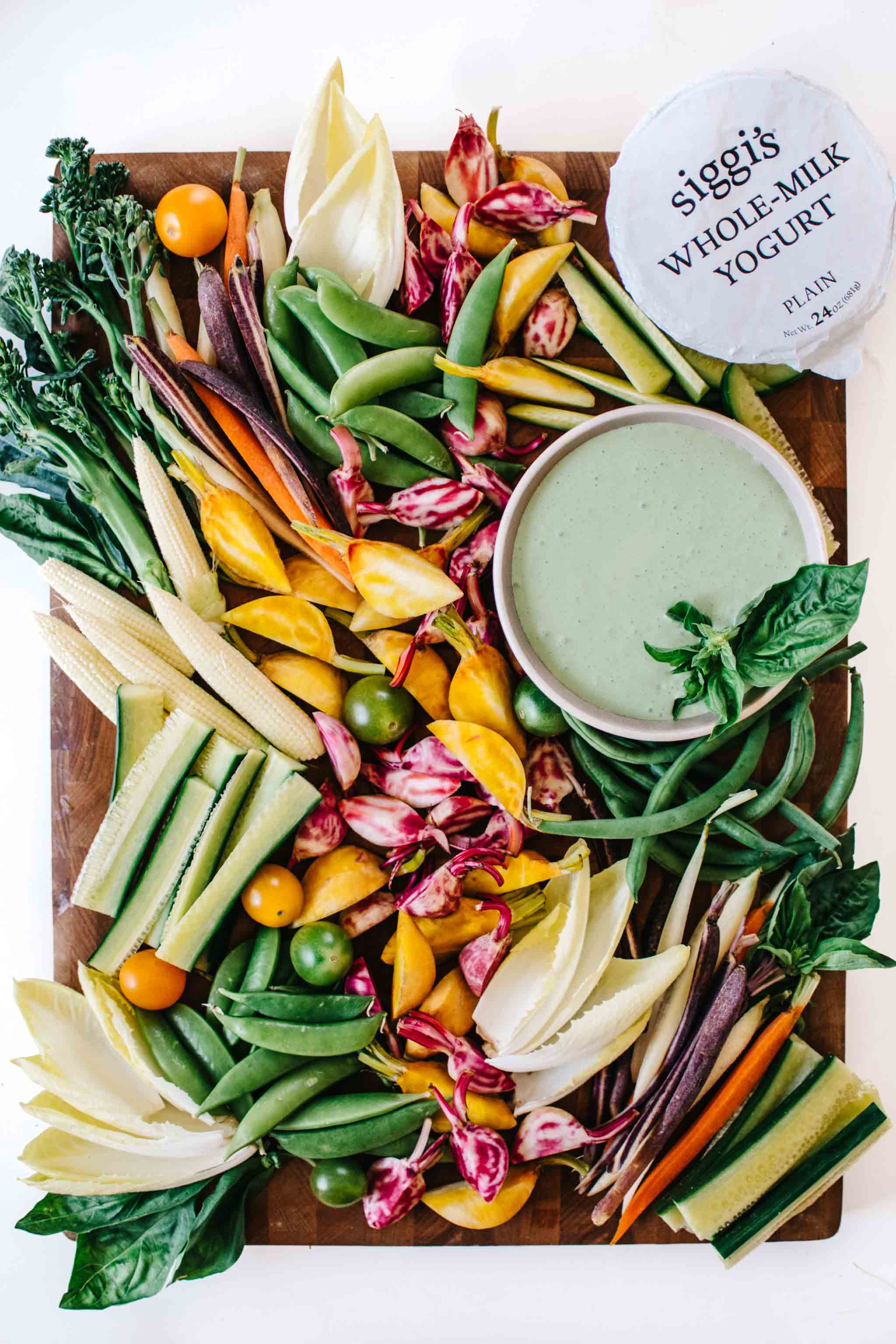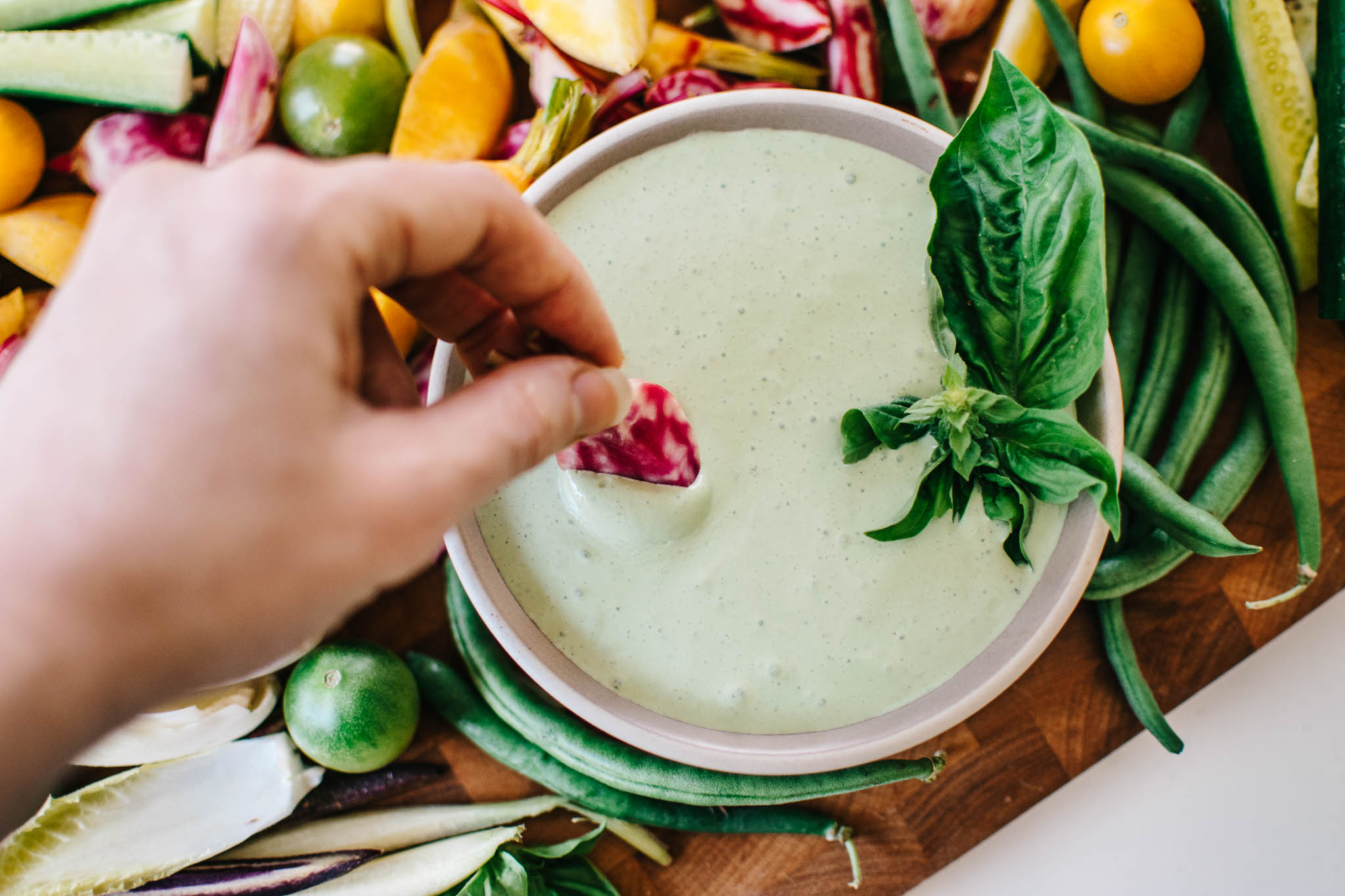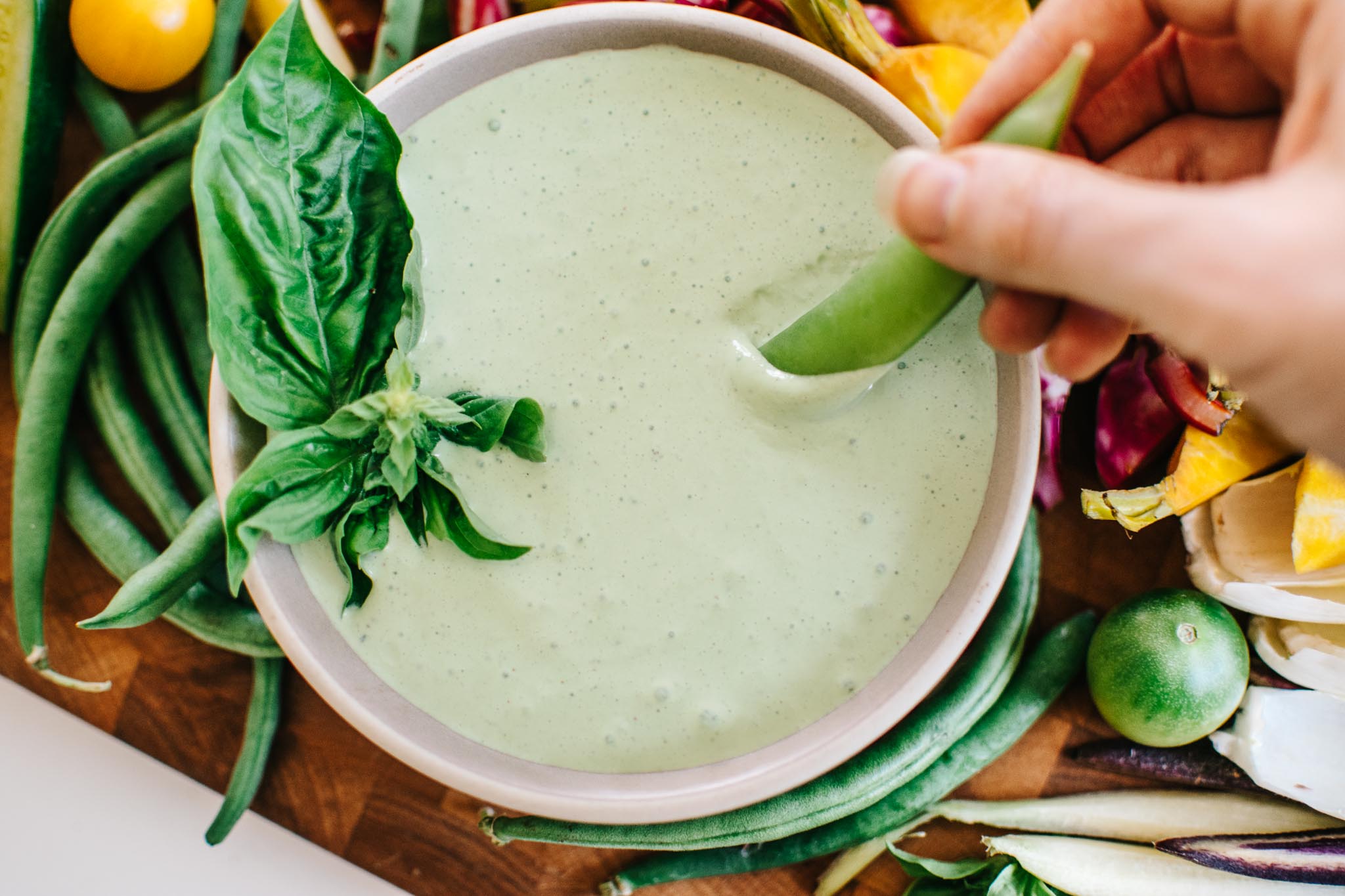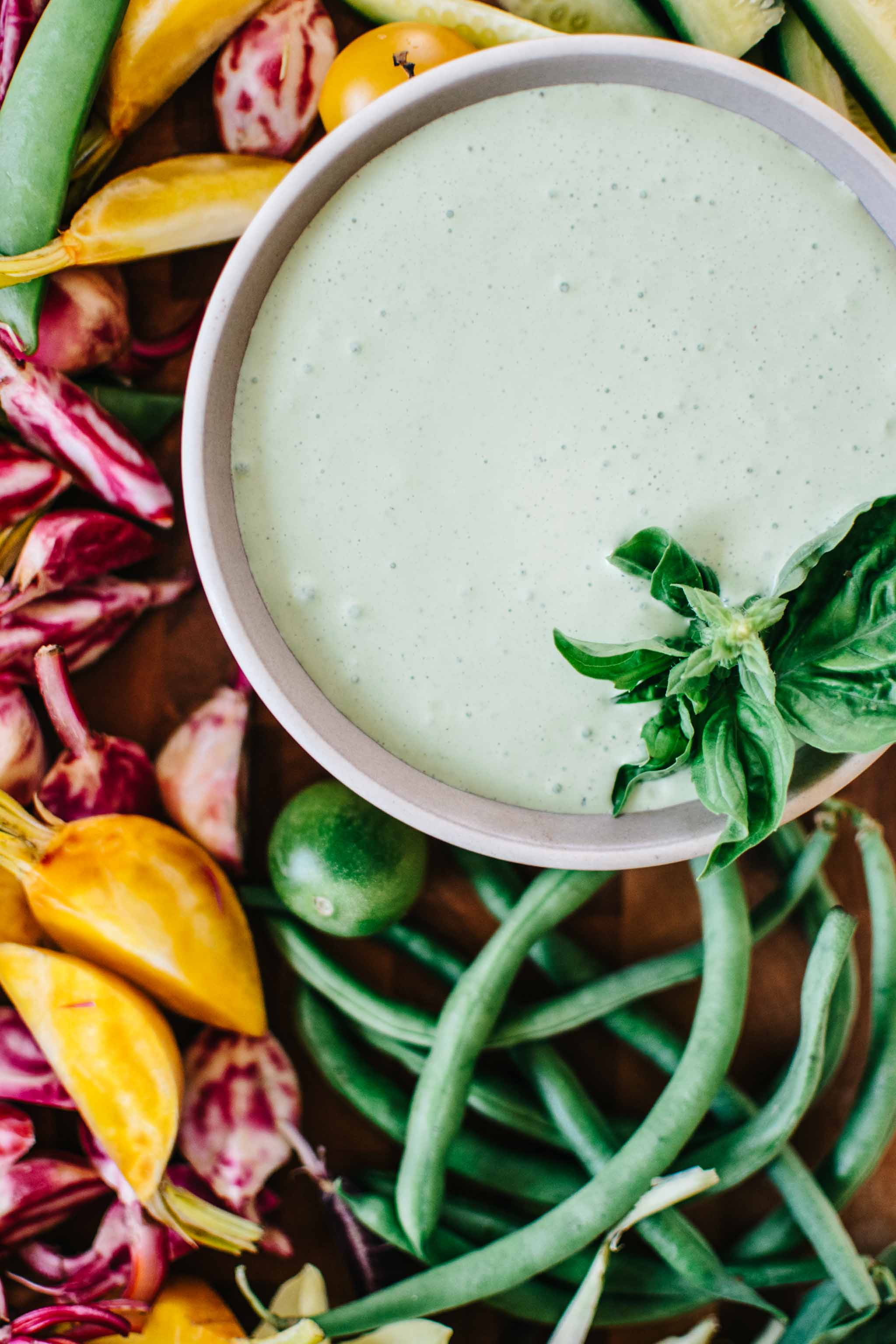 Any veggie platter questions? Leave 'em below! And I'd love to hear about your favorite veggie platter additions.
In the meantime: Make this dreamy yogurt pesto dip, and let that siggi's yogurt change your healthy summer snacking game.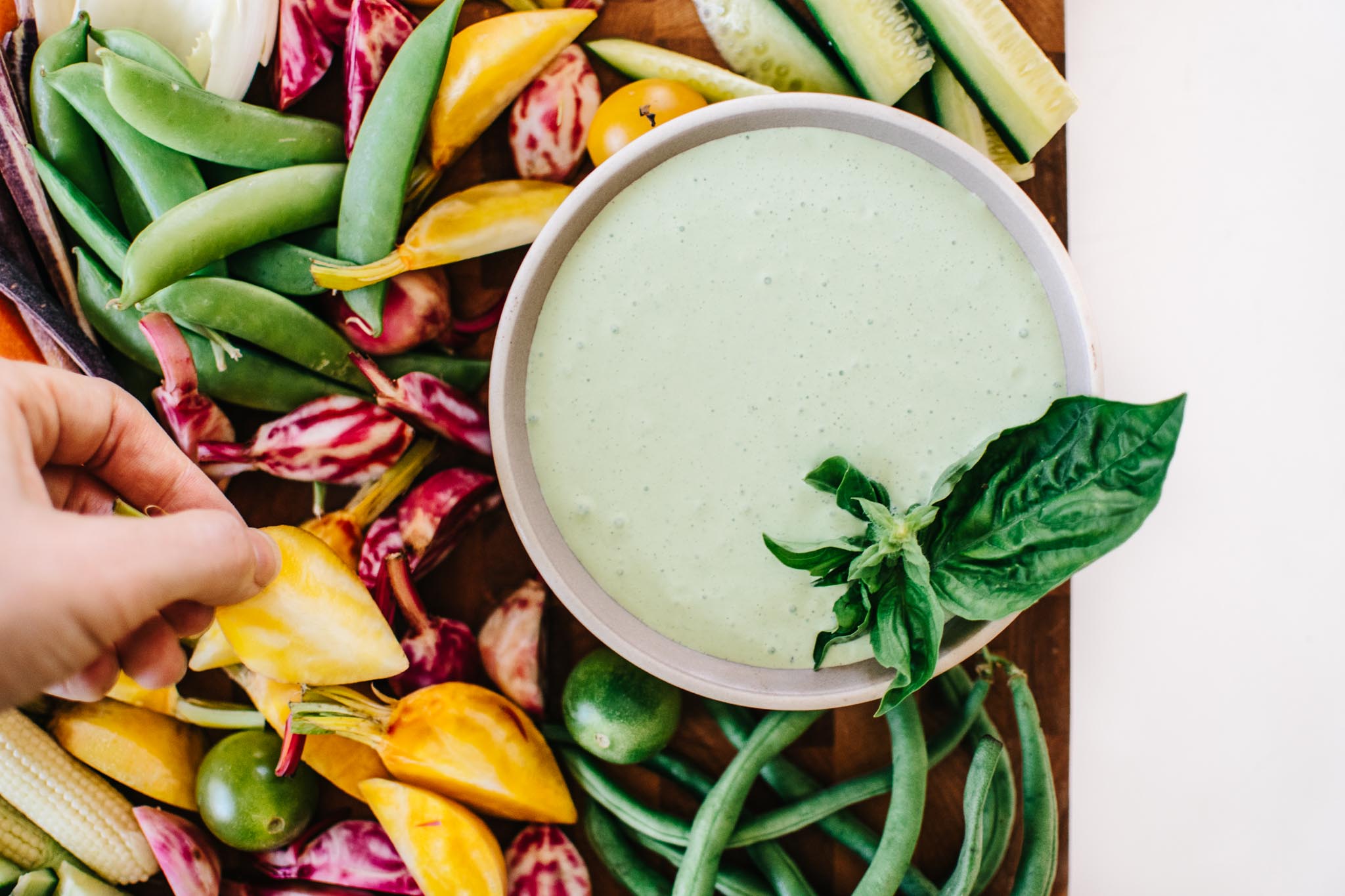 PESTO YOGURT DIP & THE ULTIMATE VEGGIE PLATTER.
A perfectly garlicky, tangy, basil-blended pesto yogurt dip to pair with a summer bounty of veggies on your ultimate veggie platter.
Ingredients
2

cups

siggi's 4% plain whole-milk yogurt

3/4

cup

fresh basil leaves, packed

2

cloves

garlic, minced

2

teaspoons

olive oil

2

teaspoons

stoneground mustard

1/4

teaspoon + a few pinches

sea salt

freshly cracked pepper, to taste

small fresh basil leaves, to garnish

fresh crunchy veggies, like carrots, beets, peas, green beans, cucumber, endive, broccolini, and more
Instructions
Make the yogurt dip.
Place the yogurt, basil, garlic, olive oil, mustard, salt, and pepper in a blender or food processor, and blend until completely smooth and pale green. Transfer to a bowl, cover, and refrigerate until ready to eat.
Make your ultimate veggie platter.
Clean and prep your favorite veggies to your liking (peel, trim, slice, and chop as desired), then arrange on a large board, varying colors and textures. Don't forget to leave room for your bowl of dip!

Dig in! If you want to prep your veggie platter ahead of time, seal it up with plastic wrap and store in the fridge until your guests arrive. It's important to keep it airtight so the veggies don't dry out. If anything looks a little pale or dry, simply give it a spritz of water before serving.