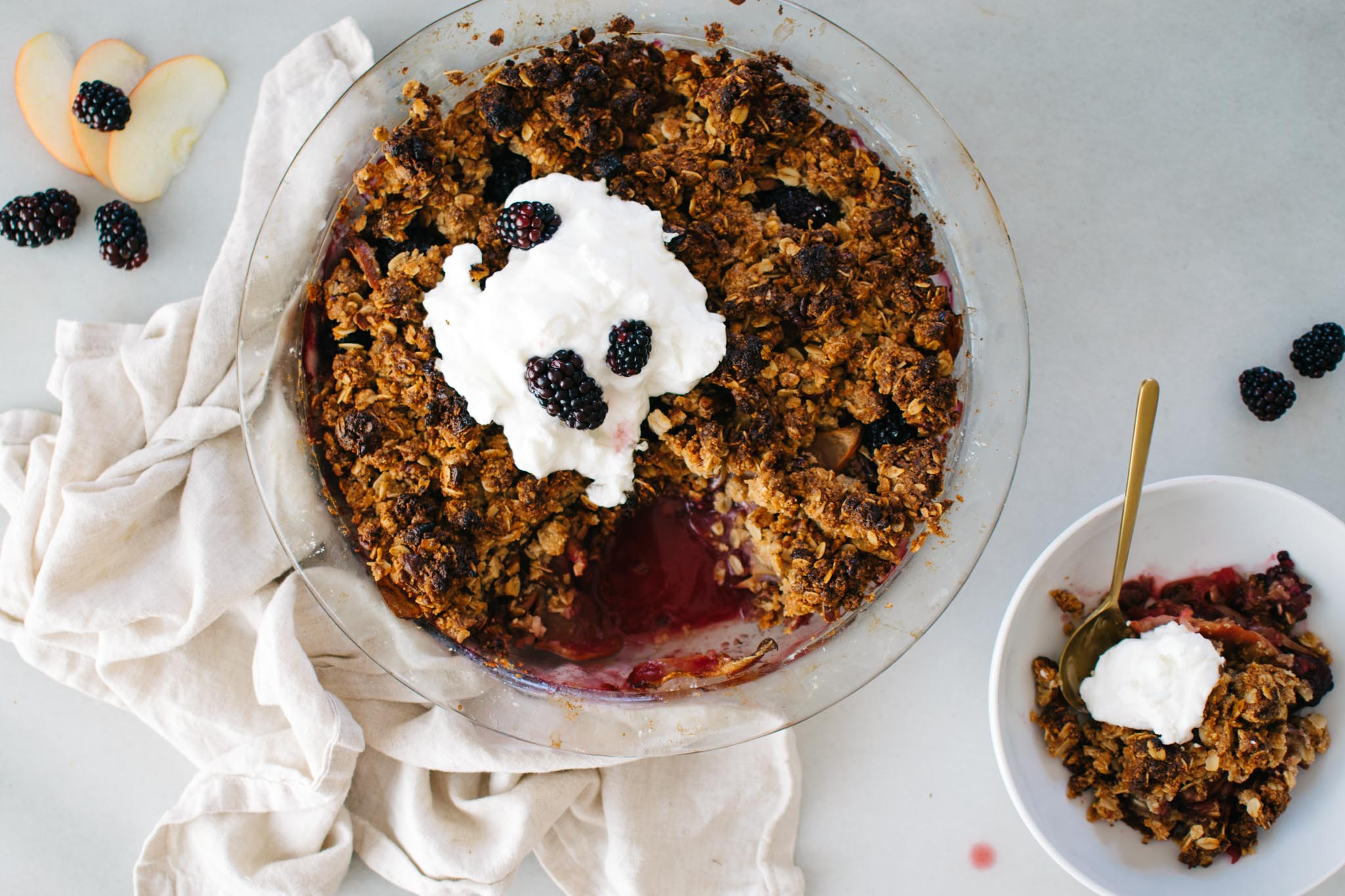 Jump to Recipe
A few weeks ago, I spent an evening on a panel with Pamela Salzman, author of Kitchen Matters (and responsible for this very apple-blackberry crisp), and Phoebe Lapine, author of The Wellness Project. The gracious Suzanne Hall, editor-in-chief of The Chalkboard Mag, joined us to talk about everything from our cooking origin stories to our opinions on the most overrated wellness trends. We gathered in a gorgeous furniture showroom smack dab in the middle of Hollywood's grit and spent the night surrounded by the buoying love of good, healthy food.
As the panel drew to a close, a woman brought a question to us: How, at the end of a busy, exhausting work day, do you find the time and summon the energy to make a meal for yourself and your kids? It's an excellent query, and one that I think about often when I recall the three meals a day my mother prepared for us—even in the maelstrom of building and running a business. It's also a matter I'm well aware I can't speak to personally, as I currently only cook for myself. But me being me, of course I had some thoughts.
First though, I deferred to Pamela, and the easy, straightforward kitchen wisdom on every page of Kitchen Matters.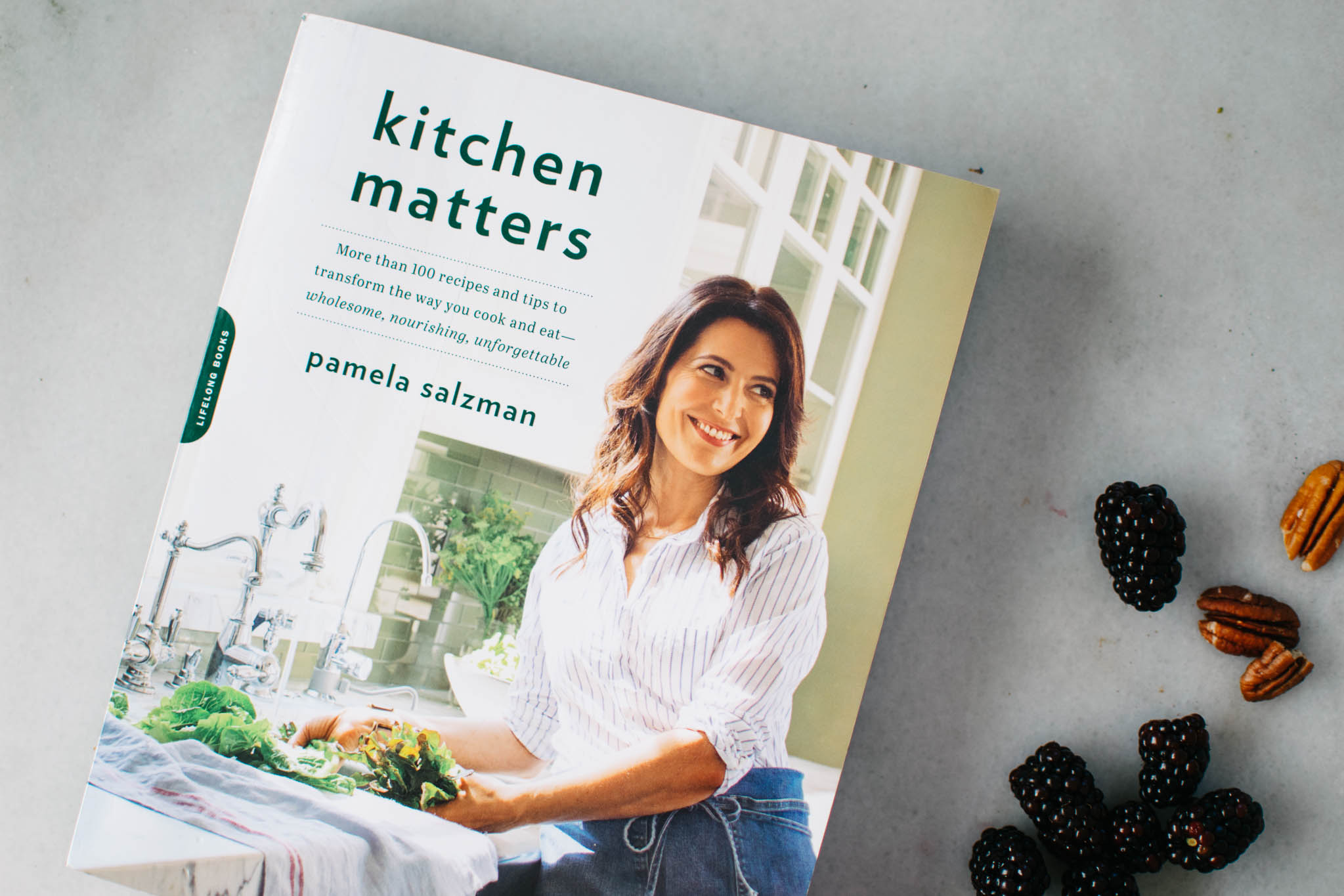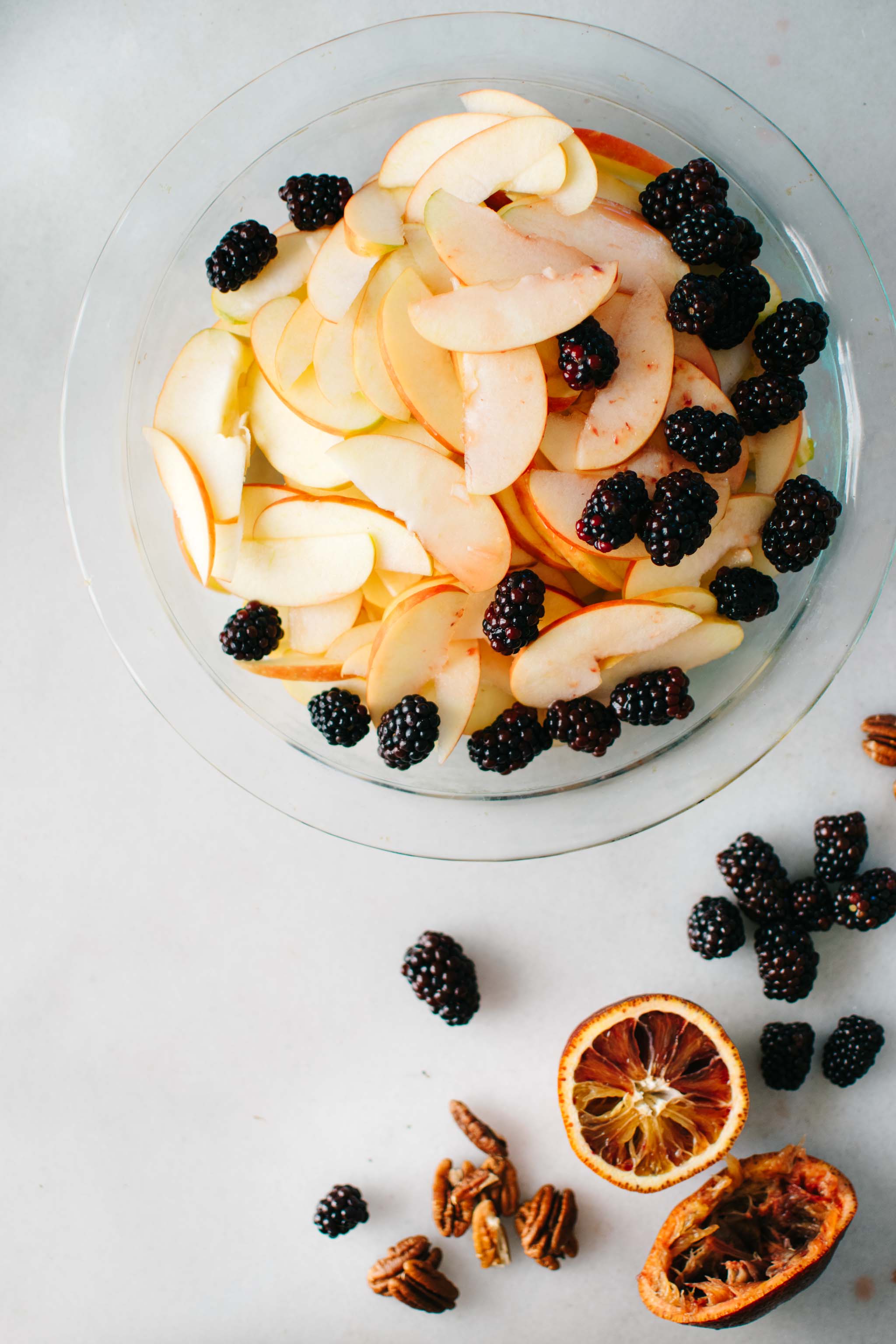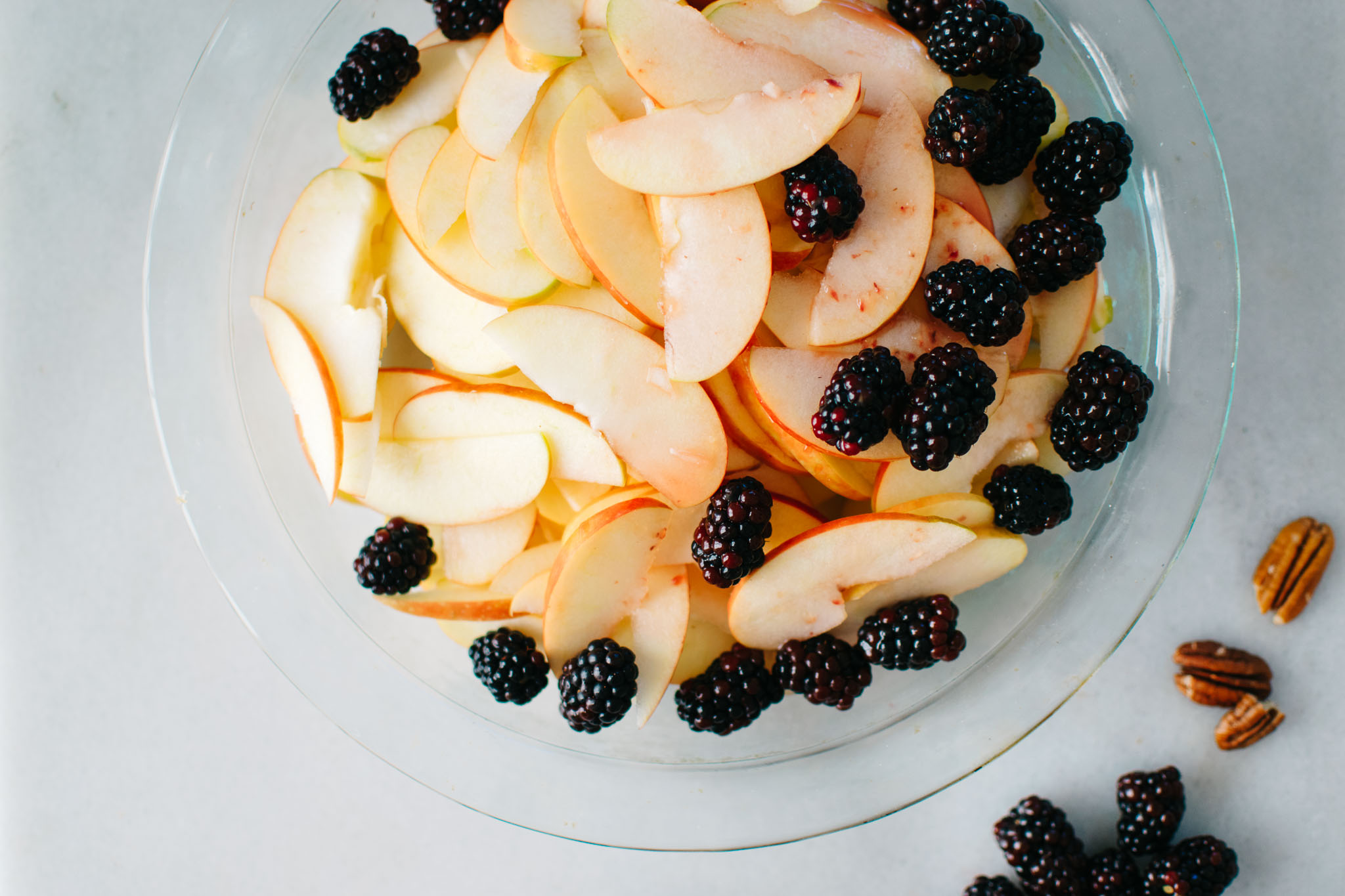 Pamela urged this aspiring home cook to develop weekly systems to stock and have access to the ingredients she would need to throw together a meal in even the deepest state of exhaustion. With just a bit of prepping the Kitchen Matters way, the mystery of nourishing oneself and one's family was gone. In place of the overwhelm, a sense of confidence and ease. Pamela—and every page of her book—makes it feel like a total breeze to cook healthfully and well.
Now that our inquirer was equipped with Pamela's logic, I threw in an intuitive addendum: We humans tend to do whatever we want, and if there is absolutely no joy in cooking, then we'll be hard-pressed to want to even enter the kitchen. To anyone seeking to make their time in the kitchen more enjoyable, I would suggest introducing something you love into the mix, something that will spark joy for the experience as a whole. Listen to your favorite Alanis album, catch up on a podcast or audiobook, or experiment with a recipe that's exciting to you. In other words, give yourself a little bit of freedom to let it feel like play.
In truth, I think these two approaches are equally necessary sides of the same coin: Pamela's sense of order and efficiency makes it possible to get all she does done in a day (she's got three kids, a husband, and a full-time job as a private culinary instructor—oh yah, and she wrote a book, too). And the thing is, it all works because the kitchen is so clearly and vibrantly her happy place—where she lights up, where her love of food is so contagious it inspires others, too.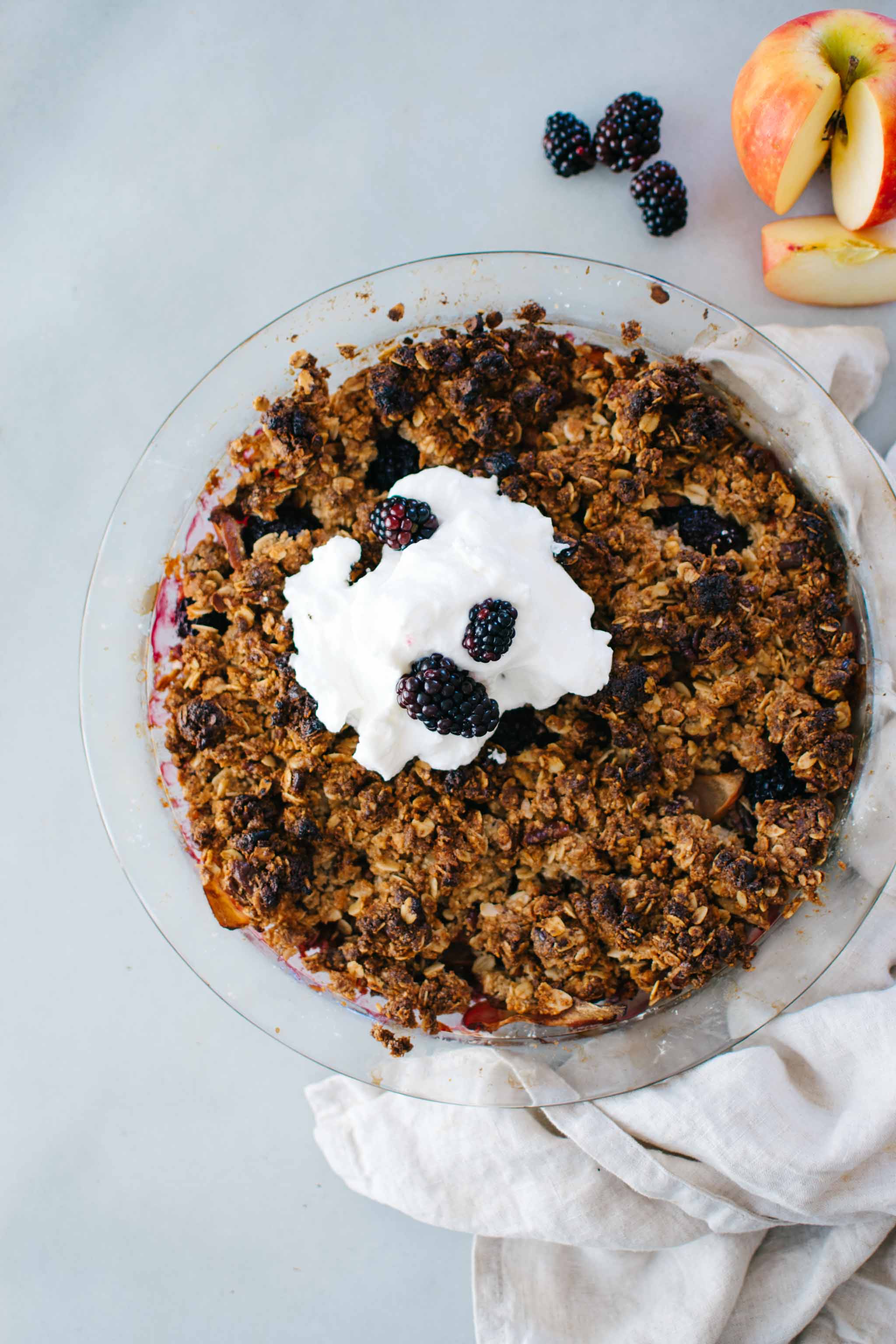 Which brings us to this absolutely perfect breakfast crisp—though truthfully I'd eat it at any time of day or night. It relies on the abundant sweetness of apples, blackberries, and orange juice in the filling, the rich flavors of coconut, pecan, maple, and cinnamon in the gluten-free crumble, and a perfect melding of textures throughout.
I love how familiar Pamela's food feels—her recipes are all classics—while simultaneously swapping out processed ingredients for more wholesome options. Here, wheat flour is replaced by almond flour, sugar by maple syrup and orange juice, cornstarch by arrowroot. Everything is simple as pie, or perhaps I should say crisp. Doesn't matter, because it's just pure delicious.
Get yourself a copy of Kitchen Matters and let Pamela's insights transform how you cook and how you move in your kitchen. And then make this breakfast treat. It's a surefire spark-joy.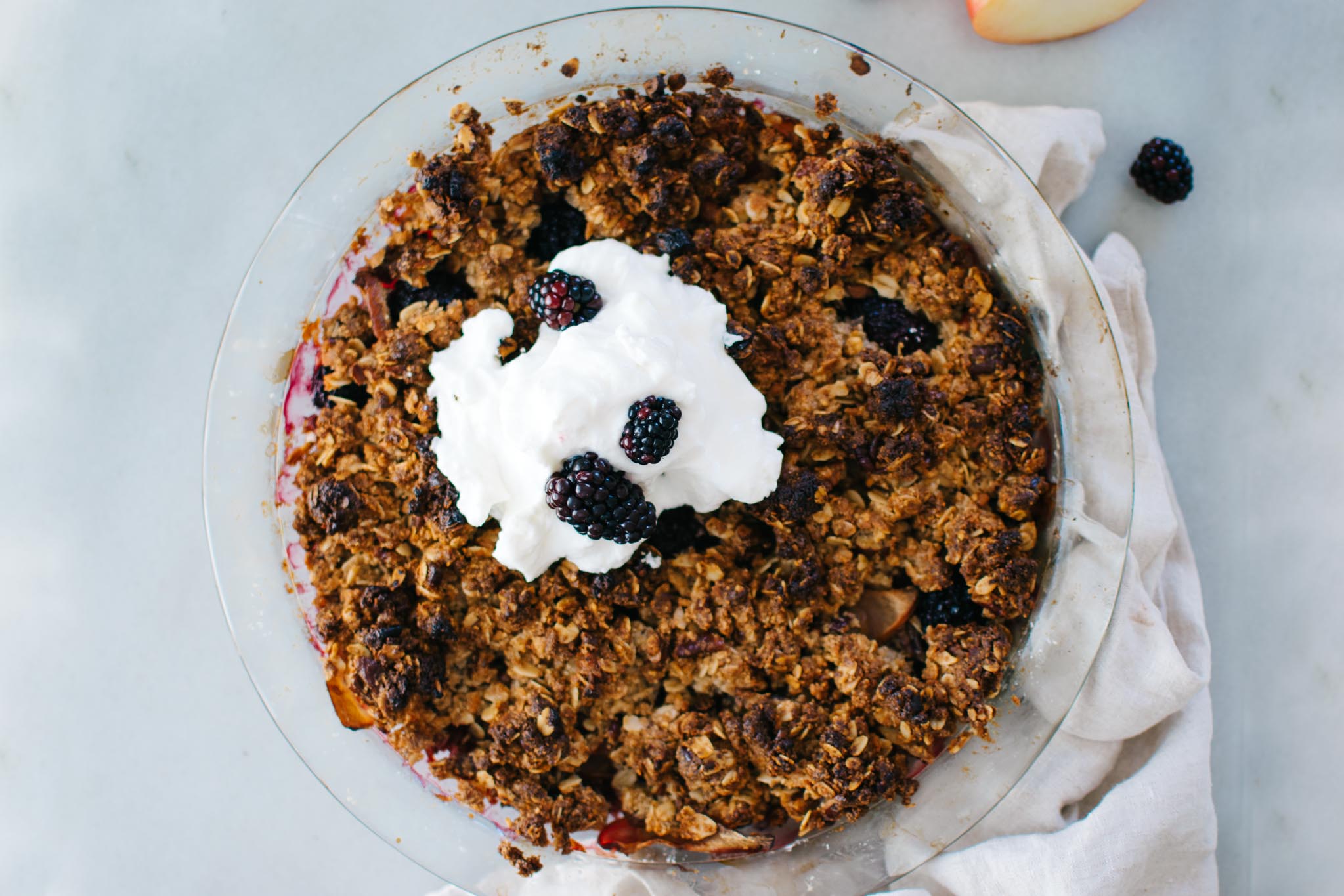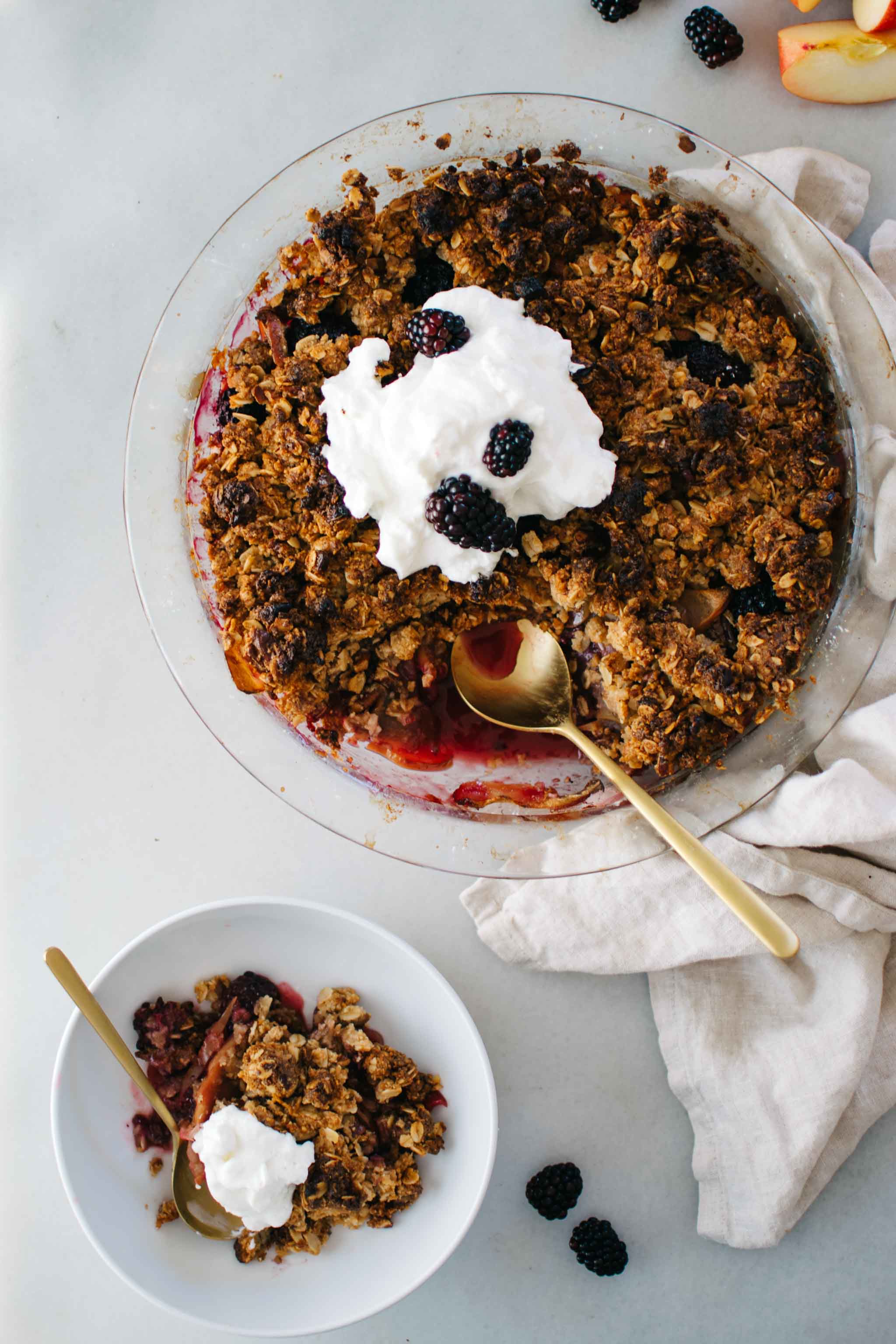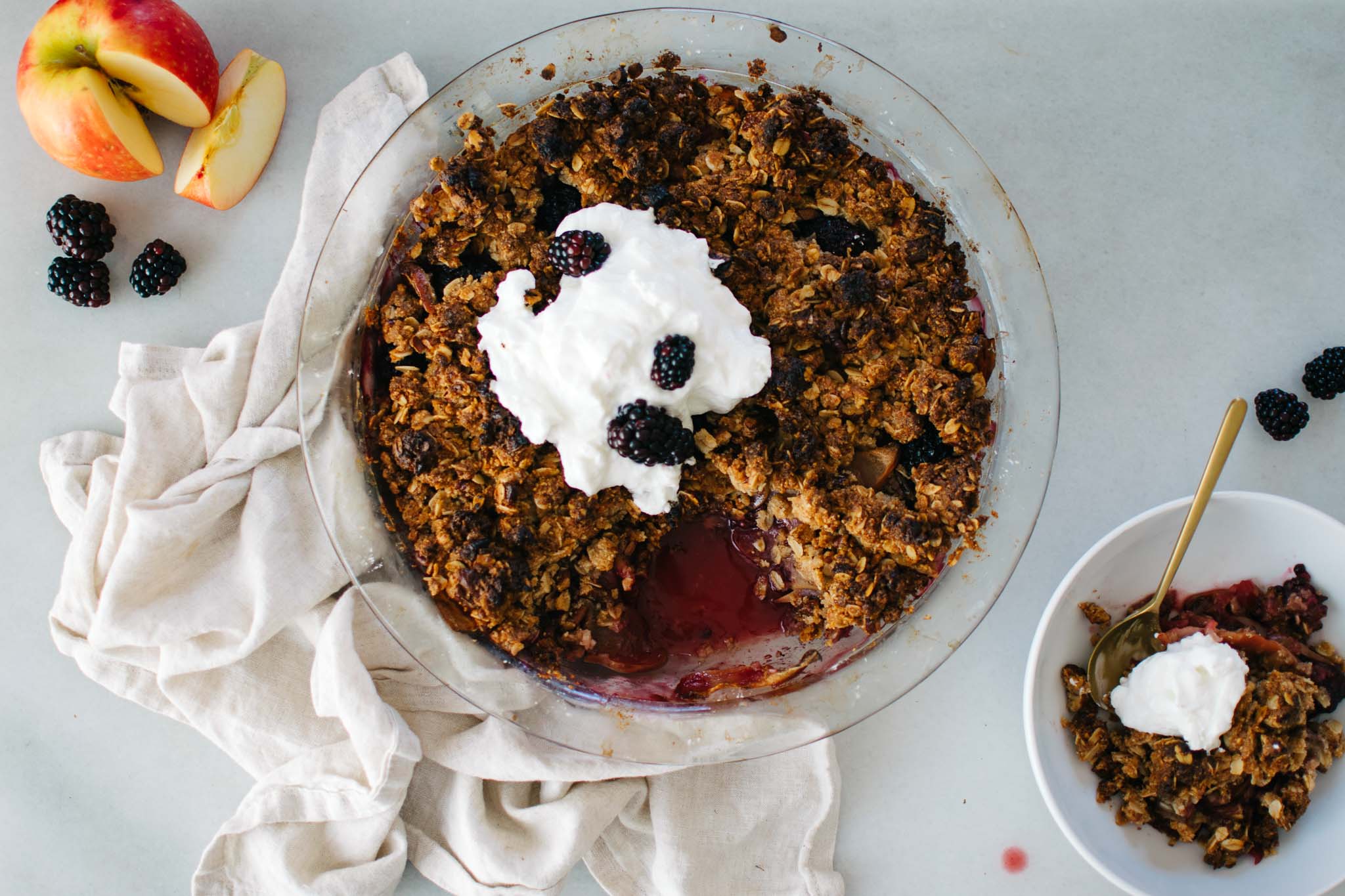 PAMELA'S APPLE-BLACKBERRY BREAKFAST CRISP.
Reprinted with permission of the author from Kitchen Matters, copyright Da Capo, 2017.
Ingredients
FILLING
1

pound

apples, peeled only if desired, cored and sliced thinly (4 to 5 small apples)

12

ounces

fresh or frozen and defrosted blackberries

juice of 1/2 orange (about 3 tablespoons)

1

tablespoon

arrowroot powder
TOPPING
1 1/4

cups

almond meal or almond flour

3/4

cup

certified-gluten free old-fashioned rolled oats

2/3

cup

raw pecans, chopped

6

tablespoons

unsweetened coconut flakes

5

tablespoons

Grade A maple syrup

1/2

teaspoon

sea salt

1

teaspoon

ground cinnamon

pinch

ground nutmeg

1/2

cup

unrefined virgin coconut oil, at room temperature, or 8 tablespoons (1 stick) unsalted butter (not vegan/DF)

Greek yogurt for serving (optional; omit for vegan/DF, or look for coconut or almond milk yogurt as a vegan/DF alternative)
Instructions
Preheat the oven to 375ºF.

Prepare the filling: combine the apples, blackberries, orange juice, and arrowroot in a bowl and pour everything into a 9- or 10-inch pie plate or cast-iron skillet and spread evenly.

Prepare the topping: Combine all the topping ingredients in a bowl and mix with your hands until no longer dry, forming small "nuggets" of topping. Alternatively, use an electric mixer to combine everything. Using your hands, arrange the crisp topping on the filling and place the baking dish or skillet on a rimmed baking sheet. Bake for 40 to 50 minutes, or until the fruit is soft and bubbling and the topping is golden brown. If the topping is getting too golden before the fruit is soft, tent with aluminum foil. Serve warm with yogurt, if desired.