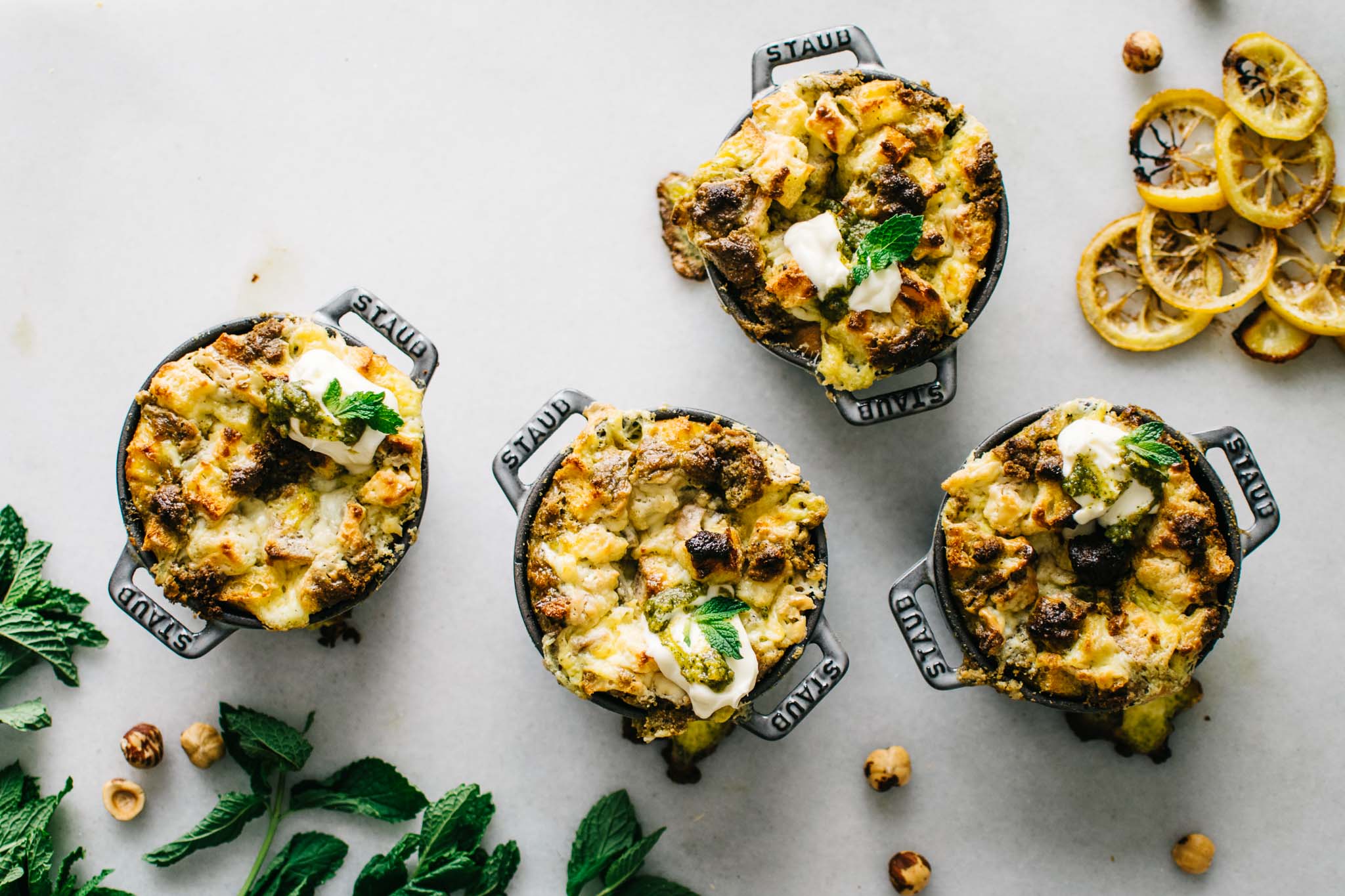 Jump to Recipe
This post was created in partnership with Vermont Creamery. All opinions are my own.
When I was a little girl on Maui, we'd go to the beach on the weekends. Lay in the coconut palm-fronded shade and sun ourselves. Let the sand talk warmth into our upcountry toes. And when the waves were gentle enough, I'd take myself down to the liminal space of the shore and lay in the slow slapping of the waves as they pull-crash-pulled with the tide. My body was free, cajoled only by saltwater, buoyed by the planet's most primordial fluid. I was happy. The past week felt like this. After so much tightness, a surrender.
I took my body down to the shores of publishing a book, I gave myself to the tides, and I let them take me. I surrendered the madness of minutiae leading up to this moment—the recipe development and testing, the shooting, the design, the website overhaul, the marketing, the PR hustle, the article writing, the interviews, the party planning, the making sure every little darn thing was going to be ok. I finally got to set it all down in the tide. And what came back was a rush of love like I've never felt before.
And for that love, for Mother's Day, I bring you absolute brunch perfection: Layers of egg and bread are laced with creamy, rich Vermont Creamery mascarpone and my eat-it-by-the-spoonful addictive roasted lemon mint pesto from #kaleandcaramelcookbook. Yes, you do need to make strata, this very strata, this weekend.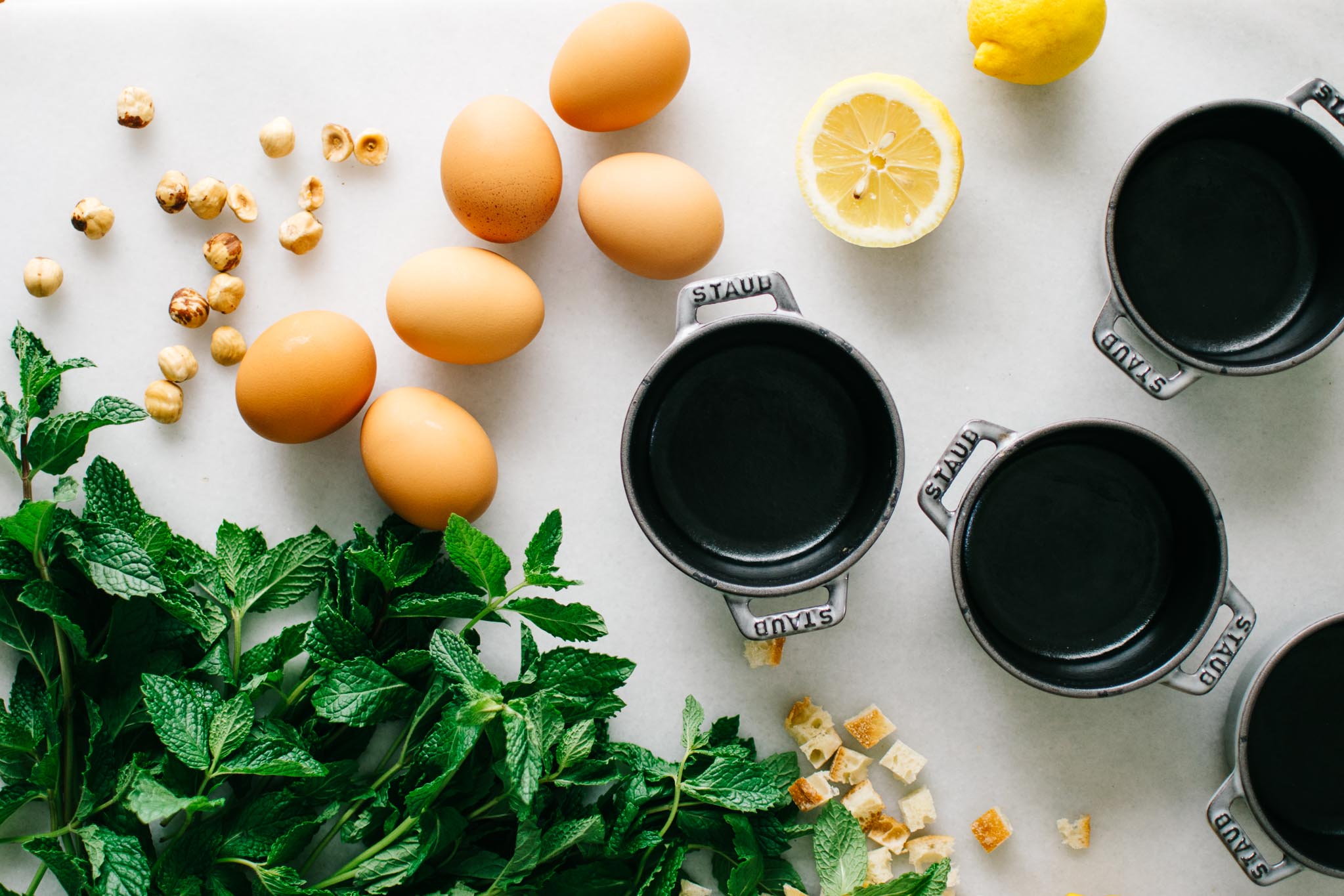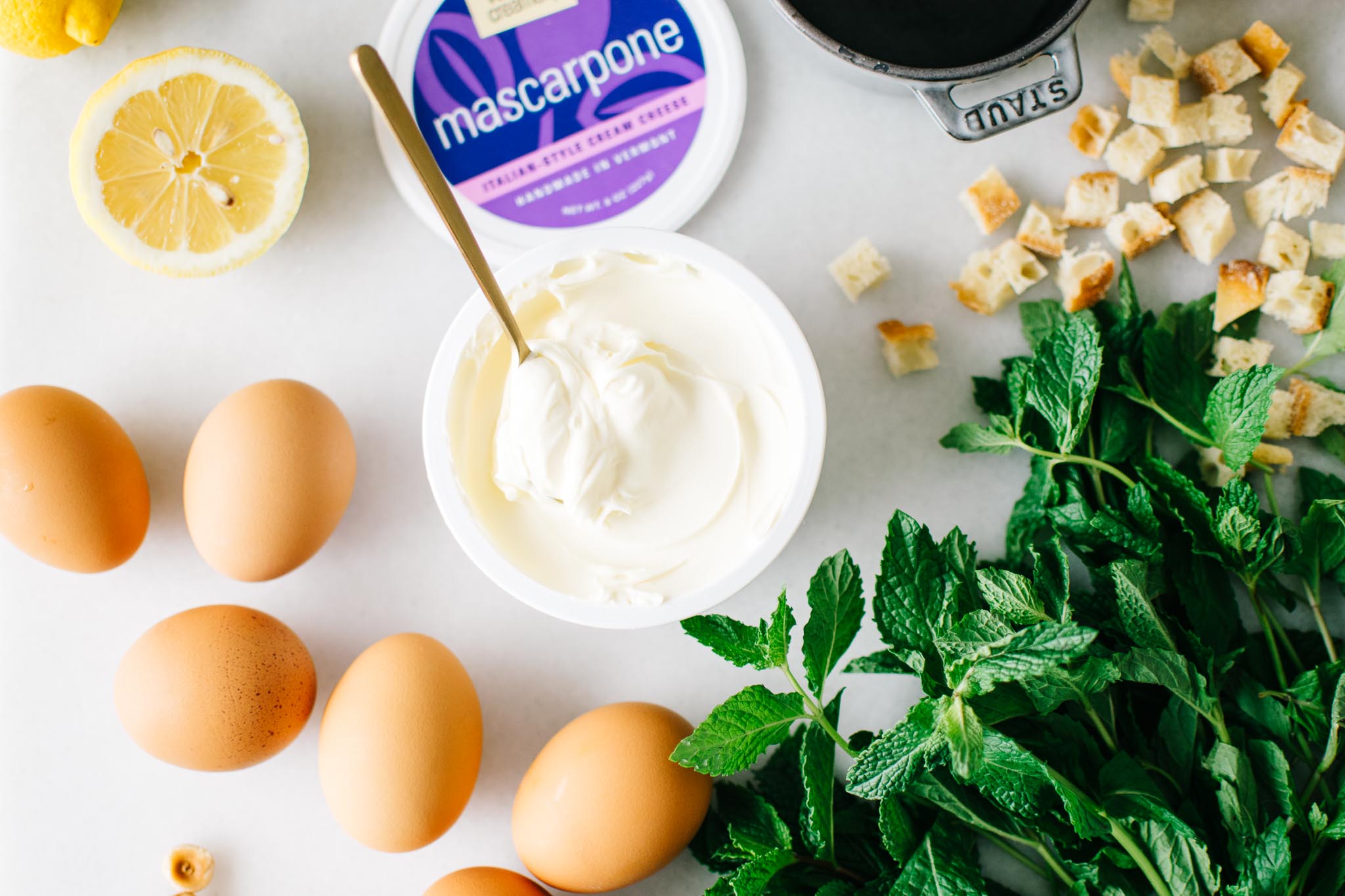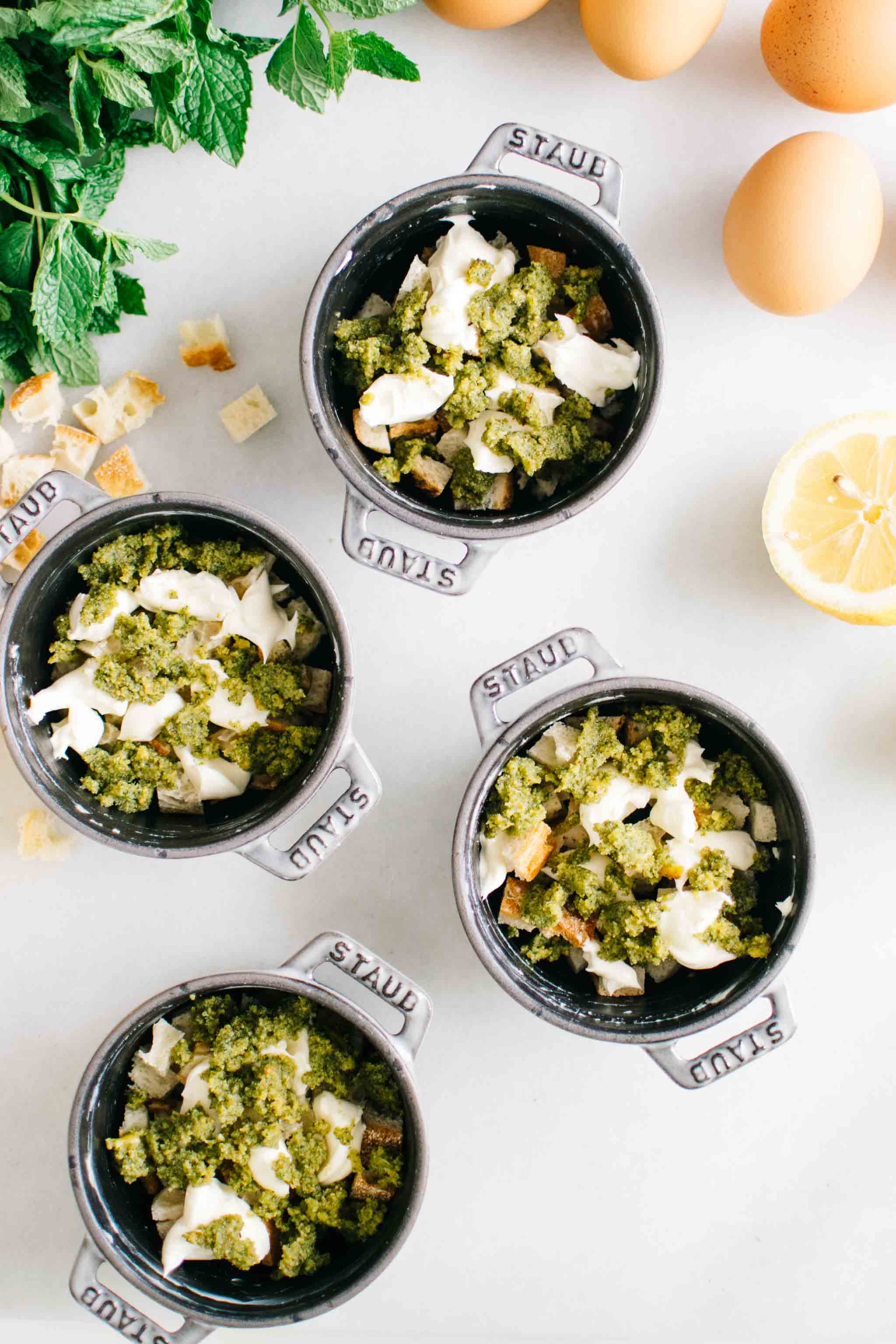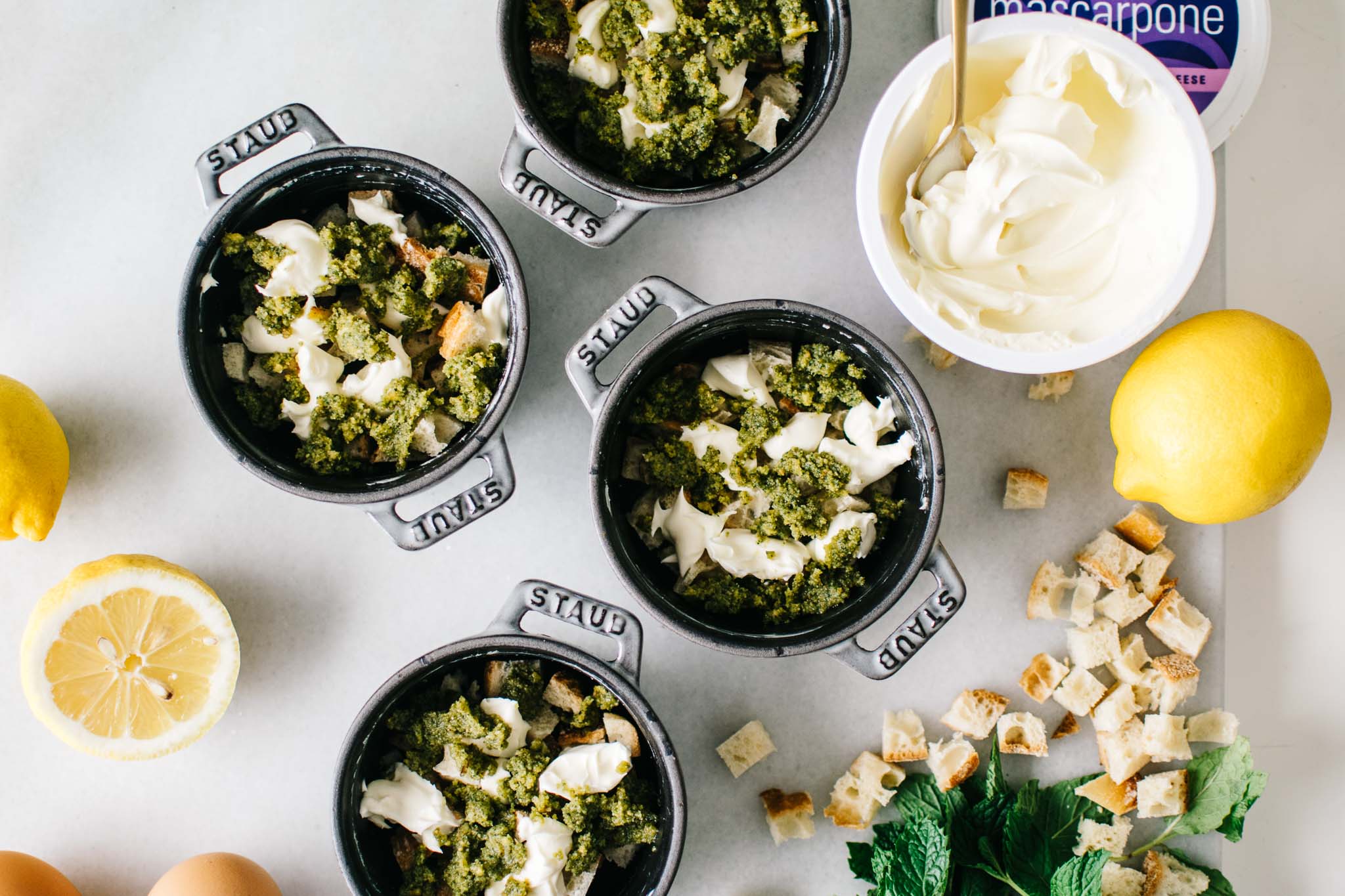 So. Here I am in the tidal wash of #kaleandcaramelcookbook finally being out in the world. It's still stunning to me to see your pictures as the book arrives in your home, as you start cooking from it, as you read it in bed at night. As it moves you. As it makes you feel a little less alone. That's all I ever wanted. You (yes you) humble me.
I also noticed that I've gotten so good at taking care of business, making sure everything is done, making sure everyone else is looked after, cared for, comfortable, that the act of receiving is a little foreign to me. Feeling the upswell of support has been, then, both deeply heartening and slightly unnerving. It's reminded me how much I need to soften in order to receive. It's tapped me on the shoulder and asked me to slow down and feel a part of myself I don't often feel.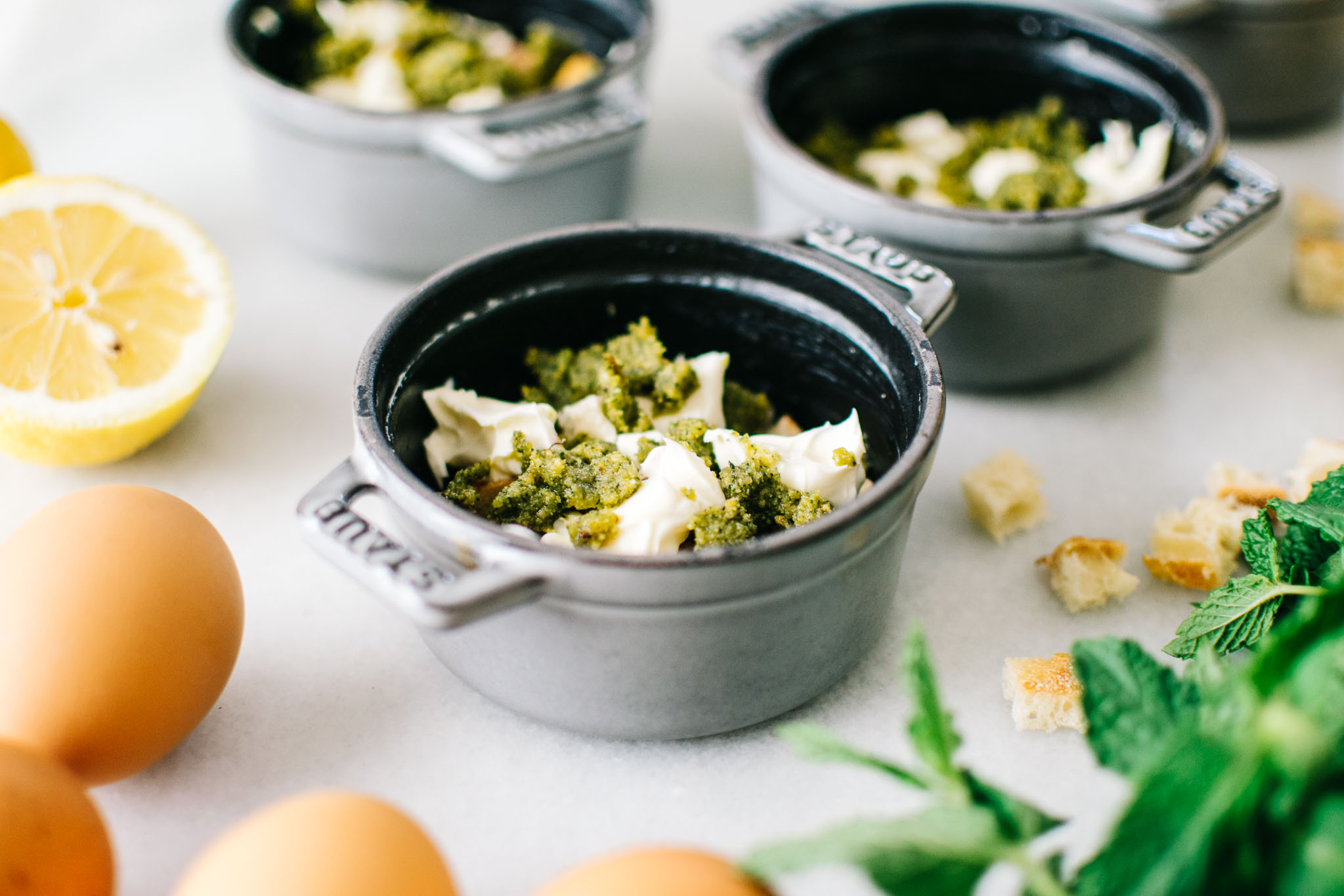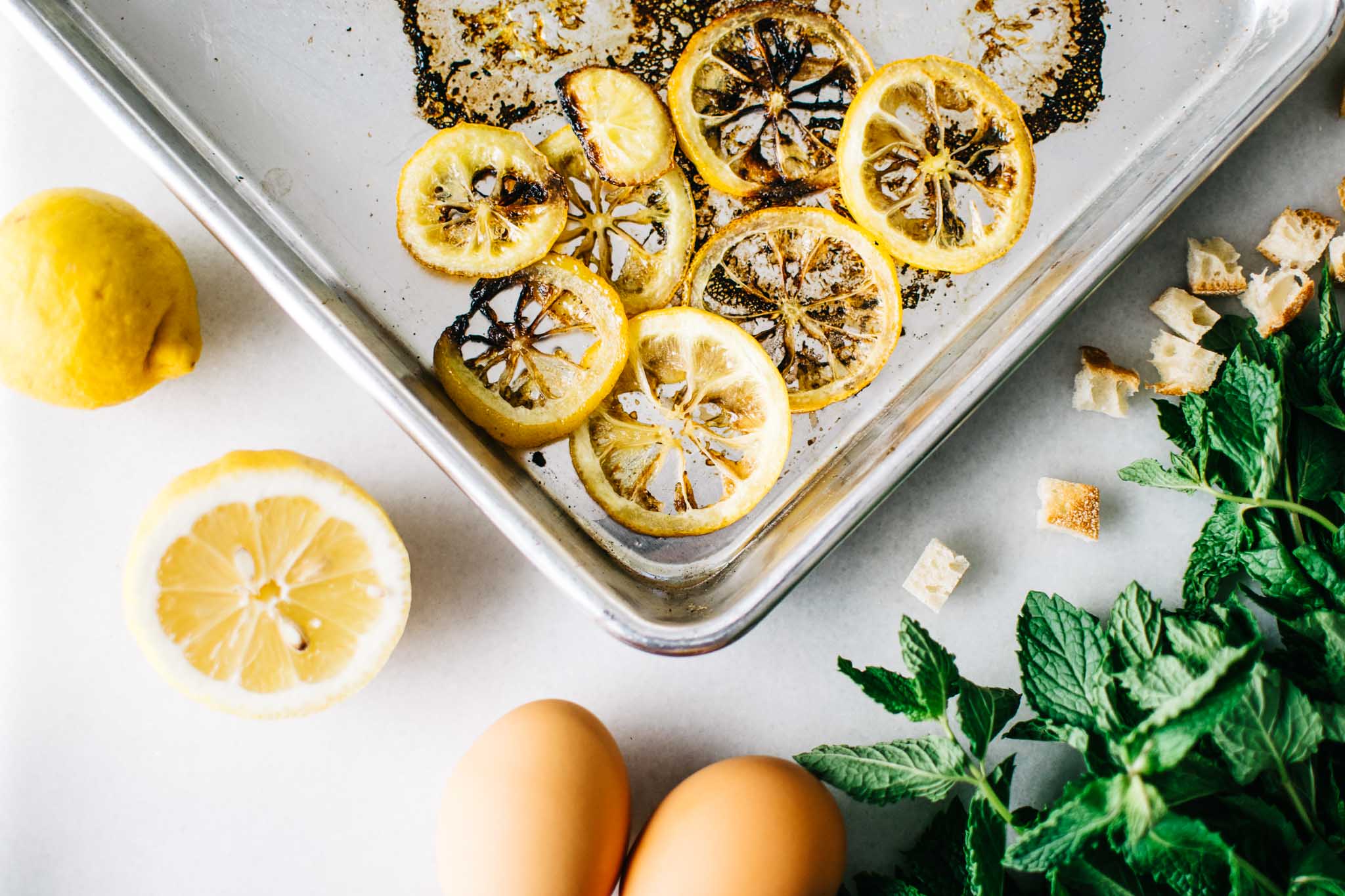 And so, as much as I'm still in the throes of event planning and book launch mania, I'm also trying to take a few minutes each morning, each evening, to settle down into the goodness of what's just happened. A friend's mother texted me last week, saying A little bit of you is going to belong to everybody now. And it's true. I feel like my heart has been duplicated, expanded, fragmented, and refracted into your homes. And your hands. And your hearts. I feel more full than ever.
This sweetness is even more potent as this is a time of year that's not always the easiest for me: For the past nine years since she died, Mother's Day has proved to be a field of emotional landmines. It's gotten easier as time passes, but there's always a sting. A missing. A lack. This year, though, it feels different. This year, I get to share stories of my mother, her craft as an aromatherapist, her insights and wonders, with you. The book is, more than anything, an ode to her. And it would make a perfect gift for your mama, too.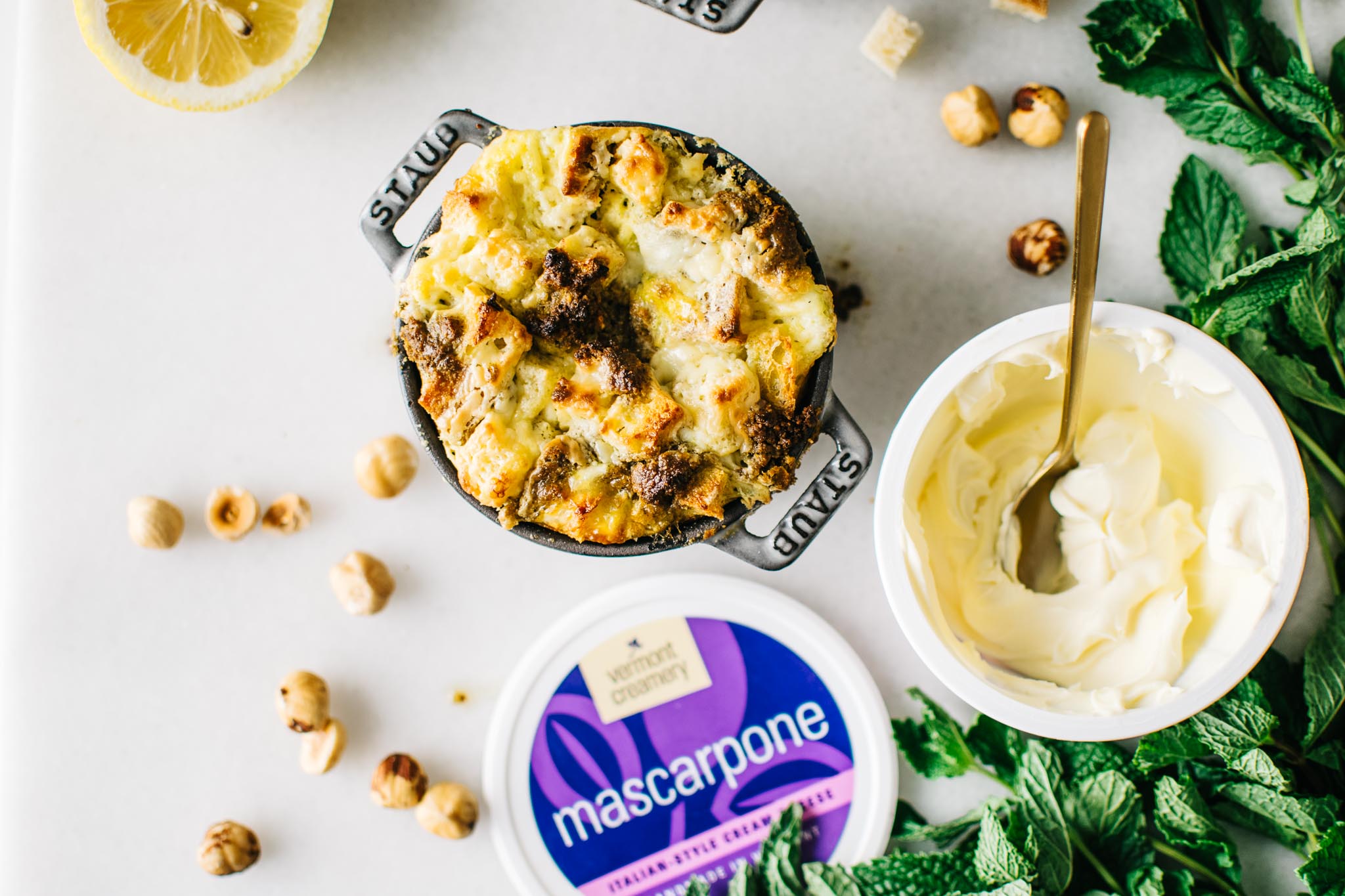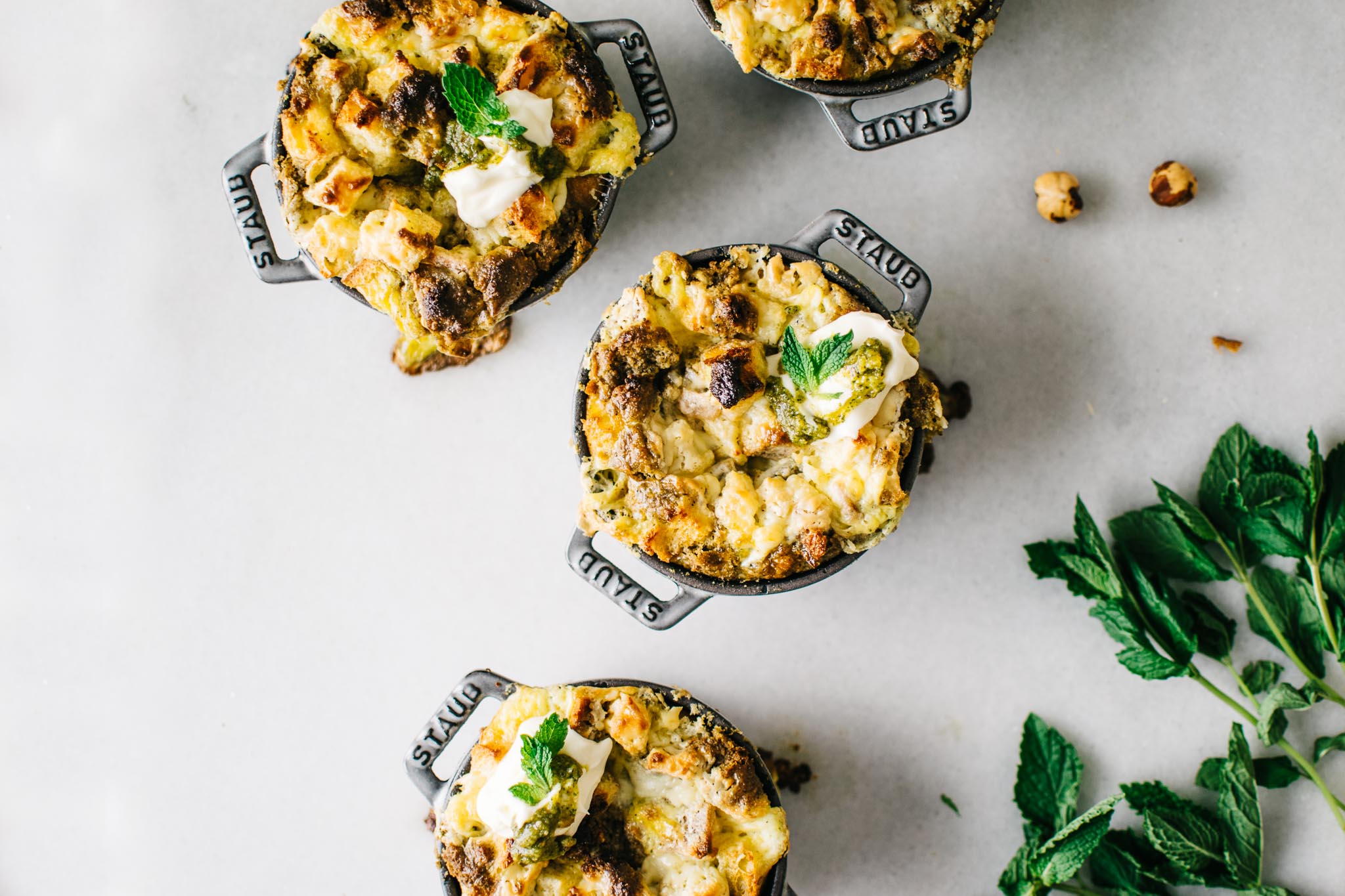 So. This weekend. You. Some loved ones. This heavenly strata. The Kale & Caramel cookbook. Boundless mother love.
And maybe some extra Vermont Creamery cheese to make a perfect cheese platter when cocktail hour rolls around.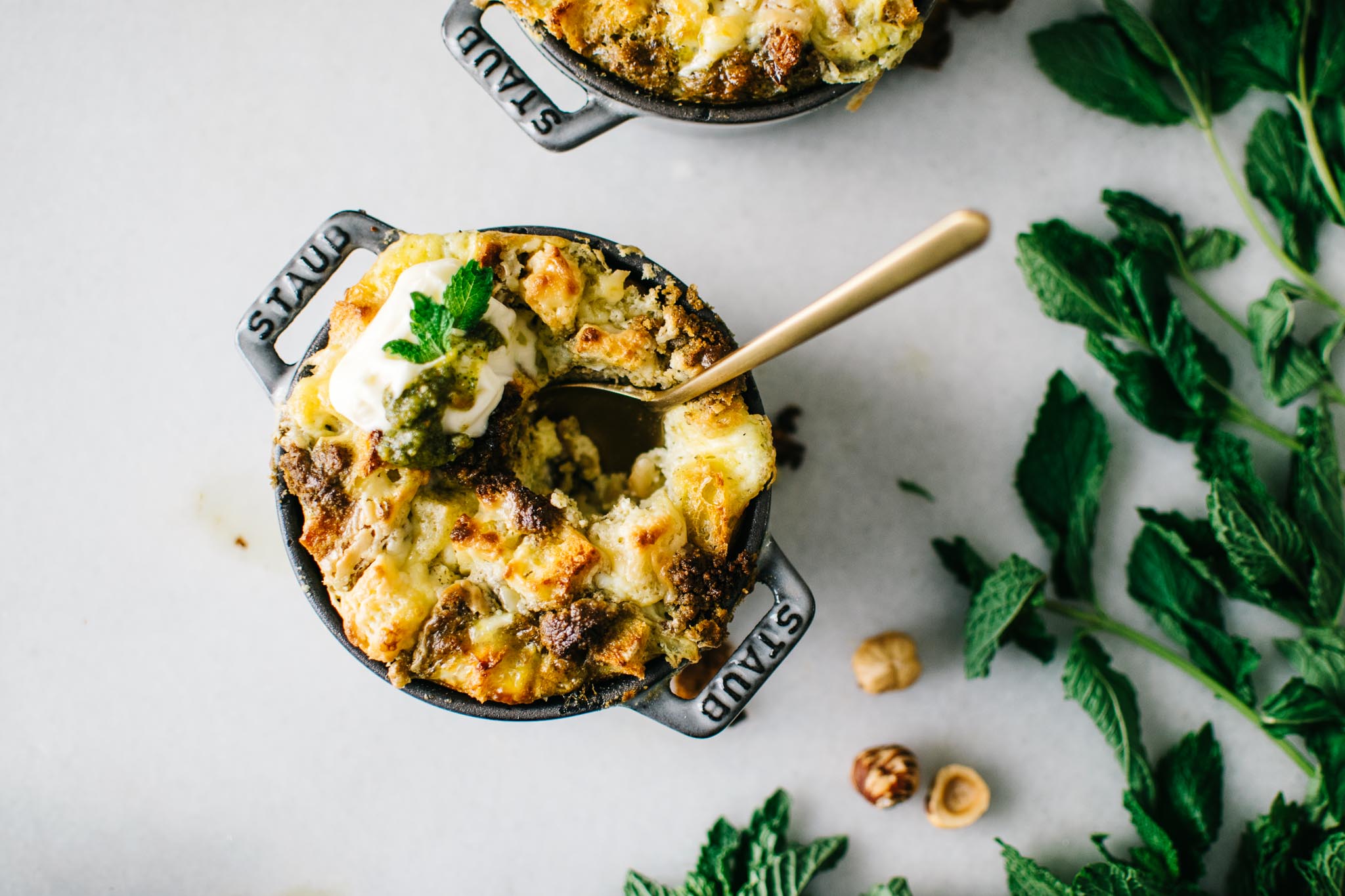 ROASTED LEMON MINT PESTO & MASCARPONE STRATA.
The perfect brunch strata for spring, with layers of bread and egg, mascarpone cheese, and roasted lemon mint pesto from the Kale & Caramel cookbook.
Total Time
1
hour
10
minutes
Ingredients
Roasted Lemon Mint Pesto & Mascarpone Strata
butter, for ramekins, cocottes, or pan

6

eggs

1 1/2

cups

whole milk

1/4

teaspoon

sea salt

1/4

teaspoon

black pepper

2 2/3

cup

cubed bread

1

cup

Vermont Creamery mascarpone

1

cup

roasted lemon mint pesto

recipe below
Roasted Lemon Mint Pesto
1/2

medium lemon, washed, thinly sliced, and seeded

1/4

cup + 3 tablespoons

olive oil, divided

1

cup

fresh mint leaves

1/4

cup

toasted hazelnuts or almonds

2

cloves

garlic

1/4

teaspoon

sea salt
Instructions
Make the pesto.
Preheat the oven to 450ºF. Line a small baking sheet with parchment paper and lay the lemon slices in a single layer on the sheet.

Drizzle with 1 tablespoon of the oil.

Roast for 15 to 17 minutes, until the juices are tacky and the lemons are beginning to caramelize.

Let cool for 10 minutes, then transfer to a small food processor, add the remaining 1/4 cup plus 2 tablespoons oil, the mint, hazelnuts, garlic, and salt and blend until you have a very lightly chunky pesto.
Make the strata.
Preheat the oven to 375ºF. Butter the bottom and sides of four 8-oz. ramekins or mini cocottes. Alternatively, use an 8- or 9-inch pie pan.

Whisk together eggs, milk, salt, and pepper, until completely blended.

Add a 1/3 cup layer of cubed bread to the bottom of each ramekin. Cover with dollops of mascarpone and pesto, totaling 1 tablespoon of each. Add another 1/3 cup layer of cubed bread, and more dollops of mascarpone and pesto, totaling another 1 tablespoon of each. (Each ramekin gets 2/3 cup bread cubes, 2 tablespoons of mascarpone, and 2 tablespoons of pesto total.)

Place ramekins on a large baking sheet. Pour about 3/4 cup of the egg mixture into each ramekin, filling to just below the top.

Bake for 30-35 minutes, until the strata has set and is beginning to brown on top. You may get some cheese and pesto spillover—that's what the baking sheet is for.

Let cool for 5 minutes, then top with a final dollop of mascarpone and pesto, garnish with fresh mint leaves, and serve.