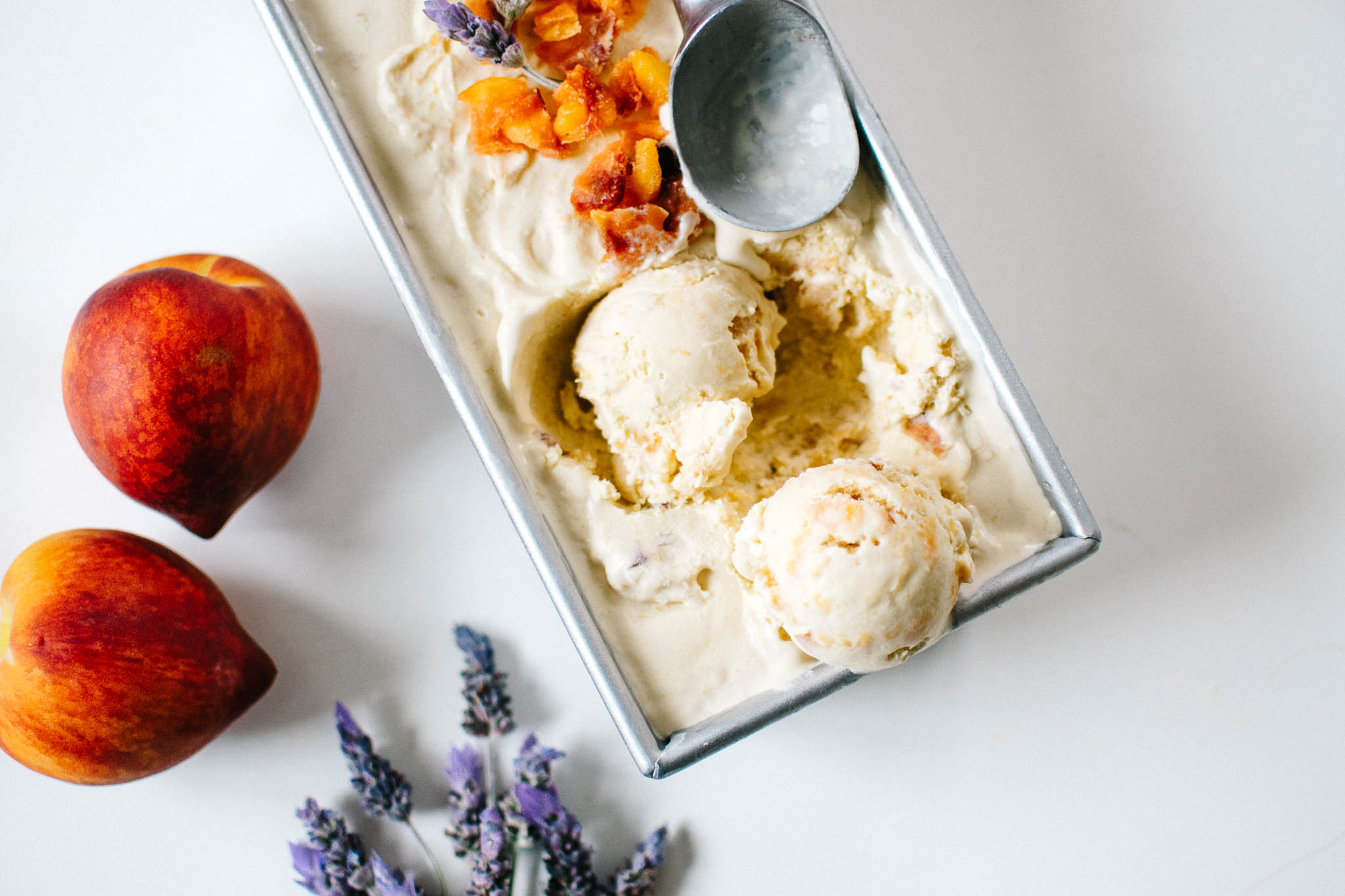 Jump to Recipe
The first thing I notice, always, is the air. It lands differently on my skin here—heavier, weighty with humidity and ocean and the scent of weather that changes in an instant. In my five minute walk from the open-air baggage claim to the car rental shuttle, it rained, gusted, and settled easily back to a balmy tropical serenity. It's temperamental and gentle and fierce and warm and moody. This is Maui.
I arrived on Sunday and the past few days have been a warm and hazy mix of friends and ocean and late-night nachos and walks with dad. My first morning was spent wandering around the property where I grew up—checking on the surinam cherries, the baby mangoes, the unripe figs, the almost-ready black raspberries, the totally green Meyer lemons, the lychee tree where my mom's ashes were buried, which narrowly escaped a recent tropical tree blight. We look at the buddha sitting amidst the irises nodding in the breeze. We survey the bananas. We think about what is next.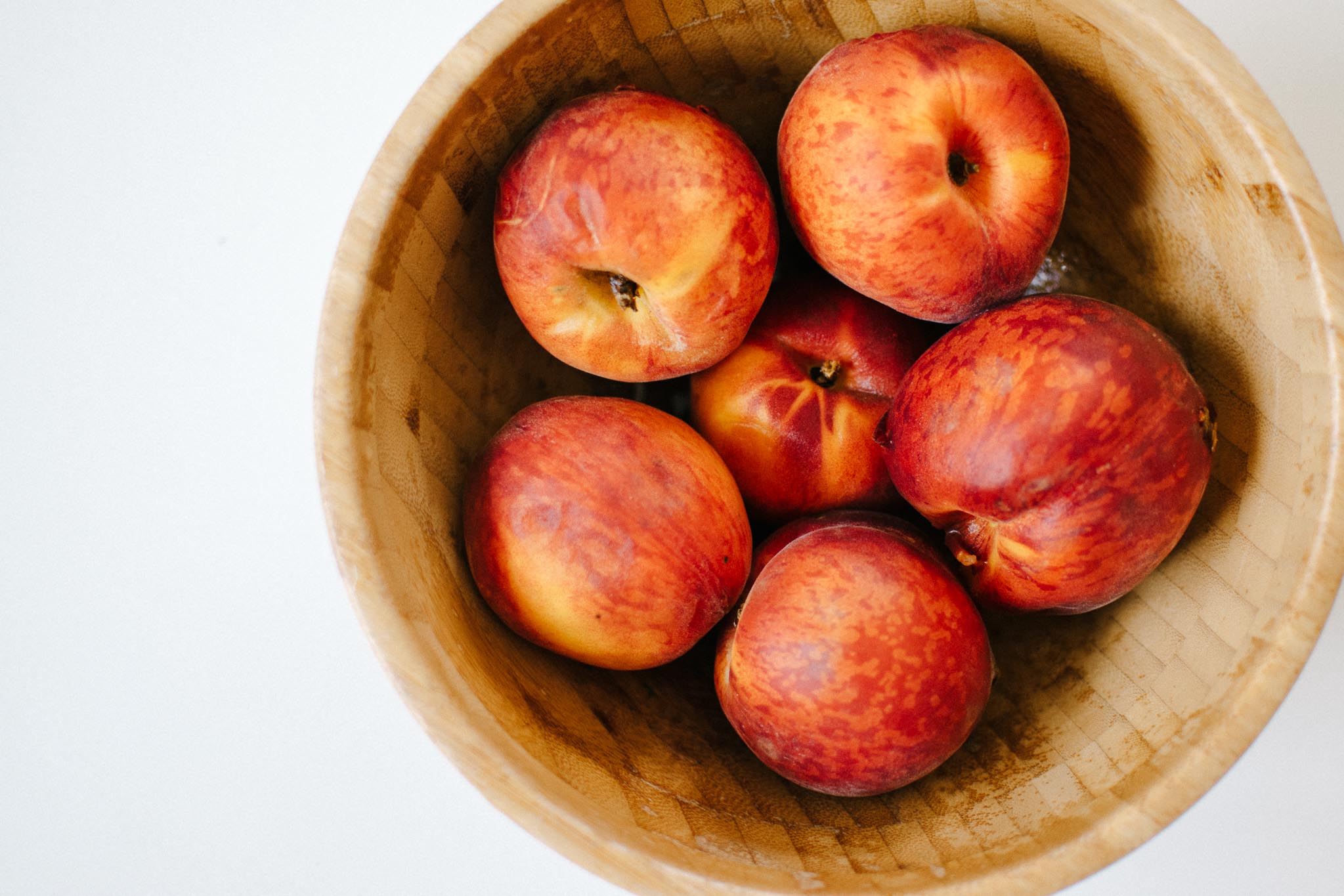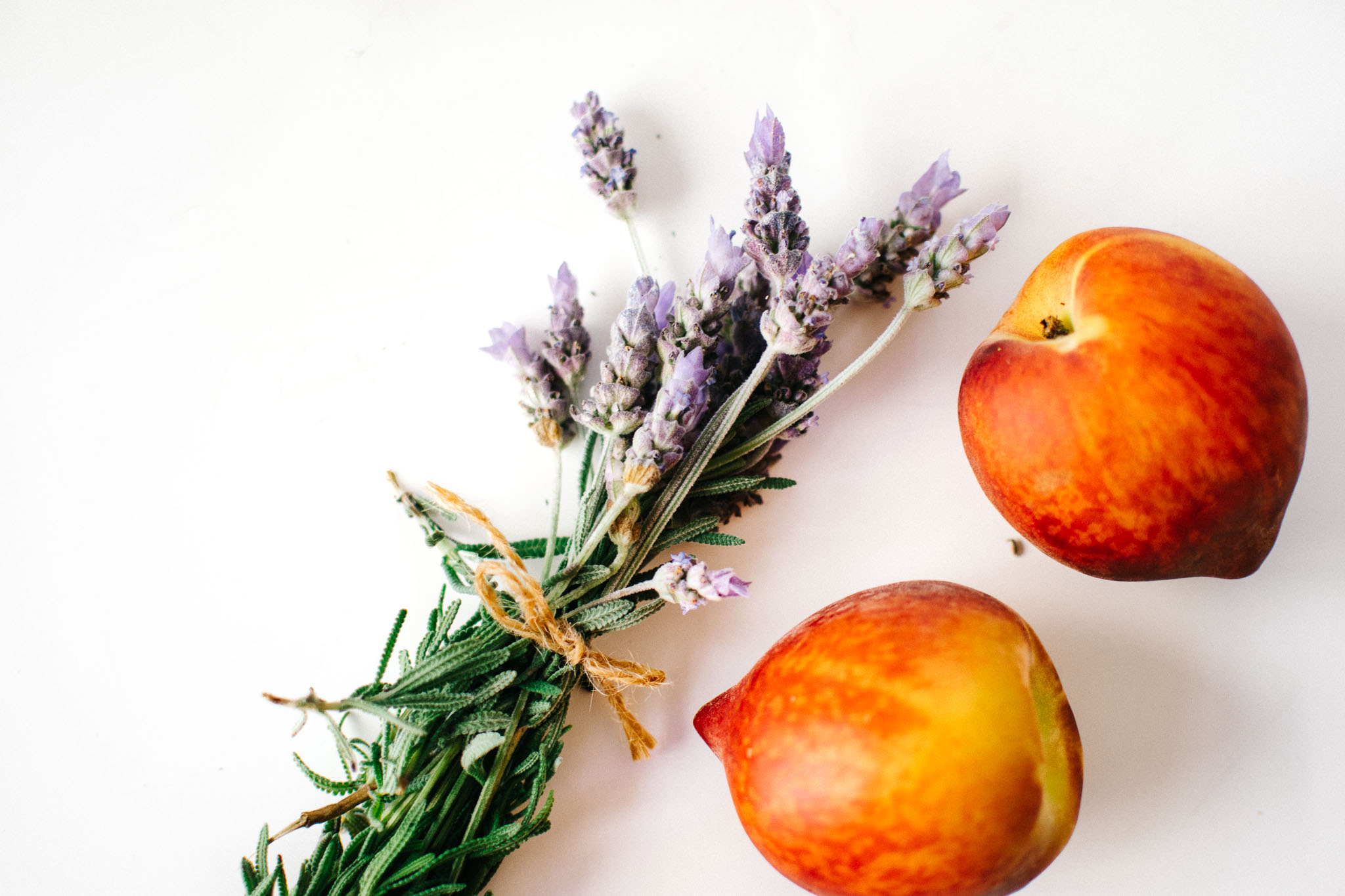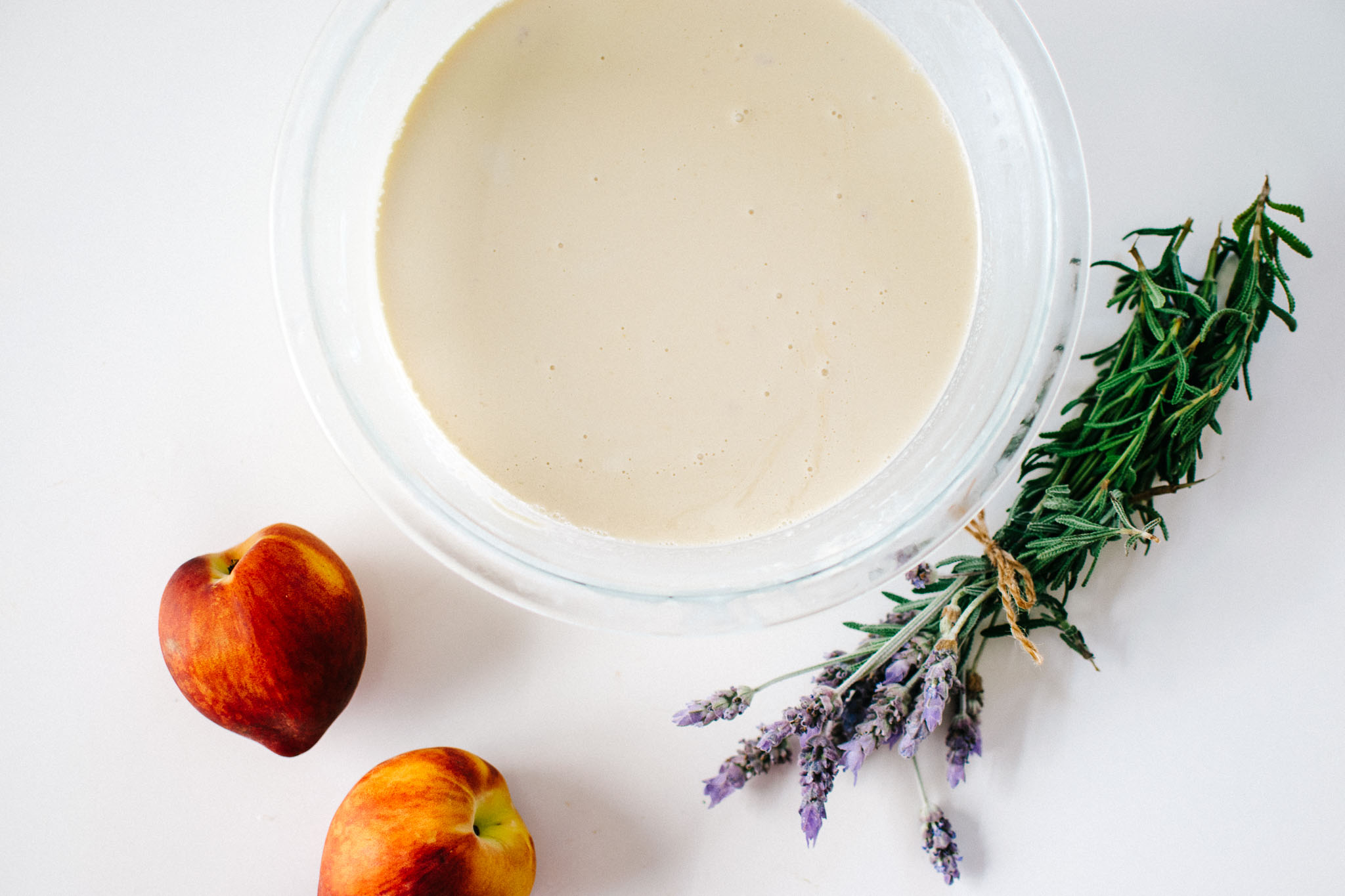 It's been a good six months since my last visit, and much has changed here. I'm still rolling with the punches of some of these changes (the details aren't mine to share), and it's made the emotional textures of my time here unpredictable. And of course, on top of those shifts, there is the specific weightiness of celebrating the Kale & Caramel cookbook in my hometown without the person most honored in its pages: my mother.
I don't know the answers to every question grief poses—and, as I explore new terrain in the course of my life, it continues to present varied and unfamiliar quandaries—but I do know that feeling it all is my only option. So there will be joy and sadness and longing and anxiety and comfort and fulfillment, all in one sweet glass of honey lavender lemonade.
And still, we will celebrate. I'm excited to gather with people who've been in my life for many decades, to give back some of the love and excitement that my Maui community has extended to me over and over again. And I must say, I'm particularly thrilled that my sixth grade English teacher will be in attendance. If you're on Maui, please come see us at Driftwood in Makawao town, June 7th at 6pm.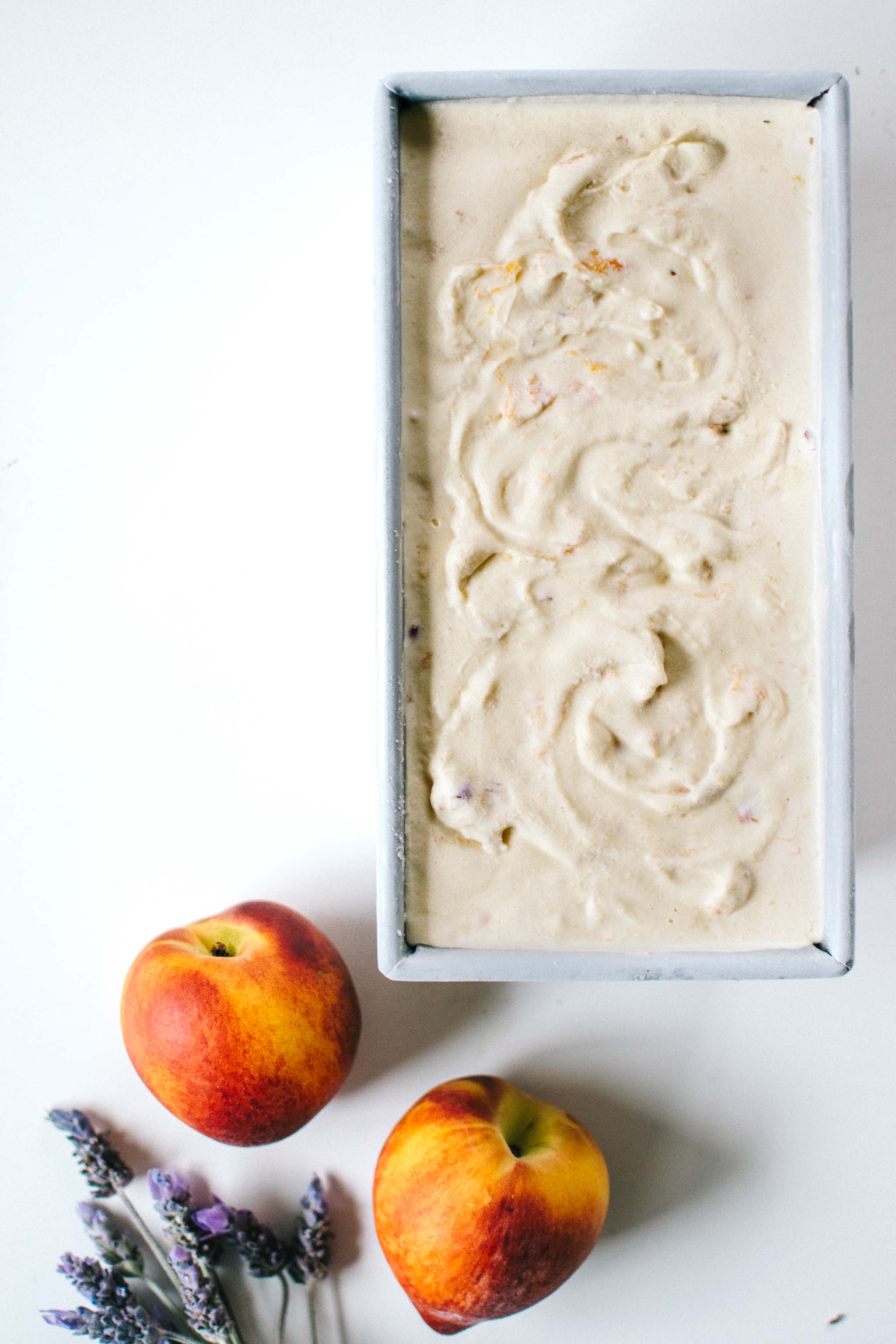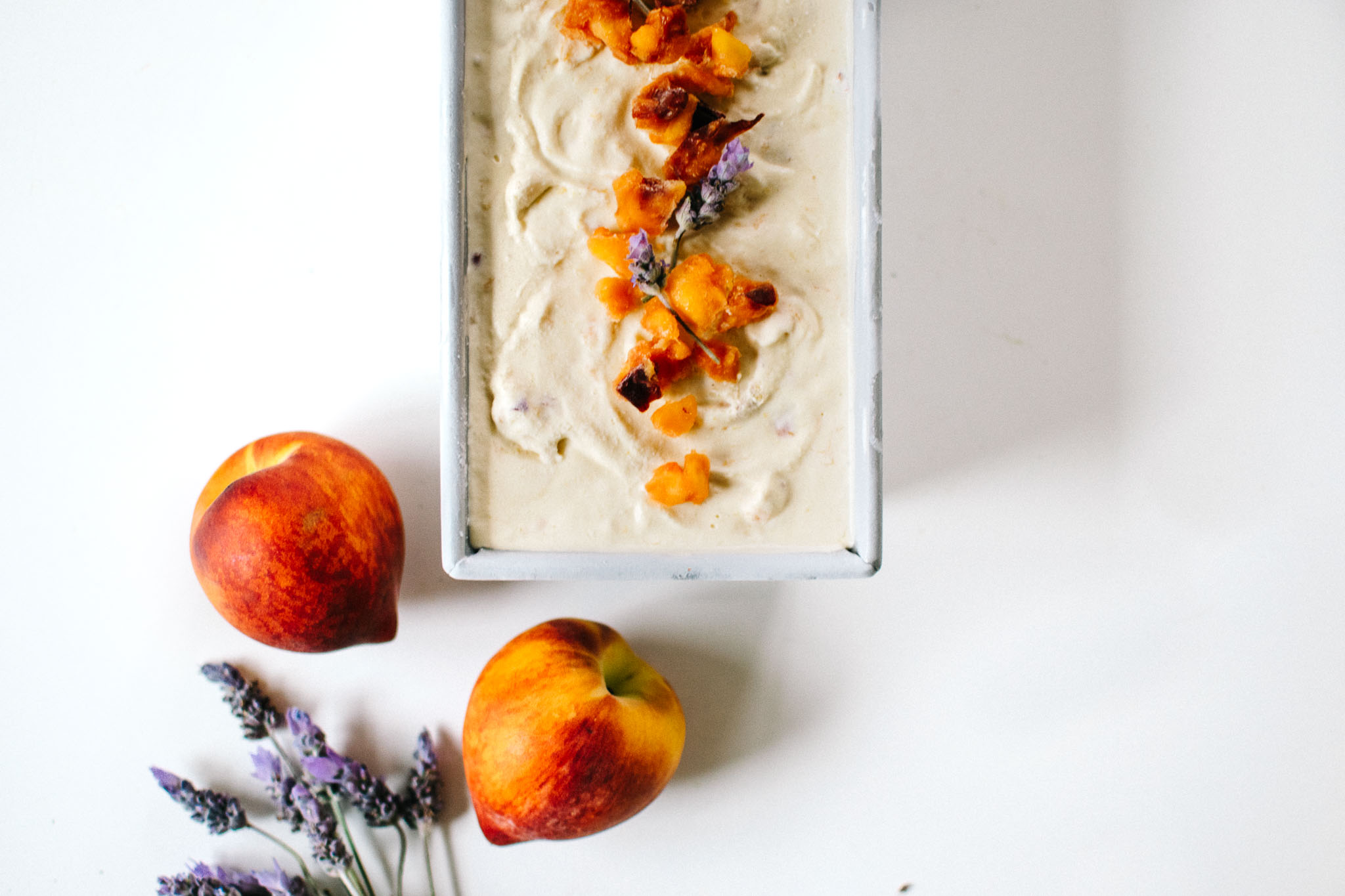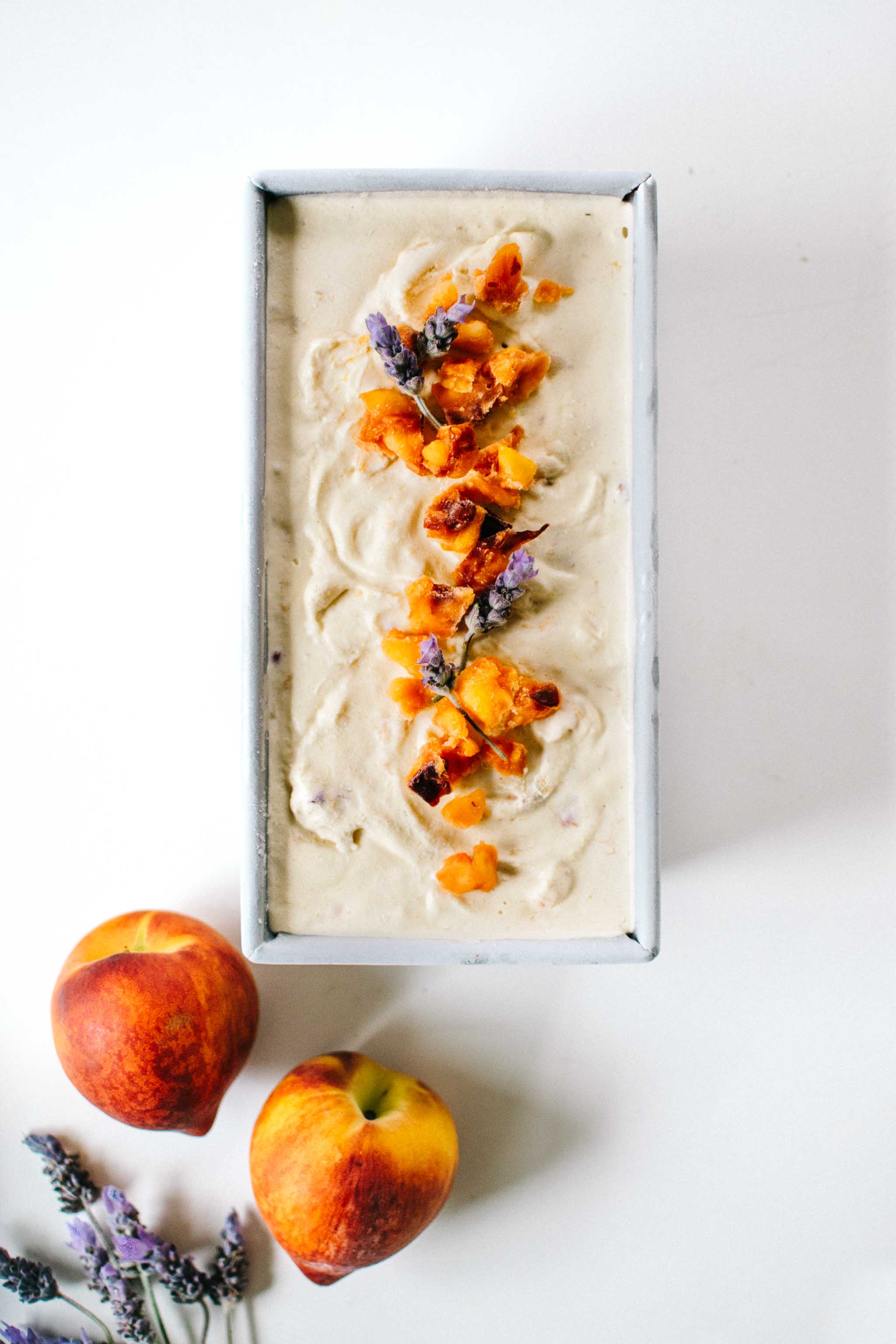 Before I left, I made this lavender peach ice cream. It's a flavor combination I've been dreaming of for months—I had a sip of lavender tea last year that struck me with unmistakable notes of fragrant, ripe peach. Ever since then, I've been dreaming of the best way to unite the two. I decided to combine them in my favorite ice cream base, and the results were incredibly exciting.
This is not an overly sweet ice cream. It's tinged with honey, bursting with summer fruit, alight with lavender. It's creamy and tender and just the right amount luscious. You'll have trouble stopping. You'll want to keep going. You'll want to sleep on a (somewhat chilly but it's so good who cares) bed of this ice cream.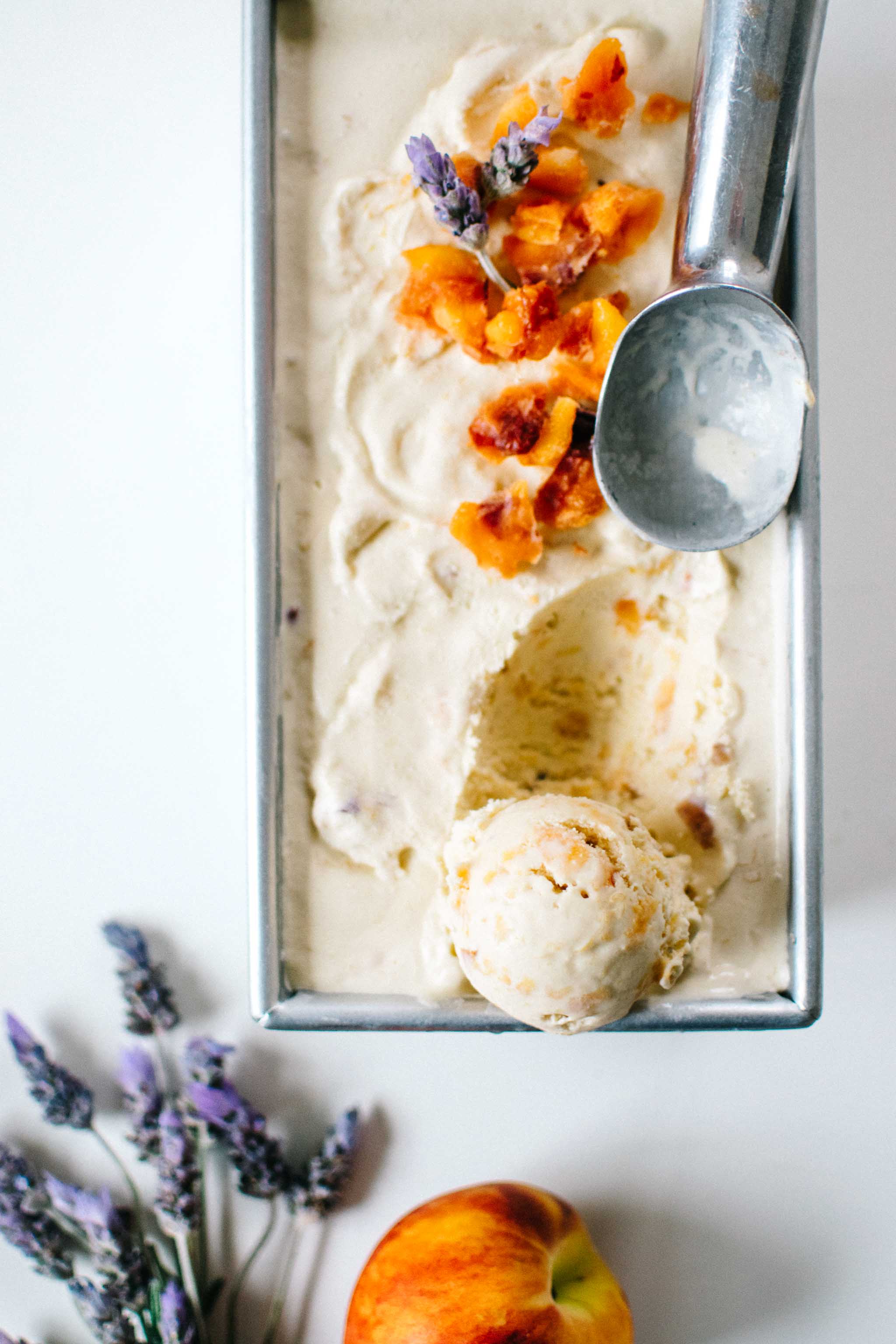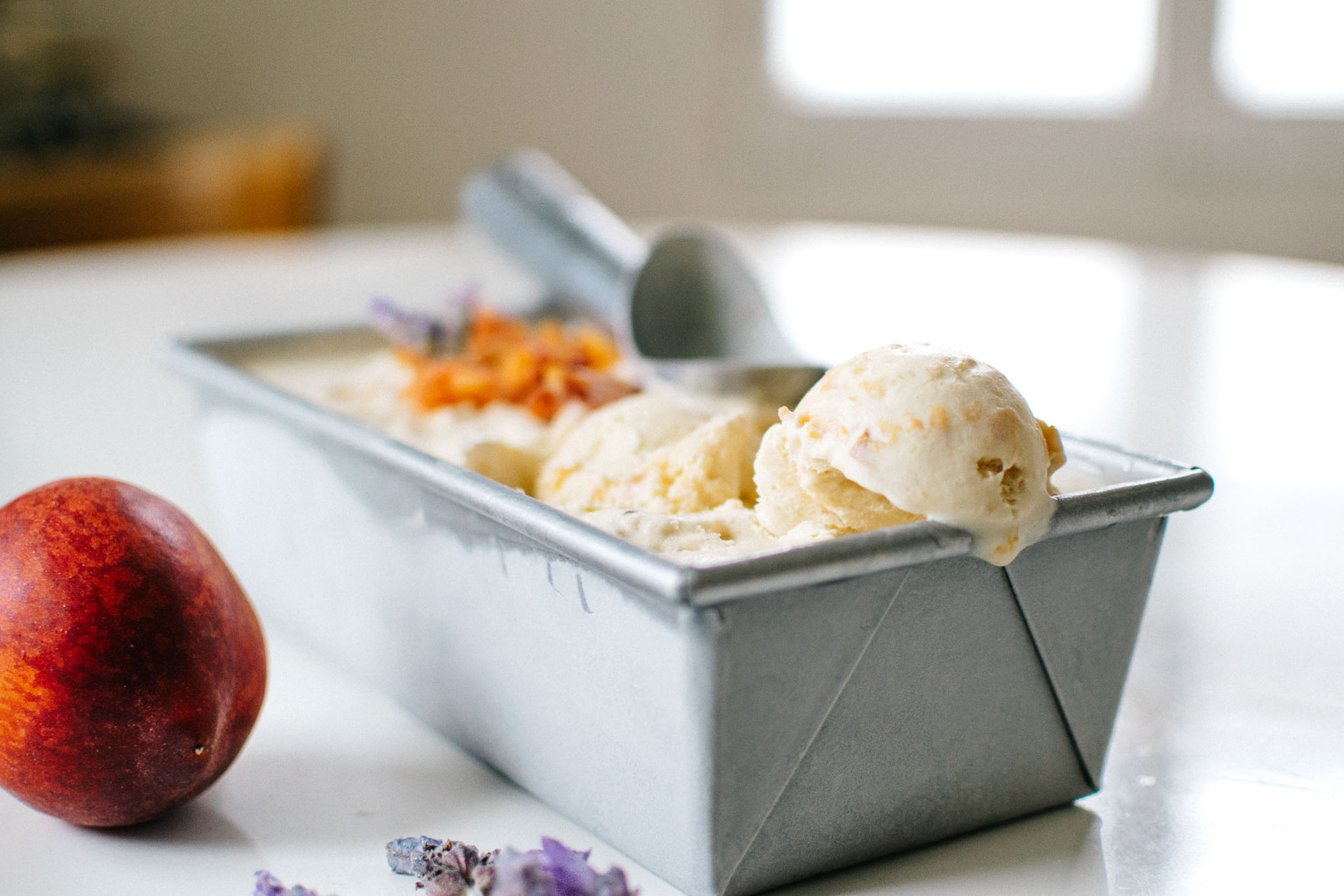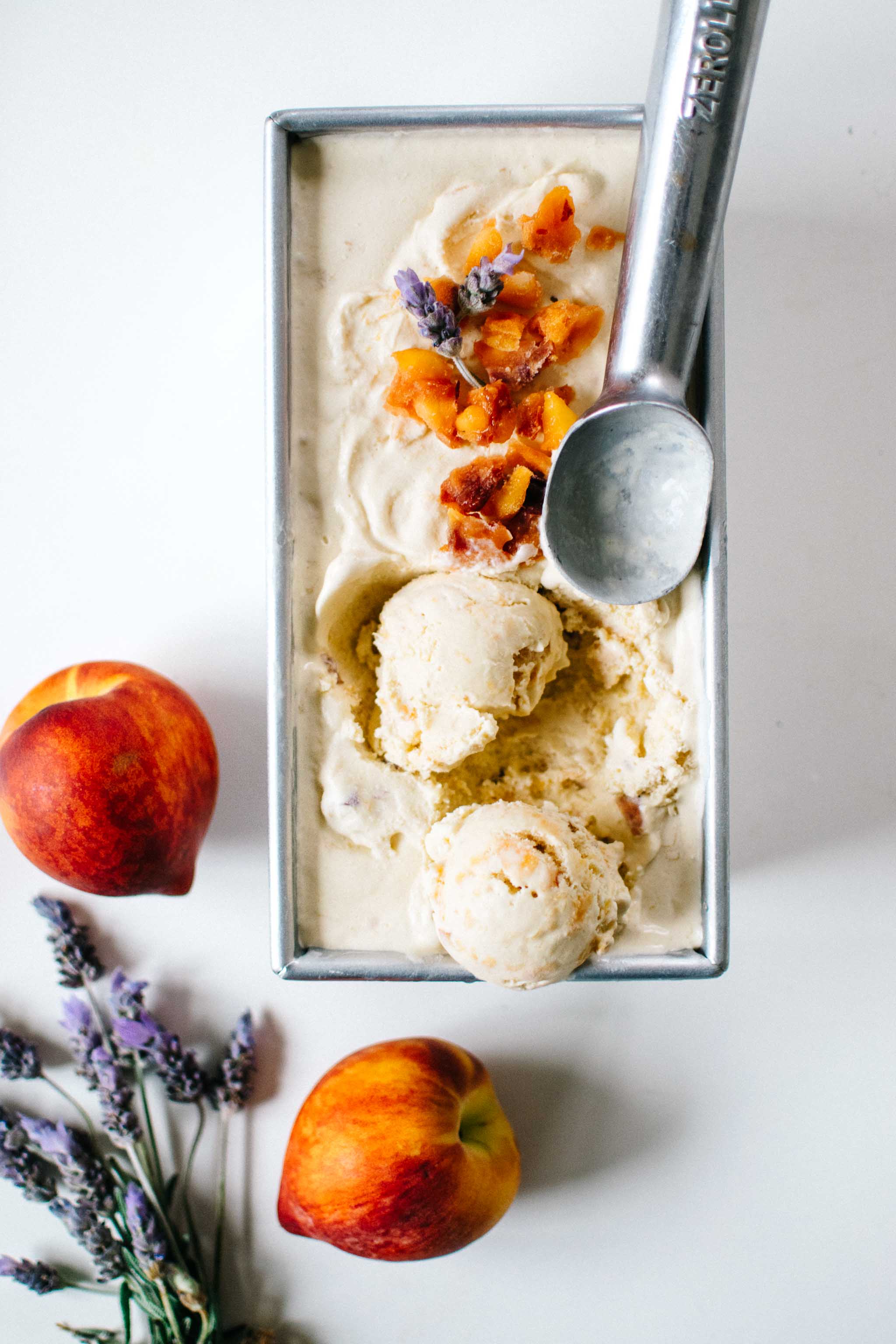 Welcome to your new summer dessert obsession, complex enough to really feel you at a deep human level, light enough to keep your heart happy, perfect for celebration.
Ready for more lavender inspiration? There's an entire chapter of it in Kale & Caramel: Recipes for Body, Heart, and Table! Order now.
LAVENDER PEACH ICE CREAM
Ingredients
1

pound

fresh ripe peaches, washed, dried, and pits removed

2

cups

heavy whipping cream

2

cups

whole milk

1/2

cup

honey

2

tablespoons

dried edible lavender buds

2

egg yolks

2

teaspoons

honey, optional, depending on sweetness or tartness of peaches
Instructions
PREPARE YOUR ICE CREAM MAKER.
The night before you plan to make the ice cream, freeze the bowl of your ice cream maker.
PREP YOUR PEACHES.
Chop the peaches (skins on). Place a large fine mesh strainer over a bowl, and put the chopped peaches in the strainer. Set aside while you make the ice cream.
MAKE THE ICE CREAM.
In a saucepan over medium heat, whisk the heavy cream, milk, and honey until steam rises. Place the lavender in in a reusable tea bag or cheesecloth pouch, seal, and immerse it in the liquid to steep. Cover the pan, remove from the heat, and let steep for 25 minutes, then squeeze the sachet to release the flavor, and remove.

In a small bowl, whisk the egg yolks with 1/2 cup of the ice cream mixture, then gradually whisk the egg yolk mixture back into the pan. Return to the stove, and cook over low heat, stirring continuously, until the custard reaches 170ºF, 20 to 25 minutes, or until it thickens slightly and coats the back of a spoon. Remove from heat.

Use a spatula or the back of a spoon to push down the peaches in the strainer and extract any remaining juice. Pour the juice that's collected in the bowl into the lavender-steeped custard and stir to combine.

Transfer to a bowl, cover, and cool completely in the fridge.

Taste the chopped peaches for sweetness, and if the peaches are very tart, mix in honey to taste (up to 2 teaspoons). Set aside 1/3 cup of the chopped peaches to garnish the top of the ice cream.

Once the custard is fully chilled, freeze it in the ice cream maker according to the manufacturer's instructions. Once the consistency is smooth and thick, add the chopped peaches and let the churn distribute them evenly throughout. Transfer to a freezer safe container, sprinkle with the final 1/3 cup of chopped peaches, cover, and freeze for at least 4-6 hours before eating.