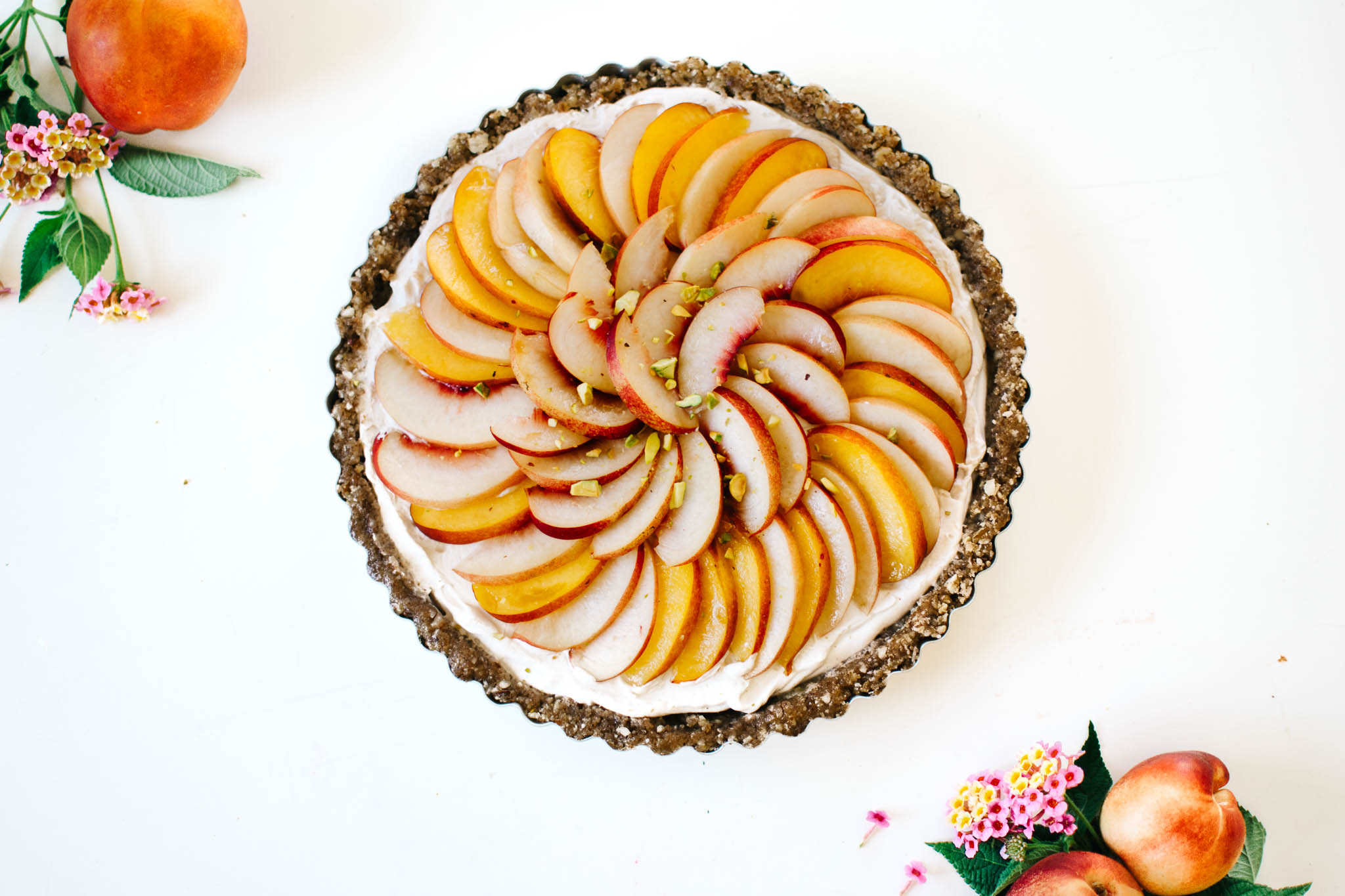 Jump to Recipe
This tart took me on a deep coconut cream journey, an expedition far more complex than I ever imagined, and far creamier than I thought possible. Here's the thing (and you know this already if you've read the Kale & Caramel cookbook): I'm impatient in the kitchen. I don't like things to take a long time. I want most processes to be straightforward, comfy, and fast, like a perfect pair of lounge pants. A little bit of panache and sass? Sure. Unnecessary complexity for complexity's sake? Nope.
So when the dream of a jasmine-infused coconut cream first wafted into my brain, I went in the easiest way I knew how: I bought the highest quality organic coconut cream from the health food store, brought it to a boil, and infused jasmine tea directly into it. This was a sort-of-lovely plan, except for two things:
The (very expensive) organic coconut cream never adequately thickened, even after being refrigerated.
I discovered that, once heated, coconut cream can't ever be fully returned to its previously thick and creamy state.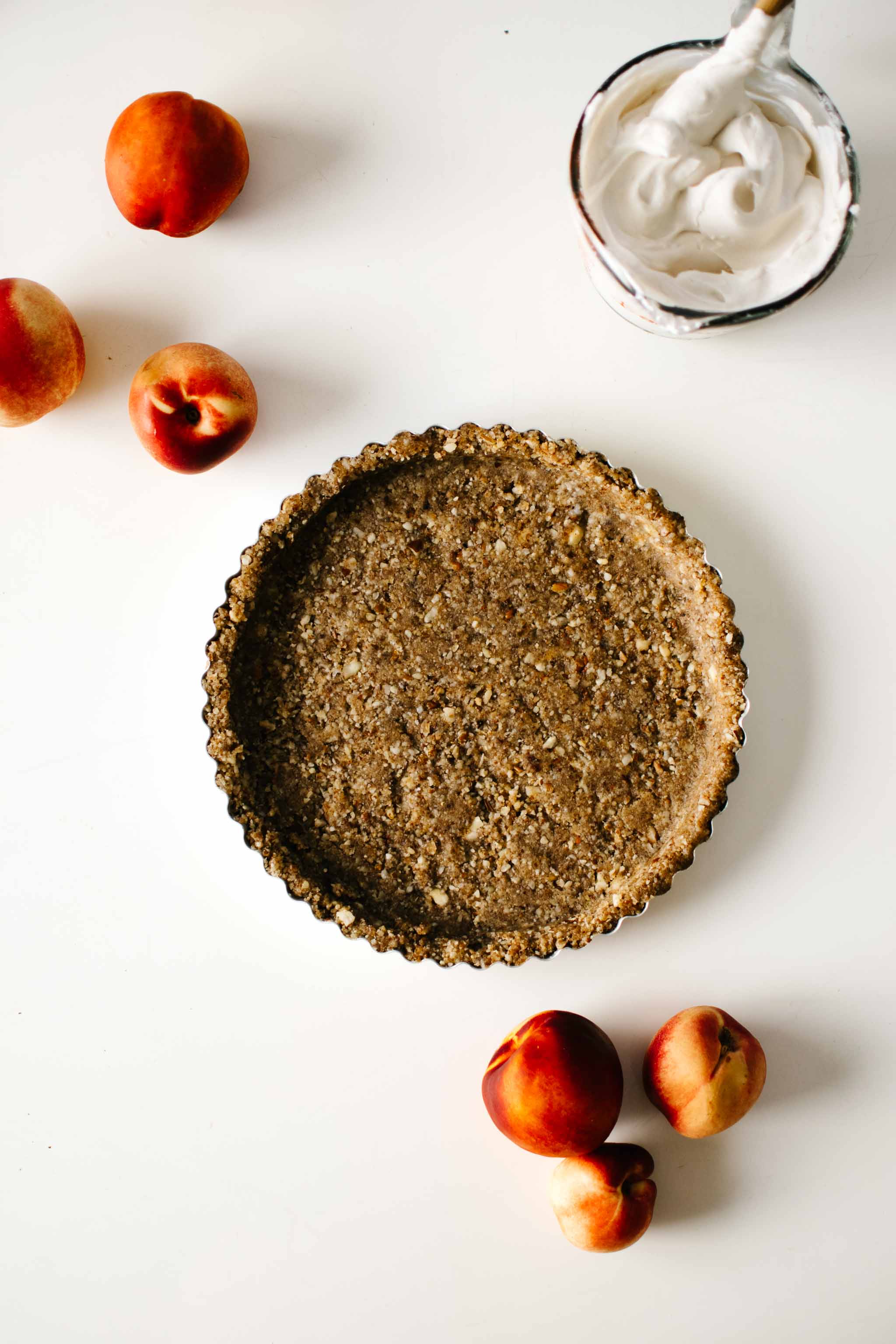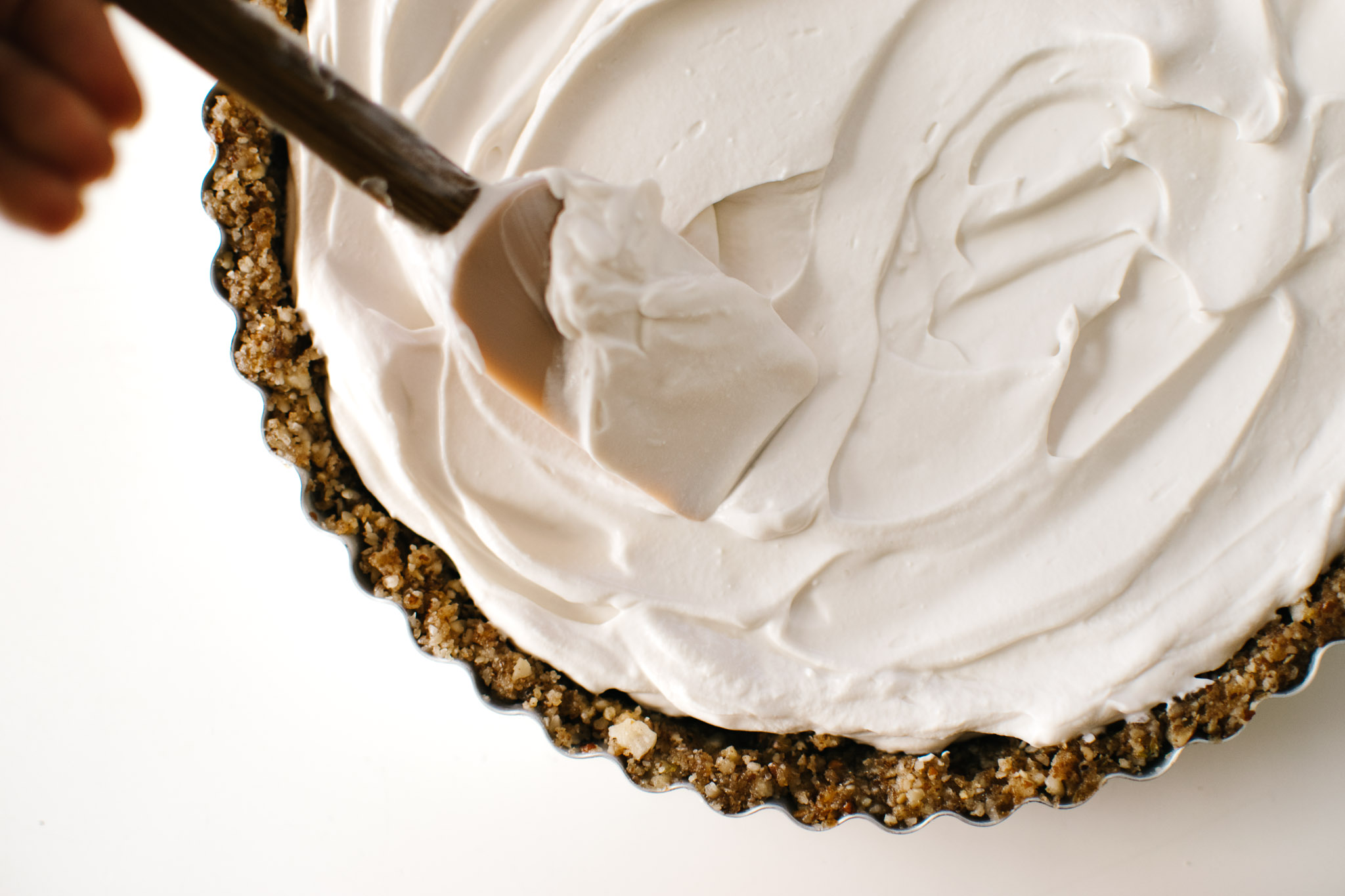 I was back to square one. I did what any coconut-forlorn baker would do and phoned a friend: in this case, the one and only Ashlae Warner, of Oh Lady Cakes! Ashlae confirmed my sinking suspicion that I wouldn't ever be able to heat coconut cream and return it to its dreamy creamy state. Instead, she told me I'd need to do two things (are you noticing a pattern of twos?):
Buy real deal coconut cream from an Asian market: either Savoy coconut cream or Aroy-D coconut milk. Both have far higher coconut content than other milks or creams, and neither has any additives, like gums and stabilizers.
Refrigerate said coconut cream or milk for 2-3 days. That's right. 48-72 hours.
And at that point, my friends, I started to panic. Investing two to three days in a can of coconut cream felt unjust. I didn't want to spend 72 hours waiting for cream to solidify. Couldn't I just pop open one of the cans of coconut milk from Whole Foods and scoop out the solid cream therein? Would there *really* be that much of a difference? Ashlae promised me there would be.
But even then, I couldn't quite swallow my impatience. I poked around my cookbook shelves, and stumbled across a coconut tart recipe in my friend Laura Wright's book The First Mess. Though our tarts were very different, she used coconut oil in her recipe to help firm up the filling when it chilled. I excitedly decided to try the same. And for a good hour, I thought I'd cracked the code. Here's what happened:
I tempered a few tablespoons of melted coconut oil with a good glob of the chilled but only-slightly-thickened, jasmine-infused coconut cream, and then added the tempered oil into a blender with the rest of the cream. It emulsified quickly as it blended, and took on a beautifully light and whippy texture.
I transferred this to the fridge and hoped it would firm up appropriately. After two hours, it wasn't getting much of anywhere. I got impatient and decided to try to blend in more coconut oil. This backfired terribly, resulting in a granular, unappealing texture. Might that initial few tablespoons of oil have been enough if I'd let it chill for 24 hours? Perhaps. I'll try again someday.
But!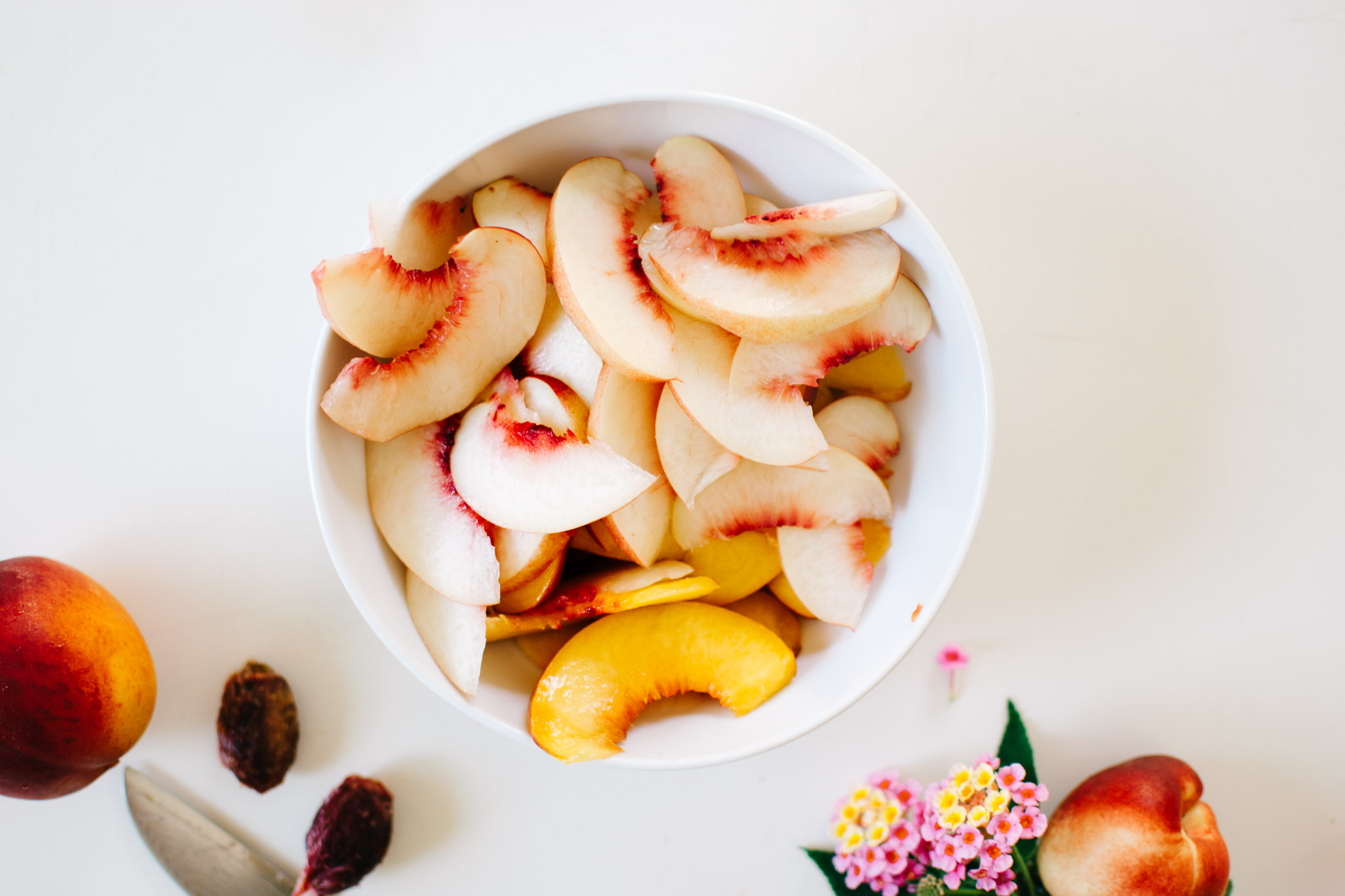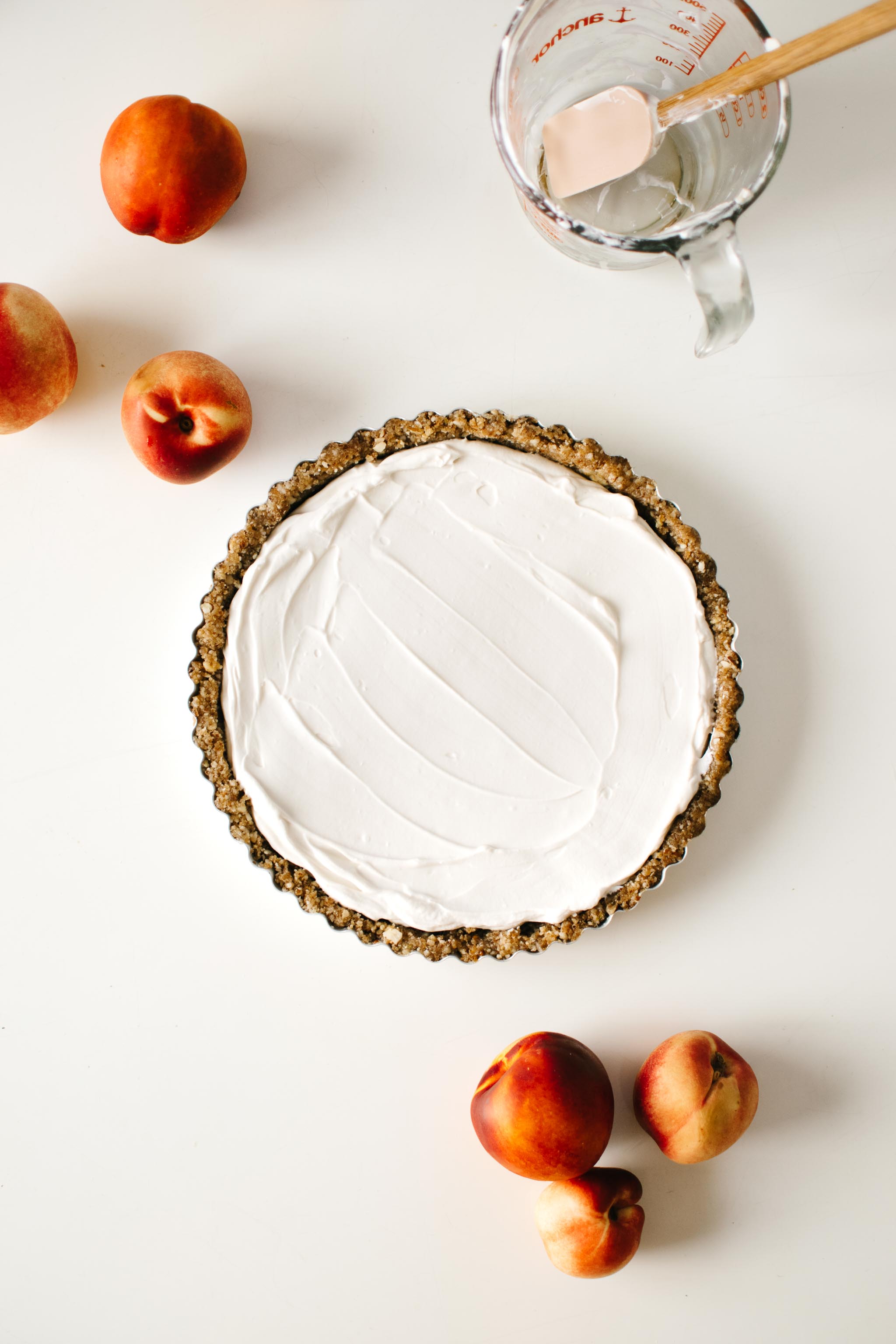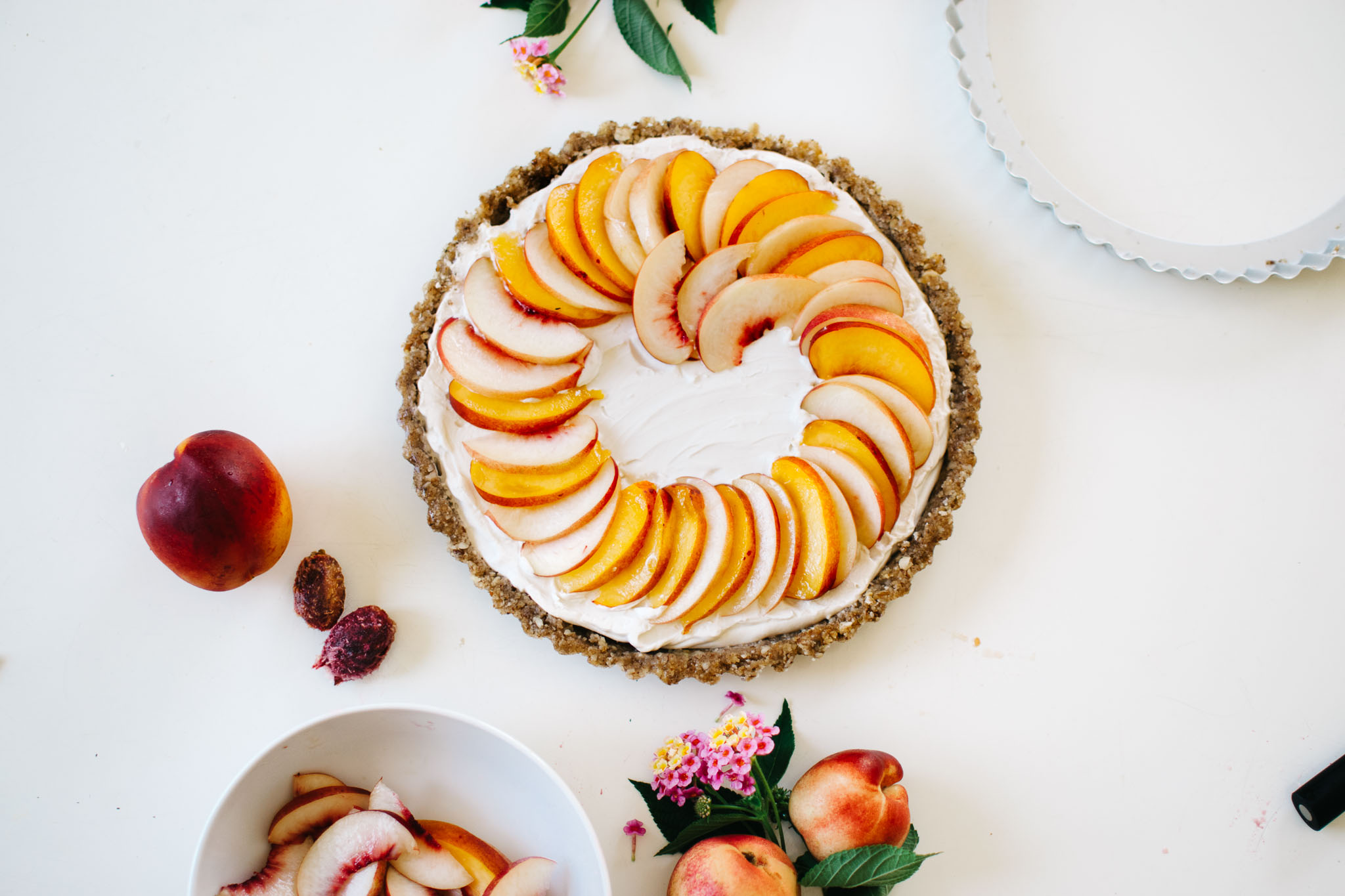 Once I'd eaten the bitter, mealy-textured fruit of my own impatience, I decided to stop quibbling and finally do what Ashlae told me to: I Yelped my way to as many Asian markets as I needed to in order to find Savoy coconut cream. When I finally found it (at $1.75 per 13.5 oz. can), I grabbed an armload, proudly carting my loot to the cashier, holding a mountain of cans in place with my chin.
At home, I (skeptically, because they sounded far more liquidy than I'm used to) turned them upside down and put them into the fridge for 48 hours. After 48 hours, I gingerly opened one. Still. So. Liquidy. I messaged Ashlae to tell her. Patience, grasshopper, she advised. Sigh. Back to the fridge it went. And an additional 24 hours later, I finally understood.
Opening the cans right-side up, I discovered a thin glimmer of milky coconut liquid—none of that vaguely opaque coconut water we usually find in the separation of coconut milk and cream. This was already cream itself. Once I poured that into a jar (no way I was throwing it out), what remained was a cream so rich and dense it was like skyr, or dense Greek yogurt. It was unlike any coconut cream I'd ever seen or tasted before.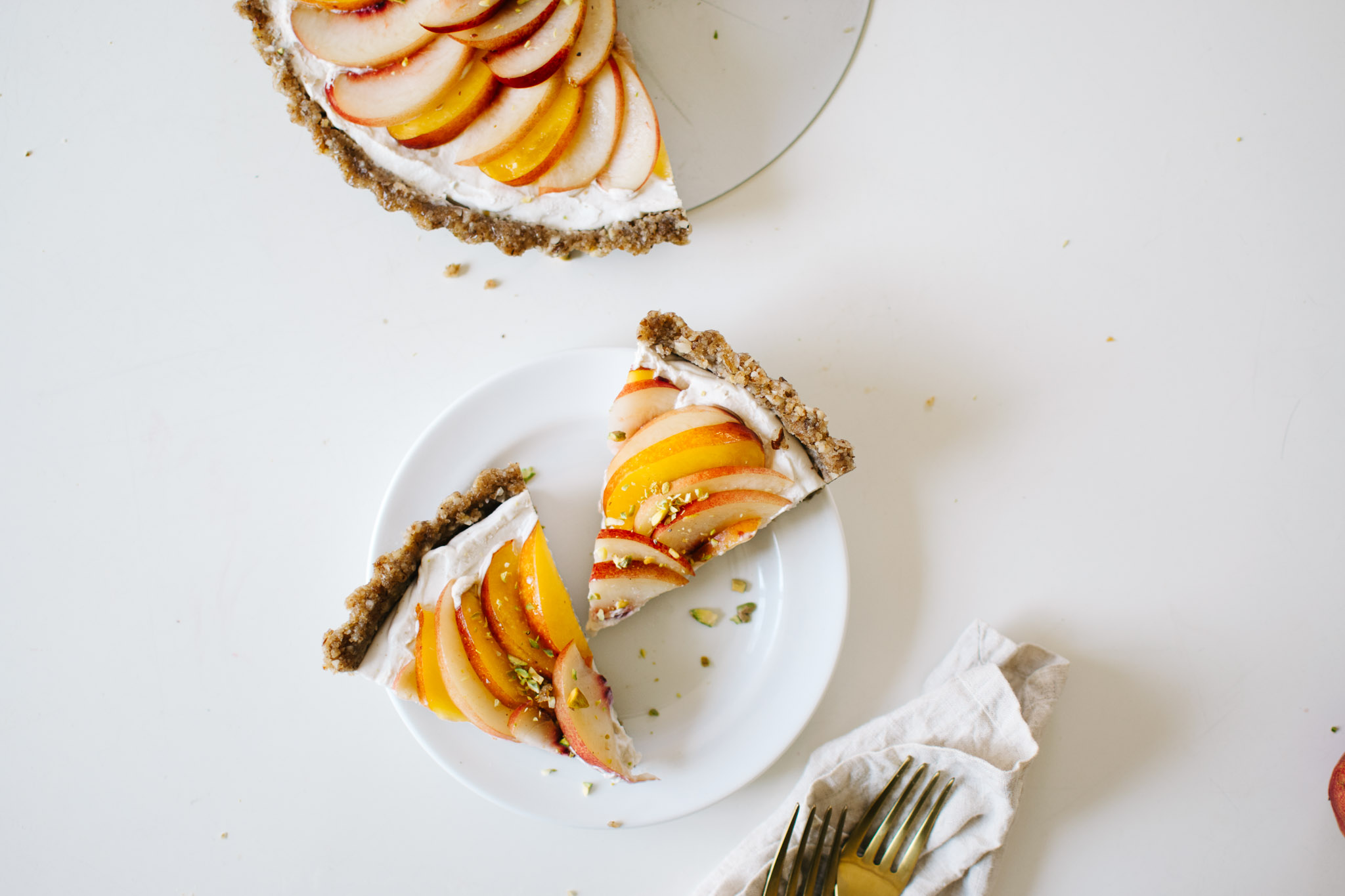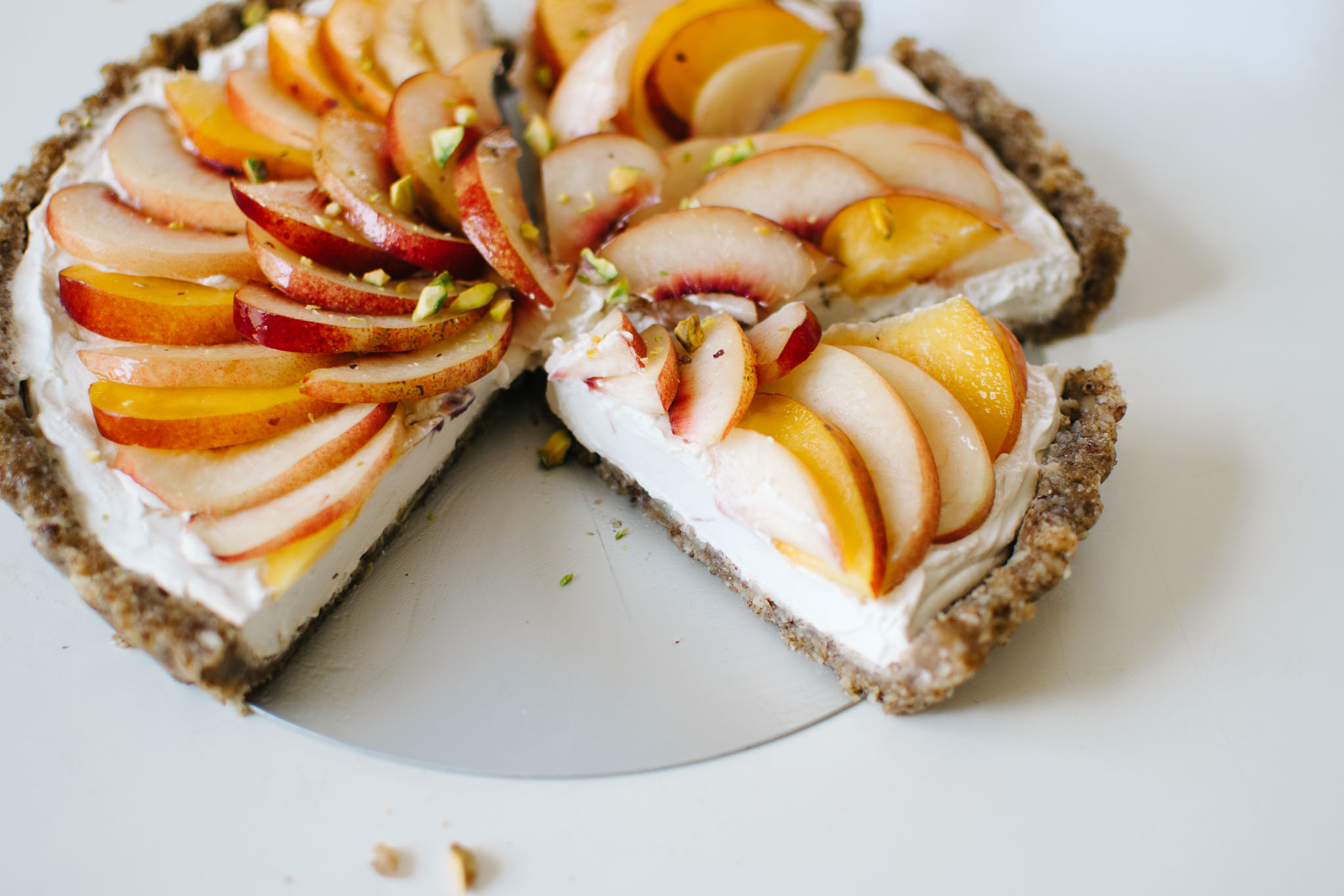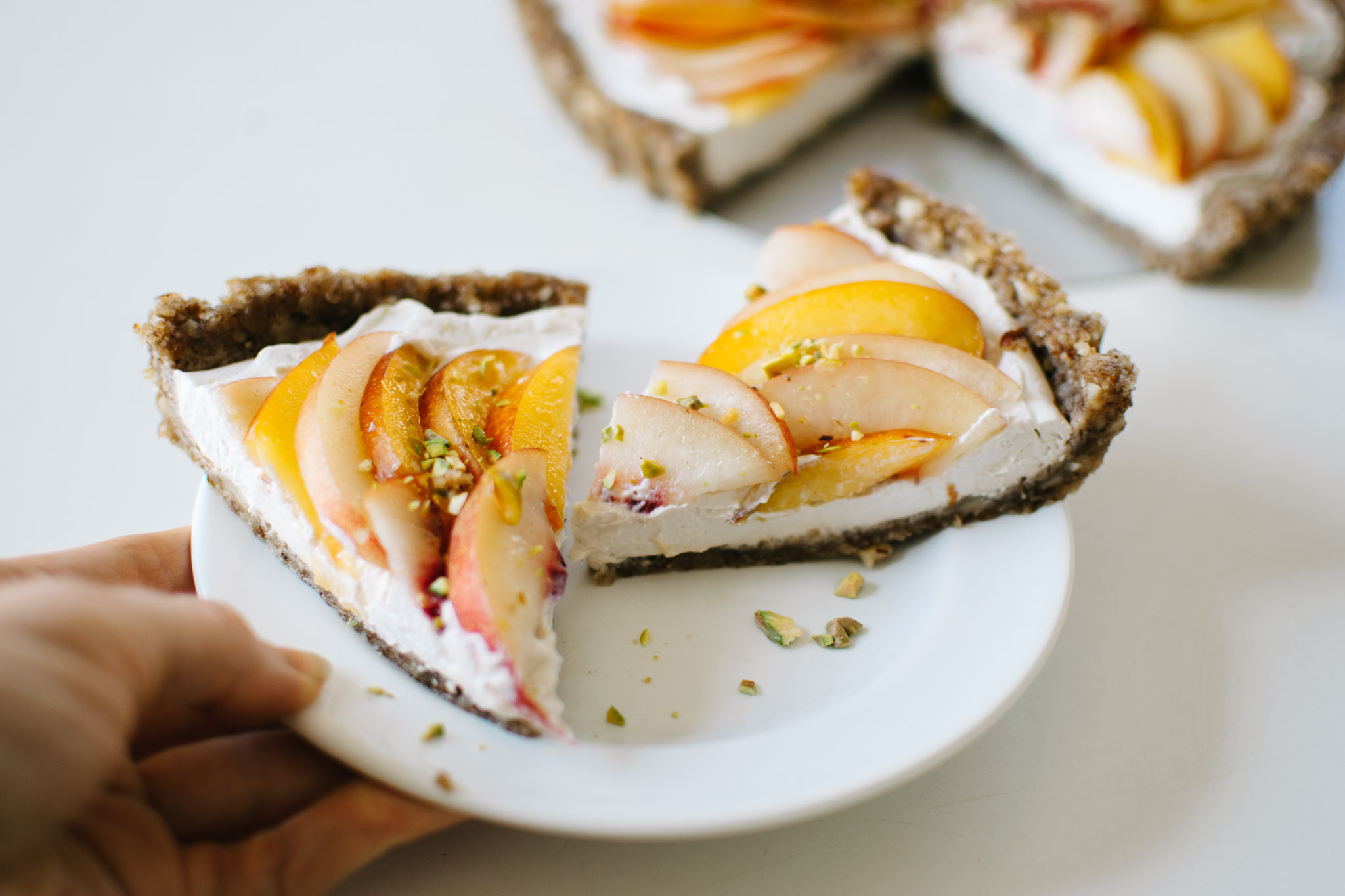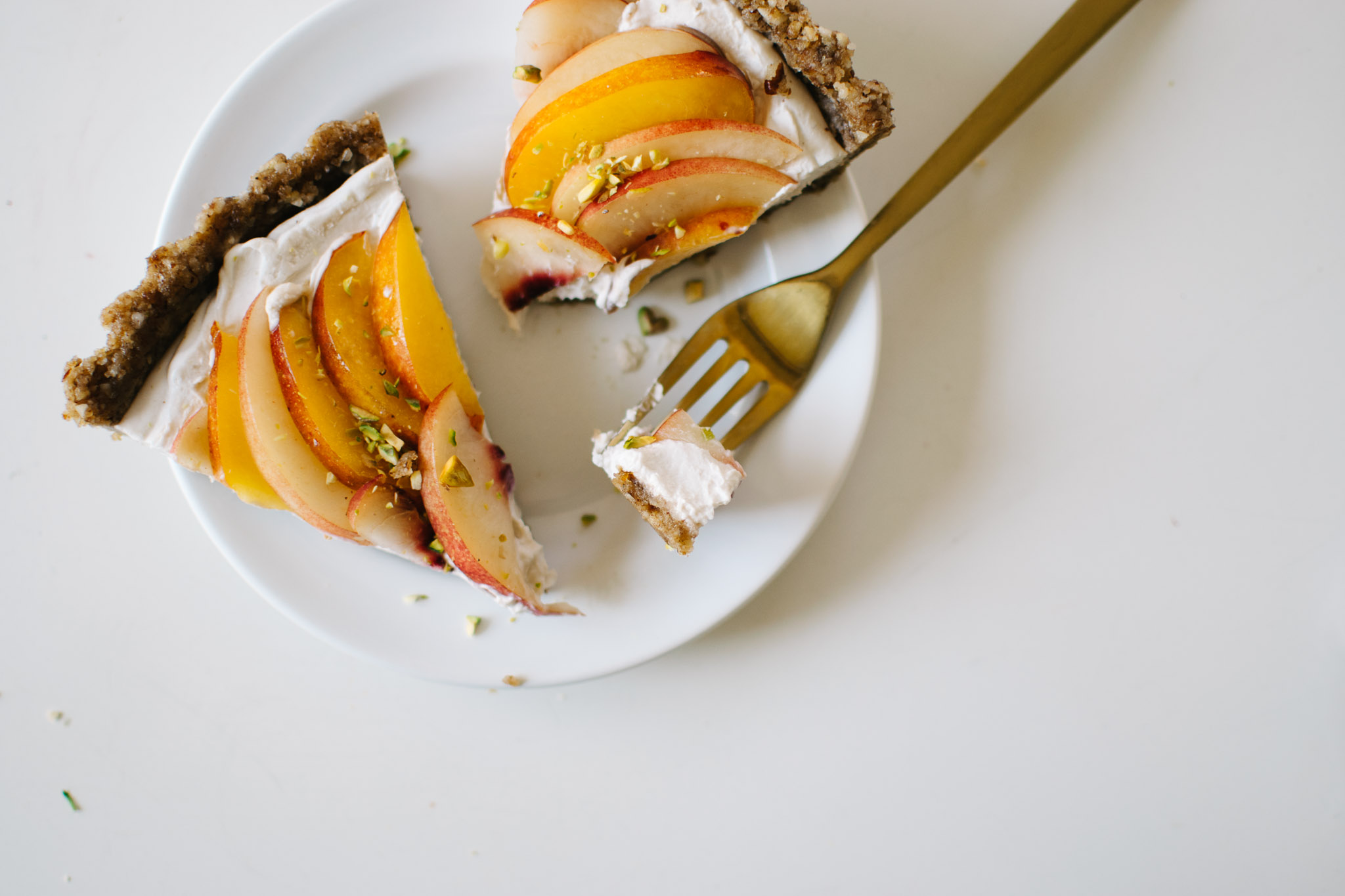 As Ashlae promised, it was thick enough that I'd be able to blend in a bit of liquid (in this case, jasmine tea concentrate and maple syrup) and still have that irresistible texture. It was a dream.
And thus this tart was born. I'll admit: I'm still looking for ways to intensify the jasmine flavor even more. I can't pack in quite as much as I'd like here because it waters down the cream. Maybe one day I'll try the heat infusion + coconut-oil-emulsified method again. Until then, the discovery of true, pure 72-hour chilled coconut cream was a revelation. I paired it with the best fruit of the season and a tart crust made from brazil nuts, pecans, and dates: a combination that delivers an almost graham-like flavor. Totally raw. Vegan. Refined-sugar free. Heavenly.
Welcome to the other side of coconut cream.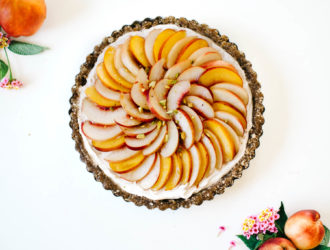 JASMINE NECTARINE COCONUT CREAM TART (VEGAN).
A summery coconut cream tart infused with jasmine and topped with luscious, naturally sweet nectarines—encased by a brazil nut and pecan crust.
Ingredients
JASMINE COCONUT CREAM
2

cups

coconut cream (from 2 13.5 oz. cans of coconut cream, refrigerated upside down in the fridge for at least 3 days)

1

cup

boiling water

3

tablespoons

loose leaf jasmine green tea

3

tablespoons

maple syrup

pinch

sea salt
BRAZIL NUT PECAN CRUST
1

cup

raw brazil nuts

1

cup

raw pecans

1/4

cup

chopped dates

2

tablespoons

melted raw virgin coconut oil

1

tablespoon

lemon zest

1/4

teaspoon

sea salt
TART TOPPINGS
2

medium

yellow or white nectarines, sliced to 1/4-inch thickness

chopped nuts, to garnish (pistachios, pecans, or brazil nuts)
Instructions
JASMINE COCONUT CREAM
3 days before you intend to make the tart, place 2 cans of coconut cream (I used Savoy brand) in the refrigerator upside down.

3 days later, steep 3 tablespoons of loose leaf jasmine tea in 1 cup boiling water for 10-15 minutes. Strain out tea leaves. Chill tea concentrate completely.

Turn coconut cream cans right side up, open, and pour off any liquid (reserve for smoothies, soups, drinks, etc.). Scoop out the thick cream and measure 2 cups. Transfer 2 cups of coconut cream into a large mixing bowl, add 1/4 cup of chilled jasmine tea concentrate (save the rest to dilute for iced tea), 3 tablespoons maple syrup, and a pinch of sea salt. Whip with an electric hand mixer until smooth. Cover with plastic wrap, and return to the fridge.
TART CRUST
Lightly grease a 9" tart pan with a removable bottom (or a 9" pie dish) with coconut oil. Set aside.

Place brazil nuts and pecans in a food processor and pulse until finely chopped—close to a flour, with a few pebbly pieces remaining. Add the dates, coconut oil, lemon zest, and sea salt, and continue to pulse until the dough comes together.

Press dough into the bottom and up the sides of the tart pan or pie dish. Use the flat bottom of a measuring cup to distribute the mixture evenly along the bottom and against the sides.
ASSEMBLE THE TART
Using a silicone spatula, slather the chilled coconut cream into the tart shell and smooth into an even layer. Cover with plastic wrap and refrigerate for at least 4 hours, or up to 48 hours.

Once chilled and ready to serve, layer nectarine slices in a concentric circle, starting on the outside edge and working your way in. Finish with a sprinkle of chopped nuts. Remove the outer tart mold and set aside. Slice and serve immediately, or cover with plastic wrap and return to the fridge until ready to eat.