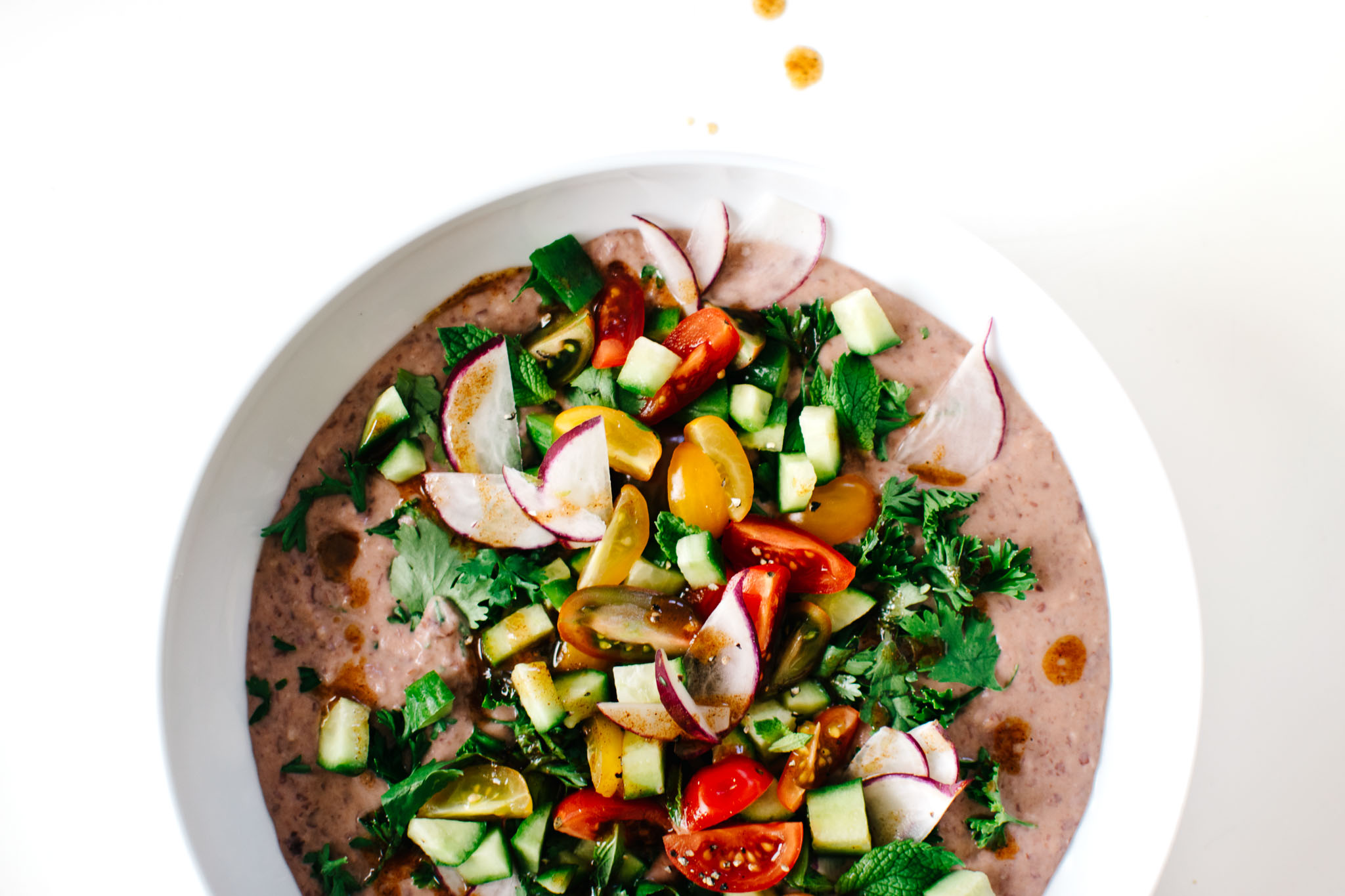 Jump to Recipe
As I dove headfirst into the process of writing and researching cookbooks over the past two years, I became keenly aware of just exactly how I use them—and how I don't. Here's the truth: I typically draw inspiration from them, perusing their flavor and ingredient pairings as a jumping off point for a finished dish thrown together from what I've got on hand. This approach comes from a background of rarely using recipes at all—a freewheeling habit I had to break when I started to write down recipes for K&C, of course. But today, when I'm cruising through the pages of a cookbook, I'm immediately drawn to books that favor flexibility over rigidity. And my lovely friend Izy Hossack's new book The Savvy Cook has got flexibility in spades.
Double truth: I made this incredibly delicious fattoush dip a little bit my own using the herbs and veggies I had on hand—but I don't think Izy would mind one bit. The Savvy Cook is an ode to "maximum flavor for minimum effort", and her book delivers this promise in spades. Though she's got hundreds of delicious variations on classics like frittatas, pizzas, salads, and veggie roasts, my favorite section is the MAKEOVERS WITH LEFTOVERS appendix (page 230), where you can select a leftover ingredient and find corresponding dishes to cook it up in from the pages of the book. How brilliant is that? Kitchen flexibility made real.
I can't wait to dive into so many of Izy's recipes, but this one fit the bill last week, when I was eagerly (and anxiously) preparing for my very first pop-up dinner with FEAST Hawaii here in LA. Time in the kitchen was limited, and it was extraordinarily hot (more on that later)—which meant doing as little that required I turn on the stove as possible.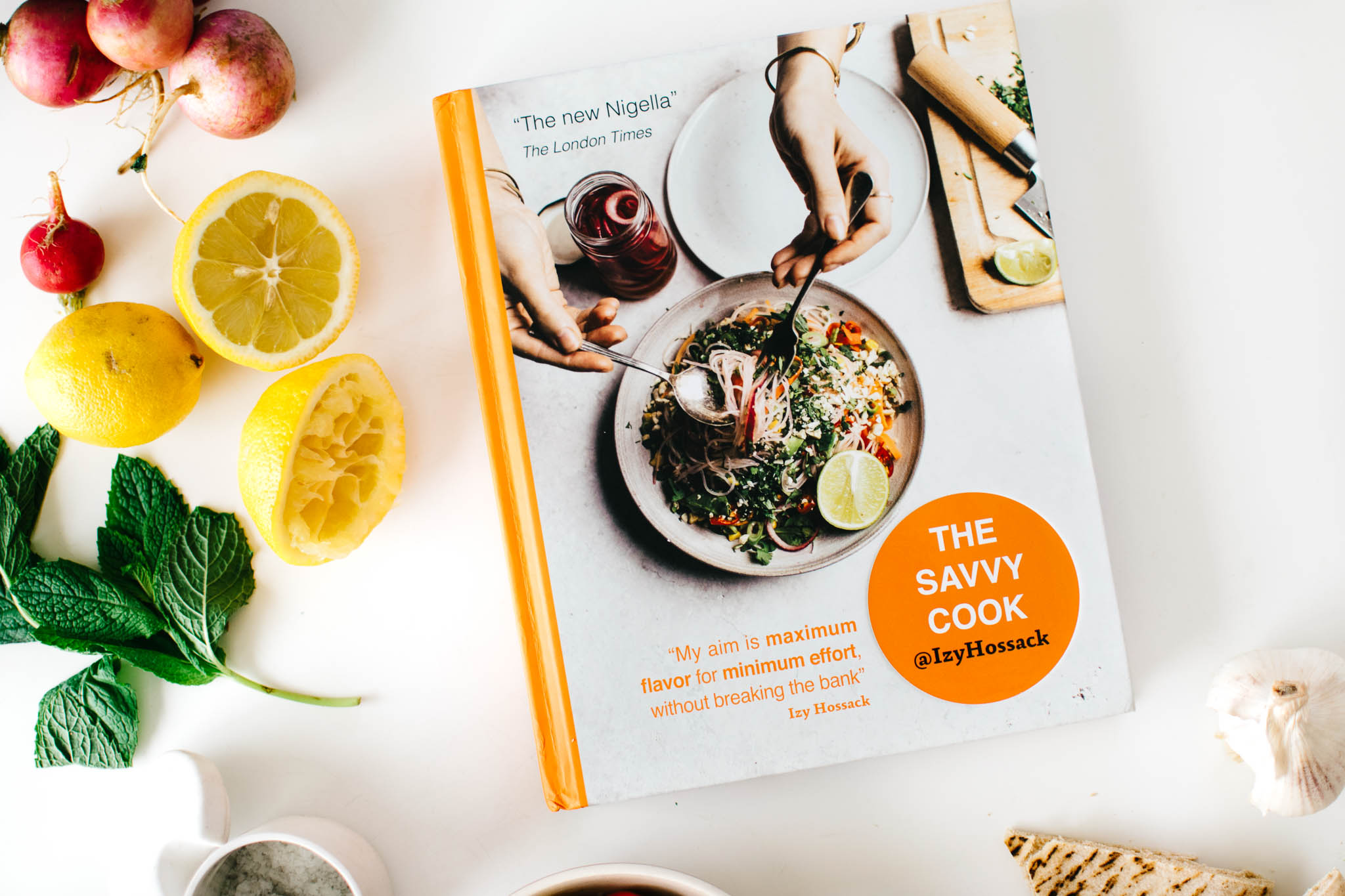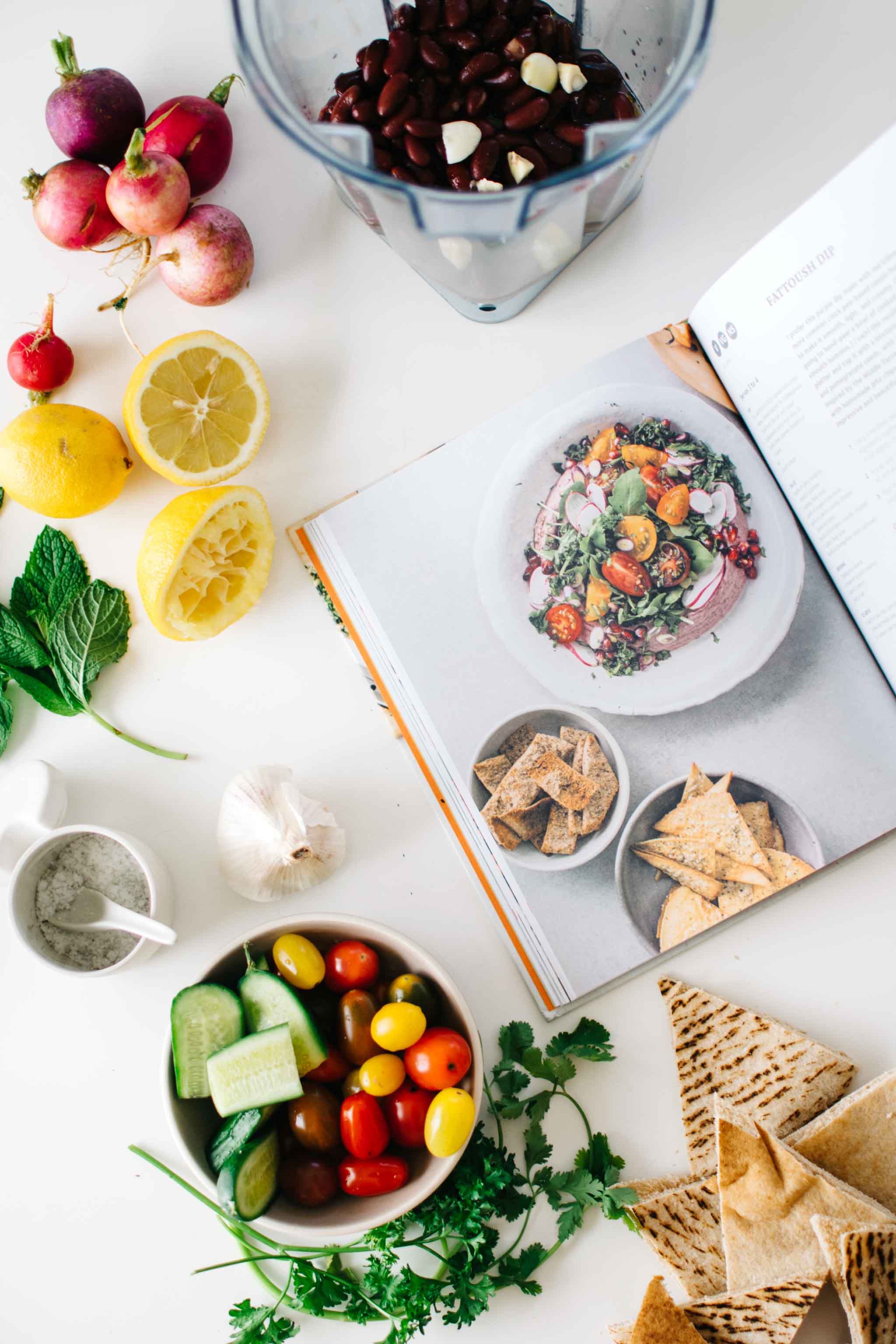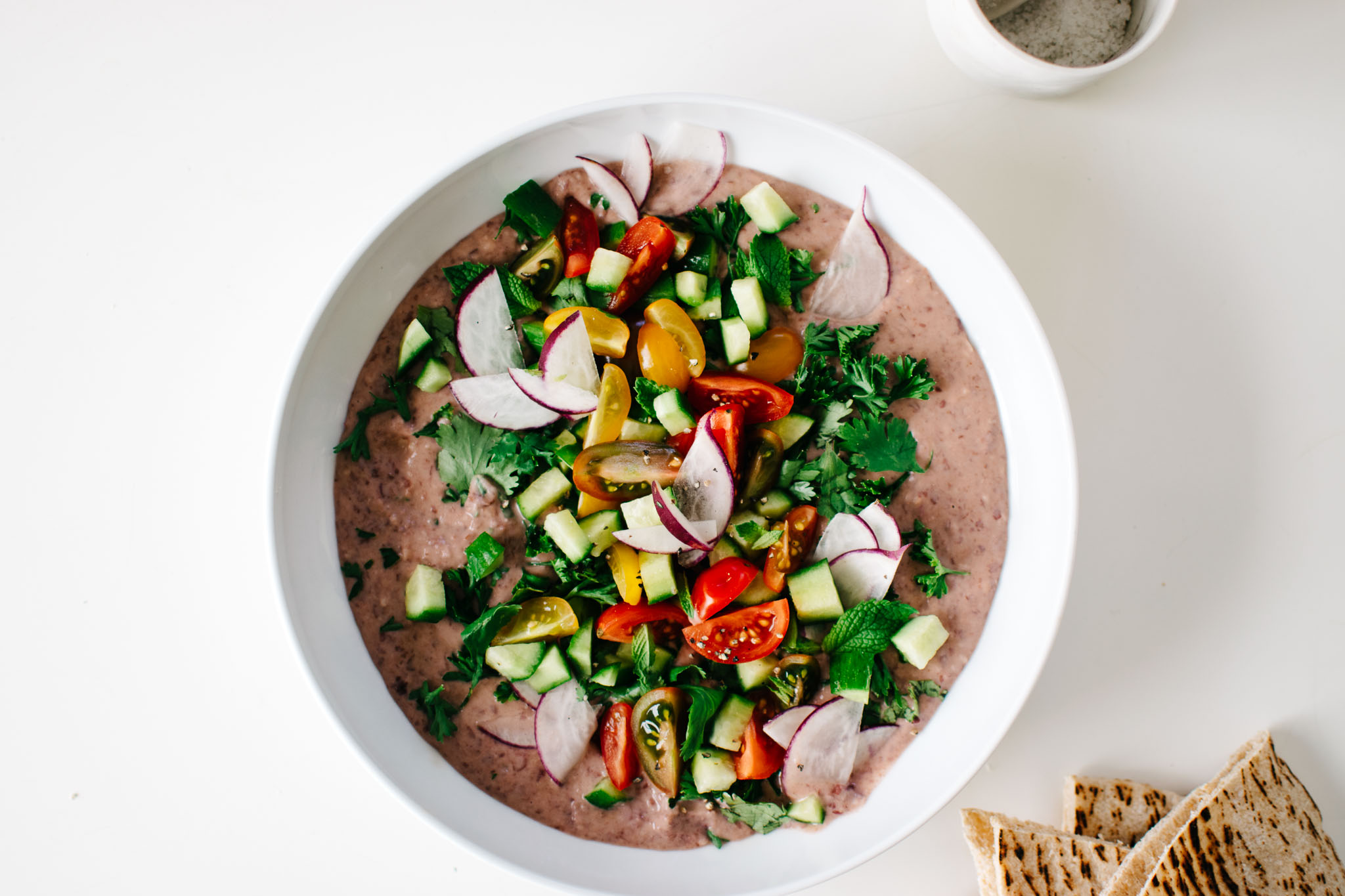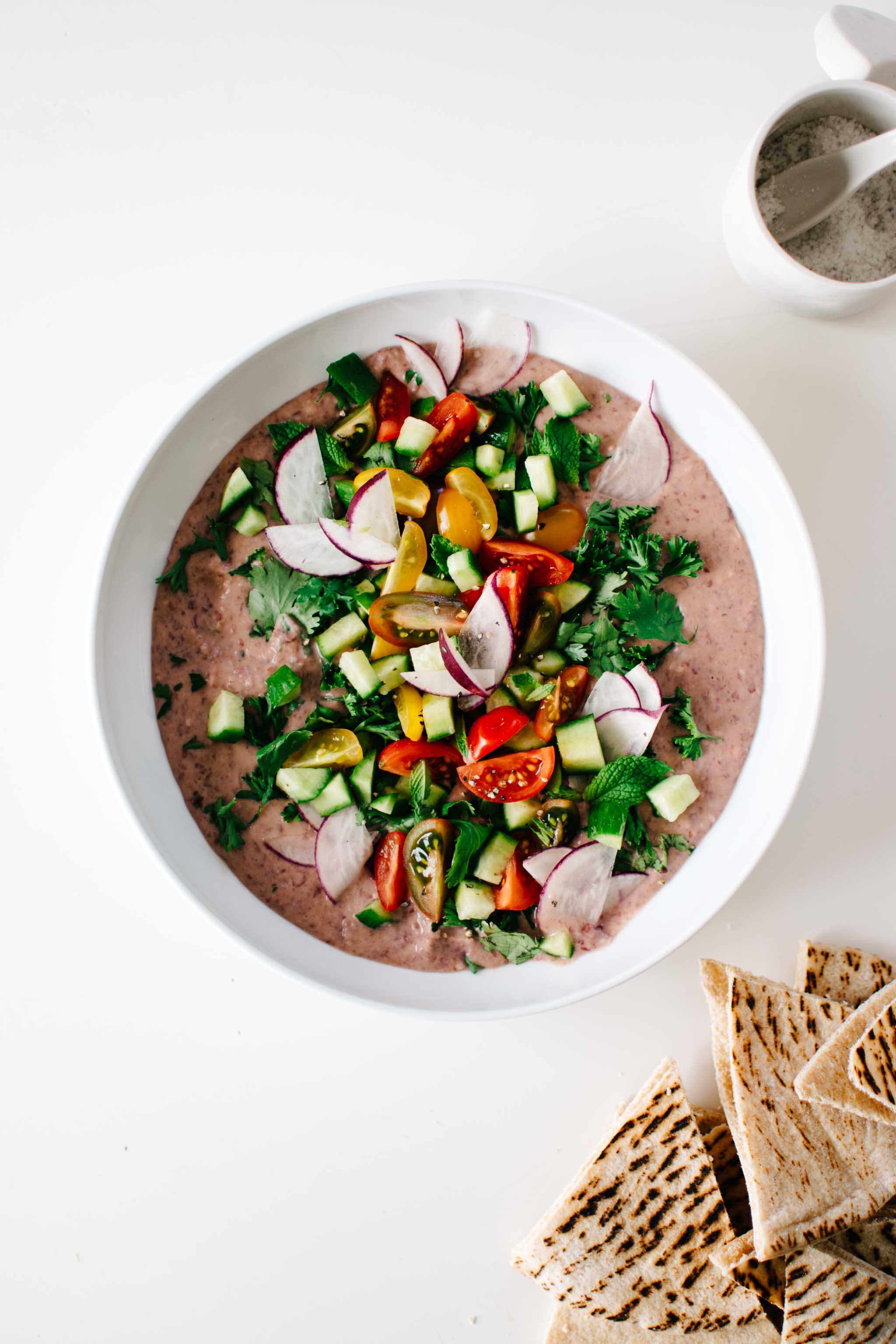 Once I was fueled up on Izy's delightful fattoush dip, I got to start dreaming about the pop-up dinner. It would be an evening filled with flower crown–making and a floral-infused menu (featuring a drink and dessert from Kale & Caramel cookbook) that was making my knees weak. I met Amanda Robson, fellow Maui girl and the founder and creative director of FEAST, last year and fell deeply in love with the pristine quality of her work. I'll be doing a whole post with photos and details from the event, but suffice to say there was jasmine blossom vinaigrette, hibiscus muhammara, and honey rose butter.
But before the glory of the food, there were the nerves. When people first learn about my work, they often assume I'm a chef or a caterer. I am neither. This Saturday I cooked for 30, more people then ever before. It was only a cocktail and a dessert, but still. I wanted it to be, obviously, perfect.
I prepped everything I could in advance, as many days ahead as possible. I steeped lavender into blueberries, crushed graham crackers, and mortar-and-pestled edible lavender buds. The day of, I brought a plethora of strainers, jars of lavender blueberry sauce, bottles of rose and orange blossom water, and my own carefully wrapped chef's knife. You know, like a real pro might do. I would be working in the kitchen with a trained chef, after all. Chef Michelle Wilton of Four Cafe in Eagle Rock was an absolute angel, delivering to me a 25-pound watermelon hot and sweet from the July sun.
Speaking of the July sun, the heat wave last week broke a 131-year record for the date. It was in the triple digits, which spells complete and utter breakdown for me. Constitutionally, I find it exacerbates anger and anxiety for me, making me work triply hard to tame the nerves I already had about the evening. Many bites of fattoush dip and gulps of chlorophyll water later, I was cool enough to relax into the evening.
Spoiler: It went beautifully. I left feeling so grateful to have had the opportunity to connect and share food in person, unmediated by the presence of a phone or computer screen. There was a sweetness to the sharing, in real life, of what I typically do confined to my own kitchen. I look forward to so much more.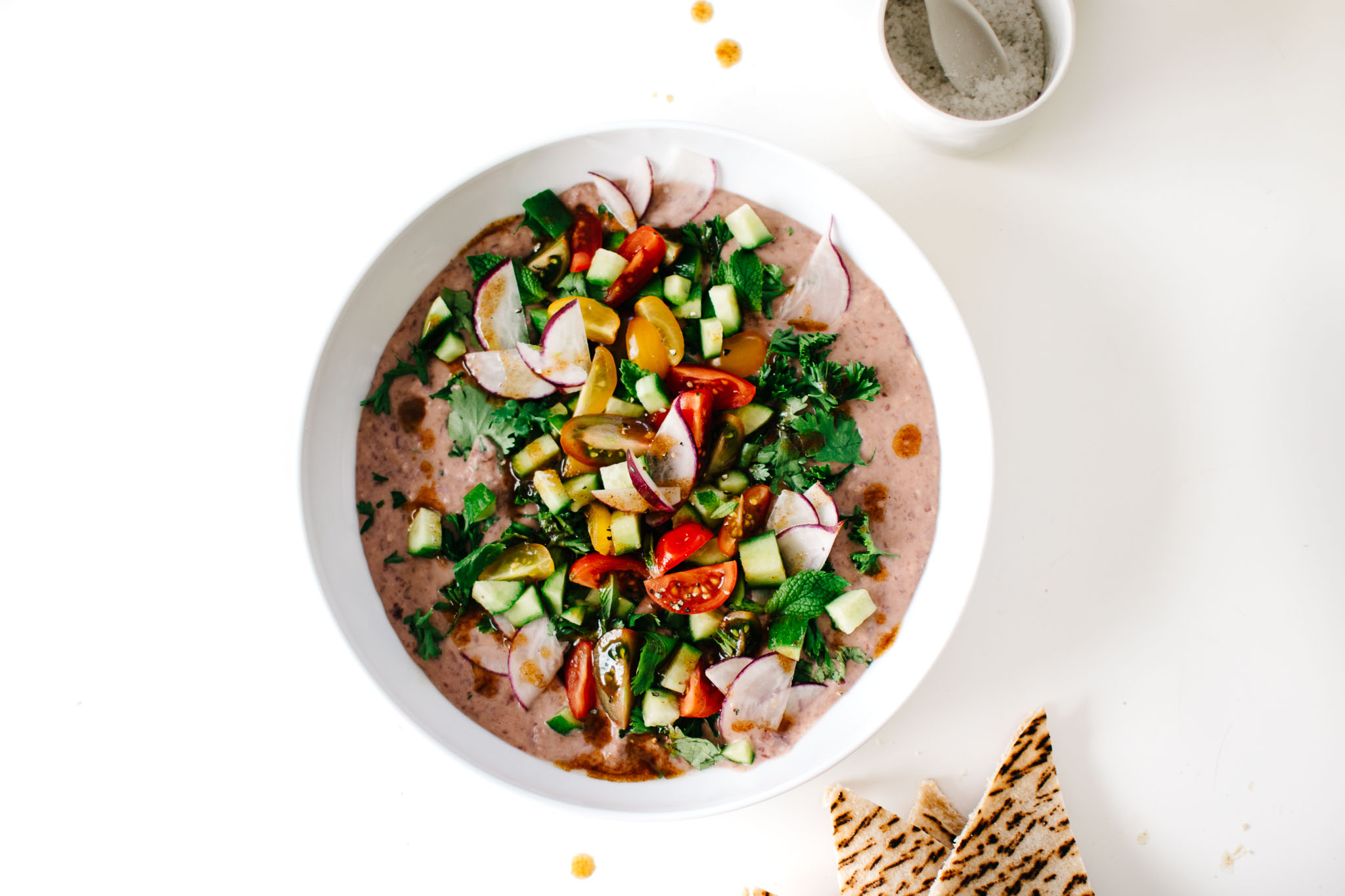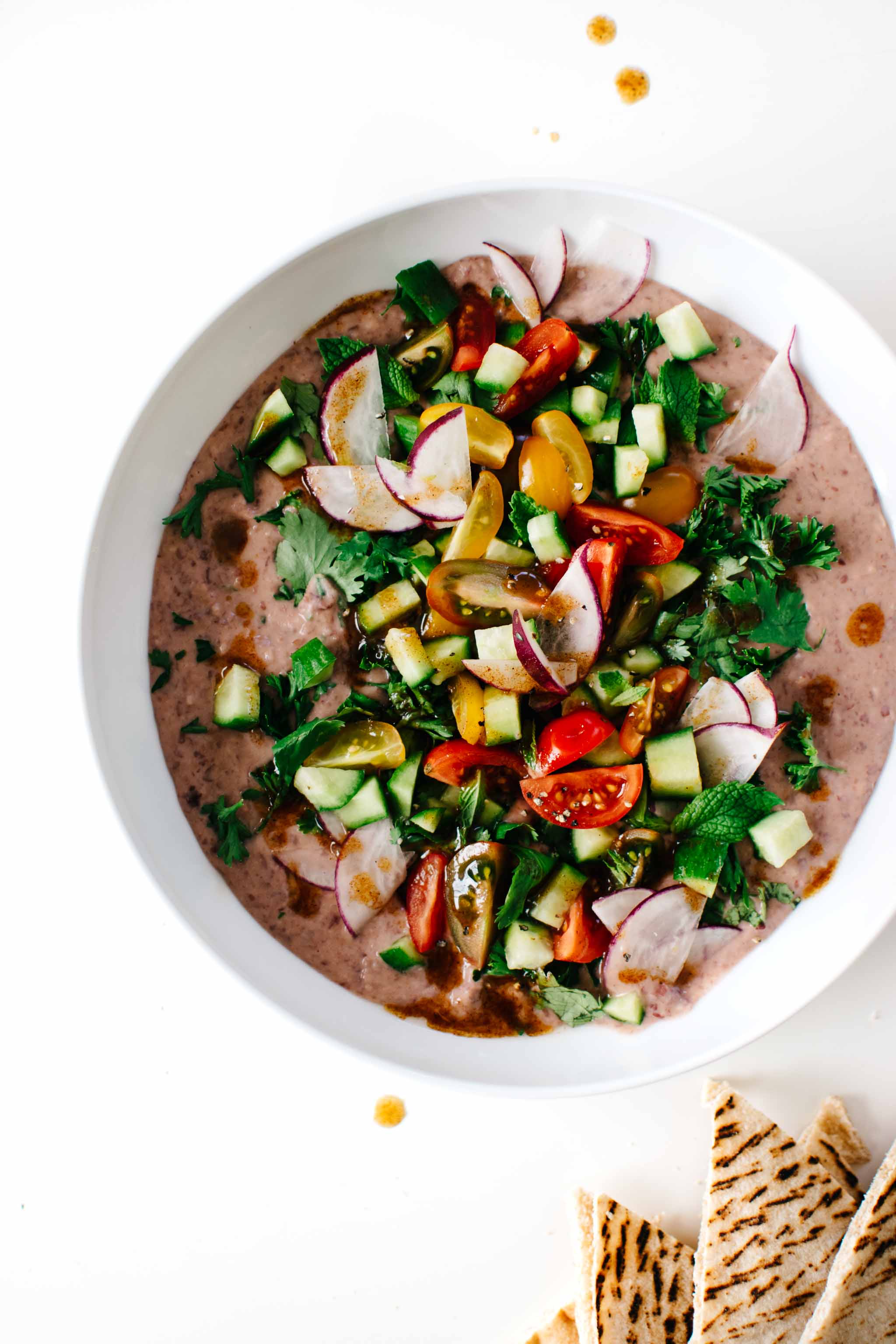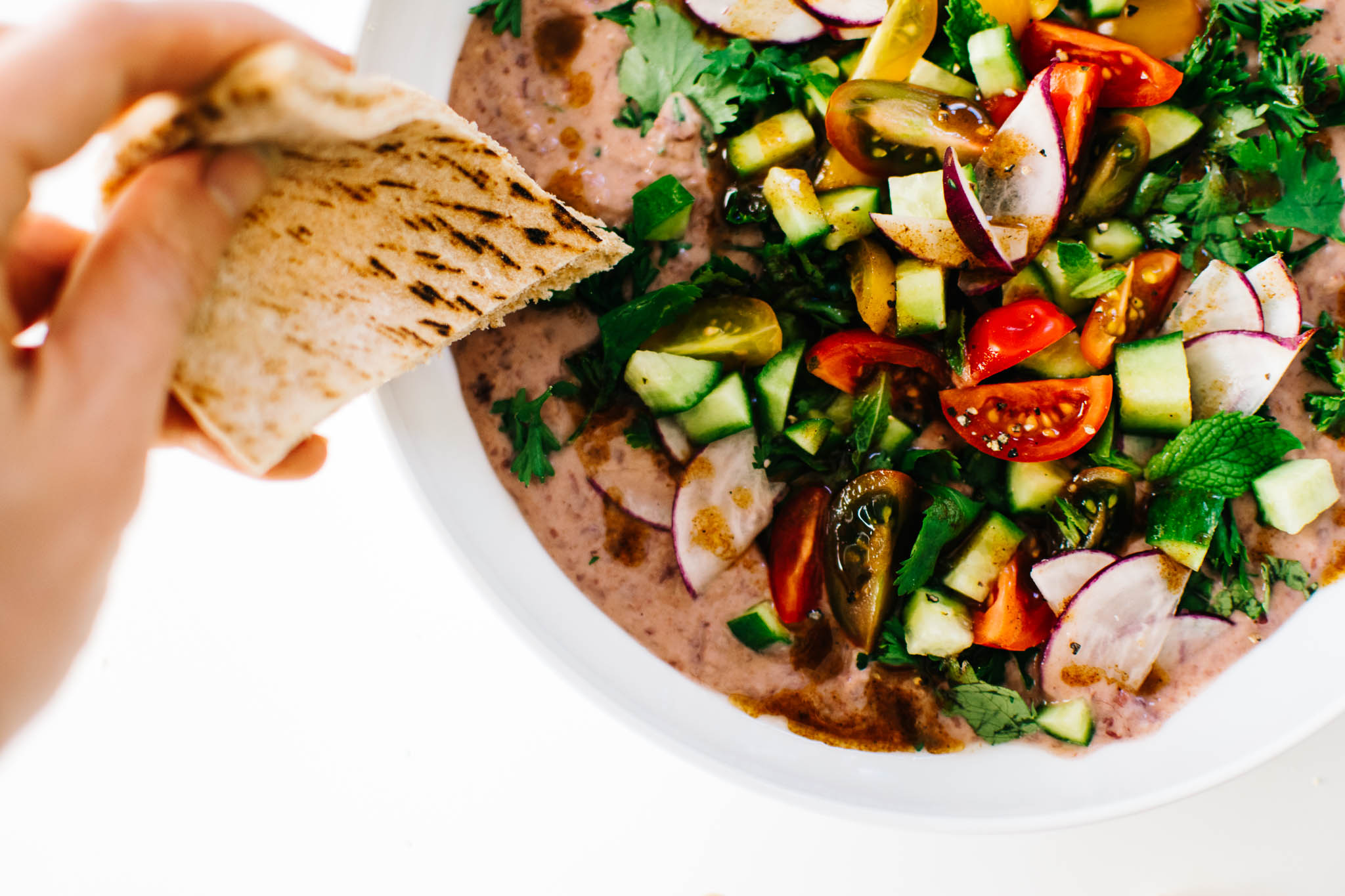 Enjoy this recipe from Izy's beautiful new book The Savvy Cook, and let me know what you're whipping up to keep cool and tame anxiety on these hot summer days.
FATTOUSH DIP
Reprinted with permission from The Savvy Cook, copyright 2017 by Izy Hossack. Published by Mitchell Beasley, a division of Octopus Publishing Group Ltd.
Ingredients
DIP
1 1/3

cup

cooked red kidney beans, drained (except for 3 tablespoons liquid from the can) and rinsed

2

tablespoons

extra virgin olive oil

2

garlic cloves, coarsely chopped or crushed

salt

juice of 1/2 lemon
SALAD
handful

cherry tomatoes, halved or quartered

2

radishes, thinly sliced

handful

arugula or pea shoots

handful

cilantro, coarsely chopped (leaves and stems)

handful

mint leaves, coarsely chopped

1

scallion, finely sliced

handful

pomegranate seeds
DRESSING
2

tablespoons

olive oil

1/2

teaspoon

ground cinnamon

juice of 1/2 lemon

pinch

salt
TO SERVE
pita chips, a few pita breads, or crackers (recipes in Izy's book The Savvy Cook)
Instructions
Using a handheld blender or a countertop blender, blend all the dip ingredients together until smooth. Transfer the dip to a serving plate, spread it out slightly, then top with the salad ingredients.

In a jar with a screw-on lid, combine all the dressing ingredients, put on the lid, and shake to mix.

Pour the dressing over the salad and dip, then serve with pita chips, pita bread, or crackers for dipping.