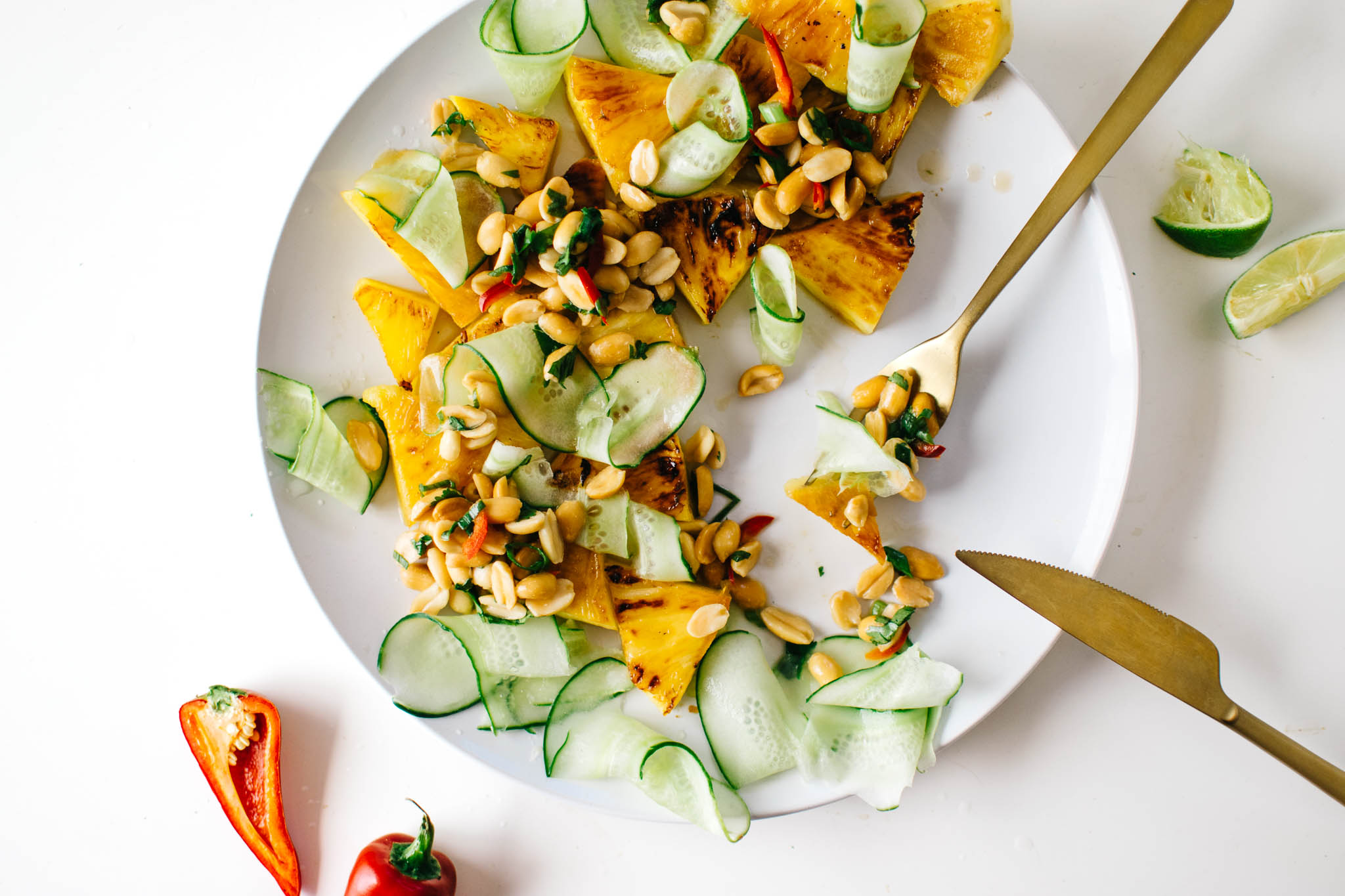 Jump to Recipe
This post was created in partnership with Naked Juice. All opinions are my own—including my love for their cold Pressed juices!
If you know me, you know that the farmers market is a sacred place. Because my family grew our own food when I was growing up on Maui, it's a comfort to know what's in season wherever I am—especially when I'm living in a city. I like knowing what flavors I should look to, which herbs and flowers are blossoming into life, which fruits are about to make their glorious appearance in my kitchen. And right now—early summer—is a particularly spectacular time. Here in LA, we're getting our first stone fruits: peaches and cherries and nectarines are tender and mellow with spring. Aromatic herbs are at their prime, and tomatoes and cucumbers are bursting with juice.
I'm cucumber obsessive—I love it in salads and juices, cocktails and face masks. When I received my shipment of Naked's cold pressed juices a few weeks ago, I dove headfirst into the Cool Pineapple, a smooth blend of lemon, cucumber, and tangy fruit. Then came the Lively Carrot, a miraculous blend of carrot, vanilla, turmeric, and lemon that blew me away with its elegance. These juices—and their green and ruby red beet counterparts—are some of my favorite cold pressed options for summer: sweetener- and additive-free, and verified by the non-GMO project. They're basically a farmers market in a bottle. Which brings me back to my cucumber obsession.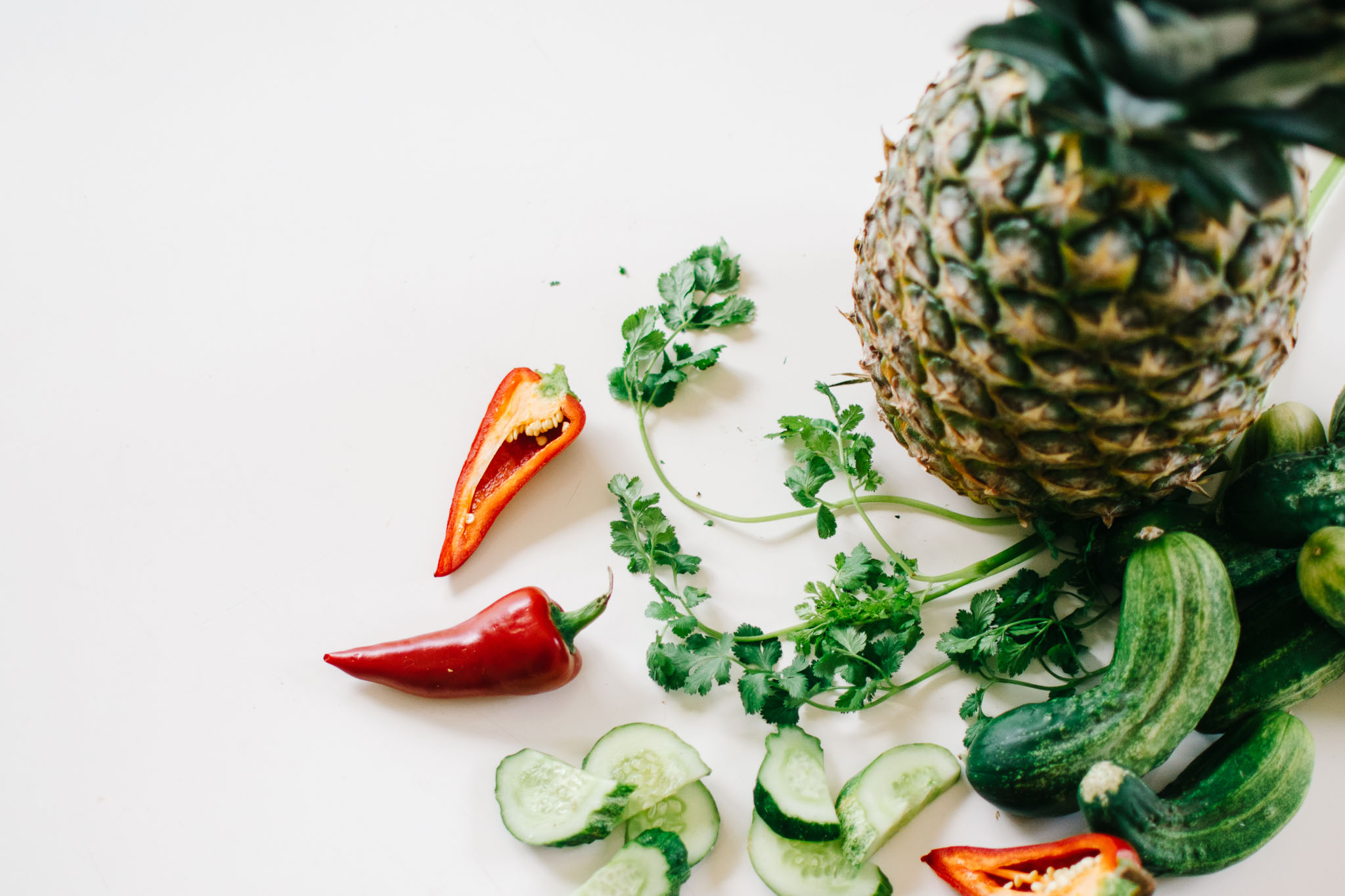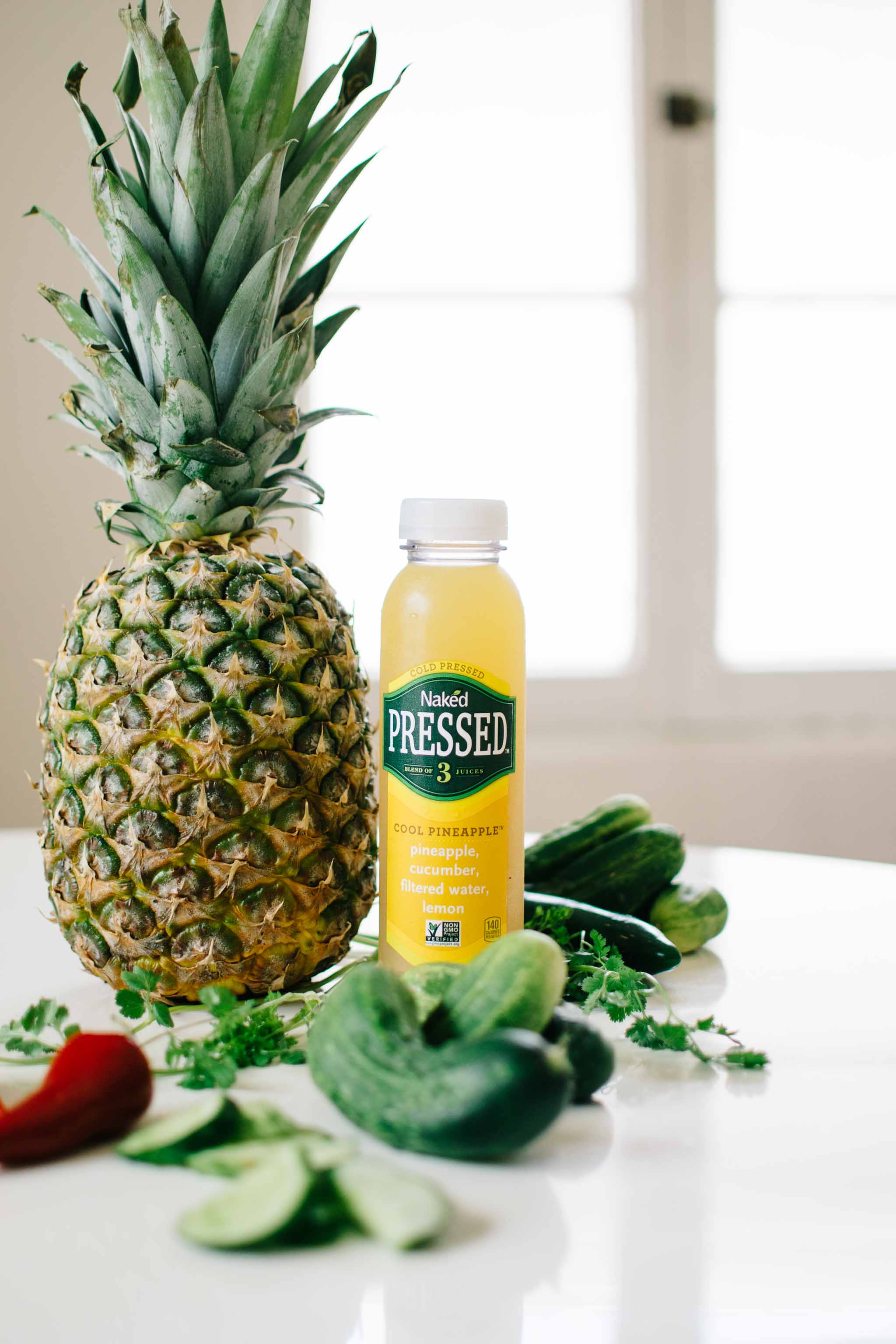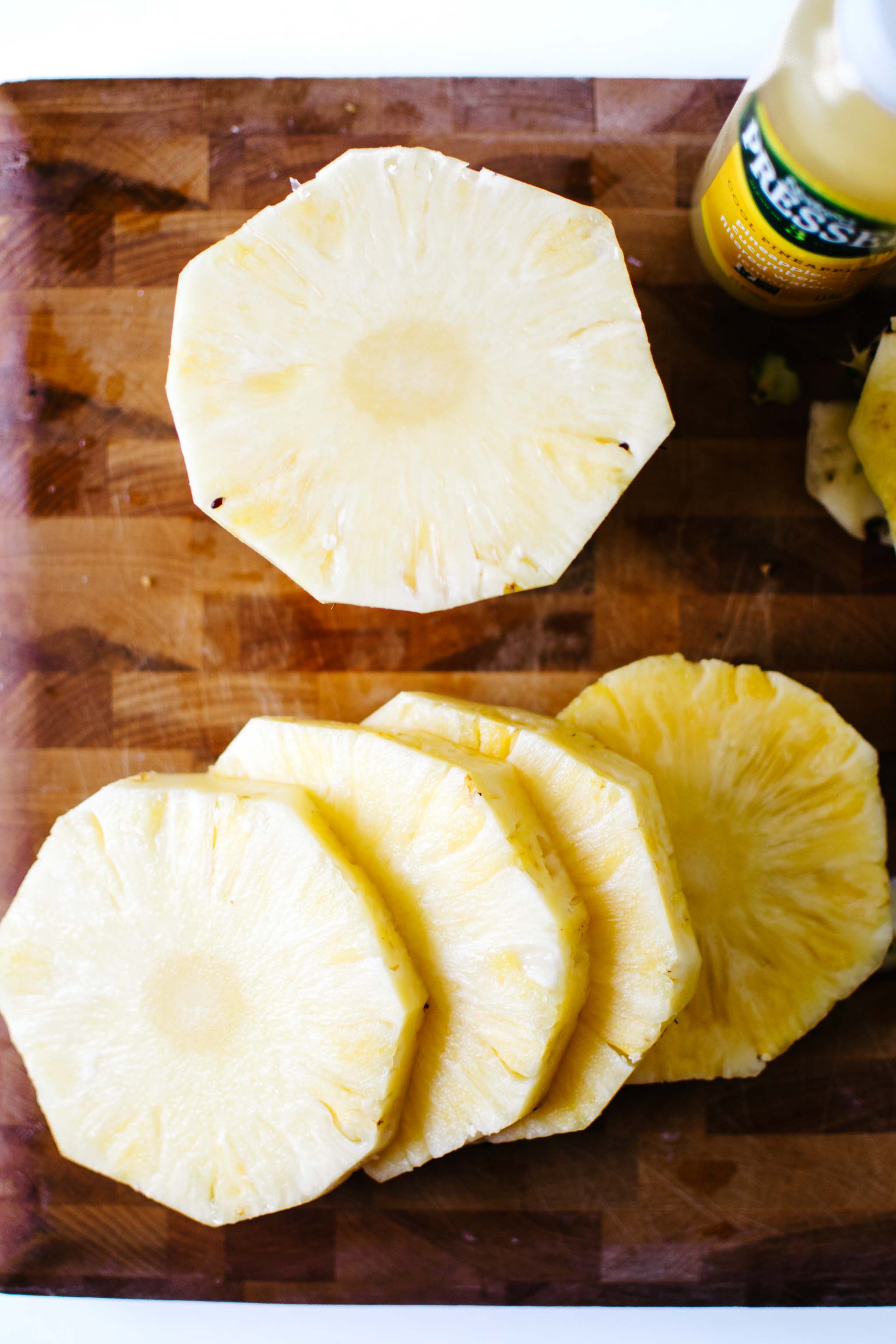 The perfect blend of cucumber and pineapple in Naked's cold pressed Cool Pineapple juice had me excited to mix the two in their un-pressed form. Always eager to blend savory and sweet flavors, I decided to make a salad out of it, featuring grilled pineapple (those caramelized, crispy edges!), paper thin, cooling cucumber slices, and spicy, vinegary, cilantro-y roasted peanuts. The flavors together are simple but soaring—you'll want to eat this all summer. Even better: You don't need a grill to make the pineapple—I used a very hot frying pan to sear mine.
The spicy peanuts, a keystone flavor in this salad, are inspired by Taiwanese-Chinese farm-to-table restaurant Pine & Crane here in LA, where I eat them obsessively, with just about anything else that appears on the table. Heavy hits of acid, salt, and scallions are elevated by fresh cilantro and the steady crunch of roasted peanut. It's umami heaven.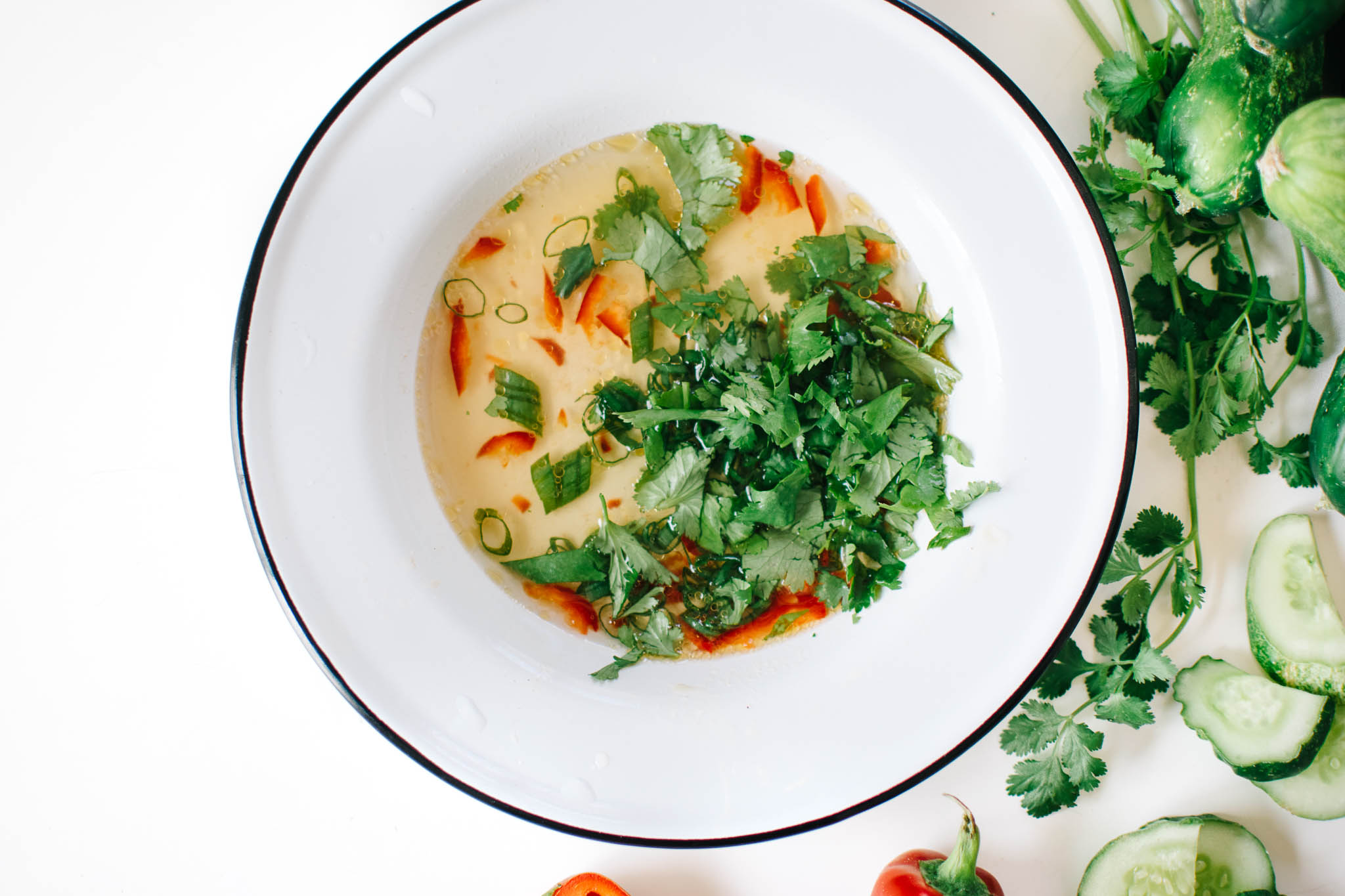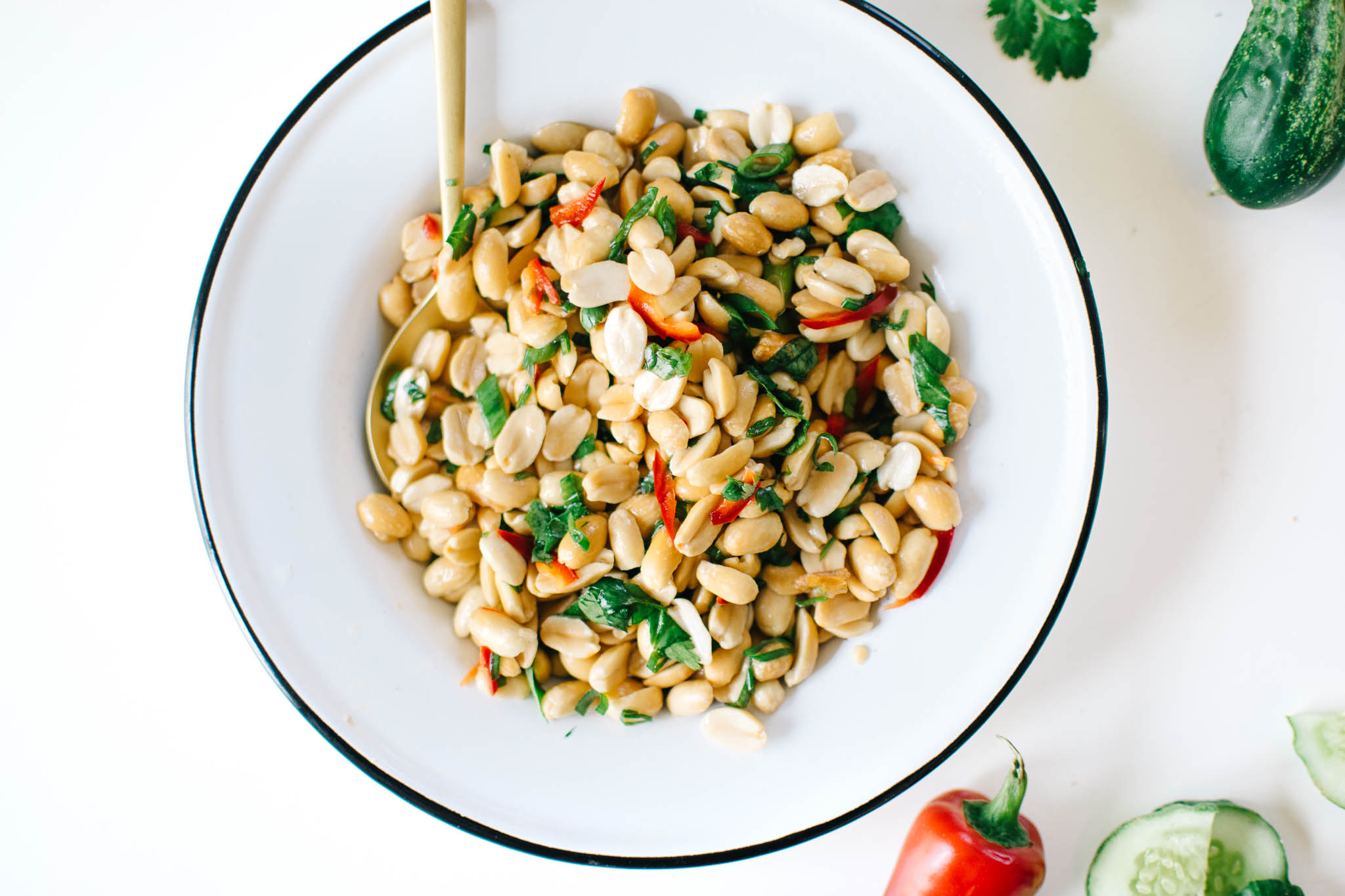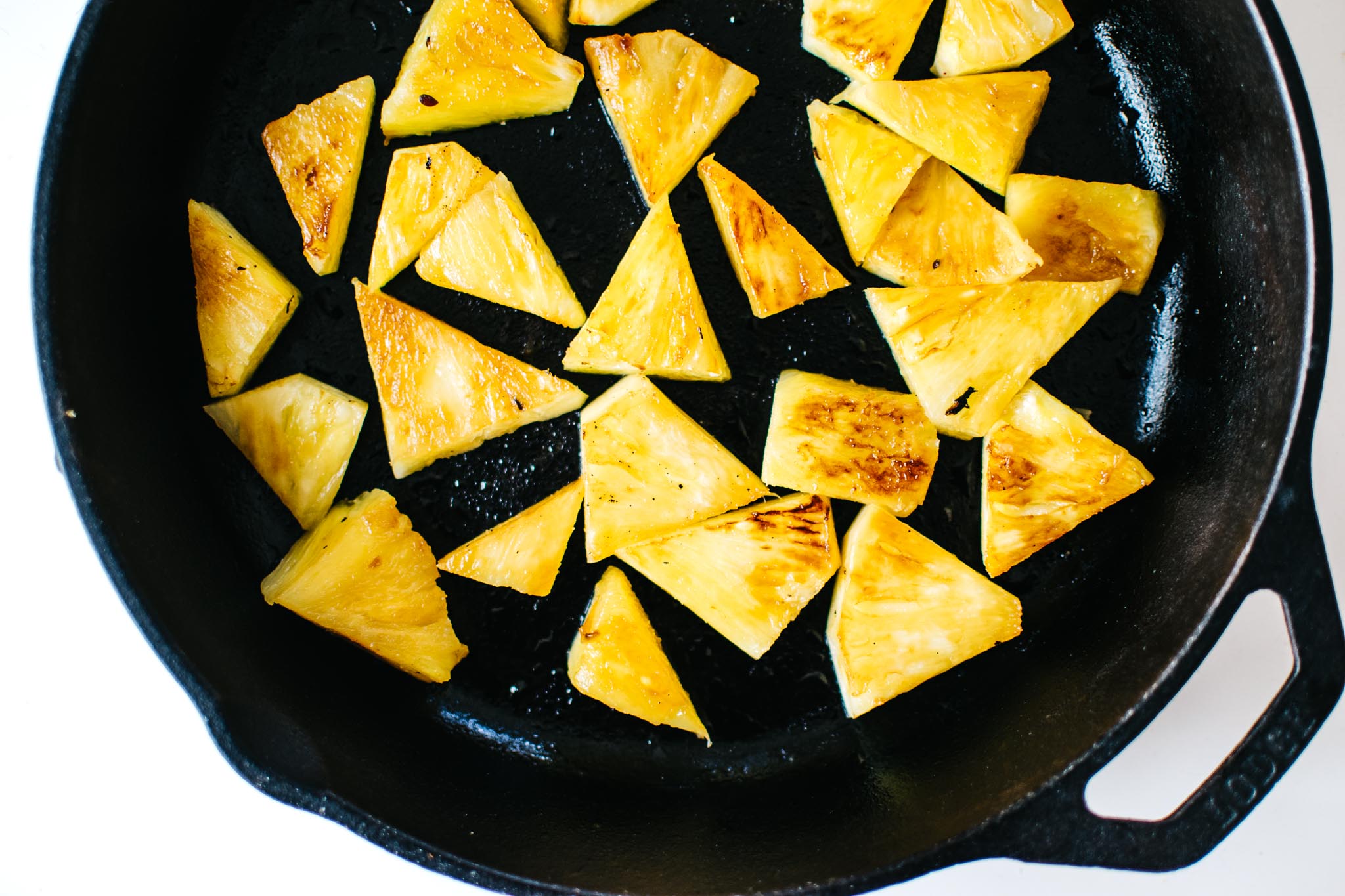 I'm particularly keen on this salad as I'm getting ready for the Maui Kale & Caramel book launch—it's been six months since I was home last and I'm ready for ocean, island quiet, and sumptuous tropical fruit. It's mango season—pendulous golden orbs bursting with sunshine sugar are dripping from beachside trees—but no doubt I'll be seeking out the ripest pineapple I can find to make this salad for friends and family. I'll also get an extra serving of farmers market love in the coming week, as I'll stop by the ever-expanding and sweetly nourishing Upcountry Farmers Market in Kula: Just another opportunity to bring a Naked Pressed juice to life.
Celebrating the birth of Kale & Caramel with the Maui fam will be surreal—the culmination of a dream that began as a child on that same earth. I can't wait. It's been a long way round—of heartbreak and grief and exhaustion and writing and cooking—but it happened. I wrote a book (and, spoiler alert: The New York Times included it this week on their list of top cookbooks for the summer!).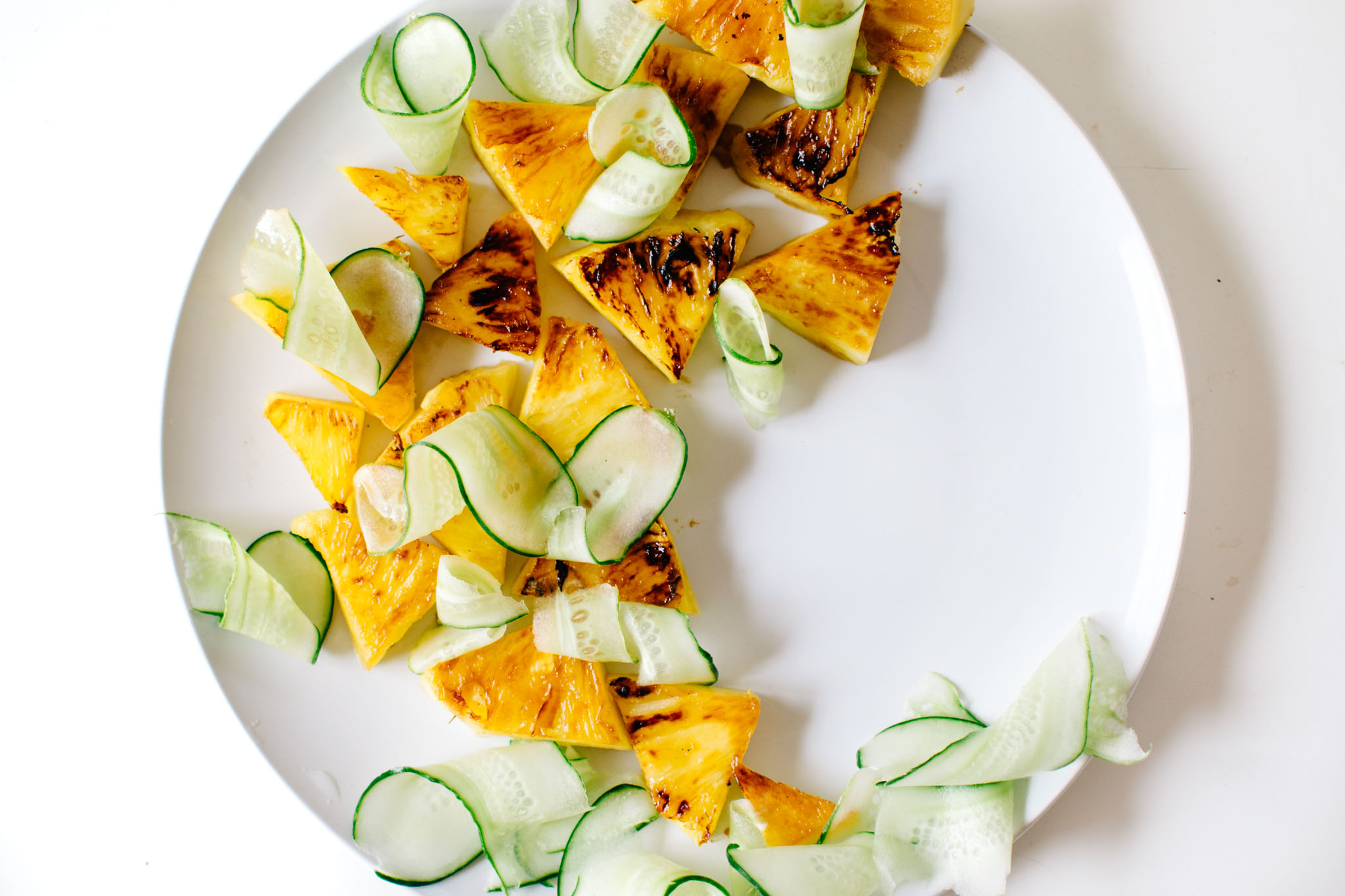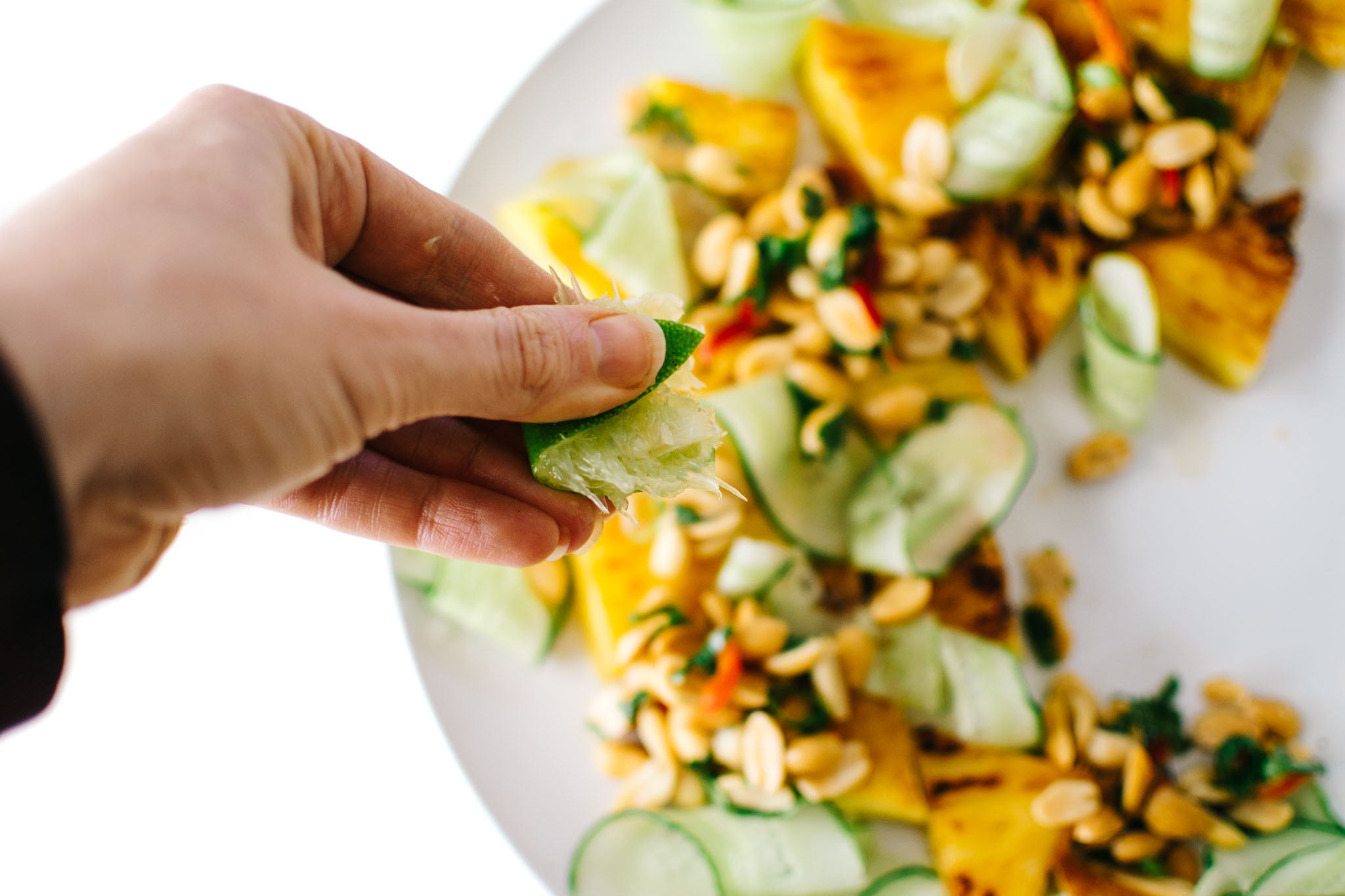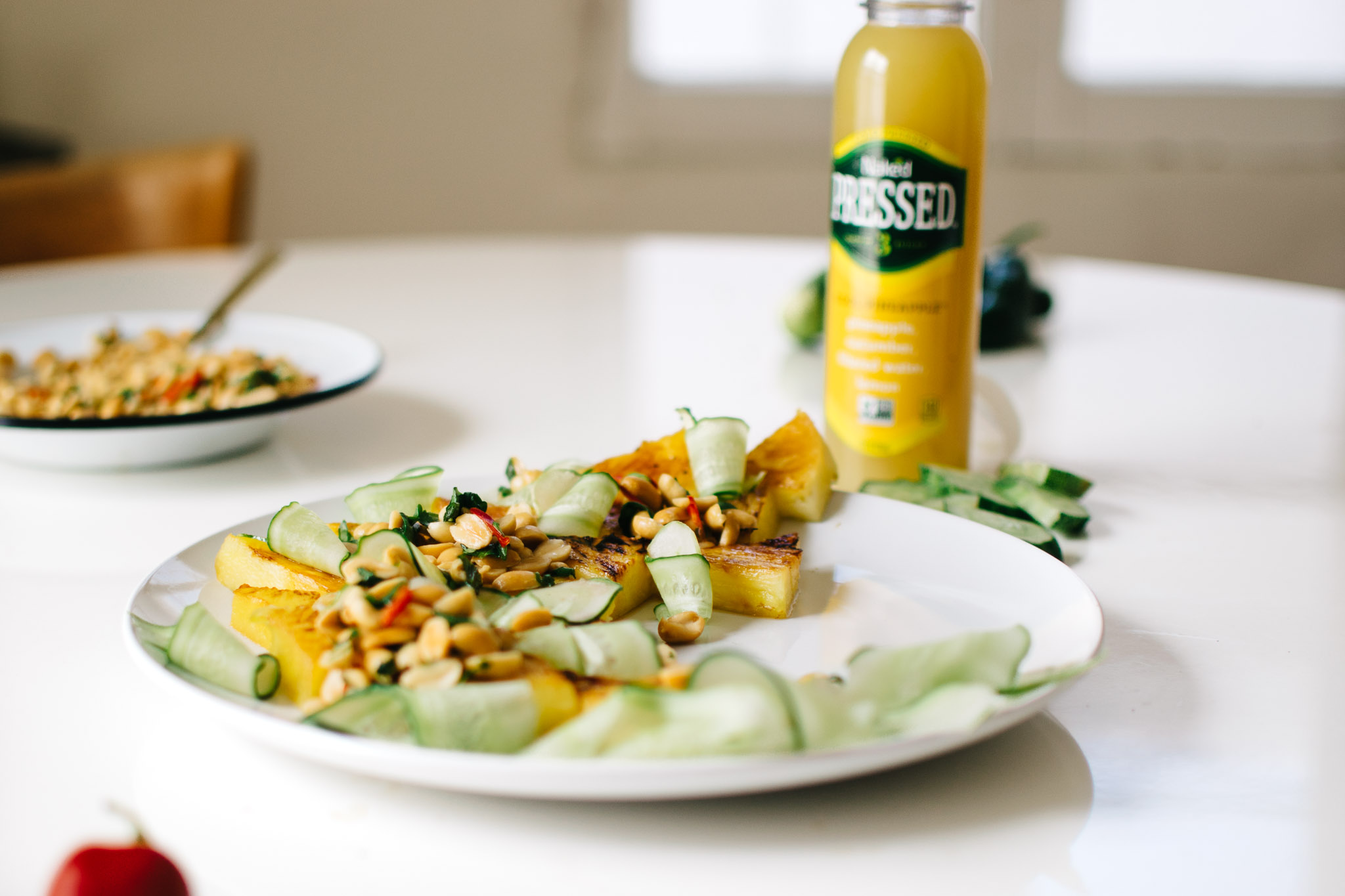 But before Maui, this salad! Head to your local farmers market, find some cucumbers, and chat up the farmers. Discover what they're harvesting now. Ask about the rain and the soil. Inquire about their favorite produce, and what they grow. Grab a Naked Pressed juice for your adventure, and let it inspire your palate. Keeping my fridge well-stocked with healthy juices, fruits, and veggies is my favorite way to stay motivated to cook well for the week to come.
I wish you many juicy salads—stay tuned for reportage straight from the islands!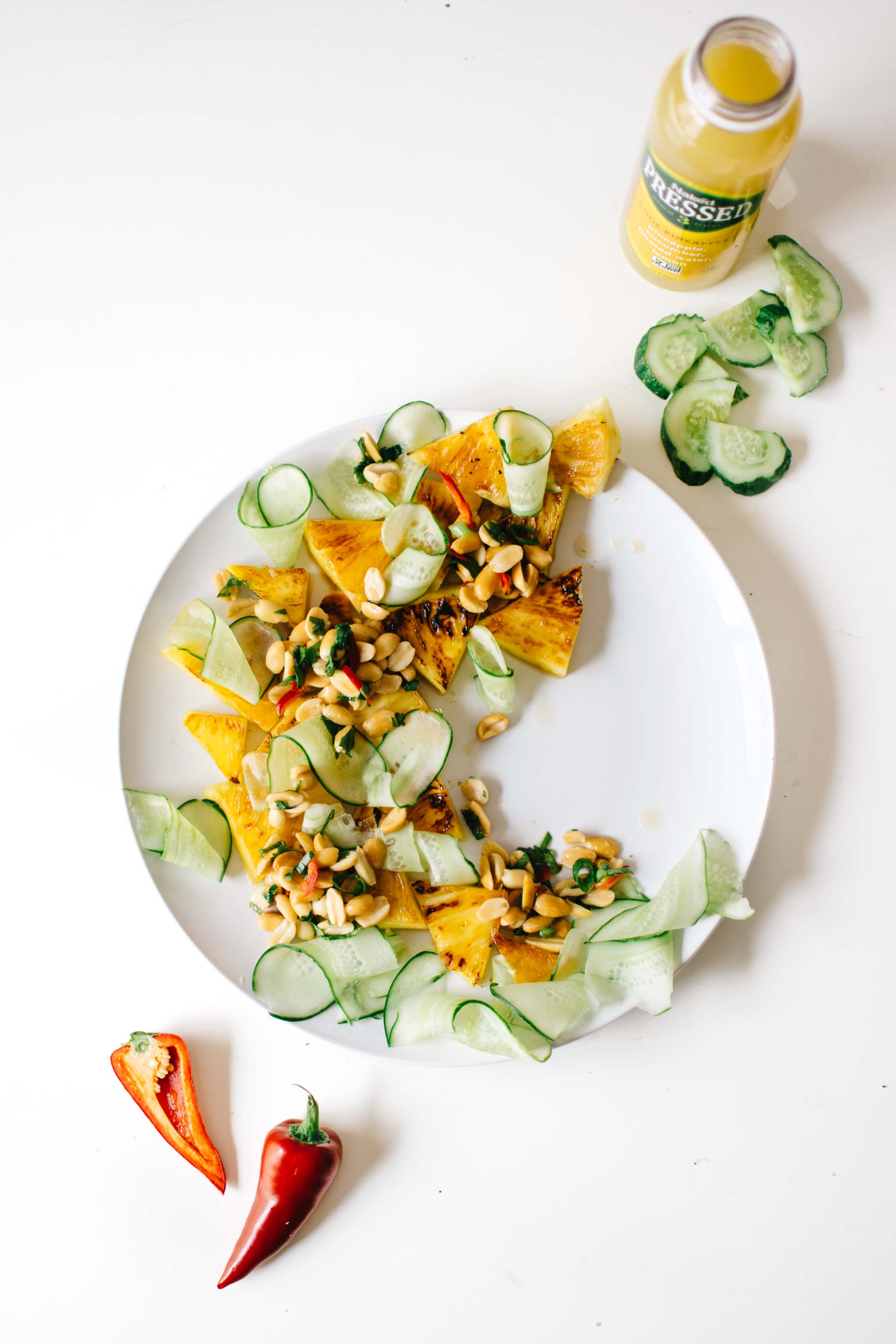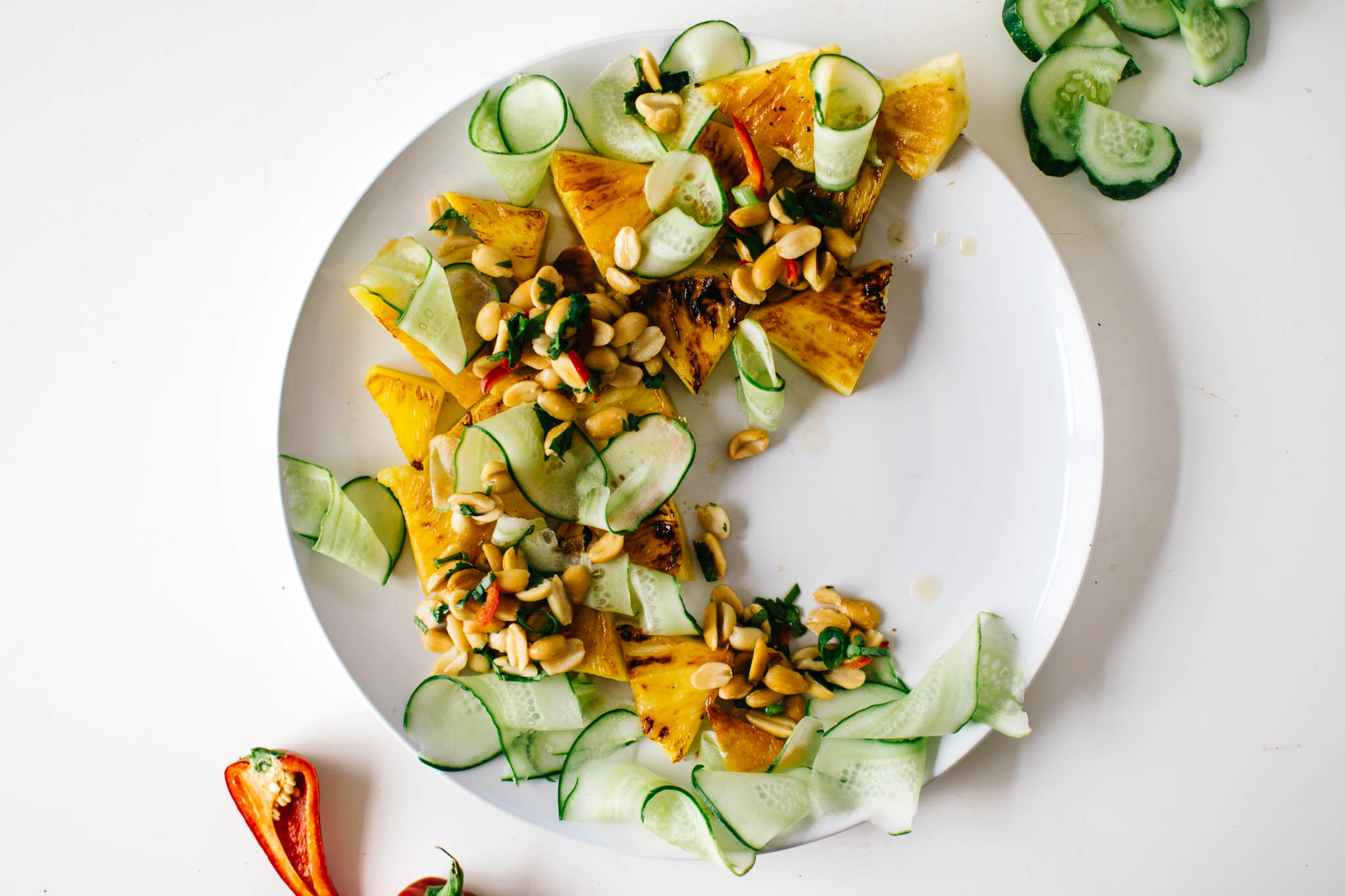 GRILLED PINEAPPLE & CUCUMBER SALAD WITH SPICY PEANUTS
Ingredients
GRILLED PINEAPPLE & CUCUMBER SALAD
1

medium

ripe pineapple, trimmed, cored, and cut into 1/2-inch thick triangles

1

medium

cucumber, thinly sliced with a vegetable peeler

fresh limes slices, to squeeze
SPICY PEANUTS
4

tablespoons

rice vinegar

1

teaspoon

honey

1/4

teaspoon

toasted sesame oil

3/4

teaspoon

sea salt

1

teaspoon

finely sliced fresno chiles

1 1/2

cups

roasted, unsalted peanuts

1/4

cup

coarsely chopped fresh cilantro leaves

1/4

cup

coarsely chopped scallions, green parts only
Instructions
GRILL (OR SEAR) THE PINEAPPLE.
Heat grill or skillet over medium-high heat. Place pineapple on grill or skillet and sear until beginning to caramelize (for me, this was about 1 minute 45 seconds to 2 minutes in a non-stick frying pan). Sear one or both sides—up to you! Place seared pineapple on a plate to cool.

Once pineapple has cooled, arrange seared fruit in a single layer, and arrange the cucumber slices in the gaps and spaces and on top of the fruit.
MAKE THE SPICY PEANUTS.
In a large bowl, combine the rice vinegar, honey, sesame oil, salt, and chiles. Whisk to combine and dissolve the salt and honey.

Add the peanuts and use a spatula or spoon to toss and thoroughly coat in the vinegar blend.

Add the chopped cilantro and scallions and toss again to mix.
ASSEMBLE THE SALAD.
Spoon spicy peanuts over the grilled pineapple and cucumber. Finish with a few squeezes of lime. Serve immediately.