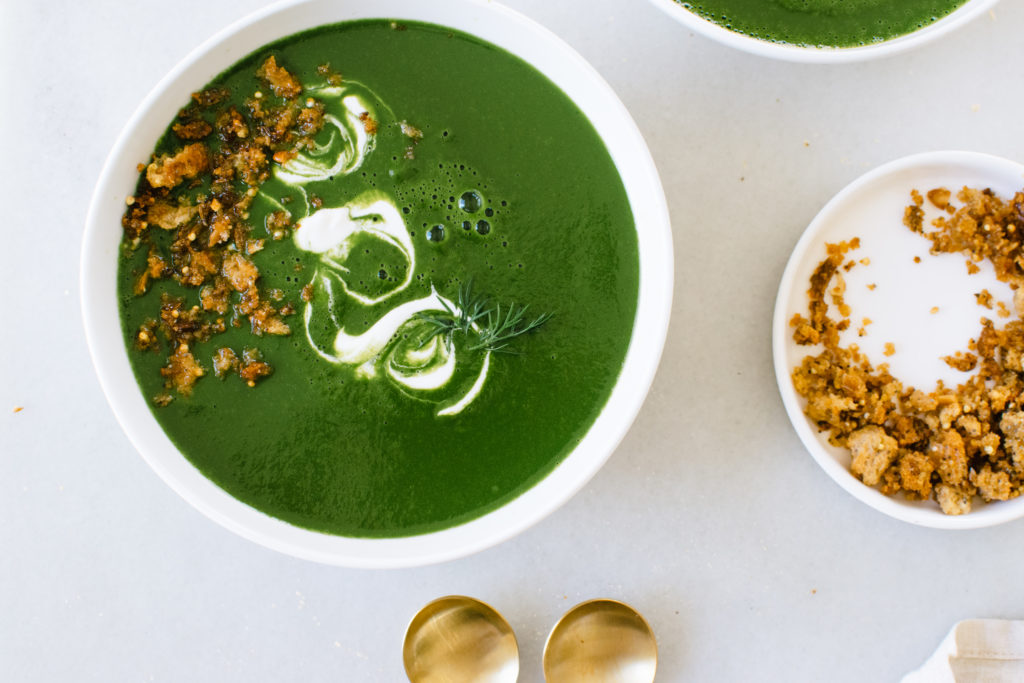 Jump to Recipe
I am deeply obsessed with this soup. It tastes like a smooth, mellow, umami green dream. It's supremely clean, yet quite a few notches heartier than a broth. And it's the perfect solution to your winter need for warmth and sustenance without the weightiness of butter and sugar. It's almost a cleanse in a bowl.
Speaking of which, I need to rant a moment on the subject of cleanses. Because I'm over them. Here's why: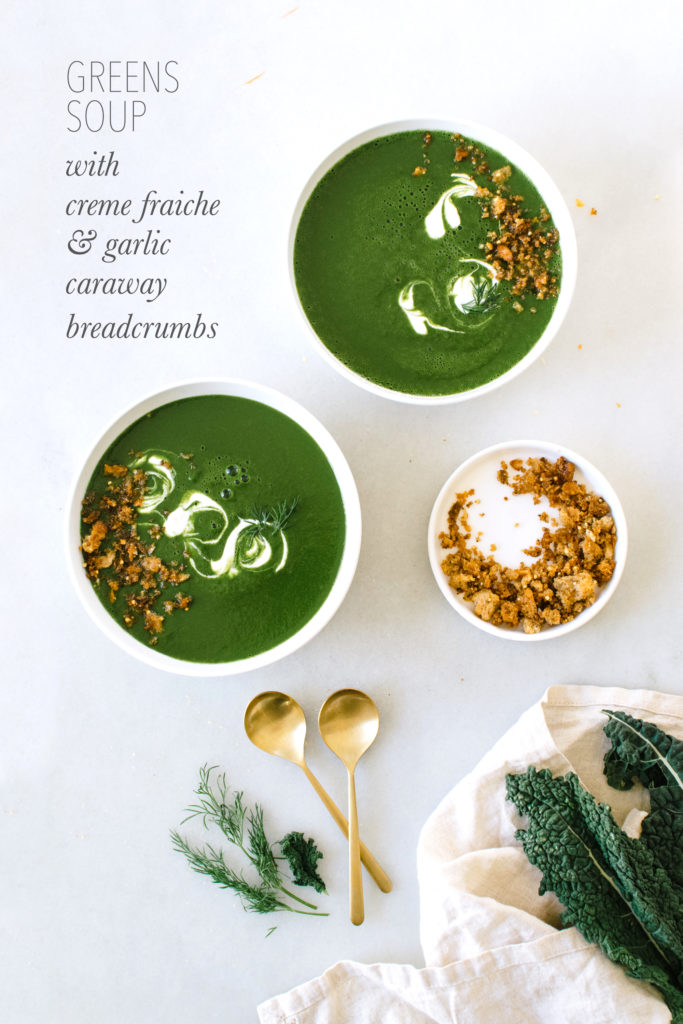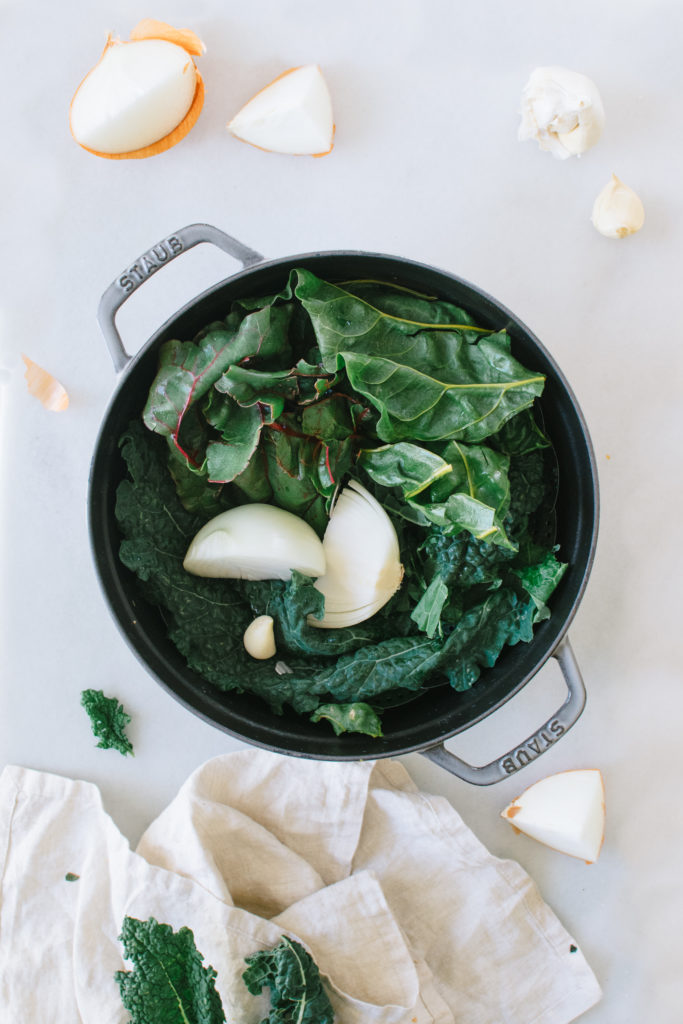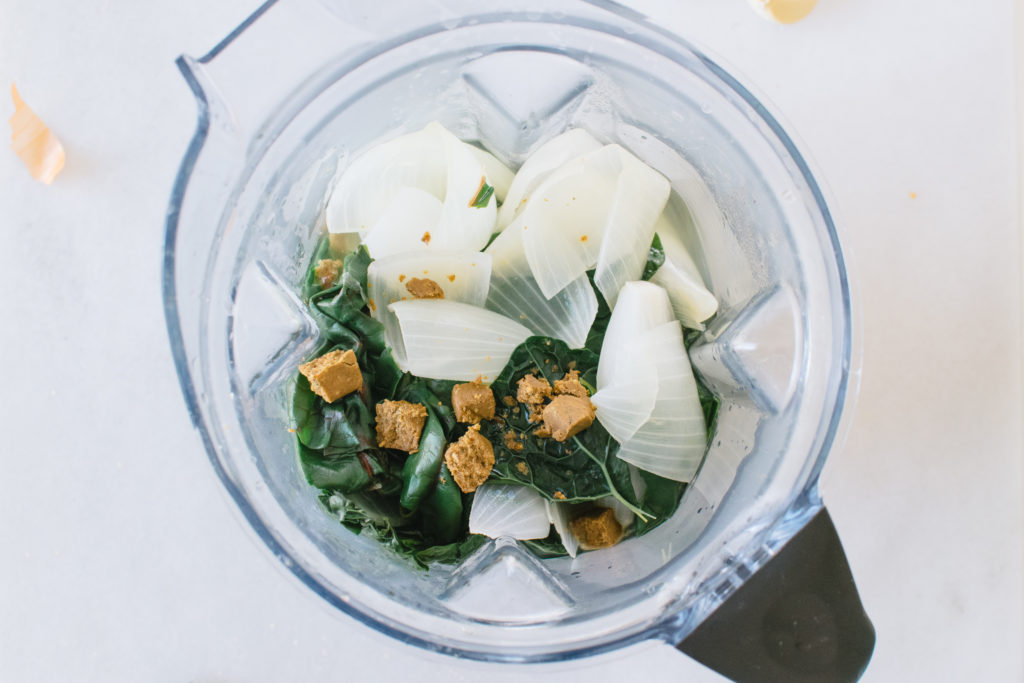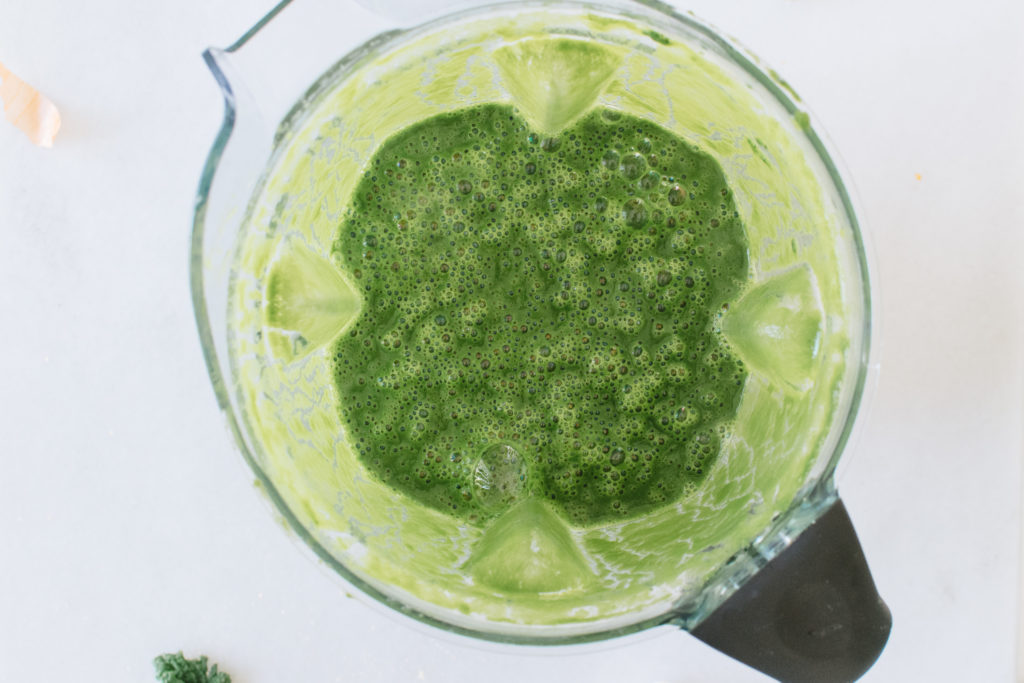 The science has confirmed you can't actually detox your body.
Starvation isn't healthy.
Eating for real health and beauty should be an all the time thing. Don't harm your body with food just so you can purge later. Kale & Caramel, y'all. Get that balance.
All of that said, I am infinitely cool with periodically hitting the reset button and treating yourself to what my genius friend Amanda Bacon of Moon Juice calls "feasting" rather than cleansing.
My body—and yours—naturally gravitates towards what it truly needs at any given moment. There are weeks when all animal products fall out of my diet, and weeks when I crave much heavier foods. At the end of the day, it's all about listening closely. About quieting the noise and really communicating with your body.
This mindbogglingly easy soup is the perfect solution for that time of year when I need a bit of heartiness with my veggies.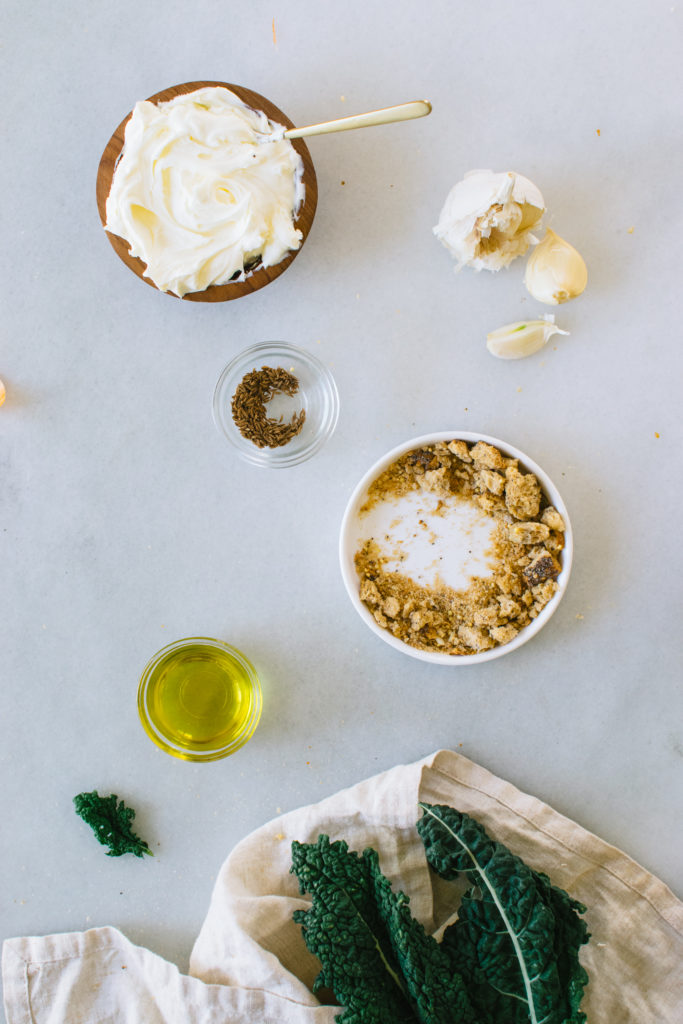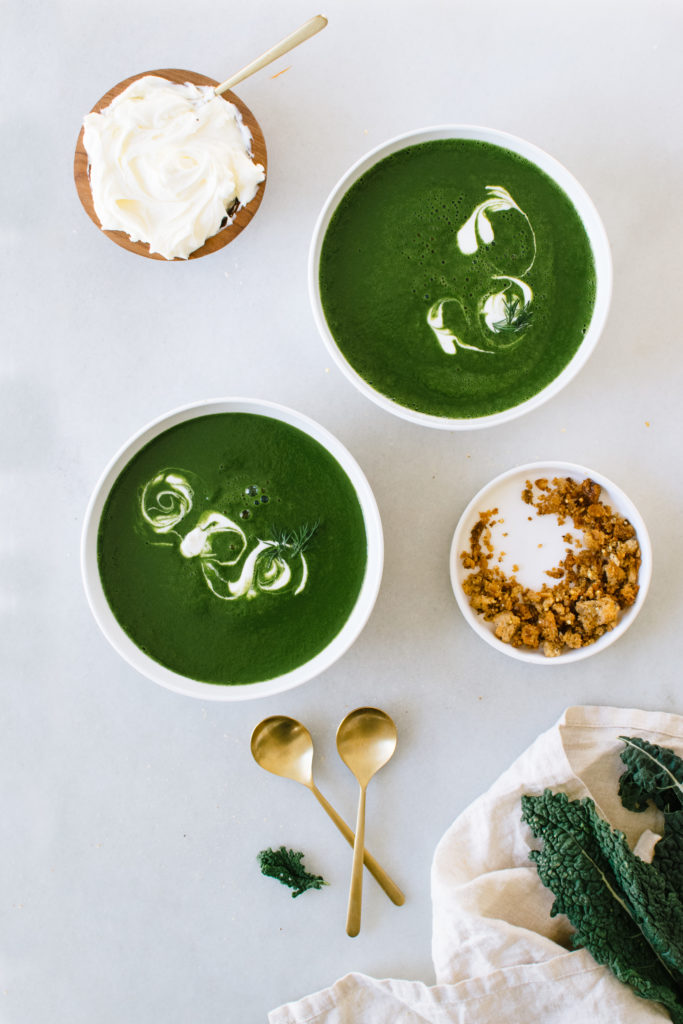 It's paired here with an extra touch of dill, garlicky caraway and olive oil toasted bread crumbs, and a swirl of creme fraiche. Feel free to use yogurt, sour cream, or no swirl at all. This is your world of soup.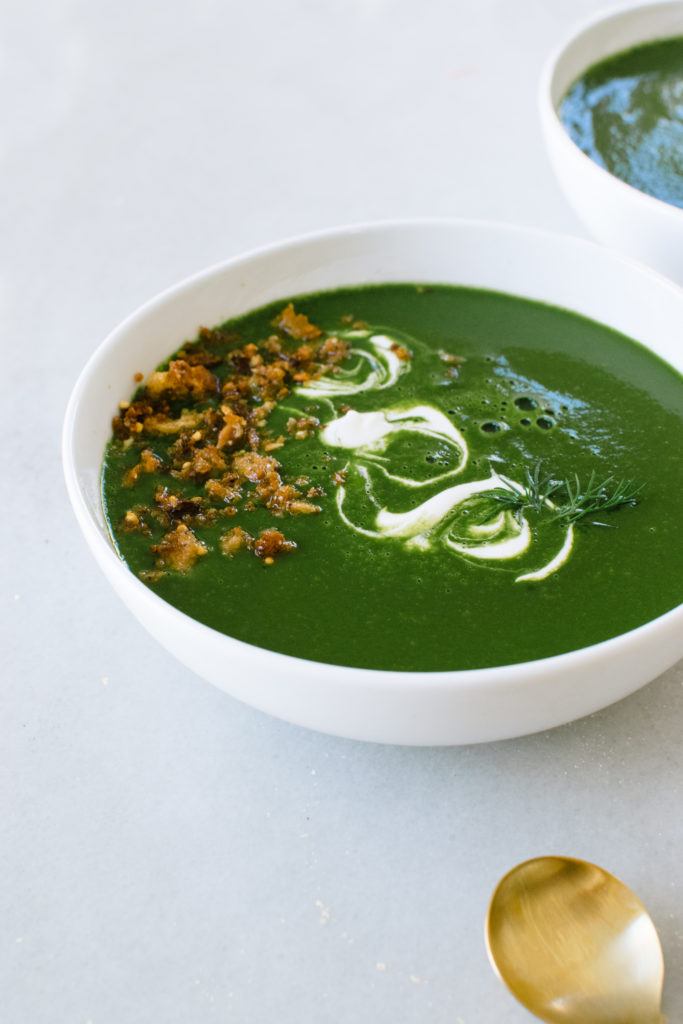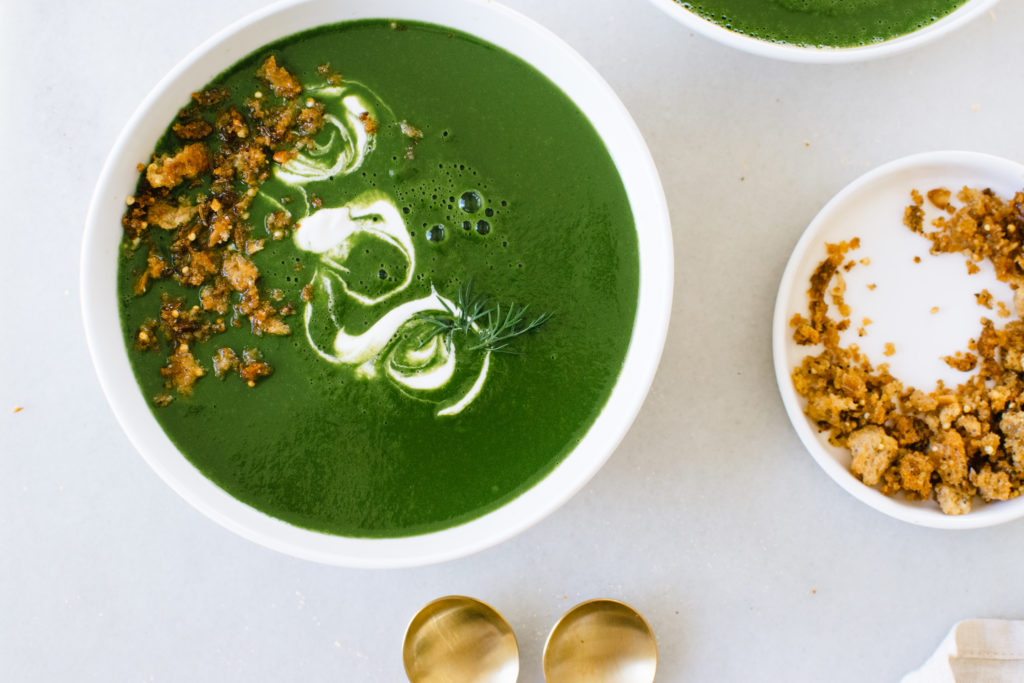 The last thing I'll say about this wonder soup is that eating it makes you feel a bit like you can go out and conquer the world. It's just that packed with chlorophyll, immune booster, vitamins, and super charged minerals.
GREENS SOUP WITH CREME FRAICHE & GARLIC CARAWAY BREADCRUMBS.
Ingredients
greens soup
2 ½

cups

pure water

or vegetable stock

2

bunches of cooking greens

(kale chard, spinach or collards), washed, stemmed, and torn

1

onion

quartered and outer layers discarded

2

cloves

garlic

peeled, whole

1

teaspoon

fresh dill leaves

1

boullion cube

2

tablespoons

nutritional yeast

1

tablespoon

raw coconut oil

1

teaspoon

ume plum vinegar

dash of cayenne

(or more to taste)
garlic caraway breadcrumbs
½

cup

breadcrumbs

made from crushed stale bread or storebought (I used a seeded multigrain loaf that had gone stale)

1

tablespoon

olive oil

2

pinches

sea salt

½

clove

garlic

crushed

¼

teaspoon

caraway seeds
garnish
¼

cup

creme fraiche

yogurt, or sour cream

leaves

fresh dill
Instructions
Add two and a half cups of pure water (or vegetable stock) into large stockpot, and place metal or other steamer inside. Add torn greens, quartered, onion, and garlic. Turn heat to medium high and bring to a boil with lid on.

Steam until onions are soft (about 7 minutes, longer as necessary). Remove from heat.

Place steamed vegetables in high speed blender with about 2 cups of the water (or stock) from steaming. Add dill leaves, bouillon cube, nutritional yeast, coconut oil, ume plum vinegar, and dash of cayenne. Blend until completely smooth. Return to pot to keep warm.

Preheat oven or toaster oven to 415º. In a small bowl, mix breadcrumbs, olive oil, couple pinches sea salt, crushed garlic, and caraway seeds. Toss to thoroughly incorporate all ingredients. Place in single layer on a small baking sheet and bake for 3-5 minutes, until just golden brown and fragrant. Remove from oven and set aside.

Serve soup topped with dollops of creme fraiche, sprinkles of garlic caraway breadcrumbs, and fresh dill.

Freestyling alert: you can add just about any veggies you fancy, especially other greens like celery, zucchini, or broccoli.