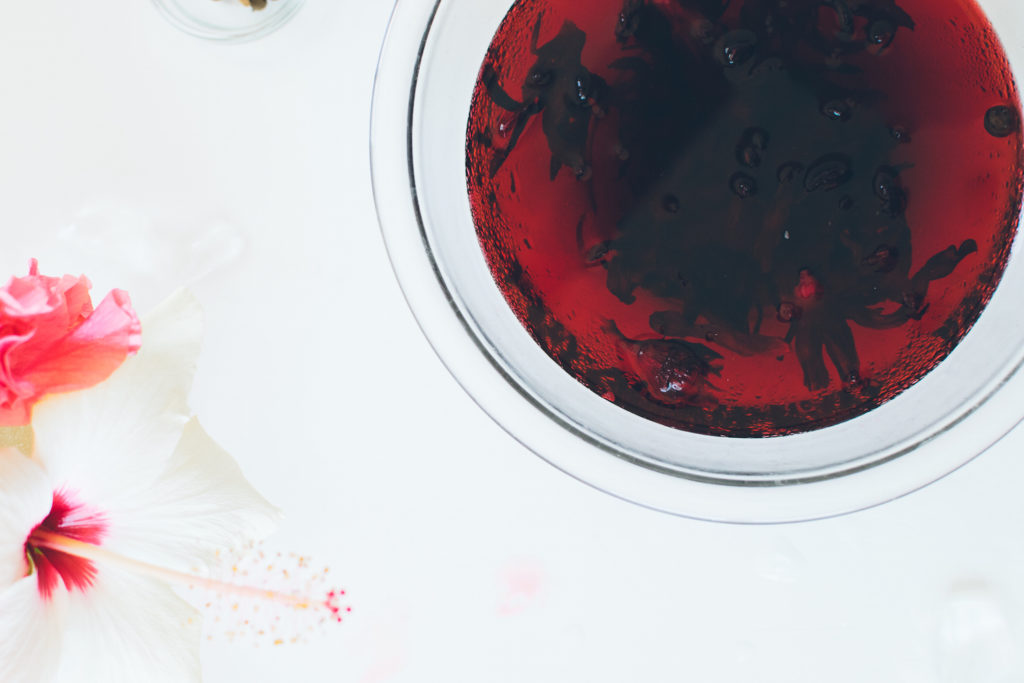 Jump to Recipe
It's been hot. Too hot. Scary hot. Hot like triple digits, hot like underboob sweat, hot like is this the end of the world. Hot like should I start conserving water because it's year 5 of California's epic drought and who knows how much groundwater there is left. Hot like how is it even *possible* that Los Angeles' rainwater catchment system drains INTO THE OCEAN. Hot like I can't even come near my stove.
So instead of cooking, we're having a party. A party to drink the summer, to stay cool, to squeeze every last drop of sunshine and sweetness and buoyant juicy goodness out of the season.This irresistibly frozen coconut, lime, and hibiscus slushy is just the beginning: The interwebs have been taken over by some of my favorite bloggers today using the #DRINKTHESUMMER hashtag. Hosted by the gorgeous Sherrie of With Food + Love and Renee of Will Frolic For Food, it's just one big blogger party with a whole lotta dranks—boozy and otherwise.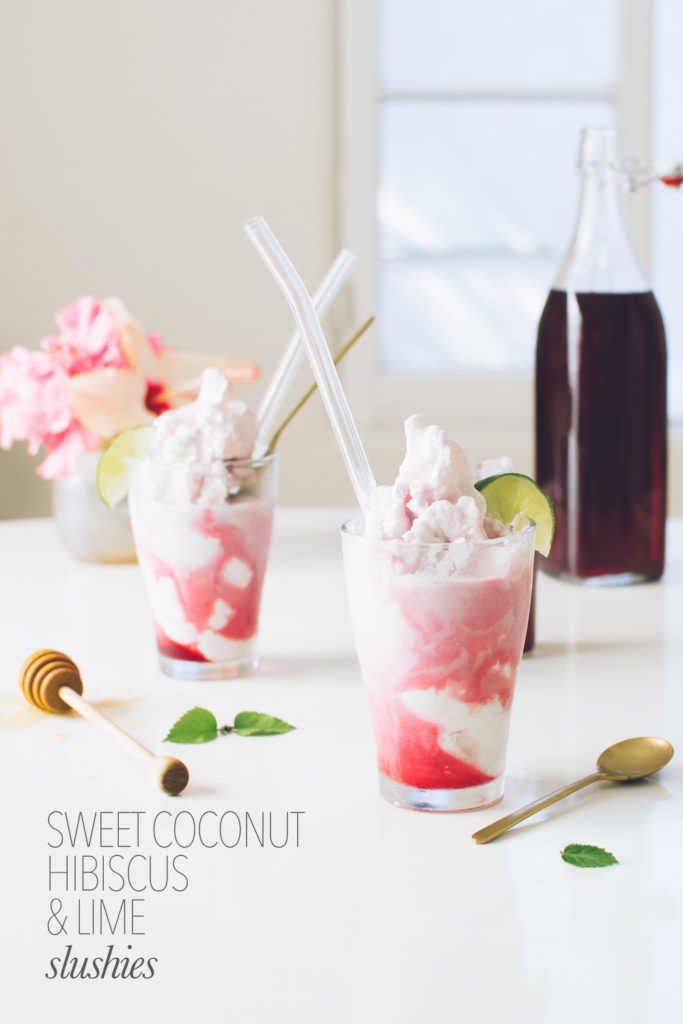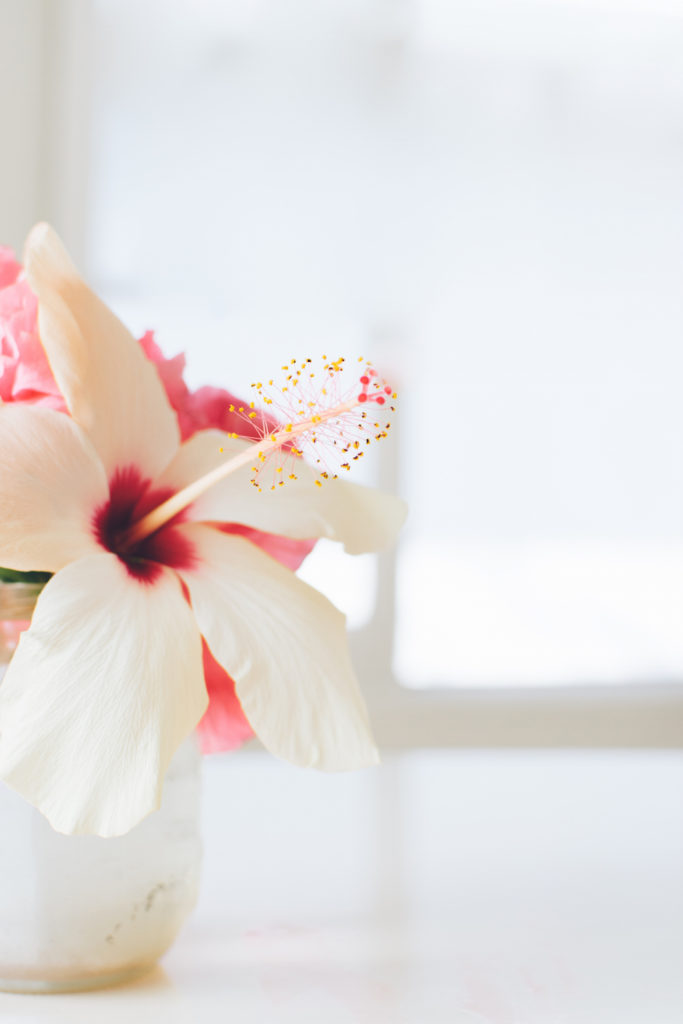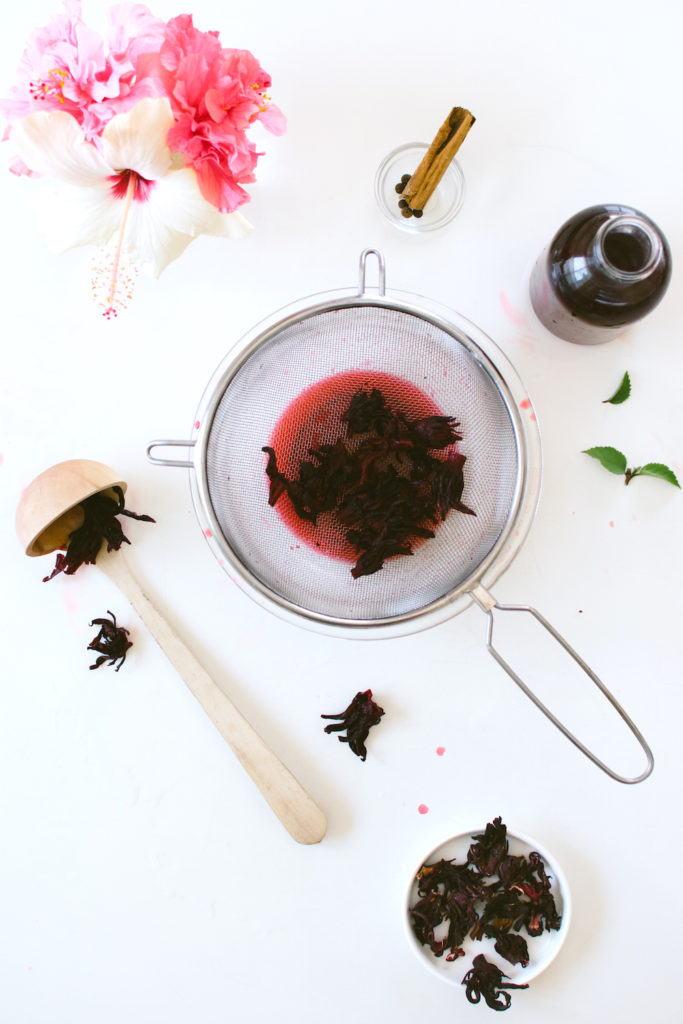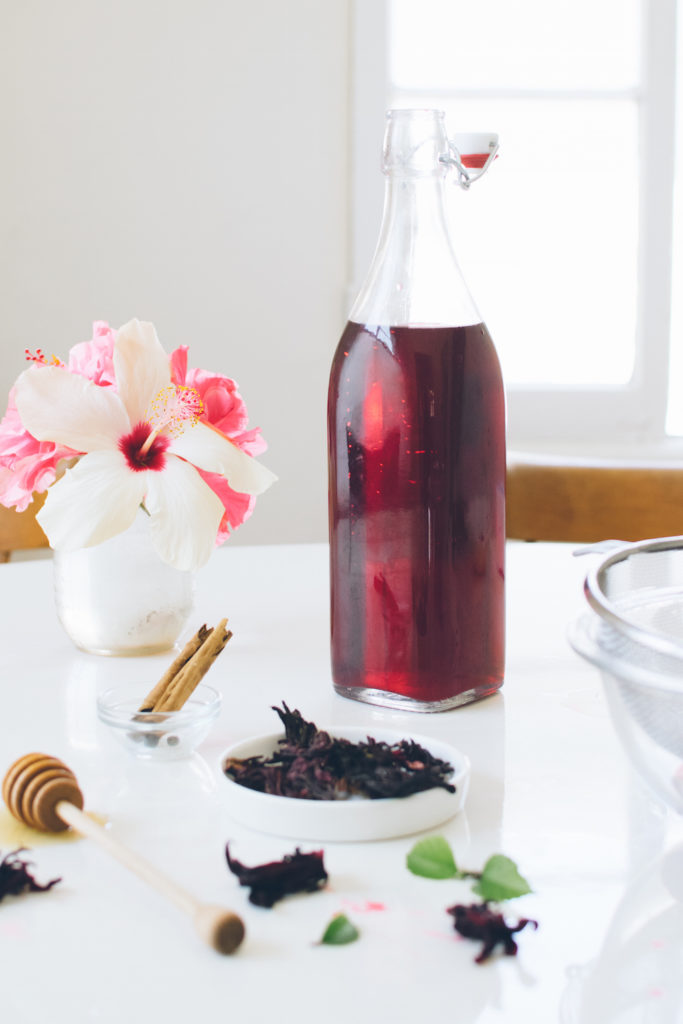 These slushies are absolutely heavenly—and require only a minimal moment at the stove to concoct. The hibiscus flowers (traditionally called flor de jamaica, and readily available at health food stores or Mexican groceries) deliver a high dosage of vitamin c and a potent sweet-tart flavor. After a bit of research, I decided to cold-brew the tea, infused with cinnamon and allspice, and then reduce it to a condensed near-syrup to drizzle into the slushie.
The base is nothing more than coconut milk, lime juice, and simple syrup. Nothing could be easier!
And their combination? #DRINKTHESUMMER perfection.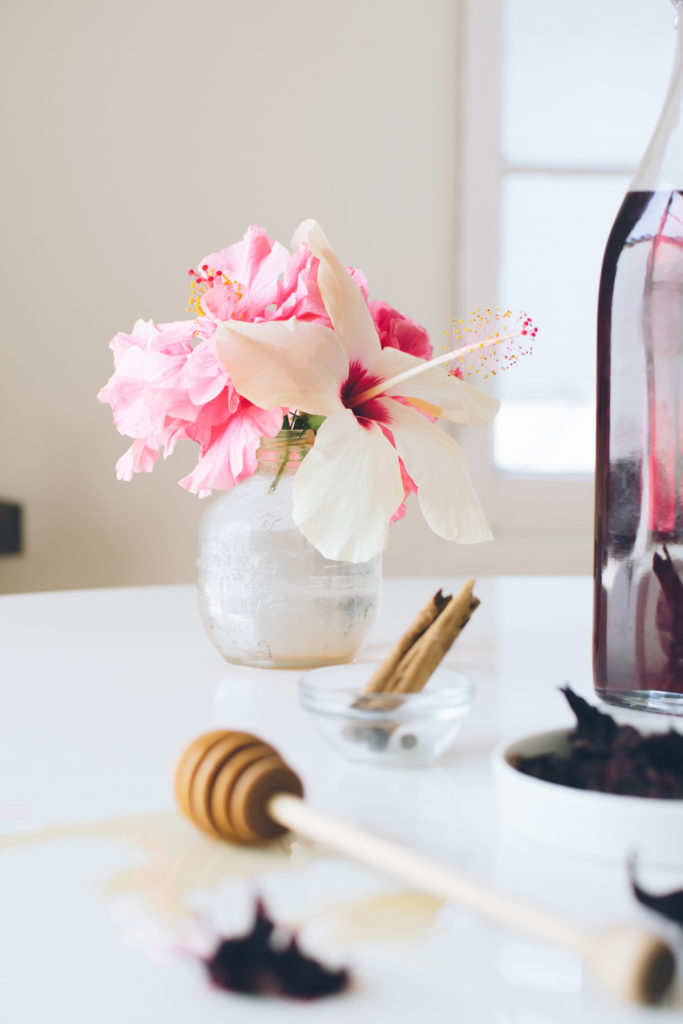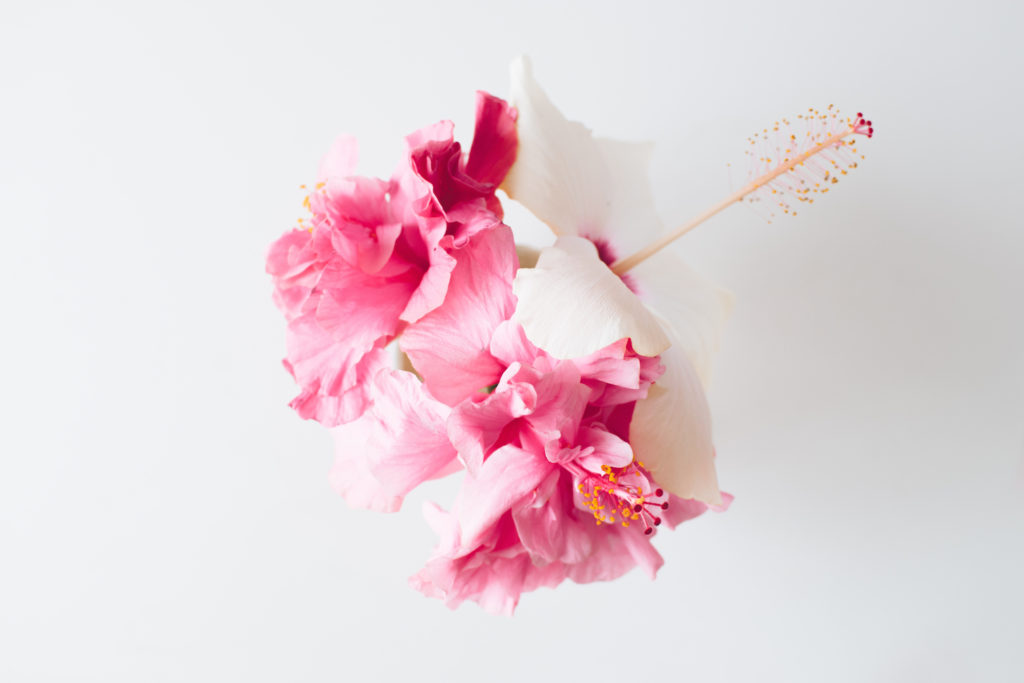 We're so excited to welcome you to the party! Scroll all the way down for links to the other amazing (and mega cooling) bevvies being made.
#DRINKTHESUMMER roll call:
With Food + Love | Fresh Heirloom Bloody Marys with Old Bay and Spicy Pickles
Will Frolic for Food | The Sugar Hollow: Watermelon Gin Cocktail with Cardamom and Lime
Fix Feast Flair | Berry Peachy Kentucky Mules

i am a food blog | Thyme Gin and Tonics

my name is yeh | Nutella Egg Cream
le jus d'orange | Peach Yogurt Soju and Ginger Plum Kombucha Cocktail
Chocolate + Marrow | Raspberry Thyme Smash
The Bojon Gourmet | Basil Pluot Pimm's Cup
Snixy Kitchen | Sparkling Asian Pear and Mint Iced Tea
Hummingbird High | Thyme Lemonade
Vegetarian 'Ventures | Sparkling Peppered Plum Blush
The Broken Bread | Blackberry, Cucumber and Mint Gin Spritzer
The Pig & Quill | Raspberry Basil Gingerade Fizz
Brooklyn Supper | Bloody Maria Cocktails
Cake Over Steak | Blackberry Bourbon Cocktail
Loves Food, Loves to Eat | Coconut Nectarine White Wine Spritzers
Dunk & Crumble | Ginger Peach Whiskey Smash
Tasty Yummies | When Figs Fly: Spiced Rum Fig Kombucha Cocktail
Feed Me Phoebe | Pimm's Cup Cocktail with Fresh Ginger, Lime and Tarragon
Earthy Feast | Strawberry, Basil and Pink Peppercorn Negroni
Ginger & Toasted Sesame | Blackberry Peach Margarita with Spicy Salt
O&O Eats | The Long Hope: a Honeydew Cucumber Gin Cocktail
Faring Well | Sparkling Melon Coolers with Muddled Raspberries and Mint
Beard and Bonnet | Pineapple and Cilantro Moscow Mule
The Pancake Princess | Strawberry Balsamic Shrubs
Edible Perspective | Rosé Slushies
Tending the Table | Plum Spritzer with Ginger and Kafir Lime
Appeasing a Food Geek | Sugar Plum Margarita
She Eats | Fizzy Lime and Blackberry Shrub
holly & flora | Pimm's Cup with Blackberry and Lemon Zest Shrub
Vigor and Sage | Peachy Tomato Basil Gin and Tonic
Hungry Girl por Vida | Peanut Butter and Berry Smoothie
A Brown Table | Fig and Bourbon Summer Smash
The Clever Carrot | 5 Minute White Peach Margaritas
Cookie and Kate | Watermelon White Sangria
what's cooking good looking | Watermelon Basil Colada
Salt & Wind | Watermelon Aperol Spritzes
SWEET COCONUT, HIBISCUS & LIME SLUSHIES!
Ingredients
coconut lime slushie base
1 15

ounce

can coconut milk

¼

cup

sugar

¼

cup

water

1-2

tablespoons

lime juice

2

pinches

sea salt

at least 8 cubes ice
spiced hibiscus tea
¼

cup

dried hibiscus flowers

2

cups

water

1

stick cinnamon

2

small whole allspice

2

tablespoons

honey
Instructions
Place dried hibiscus flowers, water, cinnamon, and allspice in a bowl or pot, cover, and refrigerate at least 8-10 hours.

In a small saucepan, mix ¼ cup sugar and ¼ cup water. Bring to a boil and immediately remove from heat. You just made simple syrup! Hurrah.

Stir simple syrup into coconut milk, and add pinches of sea salt and lime juice, to taste. Pour into ice cube molds and freeze until solid.

The next day, or 8-10 hours later, strain spices out of hibiscus tea with a fine mesh strainer, and set liquid aside.

Place hibiscus tea in a small saucepan with 2 tablespoons honey and bring to a boil. Simmer until reduced by ½, about 20 minutes. Transfer reduced hibiscus syrup to a glass and place in freezer or fridge to cool completely (depending on how quickly you want to use it—don't forget to take it out of the freezer, though!).

When the hibiscus reduction has chilled, blend all your coconut lime ice cubes with at least 8 regular water ice cubes in a high speed blender. I like to use the back of the spoon to smack the regular ice cubes, cracking them so they're easier to blend. You can also add a little water if you're having trouble blending. It's a journey, but I promise you it'll blend!

Begin layering hibiscus reduction and slushie as you like—taste them together so you know the ratio you want.

Enjoy, my loves! And stay cool.