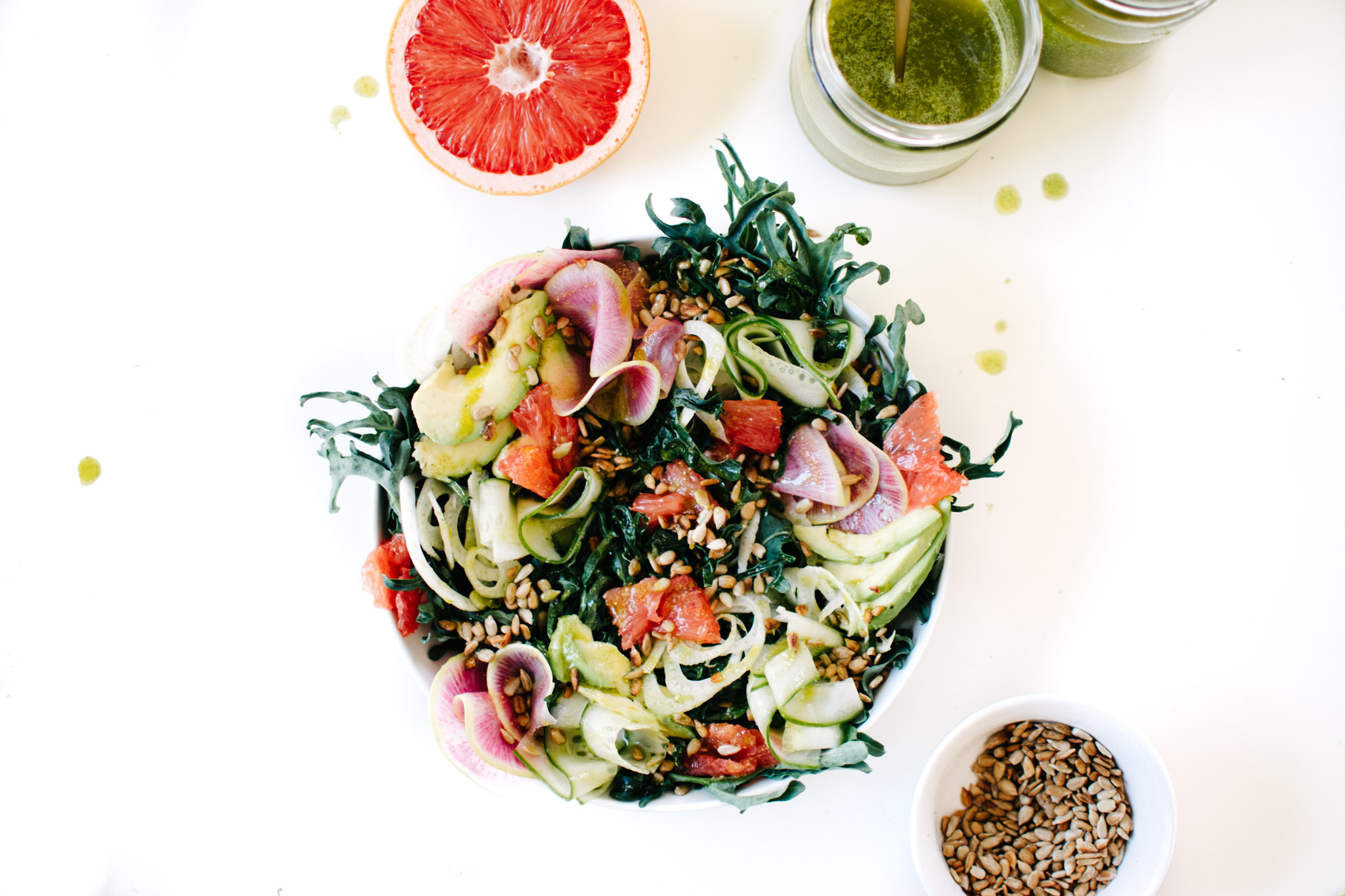 Jump to Recipe
This post was created in partnership with Vitamix for the Ascent Series Blender. All opinions are my own.

I was in bed all day yesterday, fluctuating between fever and chills. The sudden illness came out of nowhere—I hadn't been around anyone with the flu, and I didn't have any other symptoms. One moment I was be rocking a solid 100.3º, and the next a meager 96.6º. To be honest, it felt like a deeply psychosomatic manifestation of what's been going on in my mind as I navigate our current political clime: Constant fluctuations of fierce anger and chilling sorrow. Maybe my body just finally caught up with my mind.
By 9pm—and a full day of giving myself permission not to look at the news (I felt guilty, but knew I had to check out for just a few hours)—the fever was gone. I'd slept deeply and well both the night before and throughout the day. I slept again, hard, another eight hours, and woke today more determined than ever to handle my self-care more conscientiously. More like I might if I were taking care of someone else.
Which of course, for me, begins with my Vitamix.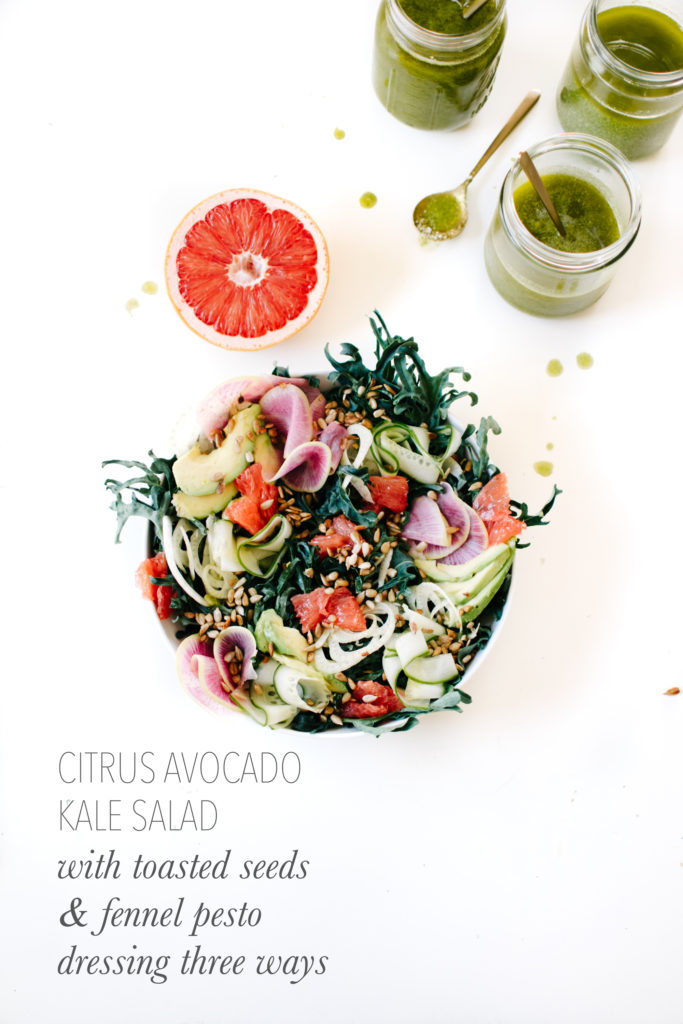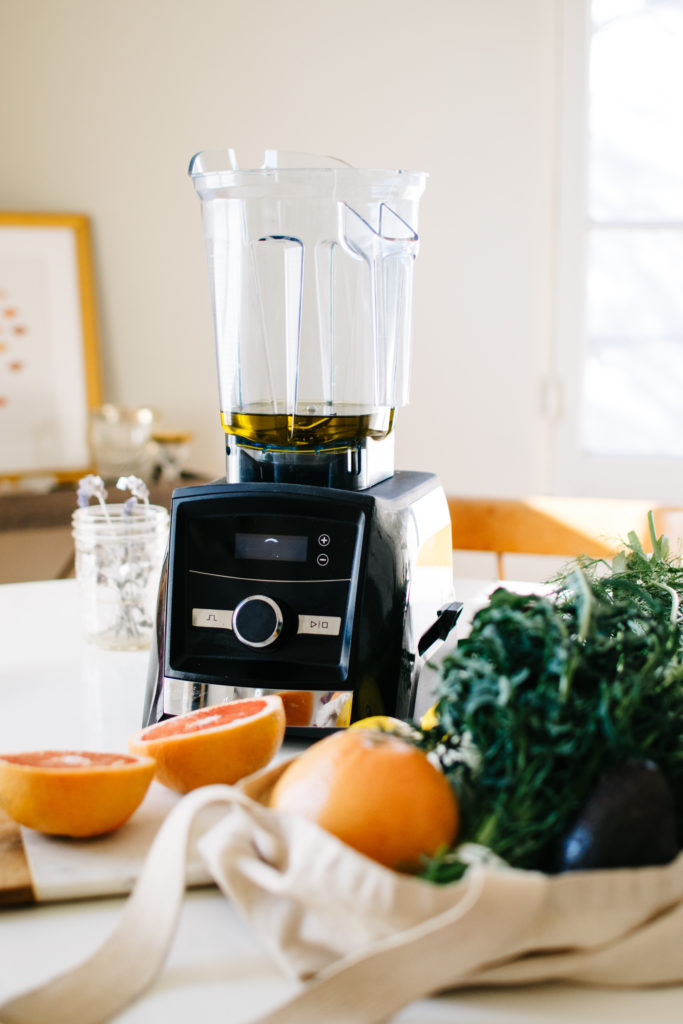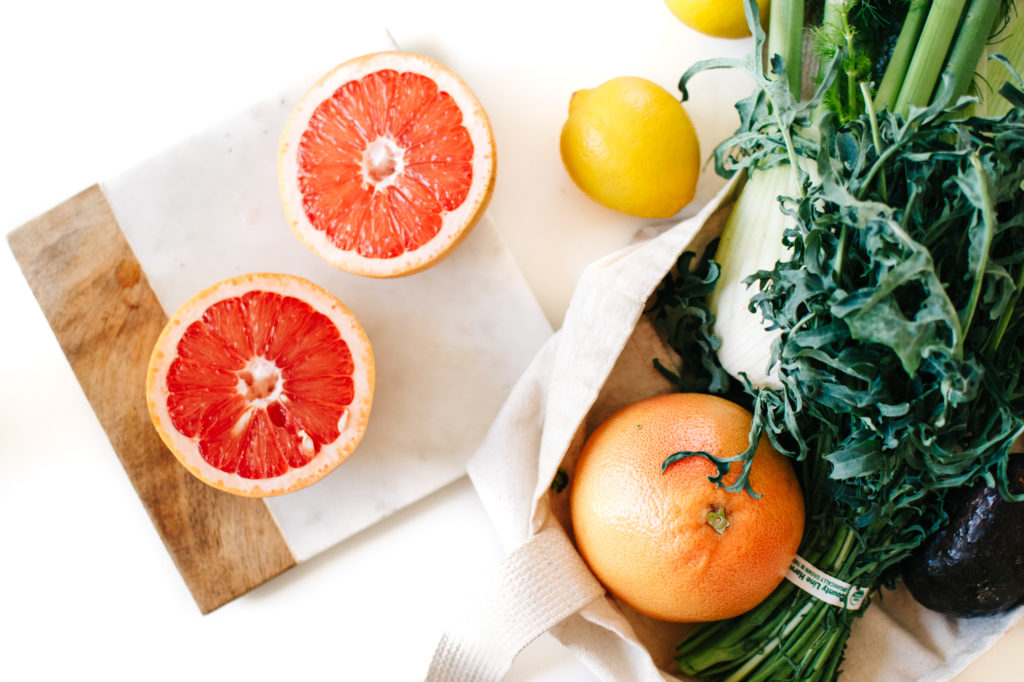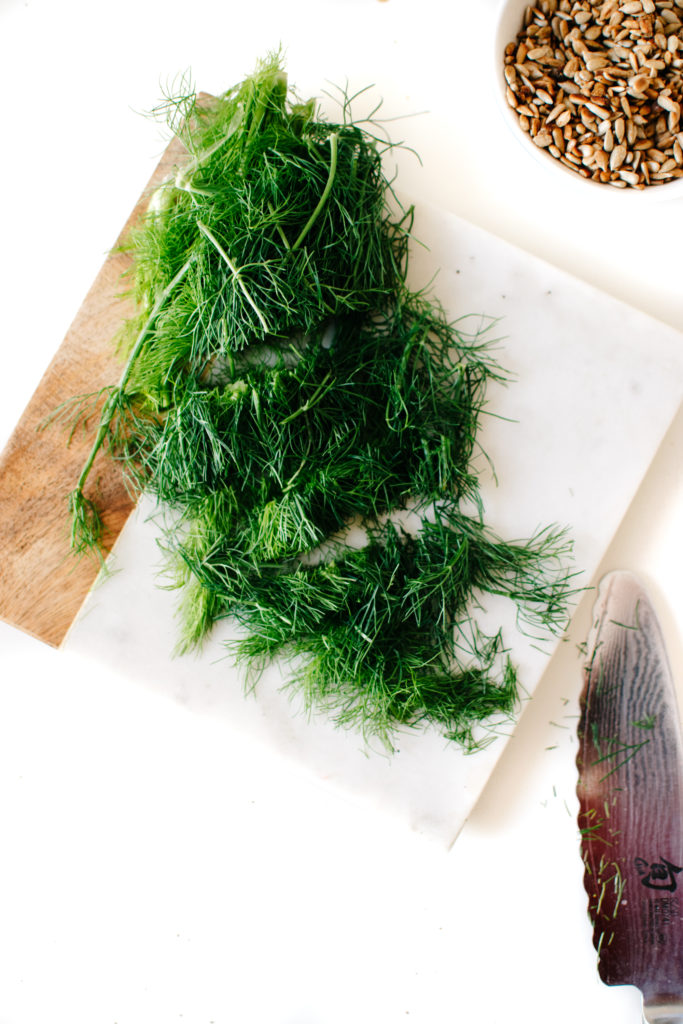 I got my first Vitamix in 2008, the very same year my mom died. It was a birthday gift from my then-boyfriend, who I'll always think of as one of the cornerstones of my self-care library. He worked in a physical therapy office as a massage therapist, and taught me how to care for, rather than over-work and over-stretch, my hyper-flexible spine. In many ways, I learned from him how to be a responsible owner of my body.
And that Vitamix he gave me turned out to be the greatest gift I've ever received. I immediately began using it numerous times a day, from blending up morning green juices to making afternoon smoothies, from dinnertime soups to dessert hot chocolates. For many years, it was the only appliance I owned: my ultimate kitchen self-care staple.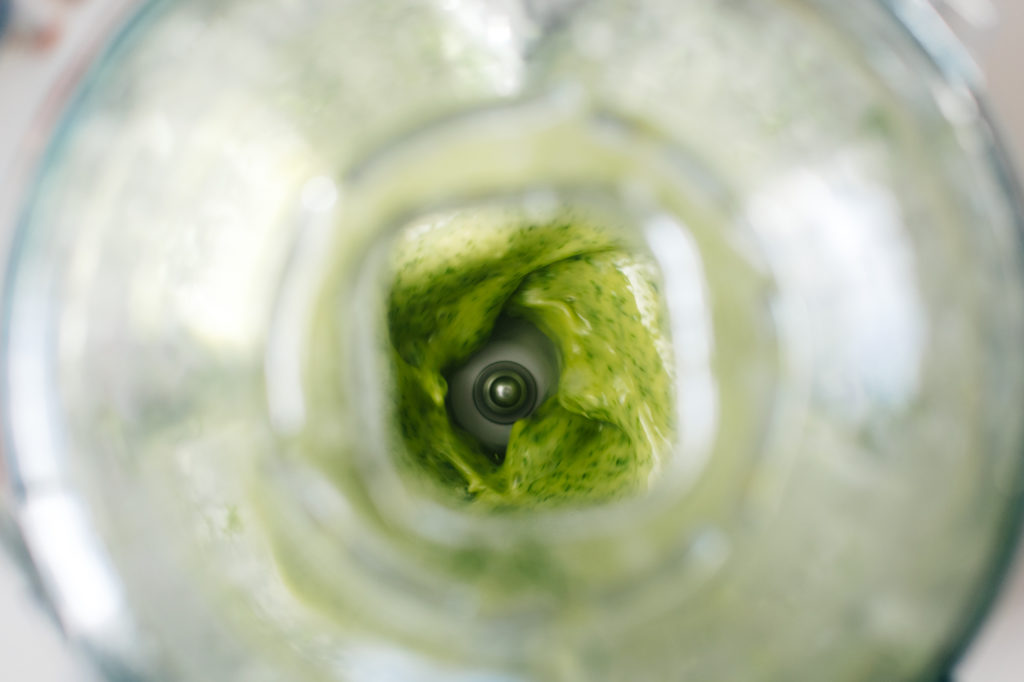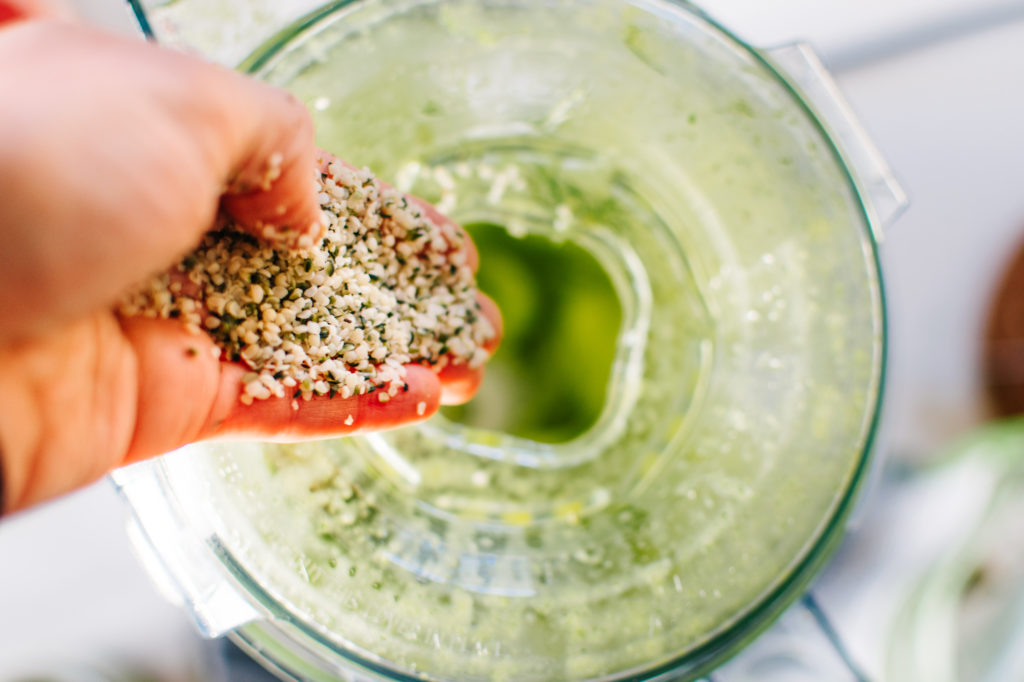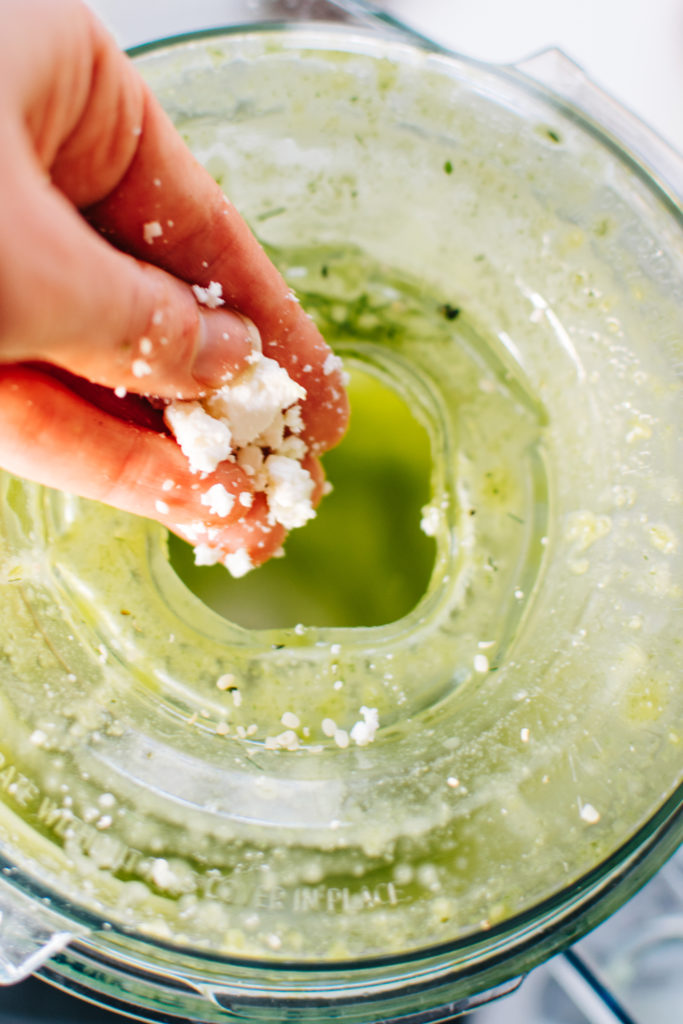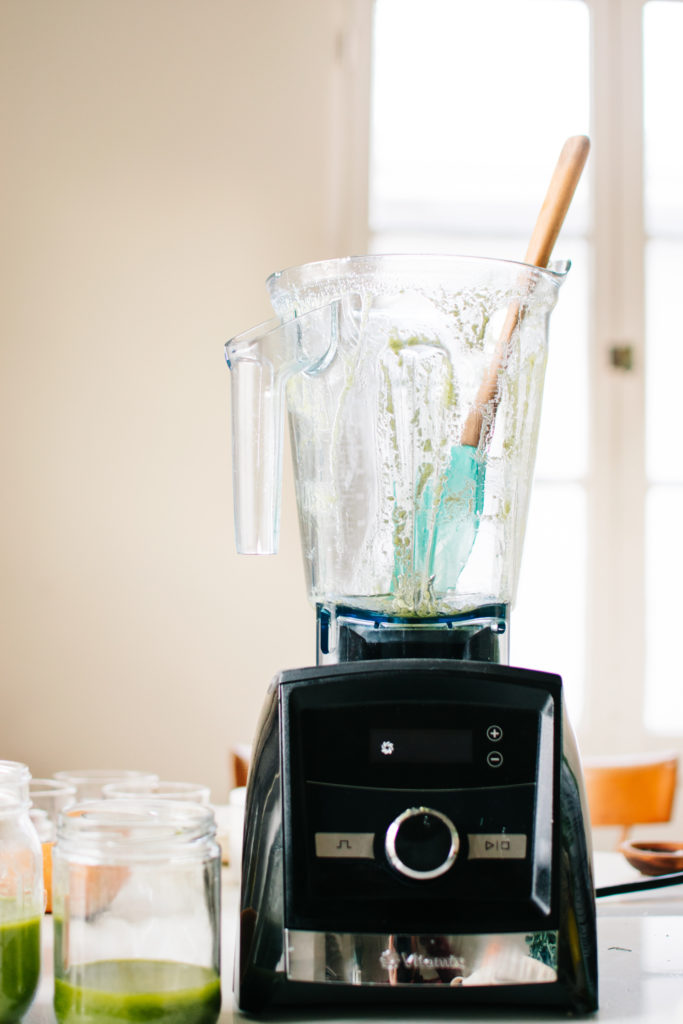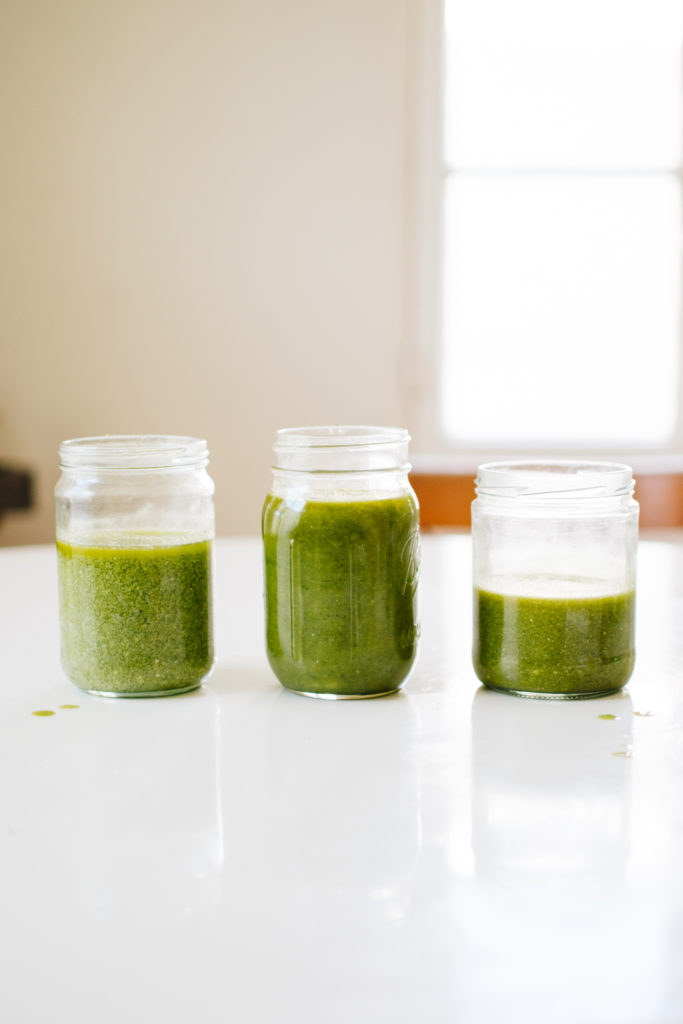 Over the next decade, I clung to my old school Vitamix. In eight years of use, I never had a single issue with it—it served me perfectly. Finally, though, the new Ascent series piqued my interest. Beyond the ease of the touch-screen (so next level!), this new blender comes with a timer, so you can easily walk away from the blender (the kitchen, even!) and let it work its magic.
This is particularly ideal for making different versions of dressings, like I did here with this bright and tangy fennel frond vinaigrette. The basic version is a perfectly lovely vinaigrette, and it can be made creamy with the simple addition of either hemp seeds or feta cheese (or both, if you're feeling extra luxe).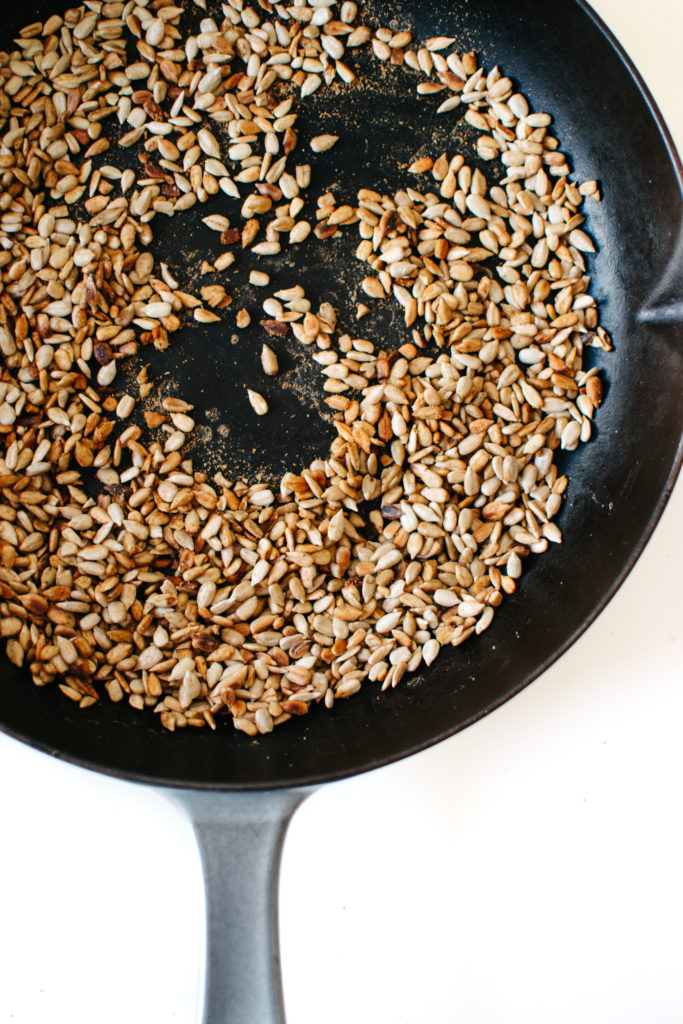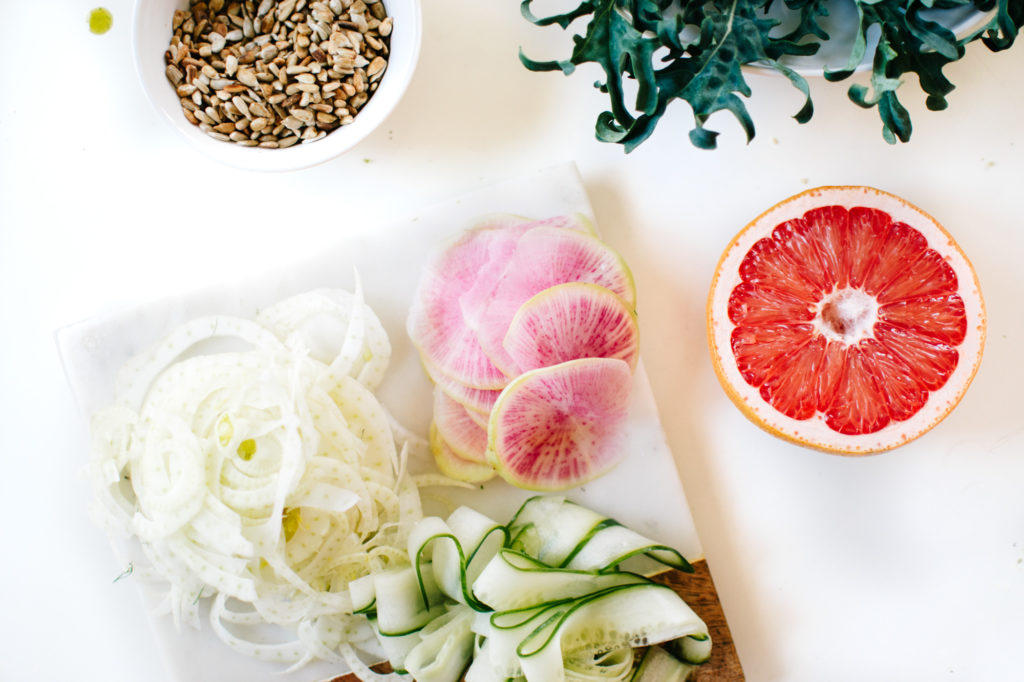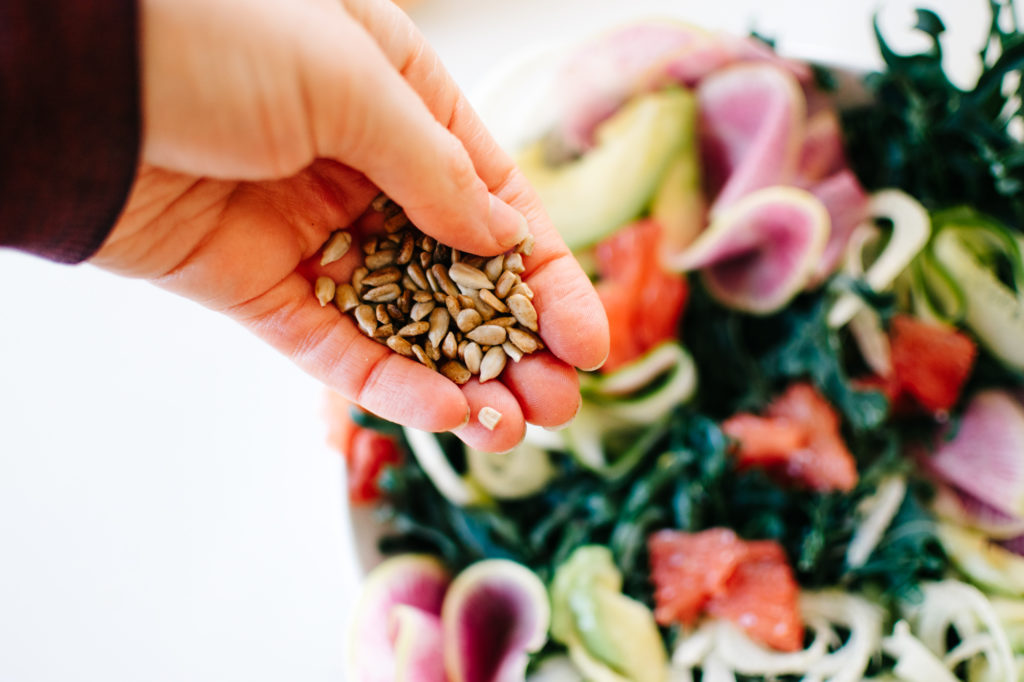 With my Vitamix at the ready, I also find I'm always on the hunt for gorgeous new types of produce, whether they'll end up in the blender or as the vehicle for a sauce. Here, I used a new green I've been eyeing forever, called spigarello. It's in the same family as broccoli, and though it looks like Russian kale, it's extremely tender and sweet. It lacks much of the bitterness that kale often carries. Any hearty green will do in this salad, though—or even lettuce, if you prefer (just omit the olive oil massage to start).
Though no external object can ever ensure I take perfect care of myself, my Vitamix has been an essential element of my self-care strategy for the past decade. Now, as stress levels on all fronts are higher than ever, it's a beacon of pure potential energy. Starting with this multivalent salad dressing for a supercharged winter salad.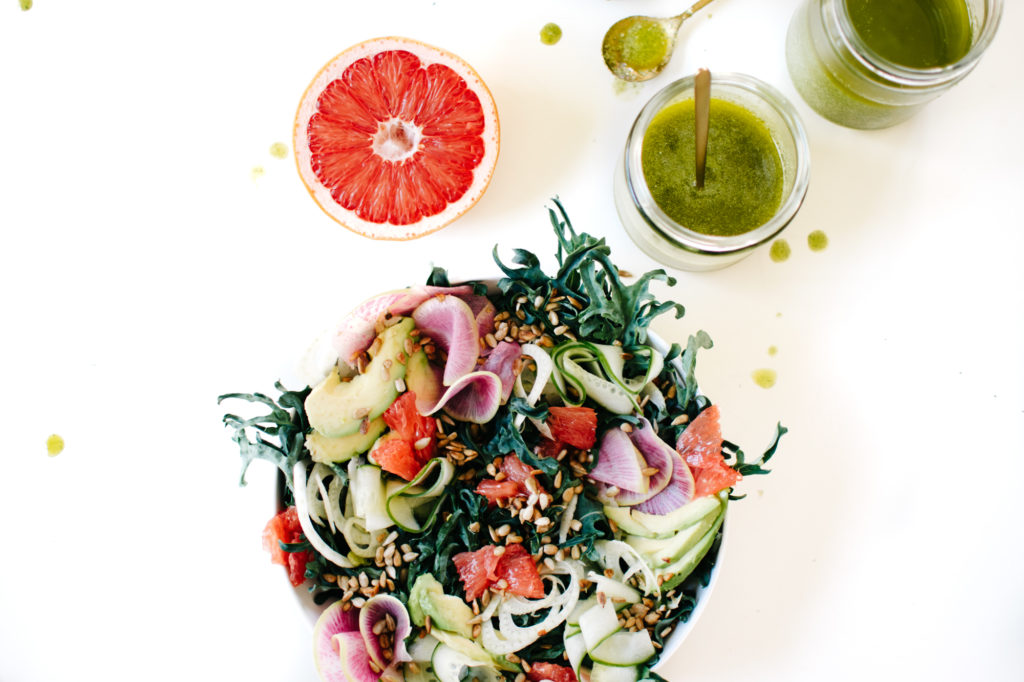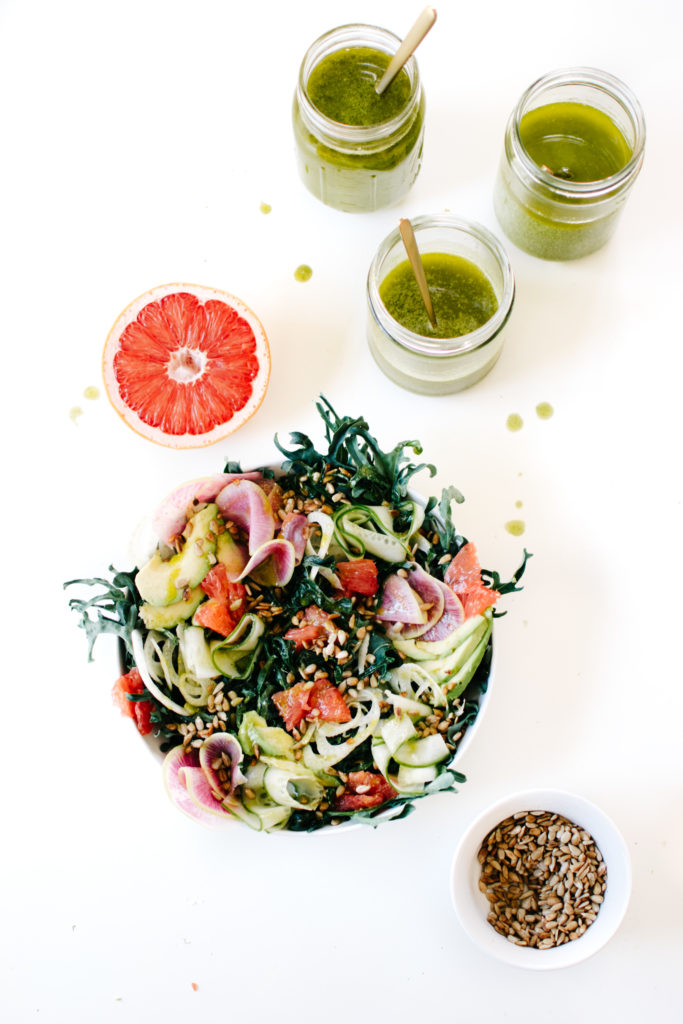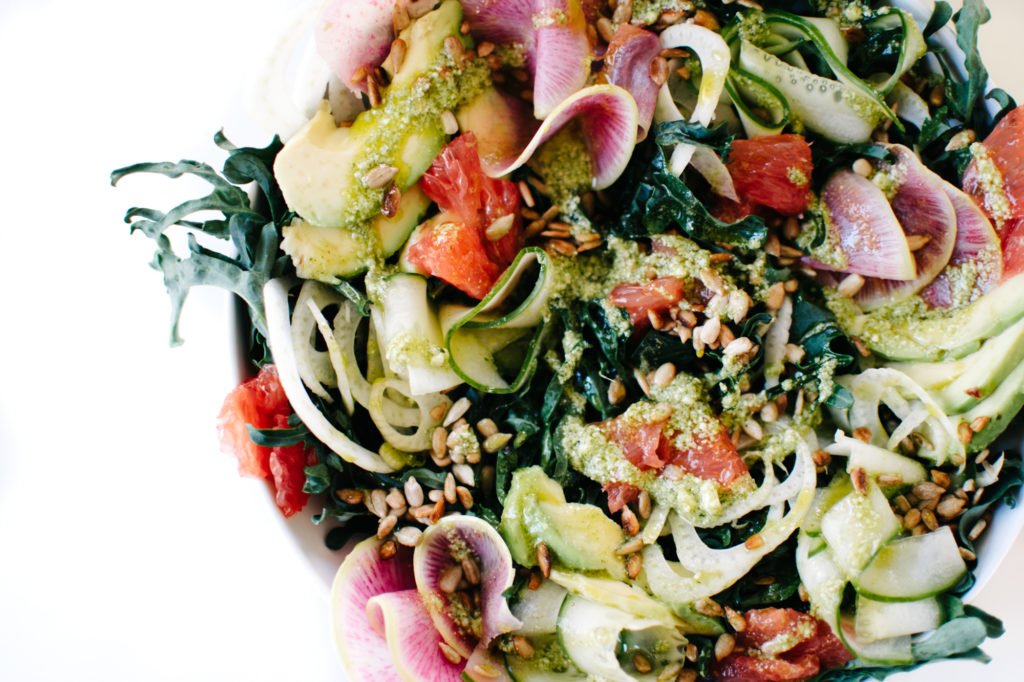 Enjoy!
CITRUS AVOCADO KALE SALAD WITH TOASTED SEEDS & FENNEL PESTO DRESSING THREE WAYS.
Ingredients
fennel pesto vinaigrette
1 ½

cups

olive oil

4

tablespoons

lemon juice

1 ½

cups

fennel fronds picked from the stems

roughly chopped

2

cloves

garlic

1

teaspoon

sea salt

plus more to taste

1

teaspoon

honey or agave
creamy vegan fennel pesto vinaigrette
Add 4

tablespoons

of hemp seeds to fennel vinaigrette
creamy feta fennel pesto vinaigrette
Add 1/2 cup to 3/4 cup crumbled feta to fennel vinaigrette
spiced sunflower seeds
2/3

cup

raw sunflower seeds

½

teaspoon

ground coriander

2

teaspoons

Braggs liquid aminos or tamari
citrus avocado kale salad
1 bunch kale or spigarello,

stems and trimmed

drizzle of olive oil

¾

cup

thinly sliced fennel bulb

½

cup

thinly sliced cucumber

1/3

cup

thinly sliced radish

½

large pink grapefruit

fruit segments only

1

small avocado

thinly sliced
Instructions
Make the fennel pesto vinaigrette.
Add ingredients to Vitamix in the order listed and blend until smooth. If using the Ascent blender, set the level to 4 and the timer to 2 minutes, and press start. For a creamy variation, add hemp seeds or feta, depending on whether you'd like a vegan or dairy version, and set the timer to blend for another minute, at level 4+ or medium-high.
Make the spiced sunflower seeds.
Heat the sunflower seeds over medium heat in a medium-large frying pan, shaking the pan occasionally until they turn golden brown, 3 to 5 minutes. Once golden brown, remove them from the heat and sprinkle with coriander. Shake pan to distribute the coriander evenly, then drizzle with the liquid aminos or tamari. The liquid will sizzle and evaporate, coating the seeds as it does.
Make the salad.
Give the kale or spigarello leaves a rough chop, and place them in a large bowl. Drizzle them with a bit of olive oil, and give them a nice massage, at least 30 seconds or so, until the leaves become deep green and tender.

Toss in all other salad ingredients, and top with spiced sunflower seeds. Just before serving, drizzle with the fennel pesto dressing of your choice!