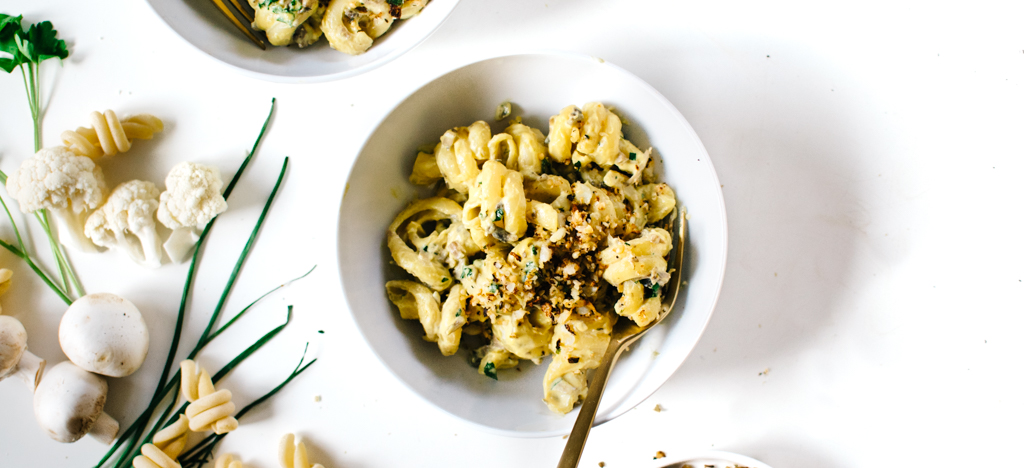 Jump to Recipe
This post is all about magic. First, real (or as close to real as possible) magic. And second, the magic of this glorious vegan cauliflower mac 'n' cheeze from my new favorite cookbook, Tess Masters' The Perfect Blend, topped with my new favorite creation: grain-free hemp cauliflower breadcrumbs. But before we eat…
Last night I went to The Magic Castle for the first time. The Castle is a turn of the century Hollywood mansion devoted to the magical arts, a bastion of wonder—a sentiment hard to come by these days. It's invite-only, so it's not a place one can simply drop by. One must be accompanied by a member, or have a golden ticket of sorts, to gain access. There's a wildly strict dress code (they keep ties on hand for men who've shirked their tie-wearing duties) and a distinctly old boys club vibe, the likes of which I haven't felt so keenly since my Yale days. But I'm doing that thing where I say yes to as many invitations as I can stomach right now, in the effort to transcend my naturally Dickinsonian homebodied self, and so I said yes.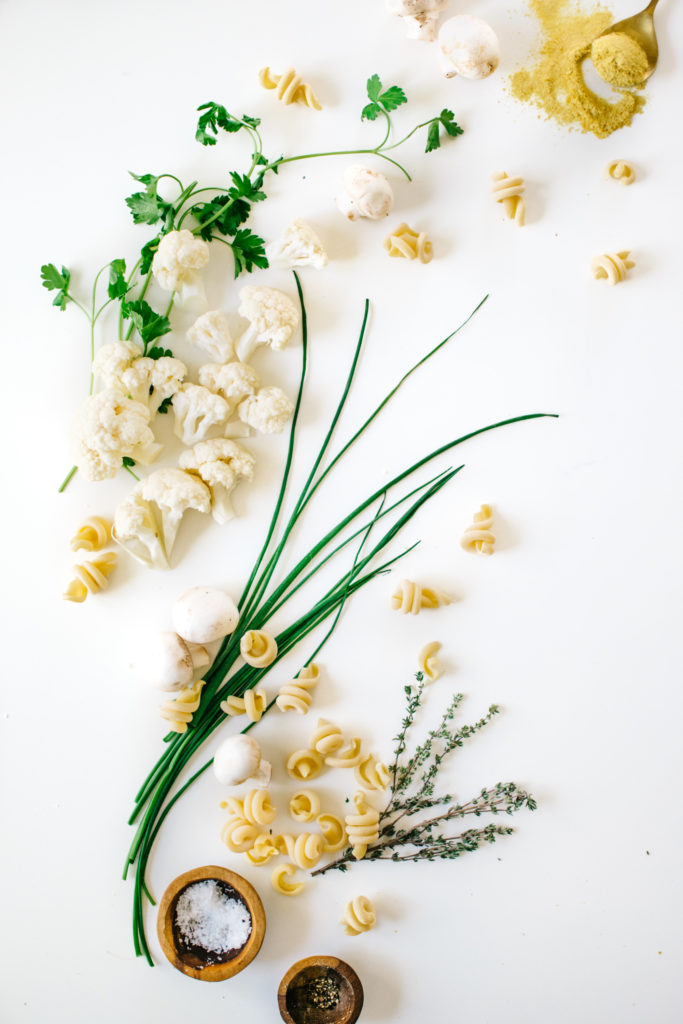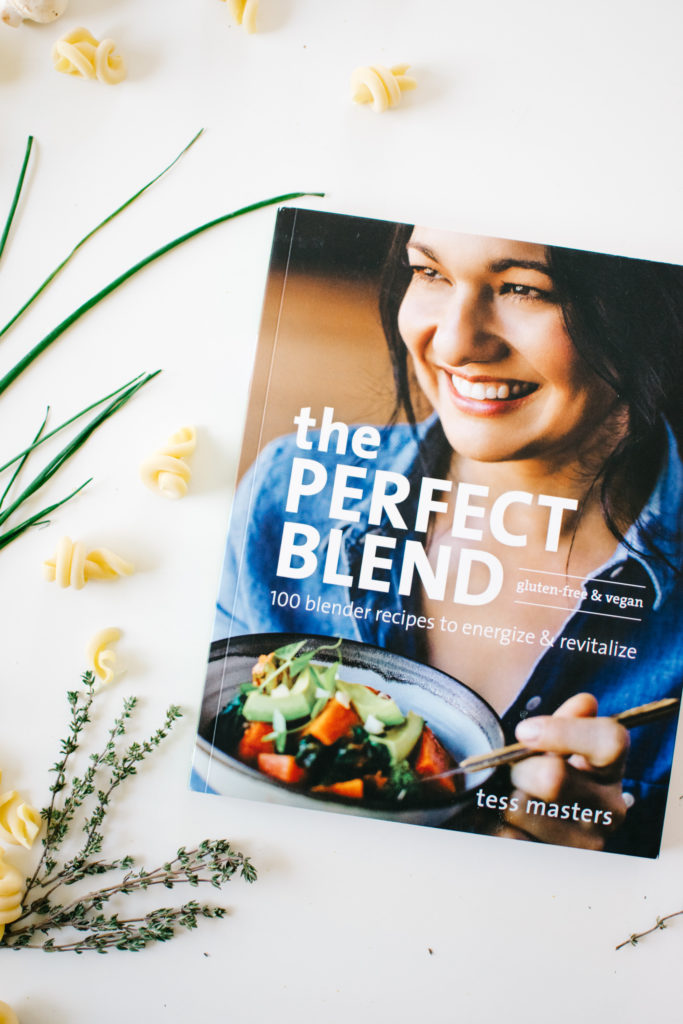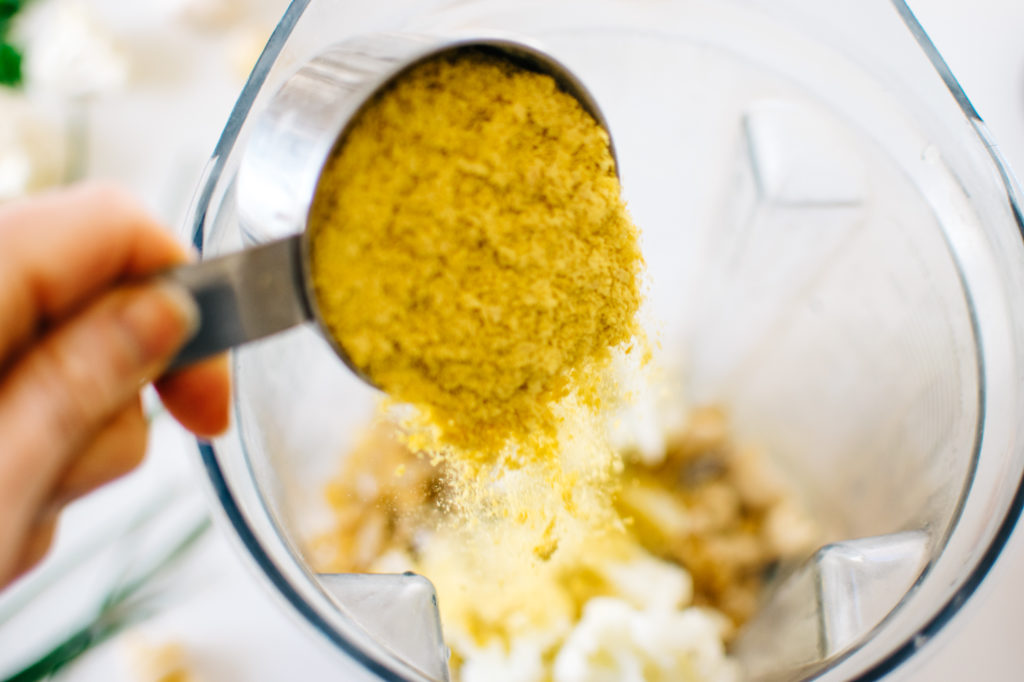 I found myself resisting the wonder at first, my mind hardened by weeks and years of loss and doubt and skepticism and taxes and politics and other adult things. And then I noticed what my mind was doing. And I wondered what would happen if I stopped dismantling the magic, if I let myself feel wonder. So for two hours, I gave myself permission—in the midst of the devastation of this week—to experience wonder.
I saw a man make a block of ice appear out of thin air. I saw a man tear a newspaper into shreds and restore it to perfection in seconds. I saw a man make someone's most precious piece of jewelry geolocate. (Sidebar: WHERE ARE ALL THE WOMEN MAGICIANS??? Oops putting my wonder cap back on, sorry.) The wonder became a salve. Not for forgetting, but for remembering to consider the seemingly impossible as potential reality. And that, I can get with.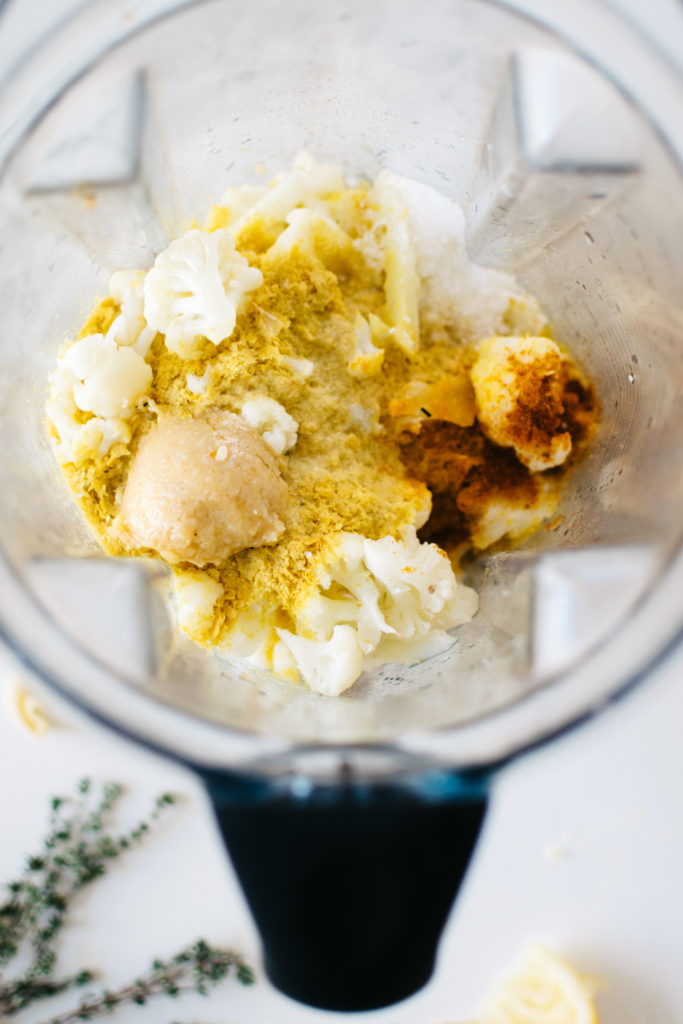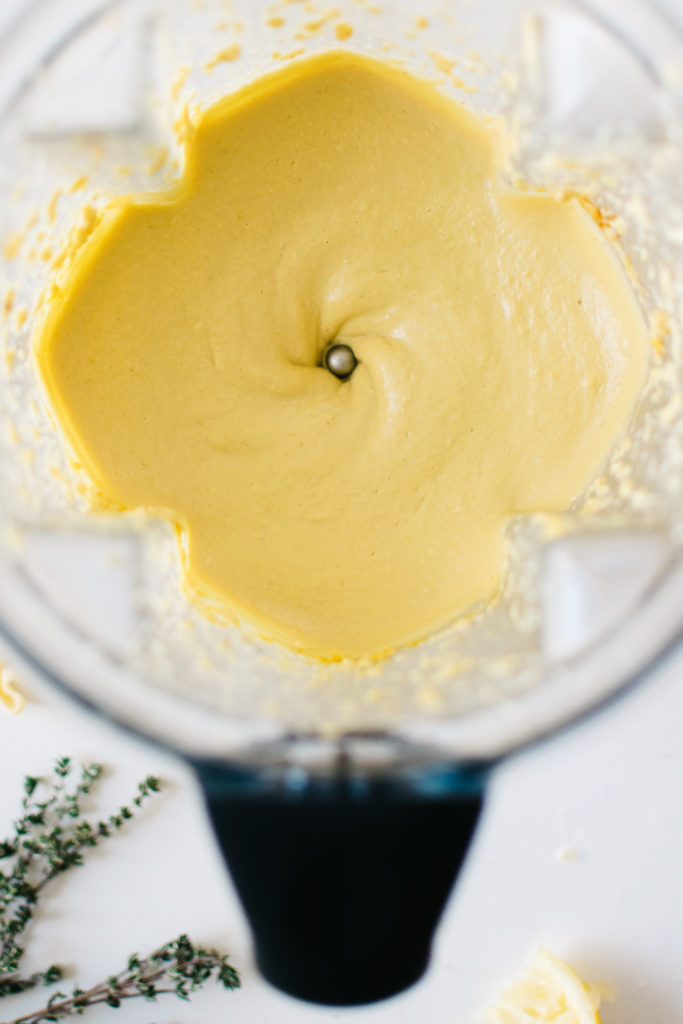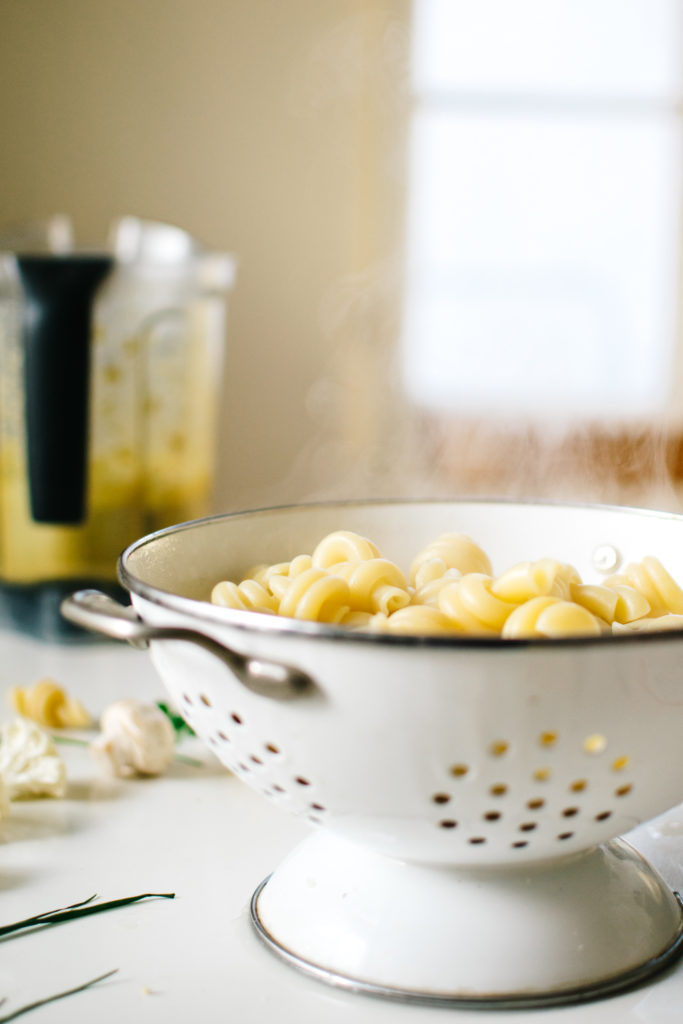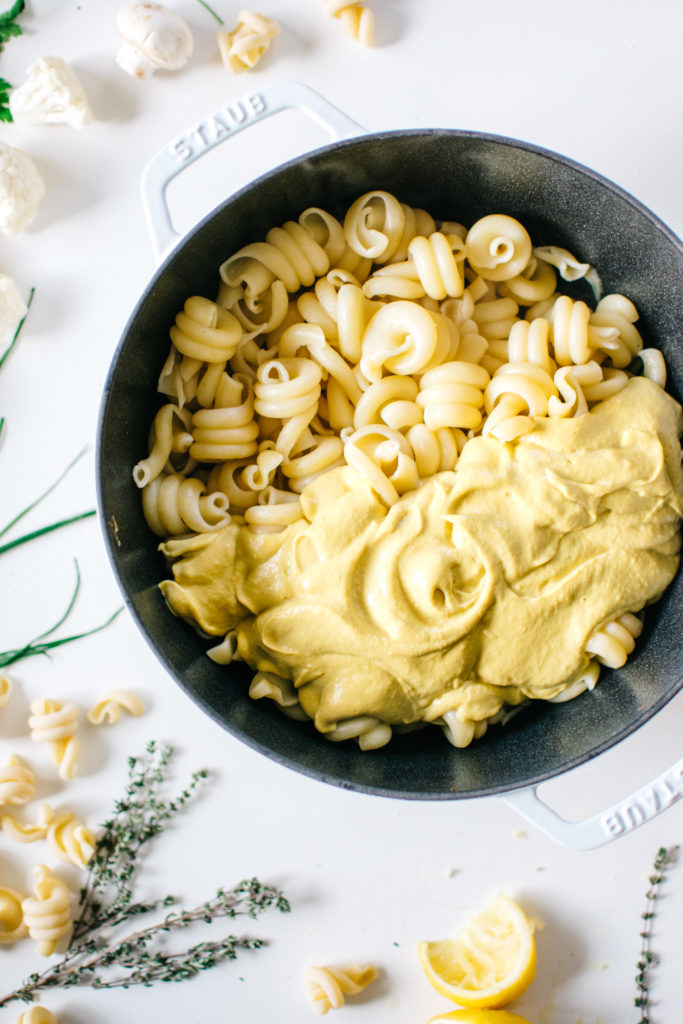 Magic Castles aside, I had my mind blown by a whole other kind of wizardry yesterday: This completely vegan mac 'n' cheeze from the brilliant Tess Masters. Her new book, The Perfect Blend, is a dream. It's gluten-free and vegan, and though my diet fits exclusively into neither category, these are gorgeous recipes for all eaters. And they are—blessing of blessings—organized by functional necessity. There are sections for energy, immunity, detox, and even one for feeding the soul, which is where I found this gem of a comfort food gold medal winner.
I honestly can't say enough good about this recipe. I followed it to a T, and there's not a darn thing I'd change or do differently. The vegan cheeze is made from steamed cauliflower, soaked cashews, miso, nutritional yeast, and other seasonings, and is an incredibly umami bomb. Mixed with thyme-sautéd mushrooms and herbs, and poured over your favorite pasta, it's worthy of multiple face plants. But because it seems silly to have mac and any kind of cheese without breadcrumbs, I decided to whip up some garlicky grain-free crumbs from the leftover steamed broccoli.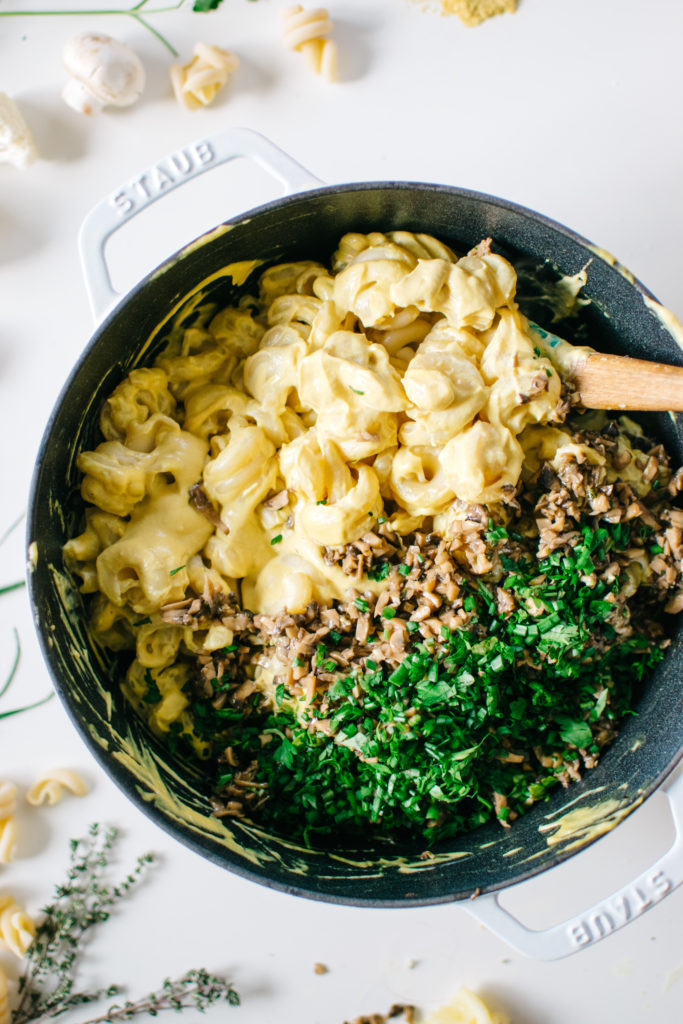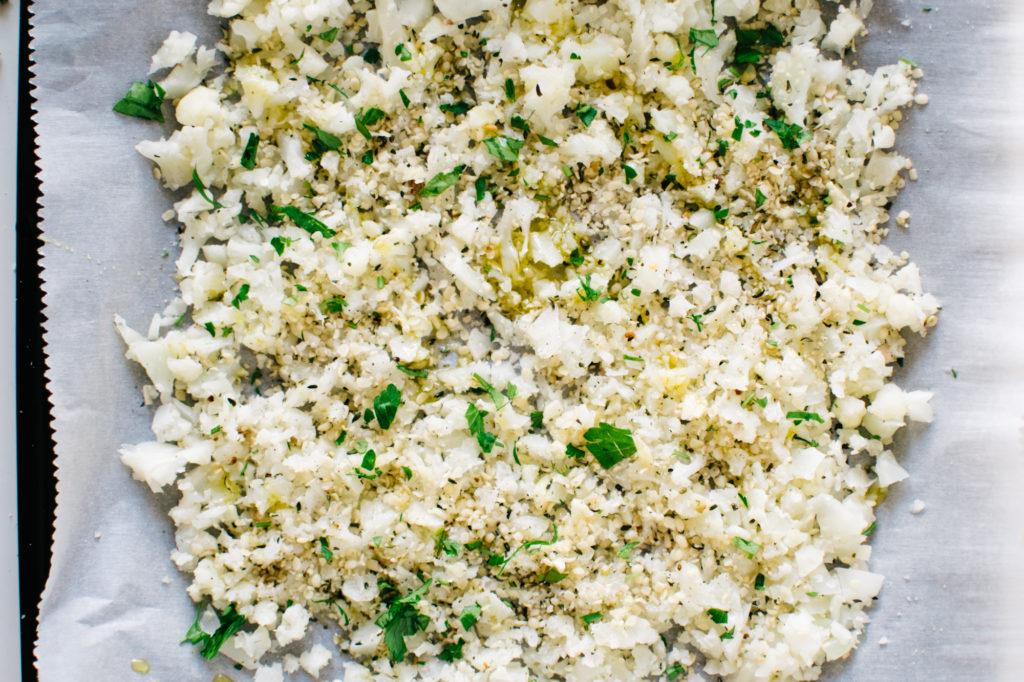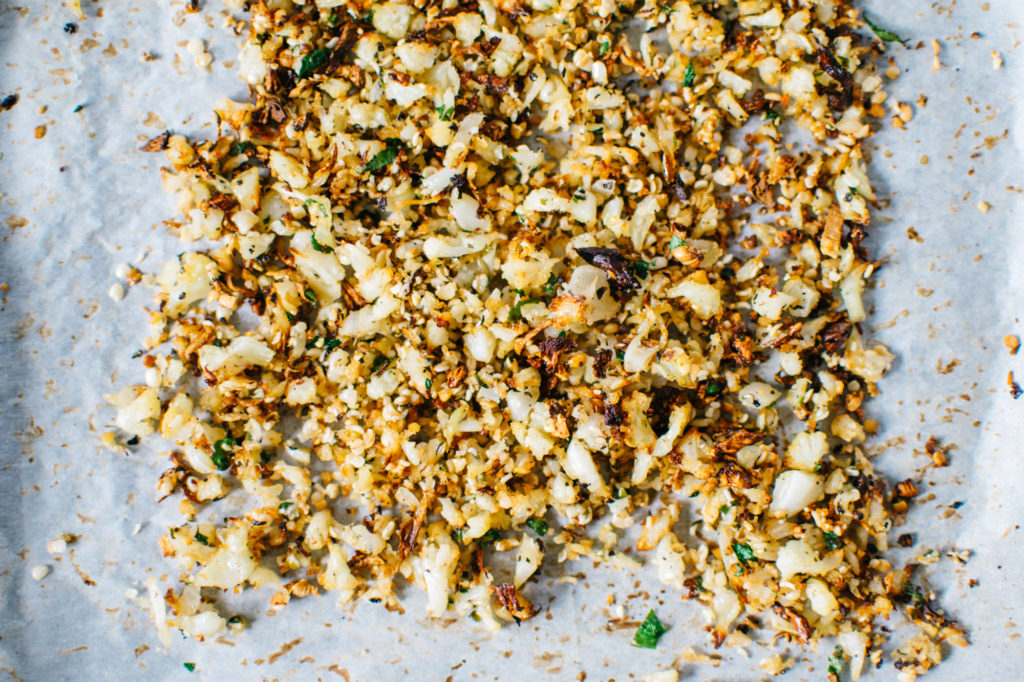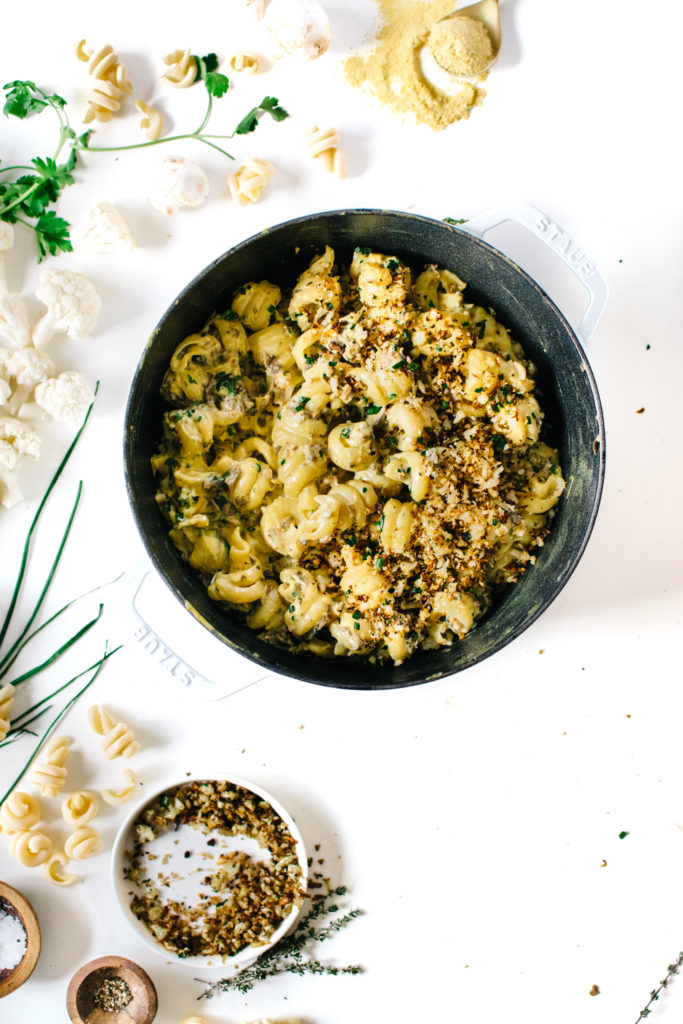 The result is heavenly: Perfectly crunchy and tender bits of salty, garlicky yum to sprinkle on top of your creamy bowl of mac 'n' cheeze, given an extra hit of texture and protein via the miraculous hemp seed. And though the pasta is obviously neither paleo nor Whole30-friendly, these grain-free breadcrumbs certainly are. And I bet you could sub the pasta for cauliflower or potatoes and do just swimmingly on one of these diets.
I have to say, I really dug my day of magic and wonder. No matter what comes next, I'll gladly take a few more helpings. (Ps, make sure you dig into the wonder of the amazing giveaways Tess is doing for the launch of The Perfect Blend!).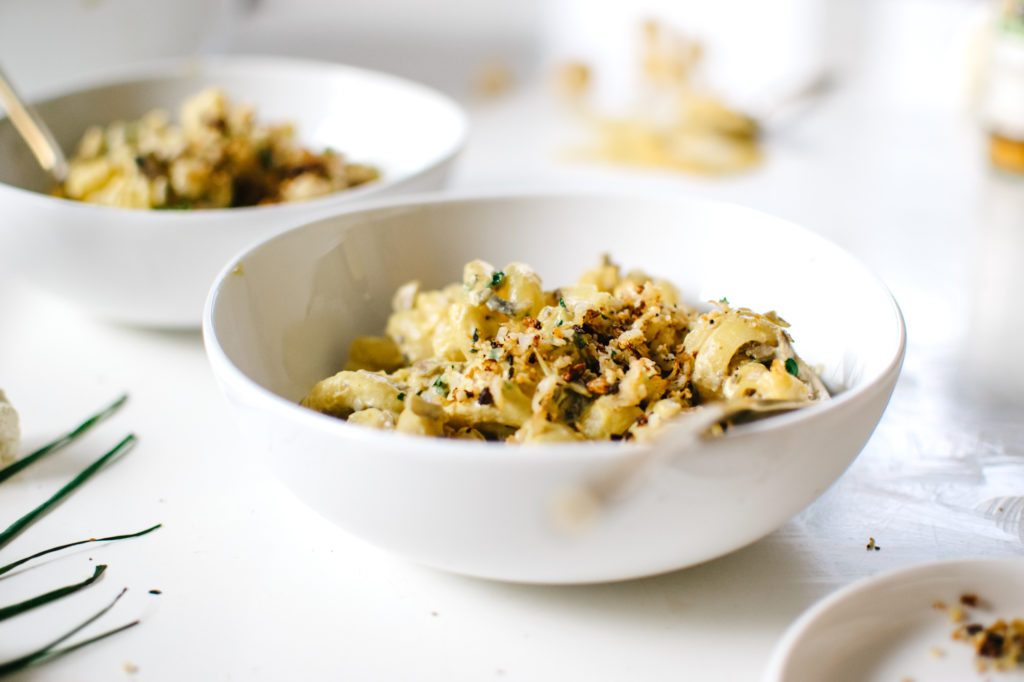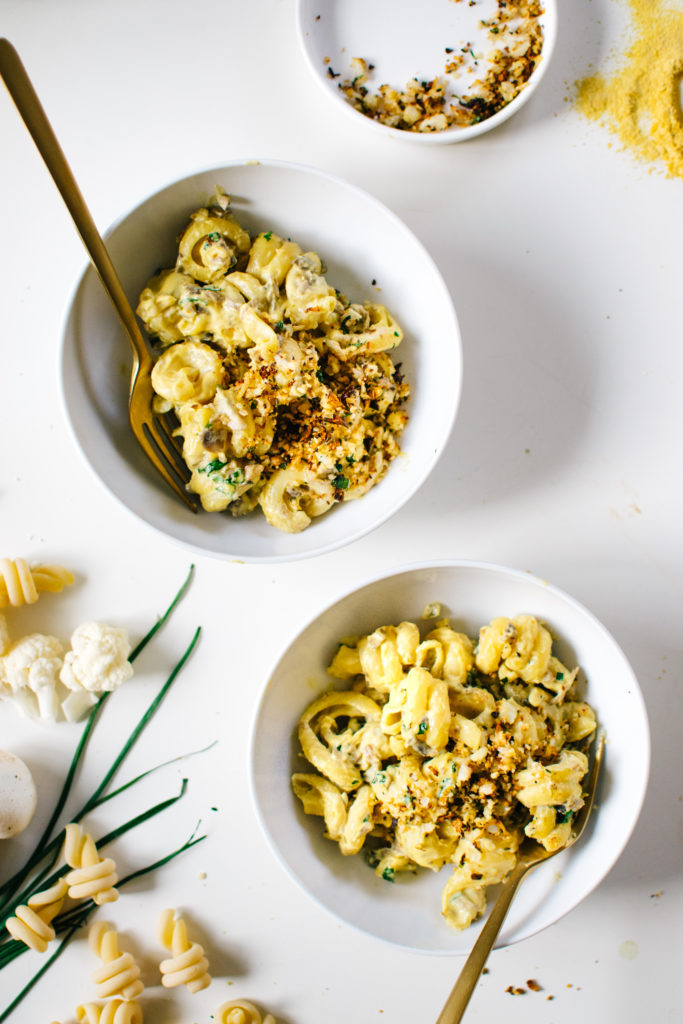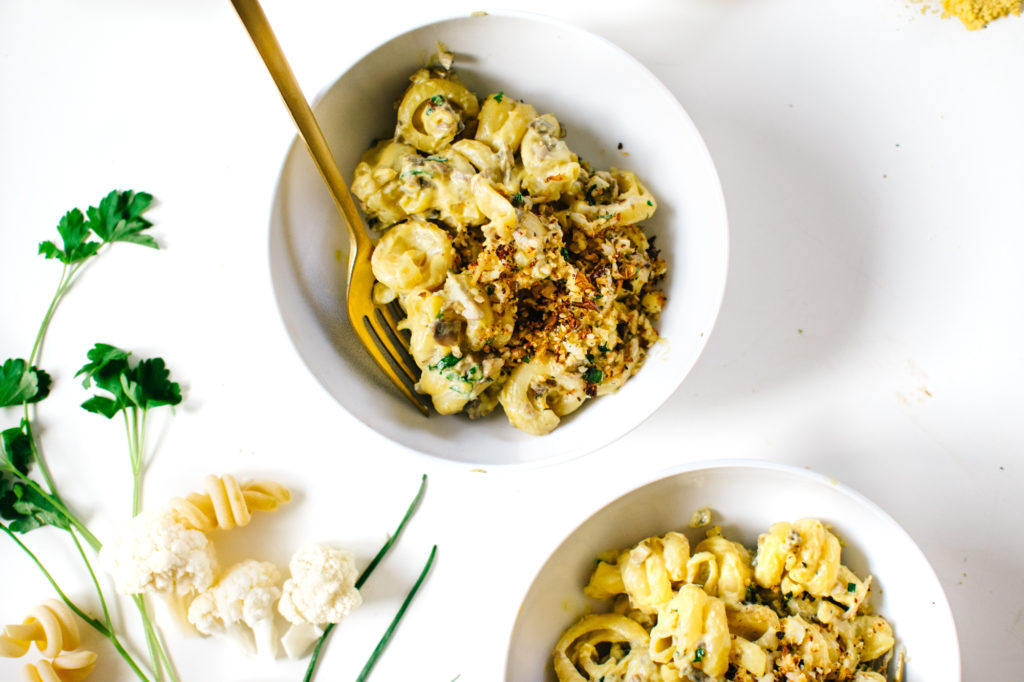 VEGAN CAULIFLOWER MAC 'N' CHEEZE WITH GRAIN-FREE HEMP CAULIFLOWER BREADCRUMBS.
Reprinted with permission from The Perfect Blend, copyright 2016 Tess Masters. Published by Ten Speed Press, an imprint of Penguin Random House LLC.
Ingredients
1

pound

pasta of choice

traditionally elbow macaroni

6

tablespoons

extra virgin olive oil

natural salt

4

cups

diced shiitake or cremini mushrooms

1

tablespoon

tamari or gluten-free soy sauce

1

tablespoon

finely chopped fresh thyme

1

cup

diced yellow onion

1

tablespoon

minced garlic

about 3 cloves

¼

cup

vegetable broth

2

tablespoons

fresh lemon juice

1

cup

raw unsalted cashews

soaked

1

cup

steamed cauliflower florets

½

cup

nutritional yeast

plus more to taste

1

tablespoon

white miso paste

¼

teaspoon

ground turmeric

2

tablespoons

finely chopped flat-leaf parsley

plus more to taste

freshly ground black pepper
optional boosters
1/8

teaspoon

cayenne pepper

2

tablespoons

finely chopped chives

plus more to taste

2

tablespoons

finely chopped green onion

plus more to taste, green parts only
Hemp Cauliflower Breadcrumbs (recipe not from the book)
1

cup

steamed cauliflower florets

finely chopped

1 ½

tablespoons

hemp seeds

1

clove

garlic

minced

1

teaspoon

olive oil

2

teaspoons

finely chopped parsley

generous ¼ teaspoon sea salt

freshly ground black pepper
Instructions
Cauliflower Mac 'n' Cheese
Bring a large pot of water to a boil with 1 tablespoon of the olive oil and a pinch of salt. Cook the pasta according to the instructions on the package until al dente, and drain thoroughly.

While the pasta is cooking, in a large skillet over medium heat, warm 3 tablespoons of the olive oil and sauté the mushrooms with the soy sauce and thyme for about 5 minutes, until the mushrooms are tender. Transfer to a large bowl.

In the same skillet, heat the remaining 1 tablespoon of olive oil over medium heat and sauté the onion and garlic for about 5 minutes, until soft and translucent. Allow to cool slightly.

To make the sauce, throw the onion mixture, 1 ½ teaspoons of salt, the broth, lemon juice, cashews, cauliflower, nutritional yeast, miso paste, turmeric, and the cayenne pepper booster into your blender and blast on high for 30 to 60 seconds, until smooth and creamy.

Transfer the pasta to a large pot, and stir in the remaining 1 tablespoon of olive oil. Stir the sauce into the pasta along with the mushrooms and gently warm over low heat. Stir in the parsley and the chive and green onion boosters. Tweak the salt and parsley and season with black pepper to taste.
Hemp Cauliflower Breadcrumbs
Preheat the oven to 425ºLine a small baking sheet with parchment paper. In a small bowl, mix the chopped steamed cauliflower, hemp seeds, minced garlic, olive oil, parsley, salt, and pepper to taste. Spread in a single layer on the parchment paper and bake for 22-30 minutes, stirring and turning halfway through, until desired crispy brown "crumb"-ness has been reached. Set aside until ready to serve.

Once ready to serve mac 'n' cheeze, top it with a generous hand of breadcrumbs.