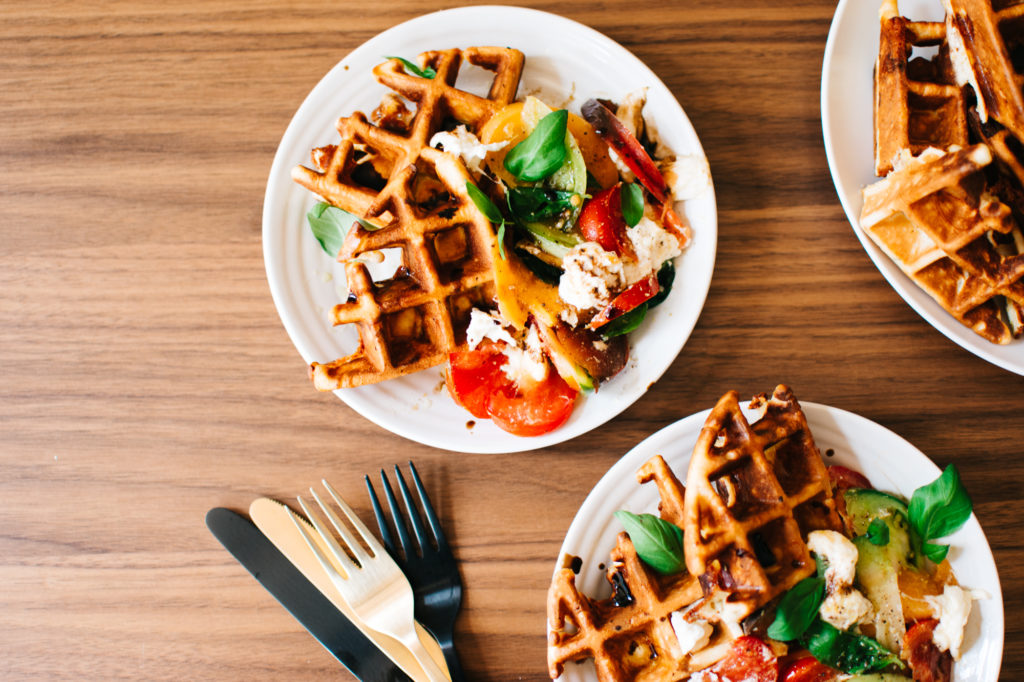 Jump to Recipe
If I'm being honest, my love-hate relationship with Los Angeles has not yet abated. There are glimmers of joy in the way the city breathes through me, moments when I'm stunned by the creative magic this town generates. A couple weeks ago, I went to a music show—a tribute to the music of Modest Mouse—that reminded me just how stunning this place can be. In a dark room full of sweaty, clapping, bearded and flowingly clothed people, I heard a dozen musicians exorcise their souls through their instruments. I was purely happy. And yet. Afterwards, I was expelled onto the streets of Hollywood, into urine and construction zones, wildfire smoke-filled air, concrete.
I have a good, comfortable life here. And still, the city is rough on me.But then, too, there is the sweetness of connecting with creative folks in my field here in LA. Being a writer and maintaining a business online can be a relatively isolating endeavor, and the fact that I have so many opportunities to collaborate with creators in a ten mile radius is enlivening. It keeps my heart soft and my mind sharp. And this weekend, those connections yielded this thrilling waffle party of a Sunday with Alana of Fix Feast Flair and Karen of Honestly YUM.
Cue: Burrata caprese waffles from me, moffles (mochi waffles) two ways (savory furikake spam musubi + sweet red bean and ice cream) from Alana, and blueberry buttermilk donut waffles from Karen.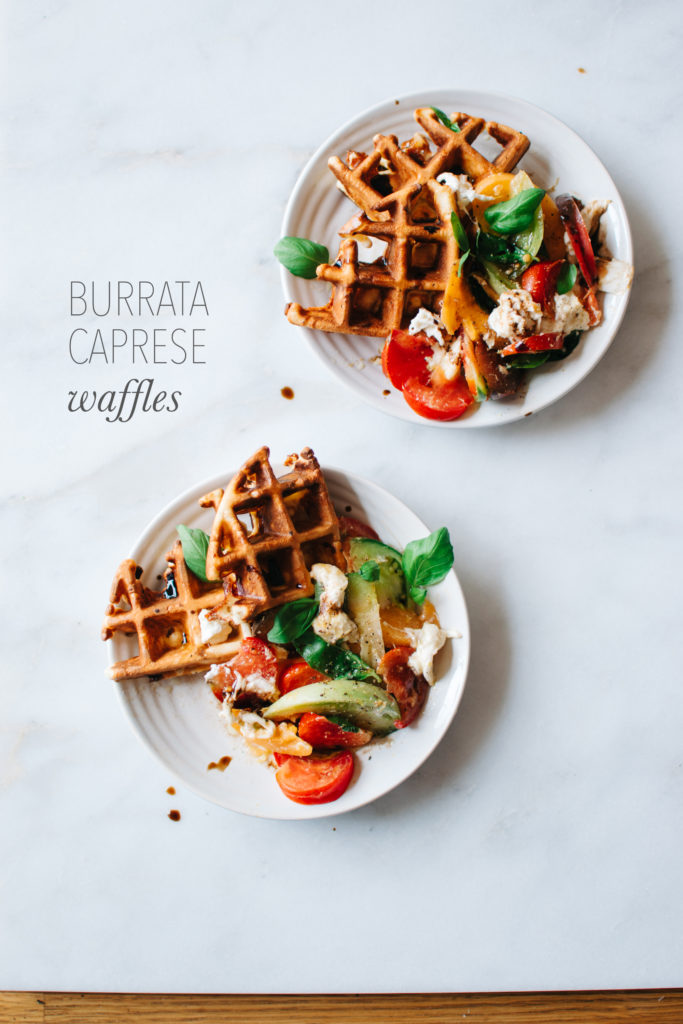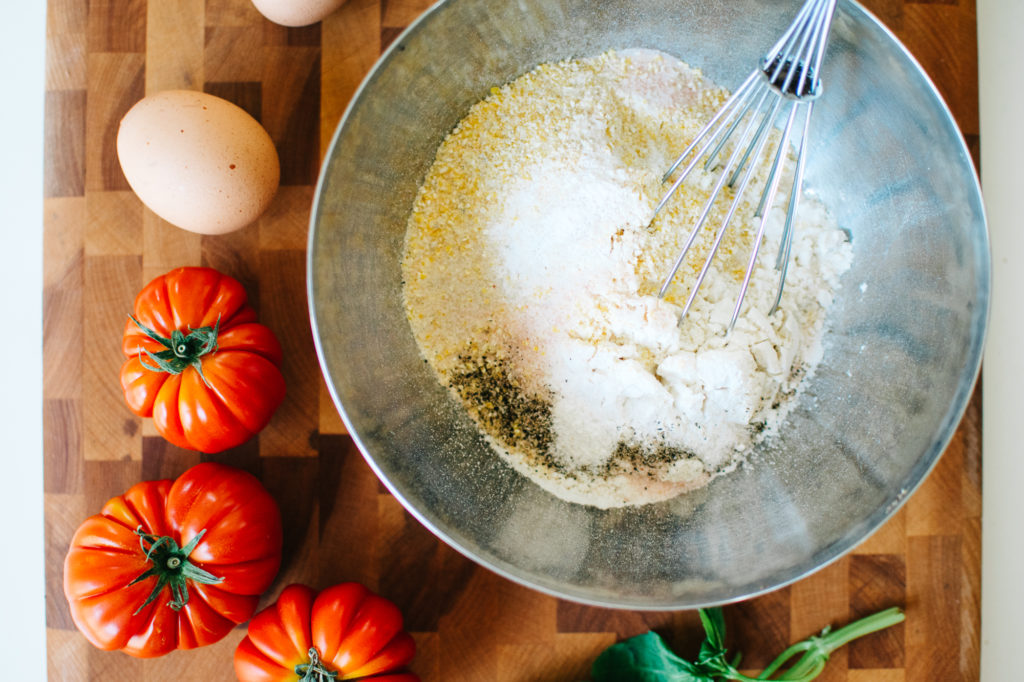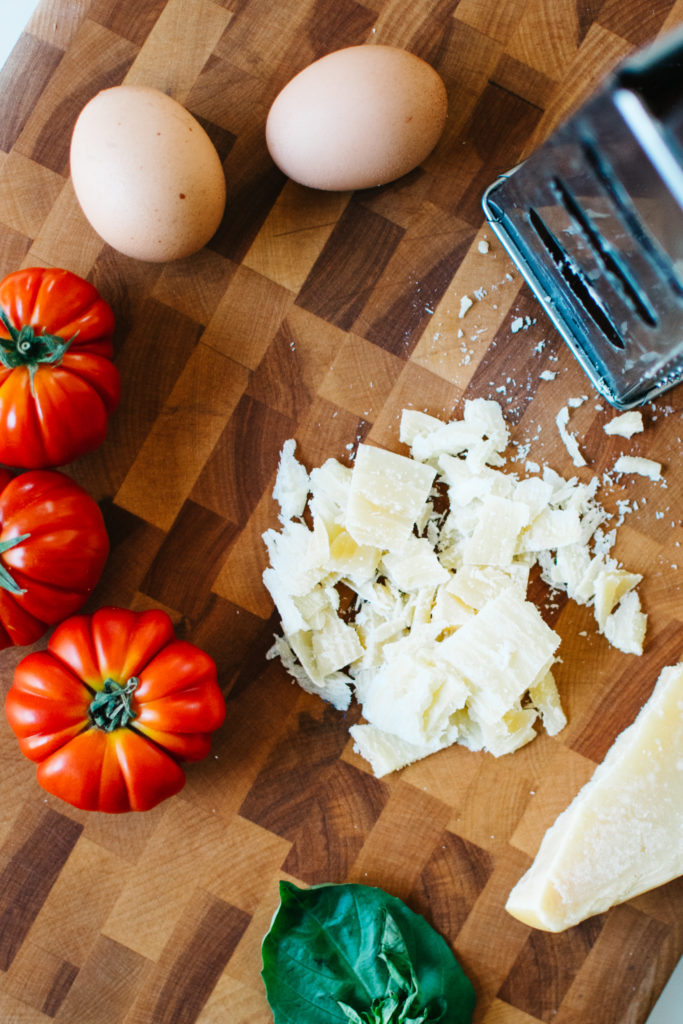 Early Sunday morning, I whisked up a batch of lightly cornmealed savory waffle batter, flecked with fresh basil and studded with small chunks of parmesan cheese. The parmesan melts in the heat of the waffle iron, leaving cheesy pockets of delight in each bite. Once I knew these would waffle up the way I'd hoped, I packed the car with my iron in tow (it was a BYOWaffleIron kind of party), my camera, and the prettiest heirloom tomatoes I could find, and hightailed it downtown.
Alana and Moses were ready with mimosas and perfect morning light, and we got to waffling.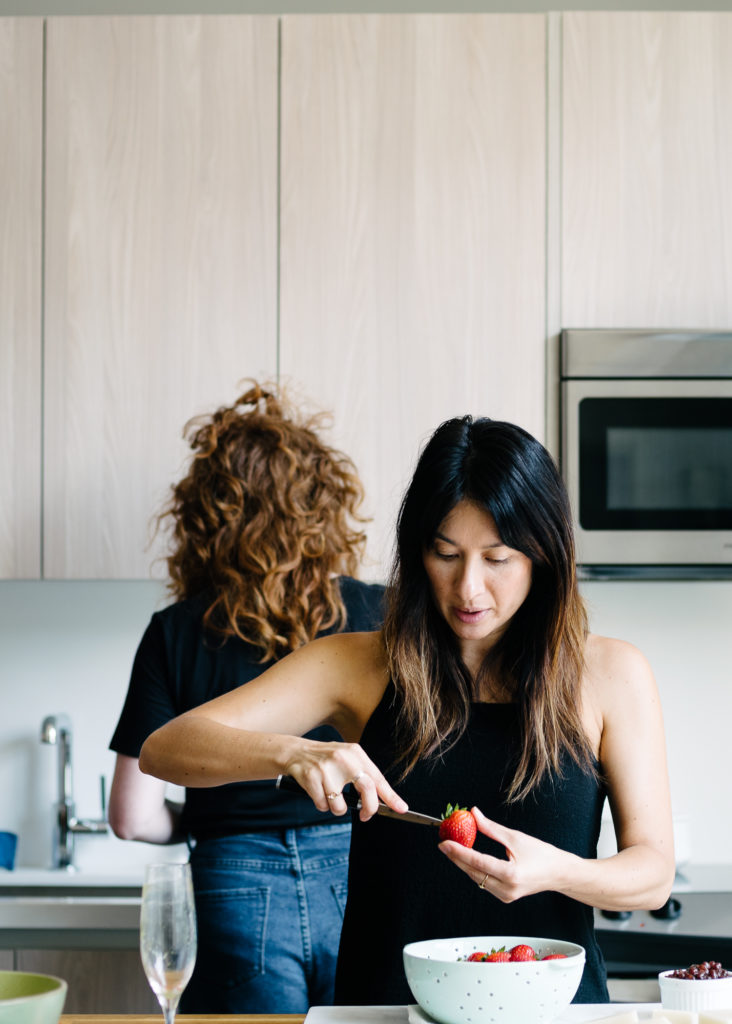 photo by Moses Aipa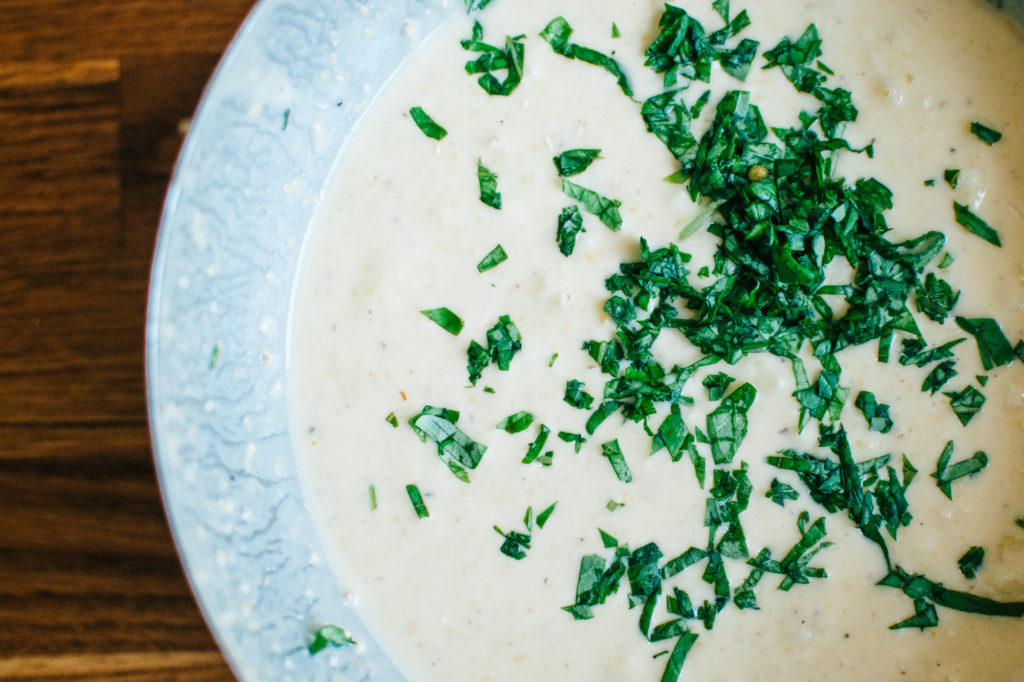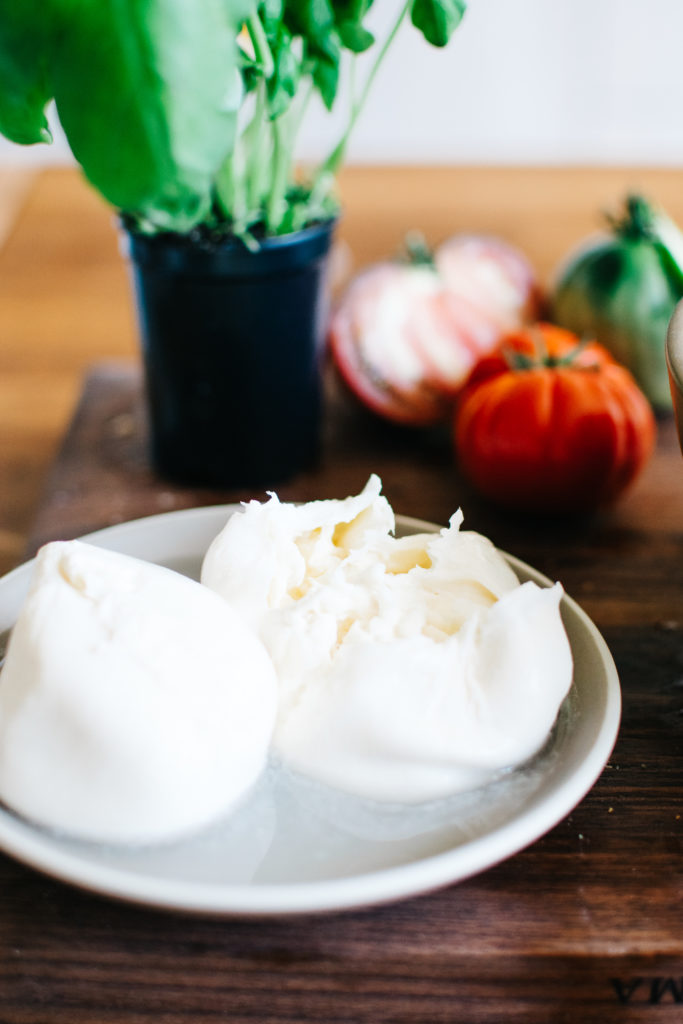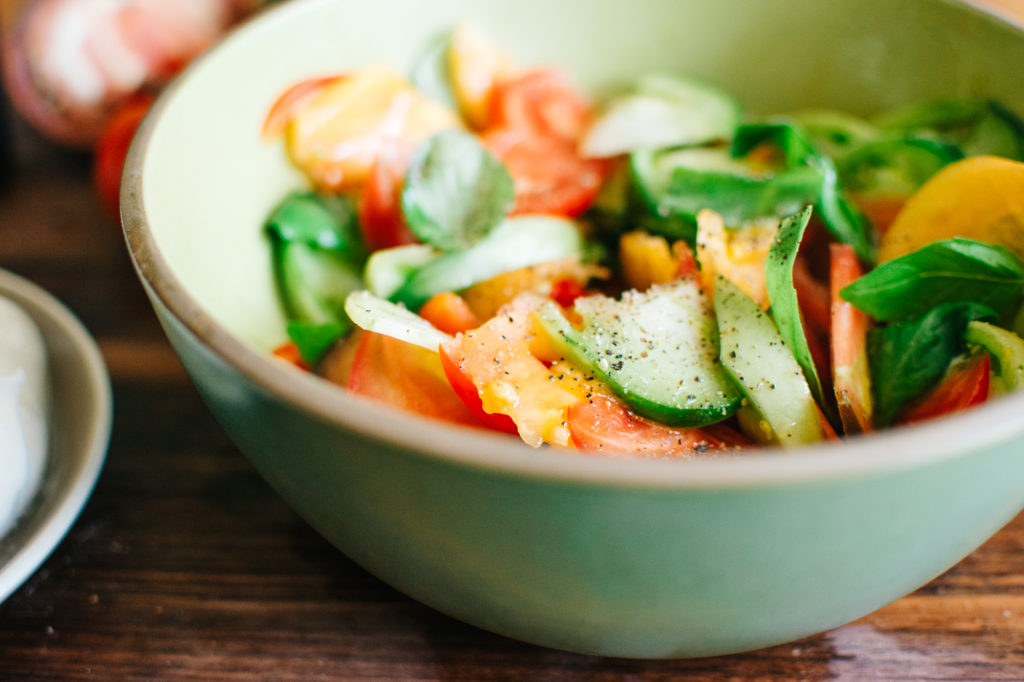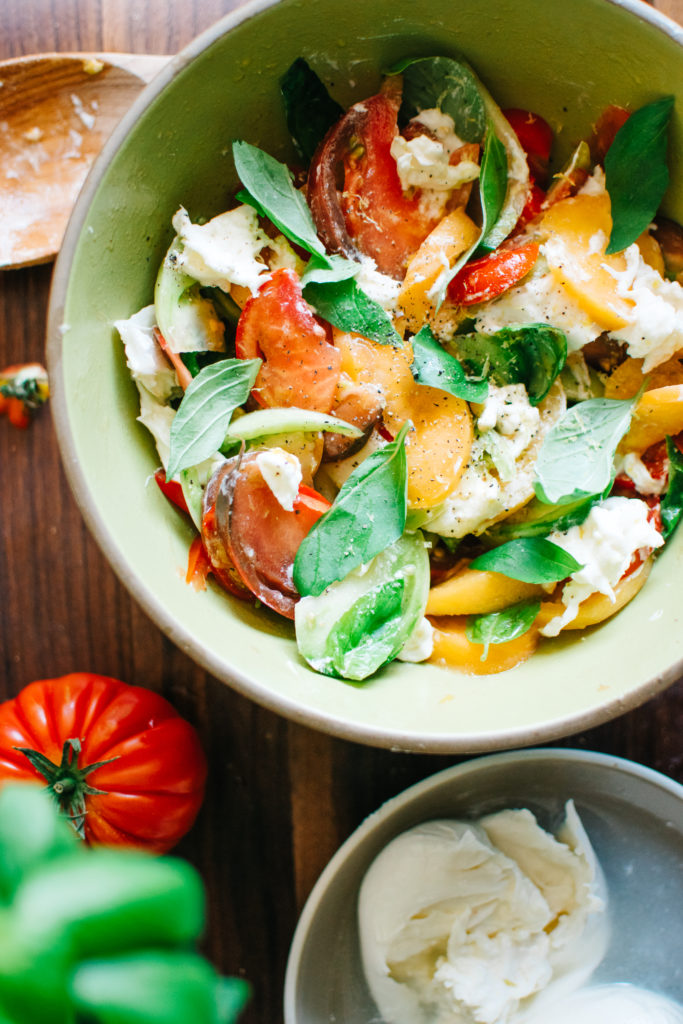 With three irons piping hot, Karen, Alana, and I dove headfirst into the waffle zone. Karen dreamed up these blueberry buttermilk donut waffles (doffles?!) with a gorgeously hued berry glaze. I may or may not have had a brief existential meltdown regarding sprinkles (Is there something wrong with me that I don't like sprinkles? Does the god I don't believe in like sprinkles? Would I be a happier person if I liked sprinkles? Who am I?).
But I digress. These cake donut-like waffle treasures deserve sprinkles (personal sprinkles crises aside), and beautiful sprinkles they got.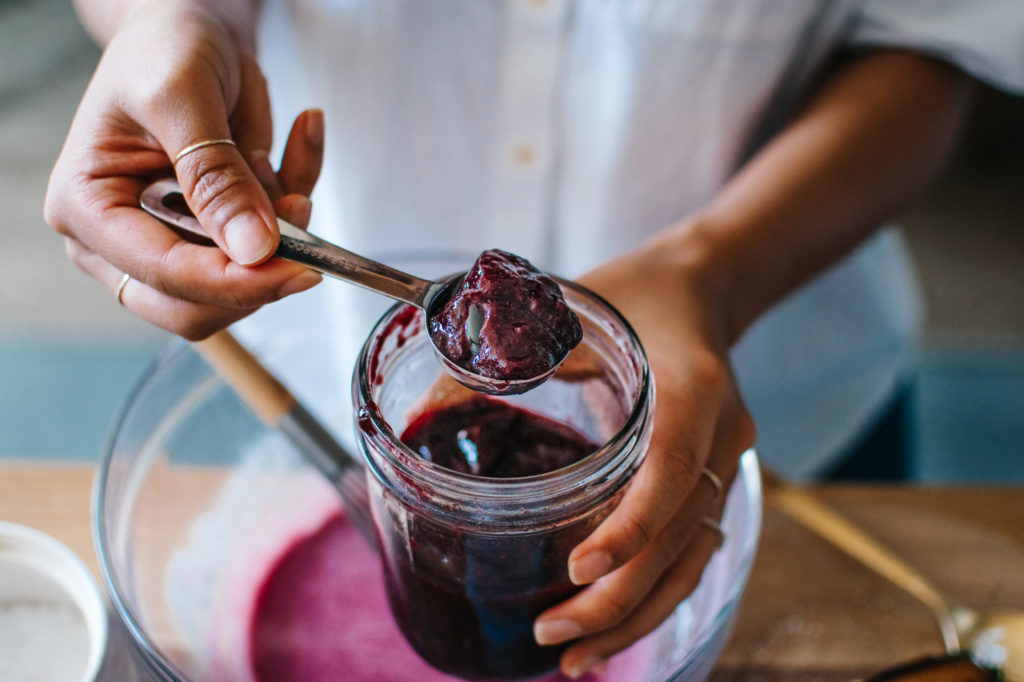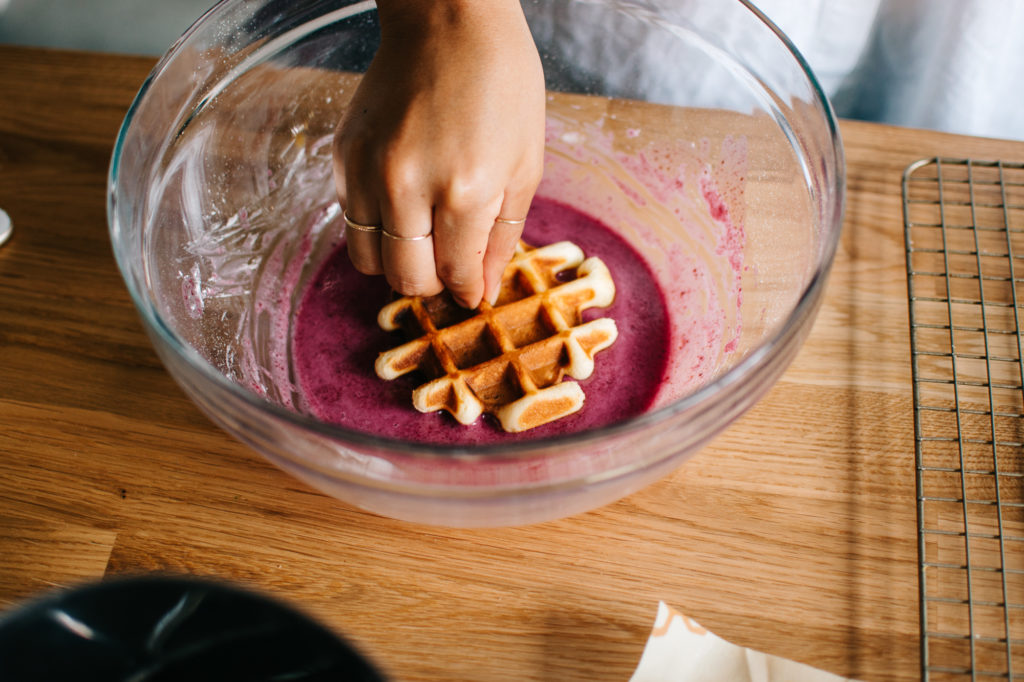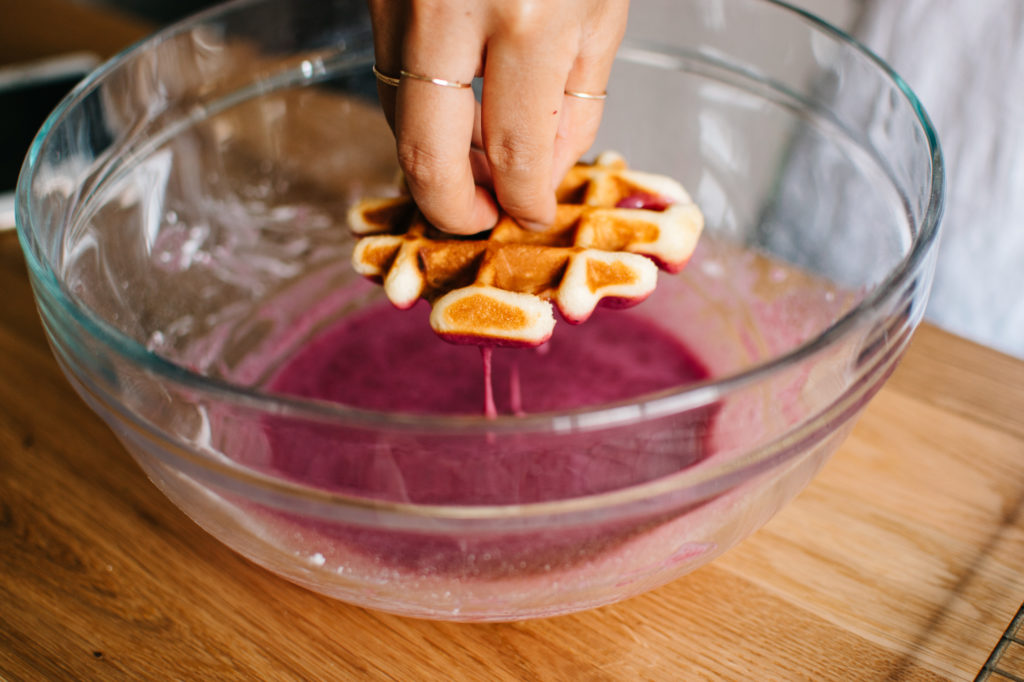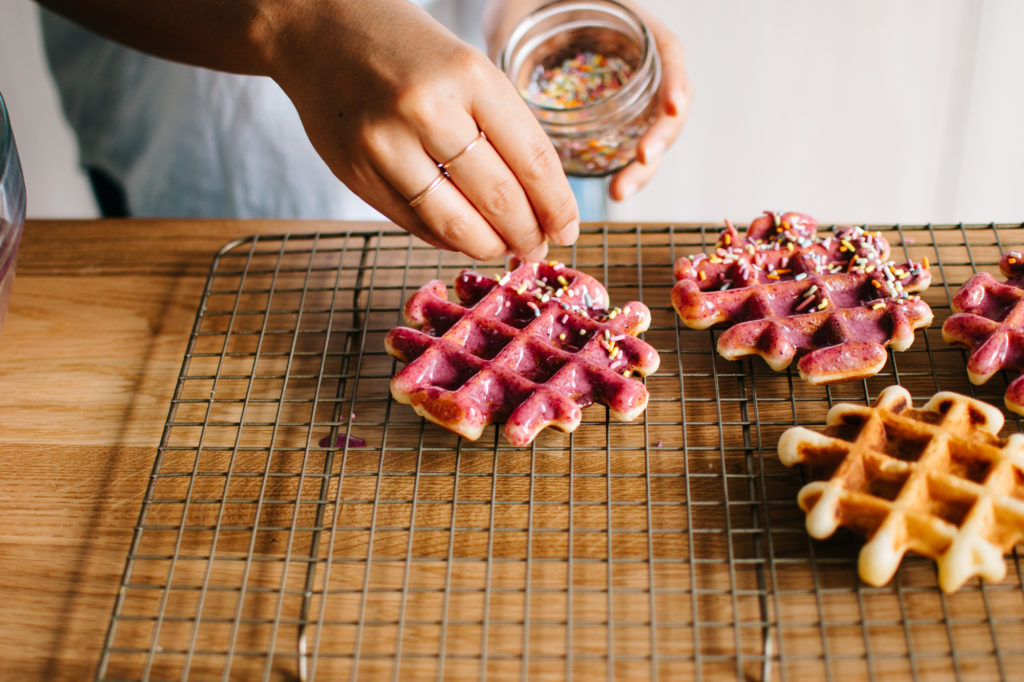 And then! Alana waffled mochi (moffles!) two different ways: Her savory moffle involved splitting ready-made mochi cubes in half, pouring a hefty sprinkle of furikake (a salty-sweet nori and sesame spice mix) in the middle, and waffling to steamy perfection. Alana then made each moffle into two spam musubis. Because she's brilliant like that.
Alana's sweet mochi waffle took a plain waffled mochi and topped it with sweetened red beans, ice cream, matcha powder, and strawberries. I mean.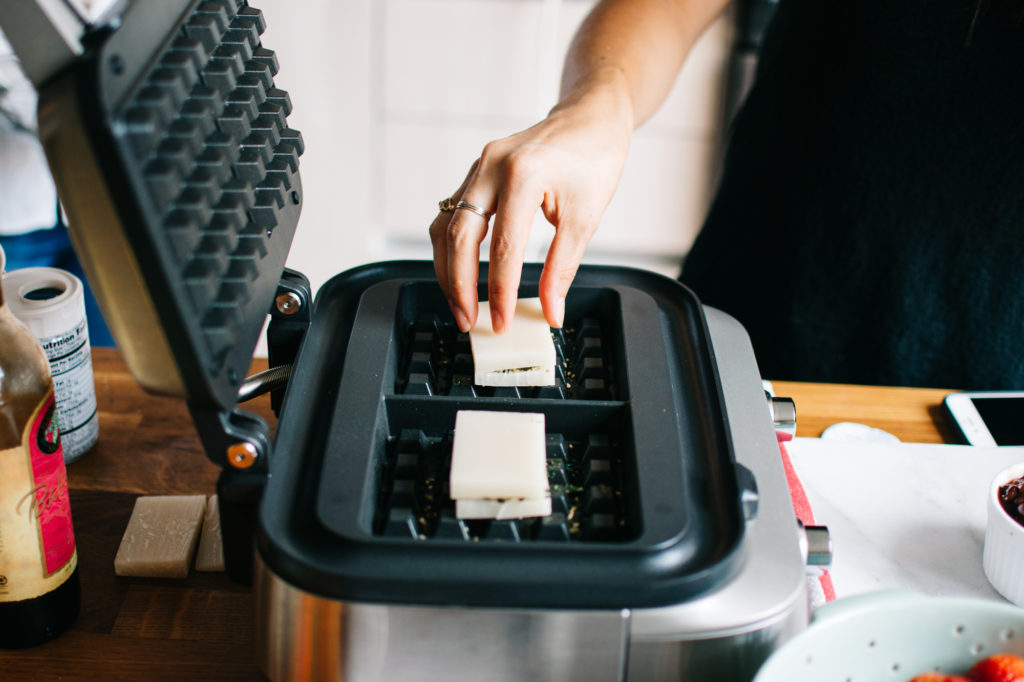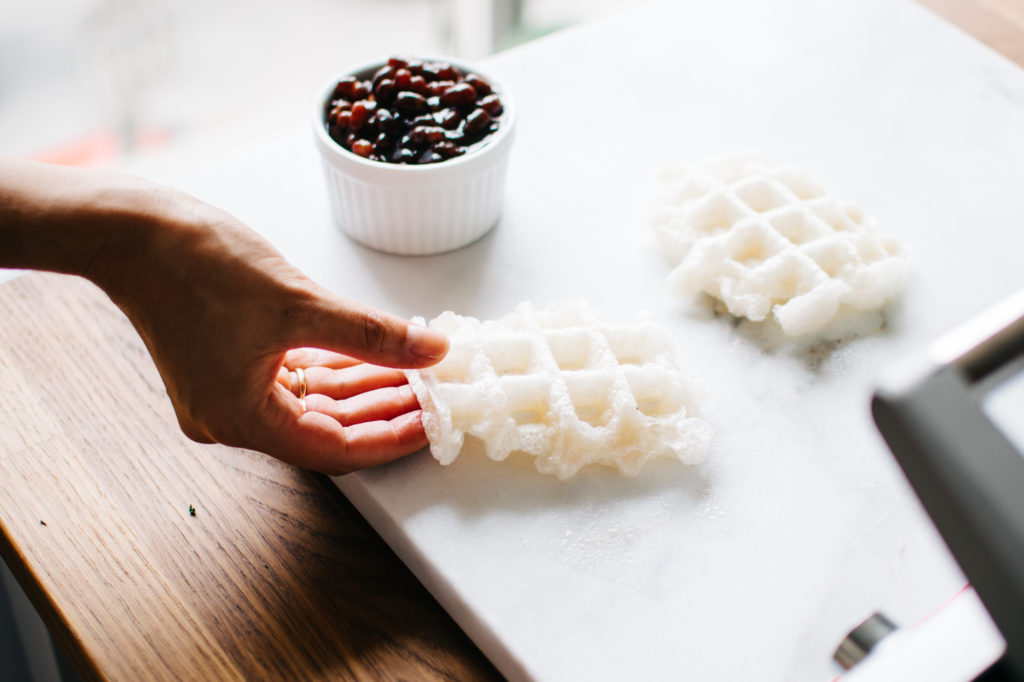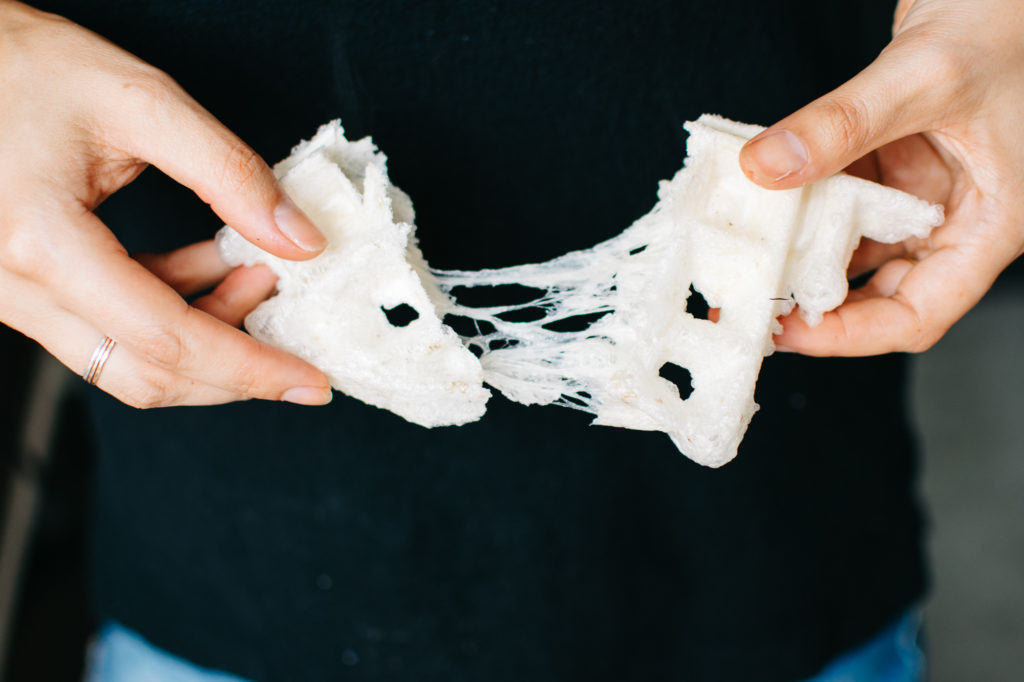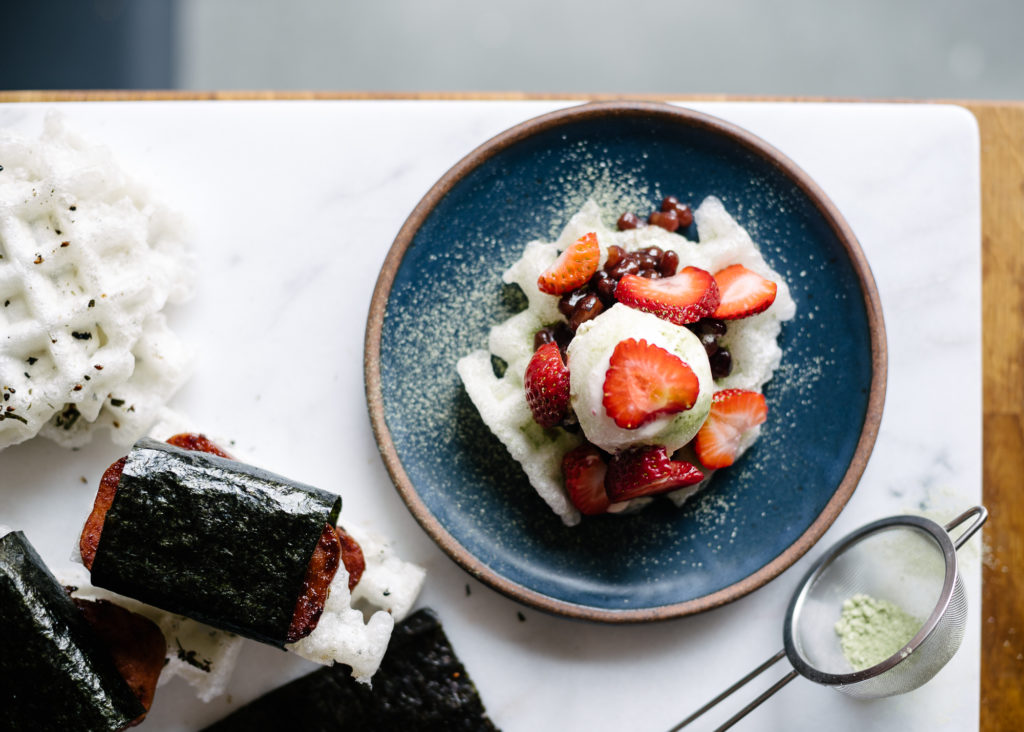 photo by Alana Kysar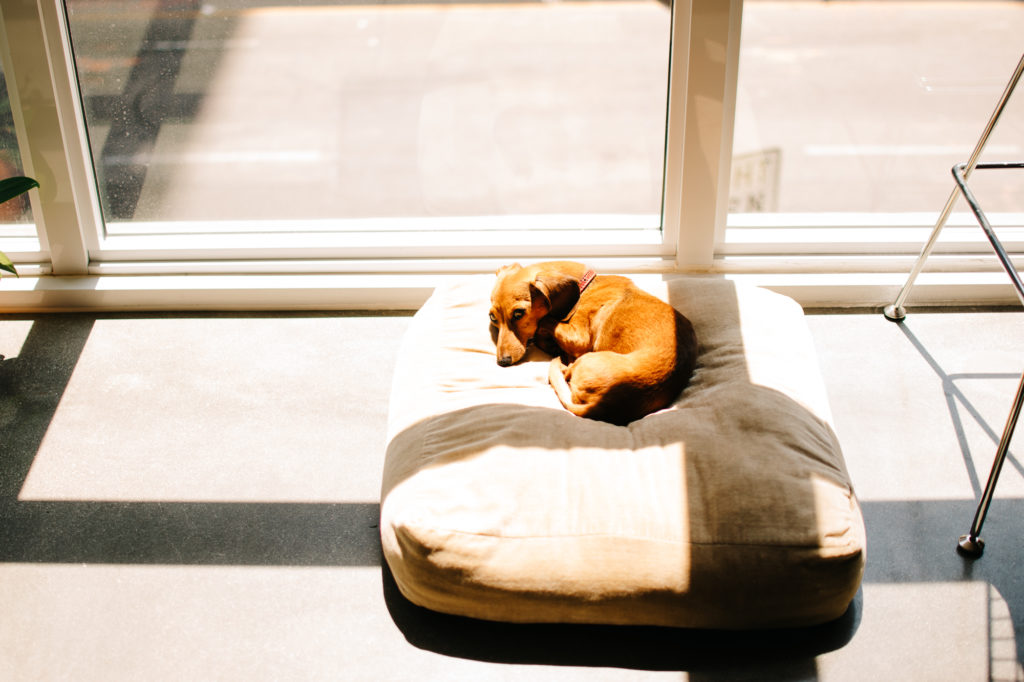 Did I mention Alana's princess pup #asausagenamedvienna was cuddled up on her throne for the duration? She kept us company with occasional foot kisses and yelps of waffle joy, even as Moses kept the mimosas flowing.
Finally, these burrata caprese waffles. Karen leant me her deep-grooved Belgian waffle maker, and I refrained from filling it all the way in order to achieve these smaller, rustic-edged waffle triangles (and yes, a regular waffle iron will work just fine). They're perfect for piling on the caprese salad, or scooping burrata straight into your mouth.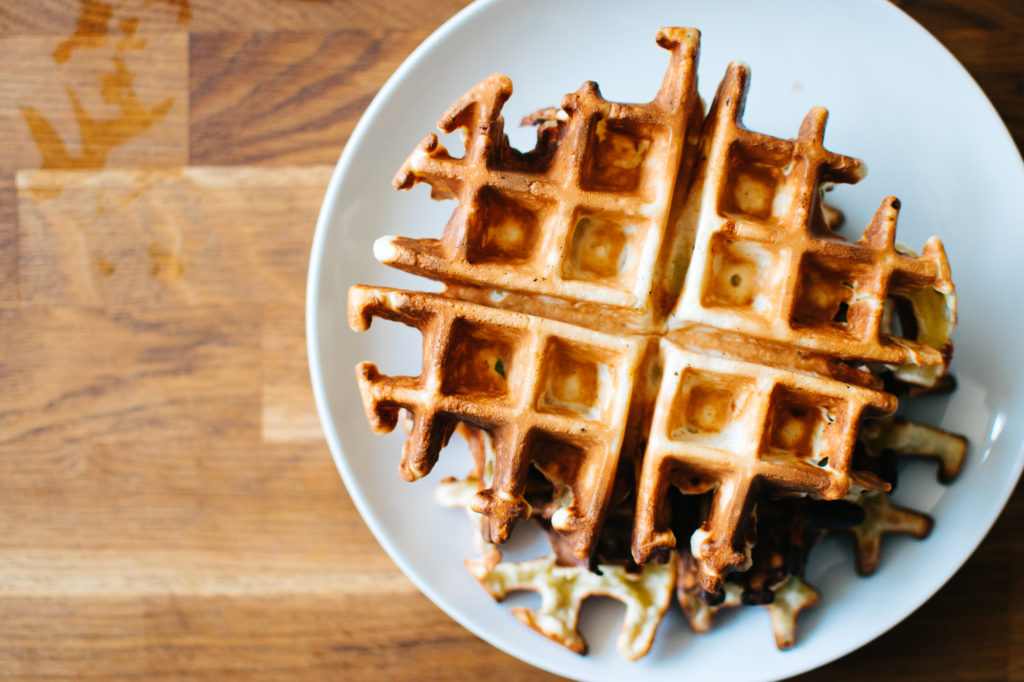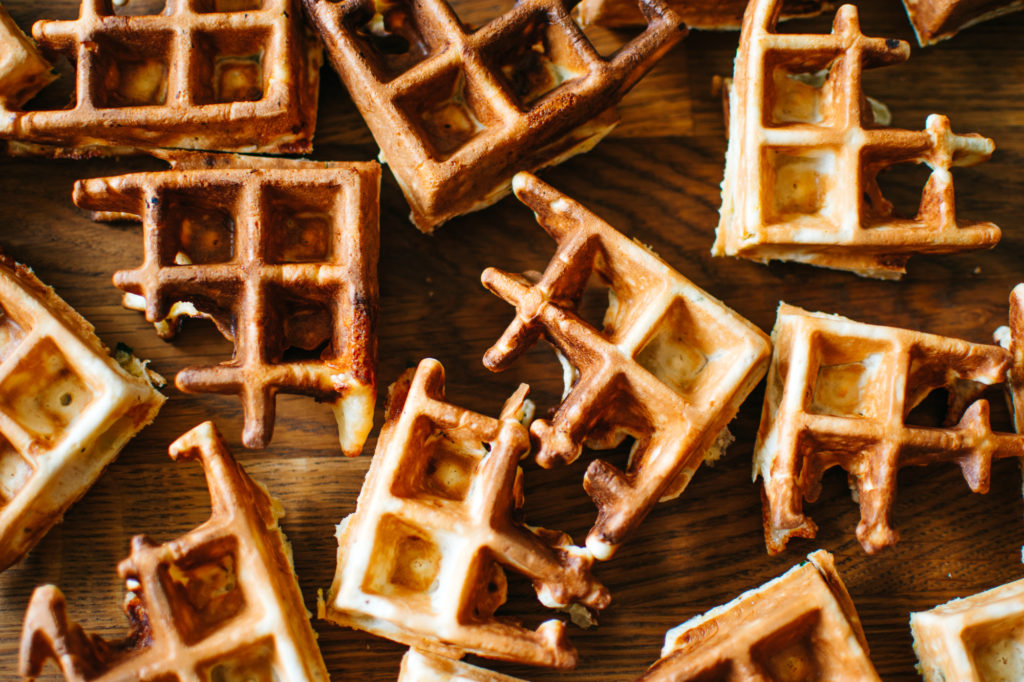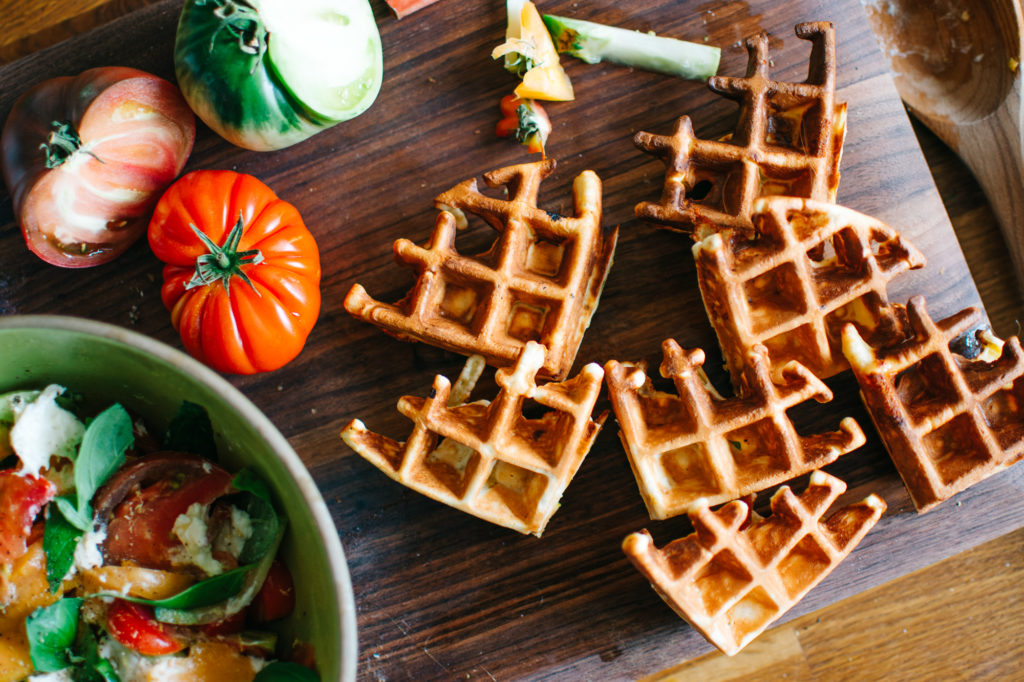 I recommend using dense, minimally watery heirloom tomatoes for the salad, and sprinkling on the lemon zest as liberally as you please—it does something beautiful with the already herbaceous, tangy palate. And those pockets of melted parmesan? They get along just fine with the creamy dream of burrata (though mozzarella is, of course, a perfect alternative). They could easily be served as a main course for brunch (or heck, even dinner), though I rather love the idea of serving small portions as a waffletizer (waffle appetizer, get it?).
So yes, waffles and all, it was a Sunday worthy of tilting my love-hate relationship with LA in the amorous direction. And on top of it all, I learned so much from shooting with these two ladies in the stunning light that pours through Alana's new apartment.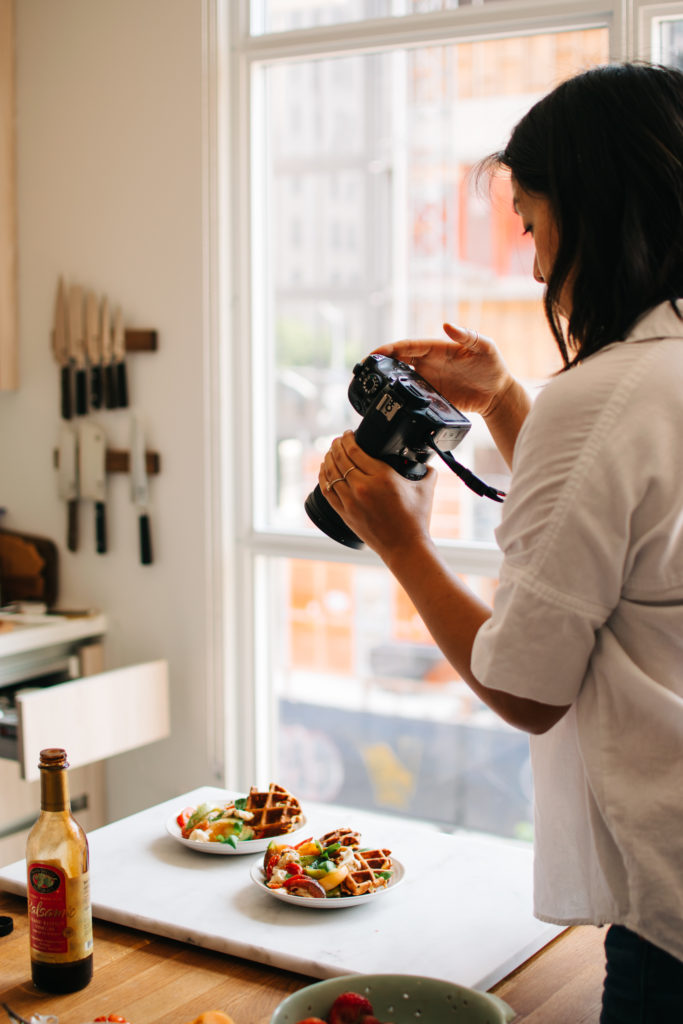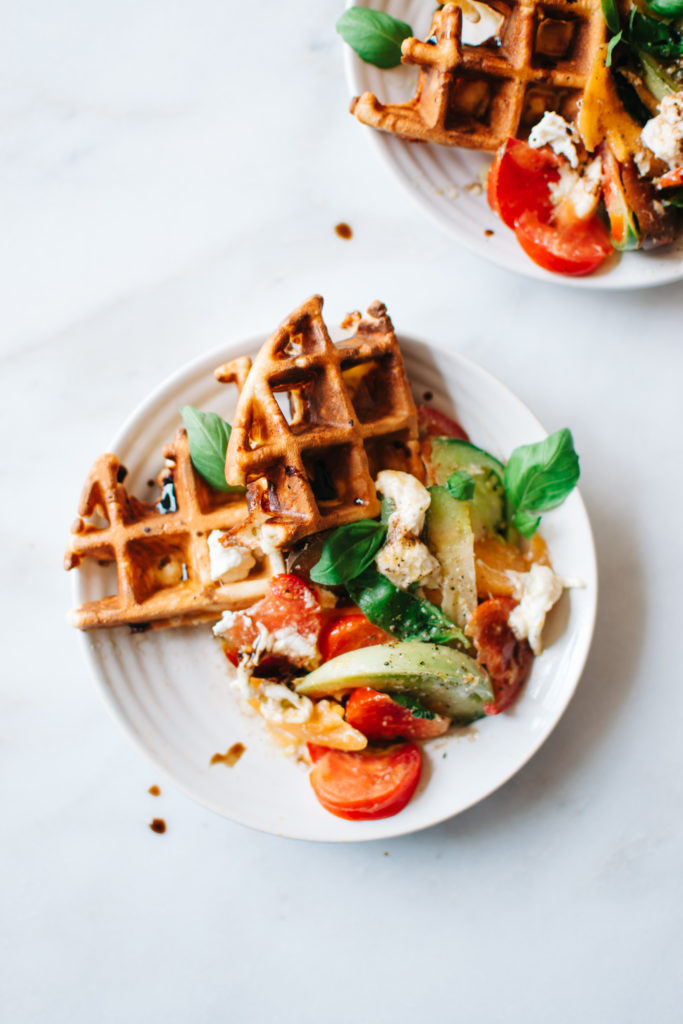 Waffle it up this week, and tag us in your creations on Instagram, please! (Apparently it's National Waffle Day on August 24th, and you know what that means! No, neither do I. Except that you should definitely eat some waffles.)
Get Alana's Moffles Two Ways here.
Get Karen's Blueberry Buttermilk Donut Waffles here.
BURRATA CAPRESE WAFFLES
Ingredients
cornmeal basil waffles
1

cup

unbleached white flour

½

cup

cornmeal

2

teaspoons

corn starch

2

teaspoons

granulated sugar

1

teaspoon

baking powder

¾

teaspoon

sea salt

1/8

teaspoon

ground black pepper

1

cup

whole milk

2

eggs

2

teaspoons

olive oil

½

teaspoon

apple cider vinegar

½

cup

grated parmesan cheese

1

tablespoon

minced fresh basil
burrata caprese salad
2-3

large heirloom tomatoes

trimmed and sliced

1

tablespoon

olive oil

plus more to garnish

1

teaspoon

lemon zest

plus more to garnish

4

ounces

fresh burrata or mozzarella cheese

flaky sea salt

to taste

fresh cracked pepper

to taste

handful fresh basil leaves

torn

balsamic vinegar

to taste
Instructions
Make waffle batter.
Preheat waffle iron and oven to 250ºF.

In a medium bowl, whisk together the flour, cornmeal, corn starch, sugar, baking powder, sea salt, and black pepper until thoroughly incorporated. In a large bowl, whisk milk, eggs, olive oil, and apple cider vinegar until combined. Add dry ingredients to wet, and whisk until no clumps remain. Fold in parmesan cheese and basil.
Make caprese salad.
Place sliced heirloom tomatoes in a medium bowl and toss with olive oil and lemon zest. Add burrata in teaspoon-sized hunks. Sprinkle with flaky sea salt and fresh cracked pepper. Toss gently and set aside.
Make waffles.
Make waffles according to manufacturer's instructions, placing cooked waffles on a wire rack in the warm oven. Once finished with all the batter, cut waffles to desired size and shape.

Add torn basil leaves to caprese salad and toss again. Serve waffles with burrata caprese salad, drizzled with olive oil and balsamic vinegar, and finished with lemon zest and fresh cracked pepper.