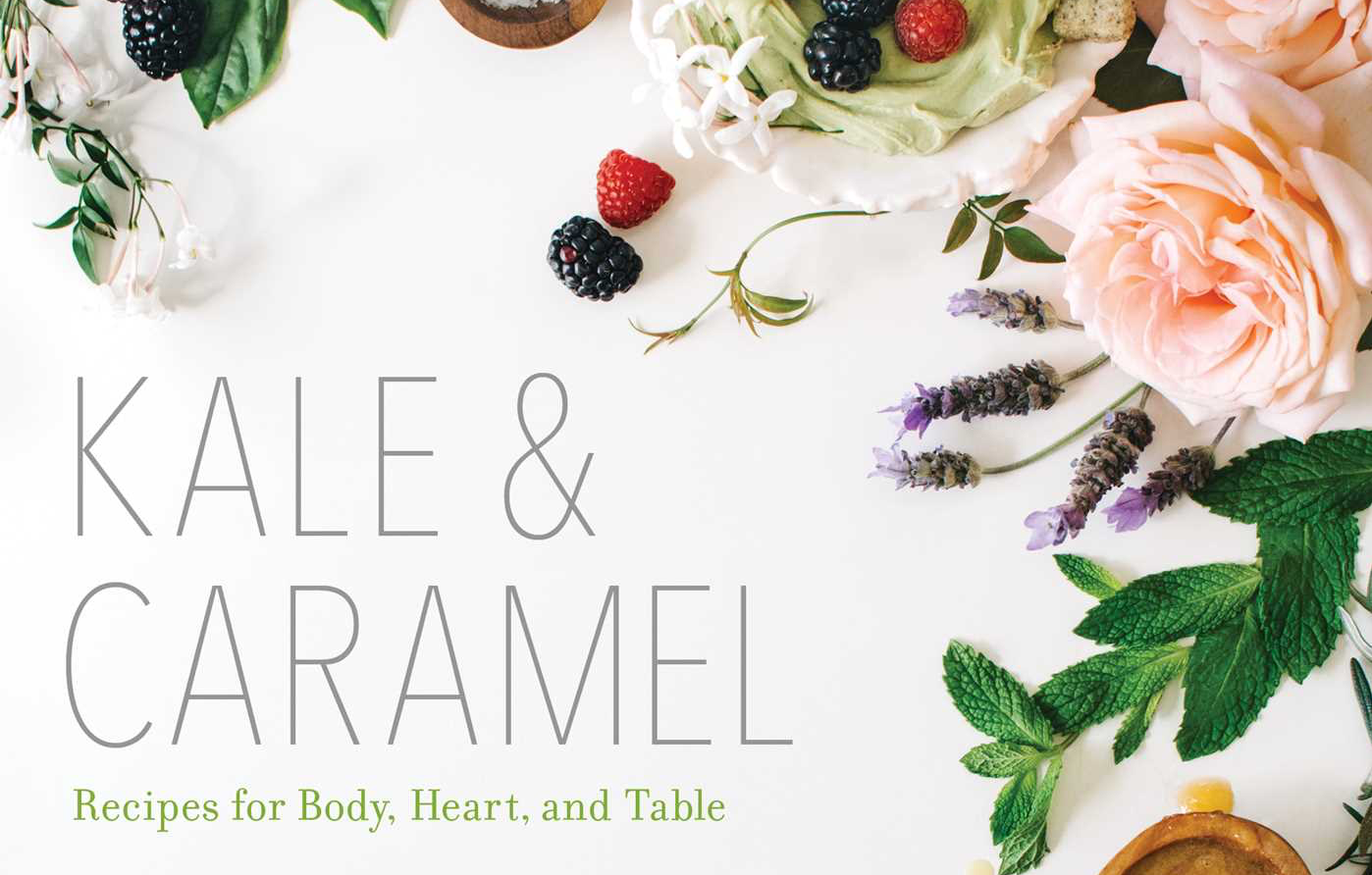 Jump to Recipe
Here's the thing about books: They need covers. Good covers. Beautiful covers. Covers that people will judge with superlatives like stunning and irresistible and perfect. But the very idea of creating a cover for the Kale & Caramel cookbook was absurdly daunting. On top of the pressure to select a singular, seminal, be-all-end-all image to encapsulate everything about the book, there was the added challenge of the book containing both food and body and beauty products. I decided to wait. To lay low in the wilds of my own mind and see what inspiration came.
And at 1:30am on Christmas Eve of 2015, as I finally settled into bed after a marathon dishwashing session, I had a vision. No, dear reader, it was not the Ghost of Christmas Past, Present, or Future that descended upon my fatigued mind at that hour, but the spirit of the Kale & Caramel cookbook cover. The idea for the cover arrived fully formed—I knew exactly how I wanted it to look, not a tendril of jasmine more or less.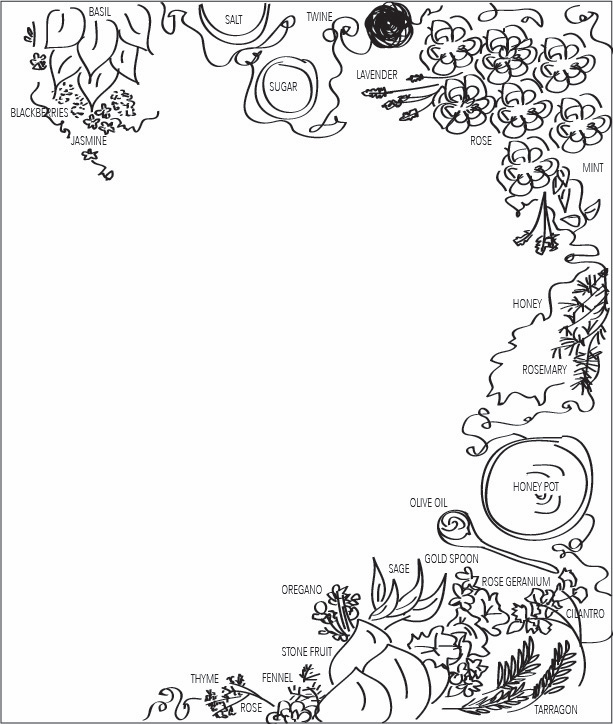 Like any crazed artist would do, I hopped out of bed at 2am, turned on my computer, and started sketching in Adobe Illustrator. I even typed in little labels for what everything was, just in case I got confused when I woke up the next morning. Twenty minutes later, I crawled back into bed, eighty-one percent certain I had just received the blessing of divine cookbook cover intervention, and nineteen percent certain I would wake up to find myself with the equivalent of a kindergarten Etch-a-Sketch. But the divine creative spirit prevailed: Come morning, I discovered a vision I could work with.
The cover I drew that night was a tabletop jungle of every herb and flower in the book—basil, cilantro, fennel, mint, oregano, rosemary, sage, thyme, lavender, jasmine, rose, and orange blossom (at the time, there was also a rose geranium and a tarragon chapter)—accompanied by a few staple ingredients. It felt just. Totally. right.

I presented it to my editorial team and they were equally thrilled. We decided to create a wrap-around design for the back cover, featuring the book's lavender oat milk bath.
And then, of course, there was the issue of the title. What was this darn book going to be called? When we first sold it to Atria, the wonderful editor who acquired it had the idea to call it LEAF & PETAL, recalling the herbs and flowers that form the book's organizing principle. That title never caught on, though I experimented with it until the bitter end. At one point, I became obsessed with calling the book WILD & FREE, despite the fact that this sounded vaguely like a Miley Cyrus song, circa Hannah Montana. I even tried to get more wildness in with the "Recipes to Bring the Wild In" subtitle.
None of that took; it just didn't sound quite right. My editorial team was in love with KALE & CARAMEL, plain and simple. I hemmed and hawed—and, in the end, decided to just say yes. "Recipes for Body, Heart, and Table" came along as a gentle, soothing subtitle that I could live with. And that was that.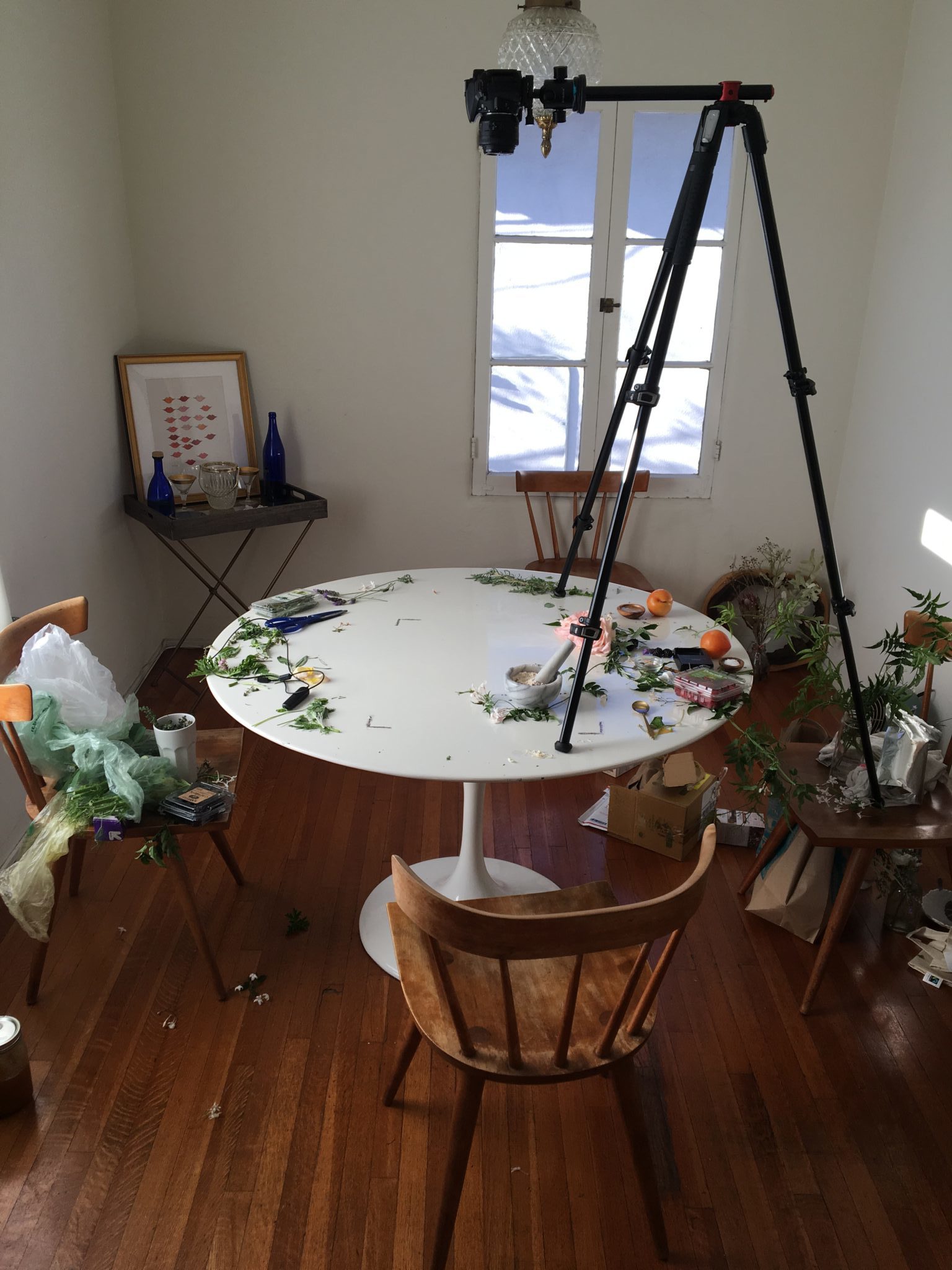 The difficult part about creating this living tablescape was that I could only shoot it at the exact moment in time when roses, jasmine, rose geranium, and orange blossom were all flowering. I spent weeks charting olfactory maps of my neighborhood, seeking out friends with orange trees in their back yards and particularly verdant patches of jasmine in their driveways. I scheduled appointments with the head gardener of the community farm where I sometime volunteer just to check on the rose blooms. I went a tad horticulturally crazy.
In the end, though, when, on March 22, 2016, I tromped into my dining room armed with fourteen species of herbs and flowers, it was all worth it.
I used a ruler, Scotch tape, and a Sharpie to mark off a blown-up version of book's dimensions, pulled out my trusty Adobe Illustrator sketch, and started living out my leaf and petal fantasy. My publisher asked that I include one finished food dish, so I chose the matcha coconut whipped cream with vegan jasmine tea shortbread, and a few berries for good measure.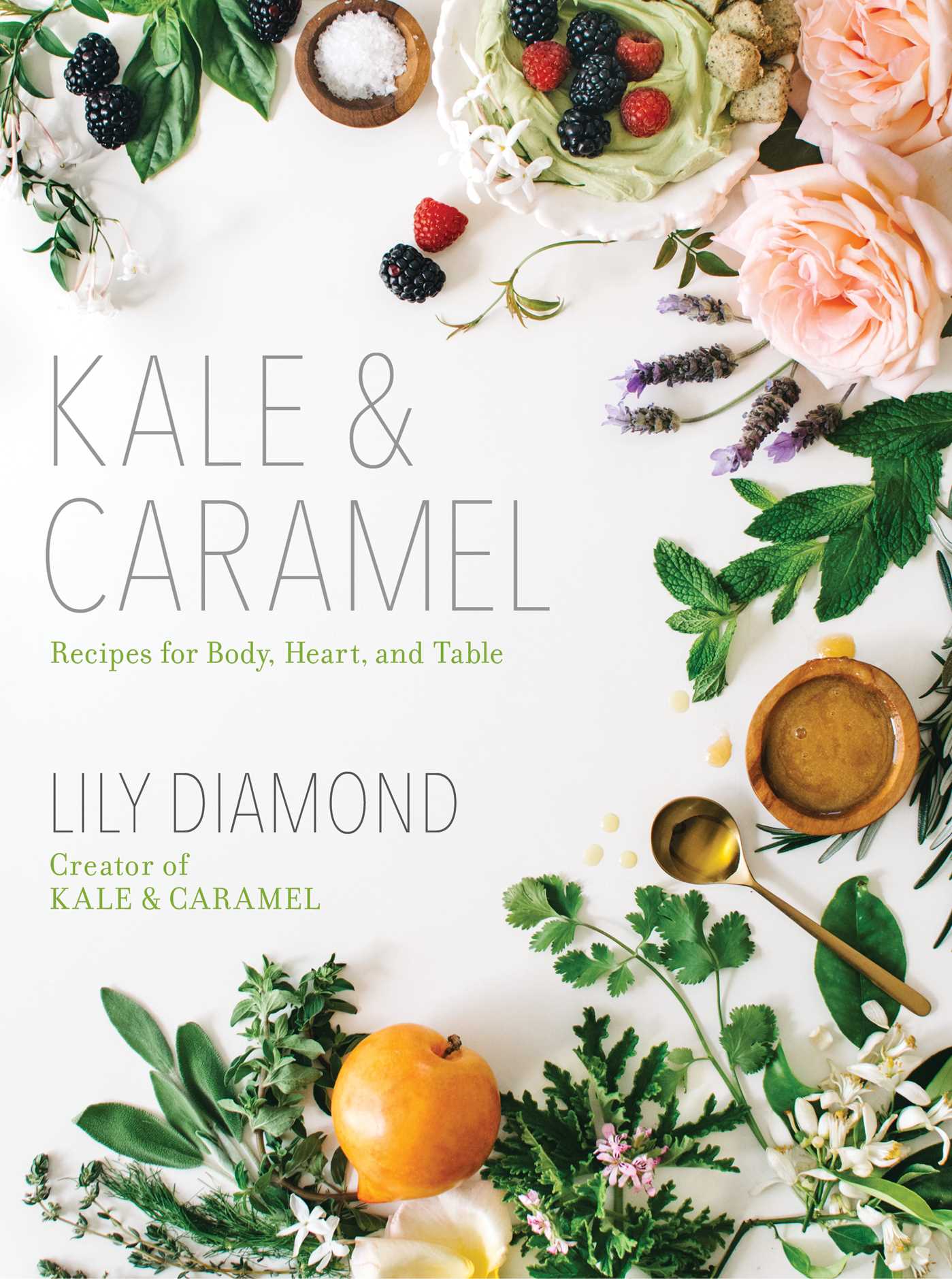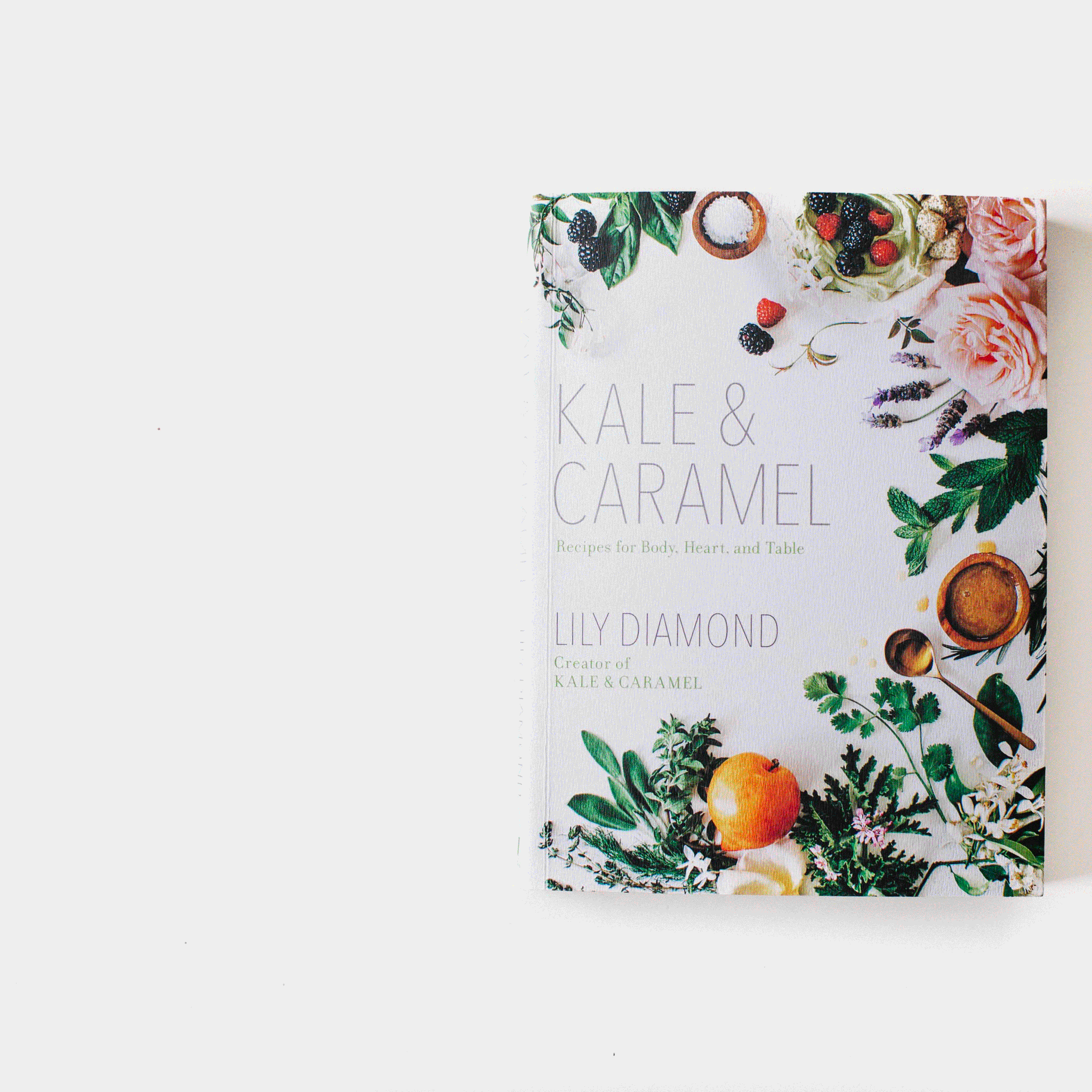 The light cooperated, my dining room turned into a veritable plant nursery, and I actually shed a few tears as I saw the one-dimensional drawing I'd made take shape beneath my hands. I've never quite experienced anything else like it—such a fully formed idea arriving and being ushered into tangible being.
What's funny is that this book, every single word and page of it, is about listening to the plants, about trusting them as allies. This was a practice my mom (an aromatherapist and herbologist) taught me when I was young, and a ritual I still honor no matter how urban an environment I'm in. Perhaps, then, this was just another exercise in listening closely to the wisdom the leaves and petals had to offer.
Whatever the case may be, the book is all the better for it—and I cannot wait for you to hold it in your own two hands.
Preorder now and download the bonus recipe bundle (and stay tuned for a #kaleandcaramelcookbook Vitamix giveaway!).
Oops—almost forgot. Last week, a giant, two-foot by three-foot, foam-backed version of the book cover showed up at my door for the book release party (May 2 in LA!). So naturally I laid down on the ground to take a selfie with it. Here's the best I've got so far. It's a work in progress.