Jump to Recipe
I'm having a love affair with green. The pulse of chlorophyll is keeping me hydrated, energized, and oxygenated this summer, and I'm digging it almost as much as I'm digging the new Major Lazer/MØ jam. (I have listened to "Lean On" a terrifying number of times in the past 24 hours.) But let's not beat around the matcha: This is a wild looking tonic to slather on your face.
Which is why I couldn't resist taking a bunch of pics of me (yes, ME! you're going to see my FACE omgomgomg) with it shmeared all over. You're welcome.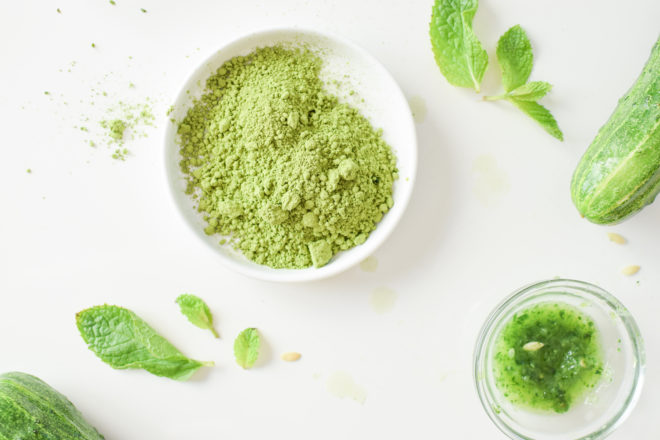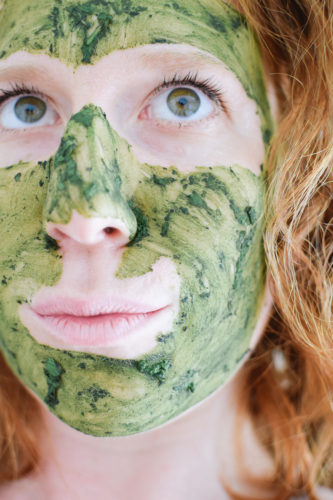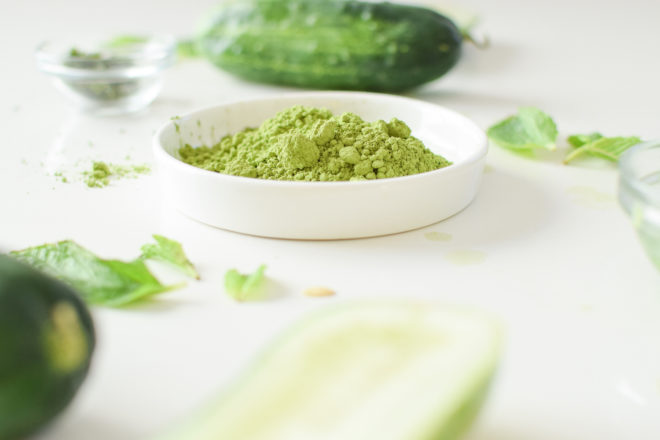 It's goopy, deep green, and a little clumpy from the cucumber and mint. And it's got a pungent, unmistakably green scent from the matcha—the lush, slightly astringent, mossy smell of chlorophyll.
Chlorophyll is a mega blood oxygenator and system purifier, and matcha is beyond full of it. Think of it like this—your skin is your body's largest organ, and dousing it with the equivalent of two cups of green tea drenches you in antioxidants. The caffeine in matcha also tightens pores and skin, and acts as a mild astringent.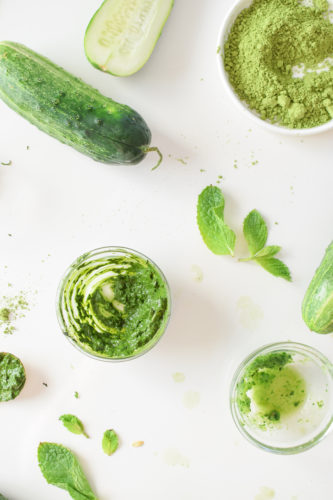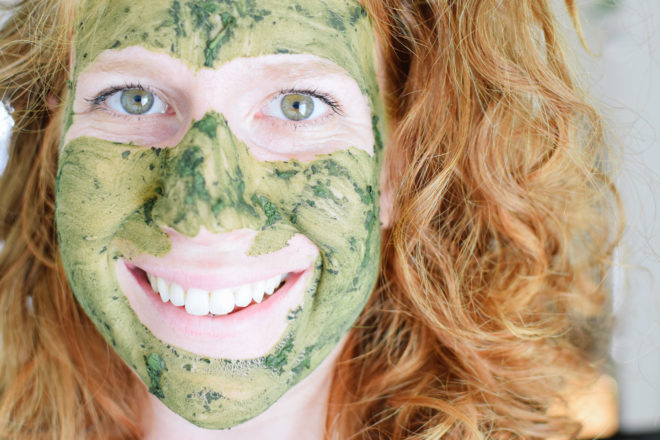 Ready for more green? Cucumber reduces inflammation, tones skin, and supports even skin tone. It also has a mild lightening quality that will give you a gorgeous glow. Its seeds contain Vitamin E and potassium to nourish your tender facial skin. Cucumber is also supposed to be beneficial for treating acne and blemishes, though I haven't personally used it for those purposes.
Finally, cucumber tightens skin in the same way that matcha does, minimizing pores and bestowing a youthful buoyancy to tissue.
Mint cools and reduces redness and irritation, and adds a lovely, mellow aromatic note to this potent mix. Mix up a batch when you need a quick hit of energy, a fresh glow, and an extra boost of green love to pump antioxidants through your veins.
Questions? Feel free to leave them in comments! I am an open book about most things, and would LOVE to help you optimize your natural beauty regime.
Ingredients
1

teaspoon

matcha powder

1

teaspoon

grated cucumber

skin included

½

teaspoon

finely chopped mint
Instructions
Mix ingredients thoroughly.

Wash face as usual. Spread mask evenly on face, avoiding eyes. Let dry about 10 minutes or so.

Rinse using a washcloth (you don't mind getting a bit greeso you can gently scrub off any lingering matcha. If you've rinsed several times and still see some green, simply use a touch of cleanser to remove any residue.*

*Don't freak: I promise all the green will come off. PROMISE.